Part 10: Royal W: Update 2
JOURNAL OF ROYAL W: SQUADRON LEADER, "THE STATIC PAINTS" LATE SPRING, 140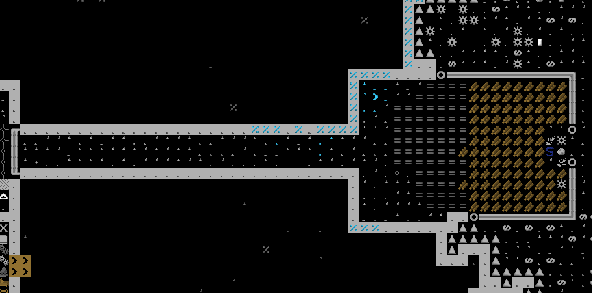 I've taken steps to retrieve our wood which, in the haste to protect us from the spawn, was walled away. I've also constructed a trade depot atop our woodpile in the hopes that some traders will find their way out to this frigid wasteland.

Thank Armok! Things were looking grim. we had run out of meat and I decided to slaughter some puppies as insurance...

Alas, that seemed to be an unnecessary waste of future war dogs, since the humans brought with them a vast collection of meats and cheeses.

Finally, near the end of spring, we had some migrants arrive settle in. I had dedicated our miners time to expanding our magma tunnels in an effort to increase the ice melting from the spring up north. This means that our new residents are temporarily homeless. However, water has begun to flow, so I will resume work on some of Vox's planned excavation.
So ends Spring, 140 in Syrupleaf. From a bleak beginning looking at our fates in the decrepit faces of the Spawn of Holistic, to a summer solstice that brings us hope. Let's see how long it lasts...