Part 122: Globofglob: Update 15
I quickly order both squads of champions out to the gatehouse. THere are about 14 of them in all, plenty to take care of this threat.
KatanariSword
, the one who spotted the threat, tried to run, but was quickly overtaken by a few of their warriors. One axeman and two wrestlers have cornered her out on the ice: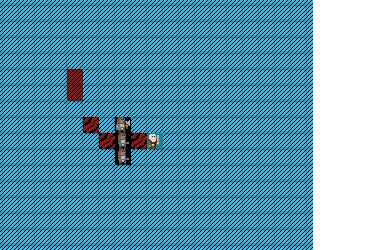 Their leader, an elite bowman, has gone up ahead: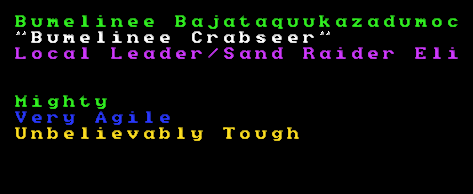 Their beating of her is unusually brutal. From what I've rid, Sand raiders seem to be quick, efficient killers. But they seem to be purposefully drawing it out this time. Perhaps they're angry about past defeats?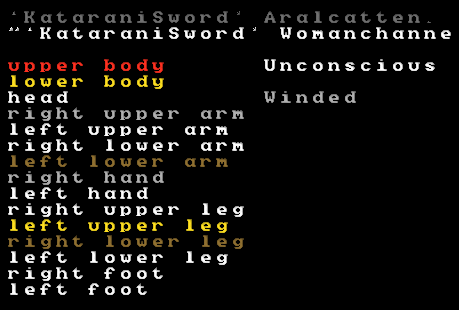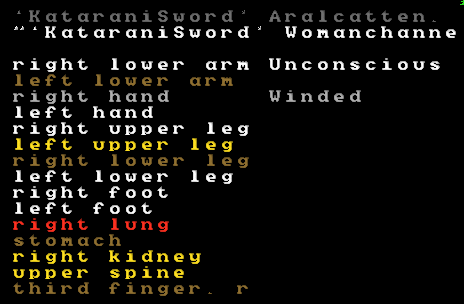 This is just...brutal. Katanari keeps trying to crawl away, but each time she does the sand raiders slam her back into the ground.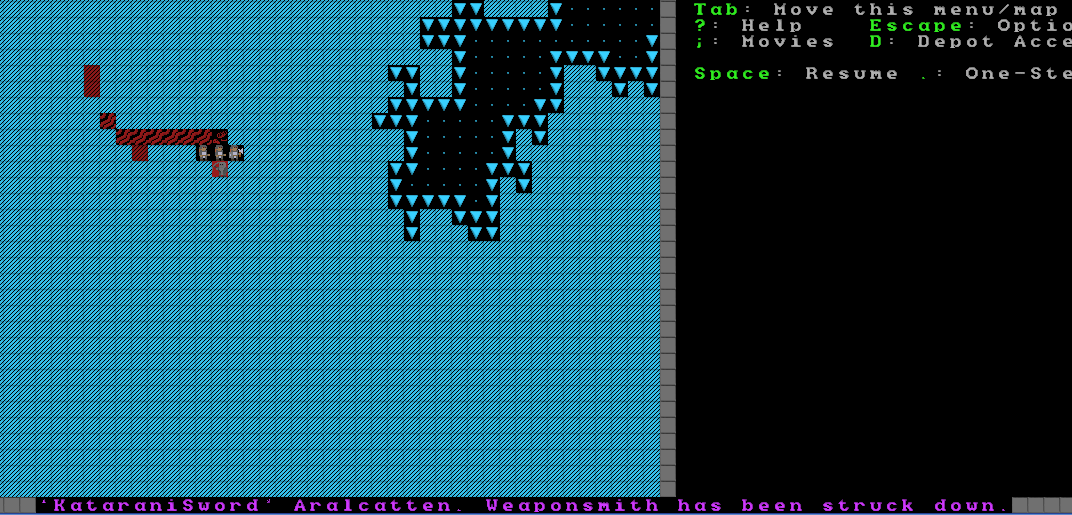 Eventually, they sliced off her head, though it was a mercy, at that point. Still, she fought to the last. Pity she didn't even manage to scratch her attackers, though.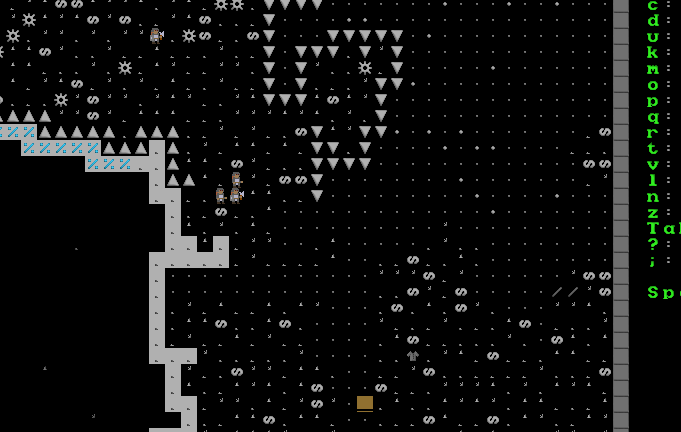 The channels I ordered dug earlier seem to be incredibly effective; the invaders are forced to approach this fortress by bridge.
Which they also seem to be ignoring for some reason...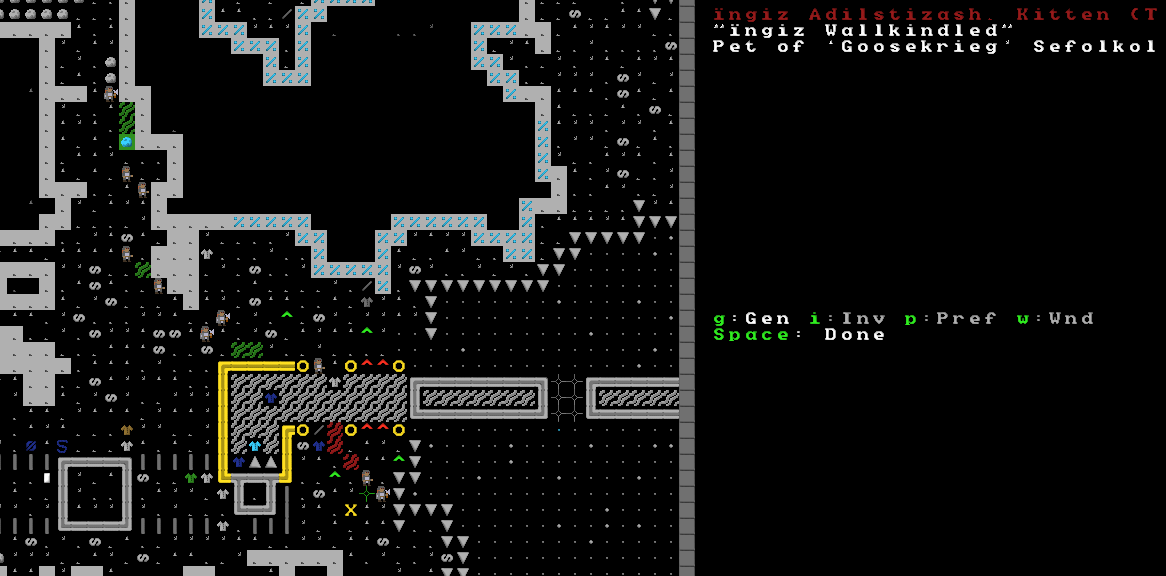 Oh. Goosekrieg is going to be pissed.
---
Bobbin Threadbare wrote :-
I first approached Sirocco with my concerns. I was hesitant at first to mention my part in the matters regarding the time device, but found that he was all too willing to forgive me my actions. It seems he thought me an enemy, and, recalling the warnings I left him, I could understand his suspicion. Though he maintained his usual jocularity at first, as I moved into the more serious matters, he attained a level of seriousness I believed impossible for him. I repeated to him the various dark designs I had witnessed below SyrupLeaf, placing particular emphasis on the Presence and the oddity of the adamantine idols. When I had finished, Sirocco nodded and said, "Those are bad things, right?" I found myself wondering once again at the wisdom of revealing my thoughts to others. Nevertheless, I repeated my salient points, and Sirocco seemed to understand what I wished him to do: as a champion, only he could possibly be a match for Spermy Smurf if it came to outright fighting.

Another I met for discussion was Manuel Calavera, one whose products formed the backbone of the local economy; he and Sodium Chloride produced so many bone instruments that they were traded as coin. I had long felt a certian kinship with Mr. Calavera, an espirit de corps whose origin I could not quite identify. Regardless, it was he whom I sought out second. Being as engaged in his craft as I had been before my involvement in Parasol's acts, much of what I told him took him by surprise. "But what about the flutes? We can't make flutes if we melt the bones into rocks!"

This last outburst was apparently overheard, as one Orange Soda, who was fortuitously passing by, added, "We could turn them into rock guitars." For some reason, this seemed to offend Calavera, as though the thought of modifying bones into anything but flutes was a misuse of the object. I tried to explain that I thought his bonecrafting would not likely be directly threatened by Parasol, but he was adamant. It was all I could do to convince him to remain passive and simply pass along any information he came across which seemed suspicious. And, of course, to refuse any adamantine object offered to him.
---
MortuusLupus wrote :-
code:
Department of Immigration
G.o.C. Customs and Border Protection						Form 803.7.5b

----------------------------------------------------------------------------

Application for Immigration and Naturalization
Gate of Climaxes

Under the Immigration Control Reform Act of 84, immigration application forms are
to be distributed from authorized Gate of Climax Immigration Officers only.  
Unauthorized reproduction of this form is a felony crime against the mountainhome 
and violators are subject to summary hammering.


Please print your answers in the space provided beside each item.

NAME:				MortuusLupus			
CURRENT RESIDENCE: 		Åblelmat "Bustbent", The Dominant Razor
DATE OF APPLICATION: 		13 Slate, 148

PLACE OF BIRTH:			Thalalolin "Empiretongs"
NATIONALITY:			The Dominant Razorian

NAME OF PRESENT EMPLOYER:	Student
WHEN DO YOU INTEND TO ARRIVE:	~Sandstone, 148

AT WHAT MOUNTAINHOME DO YOU INTEND TO RESIDE: 
Oltarsosh "Gildsandal"

WHAT IS THE PURPOSE OF YOUR REQUEST FOR NATURALIZATION:
Newly hired by Parasol Corp. Technical Support Division in Oltarsosh.  Currently 
finishing my final year at Åblelmat Institute, Engineering program.  


HAVE YOU EVER BEEN ISSUED A G.o.C. VISA?    [ ] YES   [x] NO
WHEN?	              __ _____, __
WHERE?		      ____________
WHAT TYPE OF VISA?    ____________

HAVE YOU EVER BEEN REFUSED A G.o.C VISA?    [ ] YES   [x] NO
WHEN?		      __ _____, __
WHERE?		      ____________
WHAT TYPE OF VISA?    ____________
REASON FOR REJECTION:




DO YOU INTEND TO WORK IN THE G.o.C.?        [x] YES   [ ] NO
(If yes, give the name and address of G.o.C. employer)

Parasol Corp. Technical Support Division
Oltarsosh, Gate of Climaxes
Mountainhome Sublevel 3, Q. 2



IMPORTANT:  ALL APPLICANTS MUST READ AND CHECK THE APPROPRIATE BOX FOR EACH ITEM

1. HAVE YOU EVER BEEN ARRESTED OR HAMMERED FOR ANY OFFENSE OR CRIME? 
 [ ] YES    [x] NO

2. HAVE YOU EVER BEEN REFUSED ADMISSION TO THE G.o.C. OR THE SUBJECT OF A DEPORTATION HEARING FROM THE SAME?
 [ ] YES    [x] NO

3. HAVE YOU EVER VOLUNTARILY BEEN WITHOUT ALCOHOL FOR A PERIOD OF TIME NOT LESS THAN THREE MONTHS?
 [ ] YES    [x] NO

4. HAVE YOU EVER BEEN AFFLICTED WITH A COMMUNICABLE DISEASE OR SPREAD FIRE FROM YOURSELF TO OTHERS?
 [ ] YES    [x] NO



FOR OFFICIAL USE ONLY:
Application handled by:	    Athast Nobangcubor
Status:			    Preliminary approval, awaiting employer verification

---
Kithrixx wrote :-
A BOOK

_____________

Date: The day after the day that Sasho proposed to Klandeggin Granite 23rd

So I be settin' out on my own, leavin' this blasted place behind. I've made a couple o' not-friends 'round these parts since my arrival, and I be thinkin' it be time for me to get to steppin'. I've begun this silly journal just in case somethin' happens to me and me body is too mangled from whatever beasties may roam to be identifyin' me! Also to take down my prized possessions so the finders of me body can marvel in awe of me accomplishments.

Let's start, uh… I be known as "Kithrixx", "Kith" fer short and "that filthy bastard" to my not-friends. All me titles be well earned, and I'll tell yeh why. I'm a Shield Dwarf, proud and true. If you be of the miserable enough kind of idiot who doesn't know what a Shield Dwarf is, I be of a sacred order of defenders that be utilizin' the oomph of a shield in each hand over some pansy hammers. Before ye be askin' me "But Kith, how would one be usin' a defensive implement to win a fight?", I be tellin' you to shove that question up your arse because I'm about to educate yeh.

Y'see, the power of the shield is underrated to a normal dwarf. He uses it to take the blows that he cannae' and then uses his weapon to smack at his foe. What yer normal dwarf don't realize is that yer shield is a not a thing, but a comrade in arms! Yer shield keeps you alive, and if you use it right, not even dragon's fire can harm yeh! But nooo, these weapon-toting idiots just use it to smack things out of their way and ignore the fact that they be mistreatin' their equipment! Shield Dwarves aren't like that, no. Any Shield Dwarf worth his beard will use TWO shields, one in each hand, to deflect and bash and, if he's of the mind to sharpen the edges, hack his way through the waves of his foes, nigh invulnerable! The joy of flyin' through combat being untouchable, it's glorious! On top of that, we're legendary armorers! More often than not, we make our own armor and our own shields! I used to do the same 'til I melted the forge trying to smelt diamond. There ain't anythin' harder than diamond, and I don't bloody see why they were so angry! I was jes' tryin' to make some good armor!

But I digress, as that be enough of me personal history for now. A list of me precious possessions follow, so the finder of th' journal in question can determine if I simply got me arse kicked a wee bit too hard or if I was taken down by bandits of a sort.

The Whale Grail – Me beloved shield, steel and encircled with bands of steel
This one I won off of a stupid fatass human in a drinkin' contest. Idiot was bold enough to try and outdrink a dwarf and wagered his shield, ha! It's mine now, and my right-hand companion. Been used a couple times as a battering ram.

The Arial Librarian – Me second beloved shield, steel and encircled with bands of jade, and has these funny little bone spikes off one end
Aye, another drinkin' game, this time off of a booksy-type dwarf. A good lad, but a wee bit on the angry side when he gets too much drink in him. He came lungin' across the table like an angry jaguar when he lost and I had to throw th' poor bastard into the table so he could get a better look at my empty tankard. He apologized afterwards and gave up the winnings, and I dubbed it.

Along with my trusty full plate, I've got a bag of provisions, a keg of ale, and a pillow. If those bastards take my pillow, be sure to stick 'em one for me, eh? Was me ma's.

As for the reasonin', well, I hear that there's a place down in the cold parts of this world that's bein' plagued by nasty beasties called the "spauns" or somesuch. I've got no bloody reason to stay here any longer, so I be settin' out on a journey to find this place and show them what a good shield can do.

Today, I set out to Syrupleaf.
---