Part 185: Zyla: Update 23
End of Winter, 148
The alarm sounded, and to the dwarves horror, a sighting of a Hydra was made.
Tehsid, with a distant look in his eye, reorganizes the new military once again, placing himself in a solo squad so that none of the rookies are put into danger.

He begins the long walk to the beast...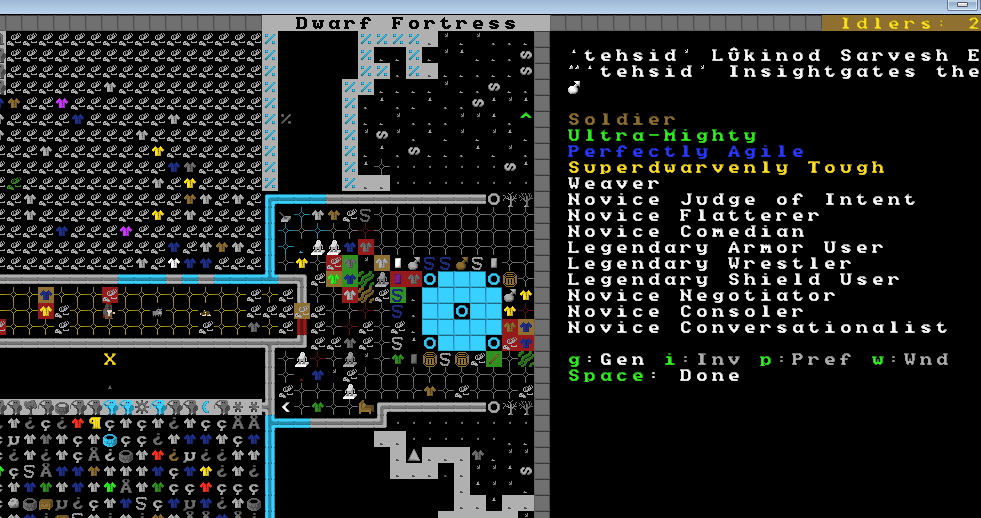 Down the bridges that lead into Syrupleaf. He sees in his mind all that have fallen this year.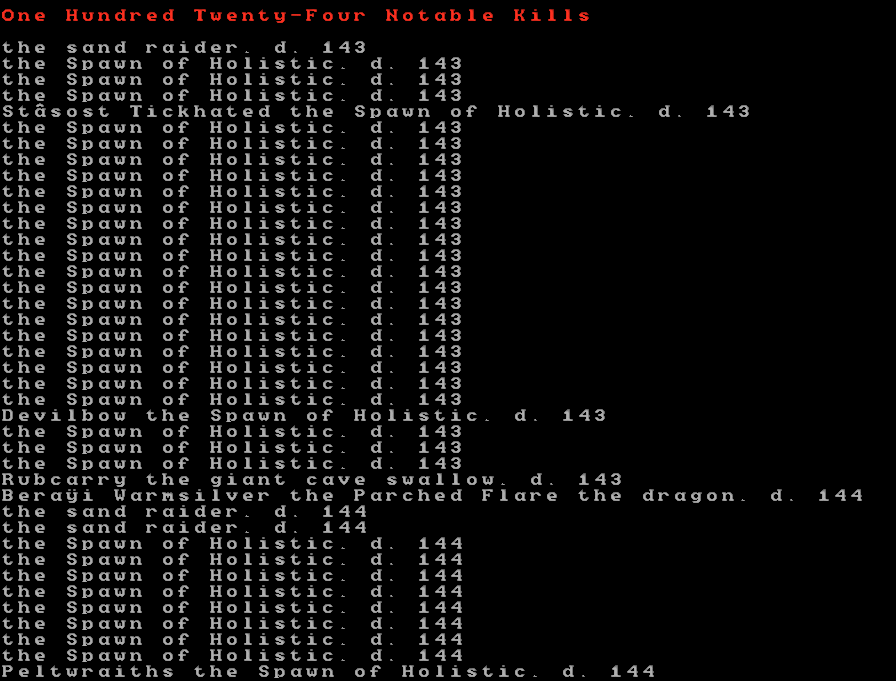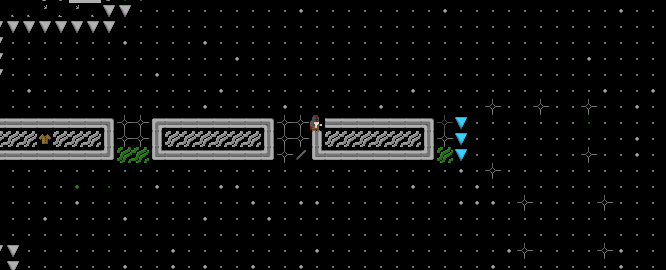 He thinks of all of his experiences. His life flashes before his eyes.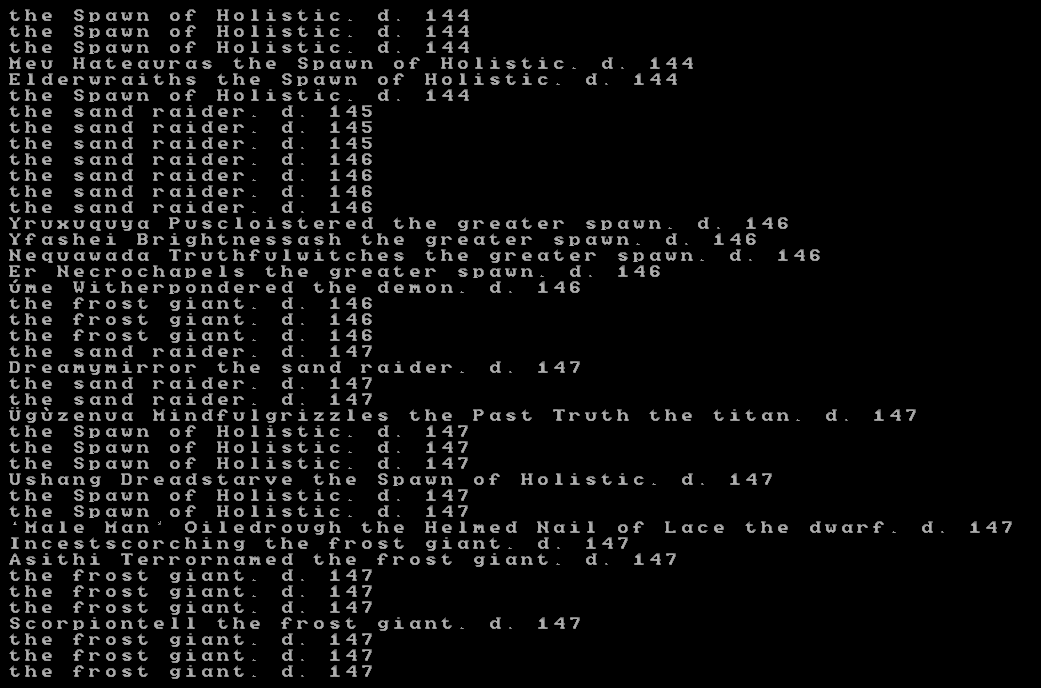 He starts the trek across the glacier to the place of the beast.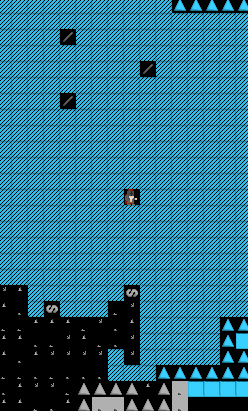 He reflects on the year's conflict.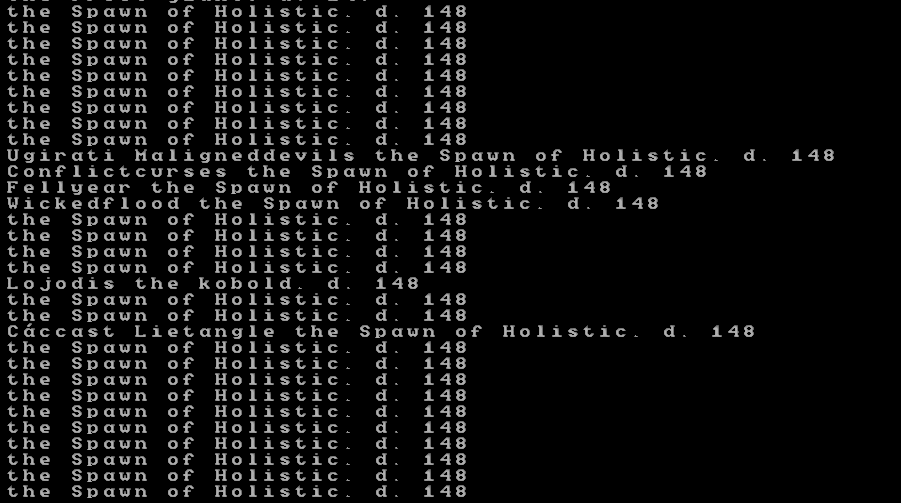 A deep sigh's wind freezes as it leaves his mouth as he crests the final summit to the beast.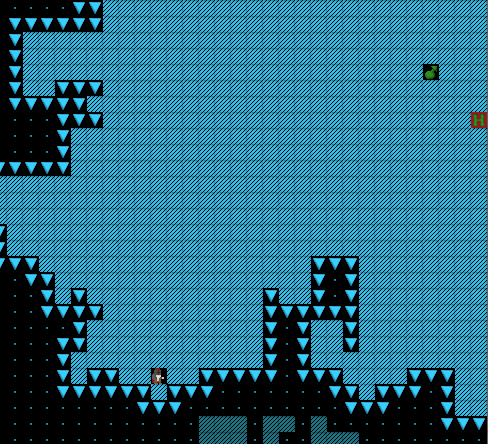 He grasps his weapon tightly, prepared for anything.
The monster does not move. Is it terrified of him? or is he already dead but hasn't realized it yet?
He cautiously creeps up next to it, hoping the catch the beast unawares.
He pokes at it with the butt of his hammer...

It died the second it got to Syrupleaf. Inspecting the corpse tehsid finds several extremely large spears stuck into the beast's flank, as well as the tell tale signs of spawnclaw wounds. The beast's neck was at least three times the width of a dwarf such as tehsid, and it appears to have been sheared off cleanly, with no jagged edges whatsover. Only one thing in the world could have done something this easily.

Tehsid backed away slowly from the corpse, in disbelief at its injuries. He stares into the distance, at the bloody path the mortally wounded hydra paved on its way here. The decapitated head was found only hundreds of yards from where the beast collapsed.
Tehsid sprinted for Syrupleaf as fast as he could muster his legs to move in this biting cold, with a cold look of fear in the mighty champion's eye.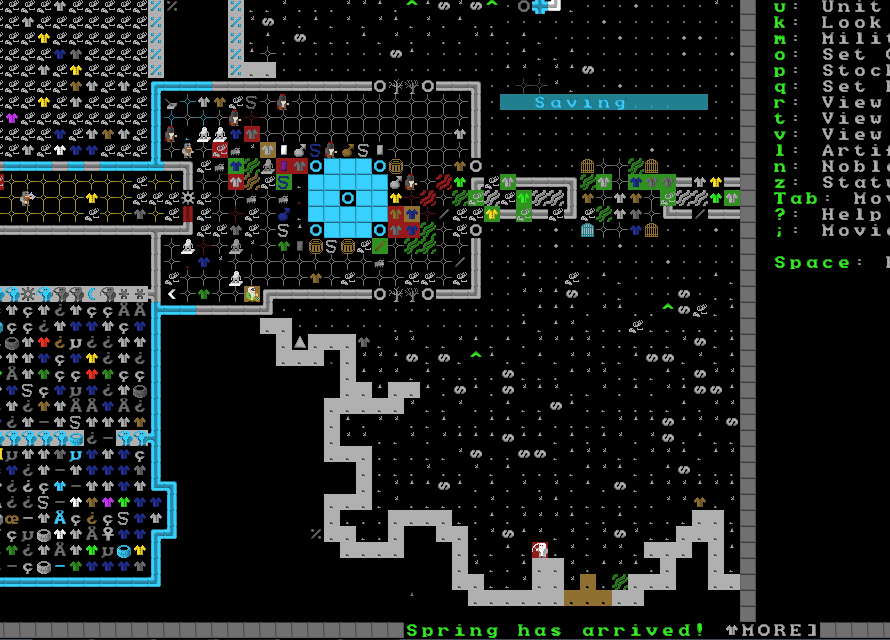 Spring has arrived. And with that, my time here is at an end. I will leave this land and return to whence I came, eagerly awaiting an overseer to rise from the ranks and protect this land from whatever
whoever
is out there.
http://rapidshare.com/files/3154613...r_Zyla.rar.html
---
Burgomaster wrote :-
Syrupleaf: Histories of Vengeance and Terror, by Burgomaster the Sixth, Vol 5, pg.657


The tablet is five feet tall and made of basalt. The craftsdwarfship appears to be of the finest quality, though tarnished by age. It depicts four scenes believed to illustrate the Second Spawn Siege of Syrupleaf. Said tablet was purchased from the "Confusions of Curiosity" Sand Raiders on the shore of the Gulf of Citadels. Sand Raiders believed it too be cursed, gave it up willingly.

Topmost scene: dwarves on a battlement, perhaps Syrupleaf, overlooking a mass of Holistic Spawn. A drawbridge is down, welcoming the Spawn into the fortress for combat, a hallmark of the courage and strength of Syrupleaf's warriors.

Middle scene left: A dwarf warrior is either asleep or sick. The beard of the warrior identifies him as Tehsid the champion. A screaming dwarf, perhaps a shaman or priest speaking incantations of healing, stands over Tehsid.

Middle Scene right: A burning tower. The exact meaning the tower is unknown, but scholars postulate that it represents the ruin and destruction of the battle. The more eccentric and crackpot propose that it is the remains of a "super weapon" used by the Syrupleaf dwarves to obliterate their enemies.

Bottommost scene: A dwarf warrior with a broken sword stands beside a dismembered Spawn. The Spawn's maw is sewn shut, showing that the evil that assailed Syrupleaf in the siege had been thwarted, but if the broken sword is an indication, not without the death of many warriors.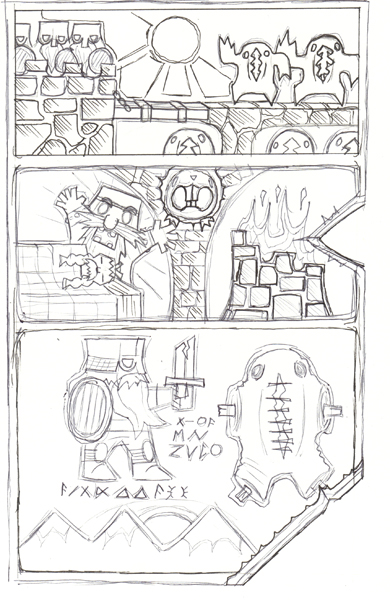 ---
Screaming Idiot wrote :-

Good night, sweet filthy prince.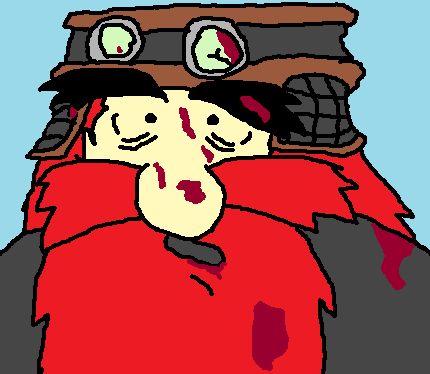 EDIT: Can I get on the list for a re-dorfing under the name Screaming Idiot II? 'Parently he had a son he never knew about!
---
Pimpmust wrote :-
Feel-good-feelings?

Okay.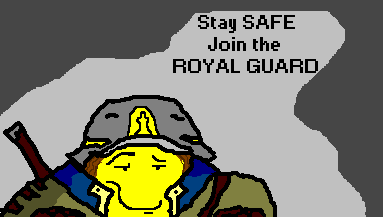 'Cause I'm still alive

---
Pimpmust wrote :-
DarkHorse posted:
Is the emblem on Smug-Guard's helmet the extended middle finger of

TRIBUTE

? And wasn't training in the Royal Guard responsible for about as many deaths as the Spawn?

Ah yes well, I obviously don't care about those OTHER royal guards.
Vox Nihili posted:
If anything, I would recommend removing all dwarves from the guard that we can and putting them in a few squads in the normal military, where they can be better controlled. That's where all new draftees should go as well.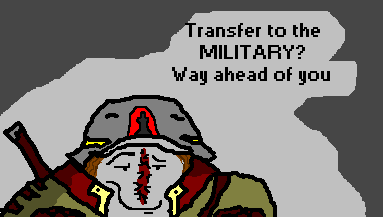 The winning one, that is.
---
Chance II wrote :-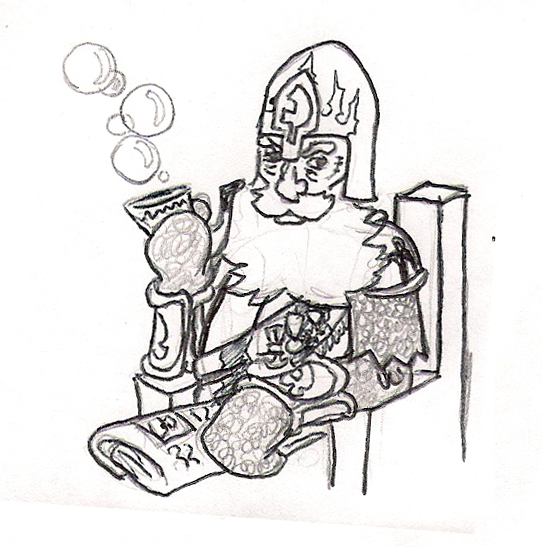 "I say, back to the Regiments? I should say not! I'm much too important in my duties with the Royal Guard. And have some of those trash pickers I see scurrying about do something about this mess will you? That's a good chap."

"Also, I had a little too much to drink last night and started engraving in my sleep. What could this image mean, I wonder?"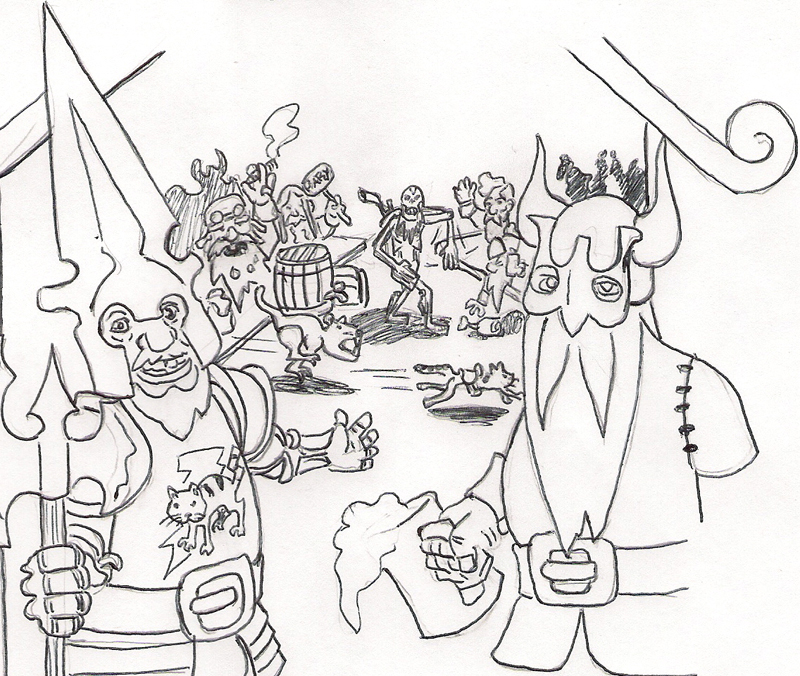 ---
MortuusLupus wrote :-
code:
Parasol Corp. Fortress Support						7 Opal  148
Remote Fortress Division
Oltarsosh, Gate of Climaxes
------------------------------------------------------------------------------------

Issue No.:		11865
Issue Type:		Pumping and Fluid Management (High Temperature)
Severity:		High
Support Technician:  	MortuusLupus
Issue Source:		Udibgovos
------------------------------------------------------------------------------------

Description:
Overseer reported a containment failure in a magma transport tube whereby a hatch 
believed to be secure failed leading to premature release and near-catastrophic 
failure of the system.


Resolution history:

Technician's Notes:  Accompanying illustrations show the hatch to be intact, 
indicating it was likely constructed of heat-resistant materials.  It appears to 
have fallen and landed largely undamaged.  Preliminary observations indicate it 
should be reuseable.  The problem stems likely from a failure of the hatch's 
operational mechanisms.  Common worked stone mechanisms are unable to withstand 
the intense heat of a magma flow, even in the colder regions of the south.  The 
only known metal capable of being forged into mechanisms is unfortunately no 
longer available for use by royal decree, but the ore of adamantium ought to 
retain sufficient heat-tolerance to maintain integrity.

***KEYWORDS FLAGGED***
Magma
Royal
Adamantium


*** ISSUE HAS BEEN AUTOMATICALLY REASSIGNED TO SENIOR TECHNICIAN

Description Update:
Appears to be an attempt to circumvent forbidden aquaduct construction 
techniques.  The glacier remains intact due to mechanical failures.  Such a volume 
of water would cause untold flooding damage to the world, and do little to hinder 
the Spawn of ********

*** CLASSIFIED INFORMATION DETECTED
*** ISSUE HAS BEEN AUTOMATICALLY REASSIGNED TO PARASOL CORP. INTERNAL SECURITY.
*** FORWARDING RELEVENT DATA TO AGENT ERAR UMOMKERS

*** OLTARSOSH REMOTE FORTRESS SUPPORT THANKS YOU FOR YOUR PATIENCE IN RESOLVING 
THIS MATTER, AND A REPRESENTATIVE OF THE PARASOL CORPORATION WILL BE DISPATCHED TO 
YOUR LOCATION AT THE EARLIEST AVAILABLE OPPORTUNITY.  YOUR COMPLIANCE WITH ALL 
DIRECTIVES IS MANDATORY.

---