Part 200: MortuusLupus: Update 1
Farseli posted:
Man, I wish I knew WHY I died! What noble ordered me to death!?!? Grr.. and medic? Man I was gonna be awesome! I was gonna be all like, "I can't save you! I can only make dying feel better for you! With a hammer!"

FebrezeNinja had you killed for not making something

MortuusLupus has entered a strange mood
MortuusLupus has claimed a save game
I feel so powerless. I'm a grown man, trapped in this body. This child's body. A GIRL child's body. I can barely hold myself upright, I can't control my own bowel movements, and this, this...ARISTOCRAT keeps dragging me around, making outrageous demands on my behalf. "Baby needs clear glass, make clear glass for baby." I'm liable to get eaten by the spawn at any moment from what I've learned of this place. I heard her and her manservant talking about something. A pet I believe. I don't want a pet, I want BASIC MOTOR FUNCTIONS. What kind of pet would an insane noblewoman try to foist on me, anyway?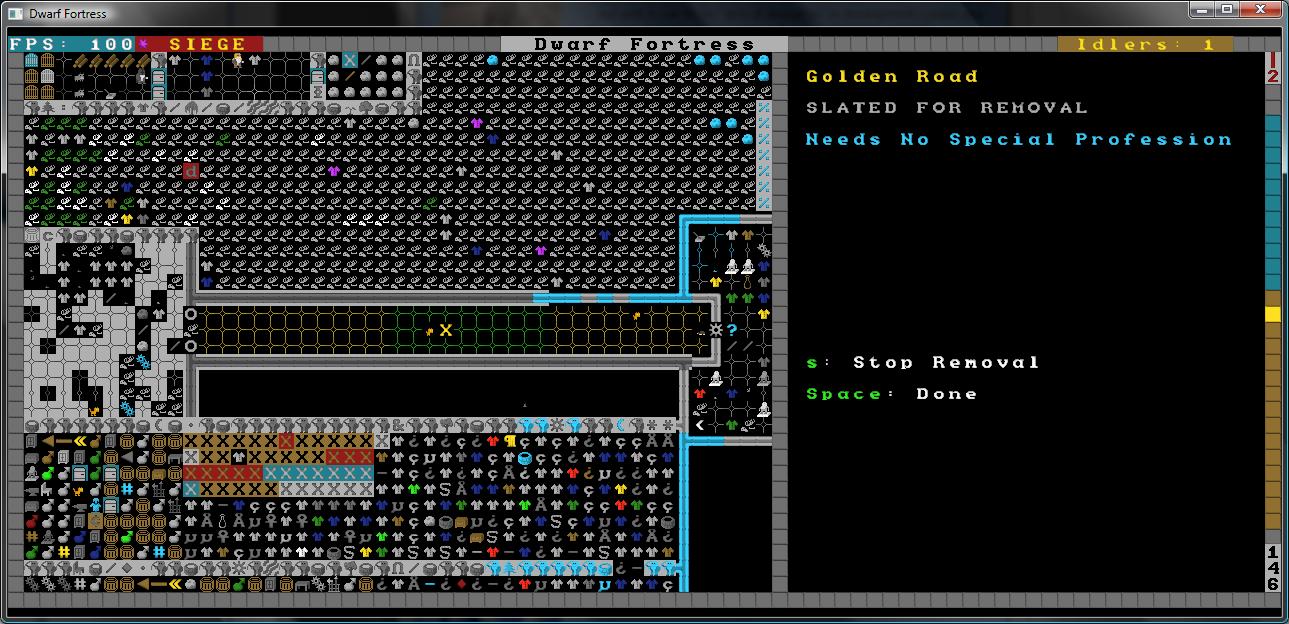 And why are they removing the road? I mean, it is a waste of money that would be better spent on living accomodations and basic health care for the poorer citizens of the fortress, but since when has that ever been a priority for the ruling class?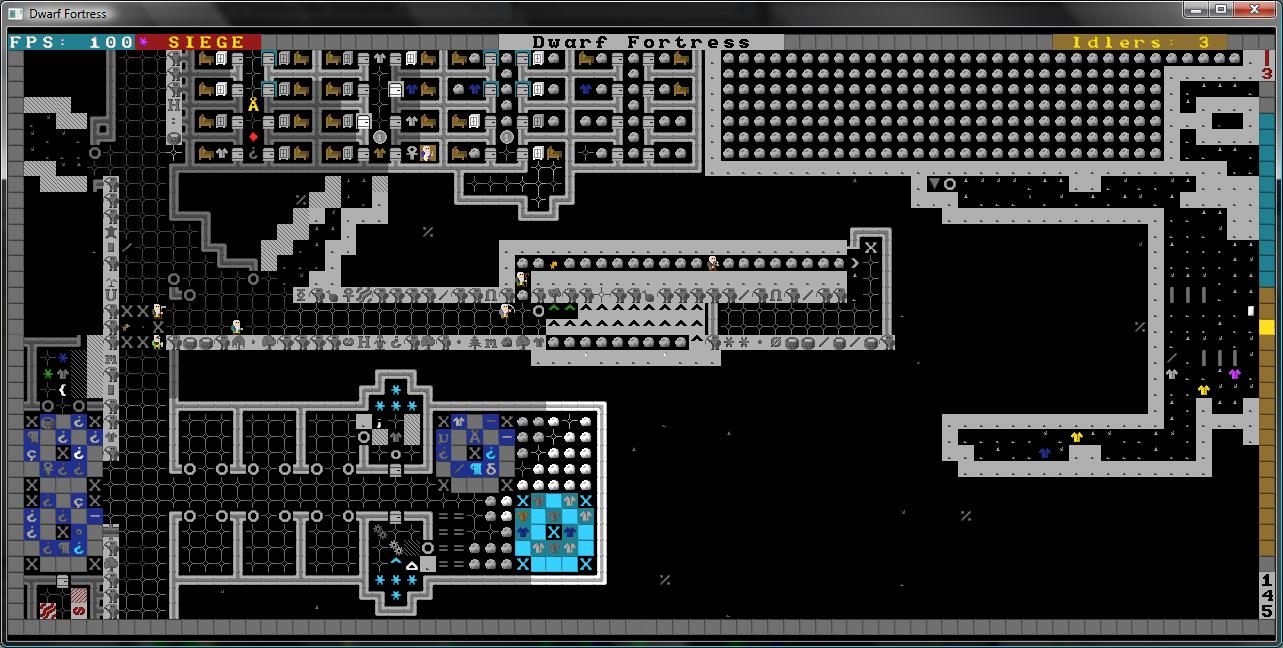 That's a lot of cages. Under the road? But how will...oh no. She means to capture the spawn! This is madness, beyond even that of the old Kings. Curse this worthless shell, I am powerless to stop any of this madness! We're all going to be destroyed by the spawn and I can't even help a poor child I overheard Mr. Peepers, my "brother", talking about.

Poor kid. Lost an eye, became an alcoholic, lost her mother to an invasion. Never got to have a real childhood. "TOYS FOR THE CHILDREN THEY NEED TO ENJOY THEIR YOUTH!!! MAKE THEM OUT OF SOLID GOOOOOOLD!!!" I heared mother scream as she stormed down the hall. "And a hat for me!" her consort FebrezeNinja feebly squeaked behind her. This is insane, how can just one person have such absolute control? The mayor's no better. How long has he held that title? Does he simply run unopposed, or is there, perhaps, some nefarious deal between him and the countess that sees all political rivals jailed...or worse?
I feel so impotent. There has to be something I can do. The fortress gates are up for now, but that just means we're locked inside this prison with these madmen. I see all these Climaxians, running around their little corridors barely wide enough for a single body. Why don't they just carve out the walking spaces to be in line with the upper levels of the fortress? Then they don't have to crawl around each other anymore, and I won't get bumped every time mother decides it's time for a drink.
"BABY BONKED HER HEAD!!! MAKE THE HALLS BIGGER FOR BABY!!!!"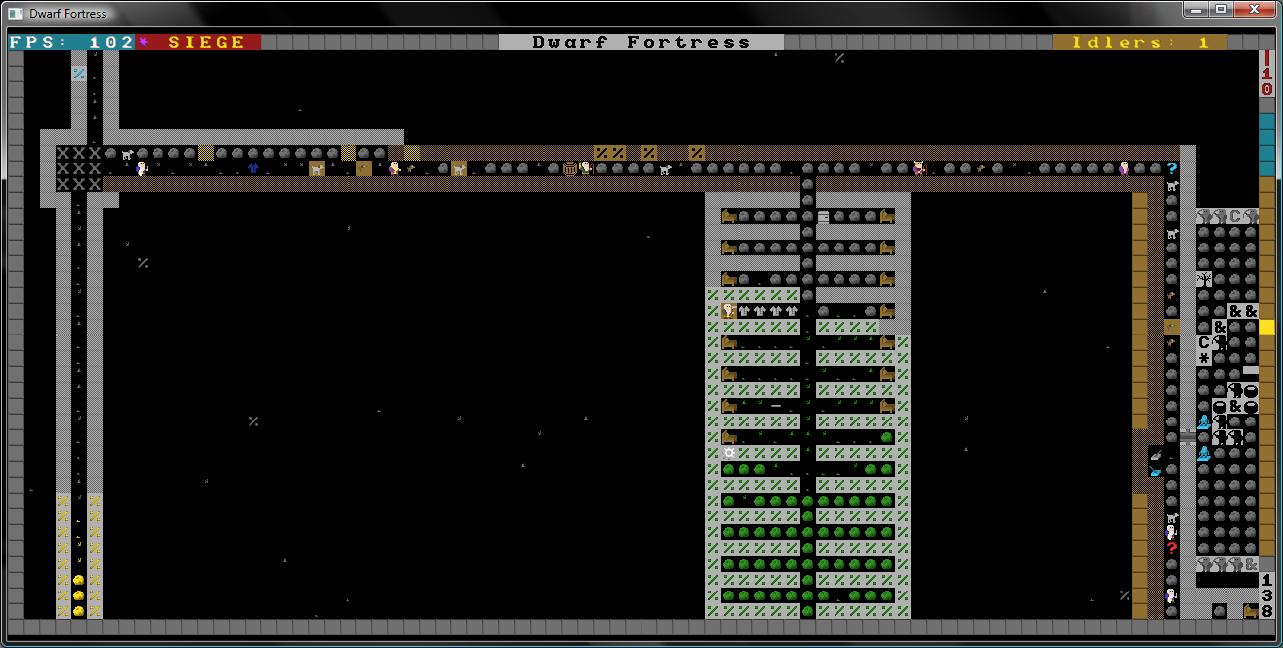 Well, that's a step in the right direction. Now if only she'll stop demanding the impossible of her compatriots.

*sigh* Or not. Mother, these insane demands of yours for clear glass have to stop, for the good of the people! Wait, didn't you just demand more glassware not three months ago? Oh no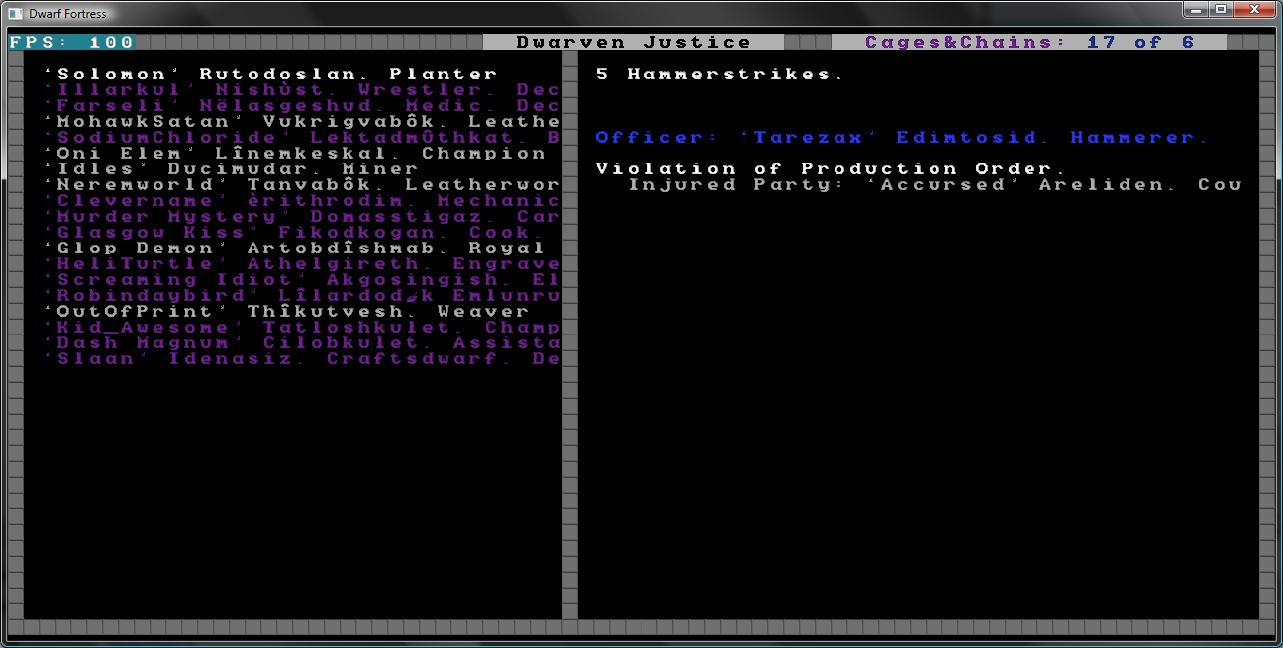 No, no, no you can't do this!


NO STOP THIS!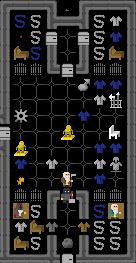 NOOOOOOOOOOOOOOO

He. He wasn't even a glassmaker. HE WAS A FARMER, ONE OF THE PEOPLE!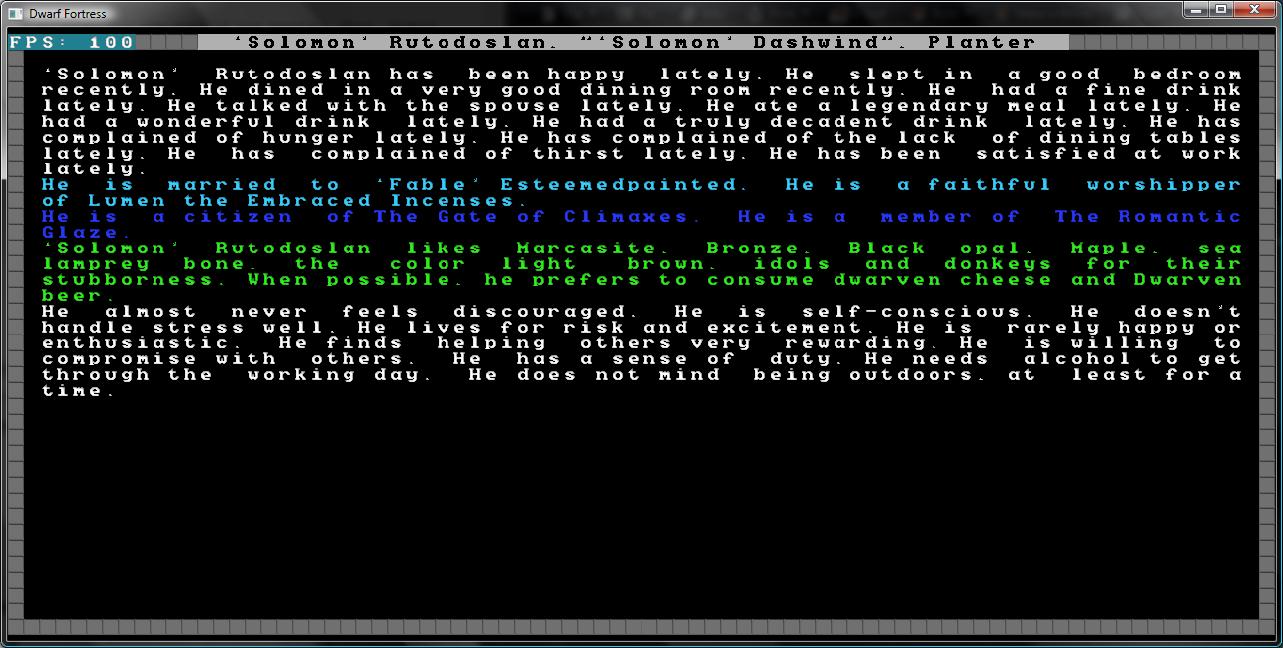 I swear, this ends now. MOTHER THERE CAN BE NO MORE OF THIS! NEVER AGAIN!
"HAMMERDWARF TAREZAX YOU HAVE BEEN SO NAUGHTY AND MADE MY BABY CRY! YOU GO TO YOUR ROOM AND YOU THINK ABOUT WHAT YOU HAVE DONE!!!"

He's a psychopath. But it seems I have some measure of influence over the countess' thoughts. Maybe...maybe there's something I can do to help.
---
Manuel Calavera wrote :-
((I tried my best with the meter. The nobles need to....be dealt with. I blame OrangeSoda's music choices for me thinking of this. I think I should do more journal entries to music, til I die at least))

Mother, do you think they'll drop the hammer?
Mother, do you think they'll put me in the slammer?
Mother, do you think they'll try to break my flutes?
Ooh ah,
Mother, should I Hammer the noble fruits?

Mother, will I be a champion?
Mother, should I trust the noblemen?
Mother, will they put me in the Hammering line?
Ooh ah,
Is it just a waste of booze

Hush now baby, babe, don't you cry.
Mama's gonna make all of your nightmares come true,
Mama's gonna show all of her HFS to you,
Mama's gonna keep you right here, under her =*wing*=.
She won't let you fly, but she might let you sing,
Mama's gonna keep baby cozy and drunk.
Oooh babe, Oooh babe, Oooh babe,
Of course Mama's gonna help with them all..
---