Part 212: MortuusLupus: Update 13
Seeing my brother stuck down must have caused something to snap in markus. Ignoring my orders to hold fast that we might capture additional specimens, he howled in rage and charged into the bridgeroom.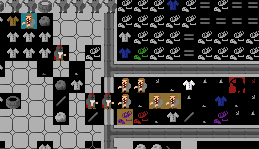 Spawn, in whole and in pieces, flew all about as his hammer found its mark. A truly fascinating phenominon, this warrior's trance.

I wonder if there is any connection between an artisan's moods that result in artifacts and the trances these soldiers enter into. If we can understand how the soldiers focus their energies, perhaps we could use this knowledge to enhance our fortress' wealth tremendously.

Seeing markus in such a state spurred several of the other guards into action.
http://mkv25.net/dfma/movie-1892-defenseofthefortress
And as quickly as that, the threat of the spawn is lifted. It is quite remarkable watching young markus' work.

"MORTUUSLUPUS,
YOU GET UP HERE IMMEDIATELY!!
"

"What now, Mother? I don't have time for this, I have to repair these machines."
"YOU WILL REPORT TO ME AND THE REST OF THE NOBILITY AT ONCE OR I SHALL HAVE TAREZAX BRING YOU BEFORE US!"
I've seen this man's work first hand

and I do not want to draw his ire.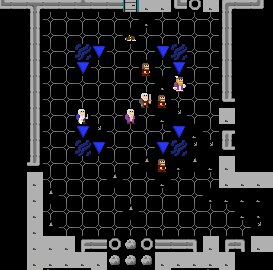 "MORTUUSLUPUS, WHAT DO YOU HAVE TO SAY FOR YOURSELF??"
"Well, Mother, the..."
"
YOU WILL ADDRESS ME AS YOUR GRACE WHILE YOU ARE BEFORE THIS COUNCIL
"
"Y-yes, Your Grace. It seems the, uh, the power distribution system...siezed up. I...thought I'd solved the power issues but, um...it.....broke."
"YOUR BROTHER IS DEAD."
"That's not my fault! The capture device works flawlessly, it was never triggered! I told Eiba to do it!"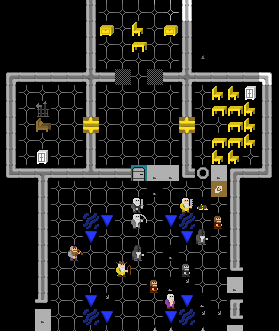 "EIBA...is this true?"

"Shit, what can I say? Those suckers are scary, gracie."
"...Regardless. My son is dead. The fortress was invaded. But most importantly, YOU PUT THE NOBLES AT RISK! THIS IS INTOLERABLE!!!"
"Moth..er, Your Grace, please. I have drawn up revisions to the device that will-"
"SILENCE!! YOU HAVE SQUANDERED THE WEALTH AND TALENT OF THIS GREAT FORTRESS. YOU ARE HEREBY STRIPPED OF YOUR TITLE, AND YOUR FAILED DEVICE SHALL BE DESTROYED SO THAT WE MIGHT SALVAGE SOME VALUE FROM YOUR FAILURE."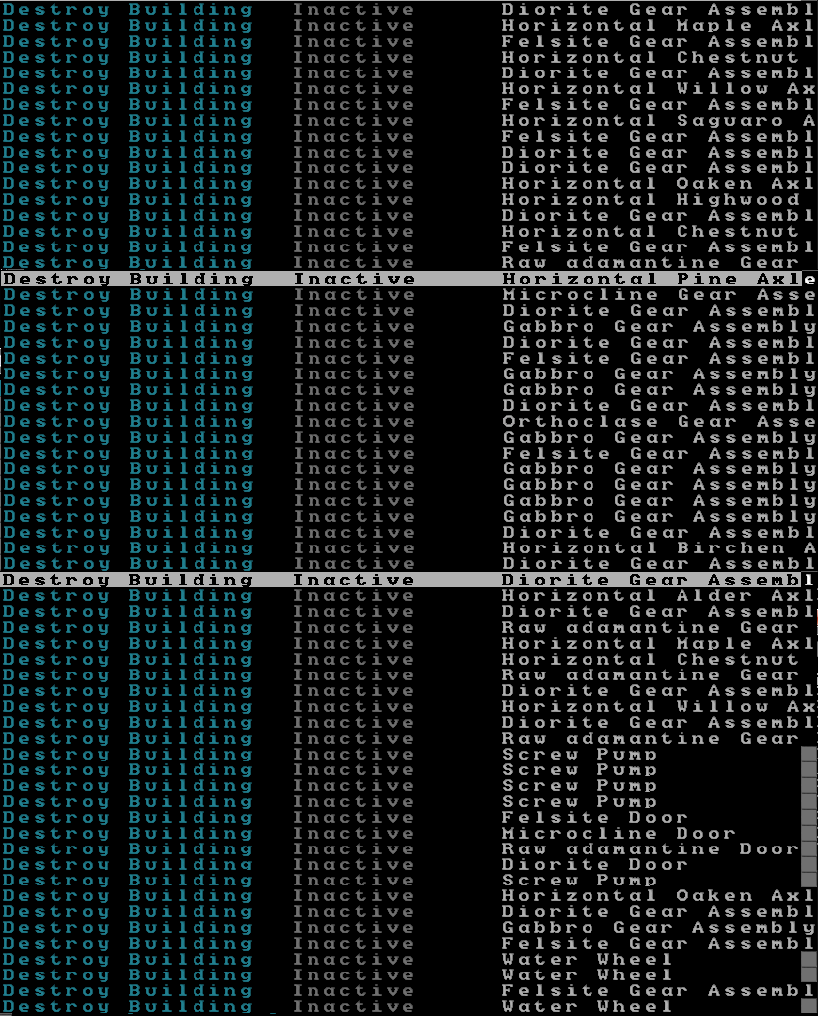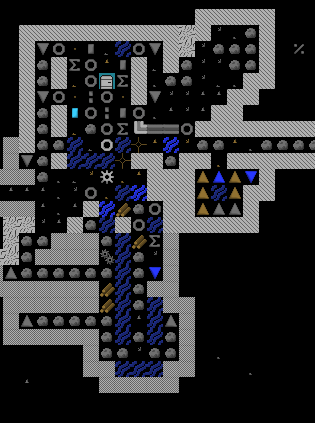 "Mother! No, please, everything I have worked for is in that University! My spawn! My rooms! My weapon rack!"
"These will be given to the University's NEW Provost. THE DEADLY HUME!! YOU GOT PROMOTED!!"

"NO!! Mother! I...what shall I do?"
"You...you will learn from Markus' example, and when you are old enough you will serve under him!"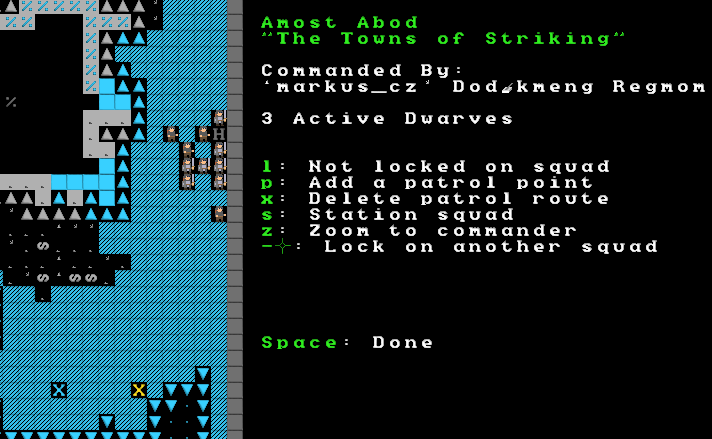 "AH HA! Time for your first lesson! OBSERVE FROM THE OBSERVATION DECK!!"
Markus mops up -
http://mkv25.net/dfma/movie-1891-markusmopsupii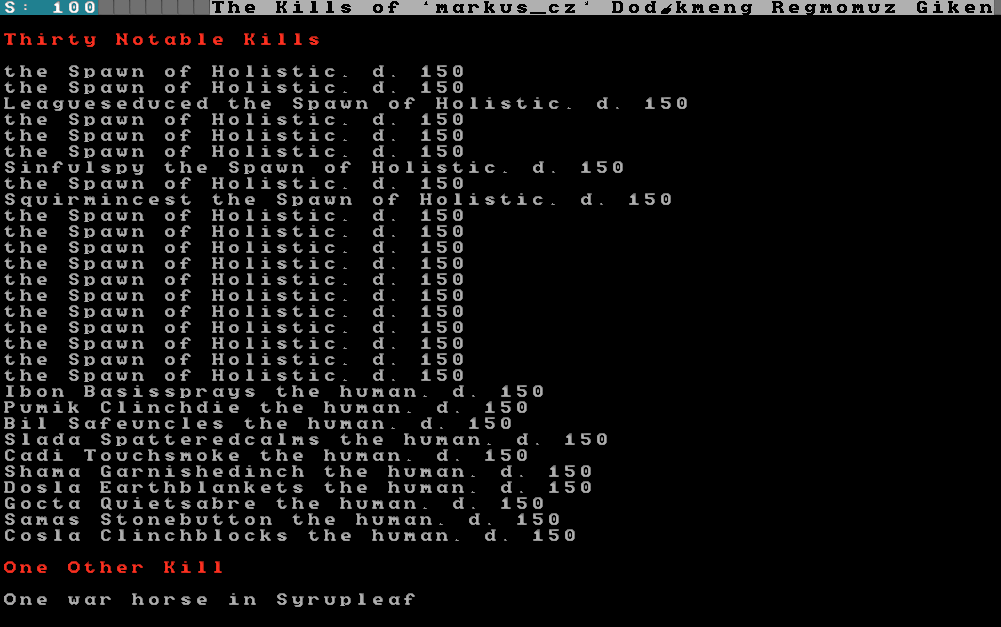 "THAT'S WHAT YOU MUST BECOME TO REDEEM YOURSELF. OH, Tarezax, while you're here. I never got those glass vials. Could you take care of that?"
*grunt*
Tarezax shuffles off

"AND COULD YOU MAYBE NOT USE THE HAMMER THIS TIME??? IT'S FUN FOR YOU BUT I AM TIRED OF ALL THE WHINING OF WIDOWS AND ORPHANS!!"

*grunt*
***
Perhaps this isn't as bad as I thought. This should give me the opportunity to test my mood/trance theories.

Oh fortune!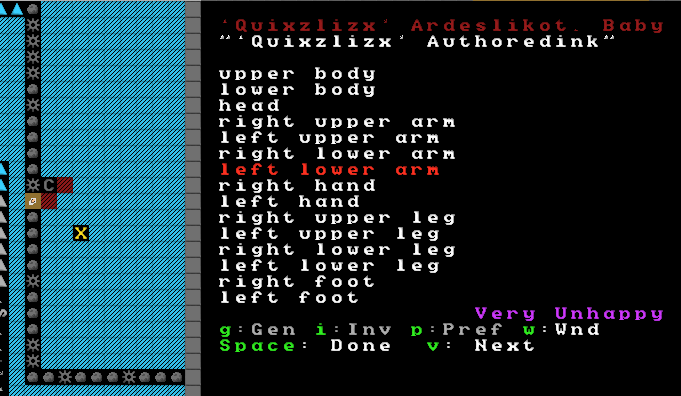 Double fortune! A giant Cave Swallow has emerged and attacked a couple peas...fellow countrymen. Their passing is a tragedy, but now markus has a target to rage against. Fascinating...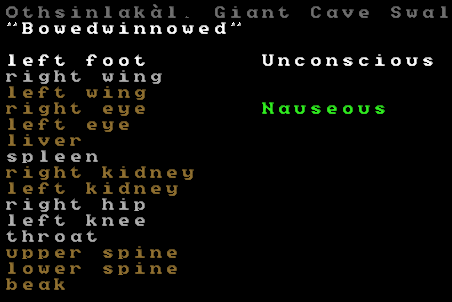 It would seem that a slow kill does not produce the effect I am searching for. A shame, such a waste of a kill.
Perhaps I should check up on the entranced artisan.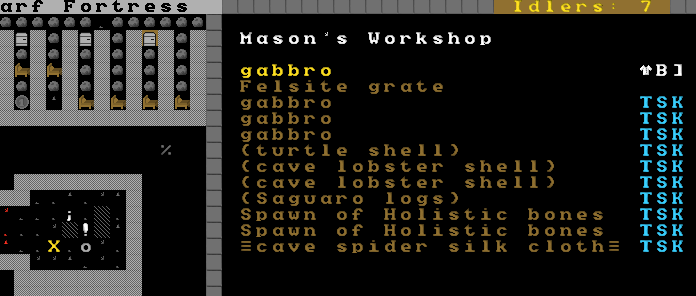 A lovely table...it would compliment my weapon rack most beautif...my weapon rack...
"MortuusLupus, I have need of you!" Markus has summoned me. Summoned. Me. Of all the nerve..."
NOW
"

Such a fierce and fearsome beast! Markus, enter a trance and battle this monster!
"No."
Wh-what? But..
"I have a scientific experiment I want to run. I call it 'what happens when a manticore is frozen and you hit it with a hammer.'"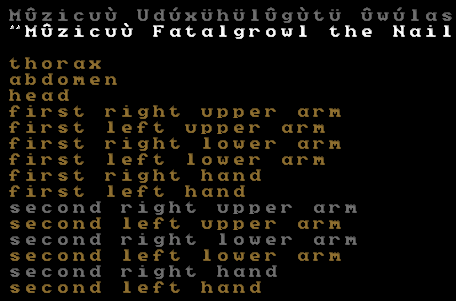 Now?
"Not yet."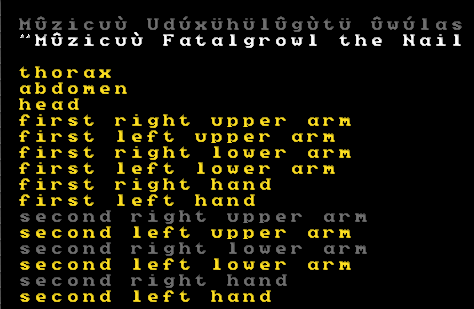 Now?
"Now."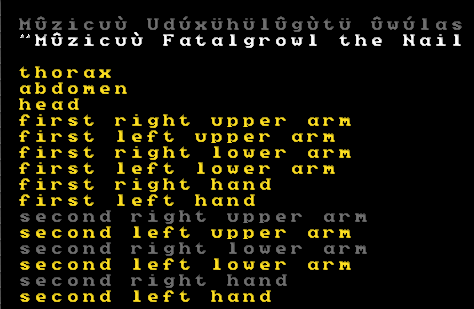 "Huh. It just dies. Disappointing."
As Markus walked off, frosty, blood encrusted hammer resting on his shoulder, I made my final decision as overseer of this place. One day, that boy will be struck down, like all the others before him. But when he is, I can at least ensure that he is given a proper burial, in the most fitting location for someone of his talents.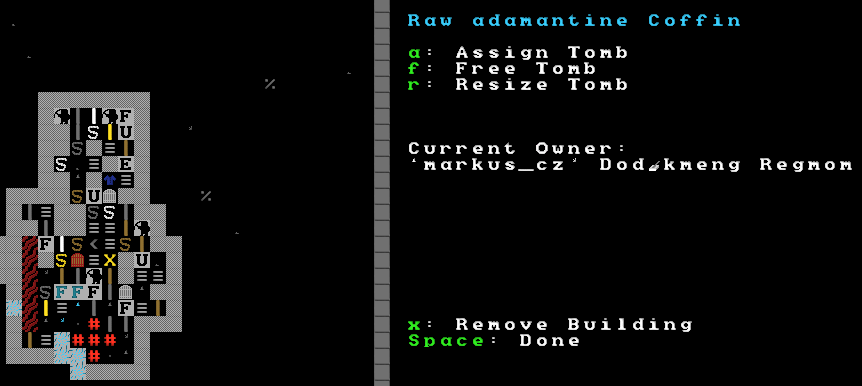 *****
Save is uploading, should be ready in half an hour. Markus, your bloodlust is simply astounding!
edit: save
here
---
Chance II wrote :-
Okay I tried drawing Spawn with jet feet but I didn't work so instead here is this: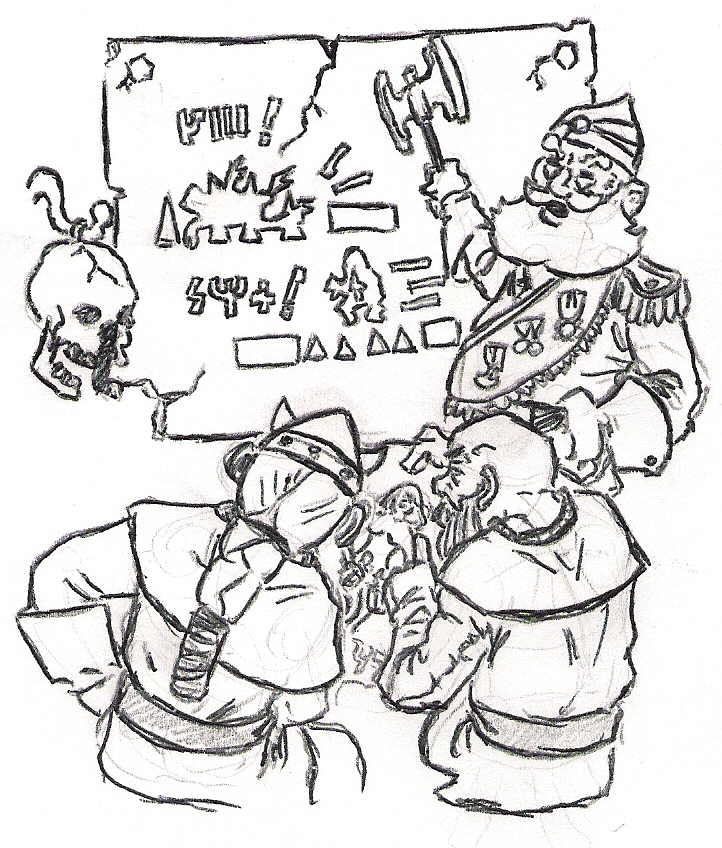 A class on practical trap theory held in the Royal Academy by Royal Guardsdwarf, Chance II. Of course the students are more interested in the boulders and clefts to be seen in Playdwarf than learning something useful. This is why so many die so quickly.

And celebrating Markus's arrival to a place in every dwarf's heart, a portrait: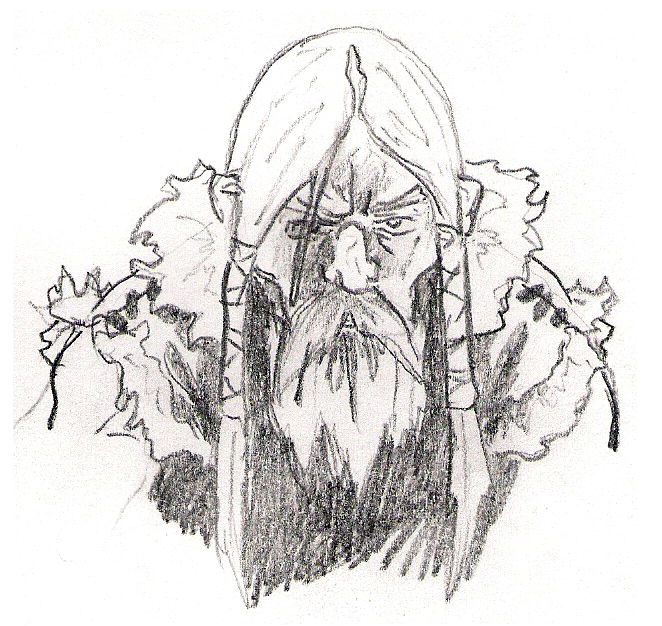 Cheer up mister! Anoint yourself in the blood of enough of our enemies and you can see your brother again in Dwarfhalla!
---
Manuel Calavera wrote :-
I was inspired to do another song from beyond the graaaaaave

original song = Voltaire - Crusade (I'd go further, but...well...it's an anti-war song and beyond the beginning bits, doesn't really fit. I could turn it into a death song of sorts though come to think of it, since I did die to the spawn)

Long ago I went to war
To fight the scourge of Doofendom
I held aloft my blessed club
And said "My gods, let them come!"

They said their mouths are full of blades
I heard it told, from the hells they came
Their will is iron, their life unknown
Thus are the beasts, Holistic Spawn

I heard my fathers words deep in my heart
SON HAMMER YER ENEMY INTO PASTE, AS I WOULD DO TO THEM
---
The Deadly Hume wrote :-
Dear Ma and Pa

Sorry, I haven't written for so long, for I have been kept busy. However I do hear that you received some of the gifts our esteemed craftsmiths have created from our endless bounty of bones and stones. I guess you may have gotten the wrong idea, that they were actually MY bones, but rest assured that I am well. Better than well, in fact, though I am I going to do my best to enjoy it as it will probably not last long.

Just when I thought nothing that goes on here would surprise me, it seems I have inadvertently found myself in the position of Provost of the University. This is of course a shock, as I didn't even know we had a university, but there you go. After keeping my nose down and digging holes and all that for a dozen years, somehow I got seconded into the engineering corps by an overseer who just so happens to be a little girl, now my predecessor.

It's all very fascinating work, with my skills of wielding the pick actually being quite applicable to the more advanced engineering I have been called upon to do. This is important when you're working from blueprints drawn up by a little girl and have to play it by ear most of the time. This was some kind of trap to deal with the Spawn. Yes, we're kind of playing with them now - some of the kids really love playtime at the gates. They didn't quite work out as planned, but, hell, I'm just an engineer. We still got a few of the beasties in cages. I guess it'd be kind of cute to send one back to civilization to be gawked at in the zoo, but apparently that's not practicable.

(We also missed out on the chance to get some Frost Giants since they retreated, since they may have realised that the mayor might come out and breathe on them. I think there was a Manticore too - yeah, one of those guys - but again it seems that the monster without is no match for the monster within.)

Of course, with what passes as politics in this slaughterhouse, the aristocracy deemed the overseers projects as being a foolish waste of resources or something, as if we're short of rocks or something. So they gave her the sack and me her old position, along with the lodgings that come with it. Pretty nice.

Of course, I am now rather concerned that now that I'm being noticed, I am much more at the whim of the nobles and the other megalomaniac freaks that populate this place. What I have is an honorary title, with its perks and such, but given the nature of the way mandates are enforced around here, I just hope I don't get the blame for any failures to meet these. On the other hand, I can't hand them out either, so at least I won't be responsible for any deaths instigated by any sudden craving for a zinc bucket in my room.

With this "university" business, I think that, unless we get some sort of humanities or arts department, it's more of an institute of technology. I think that can be easily sorted out, though. We have a few master engravers who have become adept at researching and documenting the history of our settlement so I intend to nominate one of them as Dean of History. Of course, the people who usually have to deal with our neighbours end up getting killed but I think there's also scope for a Science faculty as well, specialising in the biological sciences, and I should be able to find someone suitable to run that.

I will still have to run these past the powers-that-be - as I suggested, I don't have that much autonomy, judging by the way in which my predecessor was dealt - but it'll give the right folks a bit of a morale boost, even though they'd be doing whatever they'd be doing anyhow.

So there you see. Oh, and another of my cats got killed, you'd think they'd know better to hang around with me. Besides, getting called the crazy cat lady kind of grates after a while.

Give everyone my best wishes,
The Deadly Hume.
---