Part 241: Pozzo: Update 8g
UPDATE 8g: THE ASSAULT OF CREMATION: NICEAARON USTHUTHVUCAR 'THE GEM OF CONFLAGRATIONS'
A few of us had ascended the stairs up to tributebridge to watch the rampages of Glop Demon and Hellioning. Bobzzo, Mr. Peepers, Chance II, Rotinaj and I watched as the champions, in turn, obliterated two entire squadrons of human warriors. We were just watching as Glop Demon went up the hill to collect his singular bolt when there was a loud crack and a flash, and then everything started running backwards. Corpses leapt up off the ground and flew at our champions as they ran backwards towards the fort, landing like rag dolls on their weapons and then suddenly on their feet where they too began running backwards. Ago the spearman straightened his neck out as he rose from the ground and hopped back on his horse, butting away Glop Demons crossbow as he rose, and then rode backwards away back up the hill with his squad. Bloody limbs flew out of the chasm and attached themselves to the flailing corpses of war horses. Blood leapt out from Glop and Hellionings beards and clothes and flowed back into spearmen as they chased our guards backwards to the fortress entry. A human rode a horse backwards through the thin ravine vacuuming up blood into their bodies and cleaning the ravine as they rode past. And then, just as suddenly it stopped and Hellioning was out by the entrance again about to avenge the hero Besmar.
"Great Scott!" cried Bobzzo. "What the bejesus was that?"
Chance II was standing nearby and explained.
"That was an aftershock, of sorts. A time based one, really. They've been rather common since Sirrocos tenure as overseer. Very odd, I must say. I would have taken the time to subject it to further study, however, I've been rather swept away with sparring and patrolling the fort for the last few years, and so I've not had the time. You know how it is!"
"By the swinging ballsack of Litast that was strange!"
"Look on the bright side sir, now we get to watch it all again!"
"Hah ha! Righto, here they go again."
It started off the same as before - Hellioning fired a bolt and then ran at the spearman on the ballista range, who dodged the bolt and was summarily executed by bludgeoning. The other humans in his squad saw this and come running, and Hellioning charges at them teeth bared and roaring and begins to rip in to them. But things became almost immediately divergent. Glop Demon came out of the fortress earlier this time and joined the slaughter.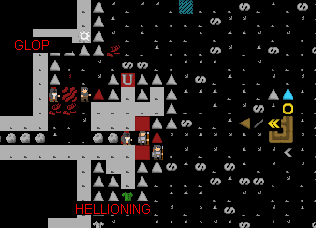 Hellioning comes running out of one of the ballista channels and charges three of the humans and Glop runs at one and his horse, grabbing a human leg and a horse leg in each hand and breaks both at the same time.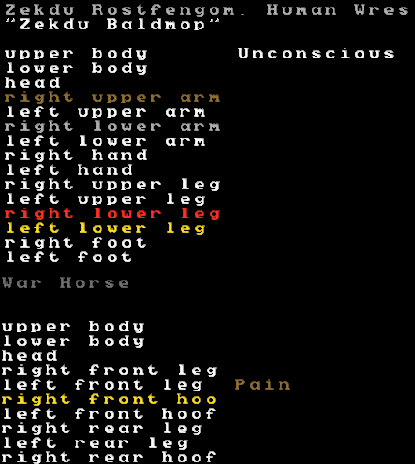 Meanwhile hellioning grabs another human by his entire body and breaks just about everything. Glops human dies from blood loss and he throws the horse away at the scratching pole. The three facing Hellioning are reduced in number to one now as another two mounted spear men descend from the rise and all humans present agree that now is the time they should fuck off. Our guards disagree. and run after them. Given they are mostly wounded they don't get too far. In the end both guards stand over the last spearman kicking him to death. Hellioning vomits on the man as he breathes his last.
Right then Ago is leading his squad down the hill behind the gatehouse, where they stop, and decide to rest, next to Plagueurges.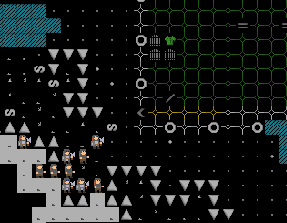 "Those bastards!" cries Bobzzo. "Those bloody lanky spawn-loving bastards! They're doing this to taunt me! I'll box their ears! Each and everyone one of them!! I'll box their bloody ears!" he roars. He runs off towards the stairs but Chance II casually grabs him one handed and says "Probably not prudent, old chap." and holds him there.
As Bobzzo struggles, three humans come around to his way of thinking and break off from Ago's group, charging down the hill, under the bridges, and through the ravine.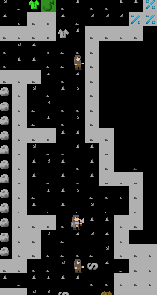 Ago's group decides to go back to the place they entered our lands and go back to waiting there. Right then Vander wanders out on to the ballista range saying he needs to "Pick up equipment".

Nobody has a clue what equipment that might be but the humans crest the rise and charge straight at him. The only dwarf in the battery at this stage is notwhoyouknowiam, and he watches as Vander runs straight into the approaching human wrestler and his mount. The human scoops Vander up by the leg, breaking it. They proceed to grapple with the human never even bothering to dismount, as his two buddies charge up behind him to join the fun. Vander is taking a beating, and it looks like all hope for him is lost, but then, who should show up?

None other than Glop Demon, looking bored and hungry for blood. However, it turns out that all hope for Vander was indeed lost, as he is struck down by a rearing warhorse.

Glop has replenished his quiver now and unleashes a flurry of bolts as Hellioning runs up behind him to help. The warhorse become war porcupines, and one goes down in seconds.
Glop fires a bolt into the face of the rider of another warhorse, and he goes flying.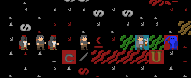 Hellioning charges past and levels a heavy blow at the third warhorse, which is flung out from under its rider and flies back into Glops face. The warhorse EXPLODES ON IMPACT. Glop Demon is marginally stunned. They crush the last two humans, and then Glop decides to go back inside. Hellioning hangs around a while, vomiting from the sunlight or perhaps just out of disrespect for the mounting pile of corpses outside the ballista battery. Right then another two breakways from Ago's group approach.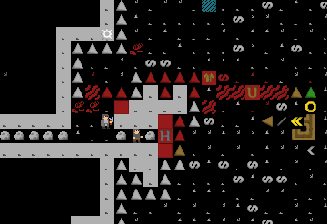 They charge at Hellioning, spears levelled. He dodge their blows with lightening speed - right in to the channel right next to him, dropping 2 metres on to the hard rock and sitting at the bottom of the channel, looking confused and still vomiting.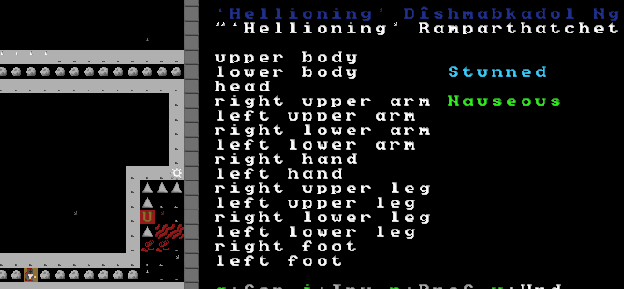 The humans run back around the rise to try and get Hellioning while he's down. They ride along the floor of the thin channel straight at him, as he gets up, still vomiting. Both humans and their warhorses are struck down rapidly, in a short and brutal fight. Hellioning vomits the whole time.
Ago and his groups hear the violent, heaving sounds of this battle and decide they will ride for the gates again. Finally. A breakaway from the squad - An axeman by the name of Daseb Clashsuppers - speeds on ahead and is riding through the ravine when he sees a small immovable object in the way.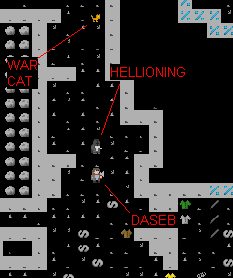 And a cat. An angry looking cat.
We have now our third duel.
Hellioning grabs the human from his horse as he rides past, breaking his arm in the process. The human is thrown him to the ground and stomped on. The cat comes up and bites the horse in the tail while Hellioning works on the axeman. While this is taking place another early breakaway rides up and joins the fray. The two men and two horses kindly arrange themselves in a pile to be slaughtered more easily.
This streamlines the whole process. Unfortunately, as Hellioning bashes the pile of foes one of the warhorse slips off the pile and falls on the warcat, killing it instantly.

The ravine is once more filled with blood. Hellioning goes inside for a sleep. Seeing this gets Bobzzo thinking, and he turns to me and Chance, an accusatory look on his face. "Why the bloody hell aren't you two down there anyway?"
"Sparring" says Chance, giving me a weak punch on the arm.
I cough. "Yeah...sparring."
He continues to give us hammer eyes.
"Up here, on the bridge?"
"Altitude training." says Chance.
I cough again. "Yeah...Altitude training."
Bobzzo is not satisfied but there is some movement at the foot of the tributebridge. Ago's main group is taking their time in coming down the hill. They haven't even got down to the old main bridges this time; they're not charging so much as gingerly strolling. And with good reason.

Glop enters a martial trance and storms up the hill, sending a wrestler flying, as he charges straight past towards Ago, who he punchs in the stomach, breaking the spearmans back.

Ago fights for his life. His squad descend around Glop, however the guard just fends them off (Often fatally) while continue to beath the living shit out of Ago. Ago finally falls, a bloody, mangled heap of flesh and bone.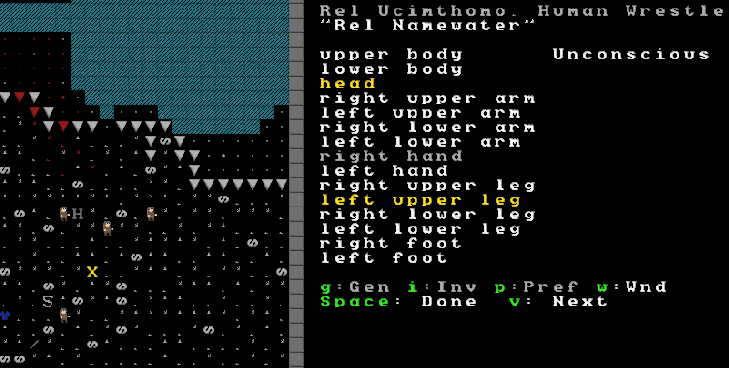 The rest of his squad, and a few riderless horses, make for our southern border slowly, limping and almost universally injured with several broken bones at a minimum. Glop chases them down, picking off the slower ones as they hobble away like some nightmarish lion covered in vomit. He seems to favour killing the riders without stopping the horses.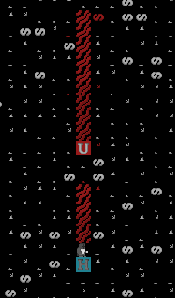 And so Ago's squad is dealt with again, finally.
OOC: And saved this time. Phew! Sorry about the alternate timeline death Vander but you really must have wanted that equipment, whatever the hell it was.