Part 75: Sirocco: Update 10
Sirocco's Year: Part Ten
Two of our dwarves came to me the other day to ask for permission to build a... oh, it's too exciting! I can't tell you just yet journal! I want it to be a surprise!
I can tell you this though: Tinny Turtle came in shortly afterwards asking for an archery range. But hey, I'm a generous guy! How about two?!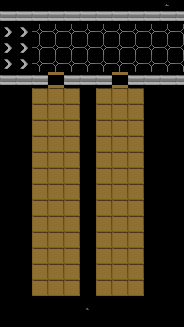 Eiba also came in today saying he wanted to commission two crowns. Seems a bit silly when you've only got one head, ha ha ha! Nevertheless, I'm only too happy to help so I dropped by one of the workshops and asked Val Helmethead to make some crowns for Mr Eiba.
'I'LL MAKE WHAT I DAMN PLEASE YOU FASCIST!' he screamed at me. 'MAYBE I'LL MAKE CROWNS! MAYBE I WON'T! PERHAPS TODAY I FEEL LIKE MAKING AMULETS? PERHAPS I FEEL LIKE AN EARRING OR TWO WOULD MAKE THE DAY BRIGHTER? BUT IF I DON'T WANT TO I WILL
NOT. MAKE. FUCKING. CROWNS.
'
After I'd wiped the spittle out of my beard we came to an agreement - he'd make a whole bunch of bone crafts and if any of them happened, perchance, to be crowns, then he'd let me know.
'STOP STIFLING MY CREATIVITY!' he yelled after me as I left.
Pimpmust ran up to me and told me dwarven wagons had arrived. This was excellent! We've got a lot of crafts to unload.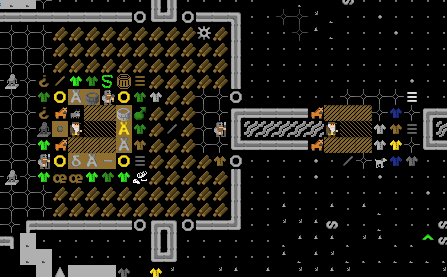 I walked excitedly to the gatehouse to greet them.
'Hi guys!!!' I said giving all the merchants a hearty handshake. 'Can I give your horses some dwarven sugarcubes? Pretty please?'
'Uh... yeah,' the merchant replied. 'So, what have you got to tra- huh? Did you hear that?'
I froze. There was a noise outside the gatehouse... a sort of odd jabbering.
A bell rang out. I turned round to see Pimpmust pulling the rope frantically.
'Sand raiders!' he yelled.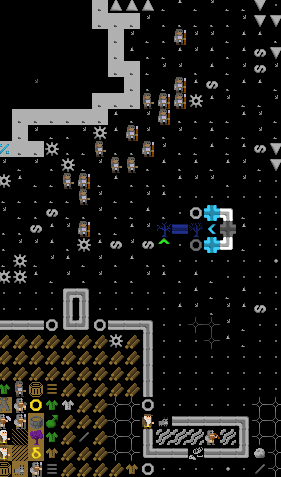 tehsid appeared at the entrance. 'To arms!' I called to him. 'To aaaaaarms!!!'