Part 23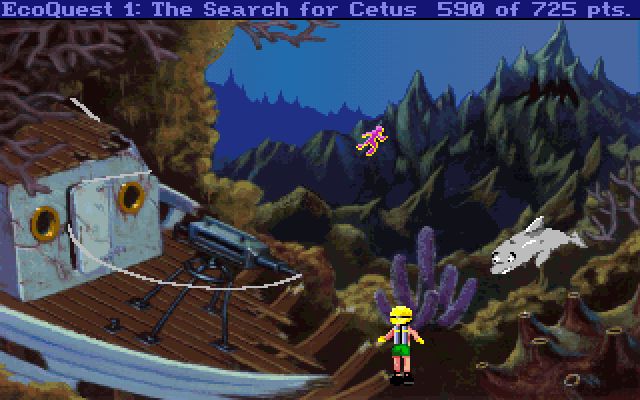 Okay. Still a lot of confusing geography here. Let's go check out that inviting looking cave up there.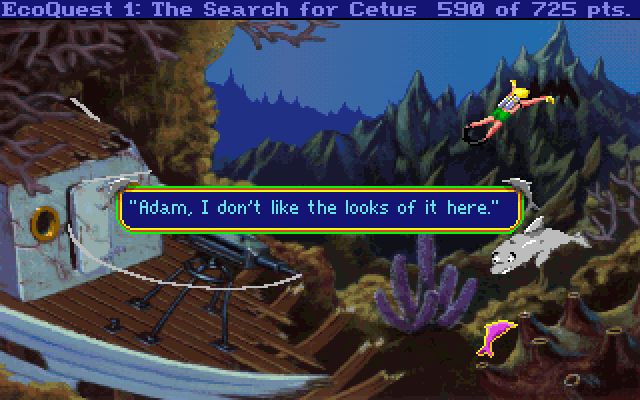 For some reason, this whole section refuses to tell us who's speaking. The context makes it pretty obvious, though.

:
"Sssh! What's the matter with you? The prophecy has been right so far."

:
"I know, but I feel sort of funny, like something's watching us."

:
"Don't be such a baby... Wow, take a look at that cave! And this ship, I think it's a whaling vessel, recent, too!"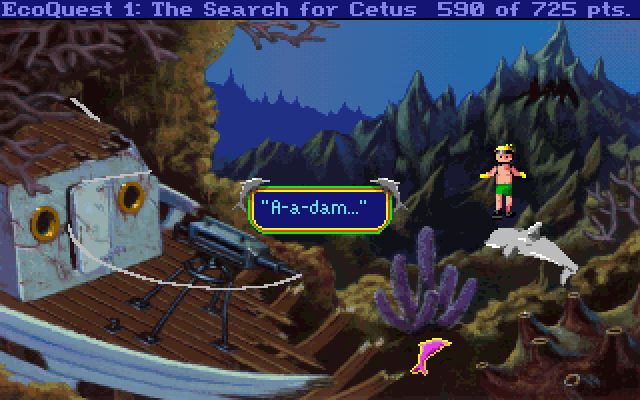 Would you stop whining already? Christ.

:
"What is it?"

:
"Be-behind you!..."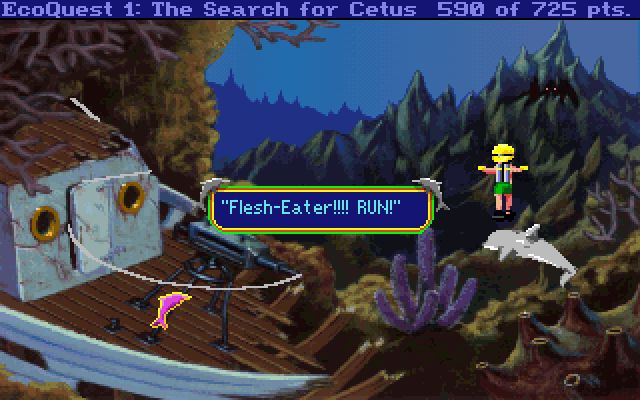 ...oh dear.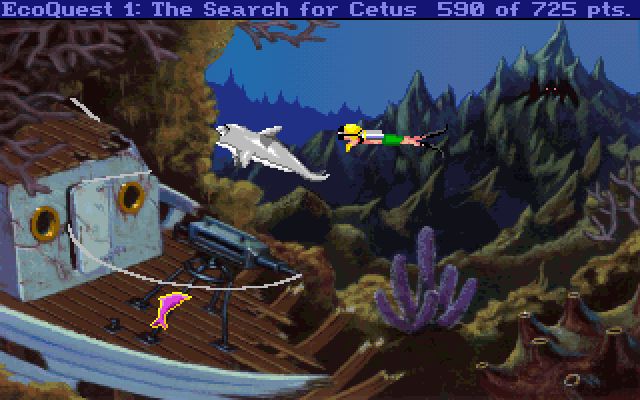 Yeah that's good advice for once!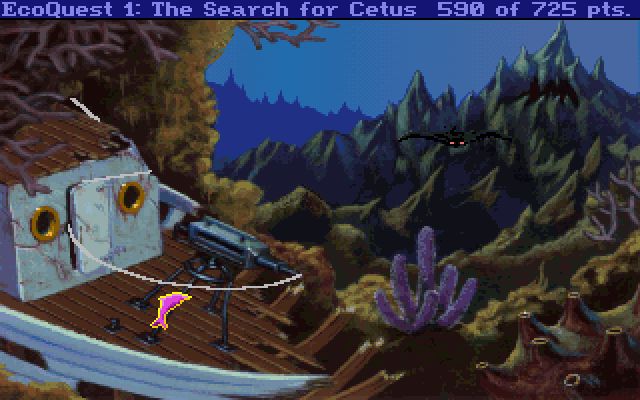 Adam and Dolphy flee in terror from the huge, flesh-eating monster!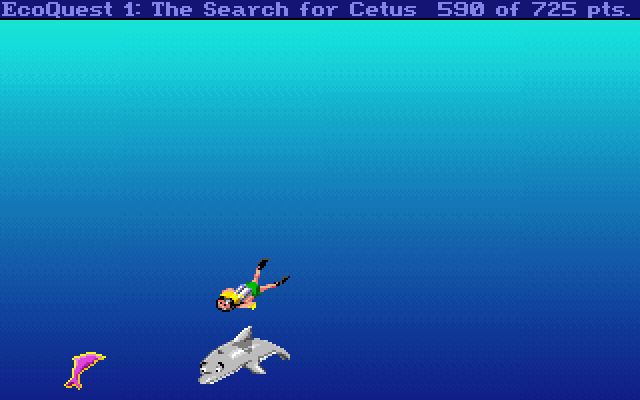 AHHHHHHHHHHHHHHHHHH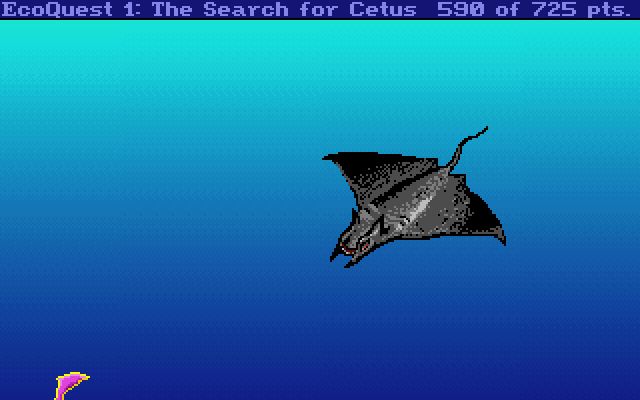 HHHHHHHHHHHHHHHHHHHH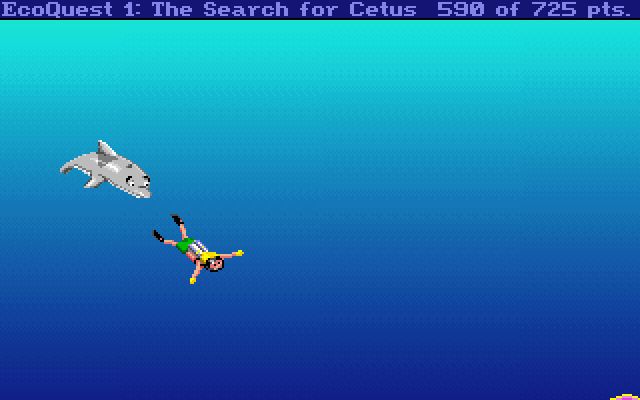 OH GOD OH GOD OH GOD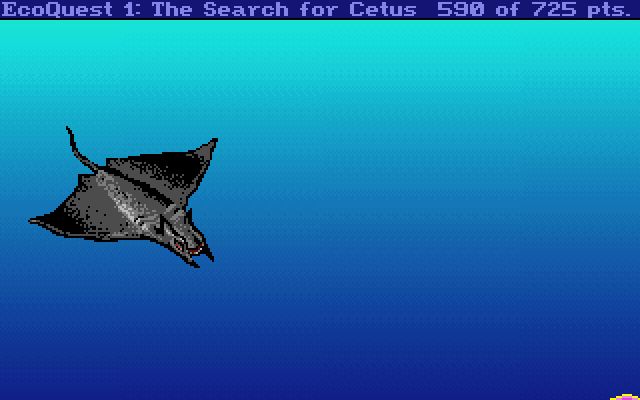 HELP ME TOM CRUISE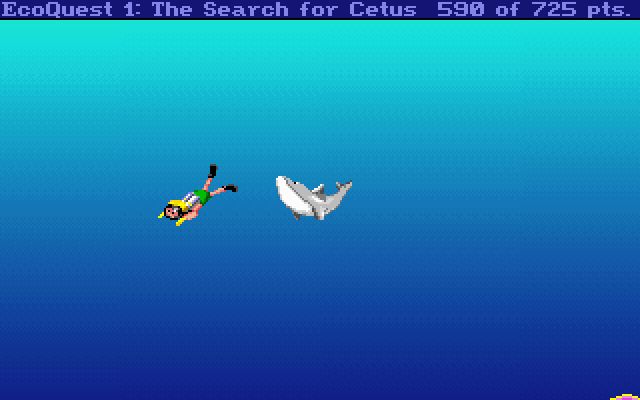 I DON'T WANT TO DIE A VIRGIN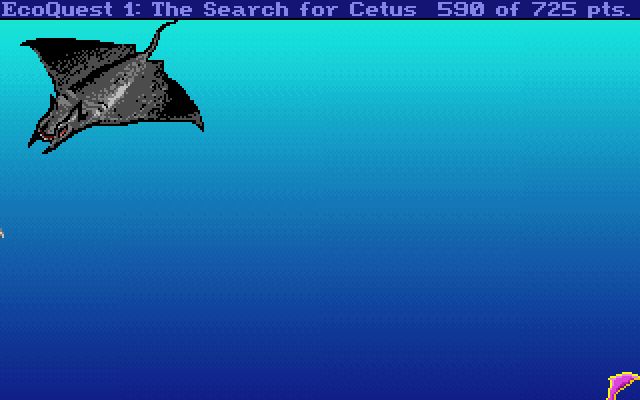 I HAD SO MUCH MORE TRASH TO PICK UP
With a feeling of utter helplessness, Adam prepares to feel the sharp bite of Flesh-Eater's jaws. The monster is so close that his hot wake ruffles the back of Adam's neck!
Well, at least we're staying ahead of it, so barring any unforseen obstacles we should be saf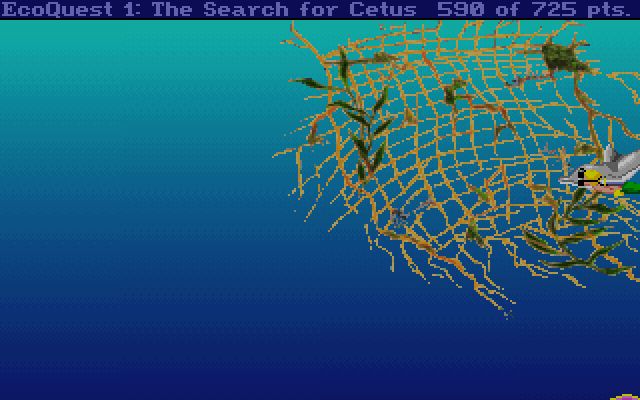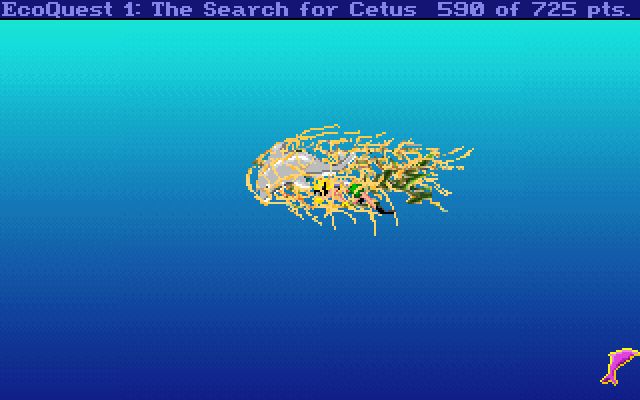 In their panicked terror of the danger behind them, Adam and Dolphy fail to notice the danger in front of them. They both plow headfirst into the driftnet.
Crap.
The nylon mesh wraps its arms around them. The two are trapped!

:
"Dolphy! We're trapped!"

:
"Adam! You've got to save yourself! I'll never get out of this thing, but you still have a chance!"

:
"I won't leave you, Dol!"

:
"So what, we both end up Manta food? DO IT, Adam! Save yourself!"
Adam waits for the manta to finish them off - two helpless victims trapped in the net. To his surprise, Flesh-Eater only circles them.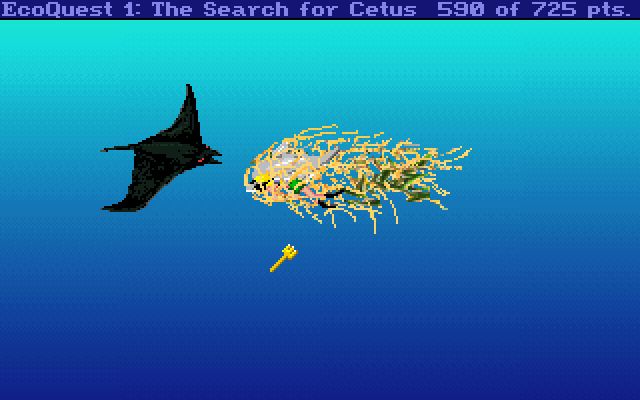 It's not a bad idea, actually. They'll both need to breath sometime, and it'll be less of a struggle to eat them if they're dead.

Wait, never mind that, we've got to get Adam out of there!

Dolphy can suck it.
Adam struggles against the rough nylon rope but he's too entagled to pull himself free. He'll have to cut the net.
No problem, I've got a hacks
Adam can't wield that hacksaw while he's entangled - it's too big. Besides, the hacksaw is too dangerous to use so close to Adam's flesh.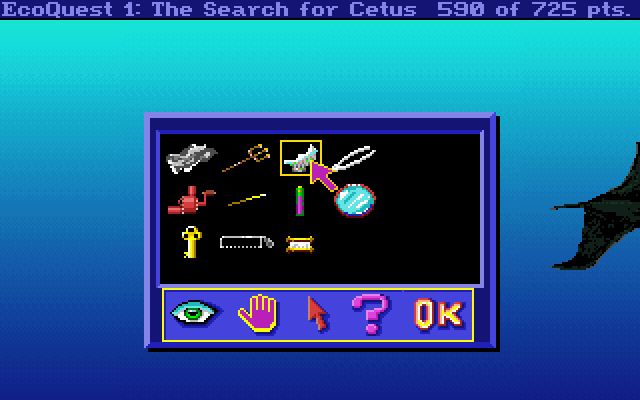 Fine then.
Adam maneuvers the sharp shell around and begins to rub it against the nylon net. The shell saws through the nylon, loosening the net's grasp on Adam. He's free!

:
"You did it, Adam! Now get out of here! Fast!"

:
"Are you crazy?! What kind of friend do you think I am?!"
The kind who puts you into incredible danger by trying to go check out Flesh-Eater's cave.
Adam turns back frantically to cut loose his friend...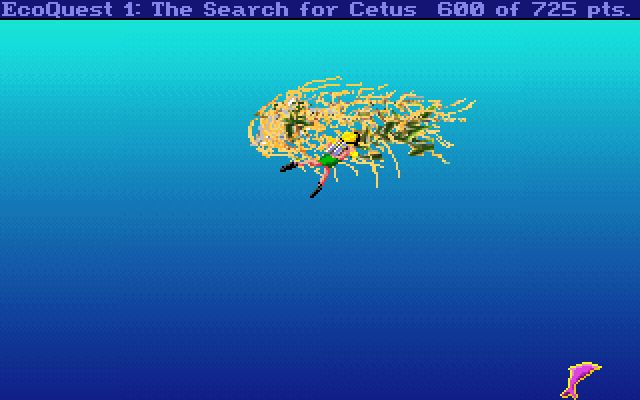 Hold on, Dolphy!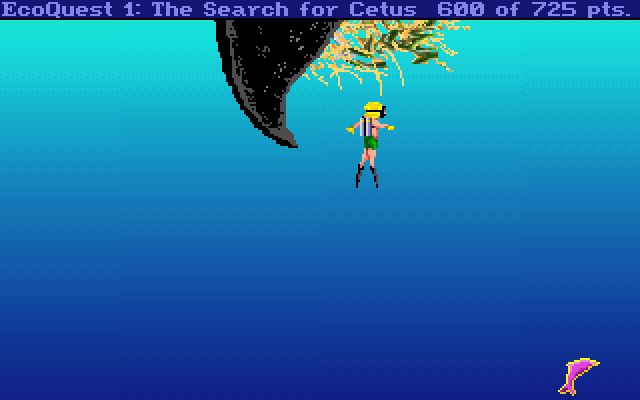 Er
...But before he can free Dolphy, Flesh-Eater swoops in! Enraged to see one of his victims escape and determined not to lose the other, he seizes the net with poor Dophy still in it...and knocks Adam aside with one flick of his huge wing!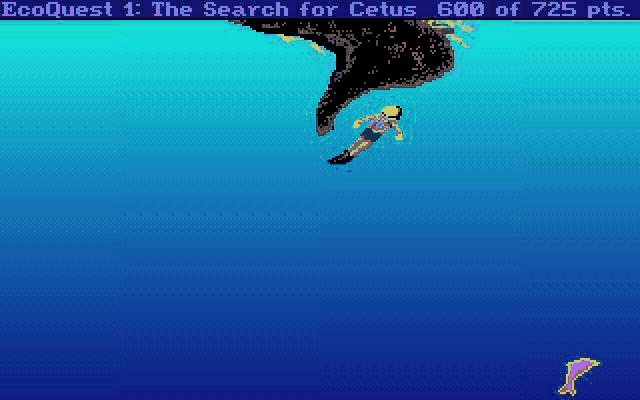 FWAP.

:
"Adam! Find Cetus! Only he can save me now!"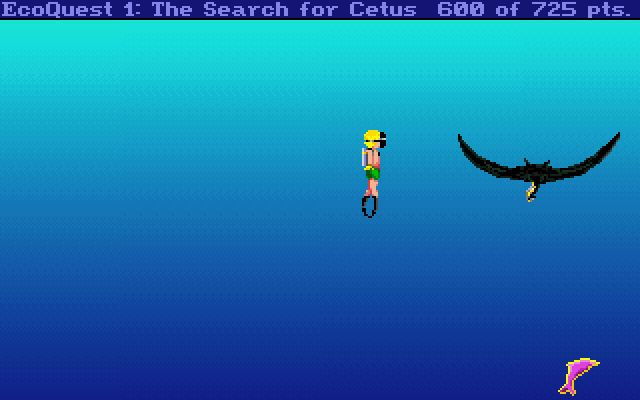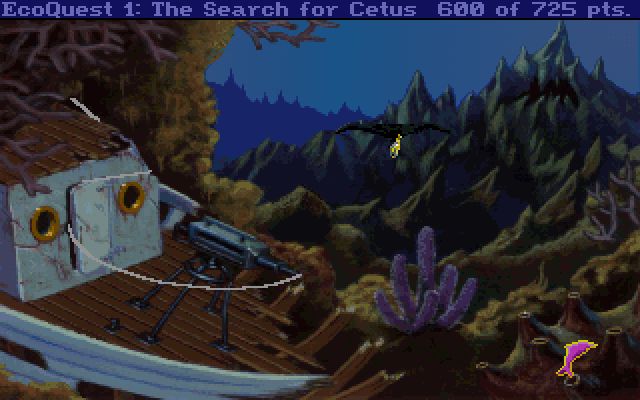 ...

Adam finds himself suddenly alone. The driftnet with its precious cargo and the monster are gone. What on earth, Adam thinks, can he do now?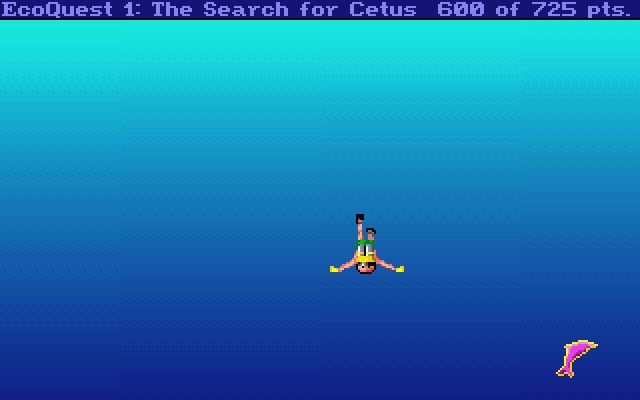 And will he ever see Dolphy again?
Bonus: The exciting chase video! (youtube)