Part 25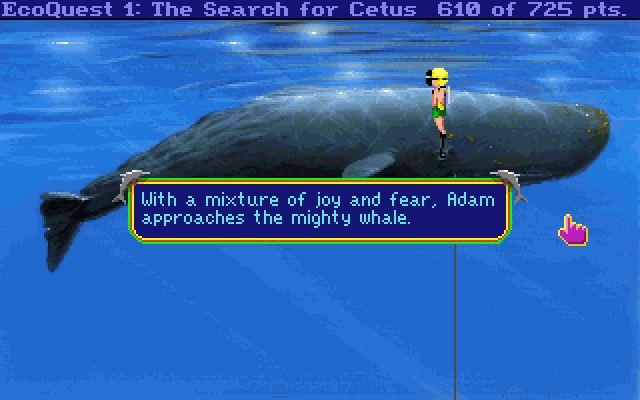 :
"Your Majesty, you're hurt! No wonder you've been missing! You're trapped here by that harpoon!"
Yeah, the toothpick next to your mouth is quite the little prison, isn't it?

:
"YES, CHILD. AND YOU ARE THE ONE... FORETOLD. I FEAR YOU MAY BE... TOO LATE."

:
"But what happened! How did you get harpooned?"
It was most likely the harpoon gun down there you dip.

I'm more interested in how the whaler's boat got sank. If you think about it, Cetus must have destroyed that boat and all the sailors inside, which makes him awesome in my eyes.

:
"IT WAS FLESH... EATER. I HEARD HIM CRY OUT AND WENT TO...HELP. HE TRICKED ME INTO THE WHALER'S PATH."

:
"Can't you get free?! You can't just die! Eluria needs you!"
How can he help? He's bigger than the whole city, and they're idiots anyways so his absence really can't make that much of a difference.

:
"THE HARPOON...HOLDS ME FAST. I CANNOT GET IT OUT OF...MY MOUTH. I AM SO WEAK... I HAVE NOT LONG."
Jesus just rip it out. It's not going to hurt THAT bad. It makes more sense than just sitting here, starving to death.
Cetus sinks into unconsciousness and his great eye shuts. The harpoon wound has become infected and he is near starvation from being trapped in this one spot. Cetus is getting weaker by the moment.
Well, I think we all know what Adam has to do.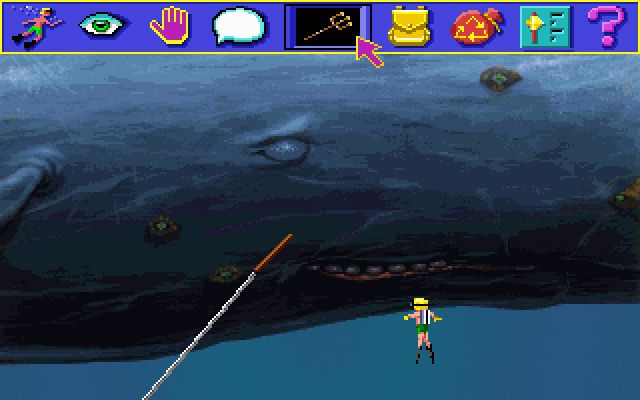 We're gonna have to put him down.

That won't help Cetus.
...fine. Conservatives.

Well, we'd better get that thing out so we can go kick Flesh-Eater's face in.
The back of the whale's mouth is closed here. Adam will have to get further away from the whale if he wants to get in Cetus' mouth.
Want to get in Cetus' mouth, huh?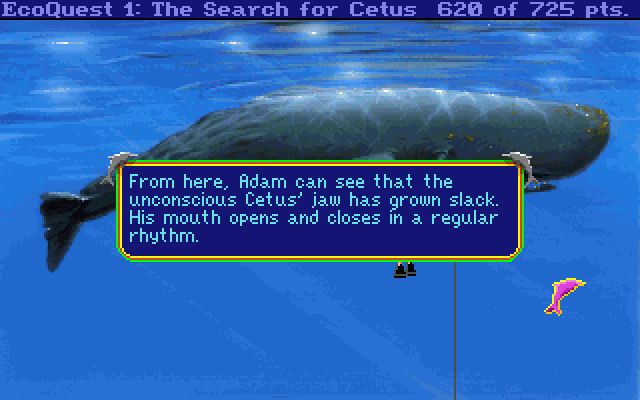 Okay, let's do this!!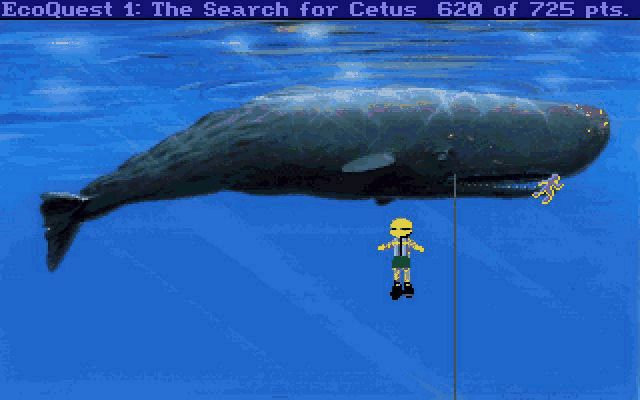 BONK
Adam will have to time his approach to the mouth more carefully if he's to get inside.
Maybe if I didn't have to go the length of football field away from my target, I might get there faster.

Three tries later...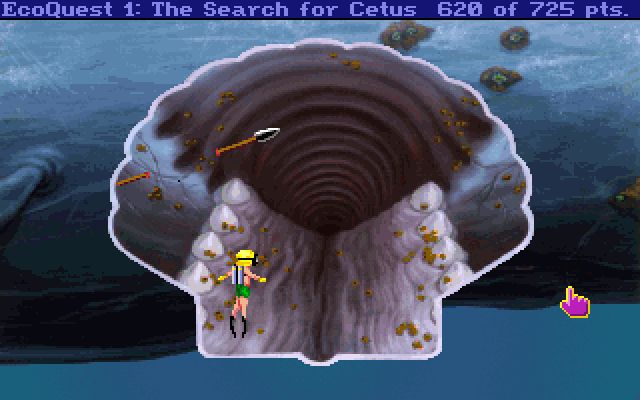 Ewww. Brush your tongue, dude.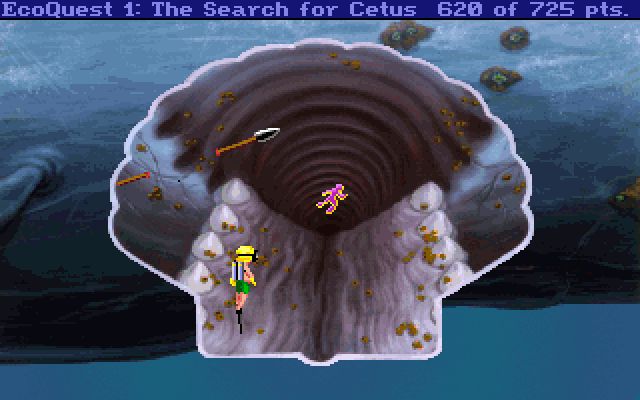 I'm going in!
Adam doesn't need to go down the whale's throat. This is EcoQuest, not Pinocchio! He wonders briefly if the whale has any amergris in its stomach.
Here's a link to Ambergris, for the everybody who doesn't know what is.
The harpoon head is barbed and has locked into position. It would stick in the woung like a fishhook if Adam tried to push it out.
God this is the weakest whale ever. The harpoon is tiny compared to the rest of him.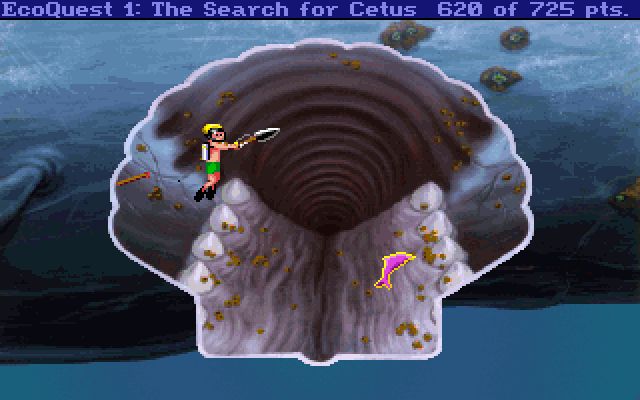 Fine. Wuss.
Adam uses the industrial saw to cut through the harpoon shaft. The barbed harpoon head falls to the bottom of the sea.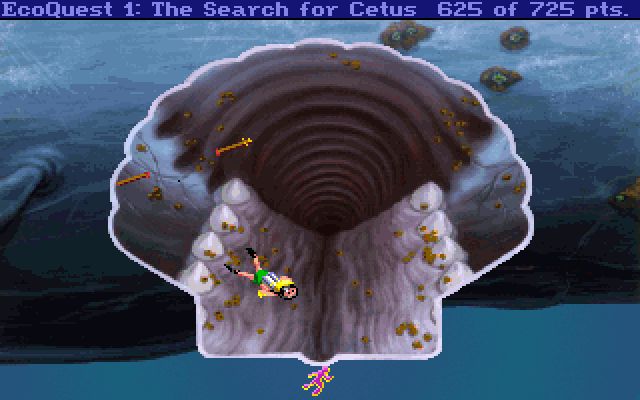 Okay, let's get out of here. It smells like ass.
Though Adam has removed the harpoon head, the harpoon shaft is still lodged in the wound.
Do I have to do EVERYTHING around here?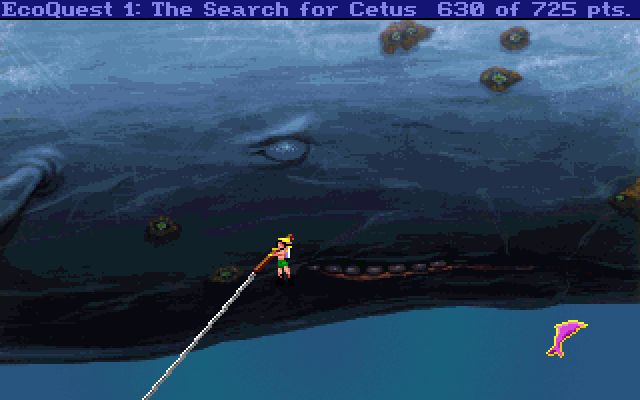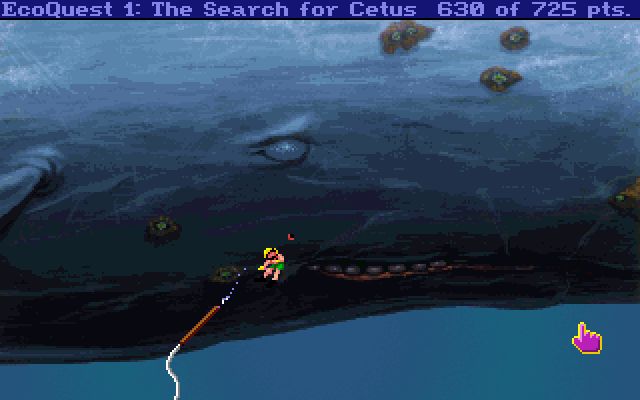 There, you're better now, right?
Though the harpoon has been removed, it has left a nasty wound. The wound is infected and is preventing Cetus from recovering.
...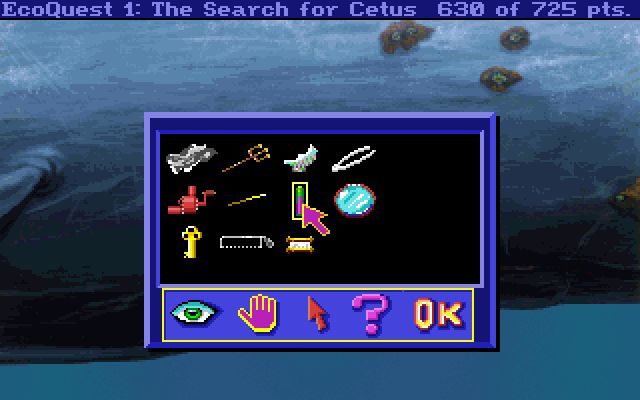 Adam uses Demeter's precious store of medicine on the wound.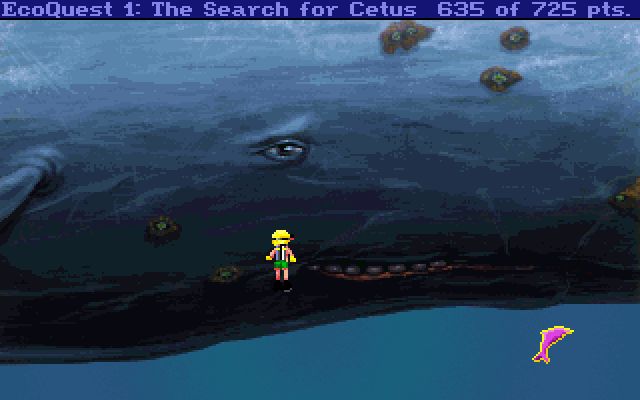 Oh hey you're awake. Is there nothing Adam can't do? Other than make friends and wear shirts

:
"Cetus! You're awake! Are you feeling okay? Are you gonna make it?"

:
"BE CALM, CHILD. I AM MUCH...BETTER. I FEEL THE WOUND ALREADY HEALING. YOU HAVE...SAVED ME."
You're welcome.

:
"Now that you're better, we have to save Dolphy! Flesh-Eater took him and he's in terrible danger!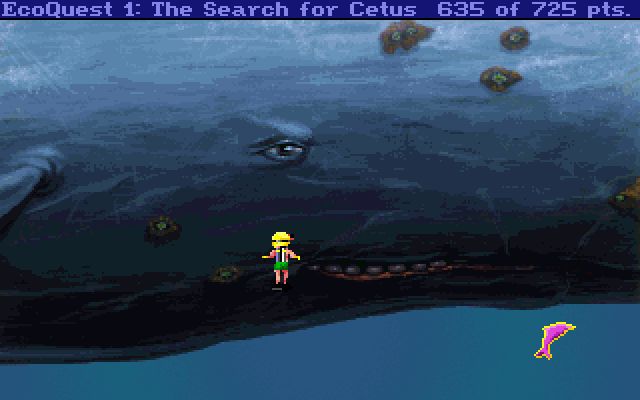 ANGRY EYEBROWS.