Part 26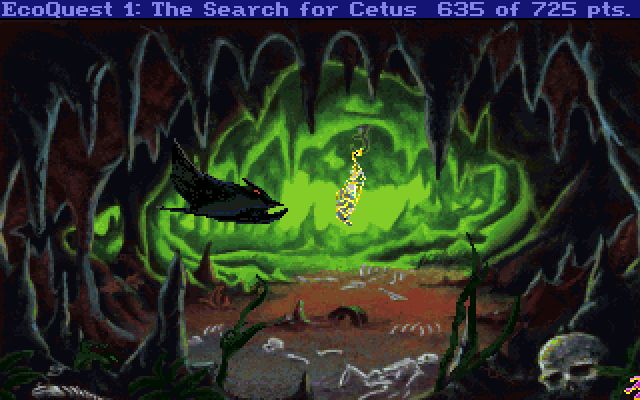 Meanwhile, Dolphy is reliving the nightmare of being trapped in a driftnet, unable to reach the surface for air, unable to free himself. This time, however, Flesh-Eater is there to add to his terror as he circles the dolphin, waiting for his victim's struggles to cease.
Just in case you guys aren't keeping up, we've:

-Gone from the octopus to the whaling boat
-Jimmyed open the door
-Found Cetus
-Had a lengthy discussion with Cetus
-Fought our way into his mouth
-Sawed through a harpoon
-Pushed out a harpoon
-Applied a healing potion to Cetus
-Had another good long discussion with Cetus

In the time since Dolphy was captured, not to mention he hasn't taken a breath since at LEAST the time of the council meeting.

Dolphins have a lung capacity of seven minutes.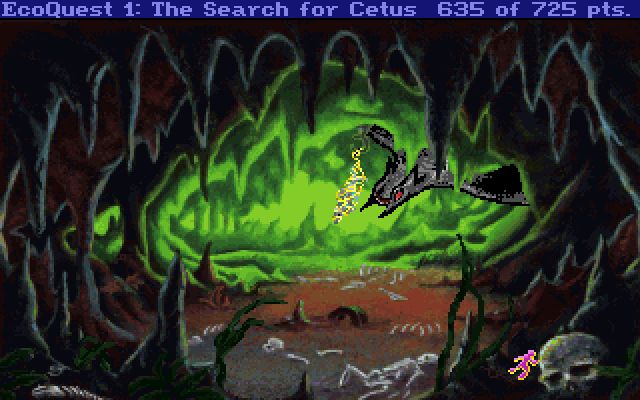 That's one ugly manta.
Just as Dolphy arrives at a grim acceptance of his fate, a challenge echoes from outside the lair.

:
"RISE, COWARDLY ONE! LEAVE YOUR FOUL LAIR AND PREPARE TO MEET YOUR DOOM. NO MORE SHALL YOU TROUBLE MY PEOPLE. FOR CETUS HAS RETURNED."
Enraged that the great king has escaped his prison, Flesh-Eater wheels from the cave.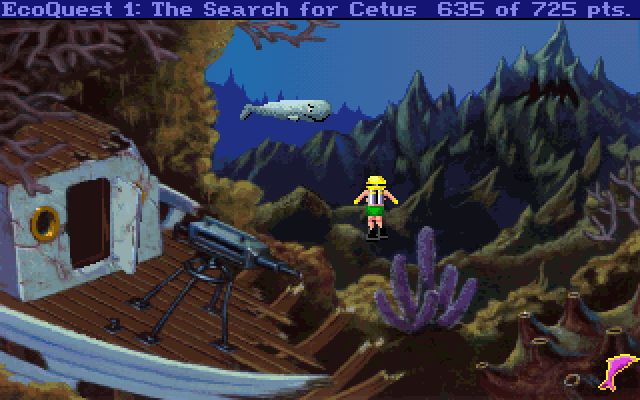 ...bahahahahahahaha

What in the hell? That's the goofiest looking great whale I've ever seen.

:
"GO INTO THE LAIR... SAVE THE DOLPHIN WHILE YOU CAN, LITTLE ONE. BEFORE IT'S TOO LATE."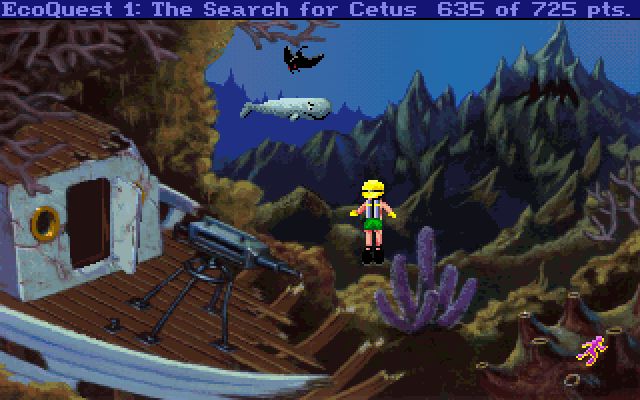 Whatever you say, you doofy little whale you. Shouldn't we attempt to reason with him first, though?
The once an Elurian, the toxic waste has mutated Flesh-Eater beyond all sense of reasoning. He does not speak.
Okay scratch that kill him or whatever I'm going to go go find that idiot friend of mine.
Now that Flesh-Eater is distracted by the mighty whale, Adam is free to enter the beast's lair.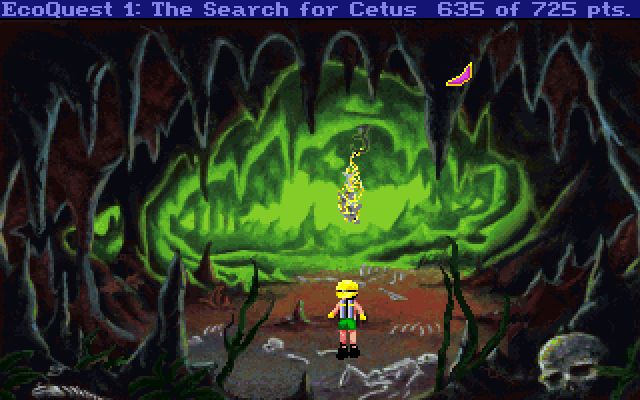 What an inviting place.
Flesh-Eater's lair is a cold, dark cave at the peak of an underwater mountain. The current flows from the toxic waste dump directly to this spot. Flesh-Eater has concealed himself here to feed on the foul water.

Weird fronds, twisted by the toxic chemicals, sway in the current and reach toward Adam like grasping fingers. The remains of Flesh-Eater's after-dinner snacks litter the floor of his cave. Cocooned in the driftnet, Dolphy struggles frantically.
Those skeletons on the floor interested me for a second.
Perhaps this cave holds the secret to what happened to the pirate crew. However, Adam doesn't have time to consider the matter.
Which implies that Flesh-Eater killed the sailors and not Cetus. I refuse to believe this because that makes Cetus awesome and no game is going to take that away from him.

I got bored waiting for Dolphy to run out of air, so I decided to use all of my items on him.
Trident
-
Cutting the net with the trident would injure Dolphy.
Baby Lionfish spine
-
The venom carried in the spine would paralyze Dolphy. Then he'd never get to the surface for air.
Hacksaw
-
The hacksaw is too clumsy a tool to cut the net. Dolphy would be badly hurt.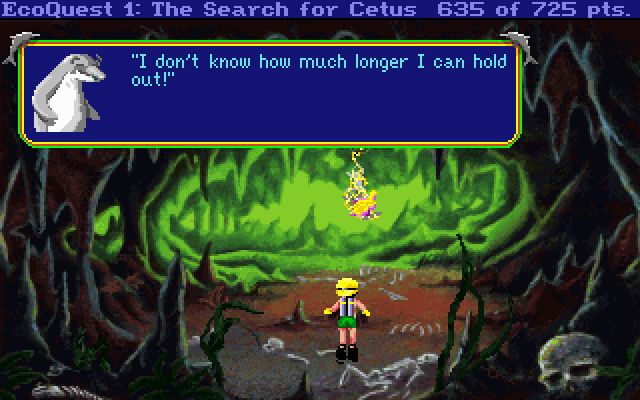 Shut up, I'm busy.
Tweezers
-
The tweezers aren't sharp enough to cut the net.
Everything else
-
That won't cut the net. There isn't much time. Adam better think of something else!
The sharp shell
-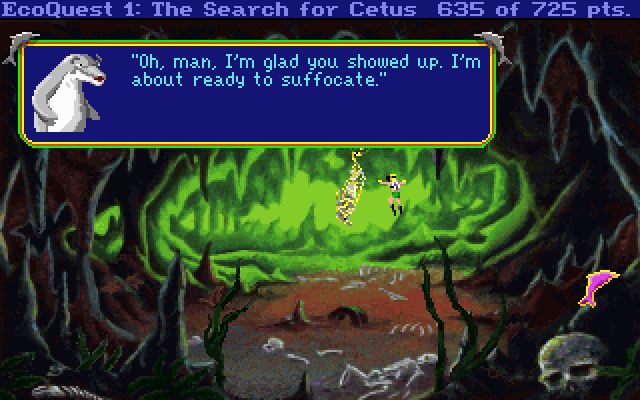 I've been here for like three minutes, dude.

:
"I hate this nylon stuff, I'm cutting as fast as I can. Hold on, Dolphy, just another second, I promise!"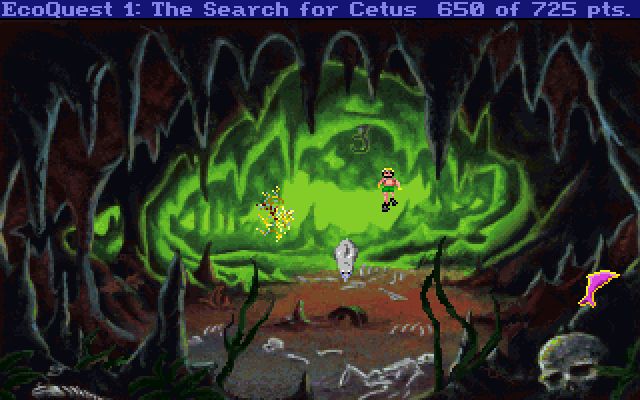 :
"I'm outta here to grab some air, dude! Can't stop to chat! I'll see you outside."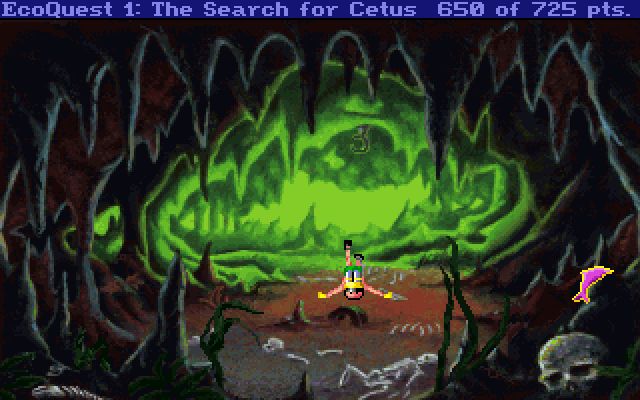 You're welcome, douche.

Outside...
Cetus is losing ground in the battle. Flesh-Eater shrewdly concentrates his attacks on the whale's harpoon wound and Cetus, in return, seems unable to land a solid blow against his quick-moving opponent. Despite his bravery, Cetus clearly could use some help.

Flesh-Eater is crazed and vicious, enraged that Cetus has escaped his trap. He's exploiting Cetus' weakness by attacking the fresh harpoon wound. There seems to be a pattern to his attack.
Trident, don't fail me now!
The trident's point would be but a pin prick to the enraged manta.
Bah. Stupid fork.

The only other thing is the hacksaw, but...
Flesh-Eater would never stand still for the length of time it would take to do any real damage with that saw. Besides, that would be gross!
It'd be cool though. Alright, enough messing around. Come on, spine, it's your time.
Adam arms himself with the tiny lionfish spine, and with all the courage he can muster, he heads toward the black monster.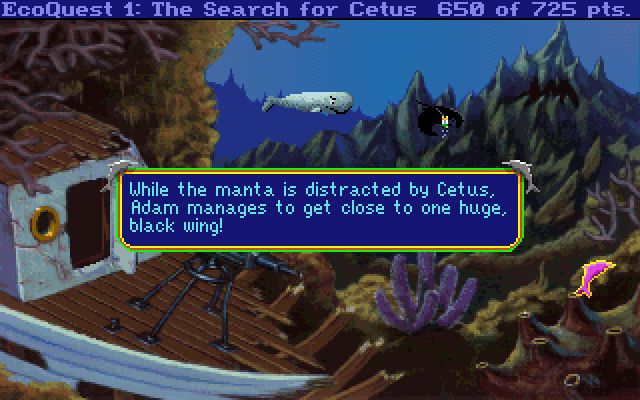 And pierce the tough hide with the lionfish spine!

There's a moment of terror in which Adam is sure the poison will not be enough to even slow down the huge beast!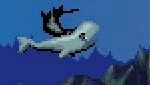 But it's enough to make him hesitate his attack, if only for a moment...and that moment is enough!
Click here to see the amazing battle on Youtube.

:
"Cetus! It's really you! And you killed Flesh-Eater! Unbelievable!"

:
"I'M GLAD TO SEE YOU SAFE... MY GREY FRIEND, BUT THE MANTA IS NOT DEAD... ONLY STUNNED. WITH TIME... HE MIGHT EVEN RECOVER FROM THE TOXINS THAT CAUSED HIS...MUTATION AND BECOME THE HARMLESS MANTA HE ONCE WAS."
You're gonna have to have an intervention then I think because apparently he actually eats the toxins. Like, seriously, he eats them.

: "
But where were you and how did Adam find you and why did you disappear for so long and how..."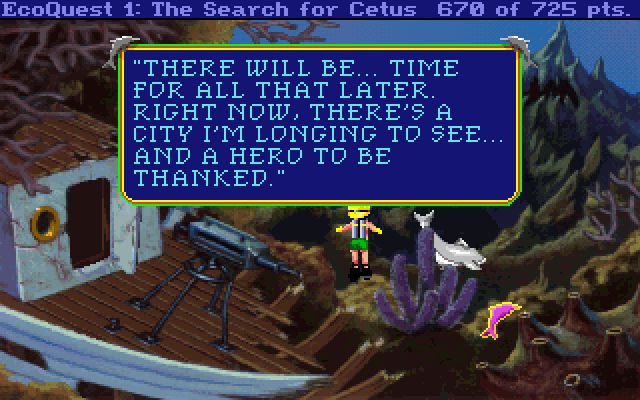 you say that like you couldn't just look over and see the city from the half-mile you were away