Part 27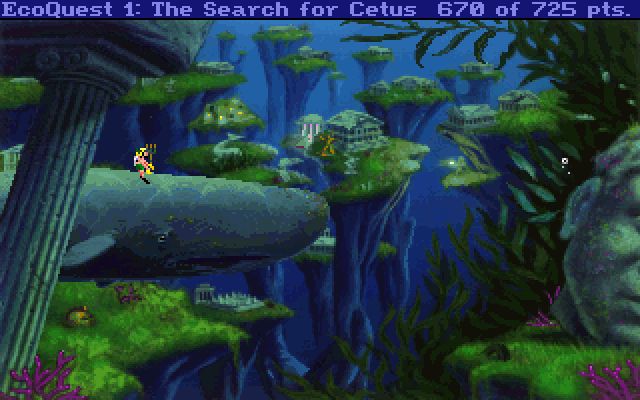 YEEEEEEHAW
Cetus bellows an announcement of their triumphant return!

:
"COME FORTH...CHILDREN! GREET THY KING AND THE BOY...CALLED ADAM!
Adam slips off the back of the mighty whale and swims to join the happy Elurians.
I'm sure they're all going to be happy to find out that you just knocked Flesh-Eater out and just left there, with the hope that he'll get better on his own. Way to inspire confidence.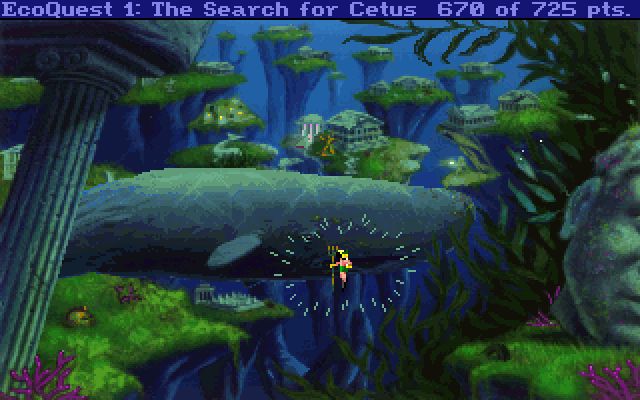 Those are fish surrounding him. Apparently.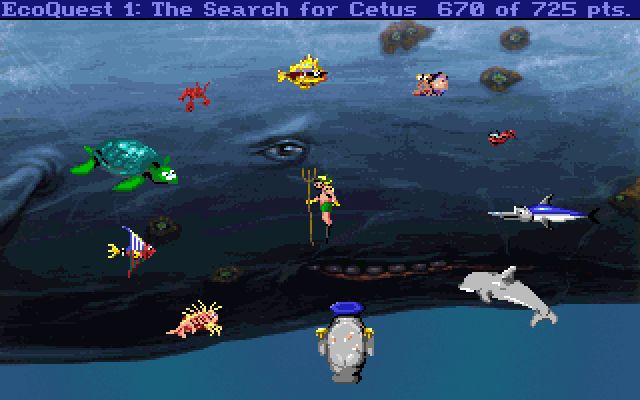 ...okay, no way in hell I'm going to look up the character portraits for every single one of these dicks.
Superfluous (the hermit crab)
-
"Congratulations <sob>, Adam! I'm so moved <boo hoo>!"
Hippocrates (the swordfish)
-
"Bravo! I knew a strapping lad like you could do it!"
Epidermis (the angelfish)
- "
Like, unbelievably radical, Adam! Major way to go!"
Demeter (the lobster)
- "
You have proven yourself one with the greens, Adam."
Erroneous (the turtle)
- "
Good show, old boy! Quite spectacular indeed!"
Gregarious (the manatee)
- "
Yer a real he-ro now, Adam! <a-hyuh>"
Pyschedelic Eyefish (the pufferfish)
-
"Eet is well that you deed the job, Adam, since I deed not have zee time <ho-hum>. You deed almost as well as I would have, mon ami!"
The Lionfish (the lionfish)
-
"You were very, very brave, Adam."
The Oracle (the Calvinfish)
-

"Child of man, to you we owe
our lives, our thanks we now bestow."
If it wasn't for me, you'd all be dead.

Except for the Oracle but she hardly came out of her wall anyways. She was the smart one.

:
"ADAM...YOU HAVE RESCUED ME FROM CERTAIN DEATH. YOU HAVE...HELPED PUT AN END TO FLESH-EATER'S REIGN... OF TERROR. YOU HAVE...SAVED ELURIA FROM RUIN. YOU HAVE...MADE US BELIEVE THAT MANKIND IS PERHAPS NOT ENEMY... WE FEARED IT TO BE - THAT MAN CAN EVER BE... A FRIEND."
I still can't get over the fact that no one could find you and you were, like, a quarter-mile away.

:
"Thank you, great Cetus. I have learned much from all of you too."
I've learned that sea creatures, without exception, are idiots.

...actually, I take that back. An exception is the Oracle but she hardly came out of her wall anyways. She was the smart one.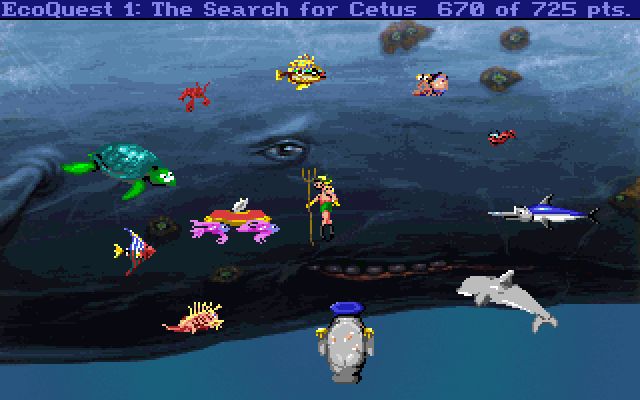 um

:
"TAKE THIS CONCH. IF YOU EVER NEED A FRIEND IN THE SEA... BLOW THE CONCH AND HELP WILL COME."
Adam likes whale conch.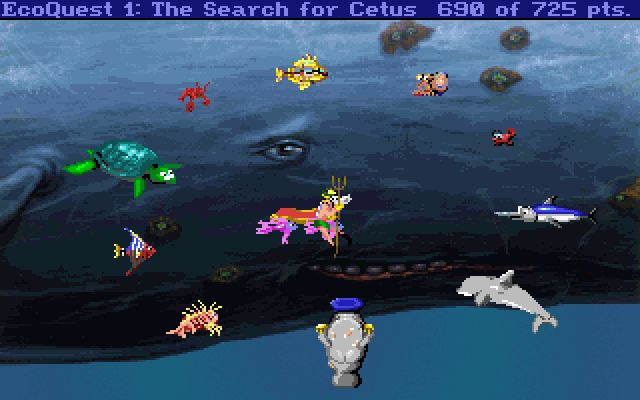 :
"Poseidon's conch! Wow! Thank you, your Majesty!"

:
"NOW HOME WITH YOU CHILD. DOLPHY... I BELIEVE YOUR FRIEND COULD USE A RIDE BACK TO THE LAND...OF MEN. HE LOOKS A LITTLE WORN OUT."
Of course he's worn out. Wouldn't you be? He's been scuba diving for like, eight hours now.

:
"Yes Sir, your Majesty! Grab a fin, Adam!"
Adam bids farewell to Eluria and King Cetus and, grabbing onto Dolphy's dorsal fin, hangs on tight for the long ride home.
It's not THAT long. You swam over here in like three mintues from the mainland.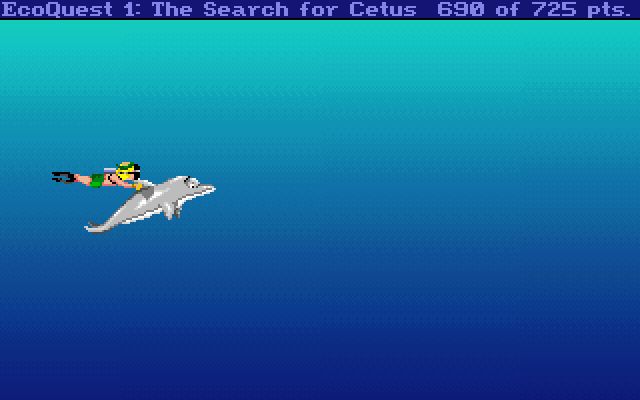 Weeeee!

:
"Dolphy?"

:
"Yeah, Adam?"

:
"Will I ever see you again?

:
"What, are you kiddin? You and your Dad? Diver Dans? You'll see a hundred dolphins in your lifetime, Adam. One of these days, one of those dolphins will be me."
Here's a hint for the future, Adam: Dolphy will be the one who can talk.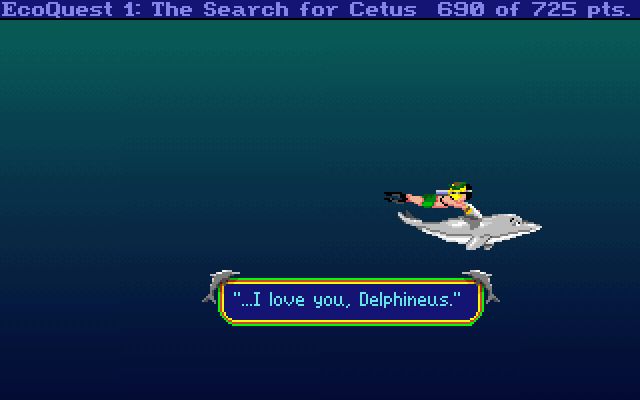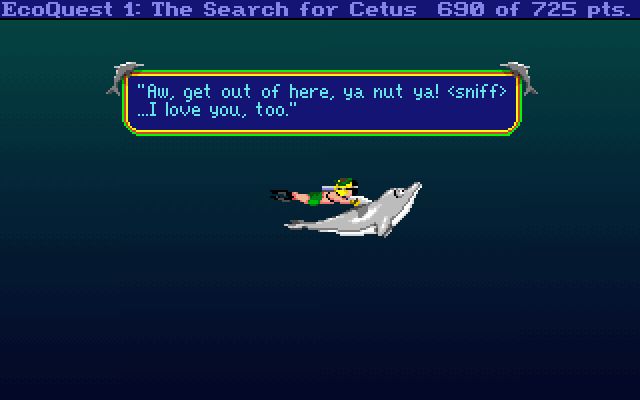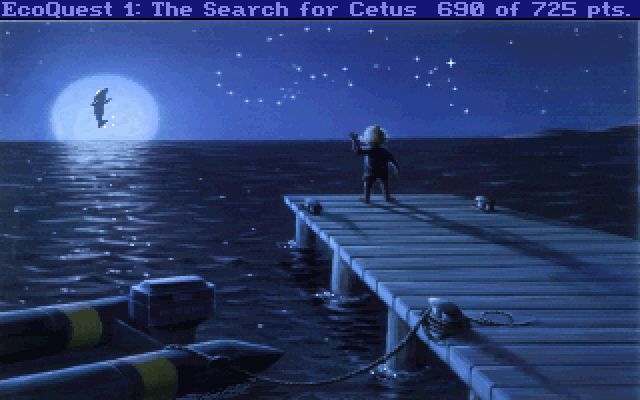 ...welp. This ending certainly took a turn for the gay.
I hope you all enjoyed Ecoquest: The Search for Cetus. I know I did.

Don't say goodbye to Adam yet, though!

I love you guys. See you next thread.