Part 88: Kid - Entrance to Final Route - Part 1
Prologue
1
,
2
,
3
,
4
Kid - First Day
1
Since we've unlocked Coco's route, there are various little sub-choices that pop up here and there that get us closer to being locked on her route. The first occurs just after asking You about whether or not she heard two people in the elevator instead of just one. The section begins at Kid's "Well, before…didn't you hear two voices?" in Day 1, Part 2.
Track—Ersteboden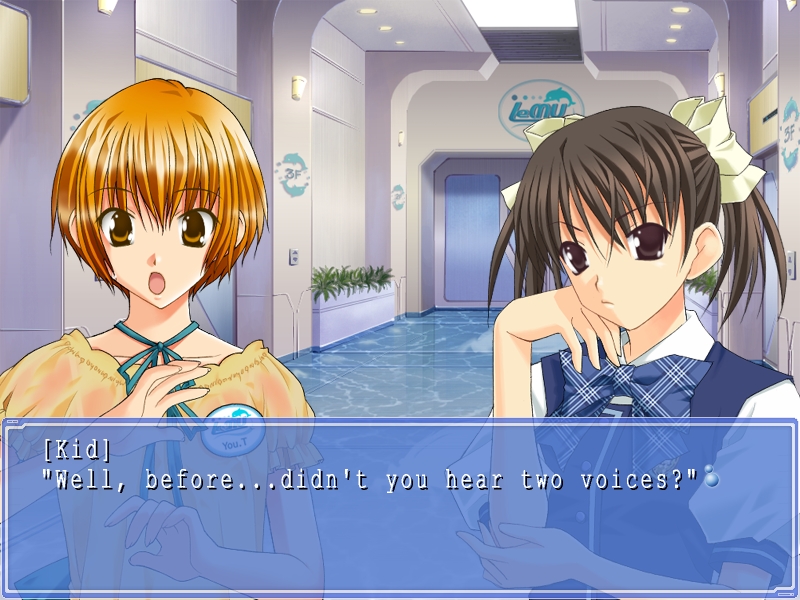 "Two?"
You shot the question right back at me and then looked back at Mayo.

"No. I was all alone. There was nobody..."
Enter the first new choice: "Was that right...?/Really?". Choosing "Really?" lets us continue towards Coco's route while "Was that right…?" moves us back to choosing either You or Sara's route instead.

"Really?"

"Yeah..."

"You're sure there was nobody else there?"

"I said there was nobody there."

"Even in the elevator next to you?"

"No. I don't think there was anybody riding in it. I was shouting for help the whole time and nobody answered me."
I wondered why not. The voice that I had heard a little bit ago was grating on my mind.

"I just want to make sure one more time...Sara, there was really no one riding in the elevator except for you?"

"Uh..."

"So there was somebody?"

"N-no...there wasn't, but..."

"But...?"

"Why...? How...how do you know?"

"?"

"My...My...name..."
[Music—Stop]

"N-name...?"

"What? Oh, that's right. We haven't told you Mayo's real name..."
Track—Gedaechtnisschwund
That instant, my vision shook crazily. Something spine-chilling was squirming in the core of my body. The feeling spread through my network of nerves to the far corners of my body in an instant.

"Hey! I asked you why!"

"Do...do you know...me?"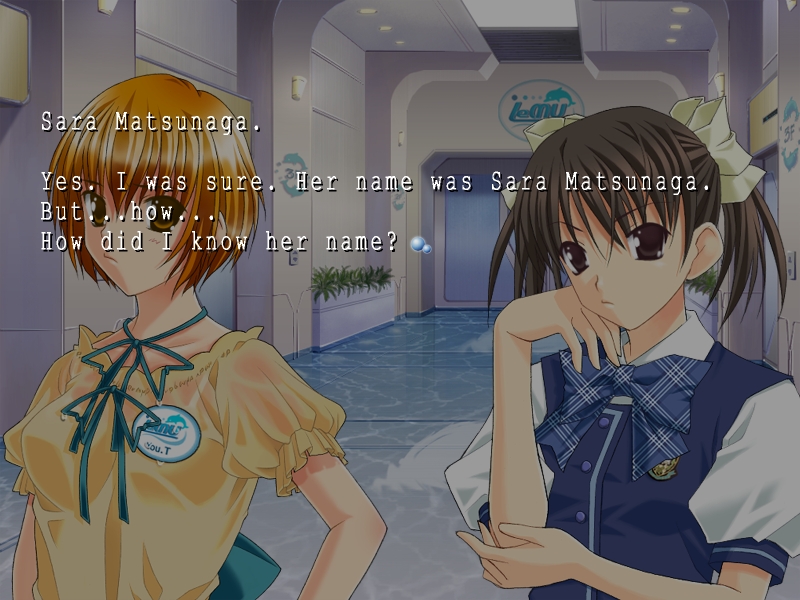 "I don't know...I really don't know..."
I cradled my head and shook it several times.

"What is this?"

"I don't know..."

"If you don't know, then I don't know!"

"I dunno...I dunno...I dunno..."

"Hey! Answer me!"

"........."

"How do you know me?"

"........."

"Who..."

"...Who are you?"

"I said I don't know! I don't know myself! I don't know! Why do....I....know...your name...?"
My temples started to throb. The power drained from my body. I crumpled on the spot as if I had been sucked dry of energy.

"W-wait...not another one of your fits!?"

"Gimme a break. Geez..."
You's voice sounded far away.

"Fits?"

"He's...lost his memory."

"Lost...his...memory?"

"Yup. No matter how much you ask him, he doesn't remember...If you try to make him remember, then..."

"Ooohhh...arggghhh...."

"See? He gets like this."

"........."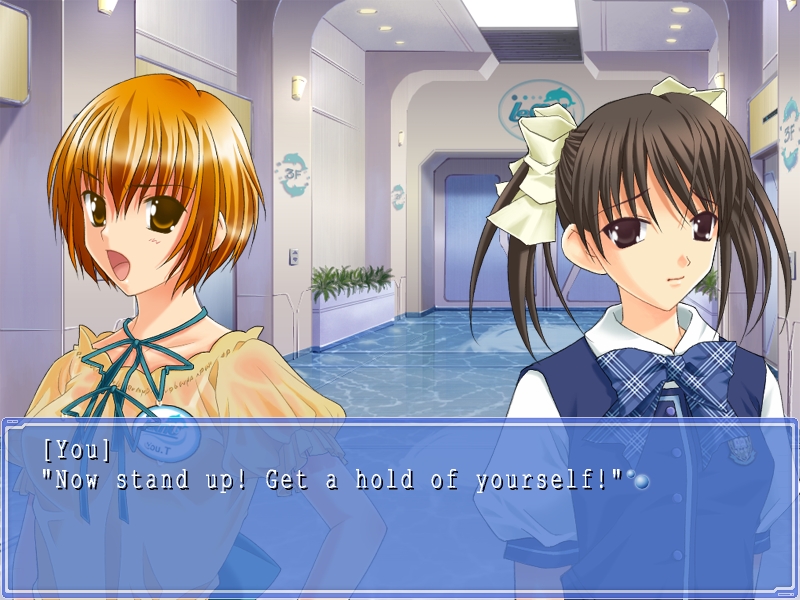 You grabbed both of my shoulders and stood me up.

"Listen. Listen good. Look at me..."

"........."

"I think you have lost touch with who you are, and it scares you. Because you have no memory...because you have no past...You've lost your past and feel like you've lost yourself...you are afraid..."

"But you know what? There is nothing to be afraid of. You are right here, right now. Standing right in front of me. No matter what happens, there is no way you are just going to disappear."

"........."

"Okay? Look me in the eyes, alright? That's better..."

"Now try to smile."

"...What?"

"Just, smile..."
I made a conscious effort to move my cheek muscles.

"No, no, no. More. Like say....'Cheeeeeeese.'"
I put more effort into moving the muscles in my face.

"That's a pretty forced grin, but...I guess it's good enough. How's that? I'll bet you've forgotten to worry about your past, right?"
Our second choice here is "Yeah/Nope". Logically, we'd want to be positive here, but that'd be boring, so we'll go instead for "Nope" which results in…this:
Video: Kid – Sarasoju

"Nope....It's not your problem so it's easy for you to say that..."

"But at least you've gotten better so that you can talk."

"........."

"And do you know why?"

"You can speak because you are aware of this moment, right now."

"Right now?"

"People have no choice but to live in the moment. The past and the future are simply an illusion..."

"Trying to grab that empty image is...it's meaningless."

"So right now you should just smile as if you don't care."

"Smile."

"........."
Track—Klamauk

"Now smile!"

"I can't JUST smile..."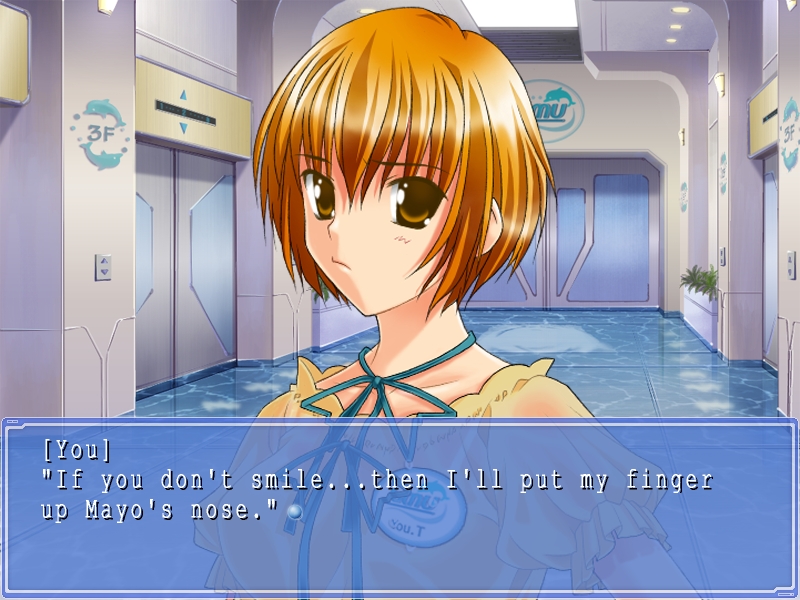 "...Huh?"

"I'll put my finger in that gooey pit..."
As she talked, You did exactly as she said.

"W-wait! Stop! Nakkyu!"

"Pick, pick...goooooey..."

"Hey...hey! Nakkyu...Nakkyu...Nakkyu...your finger's in my nose..."

"Pickity, pickity...."

"And now Nakkyu and I become one..."

"Goooooeeey..."

"...Wait, just what do you think you are doing?"
Whack!
Sara smacked You. Watching that scene, my cheeks just naturally relaxed.

"Ha! He smiled, he smiled!"

"He is! He is! A, HA, HA, HA!"

"...But - do you think I'm happy about this?"

"What are you thinking? Sticking your finger in somebody's nose...geez."

"Hee, hee, hee."
As I was watching their exchange, at some point the pain in my head had also eased. It was a 'painful' exchange in a different meaning of the word, but...
Track—Insel Null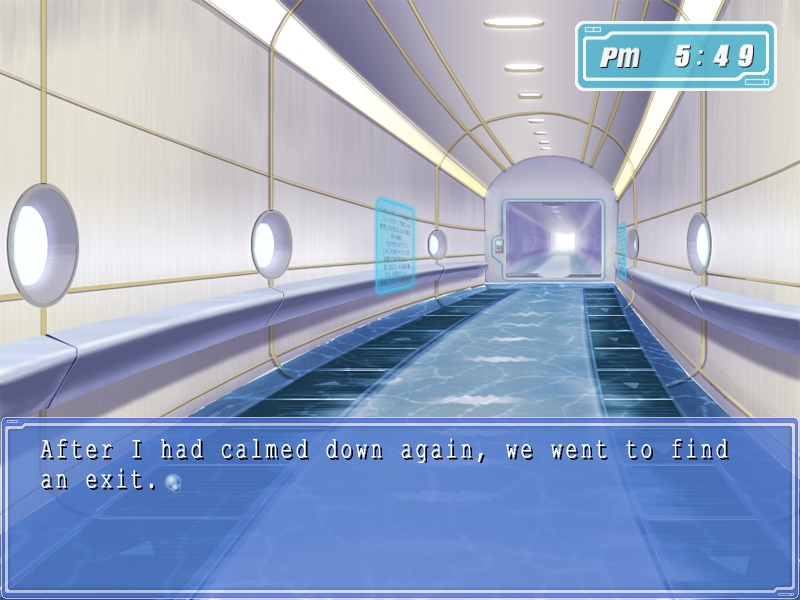 Of course, Sara couldn't hide her surprise at what had happened to the inside of the complex.

"What is this? Why is everything wet?"

"And there isn't anyone around..."
As we walked, You explained to Sara the sequence of events to that point.
'You was working at LeMU on a part-time basis.'
'I collapsed at the kiosk.'
'The warning alarm sounded, everyone disappeared from LeMU and the flooding started.'
Stunned, Sara listened to You. A while after You had finished the story...As if she had just thought of it, You blurted out suddenly -

"But you know what is really strange..."

"What?"

"What this kid was just saying...I mean, Mayo, you don't remember him from anywhere, right?"

"Right..."

"But he knew your name...So that means that somewhere in his lost memory there is some information stored about you, right?"

"I wonder why."

"........."

"If it were the other way around, it'd make sense. If you knew something about him...but he had forgotten you because of amnesia...That would make sense to me..."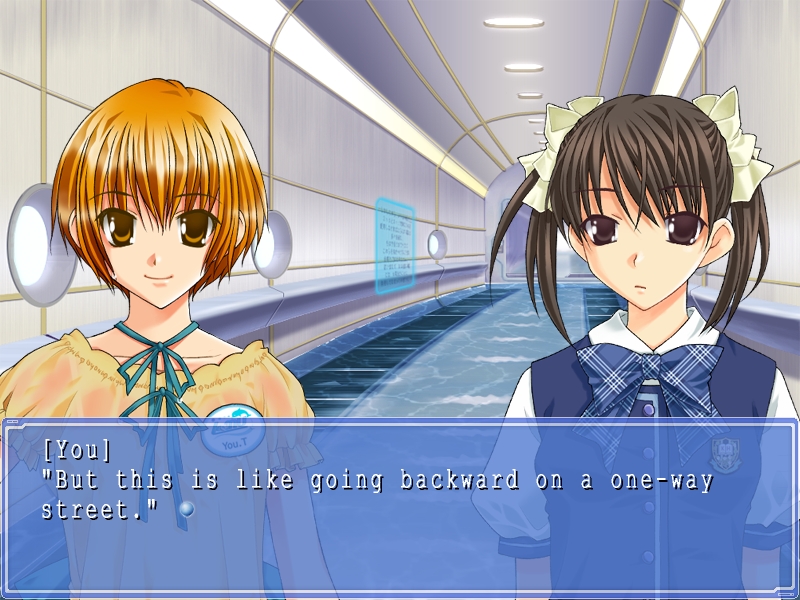 "One-way street, huh...?"

"Oh, I know! This is probably what happened."

"?"

"This kid probably used to be a big Sara Matsunaga fan! I'll bet I never noticed him, but he used to watch me from a distance, like from the shadows. That would explain it completely."

"You're saying he is a stalker?"

"Yup. That's exactly it."

"Hey. Is that it? Did you used to stalk me?"

"Just because I lost my memory, don't go making one up for me!"

"Am I wrong?"

"Yes!"

"Mayo, I'll only ask you one more time...Are you really sure that you don't remember seeing this kid before?"

"Remember him...?"

"Hmmm...hmmm..."
Sara brought her face close to me and stared at me. I could almost feel her breath.
[Music—Stop]

"Well now that you mention it..."

"Huh?"

"Huh?"

"No...I'm kidding...I'm just joking."

"There's no reason I should remember him."
'No reason???'
I wondered what she meant by that. I thought that maybe she really did know who I was. My heart started to pound again. I remembered when I had seen Sara for the first time a little bit ago.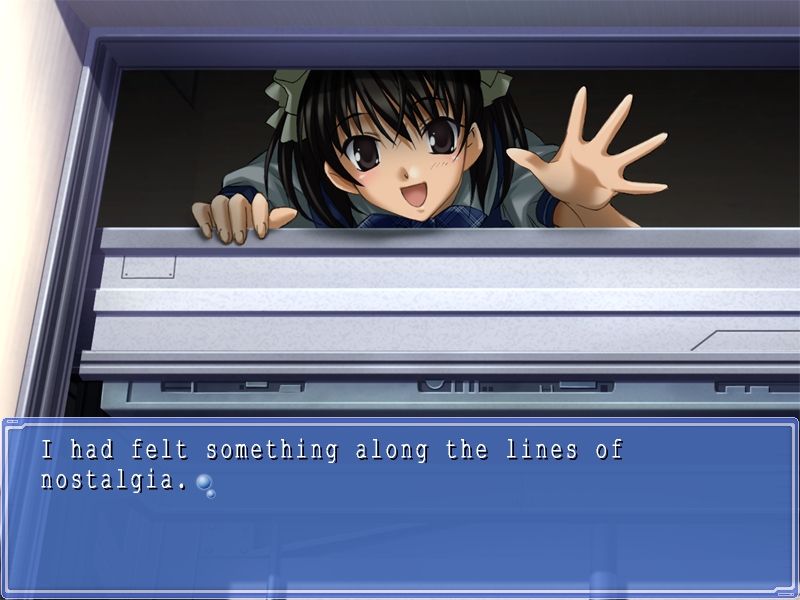 For some reason, I felt that I had witnessed the same scene somewhere before. Maybe I had met her in the past after all. But I couldn't be sure of it. Even if I did know a name, or even feel nostalgic...it wasn't in my memory.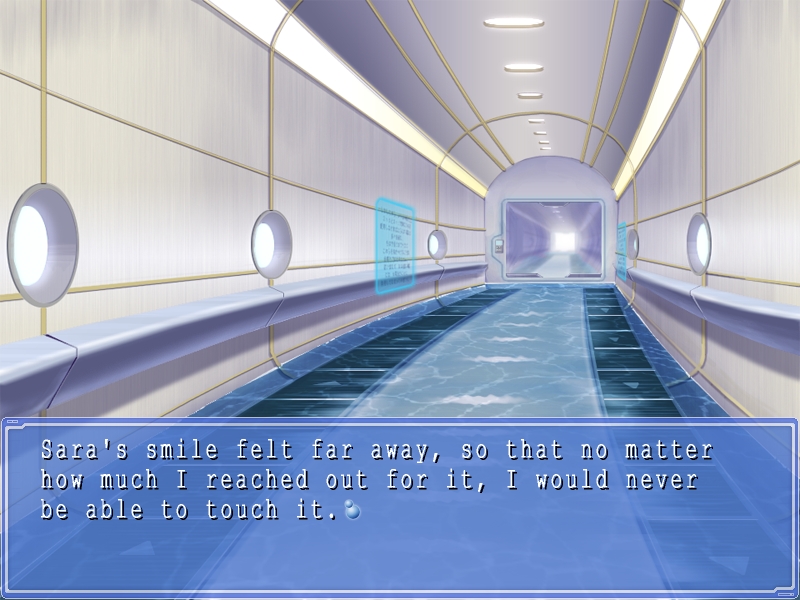 We pick back up at the tail end of Day 1, Part 2 at "And of course, You also told Sara about how we got washed away by flood water."

Day 1, Part 3: "Kid 3:17 So He called Himself Prince, and lo, He was Funky."

We have a new choice close to the end of Day 1, Part 4 shortly after Kid's line of "That's true, but…"
'Life readings: 6'
And the exact number of humans trapped was...