Part 19: Chapter 65 (Part 2)
New Characters

Koishi
Komeiji

Personal Skills
:
-
Super Reflexes
: At the end of the turn, if Koishi is in the rear, she switches to the front. Also increases Counter's activation rate by 50%.
-
Sense of Zero
: At the start of every turn, cast a random Spirit.[/url]
-
Unconscious
: For the first 3 turns after deploying, casts Stealth at the start of every turn. (Renders her untargetable by enemies).
-
Invisible Friend
: Komeiji Heart Breaker's range increases by 1. Also increases friendship level with Satori by 3. (Satori's complement to this,
Unreadable Companion
, instead boosts KHB's power by 300).
Spirit List
: Sense, Assault, Stealth, Daunt, Confuse, Bonds
Thanks to Mind-Reader L1 Koishi casts Alert at the start of every turn, so she's basically good by default. Compared to her sister, she's much less evasive (weirdly she's considered a "Super" so she only gains 4 Mobility per upgrade instead of the standard 5) but has, like, actual attacks. If she's paired up with Satori and they both have their friendship PSes on it works out just fine anyway, and the two of them can put in serious work. Aside from that, Sense of Zero is really cool, until it casts randomly casts Mercy (to cockblock you from getting a kill) or Alert (which you were gunna get for free anyway).
Koishi's spirit list is super weird, btw. In a nice bit of symmetry, both she and Satori have a Strike-that-isn't-Strike (Satori has Attune, Koishi has Sense) at a discounted cost, and they both have Bonds, which is a fairly unique spirit that heals every unit for 2000 HP.

Mima

Personal Skills
:
-
Magic Charge
: Gains 10% MP Regen.
-
Chaotic Venom
: Absolute Magic Barrier consumes 0 MP (normally costs 10).
-
Cast Freely
: The effect of the "Magician" skill are doubled (works out to +300 weapon power, +450 to her barrier, and a bunch of extra accuracy).
Spirit List
: Sense, Mercy, Fury, Wall, Chain, Soul
Mima's back, and were it not for that part where they patched out Ancient Moon making all her attacks Post-Move back in FMW3, I'd call her better than ever. Magic Charge used to be her only PS, and she really appreciates both of the new options. Her new finishing attack, Akashic Catastrophe, is a bit finnicky at 5-8 range, but you can't complain about the damage. You also can't complain about
the edge
.
I don't have a lot to say about Mima. She's good at everything she does and has no particular weaknesses beyond a lack of Post-Move attacks, and even that's not a big deal since you can just buy Hit-and-Away (or else pair her with someone who can handle that).
Speaking of new attacks, Meiling
really
appreciates hers, since it helps her keep pace with the damage scale of the lategame, and her old finisher jumped from 1 to 1-2 range. The Akis were just fine as they were, but having the long-range option of the Double Aki Buster (which uses ammo, nicely enough) and the extra damage of the Super Aki Sisters Kick Kai really makes them shine. Alice's new Grand Guignol is pretty neat, at 1-2 range and 2 ammo it's very easy to use, and can even benefit from Shotgunning if you want to go that route.
And Youmu...
exists, I guess.
---
-
Chapter 65 New Attacks
-
Koishi's Attacks
-
Yumeko's Attacks
-
Alice's New Attack
Also Ryza
made this thing
and I don't want to let his efforts go to waste.
Here's what that attack is referencing, by the way.
---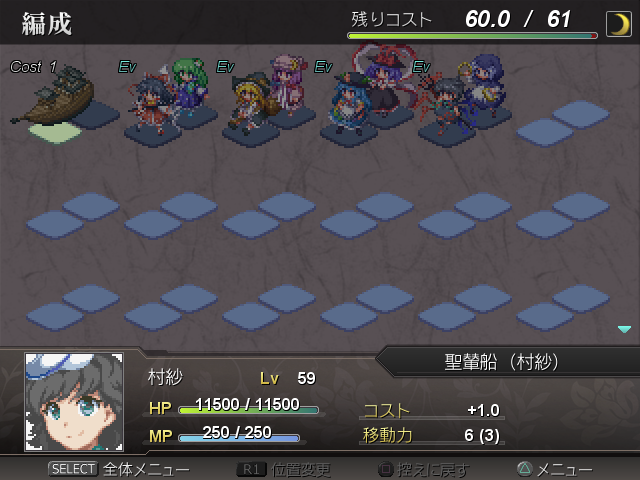 Next chapter has a shitload of force-deployed units, so keep that in mind while you're voting. For clarity, Murasa (on the boat), Reimu, Sanae, Marisa, Patchouli, Tenshi, Iku, Nue, and Ichirin, are all coming.
Aside from that, you've got
60.0 Cost
to work with, so have fun.
1.5
Daiyousei
Sunny
Luna
Star
2.0
Elly
Kurumi
Rumia
Cirno
Koakuma
Letty
Chen
Lily White
Lunasa
Merlin
Lyrica
Wriggle
Mystia
Tewi
Medicine
Shizuha
Minoriko
Hina
Nitori
Kisume
Yamame
Parsee
Nazrin
Kogasa
Shou
2.5
Alice
Meiling
Patchouli
Sakuya
Youmu
Keine
Reisen
Komachi
FA Nitori
Momiji
Aya
Hatate
Sanae
Iku
Rin
Satori
Koishi
Ichirin
Murasa
Shou (Pagoda)
Nue
3.0
Reimu
Ran
Mokou
Tenshi
Yuugi
3.5
Mima
Remilia
Franadanadoo
Yukari
Suika
Eirin
Kaguya
Eiki
Kanako
Suwako
Utsuho