Part 21: Chapter 66 (Part 2)
New Stuff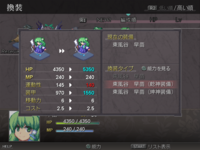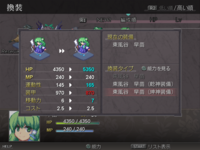 Sanae finally gets to complete her V2 Gundam cosplay with two new frames. We're still working out the "official" terms here so I'm just gunna call em Sanae (Qian) and Sanae (Kun).
Qian is her Kanako frame, gaining a tonne of extra Armor in return for some Mobility. Not normally a good trade, but she also gets an S in Air to split the difference. She gains her newly introduced MAP, but it takes 50% Faith and has 1 ammo, so I'd be reluctant to ever use it. It
is
one the few big MAPs we'll ever get in this game, however.
Kun is the Suwako frame, and doubles down on being fast. She gains an S in Ground/Water, but also has a B in the Air, which you'll need to mitigate in some way. She loses Summon Takeminakata for a completely new finisher, which is both ammo-based (yay) and can't be fired after moving (boo).
From a balance standpoint, they both have trade-offs compared to her base form, which still has her most versatile movelist. You can roll with whichever one you want, and she'll probably do fine. For my part, I like to roll Kun with a Shimenawa (to give her an S in Air) and pretend she's the V2AB.
Patchouli's new attack is excellent, by the way. Her and Meiling's new finishers really help them keep pace, especially if you wanna go ham on Remilia's SDM Katamari gimmick. I just wish Sakuya got a real upgrade too...
The
Mother Vanguard
Palanquin Ship's new attack requires Murasa to be at the helm (it's her version of Rinnosuke's missile from last chapter) so you'll probably never see it.
---
-
Philosopher's Stone
-
Palanquin Ship Crash
-
The new attacks Sanae has in her new forms
---
Voting time!
Shou, Nazrin, Ran, Chen, Youmu, Momiji, Reisen, and Kaguya are all forced to come with us. Outside of that, you've got
60.0 Cost
to work with.
1.5
Daiyousei
Sunny
Luna
Star
2.0
Elly
Kurumi
Rumia
Cirno
Koakuma
Letty
Chen
Lily White
Lunasa
Merlin
Lyrica
Wriggle
Mystia
Tewi
Medicine
Shizuha
Minoriko
Hina
Nitori
Kisume
Yamame
Parsee
Nazrin
Kogasa
Shou
2.5
Alice
Meiling
Patchouli
Sakuya
Youmu
Keine
Reisen
Komachi
FA Nitori
Momiji
Aya
Hatate
Sanae
Iku
Rin
Satori
Koishi
Ichirin
Murasa
Shou (Pagoda)
Nue
3.0
Reimu
Ran
Mokou
Tenshi
Yuugi
3.5
Mima
Remilia
F.A.N.G.
Yukari
Suika
Eirin
Kaguya
Eiki
Kanako
Suwako
Utsuho