Part 27: Chapter 69 (Part 2)

Yumeko

Personal Skills
-
Tandem Assault
: Both units in the pair do 10% more damage, and take 10% less.
-
Regeneration
: Casts "Vigor"
Restores 30% of max HP
upon killing an enemy, up to twice per turn.
-
Demonslayer
: Both units in the pair do +1000 damage on a Critical Hit.
-
Kamikaze Maid
: Upon deployment, casts Accel, Triumph, Yell, Assail, and Snipe.
Spirit List
: Strike, Flash, Devote, Fury, Grit, Valour
Kind of a cross between Youmu and Alice, I guess? She can kinda dodge and kinda tank, she has lots of ammo-based attacks, and her damage is solid. Her Personal Skills make her very flexible, depending on what role you want her in. Having Alice with Demonslayer lets her bust out 10,000+ damage crits ezpz, which is pretty cool.

Shinki

Personal Skills
-
Tranquil Heart
: Increases SP Regeneration by 15.
-
Curtain of Prayers
: Units within 5 tiles have damage reduced by 500.
-
Divine Embrace
: After battle (except via bombs/MAPs), if the enemy has 20% or less HP, they are forced to retreat. EXP, PP, and Money are still gained.
Spirit List
: Prayer, Rouse, Bless, Attune, Revive, Love
At 4.0 Cost, Shinki is (aside from the combiners, technically) the most expensive unit in the game. She's also a pure support character.
Thanks to her Divine Wall reducing all damage dealt to her by 1000, her gigantic HP pool gets her a long way. She also has 20% HP and MP regen, so she's not likely to die albeit in extreme circumstances. Sh even hits pretty dang hard. The problem is that she doesn't have any spirits to augment her combat performance, so she still struggles a bit. The best she can do is cast Attune on herself, which is wasteful, though better than nothing.
Maybe being wasteful with SP doesn't matter though? She does have the rare and vaunted SP Regeneration ability, well-known for making SRW OG way too easy if you buy it on everyone. It's nerfed in this game though, only being active for the first 10 turns of a battle. So it's more like "+100 Max SP, but less if you don't a spirit on turn 1". Tranquil Heart boosts it to +25 SP per turn though, which helps.
She has 4 move, which even with my "Knights are better than Cavaliers" mentality is atrocious in FMW's lategame, so having someone who can cart her fat ass around is required. Being 4.0 Cost, she's the only unit in the game who doesn't eat a damage penalty for being in the back of a team, cementing her "I'm a giant backpack" status even harder.
As a cute aside, Shinki's traipsing around Gensokyo with her daughter's friends gave her a friendship level with Nitori. Nitori doesn't have a friendship level with her back. I think there's a metaphor about parenting in there somewhere...
---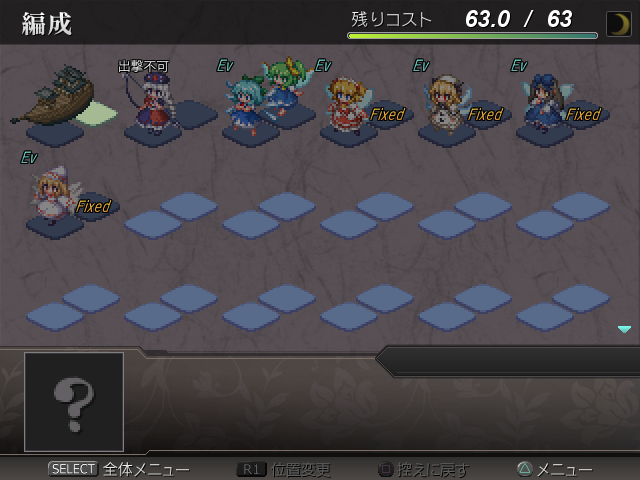 Voting time~
Bunch of force-deploys this time, so please take note of them. Factoring in Marisa, you've got
60
Cost to work with. Have fun!
1.5
Daiyousei
Sunny
Luna
Star
2.0
Elly
Kurumi
Rumia
Cirno
Koakuma
Letty
Chen
Lily White
Lunasa
Merlin
Lyrica
Wriggle
Mystia
Tewi
Medicine
Shizuha
Minoriko
Hina
Nitori
Kisume
Yamame
Parsee
Nazrin
Kogasa
Shou
2.5
Alice
Meiling
Patchouli
Sakuya
Youmu
Keine
Reisen
Komachi
FA Nitori
Momiji
Aya
Hatate
Sanae
Iku
Rin
Satori
Koishi
Ichirin
Murasa
Shou (Pagoda)
Nue
3.0
Yumeko
Reimu
Ran
Mokou
Tenshi
Yuugi
3.5
Mima
Remilia
Did you know "Flandre" came from some old obscure blog ZUN used to write? It's true! I'm still never calling her that, though.
Yukari
Suika
Eirin
Kaguya
Eiki
Kanako
Suwako
Utsuho
4.0
Shinki