Part 34: Chapter 72 (Part 2)

Hisoutensoku

Personal Skills
-
Machine Power
: Above 130 Power, increases Damage by 15%.
-
Great Superalloy
: HP +2000, Armor +250
-
Fusion Powered
: Max MP+100, and gains 10% MP Regeneration.
-
Mach Scrander
: Gains S rank in Air, and Movement +1.
Spirit List
: Guard, Strike, Guts, Accel, Self-Destruct, Valour
Hell yeah, it's a giant fucking robot!
Hisoutensoku is a big ol love letter to Super Robots in general, and Mazinger in particular. The big boy's got loads of HP and Armor, and he hits like you'd hope a giant robot powered by dreams would.
He has a massive downside in that he is literally too big to fit into a team - that means no Team Attacks or Full Power Mode, which is a limiter on his damage potential. Aside from that, he doesn't have anything too special going on, but he's good at what he does, which is being a giant wall of metal.
---
-
Hisoutensoku(Boss)
-
Hisoutensoku(Player)
-
Giant Catfish
---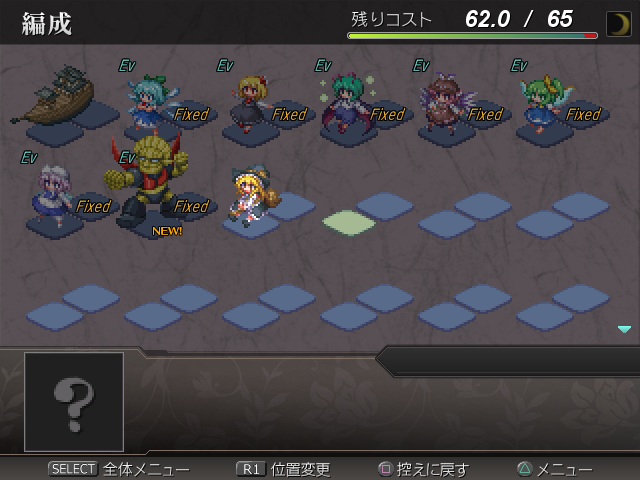 Hell yeah, even more force-deploys! You've got 62.0 to work with, so have fun.
1.5
Daiyousei
Sunny
Luna
Star
2.0
Elly
Kurumi
Rumia
Cirno
Koakuma
Letty
Chen
Lily White
Lunasa
Merlin
Lyrica
Wriggle
Mystia
Tewi
Medicine
Shizuha
Minoriko
Hina
Nitori
Kisume
Yamame
Parsee
Nazrin
Kogasa
Shou
Raysen
2.5
Alice
Meiling
Patchouli
Sakuya
Youmu
Keine
Reisen
Komachi
FA Nitori
Momiji
Aya
Hatate
Sanae
Iku
Rin
Satori
Koishi
Ichirin
Murasa
Shou (Pagoda)
Nue
3.0
Yumeko
Reimu
Ran
Mokou
Tenshi
Yuugi
3.5
Mima
Remilia
Royal Jell-O
Yuyuko
Yukari
Suika
Eirin
Kaguya
Eiki
Kanako
Suwako
Utsuho
Byakuren
Yorihime
Toyohime
Hisoutensoku
4.0
Shinki