Part 77: Possibility and Impossibility

BGM: Alan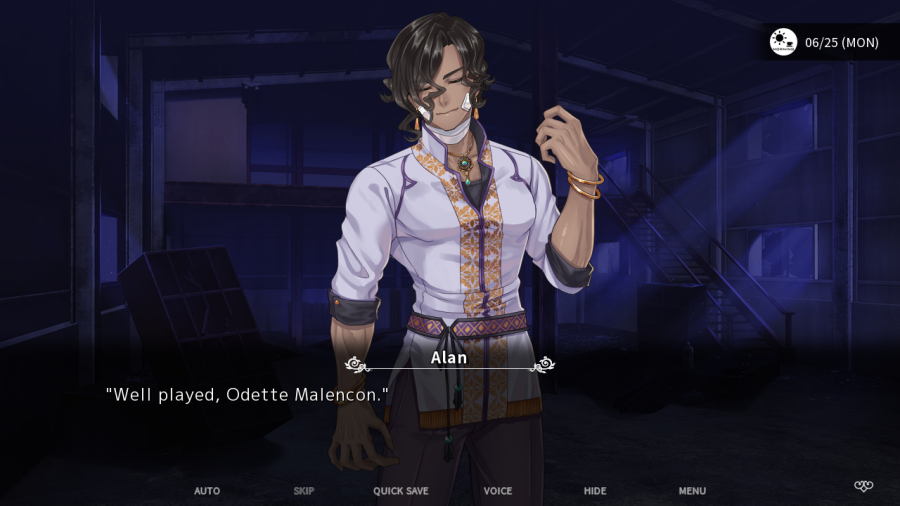 06/25 (MON), Morning

Well played, Odette Malencon.
Alan speaks to himself inside the warehouse. He figured that Odette had already obtained Federico's information. However, she opted to accept death over using that information to protect herself from his election. Federico's realization after the fact would leave him perplexed and aware that he would never surpass her. Had she opted to protect herself, then he would have likely backed down in order to avoid revealing his regret when taking into consideration that Miharu Hebinata had also elected her. On the off chance he did decide to reveal his regret, someone could easily elect him the week after.
Odette opted not to pursue that possibility. Instead, she was content in deciding her own fate. Her death was a gallant one. Her way of life may have differed from the ideal Alan pursued, but it merited respect nonetheless.

Gallant in death, huh...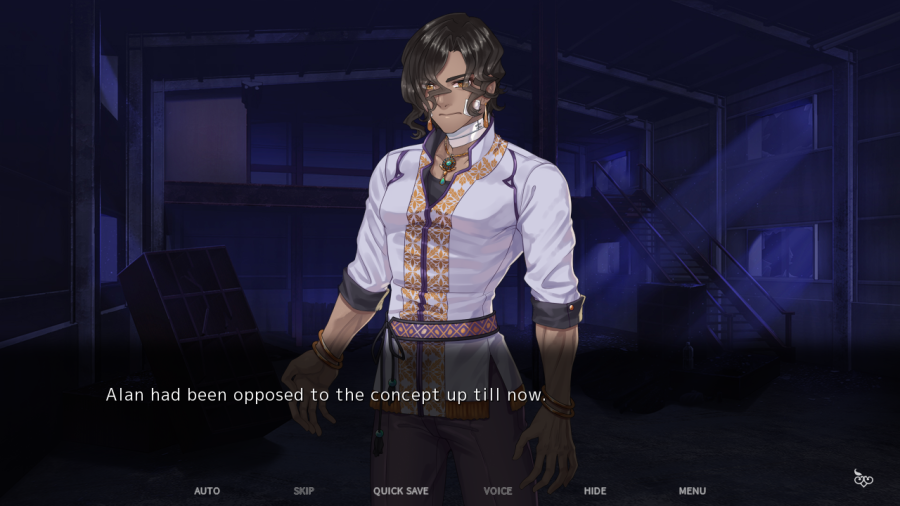 Alan had been opposed to the concept up till now. He is a firm believer in approaching everything from a logical perspective. Emotions have no place when it comes to actions. Doing so would blur the concept of a black and white world. In its place would be an ambiguous reality and the results of action taken.
He relinquished the name given to him by his parents in order to emancipate himself from his past. In its place he chose Alan Scorpion, a name one wouldn't associate with his homeland of India. With a new name came the start of a new life. That was what he decided. He would use his name to bind himself and build up a massive fortune as a jeweler.

Yet those actions of mine were...
They were fueled by nothing beyond the emotion he believed was unnecessary. The name that he picked for himself became one he cannot abandon. Its appearance on his name card is proof of that.

Hmph... That woman claimed that my own emotional state led to my forced discarding of such emotions. Perhaps she was right.
"You're desperate, aren't you?"
Kamebuchi Keiko said as much to him before her elimination. He may have laughed her off, but he couldn't ignore his irritation as he elected her. She saw straight through him. He knew this and yet made every efffort to pretend otherwise. Alan is desperate to live.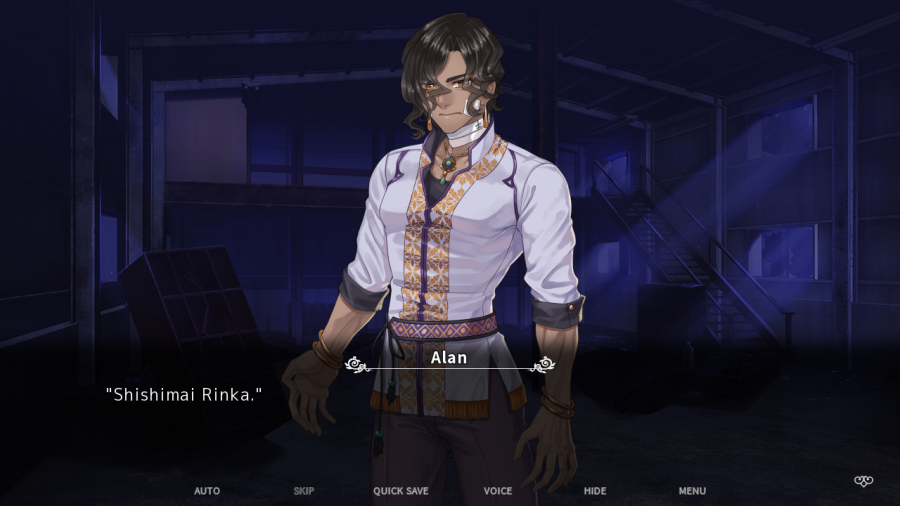 Shishimai Rinka.
The look in her eyes pushes him forward. Alan has already lost Divine Selection. He has finally come to this realization. That alone isn't enough to make him give up on life, however.

I'm the one who said it, after all.
The numerous lives that have come to an end thus far have begun to stir his emotions.
…...
BGM: Good Morning (20XX XX XX)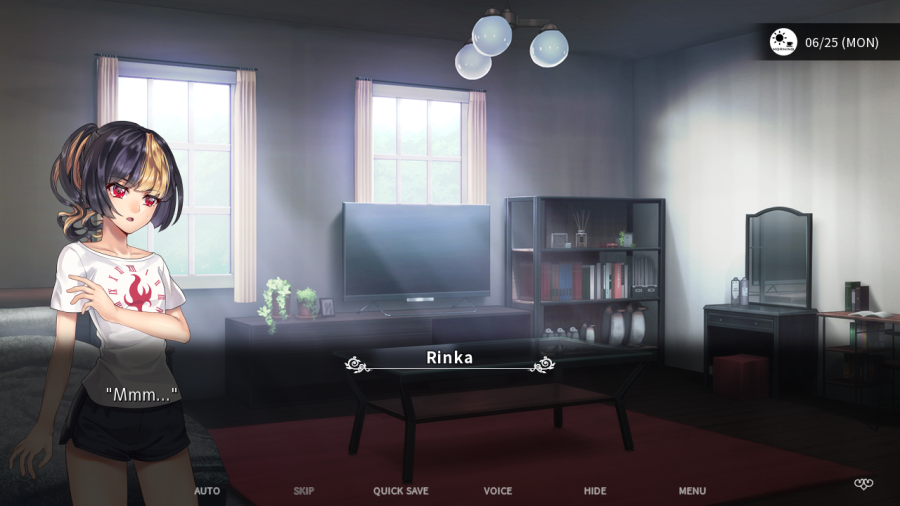 06/25 (MON), Morning

Mmm...
It's the morning after the eighth election. Seems like I'm the last one to wake up.

Good morning, Rinka.

Good morning!
Based on the information given to me by Alan, Miharu and I were able to deduce Scale's cause of death and regret, respectively. Well, we barely succeeded in turning the information into cards before midnight struck. Both Miharu and Naomi stayed over once we were done. I got a futon ready so I could sleep on the floor while they used my bed.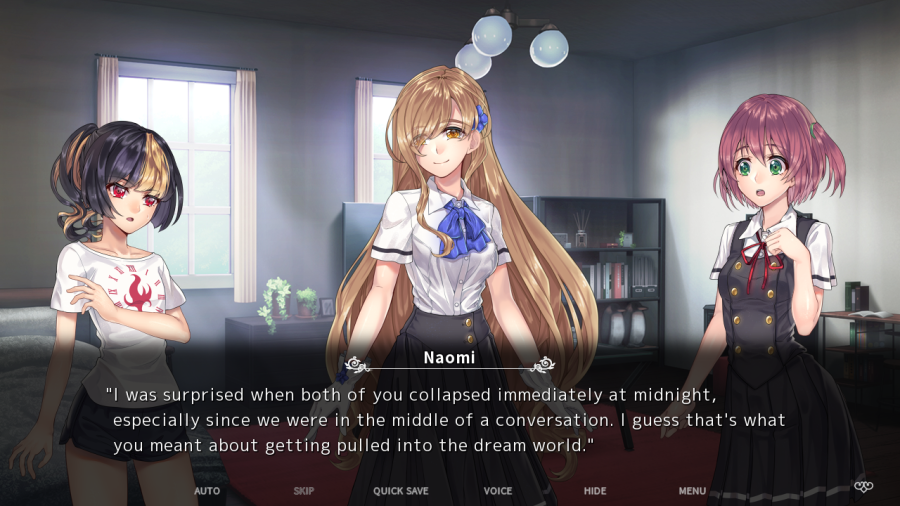 I was surprised when both of you collapsed immediately at midnight, especially since we were in the middle of a conversation. I guess that's what you meant about getting pulled into the dream world. At least you looked like you were sleeping soundly... Part of me was worried you would be tossing and turning like you were stuck in a nightmare.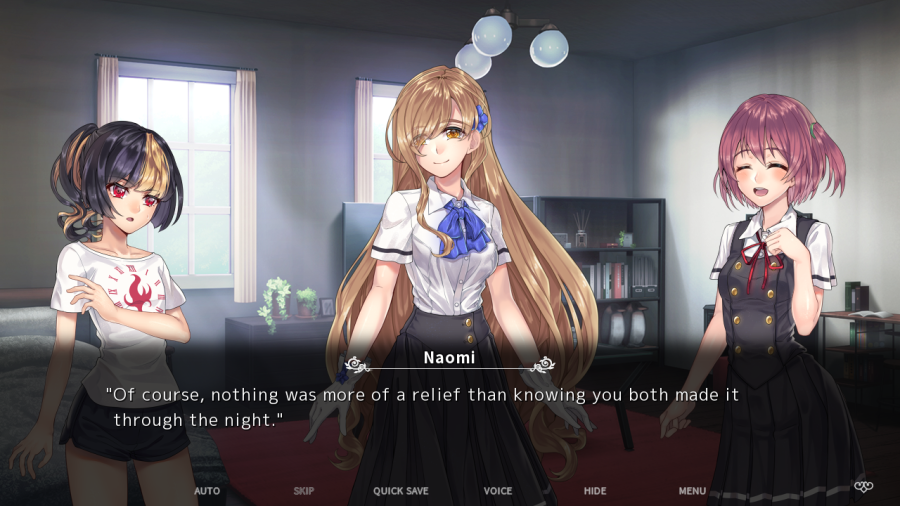 Of course, nothing was more of a relief than knowing you both made it through the night.

Sorry for making you worry. I gotta say, I never thought too much about what happens to our bodies when we go to the Court of Fate. I'm not even sure how time passes there in relation to here, especially when there's no clock to check. Well, there is one, but... it's complicated.

So we were sleeping like normal, then?

Yes. I wouldn't have suspected anything had I not known the details.
Knowing Naomi watched me sleep is a bit embarrassing... I know that Miharu looks just as pretty in her sleep, but for all I know I could look like an idiot.

In that case, I'm willing to bet that no time passes in the real world at all while we're in the dream world.

Th-That does make sense, now that you mention it. Especially when you consider how surreal the dream world is in the first place.
We agree with one another, but that doesn't mean we're right. Granted, it's hard to know when we can't directly compare the flow of time between both worlds.
BGM: Intel Investigation Underway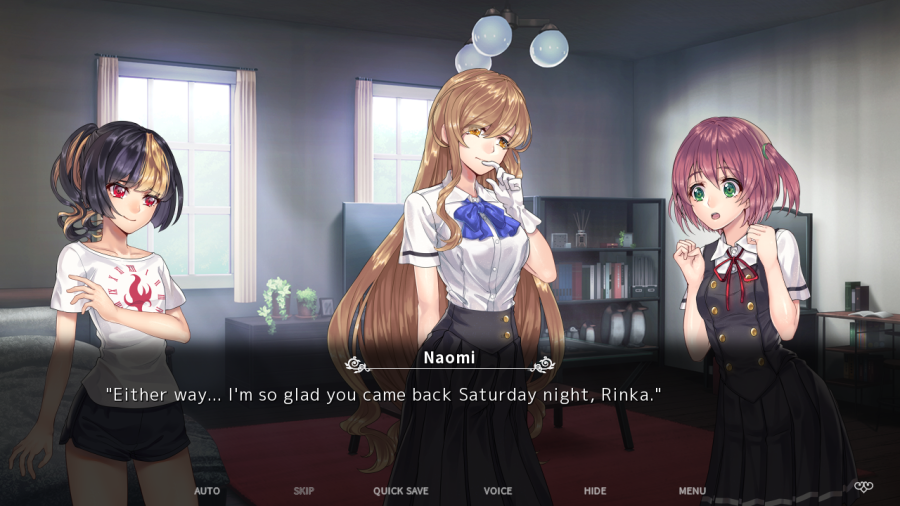 Either way... I'm so glad you came back Saturday night, Rinka.
I take this moment to recall all that we learned yesterday.
Scale Jones studied graphic design in university while learning photography on his own time. He spent a few years working for a newspaper after graduating before he quit and became a freelance cameraman. A paparazzi, rather. Apparently, there's plenty of money to make from snapping photos of celebrity scandals in America.

I'm honestly surprised we figured out his regret first. It seemed like the most difficult based on what we knew from my card.

It was easy to assume that he wanted to win a 'gold medal' related to his old job and graphic design. Erasing one's past is no simple feat. Everything started to make sense once we figured out that he was taking photos of sports-related clubs during his college years.

Especially once we coupled that with what Rinka learned from Alan Scorpion about his work as a sports cameraman for a few months before becoming a papparazi. His photographs were rarely used based on what we looked up, so he likely didn't make much from it. That's where Rinka's quick thinking kicked in!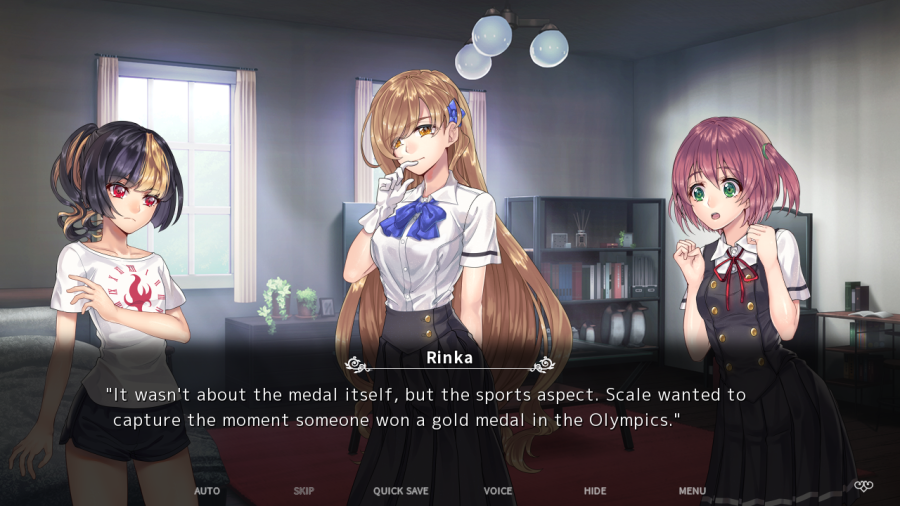 It wasn't about the medal itself, but the sports aspect. Scale wanted to capture the moment someone won a gold medal in the Olympics. Plus, he wanted that photo to be used by a newspaper with national circulation. The fact that it's become his regret means he still hasn't given up on it.
I'm not sure which piece of information was the most vital, considering just how much we strung together. Regardless, his regret card appeared in Miharu's card book.

His cause of death is when things got tough... We never would've figured it out based solely on Alan's information.
Miharu still would have been able to protect herself by this point because she already had his cause of death card, but we didn't stop there. I wanted to know all his information too, just in case. I'm going to need it at some point or another, anyway.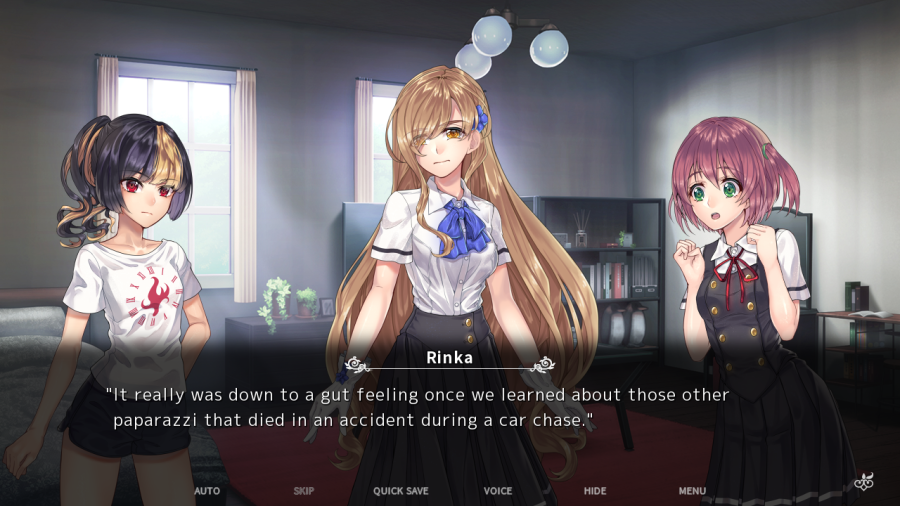 It really was down to a gut feeling once we learned about those other paparazzi that died in an accident during a car chase.

Things really do work on a whole different scale abroad. Er, no pun intended... More importantly, we were able to figure out who Scale was targeting by searching for photos credited to him.

The actress he was chasing was caught up in a scandal and had photos of it taken by another paparazzi, who died during a car chase, while Scale was in Japan. That and the fact that it happened during Divine Selection served as the final puzzle piece we needed.
None of it was mere coincidence to me. Naomi and Miharu both waiting for me, my being able to bargain with Alan, and most importantly, Miharu not backing down against Odette. We were able to get all three of Scale's cards through our combined will to push forward.
BGM: Silence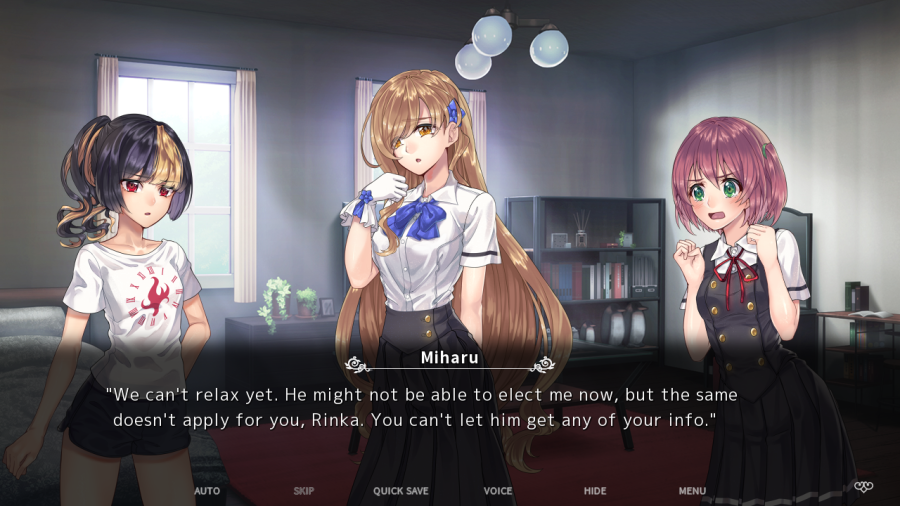 We can't relax yet. He might not be able to elect me now, but the same doesn't apply for you, Rinka. You can't let him get any of your info.
I'm going to elect him next time, but doing so could lead to my own death if he manages to defend himself or elect me in turn. The issue here is it's entirely possible that he'll be able to gather all the information he needs.

U-Umm... Is it possible for you to stay with your gran until Scale is eliminated, perhaps? I would assume that you'd be safer that way...

I thought as much, too. But Scale shouldn't have any issue finding both this place and where my gran is staying, so I don't want to risk getting her involved.

You don't seem aware of this, Naomi, so let me make it clear. You should watch yourself as well, especially at night. Don't walk around alone, no matter the circumstances. It's common knowledge that Rinka elected Yu to save you, so he may find value in using you as a hostage.
While a bit harsh, Miharu's right. Yu had no intention of electing me, but Scale could. I doubt I'll be able to persevere if he takes Naomi hostage.

...I'll keep that in mind.
Naomi nods, visibly shaken.
BGM: Bonds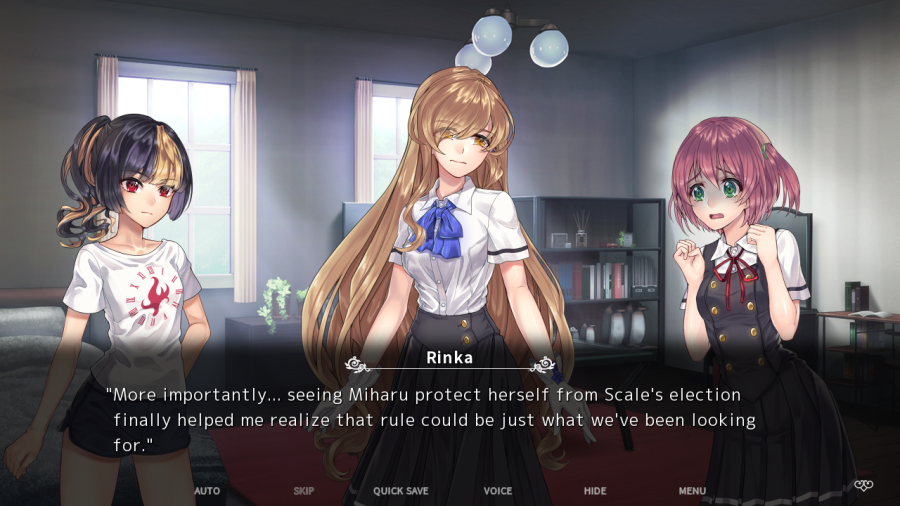 More importantly... seeing Miharu protect herself from Scale's election finally helped me realize that rule could be just what we've been looking for. Should someone successfully protect themselves from an election, neither participant can elect one another. So basically, if the current participants all elect one another, then there won't be any other options left. Shouldn't we all get to survive if that happens?

That might just be it...!

That's a possibility I considered myself, Rinka. The same can likely be said for the other participants, Sofiya included.

But she's the one who said she wanted us both to survive...

I'm positive she suggested that possibility while aware of what you just said. Mainly because the idea of every participant going along with it is highly improbable. It's all over the moment someone deviates from the plan.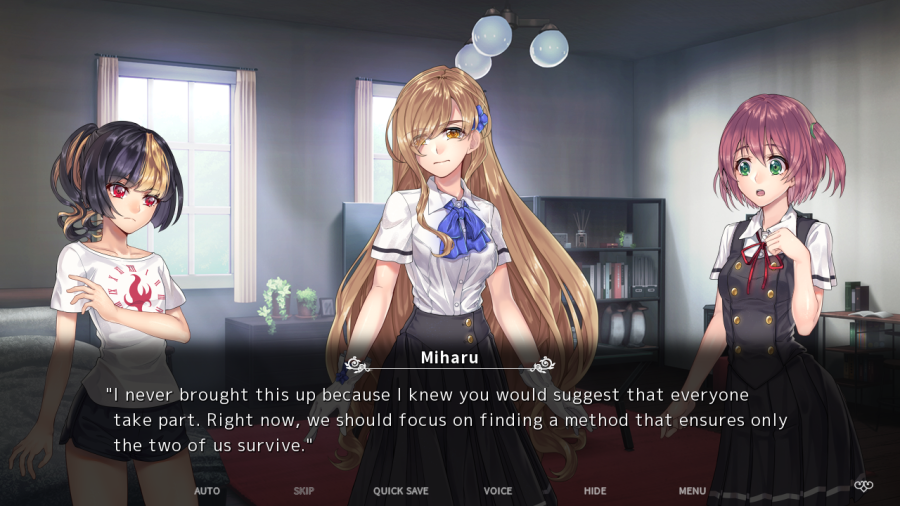 I never brought this up because I knew you would suggest that everyone take part. Right now, we should focus on finding a method that ensures only the two of us survive. Besides, Parca said we'd find out what happens if people who can't elect one another are the only ones who remain.

It might just mean that we all get to live.

You seem to have a fundamental misunderstanding of Divine Selecti- Actually, forget it. I'm opposed to it, that's all.
I'm curious about what she was going to say before cutting herself off.

U-Um...
Naomi doesn't let Miharu end the conversation, though.

C-Can we, maybe, stop with the secrets?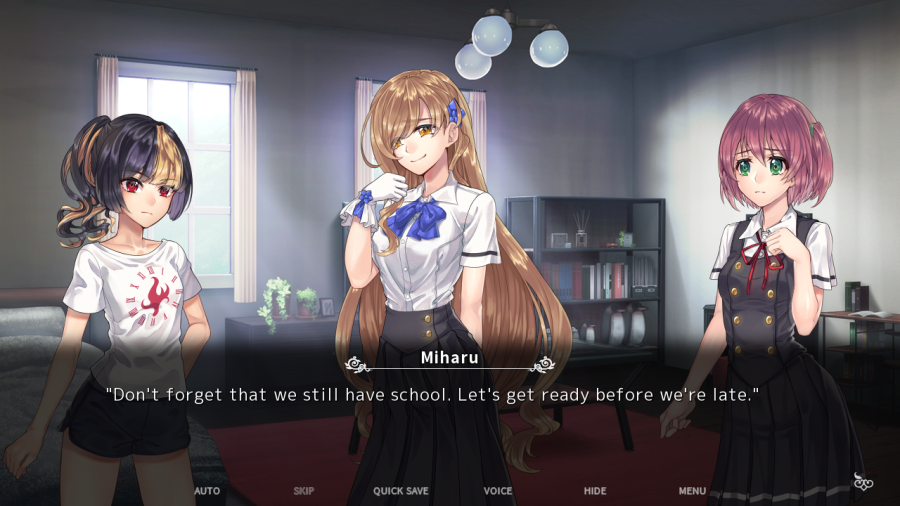 Don't forget that we still have school. Let's get ready before we're late.

Miharu...
While she didn't sound entirely confident, I was still surprised to hear Naomi say that. Meanwhile, Miharu does her best to appear unapproachable while getting ready. She knows something, yet she's not saying what. I'm sure she has her reasons, but...

Let's stop acting like this, Miharu. Especially between the three of us.

R-Rinka...
I grab Miharu's hand as she's about to make her way downstairs. Her hand feels cold. This might be the first time I've held her hand since that time at the theme park, now that I think about it. I can't help but think that it's far colder now than it was back then. She's taller than me, so I have to look up into her eyes. There's no need for words. Miharu looks away from me before responding.

I guess it's for the best, then. Especially when you're the type to take action until you're satisfied. But we really don't have time right now. I've got work after school today, so how about we meet here tomorrow after school?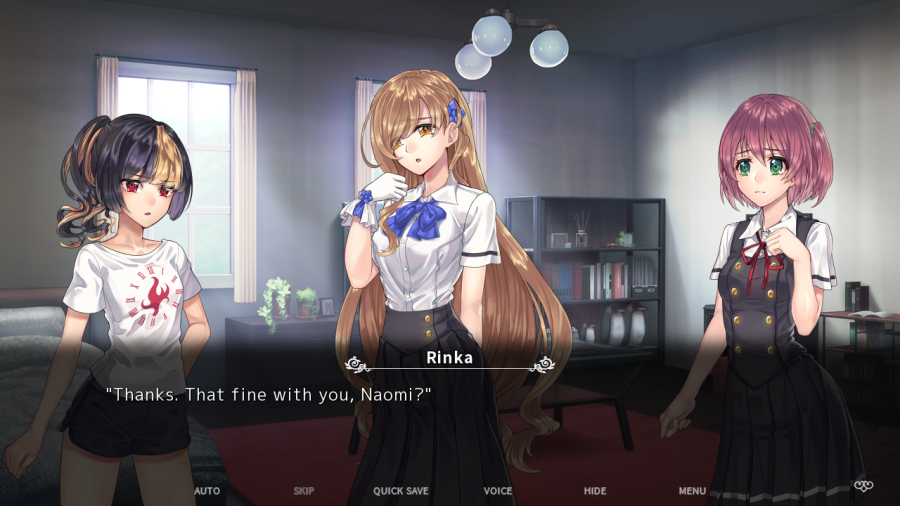 Thanks. That fine with you, Naomi?
Naomi and Miharu both nod, almost in sync. Just as I try to let go of Miharu's hand, she grabs hold of mine. I'm surprised, plus she looks deadly serious.

I want you to promise me something, though. Don't hate me when I tell you... okay?

I could never hate you, no matter what.
Her lips quiver upon my immediate answer. Almost as if she's trying to hold something back. Afterwards, the three of us head off to school.
-----
Cardbook has updated.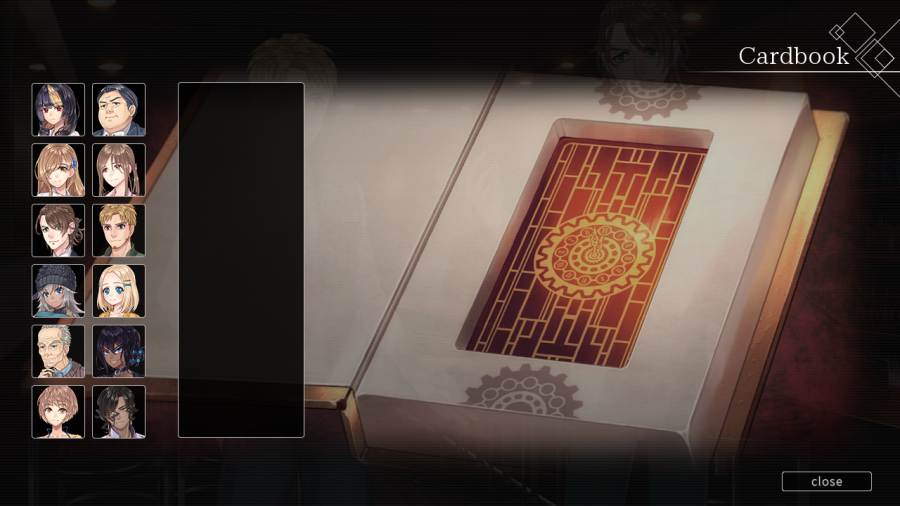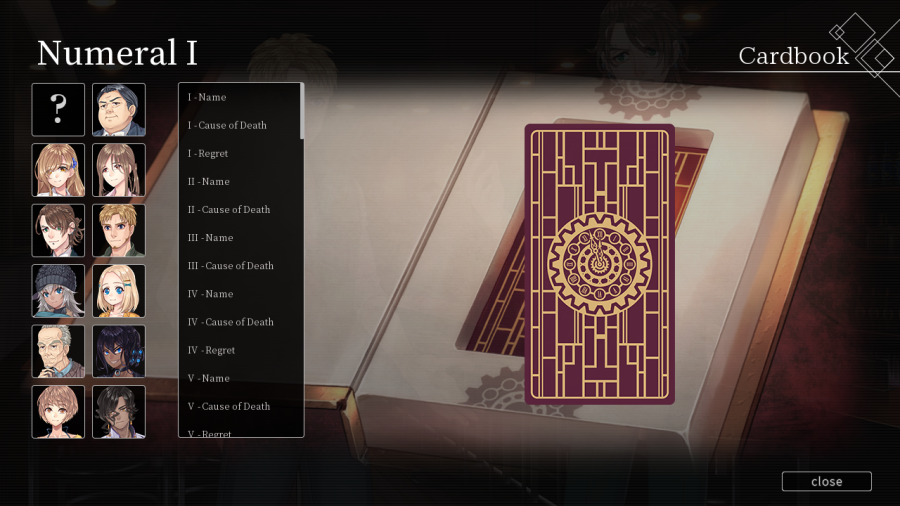 I – Name – Shishimai Rinka
I – Cause of Death – Death by Asphyxiation
I – Regret – Daily Routine
II – Name – Hebinata Miharu
II – Cause of Death - Suicide
III – Name – Federico Carminati
III – Cause of Death – Death from Structural Collapse
IV – Name – Yu
IV – Cause of Death – Fire
IV – Regret – Daily Routine
V – Name – Ushizuka Shigetsugu
V – Cause of Death – Death from Starvation
V – Regret – Back when I was Close with Family
VIII – Name – Kamebuchi Keiko
VIII – Cause of Death – Brain Hemorrhage
VIII – Regret – Child's Name
IX – Name – Scale Jones
IX – Cause of Death – Death from an Accident
IX – Regret – Gold Medal
X – Name – Sofiya Priessnitz Alexeievna
X – Regret – Seeing the World
XI – Name – Odette Malencon
XII – Name – Alan Scorpion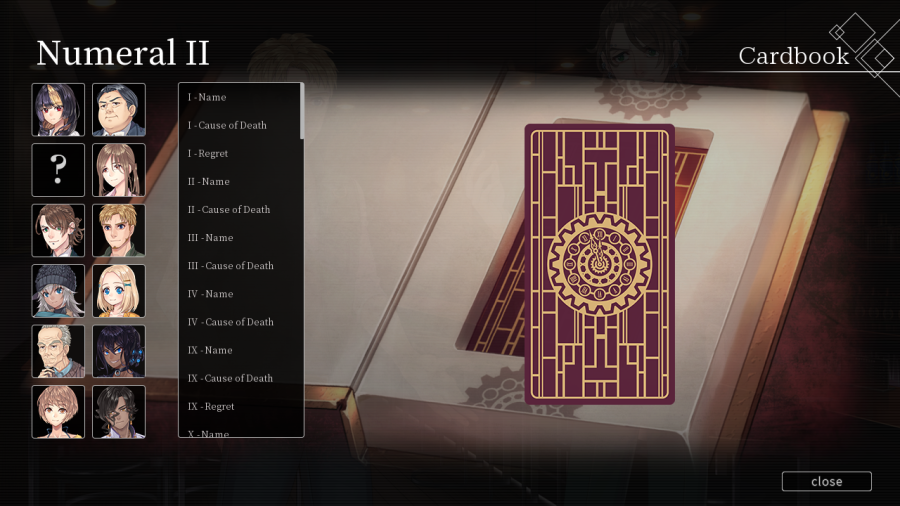 I – Name – Shishimai Rinka
I – Cause of Death – Death by Asphyxiation
I – Regret – Daily Routine
II – Name – Hebinata Miharu
II – Cause of Death - Suicide
III – Name – Federico Carminati
III – Cause of Death – Death from Structural Collapse
IV – Name – Yu
IV – Cause of Death – Fire
IX – Name – Scale Jones
IX – Cause of Death – Death from an Accident
IX – Regret – Gold Medal
X – Name – Sofiya Priessnitz Alexeievna
X – Cause of Death – Death from Sickness
X – Regret – Seeing the World
XI – Name – Odette Malencon
XI – Cause of Death – Death from Blood Loss
XI – Regret – Birth
XII – Name – Alan Scorpion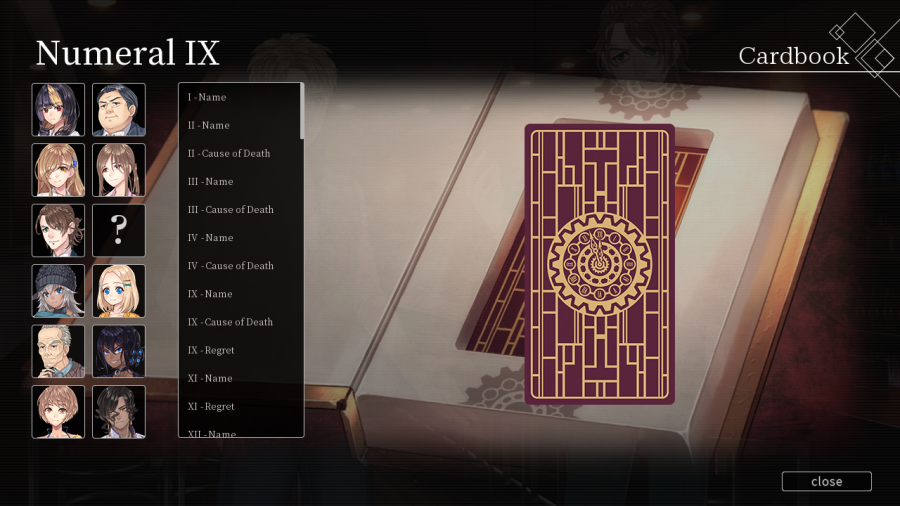 I – Name – Shishimai Rinka
II – Name – Hebinata Miharu
II – Cause of Death - Suicide
III – Name – Federico Carminati
III – Cause of Death – Death from Structural Collapse
IV – Name – Yu
IV – Cause of Death – Fire
IX – Name – Scale Jones
IX – Cause of Death – Death from an Accident
IX – Regret – Gold Medal
XI – Name – Odette Malencon
XI – Regret – Birth
XII – Name – Alan Scorpion