Part 264: Myself / Go check on Sakura?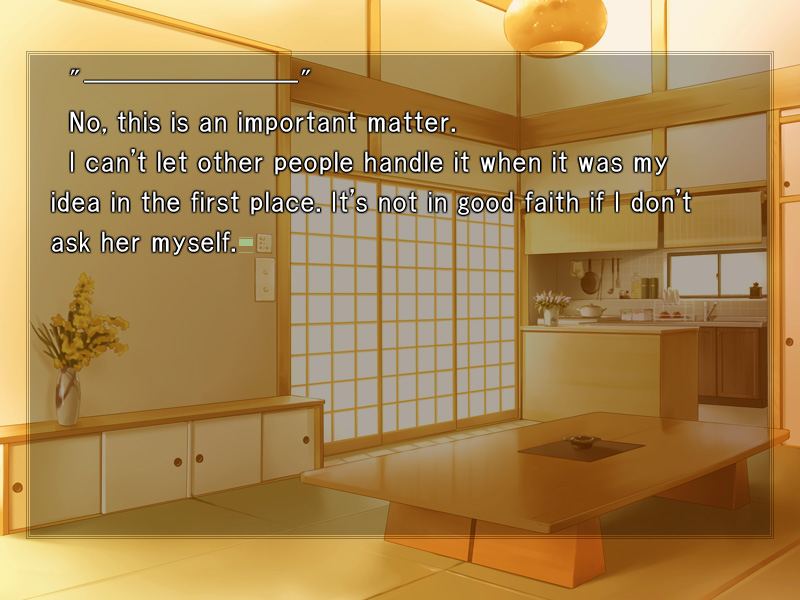 …Oh.
I hear the doorbell.
"Excuse me."
I hear Sakura's voice from the entrance.
I guess I should strike while the iron's hot and go ask her right now.
Music: Tender Scenery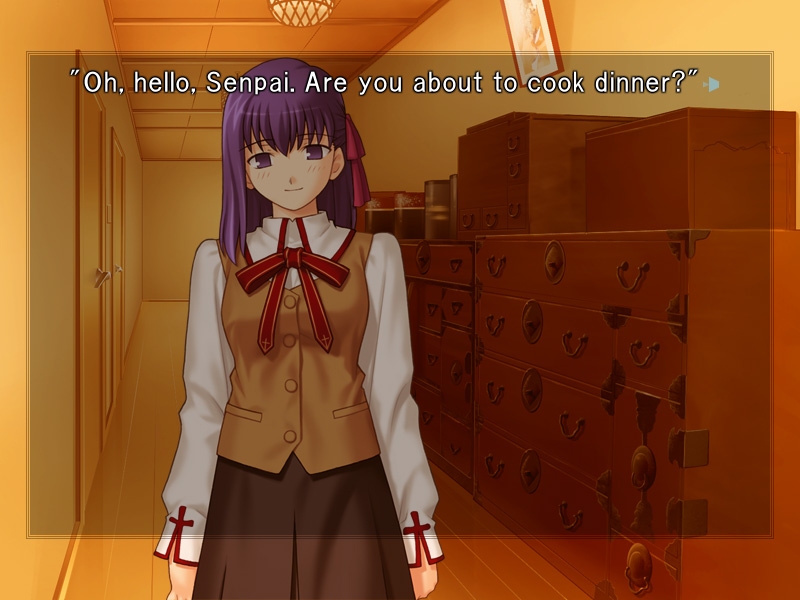 "Yeah. I'm going to cook by myself today, so you can relax. But please look after Fuji-Nee. She lost confidence in herself because Saber beat her mercilessly. Try to finish her off and play something like Othello with her."

"Oh, that's terrible, Senpai. Today was a hard day for Fujimura-Sensei."
"…Oh yeah, she did mention something about that. Then play shogi with her."

"Shogi, huh? Okay, Fujimura-Sensei is the master at that.
She beats me even when she gives me a handicap."
Sakura's in a good mood.
Her bruise appears to be healing, and her earlier gloominess seems to have disappeared.
Yeah, this is a good time to ask.
"So, Sakura. I know it's a bit sudden, but could you stay over at my place starting tonight?"

"Huh

? Stay over at your place…?"
"I'm telling you not to go back to the Matou household for a while. Let's see… I want you to stay over for like a week. Oh, I already got Fuji-Nee's approval."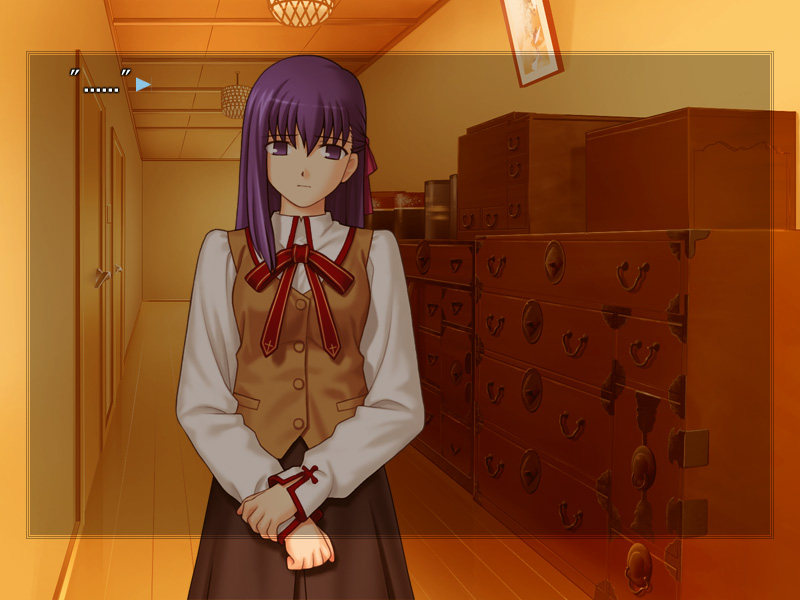 Sakura's face stiffens.
She stares at me, as if peering into my mind.

"

I know I'm being unreasonable. But I'll have you stay over no matter what. I don't care what you think of me, but please stay at my place for a while."
"

"
Sakura doesn't answer.
She stares at me silently…
"

Why is that?"
…And then asks me that question.
"……"
I can't tell her why.
I can't tell her that Shinji's a Master, and anything else would just be a lie.
Everyone has their secrets.
I'm a guy, so I have many secrets I can't tell Fuji-Nee or Sakura.
…There are things you just can't say, not even to the people most important to you.
But that's also why I can't lie.
Sakura's an important family member to me, so I can't lie to her.
"……"
The air feels like it's freezing over.
The silence seems to last forever, and Sakura hangs her head awkwardly.
I put my stupid brain to work, trying to come up with something to say.
"Do I really have to tell you, Sakura?"
She doesn't respond.
Instead, she just looks at me with a concerned expression.

"…Is it because you're worried about me?"
And she clearly states this.
"

Yeah, I'm worried about you. It'll help me out if you stay here."
…Her long hair sways.
Sakura nods in response…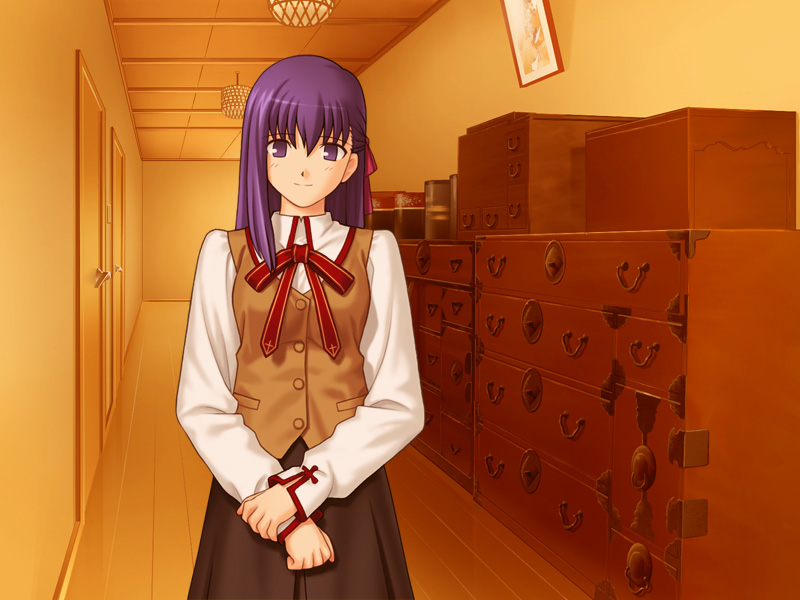 …She answers not with her words, but with a brilliant smile.
Music: Stop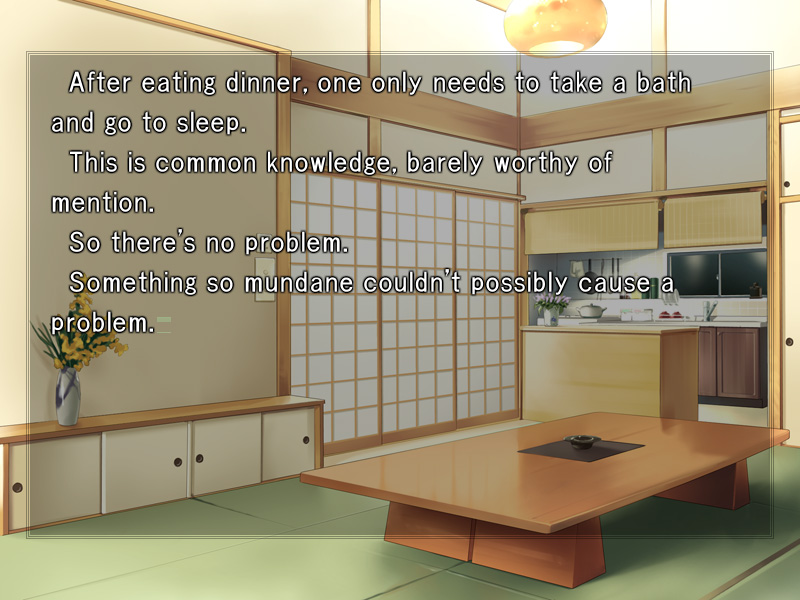 Music: Time Together
Video: Bath Time
(
mirror
)
But…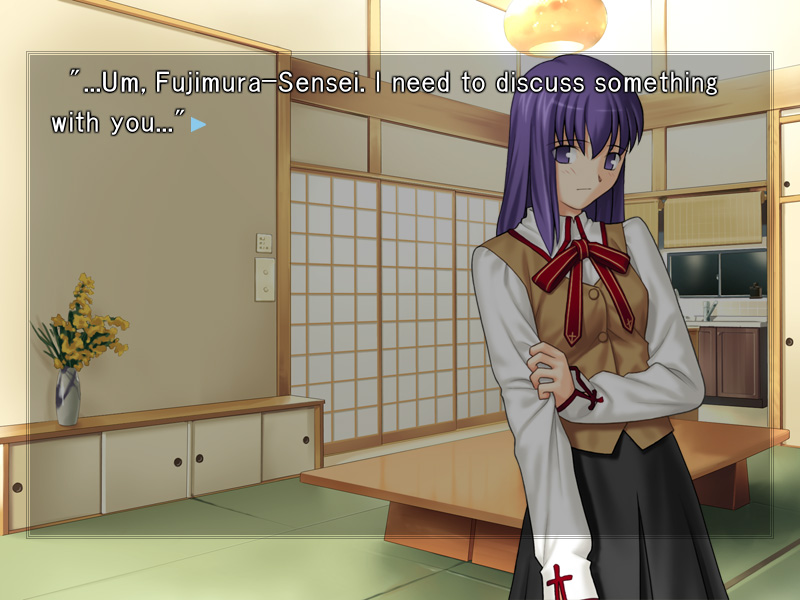 "What is it? Go ahead and ask me."

"Um… Well……"
"Oh, right. You need something to change into. Hmm, I guess there are school uniforms at my place. I can give you some of my clothes if you don't mind. Oh, or would you rather go to your place to get some clothes?"

"…No, I would rather not go home, since I wouldn't be able to come back here. Um, about Nii-san…"

"Oh, that's all right. I just called your place and got your grandfather's permission. He said he doesn't mind having you over at my place since I'm a teacher."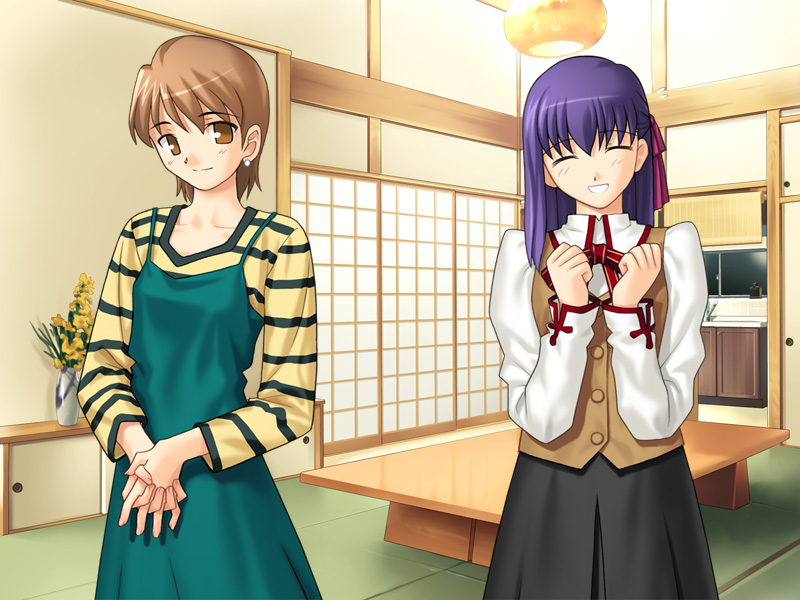 "R-Really!? Then I can really stay over here!?"
"Yup. So, about your change of clothes… you don't mind using my pajamas, right? Oh, do you want to use the same underwear too?"

"Oh… No, um… I think your bra would be too tight on me…"

"Hm. Yeah, you have big boobs.
……………Give me some of that."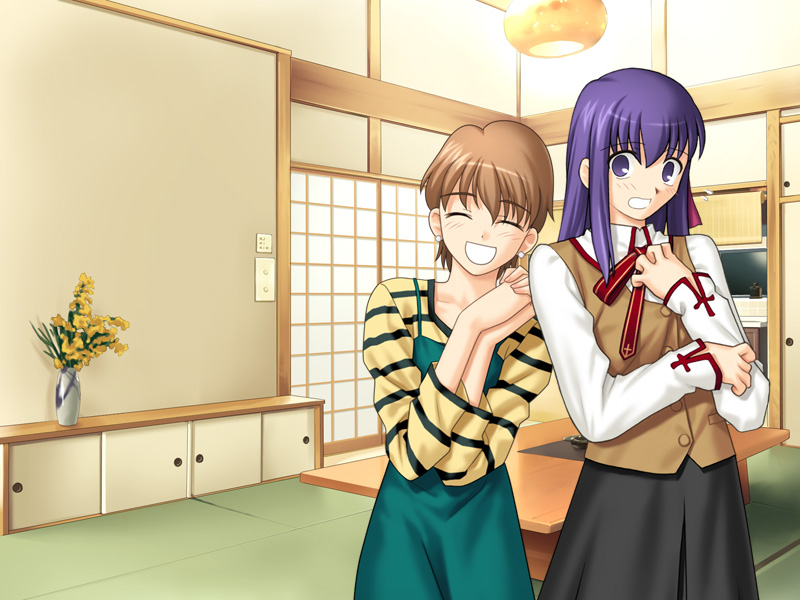 "Kyaaaaaaaaaaaa! What are you doing, Sensei!?"

"Ahahahahaha, I'm just joking. …But this is troubling. I don't have a bra your size. Are you the kind that keeps your bra on when you sleep?"

"Uh… um, yes."

"Yeah, people with big boobs tend to do that. But isn't it uncomfortable?"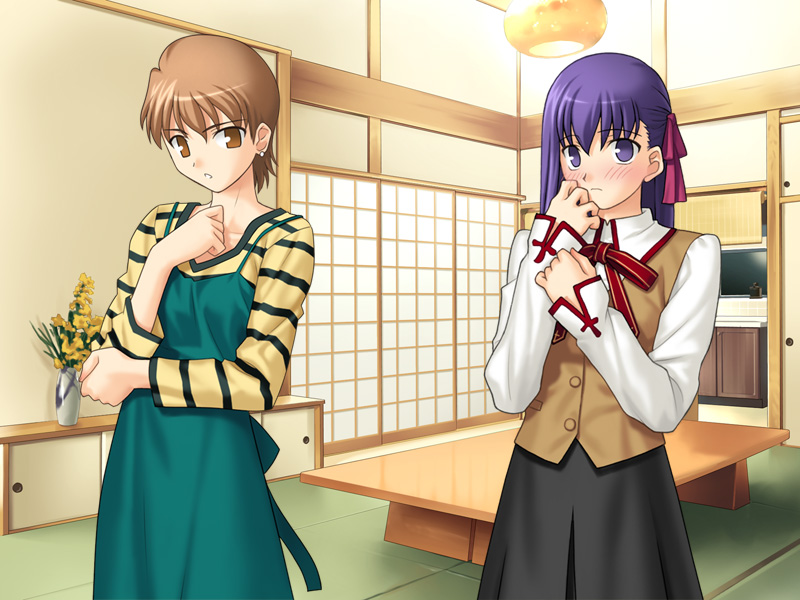 "…I-It is, but what you do is………"

"I see, I see! It sure is good to be young! Then I'll get the guys at my place to buy some for you by tomorrow morning. So don't worry, just go ahead and take your bath."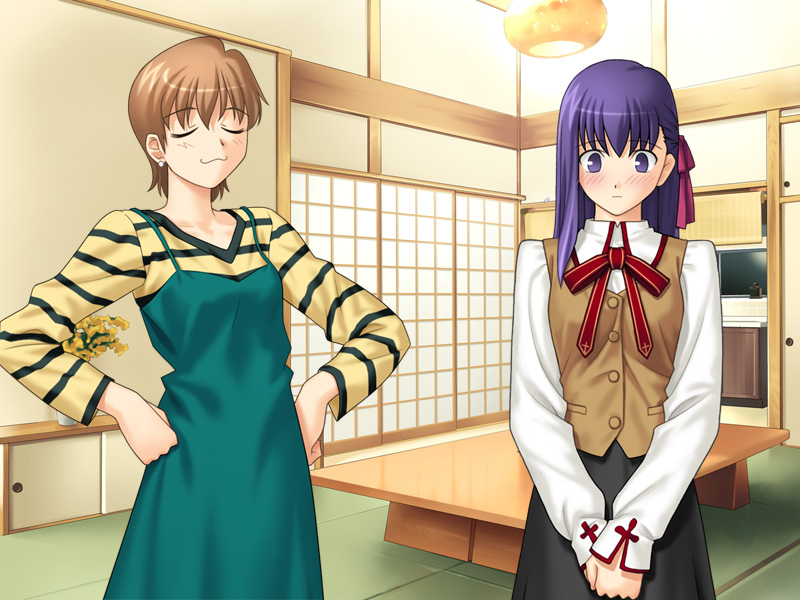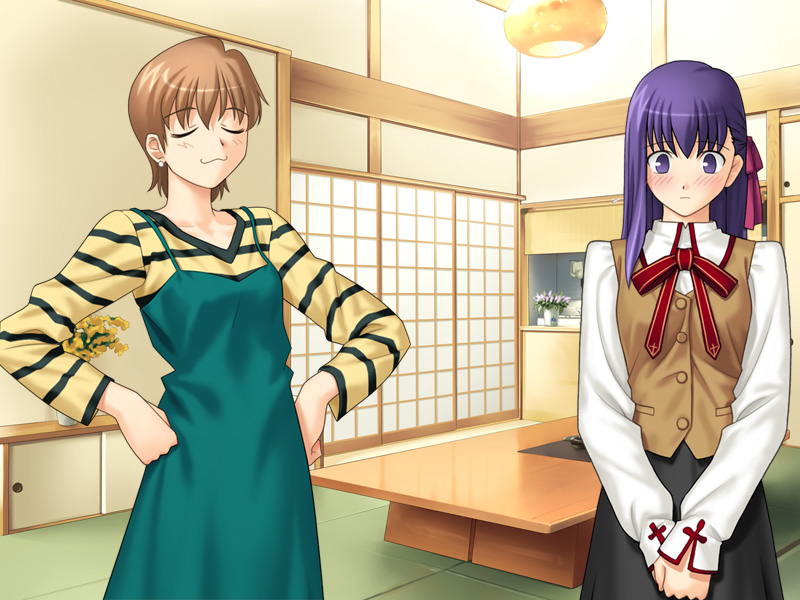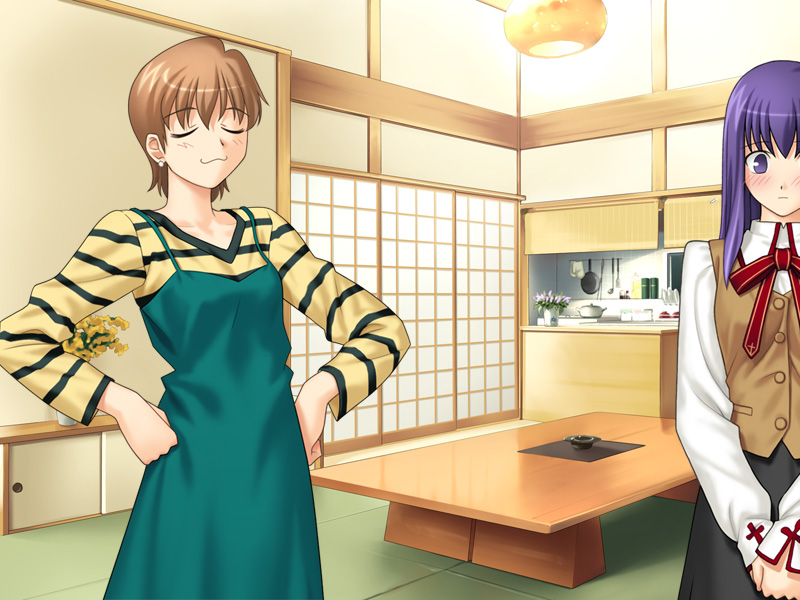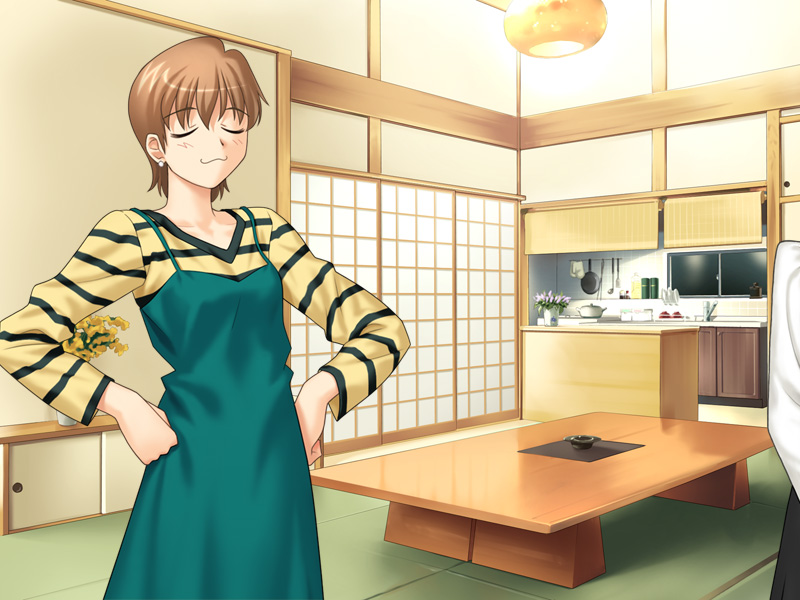 "……"
"

!"
S-So why are you two having this conversation right in front of me!?
I'm a guy! If you two talk about that, I won't even be able to look at Sakura without thinking…


"Ohhh? Why the red face, Shirou? Are you curious about what Sakura-chan had to say?"
"

! H-Heh, what are you talking about? It's a secret between you two. I didn't hear it, and I'm not curious!"

"Oh, really? Then I'll give you an interesting piece of info. Sakura-chan is an 85. She's an E-cup. Isn't it amazing? It's 13 centimeters bigger than last year.

I bet you noticed it too. How sexy her body is and how much you want to touch her."
"Y-You

!"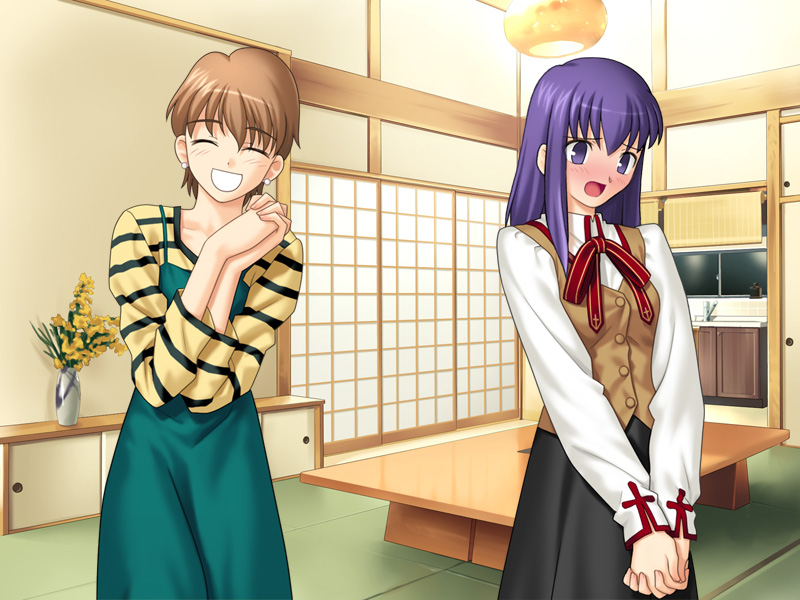 "F-Fujimura-Sensei

!
I told you in secret so that he wouldn't hear it!! Why are you telling him like that!?"

"Huh? Huh? Kyaaaaa!?"
"You

idiot, Fuji-Nee…"
I finish my thought in a whisper.
Fuji-Nee falls to Sakura's counterattack.
Sakura's face is red, and she is trying to cover Fuji-Nee's mouth.
…Sakura…
I understand wanting to prevent Fuji-Nee from talking, but if you keep this up, you'll kill her…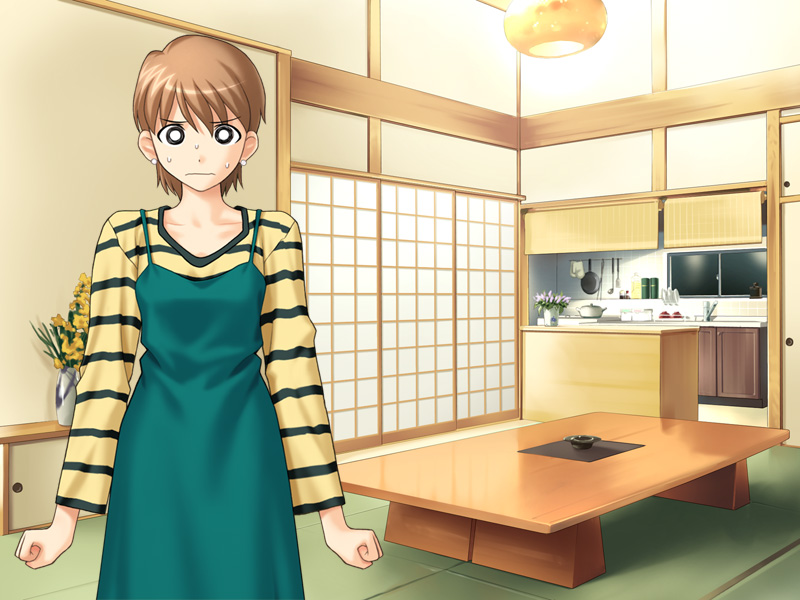 "Haa, haa, haa

wow, I didn't know you were that strong, Sakura-chan. I'm surprised that you came to stop my breath right away."

"Geez! Please contemplate your actions, Fujimura-Sensei!"
Sakura gets away from Fuji-Nee.

Naturally…
Our eyes meet.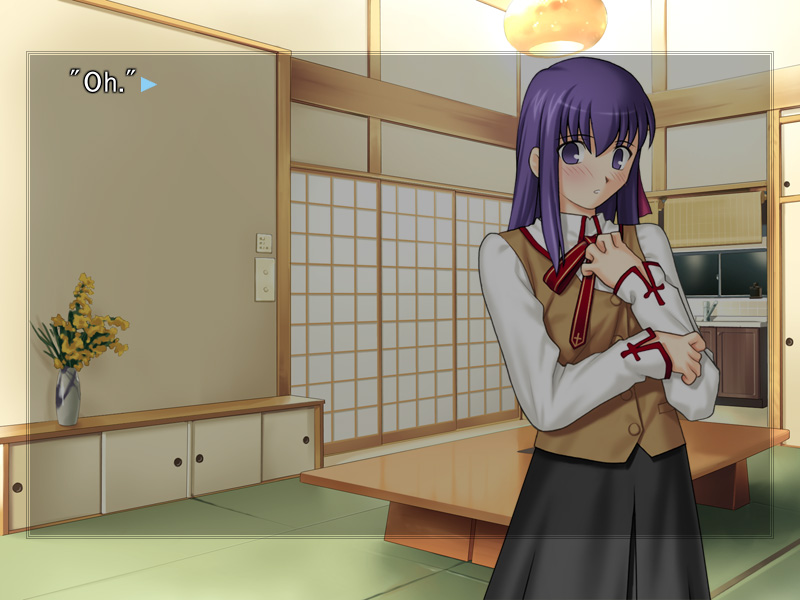 "

Ehh, um, the towel's in the dressing room."

"O-Okay…! Um excuse me for a while, Senpai…!"
Sakura hurries out to the hallway.
"Oh

"
But if she runs like that…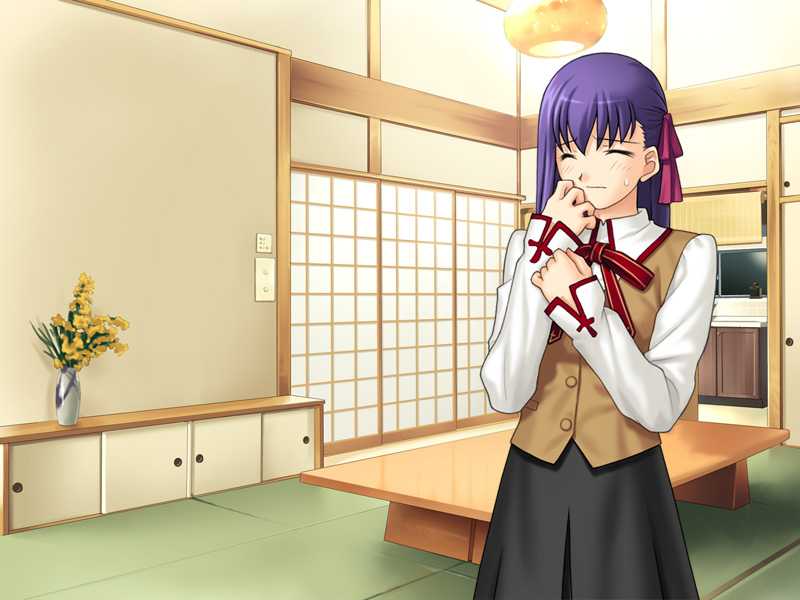 "Ow… I hit my nose……"
…I wanted to warn her that she'd fall…
…But she exceeds my expectations and runs straight into the wall.
"Are you all right, Sakura!?"
Was she that eager to get away?

"Yeah, I'm all right. I'm fine, so I'm going to go take a bath."
Sakura disappears into the hallway.
"

Phew."
With Sakura gone, I relax.
…As tense as things were getting, I would've had to flee the room in embarrassment if she hadn't left first.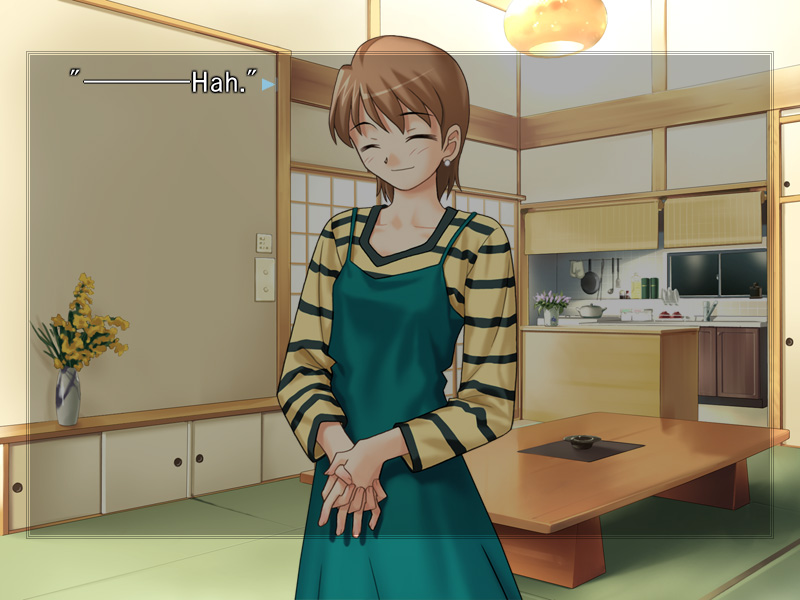 "…What? Go ahead and say it if you want to say something, you failure of a teacher."

"Noooothing. I'm just thinking how hard it must be for Sakura-chan.
I bet Sakura-chan was even more embarrassed in front of you."
"I-I'm not blushing! Hey, Sakura is like a family member to me. She's cooked for me and we've eaten together for a long time! I-I'd be a failure as her Senpai if I were embarrassed!"

"Oh, so you don't want to be a failure?"
"Of course not. Sakura is Shinji's sister. If I'm having a friend's sister over, I have to take care of her."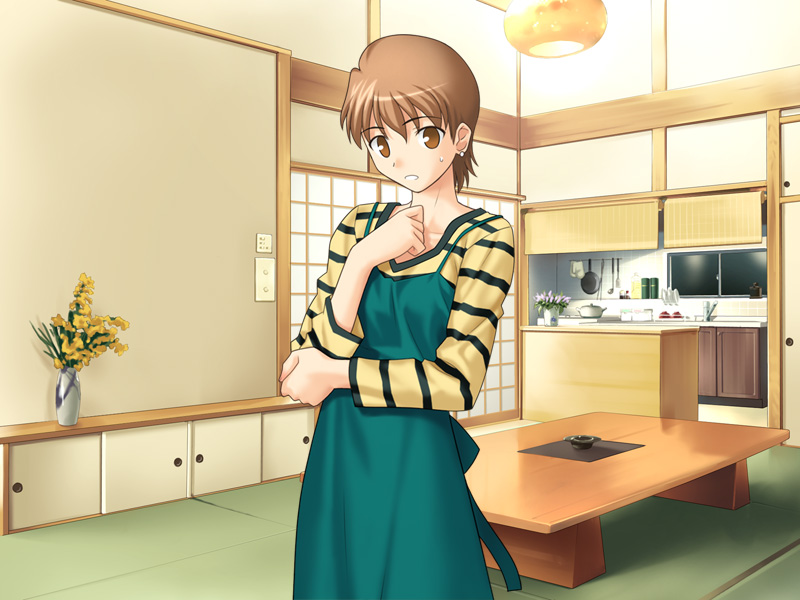 "What…? Oh, I see now. I just thought you were dense, but that's part of it too, huh?"
Fuji-Nee sighs.
This is troubling.

"Sakura-chan has a lot of trouble ahead of her."
"Hey, where are you going?"

"I'm going to the dressing room. I have to go get Sakura-chan some change of clothes. You can go to the outbuilding and prepare a room for her. Get her some new sheets, okay?"
Fuji-Nee leaves after giving me an order.
"…Heh. Stay here, Saber. I'm going to go prepare the guest room."

I leave after seeing Saber nod.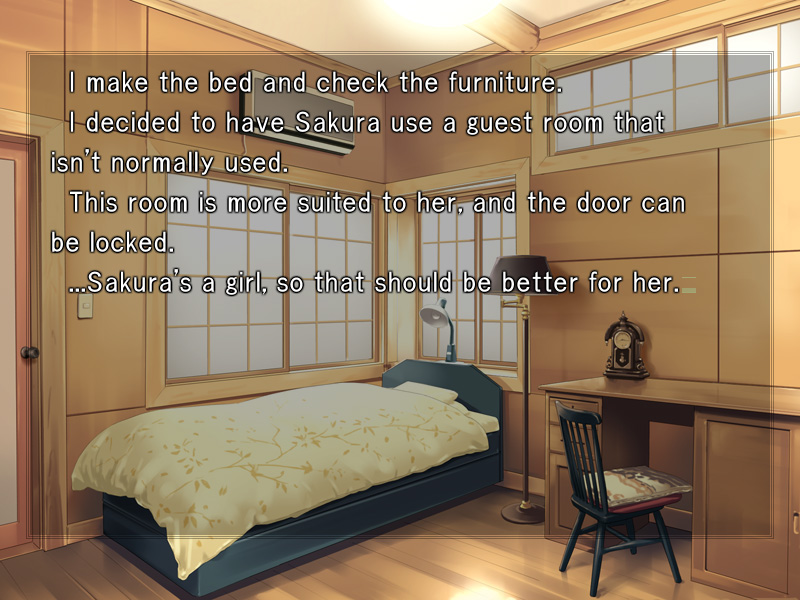 "…Well, it's not like Fuji-Nee made me choose this room."
I make the bed.
This bed has never been used.
The moment I think that Sakura will sleep in this bed tonight…
Music: Stop
'

I bet you noticed it too.'
"

!"
…Indecent thoughts fill my head.
"D-Don't be stupid! I

"
…I already know that, without being told.
I've seen Sakura hit puberty, getting more beautiful by the day.
It was a good thing, but I also persuaded myself not to notice it.
I've always told myself that she's Shinji's sister and that she only comes to cook for me because she feels guilty about what Shinji did.
"…It's been a year and a half, hasn't it? It's nothing Sakura should care about."
The accident that caused me to quit the archery club…
I injured my shoulder, he complained about the burn, and I took the opportunity to leave the club.
…And Sakura proposed to help me out until my injury healed.
She was like a child back then.
She waited for me in front of my house one day, but it took two hours of awkward silence before she worked up the courage to say she wanted to help me.
"

That shy Sakura is the rising star of the archery club now. Man, how a person can change."
Sakura is cheerful now.
I first met her four years ago when I went to Shinji's house after getting to know him.
She was quiet and had a habit of hiding her face with her hair.
…Well, she still is, but she was really lifeless back then. She always looked depressed and would just absent-mindedly stand there.
Considering that, it's wonderful to see how Sakura is doing now.
It relieves me to see Sakura, the girl who only used to look downcast, smile.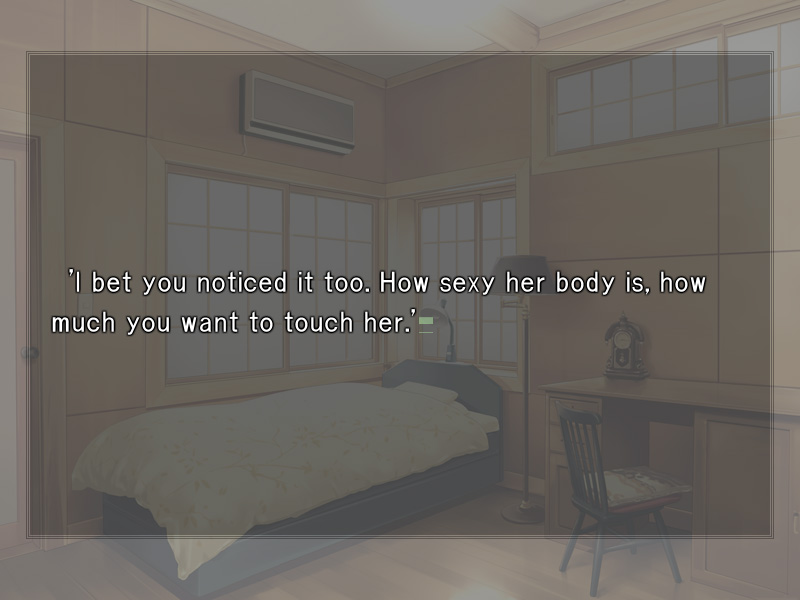 "

"
…I don't really know.
She was always just my underclassman.
But recently, that changed.
…I don't know if it happened recently or if I only started to notice it just now.

Or…
Was she so close to me that I didn't have to notice?
"…Damn. It's been peaceful until now. So why…"
Why is my mind going crazy from just having Sakura stay over?
I'm being inconsiderate of her.
I'll finish cleaning and show her to her room

Music: Tender Scenery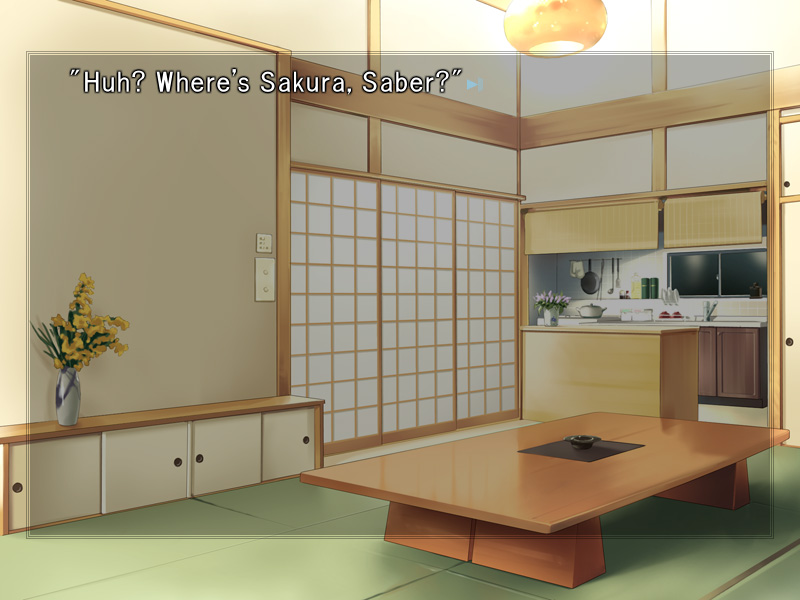 "I do not know. She is not here yet, so I would assume she is still in the bath."
"…? But it's been an hour already."
…Well, perhaps she takes long baths.
After all, she has more places to wash

"

! Stop, stop, stop…! Don't imagine indecent things!"
I shake my head and sit down at the table.
I pour myself some tea and drink it.
"

Phew."
I shake off the image in my head and relax.
…Then.

"Shirou. Does Sakura have bad eyesight?"
Saber asks me a strange question.
"…? No, Sakura has good eyesight.
I think she has 1.5 vision."
"I see. She often runs into walls, so I was worried that she might have bad vision."
"Oh, I see. Thanks for worrying, but Sakura's fine. She's clumsy now because she's tired. She's usually more reliable than me."

"I hope so. …But even in that case, it is a problem if she is tired enough to mistake the wall for a door. This is only my personal opinion, but I believe it was not caused by fatigue."
"

"
That's a very natural conclusion.
Even if you're tired, you still shouldn't be running into walls.
"……"
Music: Stop