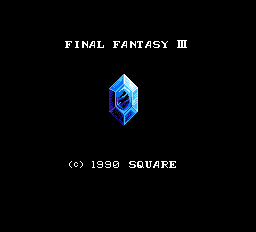 Hey guys, it's me, seiferguy.
You've probably seen a few of my Let's Plays, from Seiken Densetsu, to Zelda 2, LOTR, and Mega Man X2.
It's about time I do a Final Fantasy thread, I mean, my name is a Final Fantasy reference in it, for God's sake. It's also the best NES Final Fantasy, but then again - it's a Japanese RPG. Will I rip it apart if I get hit with jRPG stereotypes? Probably.
Anyways, Final Fantasy III took forever to get to America. It finally did late last year. I love this game. I had goons messaging me asking for help, which I gladly provided for the DS version. Thankfully the DS version held true to the original. With that said, I think it's time everyone saw what the original was like, and what exactly changed between the two versions.
Table of Contents