Part 5: The mountain, and Vikings.
Chapter 5 - The mountain, and Vikings.
Back to the old size of images. Sorry Slowbeef, you idea was good,
in theory...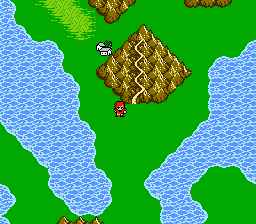 Last save was right outside that mountain thing called a mountain. Before I head up, I have a few things to do.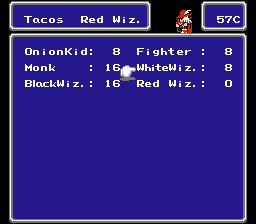 Tacos is all cool as a Red Wizard and stuff...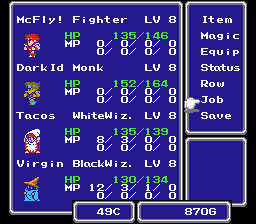 But I need him as a White Wizard for what's about to come up. It fits him, as Taco is equipped with heal in Awful Fantasy III anyways.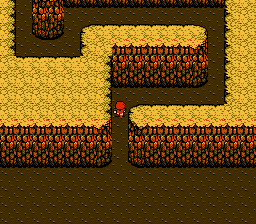 Let's climb this bitch.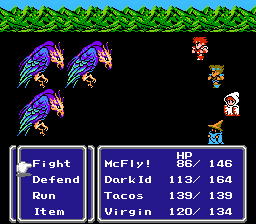 Meet Ruhks. They're packin' hit points and take a few hits to bring down.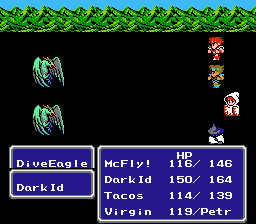 Dive Eagles are worse. On occasions, their hits will stone you, like poor Virgin here

I tried to soften him before the end of battle, but my fighters killed the enemies, thus leaving Virgin forever unsynced in terms of experience points.
Fuck!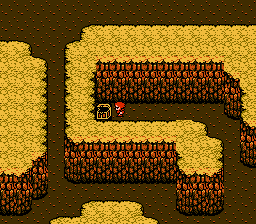 This chest contained Aero. It's a great spell. Why?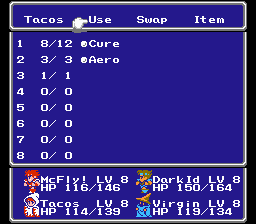 It's attack magic a white wizard can use. Hell yes!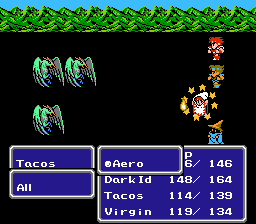 Observe!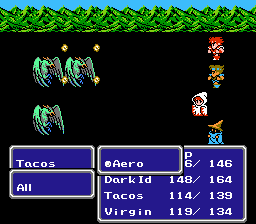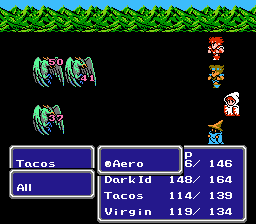 It's nice because all the enemies here are weak against it.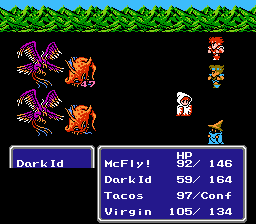 Wondering why Tacos is faced the other way? He's CONFUSED!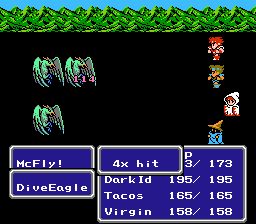 I gained a level, and the first thing I noticed were that McFly and DarkId were hitting for 4 hits instead of 2. Nice!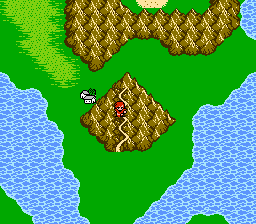 Sweet! We're near the summit!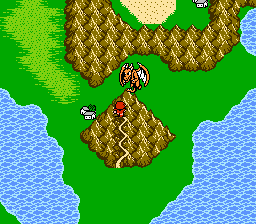 Oh god what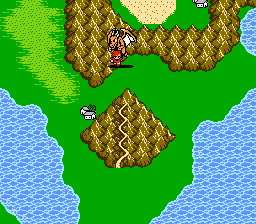 FUCK WHERE ARE YOU TAKING ME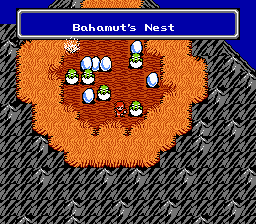 Shit man.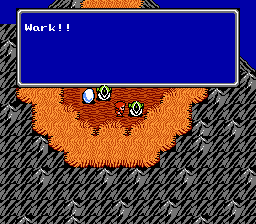 Aww cuet.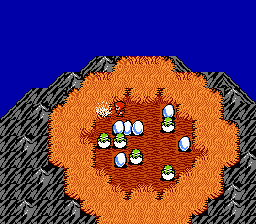 What the hell is this?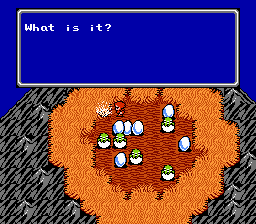 I JUST ASKED THAT.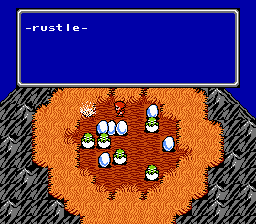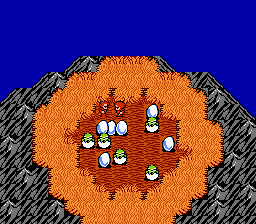 Whoa, hi.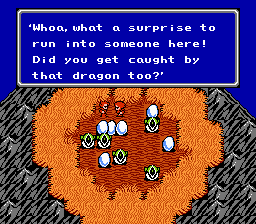 In a sense yes. I was merely trying to equip my cloak and wizard hat for some roleplay when this goddamn dragon shows up out of nowhere.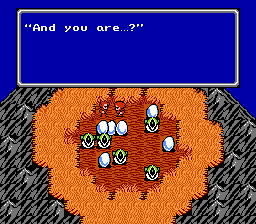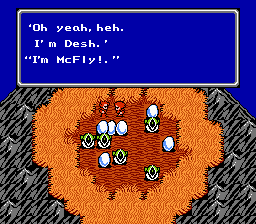 Fuck. It's Desh. That reptile-furry... well, except he's going after the REAL thing. Beastilatiy? Yes. What's worse? These dragons are CHILDREN!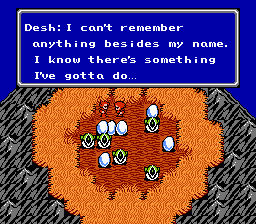 RPG STEREOTYPE #5! ONE CHARACTER MUST HAVE AMNESIA!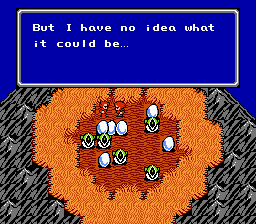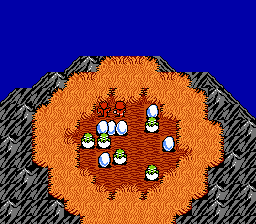 Hmm!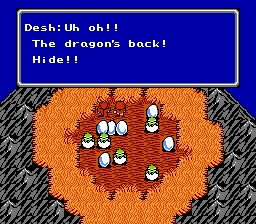 Yeah, and you want that don't you?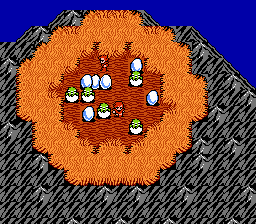 Here the characters do a pathetic little scramble to hide. It doesn't work, as you probably guessed.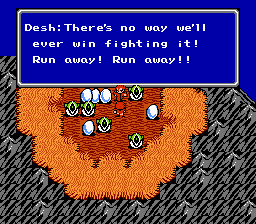 Shit.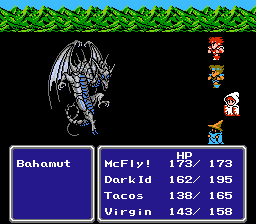 OH FUCK. I'M NOT READY FOR THIS.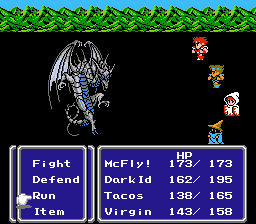 RUN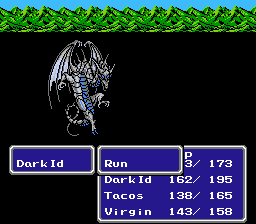 RUUUUN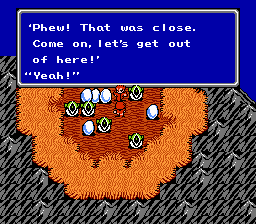 Yes, by running, that dragon magically disappeared. Knowing you, you probably had a relationship with it. She'll come back for you, but all you have to do is put up the hand and say "bitch, that ain't my reptile. Basic biology forbids such hybrid creations."
Or does it?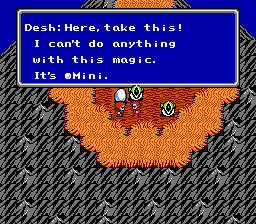 Well, this is nice compensation.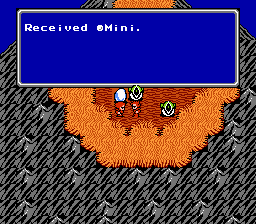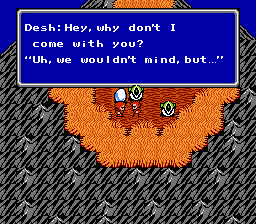 Actually, we do. We really don't need an amnesiac to follow us around and at night post on beast forums while I try to sleep.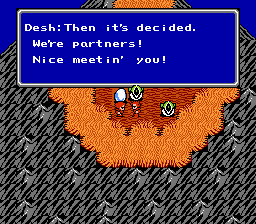 Oh god.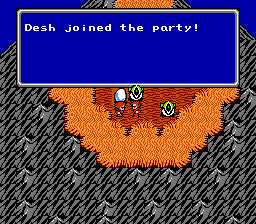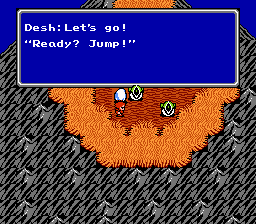 Get ready for the most awesome jump scene ever!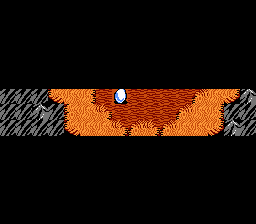 Here it comes! WHOAAA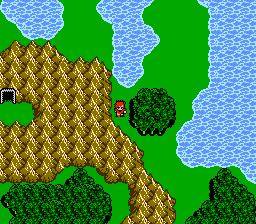 That was amazing! Let's head to that forest just east of us.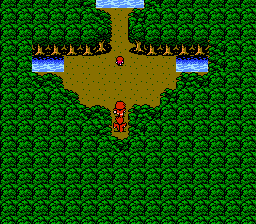 Sweet. Water. These heal hit and magic points, revive, and cure status effects.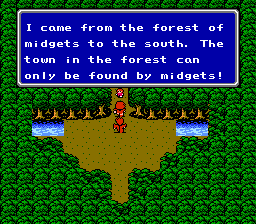 I'm glad the translators went with midgets and not the more politically-correct "height-challenged people."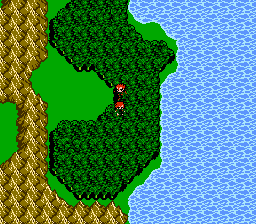 Well I won't be able to do anything THIS way.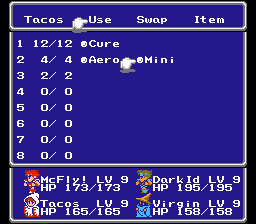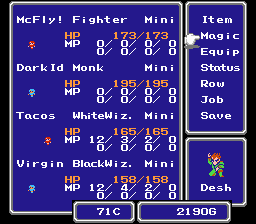 God damn it.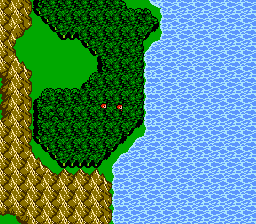 Let's see...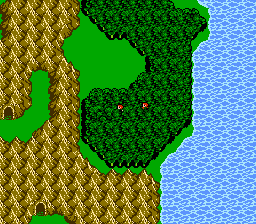 Not here either.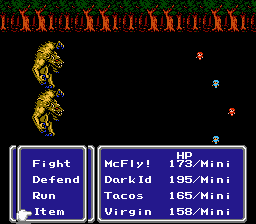 Fuck.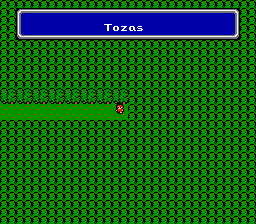 There we are!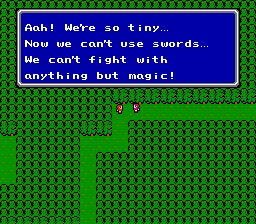 Desh makes an important point here. The only thing midgets can use effectively is magic. And only magic. Their weapons and armor completely blow.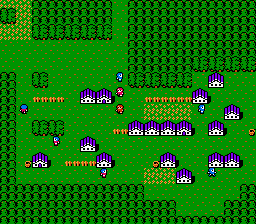 This town is pretty cool, actually. It's like that episode of the Simpsons where Lisa creates her own universe.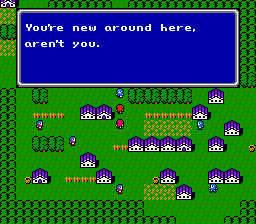 Stupid newbie.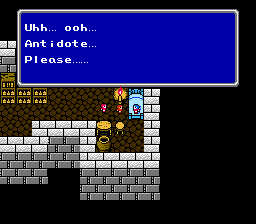 Well then!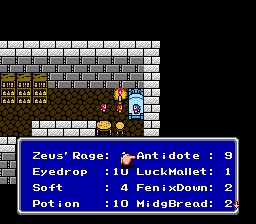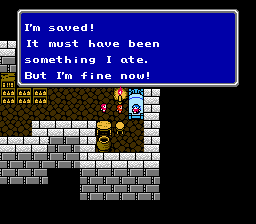 Let's take guesses on what he ate!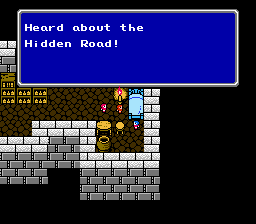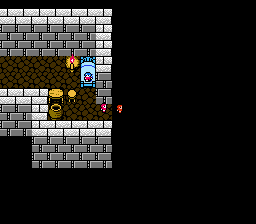 Well, he opened a nice little path for me, to say the least.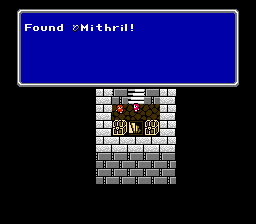 The other chest has a mithril rod. It's not a very big rod.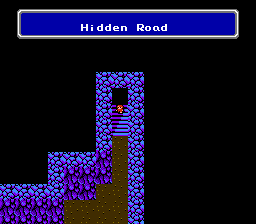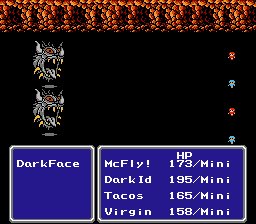 Best thing to do now is run.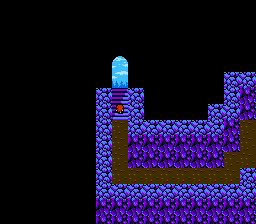 Whew, finally. That dungeon blows.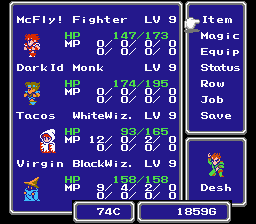 Much better.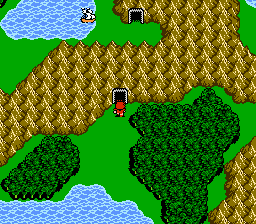 What have we here?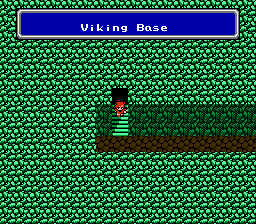 A motherfucking viking base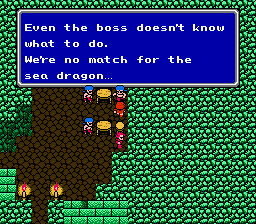 Sea Dragon, eh?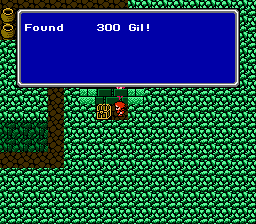 Thar be hidden treasure, yarrr.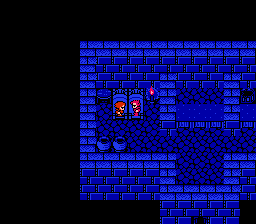 I get a room at the Viking Hotel and Desh decides to spoon with us.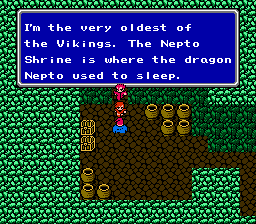 Apparently there's an angry dragon out there.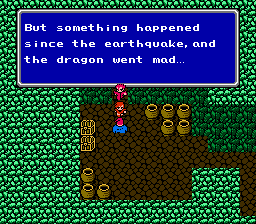 Yep, earthquakes make dragons go mad for no particular reason at all!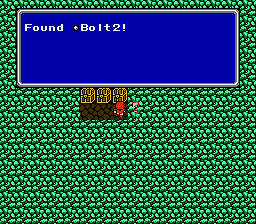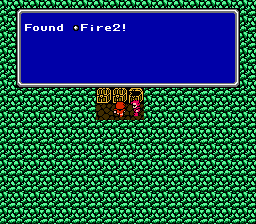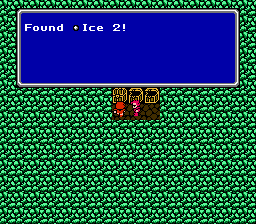 Oh hell yeah.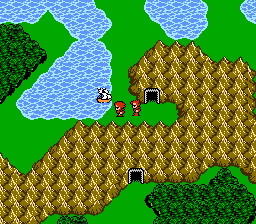 Only one thing left to do...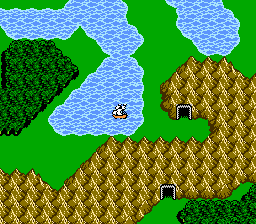 GUYS LETS GO SAILING! WOO!
What happens on the sailing trip?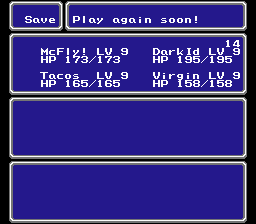 Find out in the next update!