Part 91: Level 1 run - Chapter 11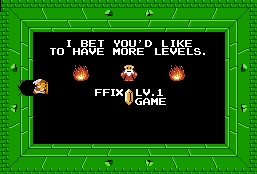 CHAPTER 11: The bandersnatches comes closer and then it gets shot. Where did climhazzard come from Beatrix!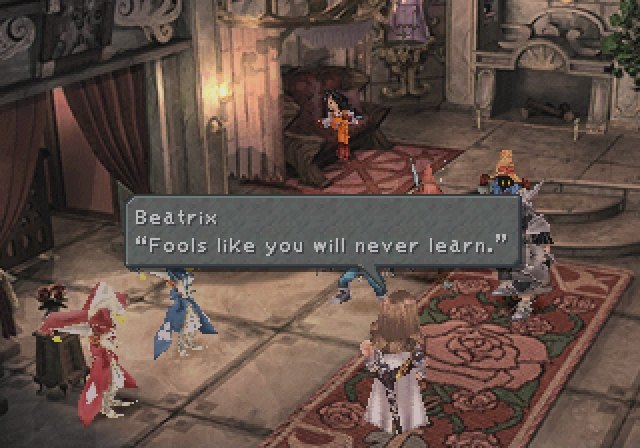 This is it. The Alexandrian Gaunlet. Between the last save point and the next are six battles with no real rest that are all different. First up is Beatrix 3.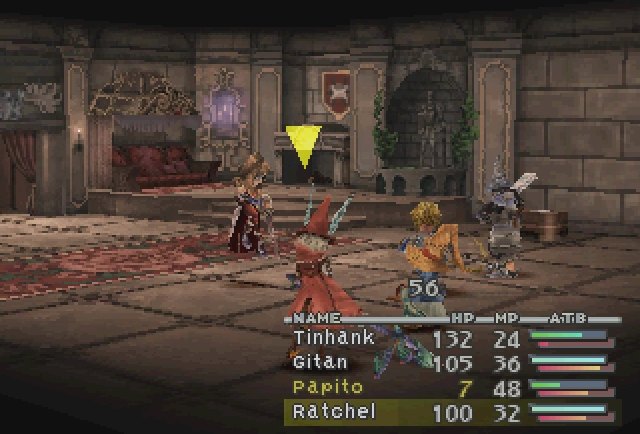 If her normal attack rolls low, Papito barely survives it. Ratchel absorbs Thunder Slash due to the coral ring.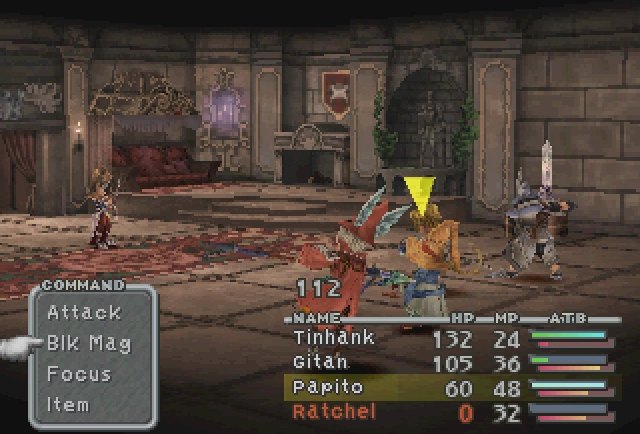 Everyone else gets one-shot.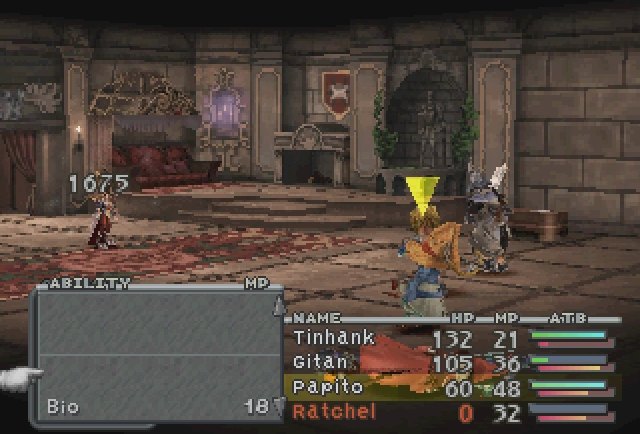 Tinhank has the Power Belt w/ MP Attack and the Ice Brand. His physicals are the big winner today.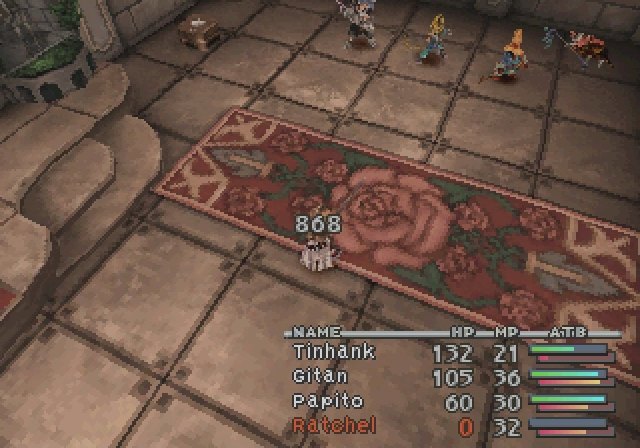 Papito's Bios aren't as hot but they're still the 2nd best damage today. After two casts he has 12 MP left, enough for a Fira.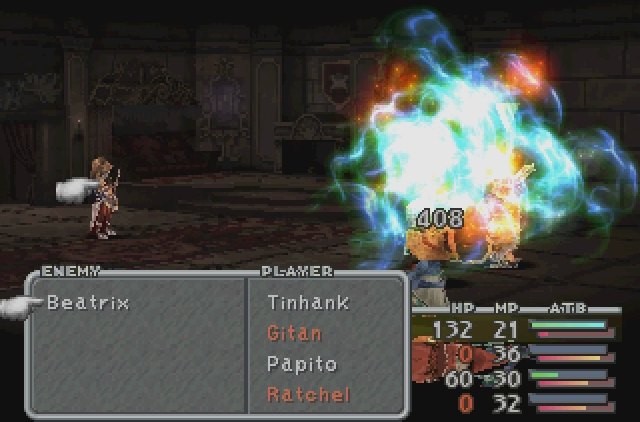 Gitan... is not very useful. It's okay if he gets slain.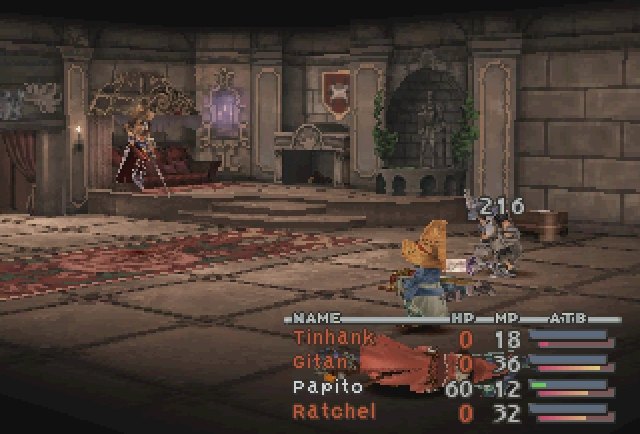 Unfortunately, right before the attack that would've ended the battle, Tinhank gets slain.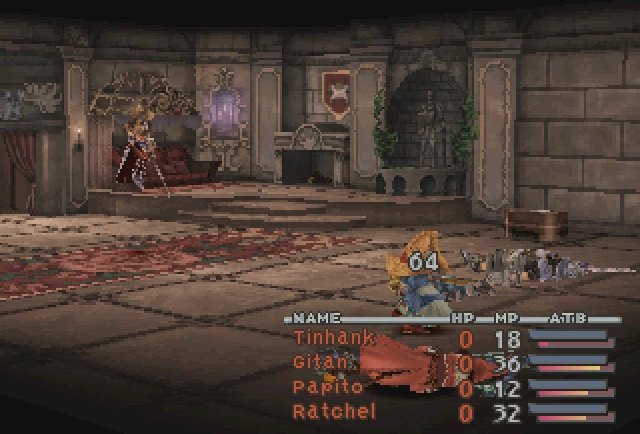 Then her normal attack does not roll low.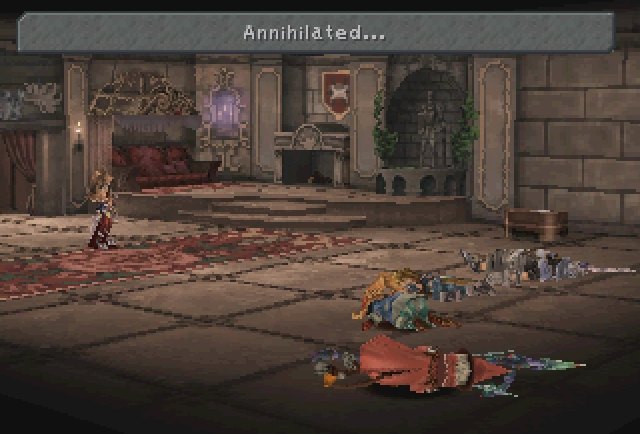 Beatrix 3 is really hard. The hardest battles at level 1 are the ones where you have to play completely normally without any tricks, because suddenly the fact that the game expects you to gain levels rears its ugly head.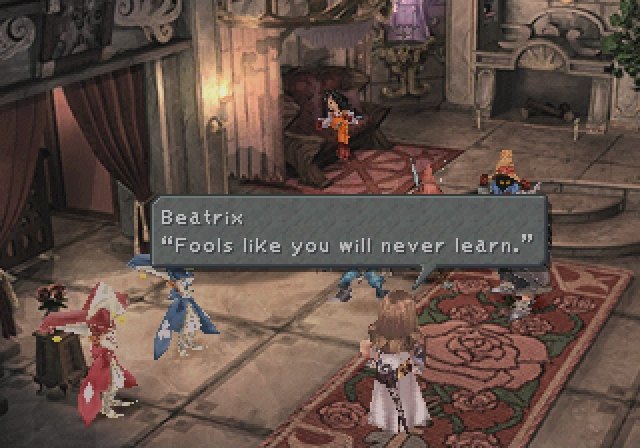 Let's try it again!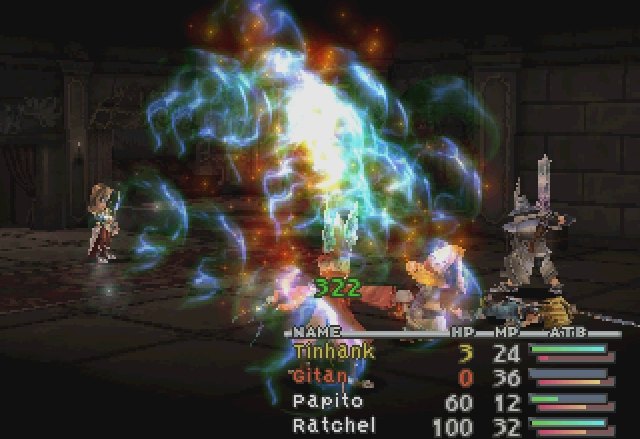 Luckily she wastes a bit more time by hitting less useful characters.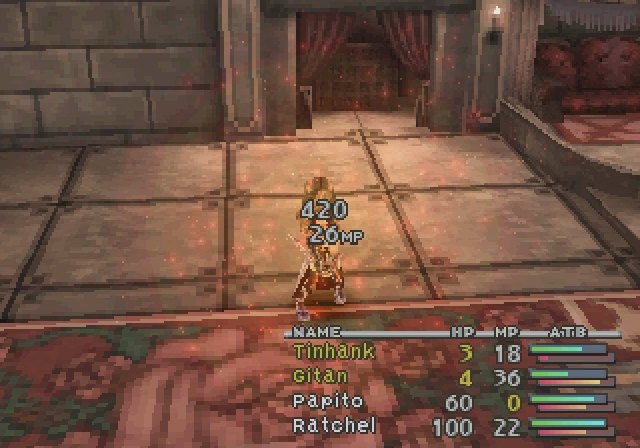 Ratchel can contribute a bit of damage with Lancer. I usually have her on item duty to fling phoenix downs.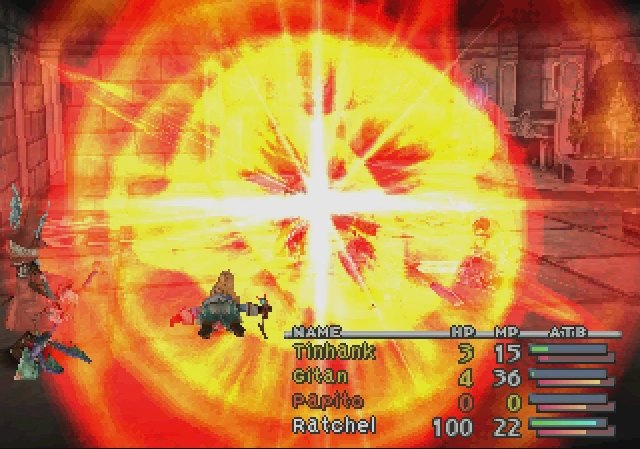 Luckily, things work out this time, if only somewhat.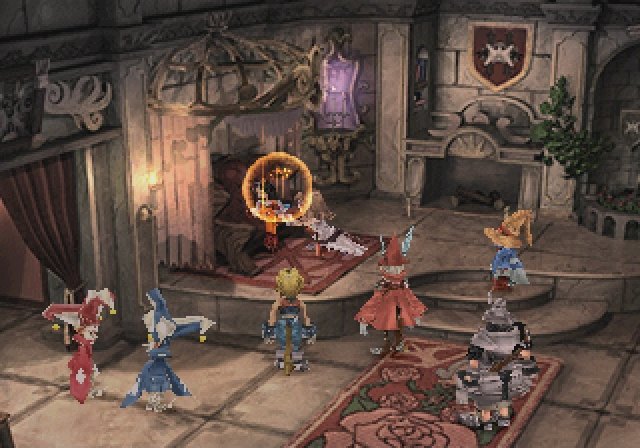 I have seen this cutscene a few dozen more times than I want to admit! Despite Beatrix 3 being such a slobberknocker, this is only the beginning!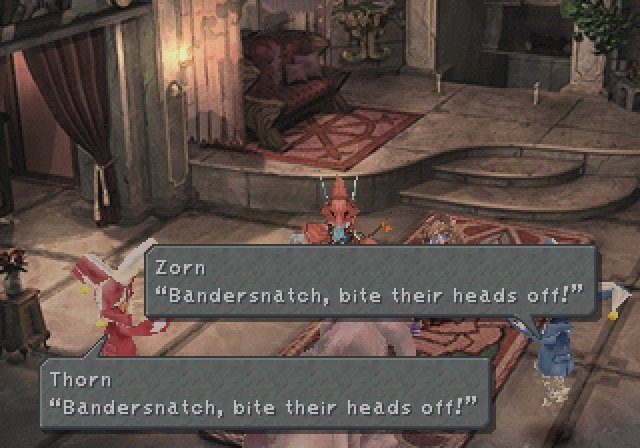 Now's the Bandersnatch fight with Beatrix and Ratchel.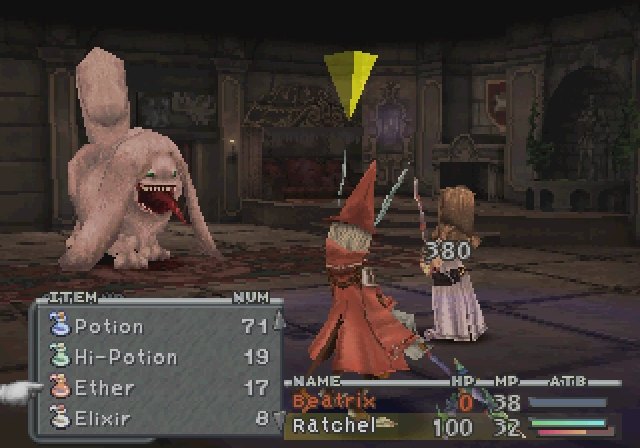 Suddenly, Beatrix is not so impressive at level 1, when anything a bandersnatch does wrecks her.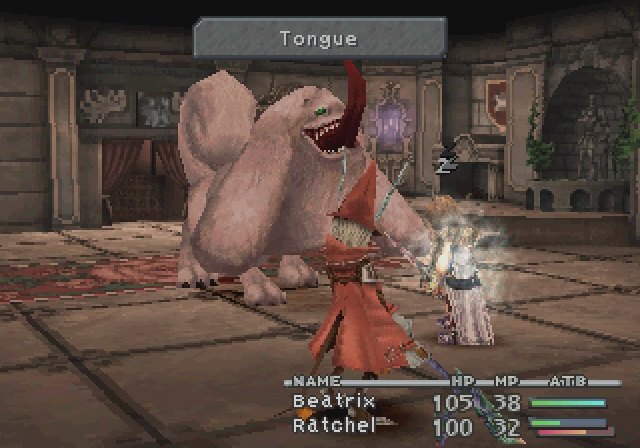 And she doesn't have Insomnia to null Tongue.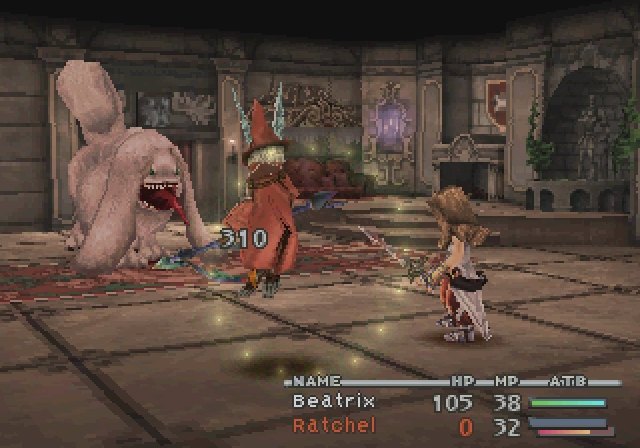 Eventually, Ratchel gets the chance to off herself...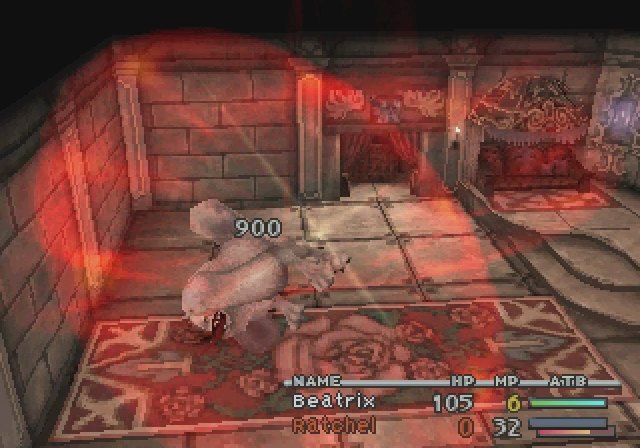 Then Beatrix drops the motherfucker with a Climhazzard.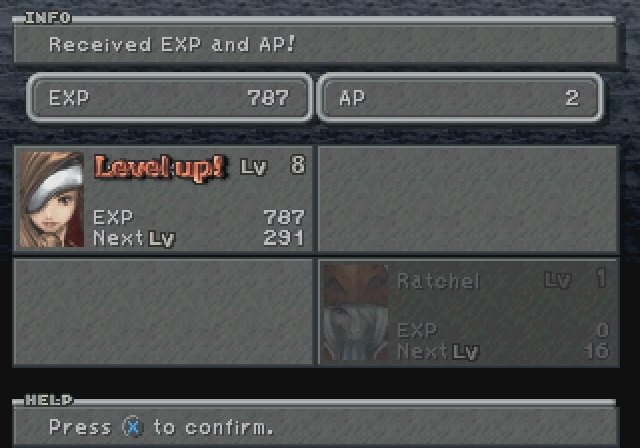 Not all levels can be avoided, but that's okay as Beatrix gets to mop them up. She's... not one of the final party members, sadly.
But for now, we have one character who gets to have...
the power
.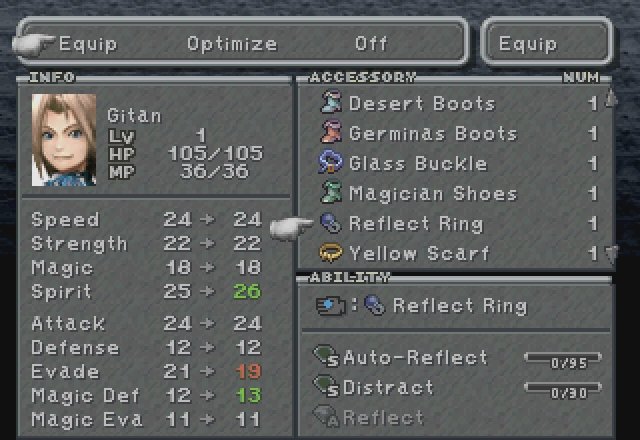 My good ol' Reflect Ring finally gets to work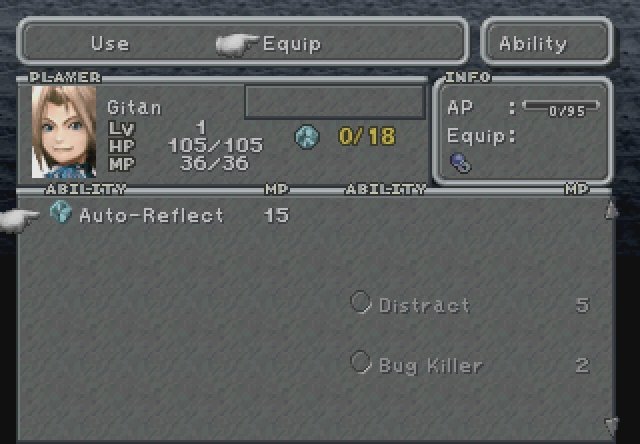 . Gitan gets it because he has 18 magic stones, enough for Auto-Reflect and Auto-Potion.
Papito has 14, one short of even Auto-Reflect.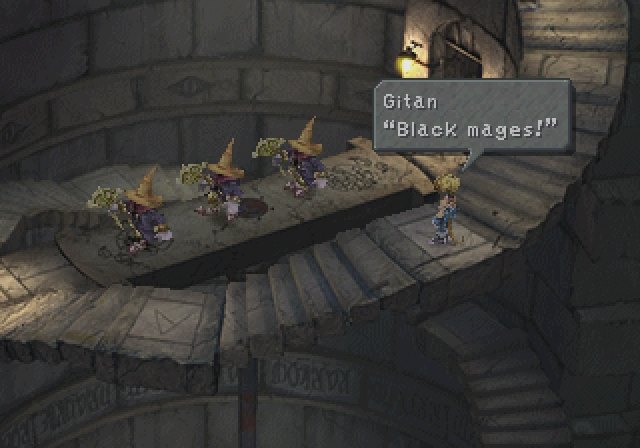 After all, it's Stopping time.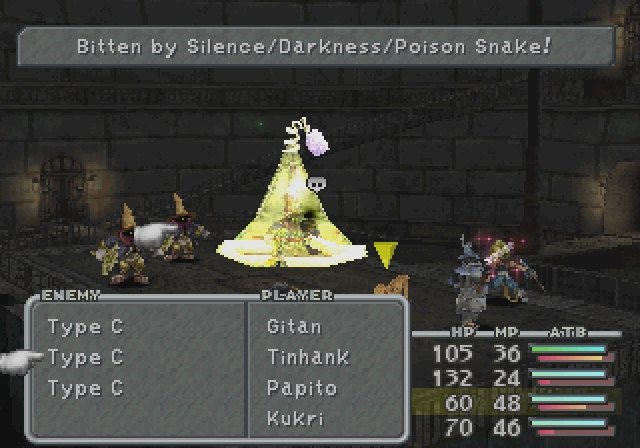 Tents as means of ailments comes into play. Muting these guys is a big deal.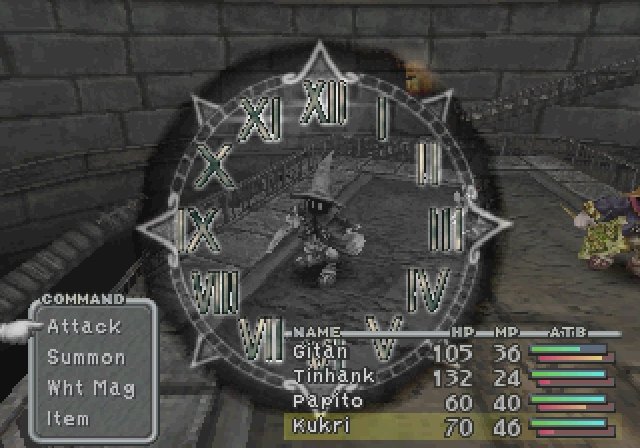 Besides that, it's spamming Stop until it sticks.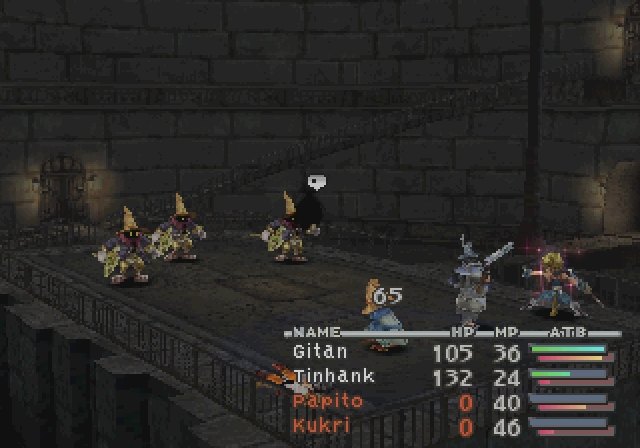 You know, when the unaffected guys aren't killing us. Gitan has reflect for no higher reason than that these guys are very brutal and can wipe the party very fast. This is possible without the reflect ring but it's a lot more hazardous.
As for Auto-Potion? They still have a physical attack that two-shots Gitan.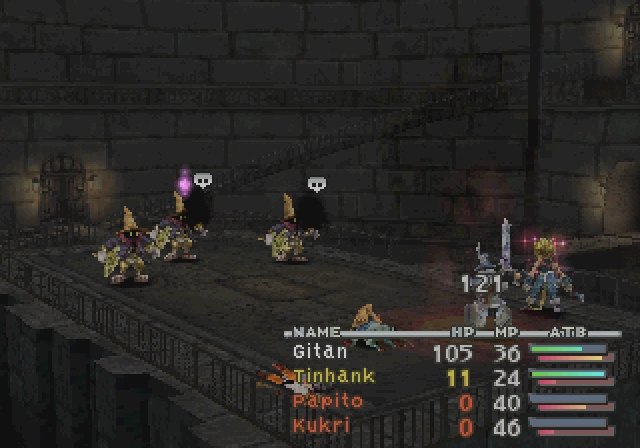 HP +10% worked for something!!???!?!?!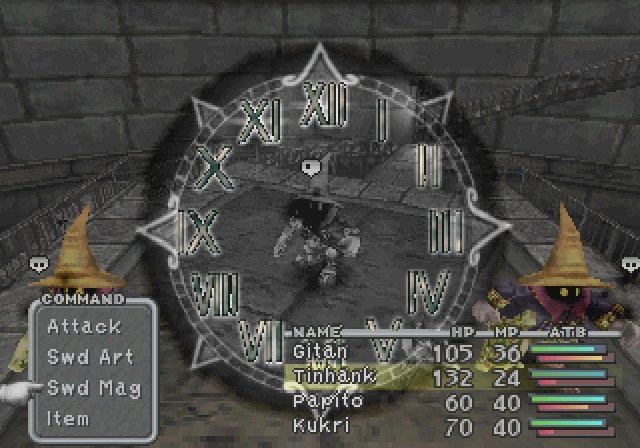 Once they're all blinded and silenced, it's a matter of just casting Stop
enough
.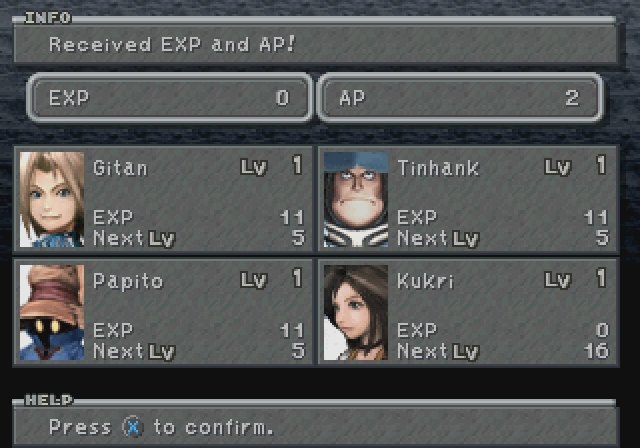 I get 2 AP for the trouble.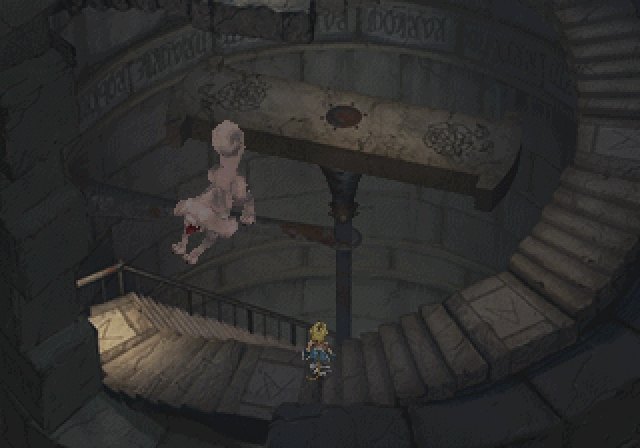 Things are still going, though!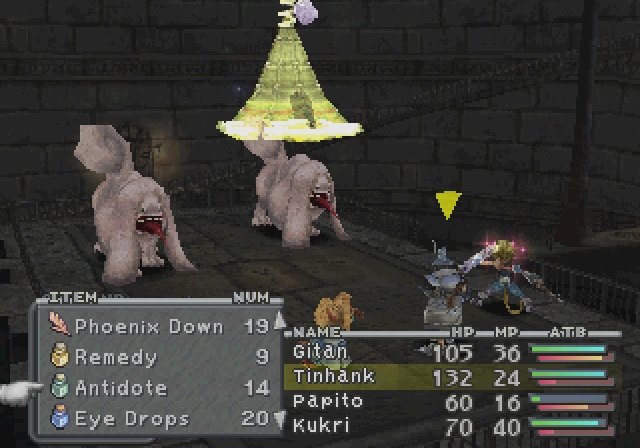 Tents
can
work but if you wanna save on those, it isn't as essential as it is with the Type Cs.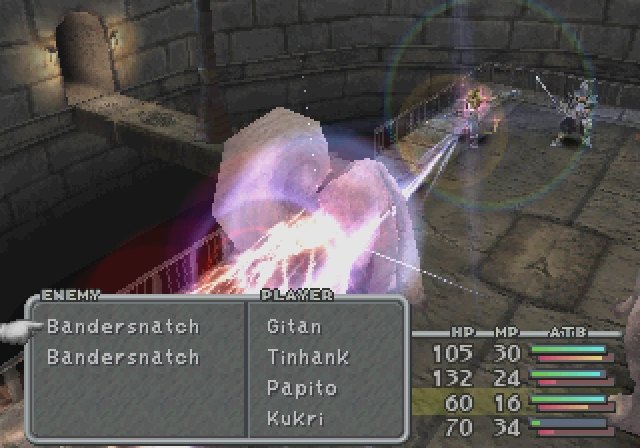 Soul Blade with The Ogre blinds them, and that's enough to null most of the danger. Their Thundaras are at 27 attack, as opposed to the Type C's 22, so no lucky survival there.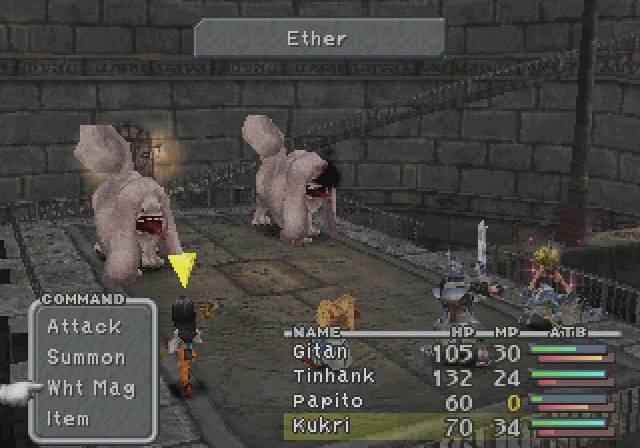 Don't be afraid to use Ethers. In fact if even one Stop misses, you'll have to.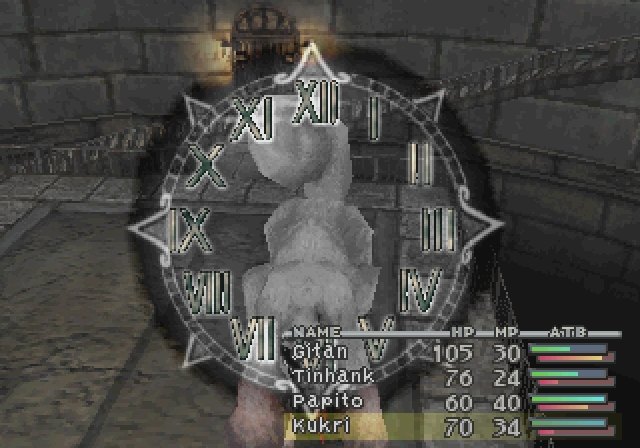 Once again, we're through.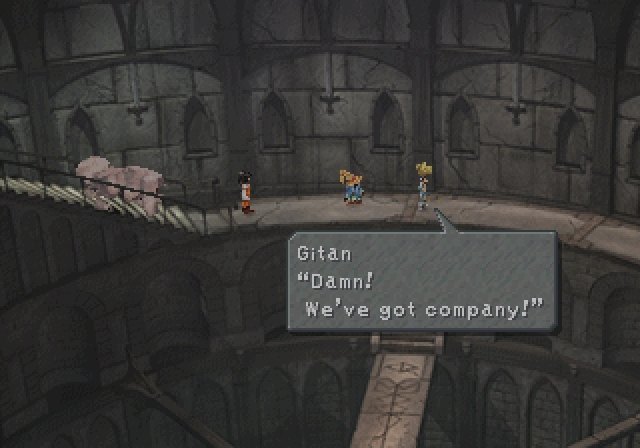 Tinhank and Kukri's existential crises last long enough for fight number four to catch up with us.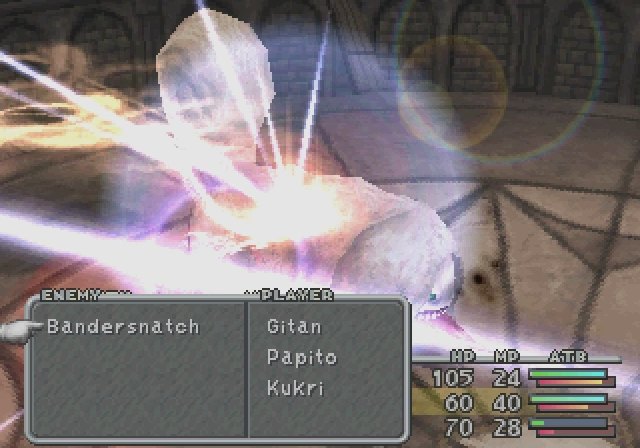 It's just one Bandersnatch, though. Same tactics apply. Blind it, stop it.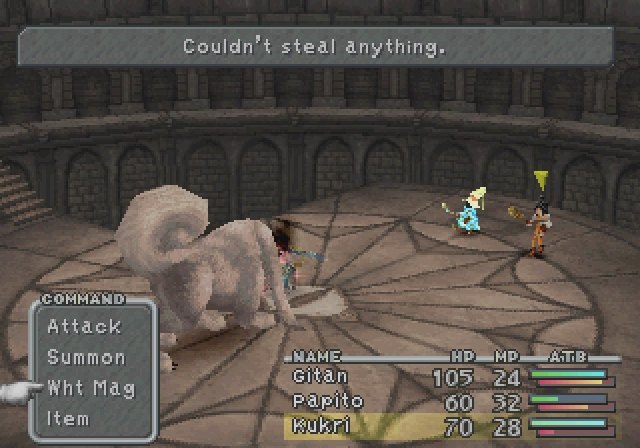 If Gitan has turns to spare, Steal is a fantastic way to spend them. Both the Type Cs and Bandersnatches have Tents as their uncommon steal.
Papito's glow is due to Shell. It isn't enough to stop a Bandersnatch's Thundara, in retrospect, but Protect and Shell can turn some OHKOs into 2HKOs which is all I need sometimes.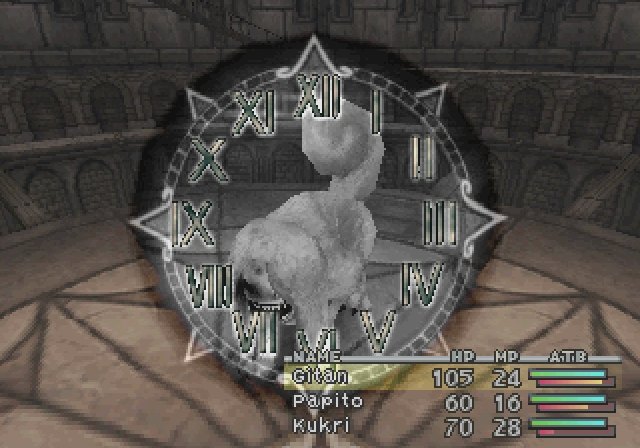 Once again, we're through.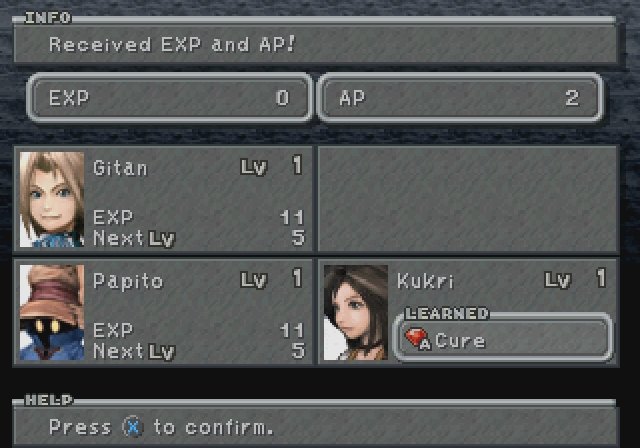 Kukri masters Cure from this. Cure's kinda handy but not essential by any means.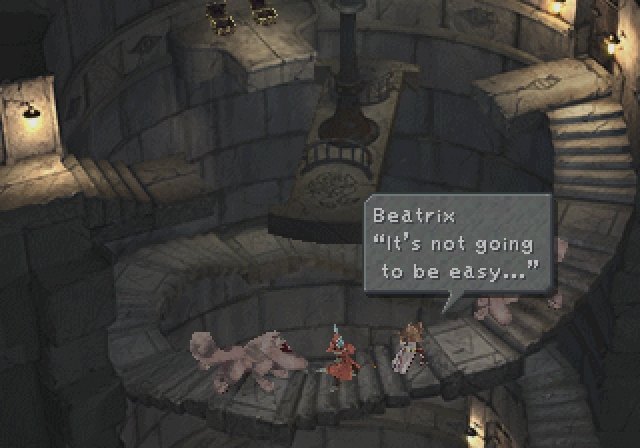 We go back to Ratchel and Beatrix for fight #5.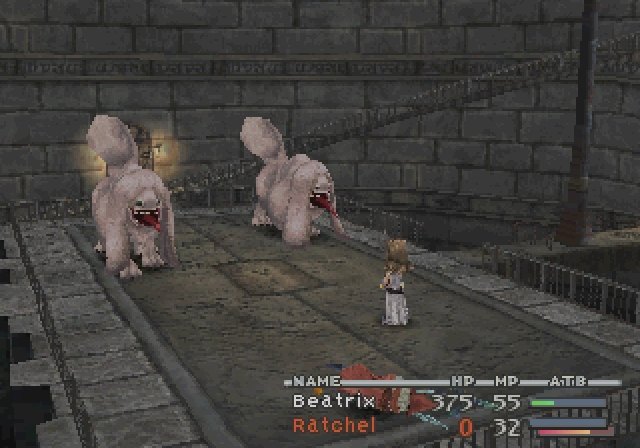 Inexplicably, Beatrix is healed to full between the two fights through Ratchel's still dead on the ground.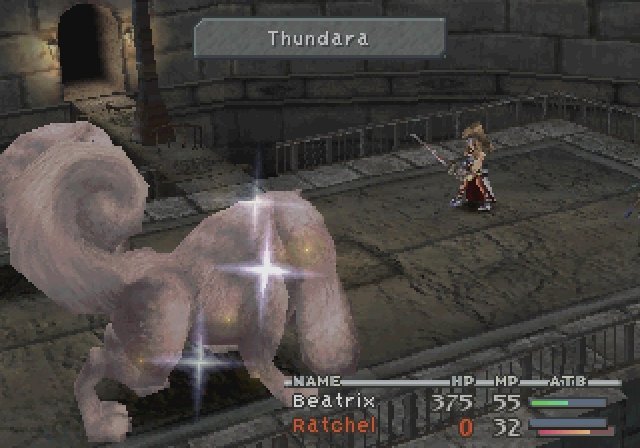 Unfortunately, Beatrix's ATB was too low and the Bandersnatches' were too high.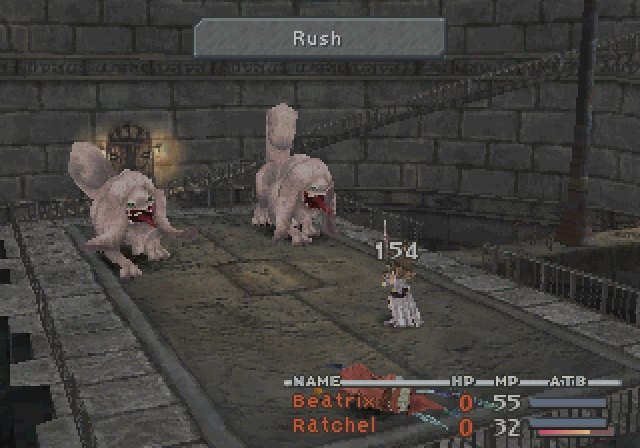 She's caught on the back foot until they finally get the 1-2 punch.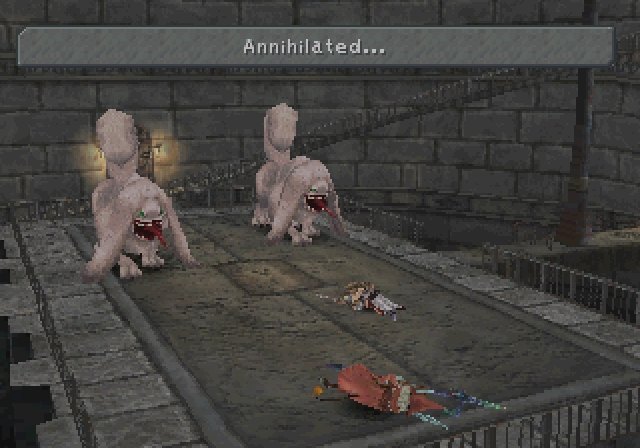 And you know what? I get to do ALL THAT AGAIN!!
The Gauntlet is ridiculous.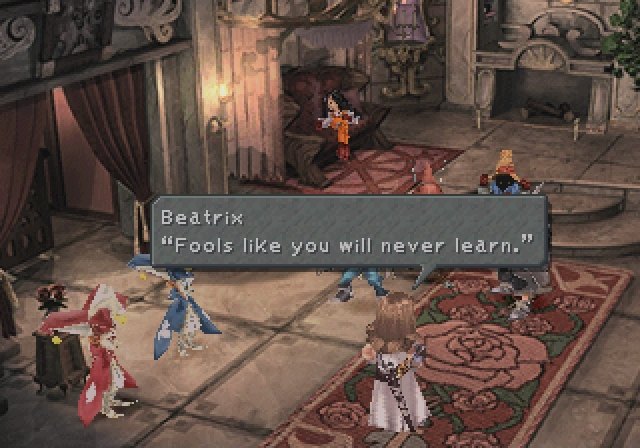 Okay, Beatrix 3 again.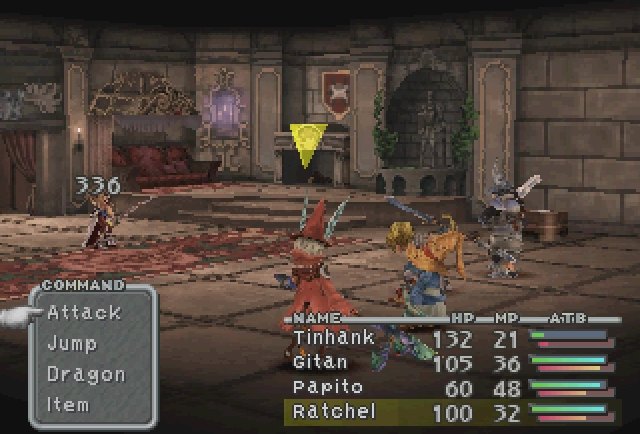 Gitan's attack is the weakest but every bit counts. Beatrix 3 has 5,709 HP to chop through.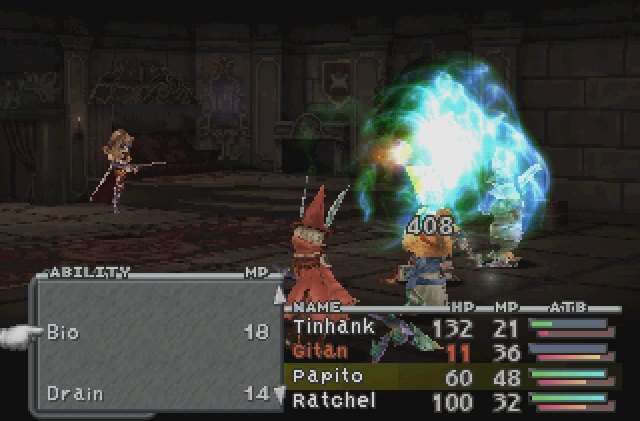 Thunder Slash and Shock are magical. Not really relevant when their attack scores are far too high to reckon with (46, 81).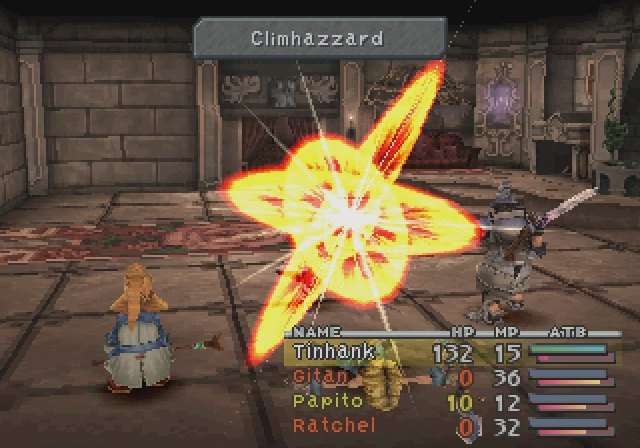 Okay that's Beatrix 3 through. Again.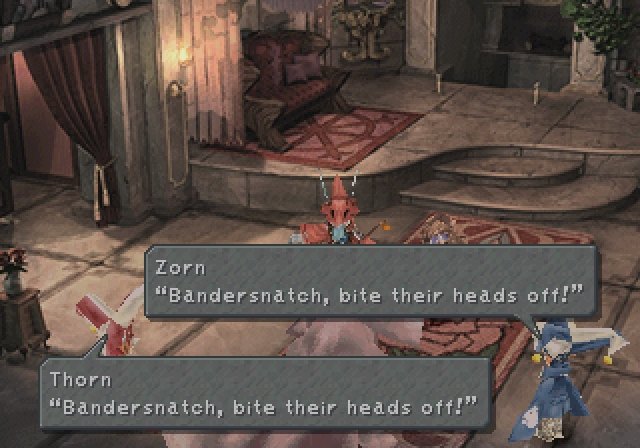 Now for the first Bandersnatch. Again.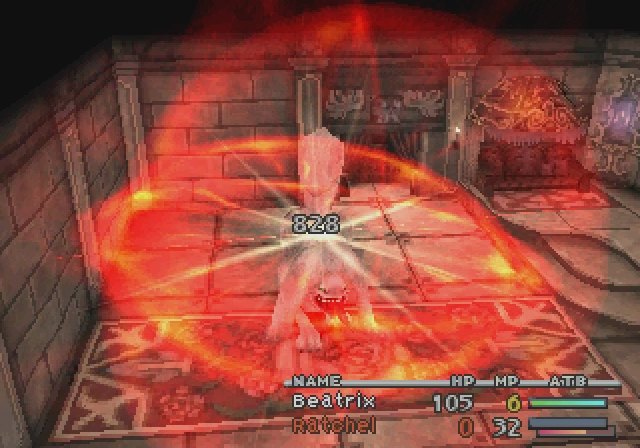 ...Oh.
Bandersnatches have 899 HP.
I got lucky and had a very high roll the first time.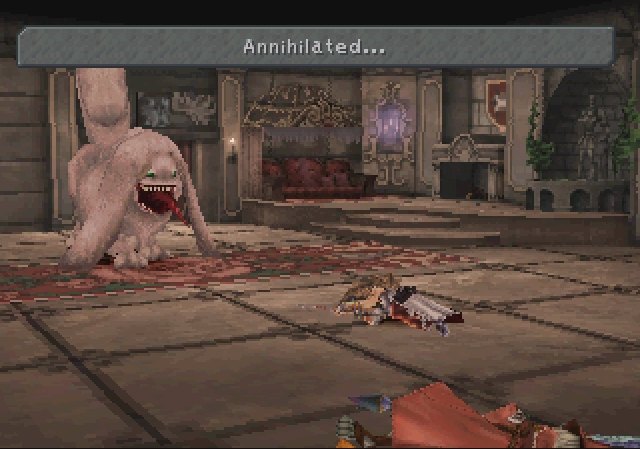 Fuck.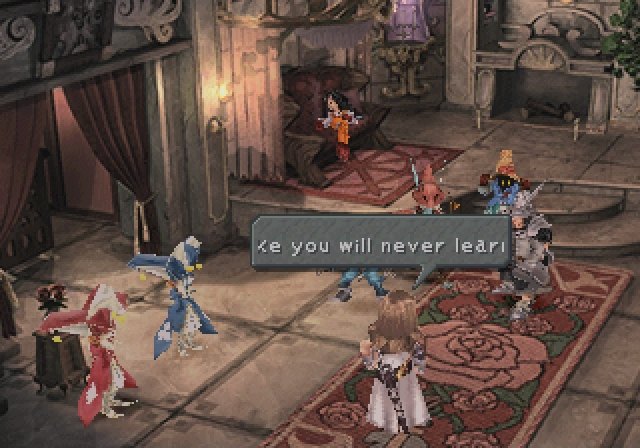 Ughhh why does it have to open with Beatrix 3?
Then again if it were at the end this would be more obnoxious.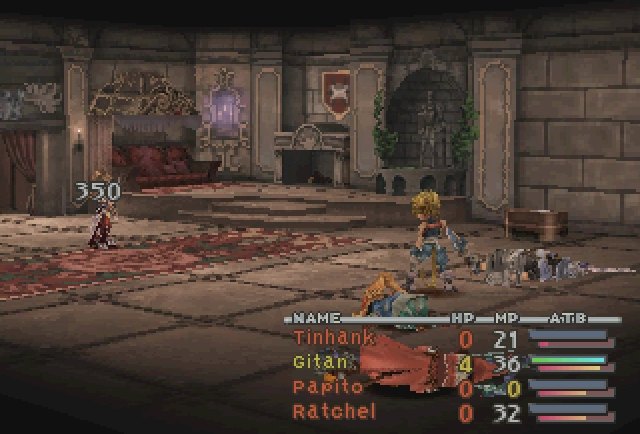 Gitan's attack is the weakest and this bit didn't count.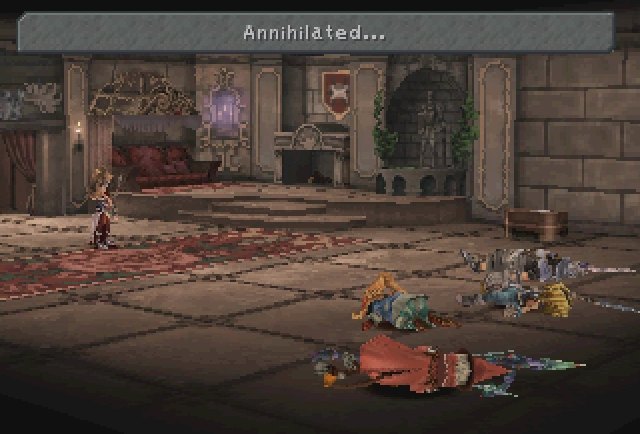 At least this fucking thing kicks off the marathon instead of ending it, you know?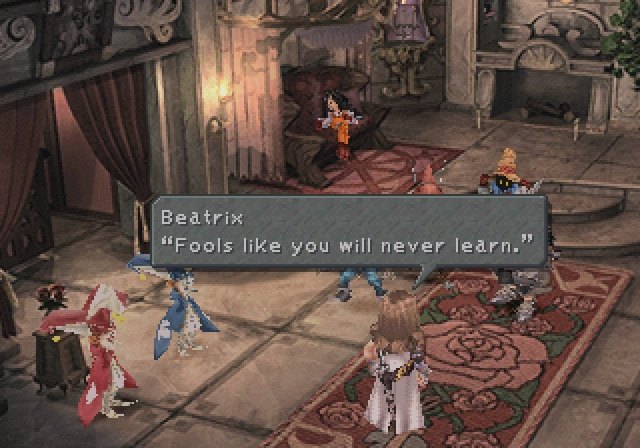 I am SO done with watching Gitan put Kukri on a couch.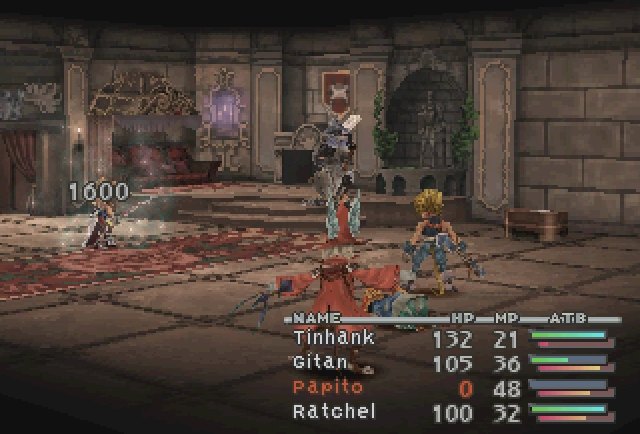 Tinhank's attack is the most important thing here. 4 of them by itself could end the fight. He never, ever uses items, just attacks.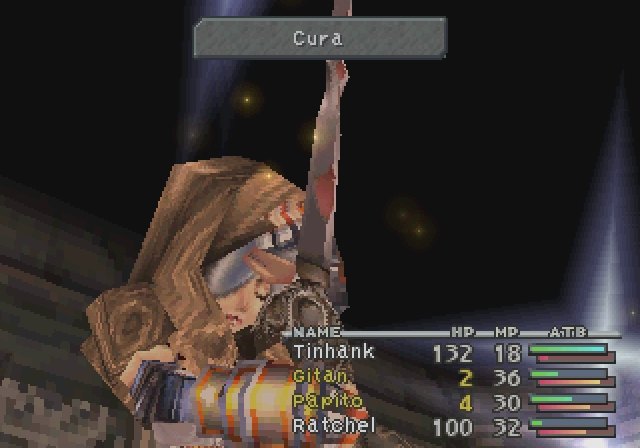 Cura is a relief as it means Beatrix is using one of her turns to not kill someone, and it heals a little less than what Bio does.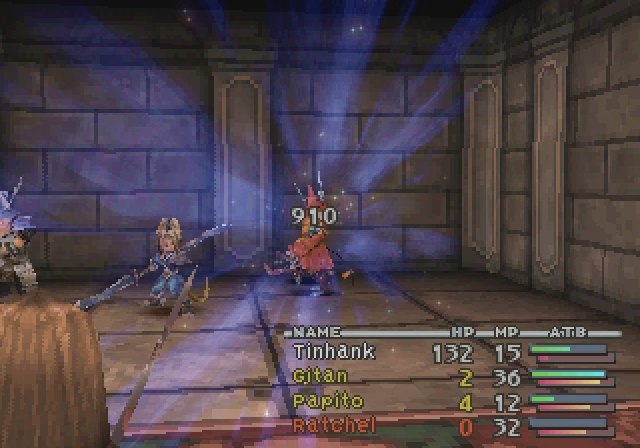 Ratchel has Cover equipped. I don't bother healing someone after a phoenix down entirely to use that. Her turn is far less useful than Papito's, after all. And if she covers a Thunder Slash, then we're golden.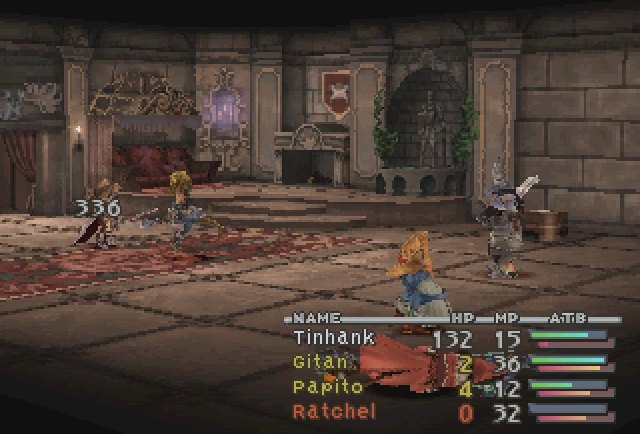 Gitan's attack is the weakest and this little bit did it.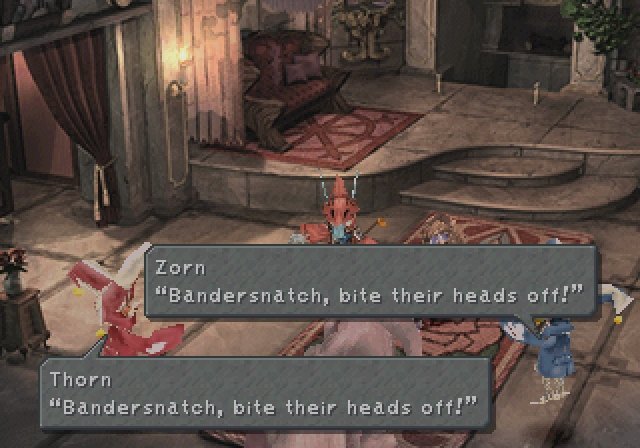 Okay, new strategy.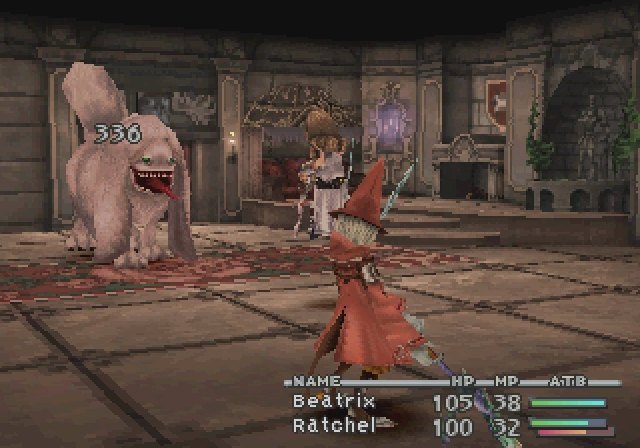 Beatrix hits it once.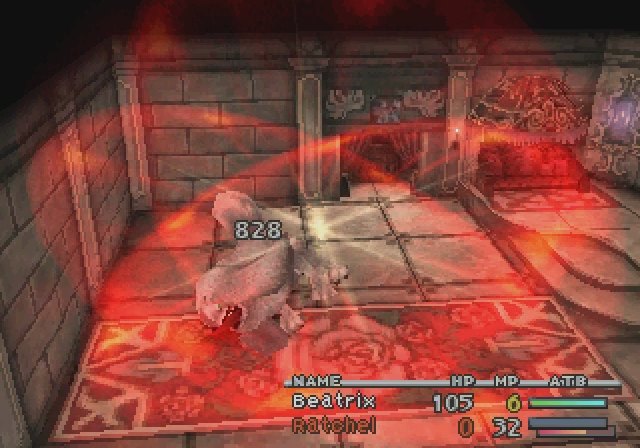 Then
Ratchel offs herself and then Climhazzard.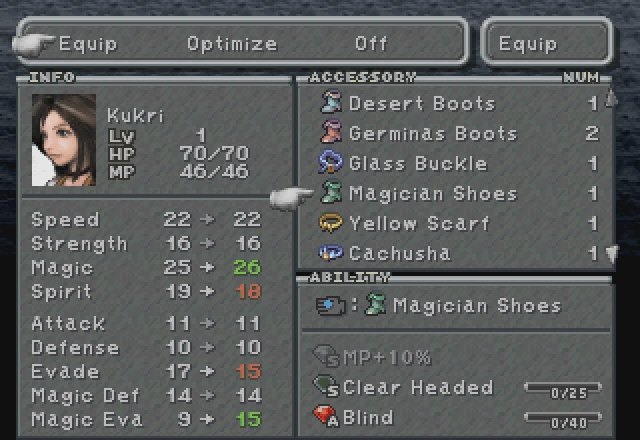 The menuing here is obnoxious as I have to do it over again each time. I have to take the Power Belt from Tinhank, I have to give Gitan Auto-Reflect, I have to re-gear Kukri...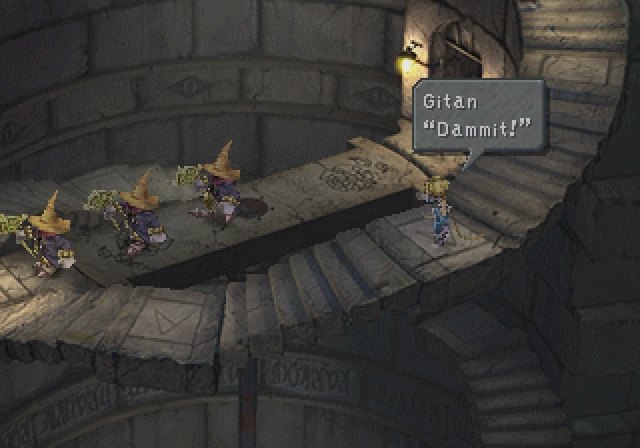 And then I fight these bastards.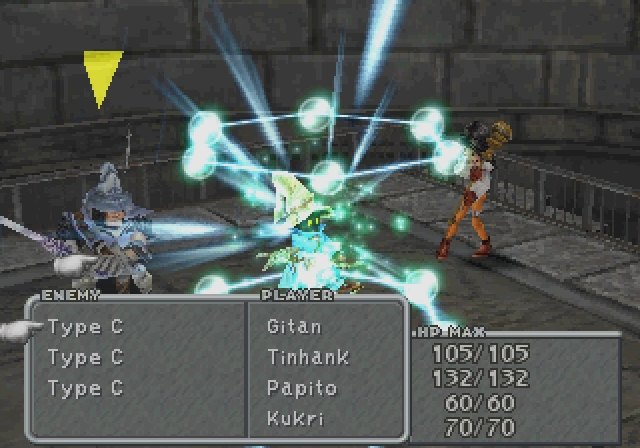 Shell works here, as Papito only took 56 damage from a Fira. If it doesn't one-shot him, Auto-Potion kicks in.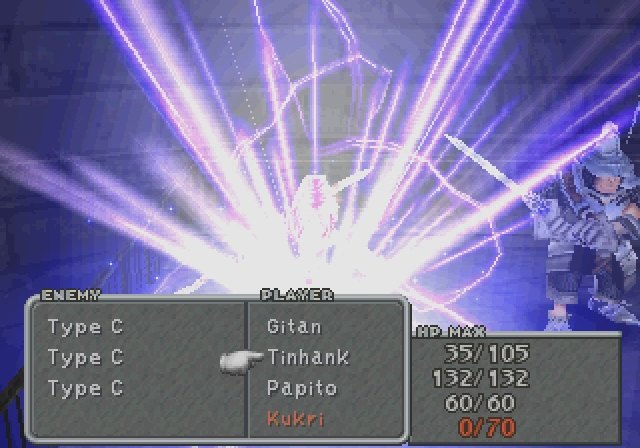 Gitan trances. It's useless. He has 3 useful Trances the entire game at level 1, and we've seen two of them.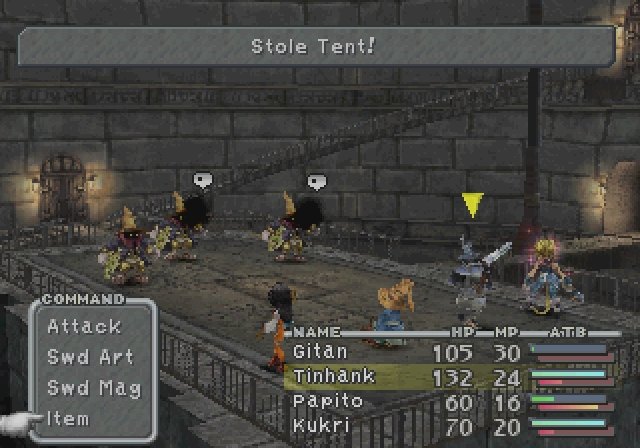 (800-gil yoink)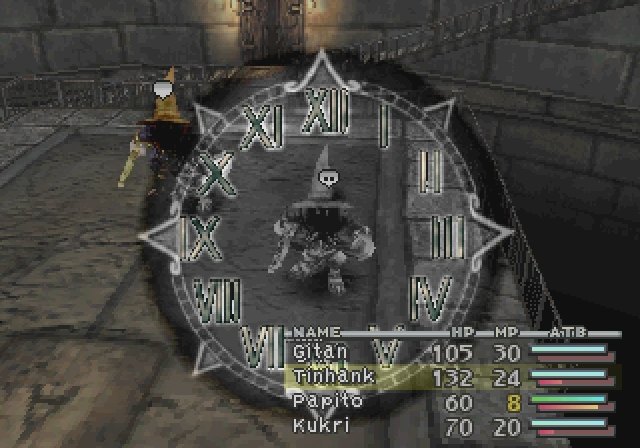 I'm glad whenever this thing is over. It means I'm over the hardest parts.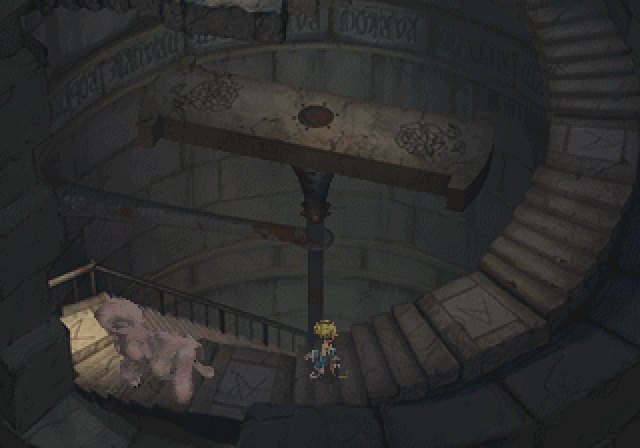 Bandersnatches aren't as relentless as Type C's, after all.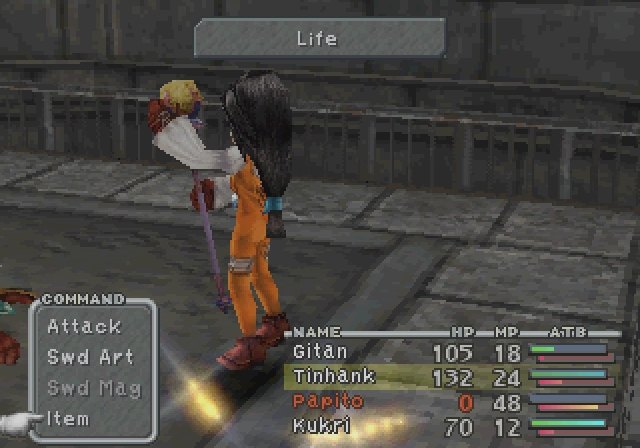 Kukri uses Life instead of Phoenix Downs entirely because it costs MP instead of gil.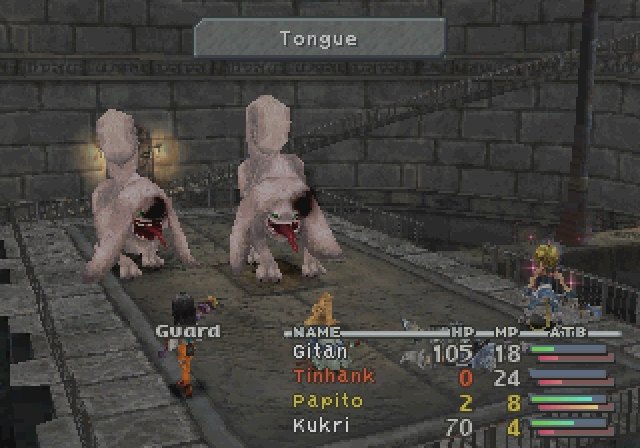 She, Papito, Tinhank, and Ratchel have Insomnia. Gitan can't due to having Auto-Reflect taking up most of his magic stones.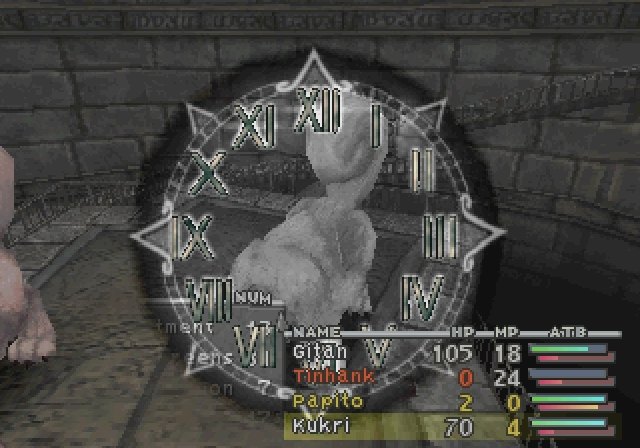 Bandersnatched!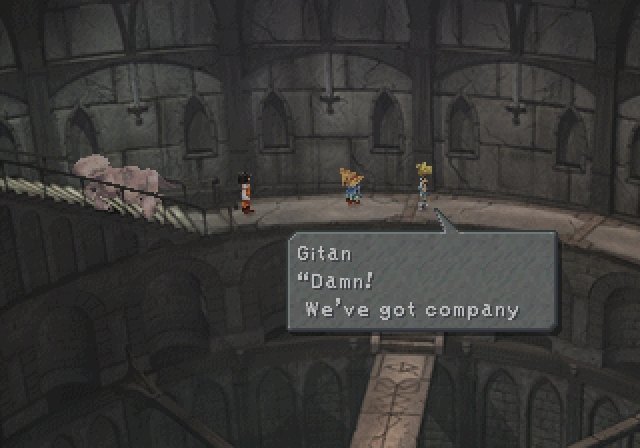 It keeps going, this shit.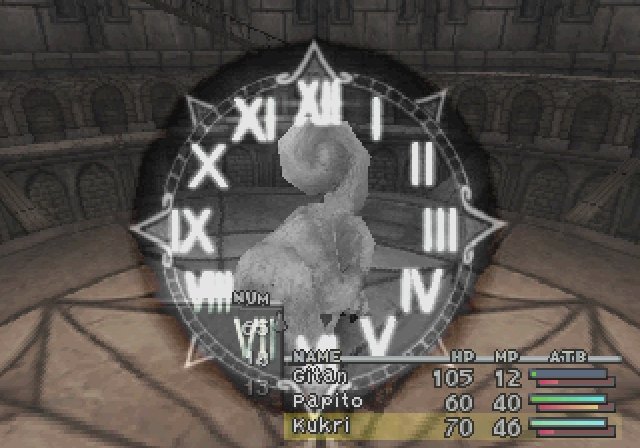 Luckily, Papito scores a hit on his first Stop.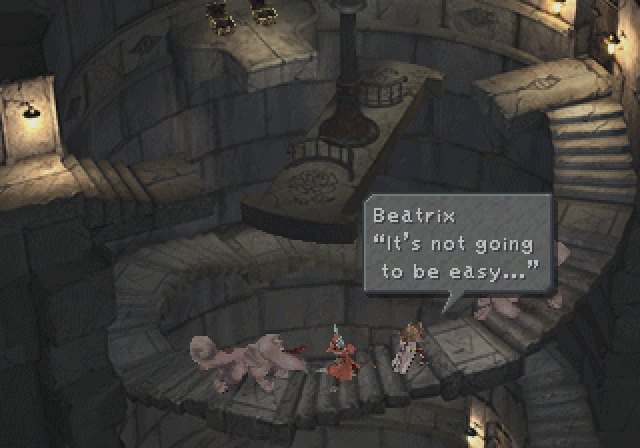 We're finally back here.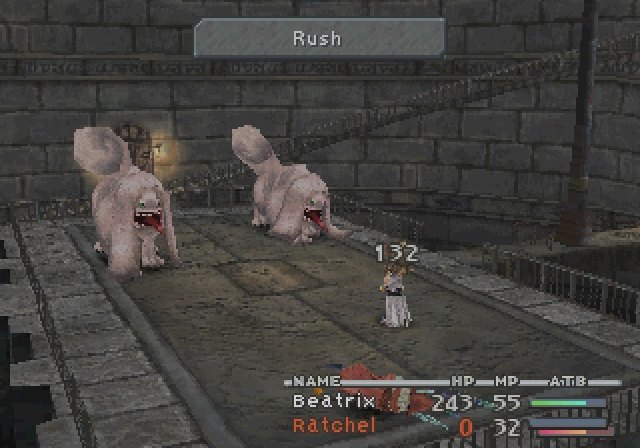 Thankfully, only one Bandersnatch goes before her and it elects to Rush her, which deals far less damage.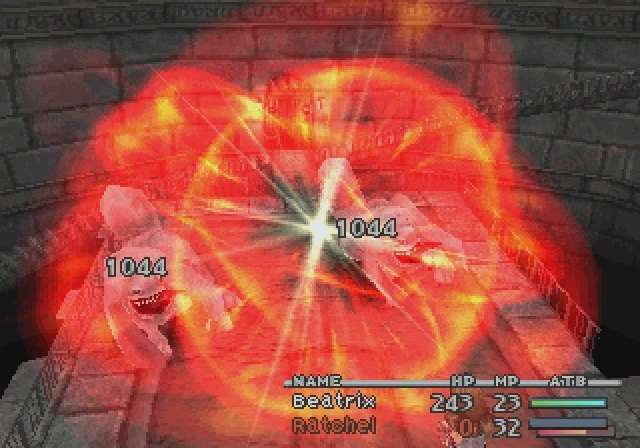 Climhazzard is now a consistent OHKO. Its base damage is 2(atk)-magic defense. For Beatrix against Bandersnatches that's 36, before the rest of the formula.
Stock Break is x1.5-defense, and Shock is x3-def. Climhazzard is magical for reasons I'll never know.
Thunder Slash is nothing like when boss Beatrix uses it. It's a percentile damage attack that deals 19% of the target's max HP, and has a base accuracy of 0%.
Wow!
What happened there?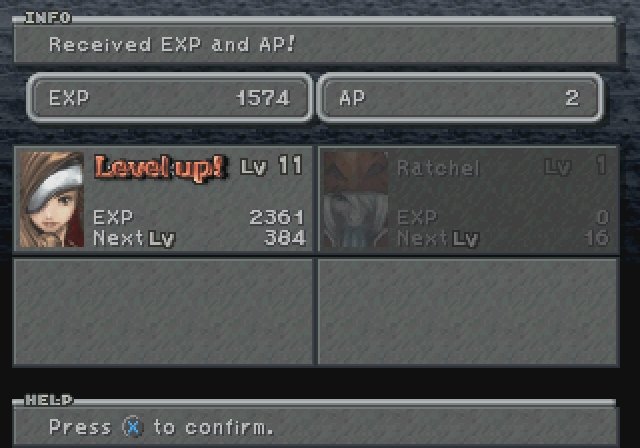 Her weapon has a weird property that basic physicals get +1 attack per level. So now her Attack would be 34. But her skills always use the base 23.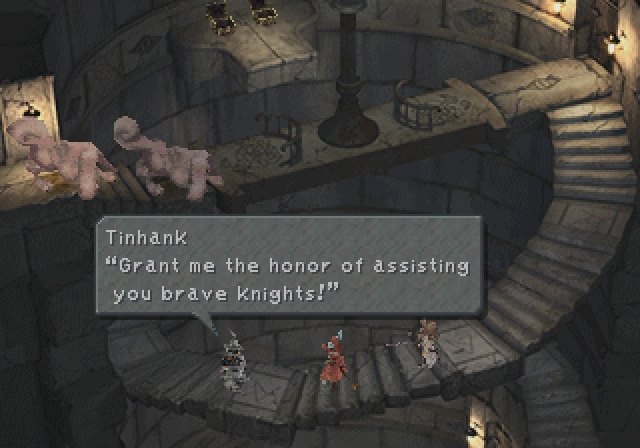 Finally, fight #6, two more Bandersnatches. You want to help, Tinhank?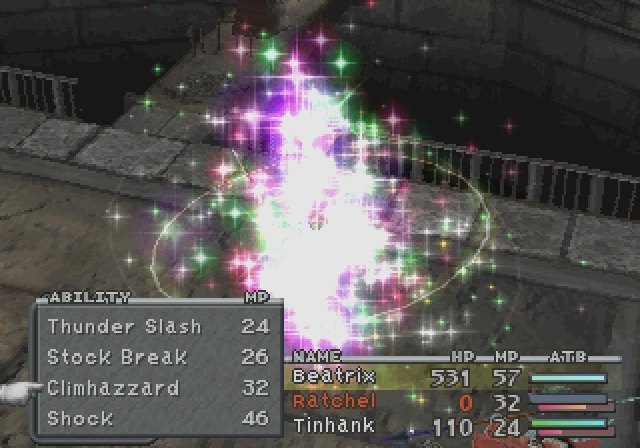 First, pop an Elixir on Beatrix so she can Climhazzard again.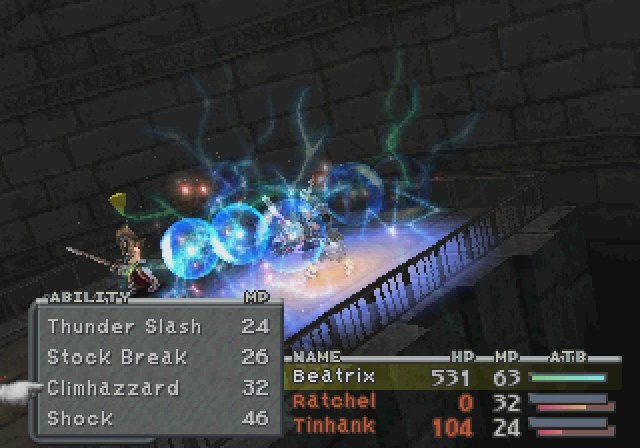 And then? Die.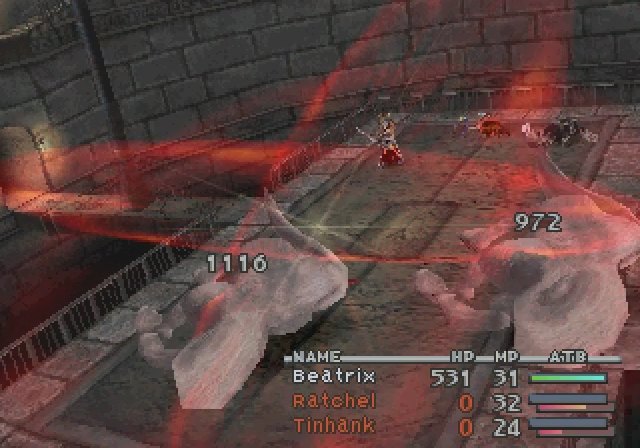 EAT SHIT LOSERS.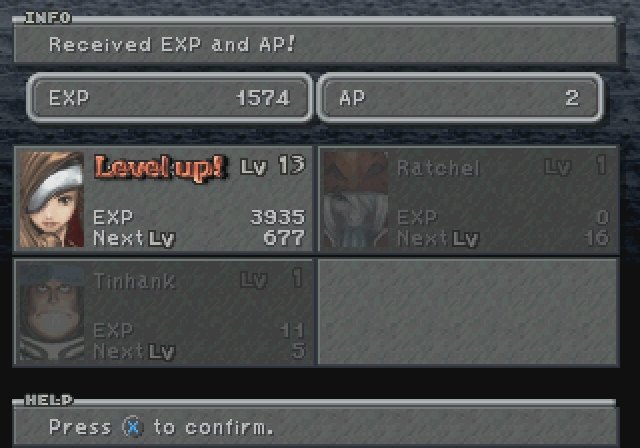 Beatrix ends this adventure at level 13, an almost reasonable normal person level for this period. She is a god among mortals.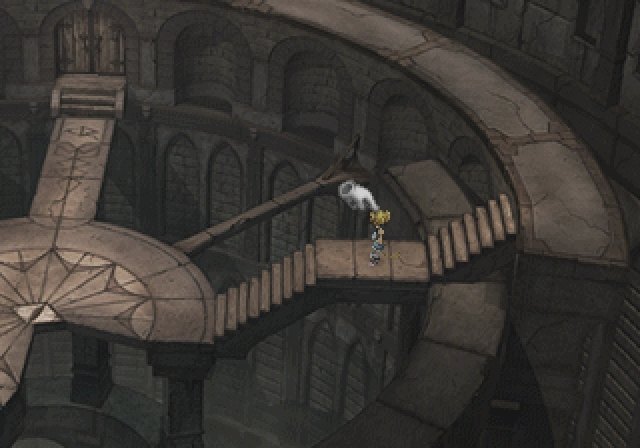 And we're back with Gitan, Papito, and Kukri here. The door to the north still has the save moogle, so that means.. we made it! The Alexandrian Gauntlet is over!
It only took two hours!
REGISTER OF RESETS:
One to Tidal Flame Garnet for the hell of it; Unknown number lost to plant spiders spawn numbers; died to Flans without Flee; Untimely crit pushed Sealion to fatally Blizzara; less work to suicide on optional Type A fight than to win or reset; incredible number of resets for phoenix down RNG; and then again; Marcus gained levels; Snared by the Mandragoras leaving Quan's Dwelling; Only one on a pointless phoenix down rng; Antlion did not cooperate; Again, Antlion did not cooperate; Soldiers beaten too hard once; twice; thrice; Gitan lied Cleyrans died; Tinhank and Marcus didn't make it; bonus fourth Soldier beating; Alexandrian Gauntlet toll: Beatrix 3, Beatrix vs Bandersnatch 2, Beatrix vs Bandersnatch 1, Beatrix 3.