Part 13: Nightmares and Flashbacks
Update 13: Nightmares and Flashbacks
In This Update:
- Auctions!
- Recruiting!
- Flashbacks!
---
Welcome back! Last update, we voted on the next character to recruit. Magick Hume won by a significant margin! We'll also be recruiting a gria.
Today's update also features the Fluorgis and Goug auctions before diving into some story missions.
---
With the continent of Ordallia open to us, it's time to tackle the last two auctions: Fluorgis and Goug.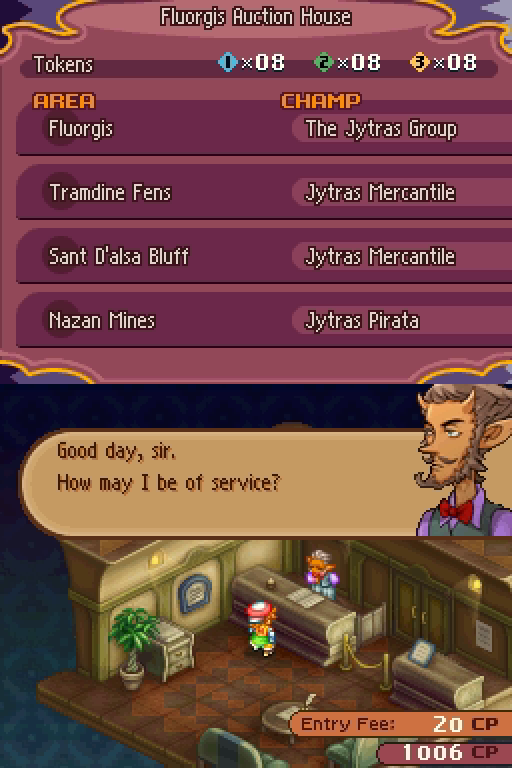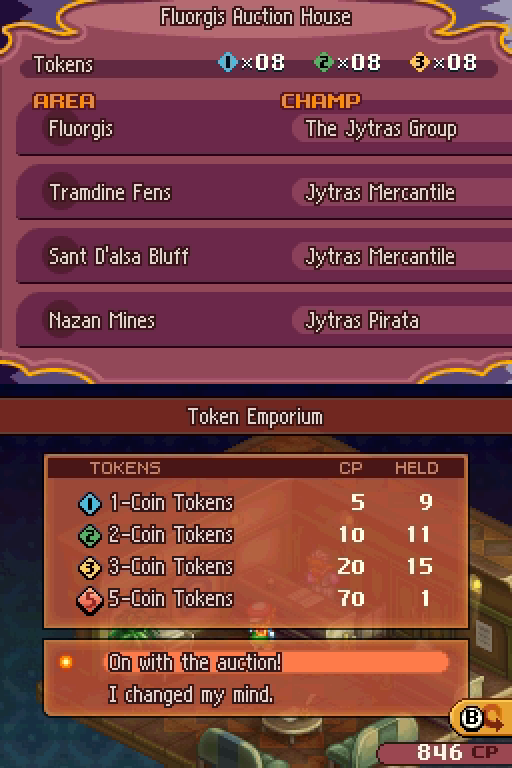 These two are significantly more difficult than the previous three, with faster rounds, more bids and trickier bonuses. The token shop is essential for securing a victory, especially while we aren't the champs. We started with 9 2-coin and 3-coin tokens.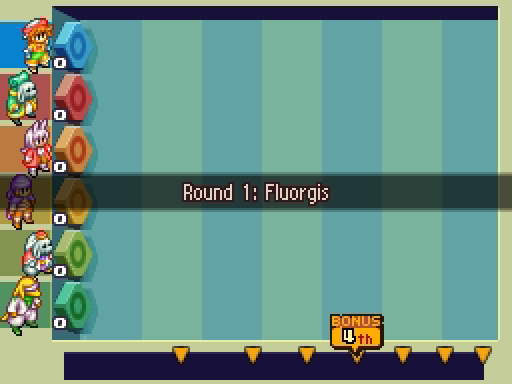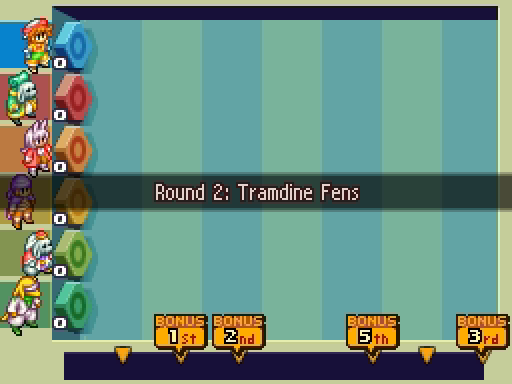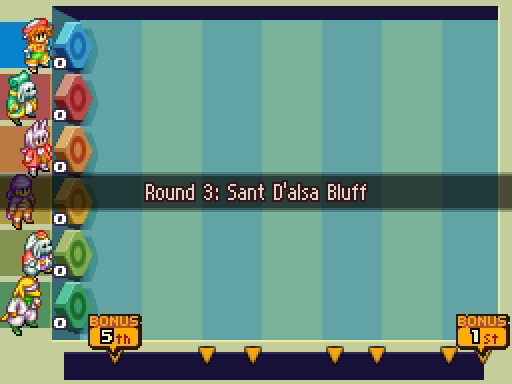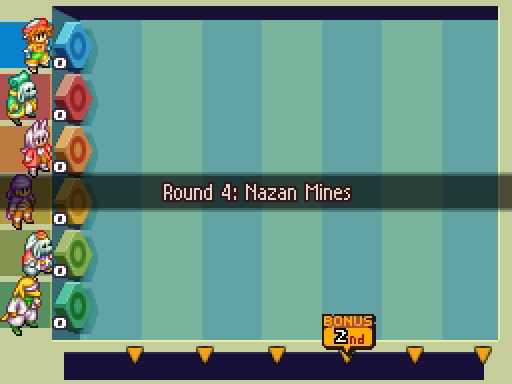 Fluorgis is 4 fast rounds with scattered bonuses. Ignore the 4th and 5th place ones, especially if they're late in the round. Denying those bonuses to other players by tying for higher positions is extremely effective here.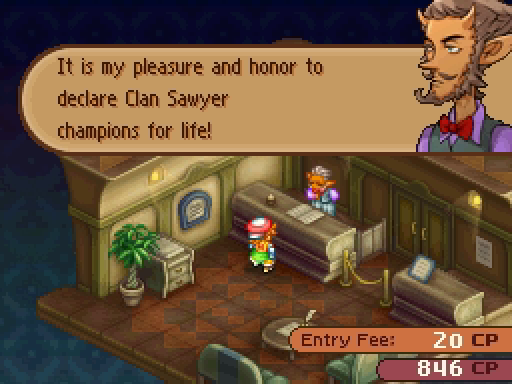 It took me a couple tries, even with an emulator helping me.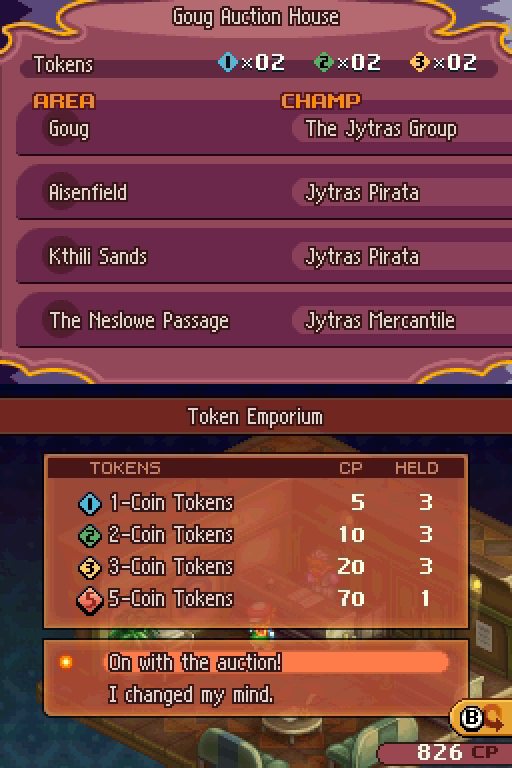 Goug is even worse. We have +1 of each kind of token, giving us 10 total. By default, we'd only have 6.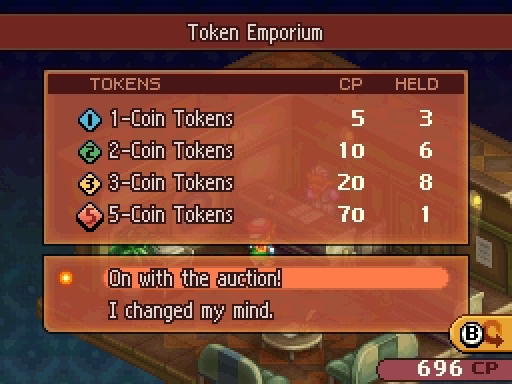 With 4 rounds to get through, I buy a whole lot of tokens. We started this update with 1006 CP.
Fluorgis covers the top four areas of the map, and Goug has the other four.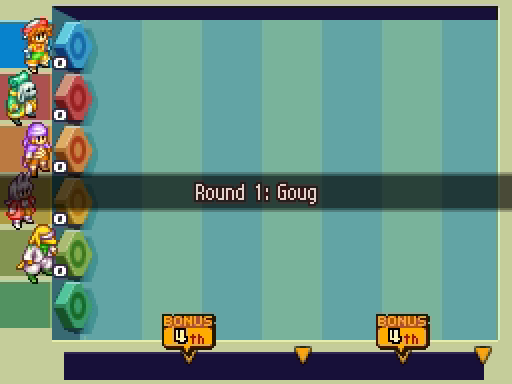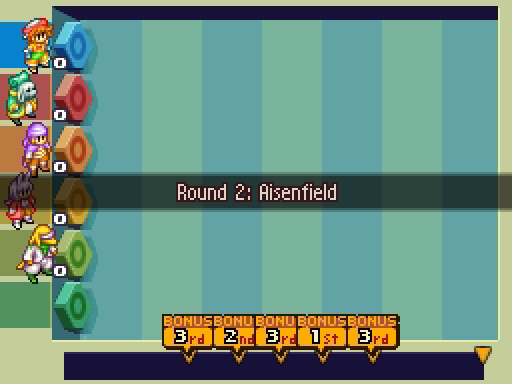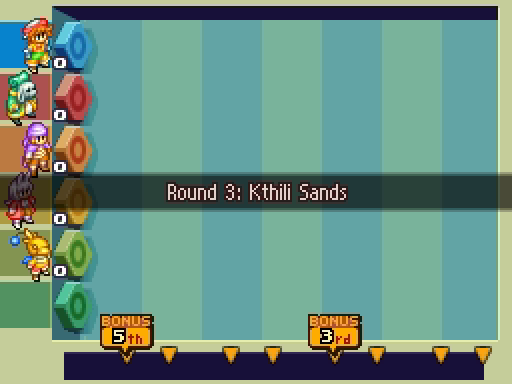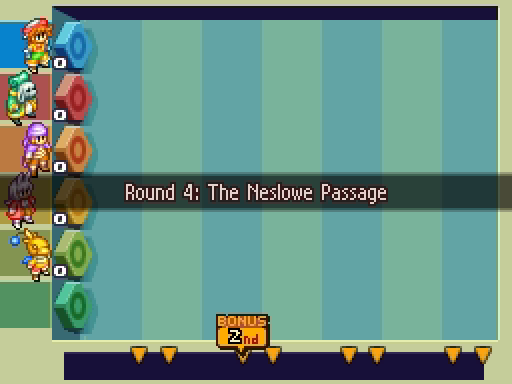 Goug's rounds are faster than Fluorgis's and have half as many bids.
Round 2: Aisenfield is easily the hardest. If you can get through that one without giving up too many bonuses, you can skate through the last two rounds with the tokens you bought.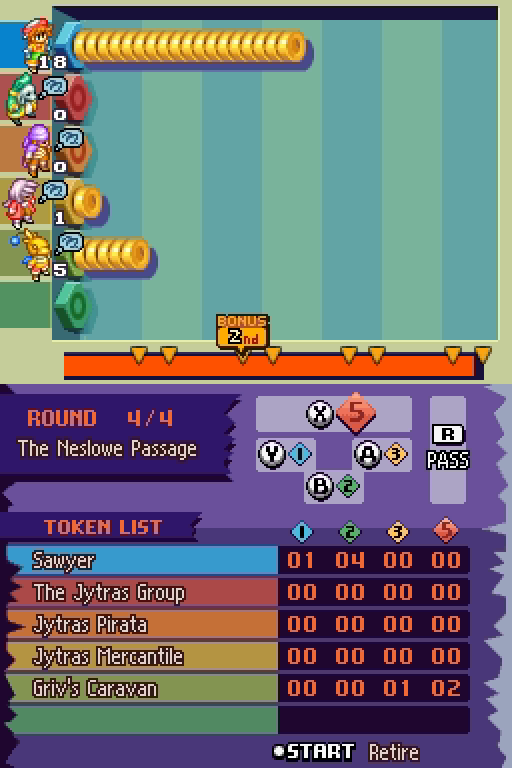 No one else has enough tokens to challenge us! Griv's Caravan almost never plays high-value tokens, which is why they have a couple 5-coin tokens left.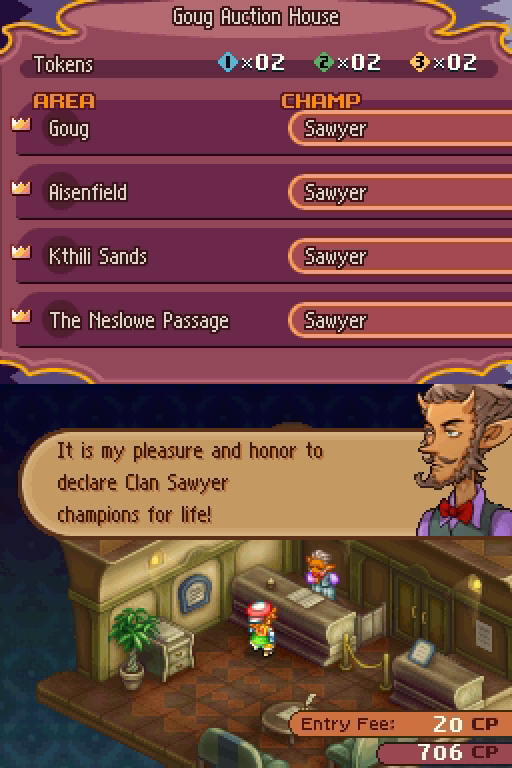 And that's the last two auctions taken care of.
It's hard to say which of these two is the harder one. Goug has incredibly short and fast rounds, but you can basically buy your way through it. Fluorgis requires a lot more tokens to easily win, so you can't really buy it out. They're both a huge step above Moorabella and the other Loar auction houses.
After earning the champions-for-life title at Fluorgis and Goug, I ran a whole lot of auctions. These two cities have some of the best rewards in the game, especially for mages. There were also a few nice things I'd missed at the earlier auctions.
Here's some highlights: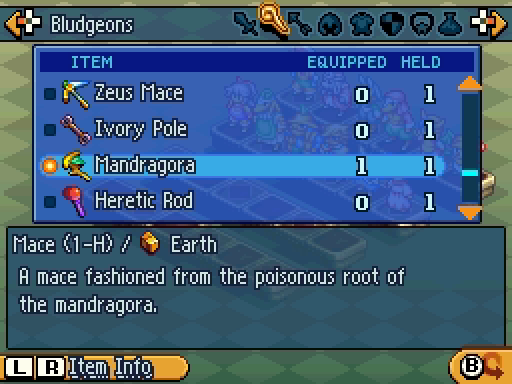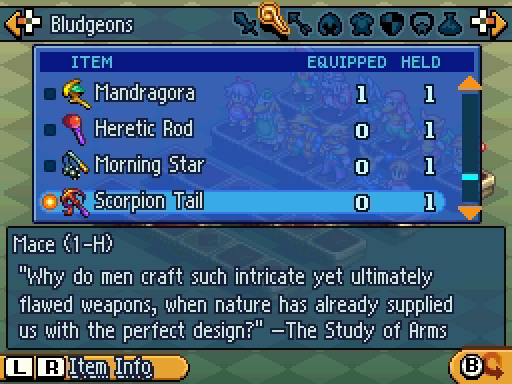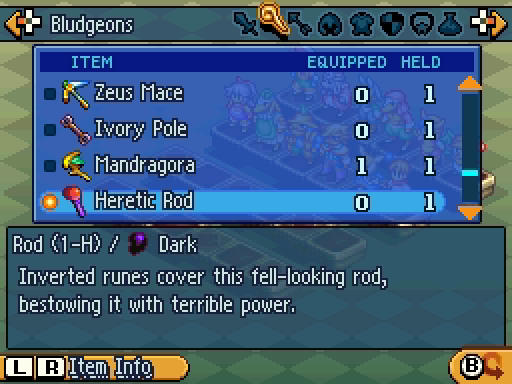 Mandragora teaches Bio and Toad, the Scorpion Tail grants Protometeor to Alchemists, and the Heretic Rod has a +20 Magick bonus.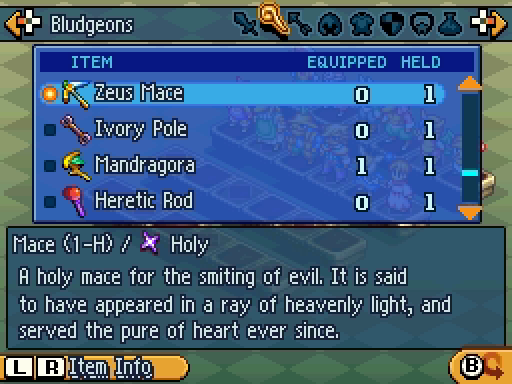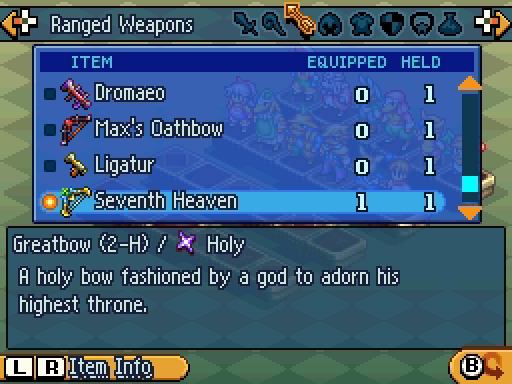 The Zeus Mace and Seventh Heaven teach Ultima attacks to Sages and Hunters, respectively. They are Grand Prize rewards from Camoa and Moorabella. You could be rocking Ultima within the first 6 hours of the game!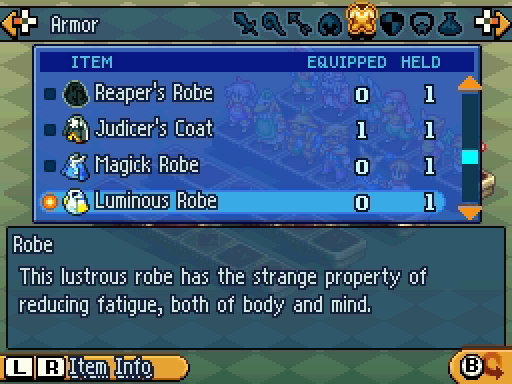 Judicer's Coat teaches Unscarred to Master Monks, which gives something like a +30% to offensive and defensive stats while the unit is at full HP. The Luminous Robe grants the Halve MP P-Ability, which cuts the costs of spells in half.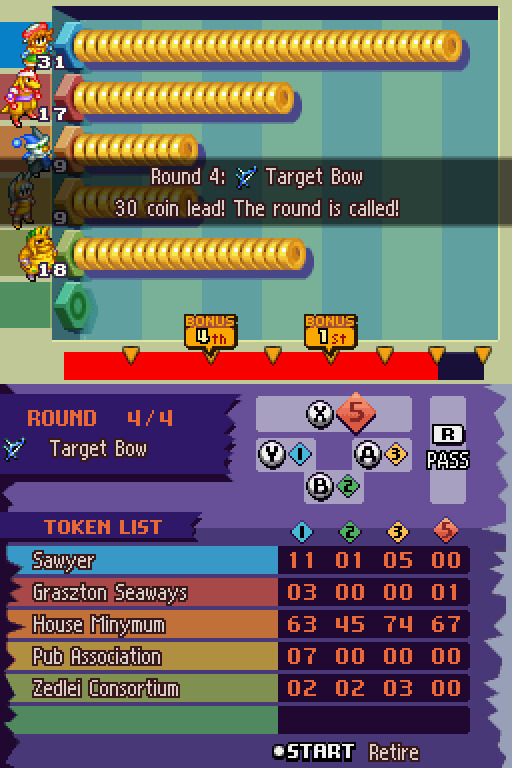 Also, this happened. Turns out you automatically win the round if you play over 30 coins.
---
Our next task is to recruit a gria. But first...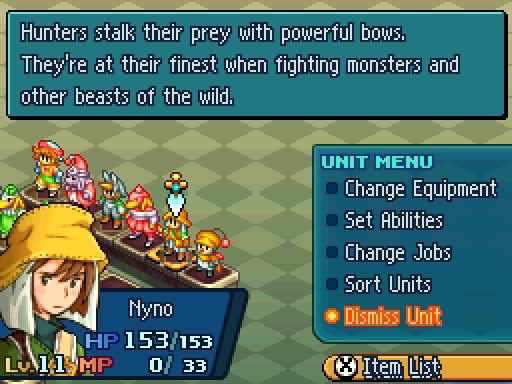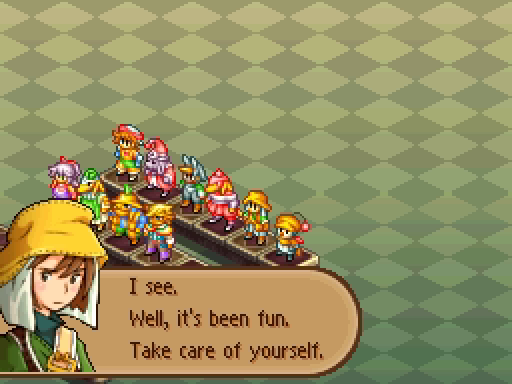 Say goodbye to Nyno. While Hunter isn't a bad job by itself, both it and Archer don't get many good abilities until later in the game due to item availability. Nyno has long been overshadowed by everyone else in the clan. Now that Inimo and Henri have Fusilier and Cannoneer available, Nyno's ranged damage is superfluous. Also, he's level 11 and everyone else is around 20. There's no way he can catch up quickly.
Recruits come in at the average level of the clan. He was single-handedly lowering the average by a couple levels.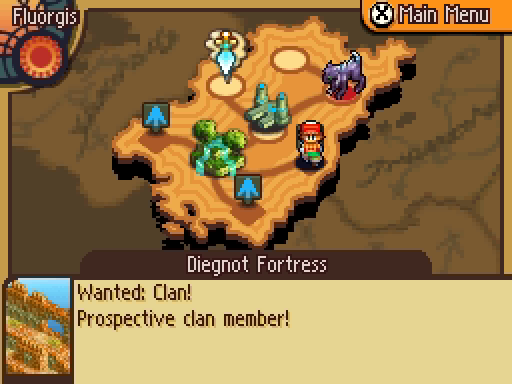 Gria can be recruited in Fluorgis and Zedlei Forest during the months of Emberleaf and Plumfrost. Despite Zedlei Forest being on the Loar continent, you can't actually find them there until you've reached Fluorgis.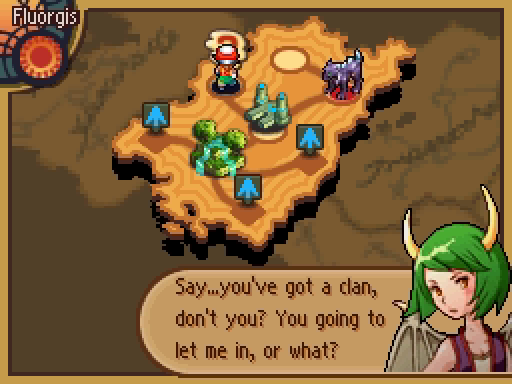 The Fluorgis recruit may be a Hunter or a Raptor.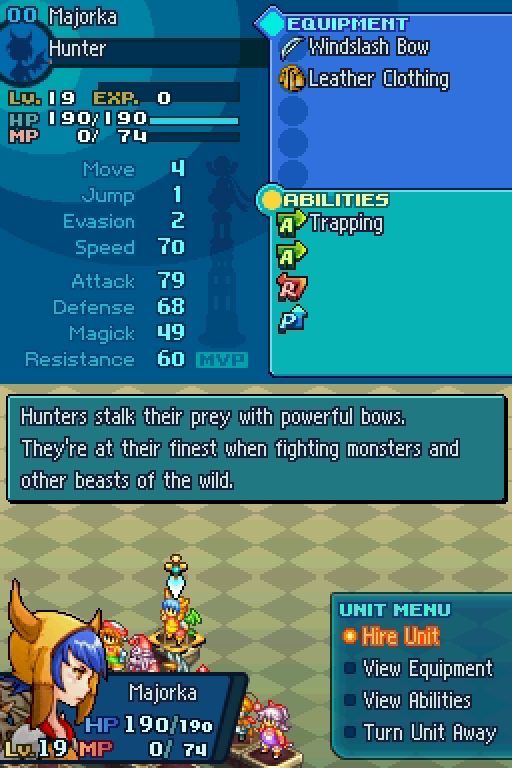 Hunter is an alright job for gria. Their three other jobs all require 1 Hunter A-Ability, so every gria will be a Hunter eventually. Hunters have the highest Speed base and growth of the gria jobs, which is usually the most important factor when choosing a recruit.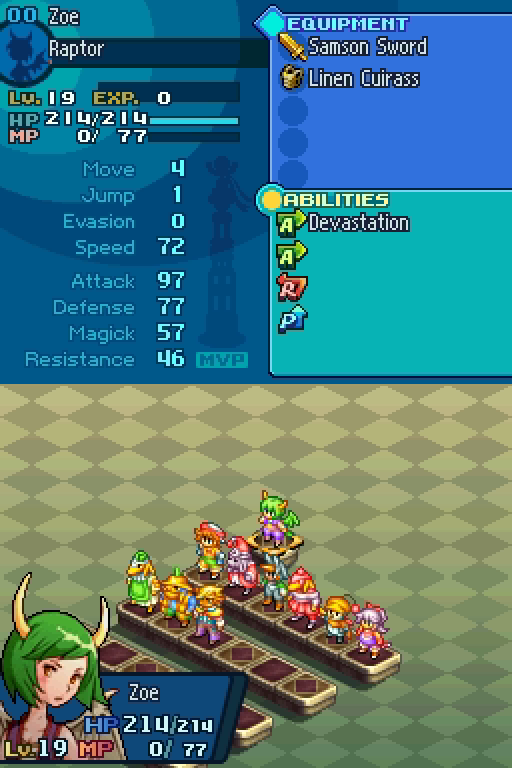 However, Raptors have only 1 base Speed and 2% Speed growth lower than Hunters, and they make up for it with much higher Attack. Thanks to some lucky growths, this Raptor is both faster and stronger than the previous Hunter.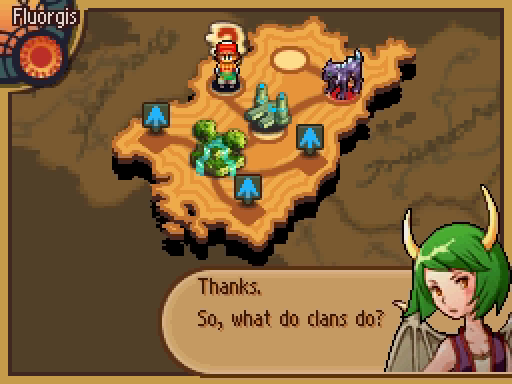 Welcome Zoe to Clan Sawyer!
We're going to wait a bit before getting our next recruit. I want to grab a Ninja, and they aren't available yet. Instead, it's story quest time!
---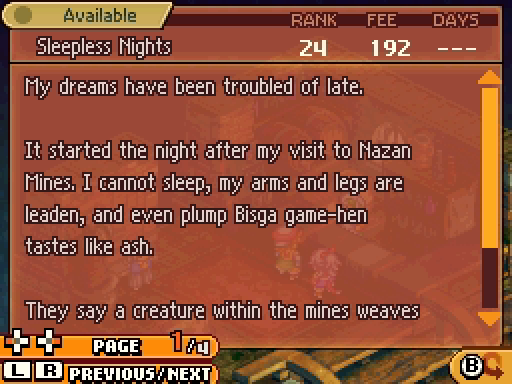 "They say a creature within the mines weaves ill-omened dreams. I fear... I fear I may be a victim. Please, stop it before I go mad." - Dabool, Geologist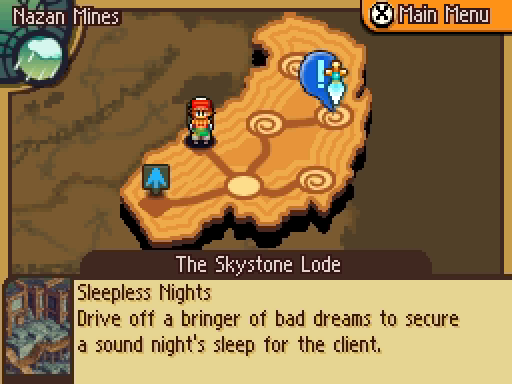 The Nazan Mines are the epicenter of spooky stuff in this game.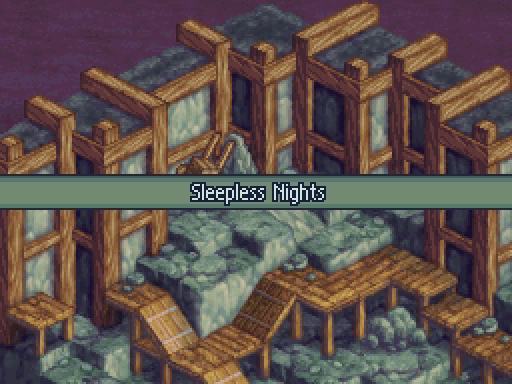 Seriously, you'd think the Tramdine Fens with the ghosts and ghouls and swampy cabins would be where all the supernatural stuff happens, but nope, it's all here in the abandoned mine.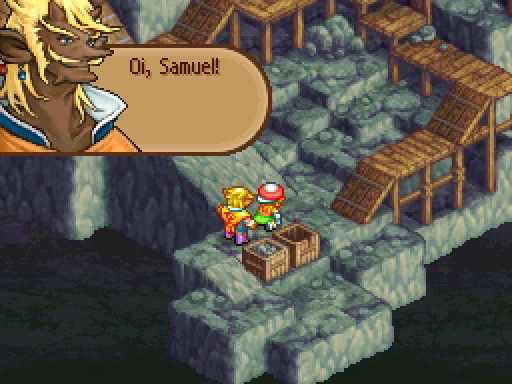 : ... I'm fine. Just, I suddenly have this terrible headache.
Watch this in motion!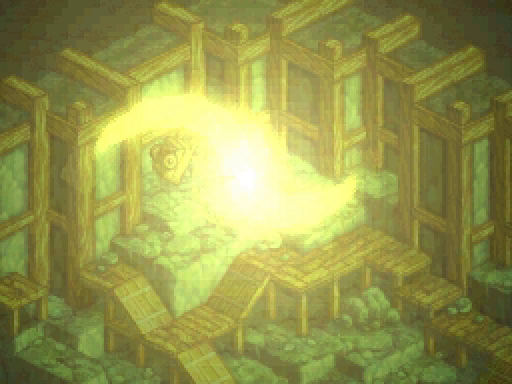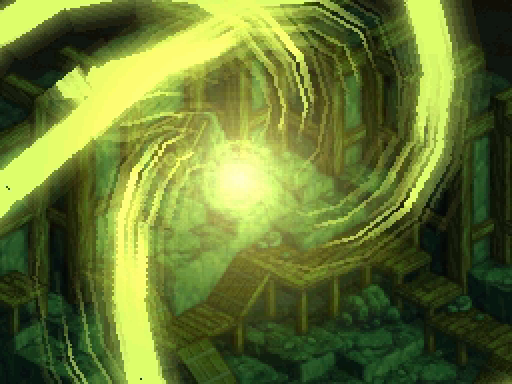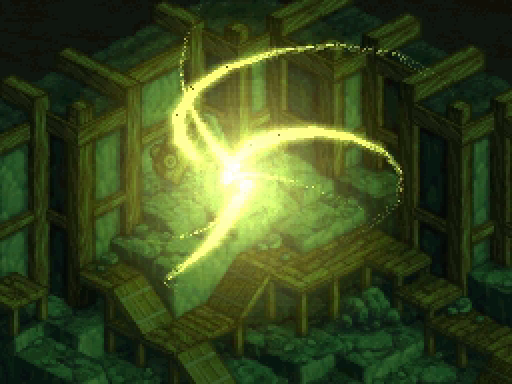 The Mist coalesces into the form of a great ghoul: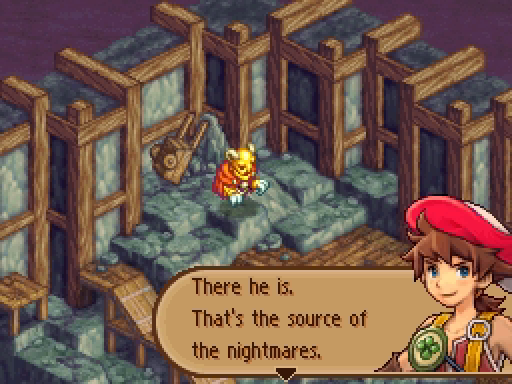 The Oversoul.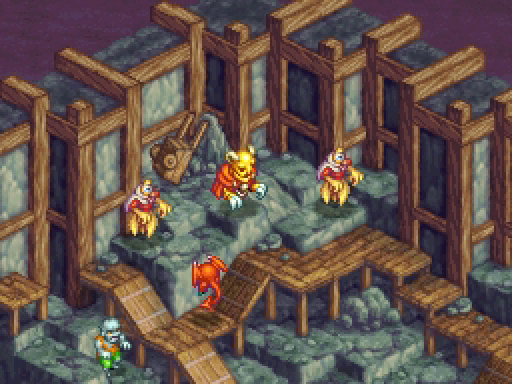 And of course he brought some friends!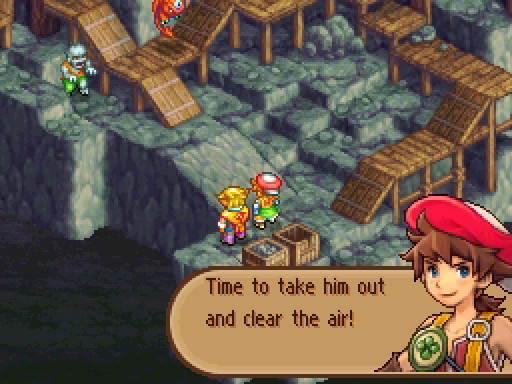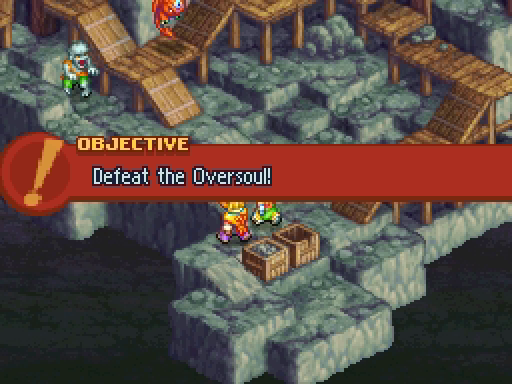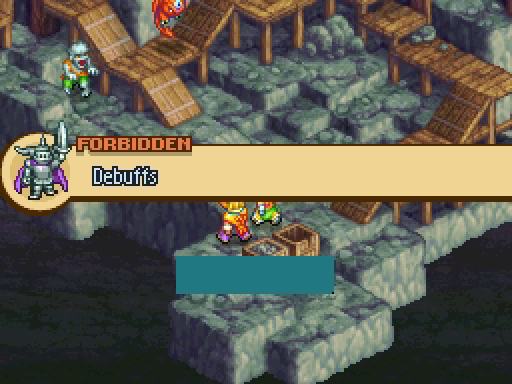 Our target is the Oversoul, but his minions will do their best to get in our way.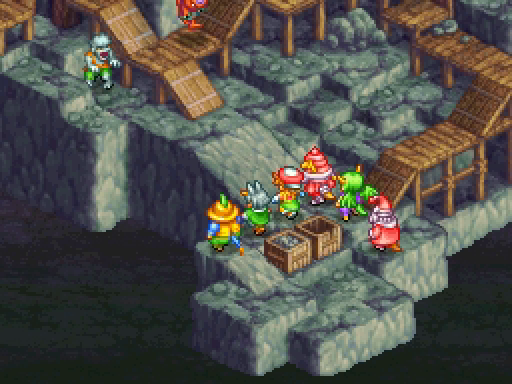 Here's our crew. Tsing won't be using Mirror Items, he's only here for Phoenix Down support if necessary. Henri is now a Defender, a crowd-control focused melee job. Talf and Lenolia are our magick damage, which is useful against undead. Zoe also makes her debut as a frontline melee fighter.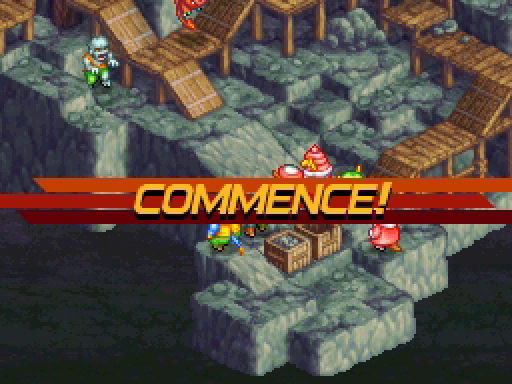 This arena is smaller than it seems. Most of the fighting will be in the small zone in front of us, though any enemies that want to flee will have plenty of nooks and crannies to hide in.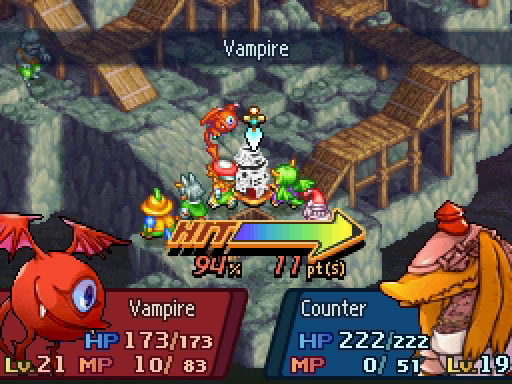 Unlike most headhunt battles, it's hard to ignore the minions here. My plan is to strike down a couple minions to give me some breathing room, then focus on the Oversoul.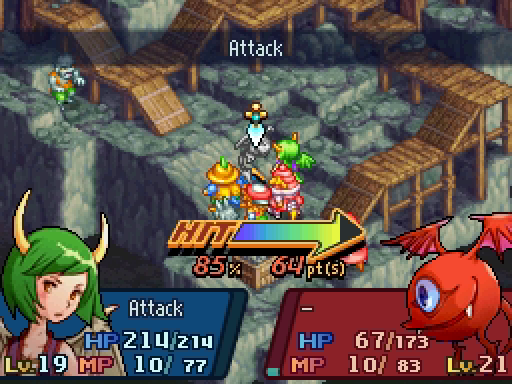 The Eye charged straight in, but since it doesn't have Critical: Quicken, I'm not worried about a Death Dive.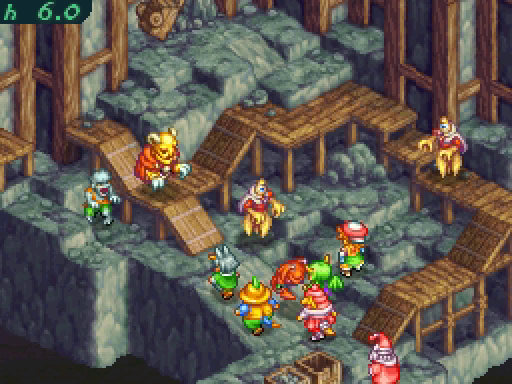 Here's the state of things a few turns in -- not much has happened since weakening the Eye. We're cautiously moving up, they're aggressively moving down.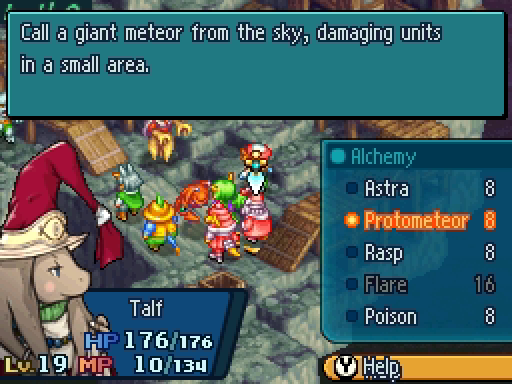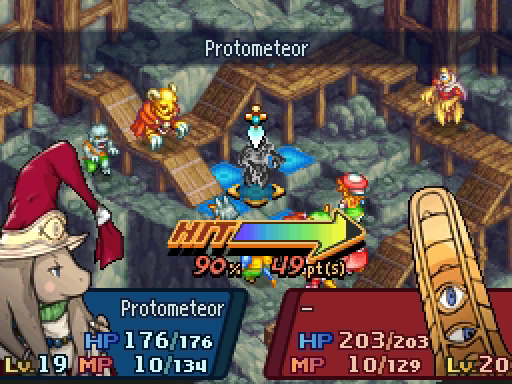 Let's show off our new tricks! Protometeor is a great Alchemist spell. It's a small AoE that does decent damage for only 8 MP.
Watch this in motion!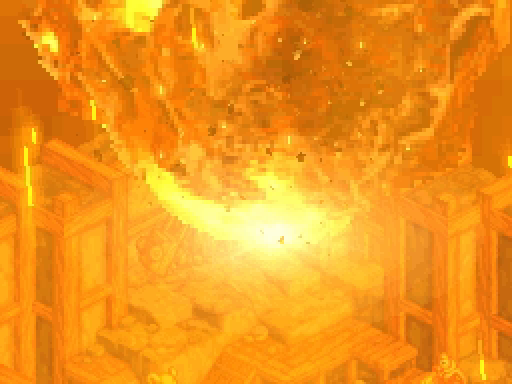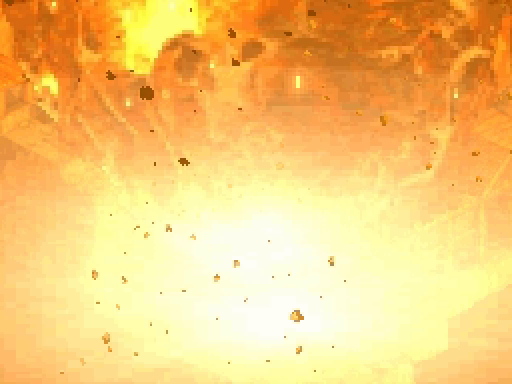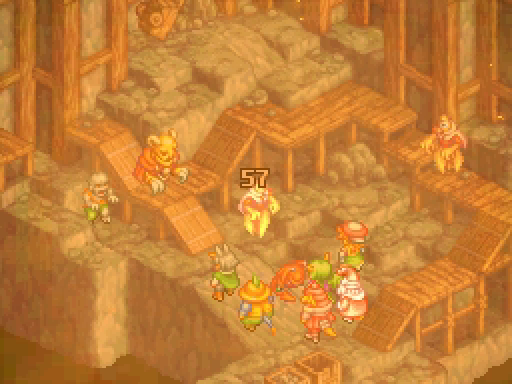 And it summons a meteor from the heavens. Awesome!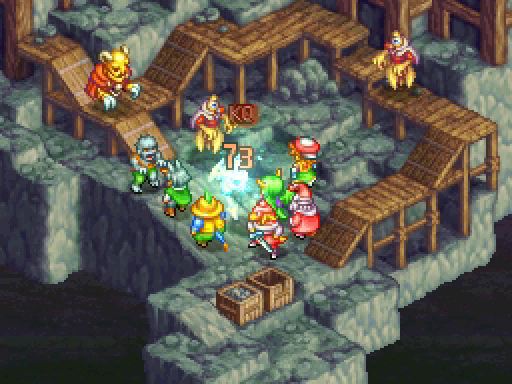 Henri finally kills the Eye. It dodged quite a few attacks, of course.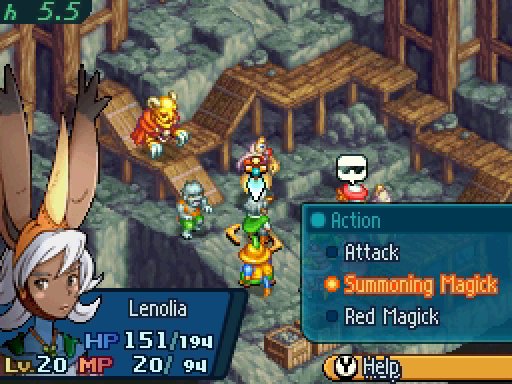 The Oversoul and its minions all moved closer to us, giving Lenolia a perfect opportunity.
You may recall that in last update, Lenolia doublecasted a Summon (Ifrit) and Cure in order to keep her HP up. In the thread, Alkydere pointed out that if Lenolia was wearing element-absorbing gear, she could target herself and heal while attacking.
Unfortunately, the only element-absorbing gear I had was the Chameleon Robe, which absorbs Holy damage. Fortunately, the Fluorgis auction gave us the Cheer Staff, which teaches the holy-damage Maduin Summon. This spell also costs 1.5 times more than other summons and deals slightly more damage. Blood Price doubles the already-high MP cost, but the high damage she absorbs will heal her to full HP.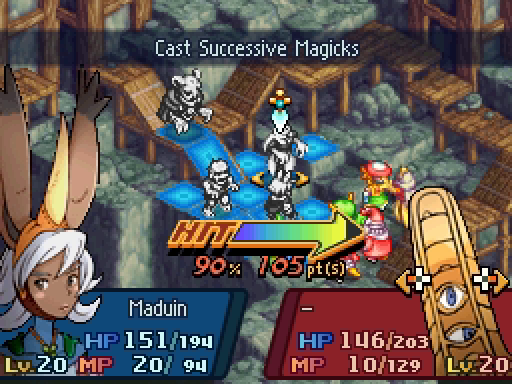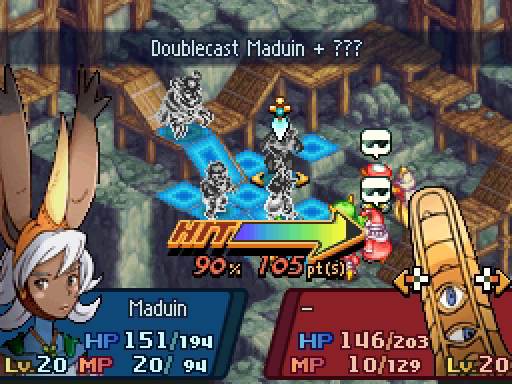 Also, undead are weak to holy damage.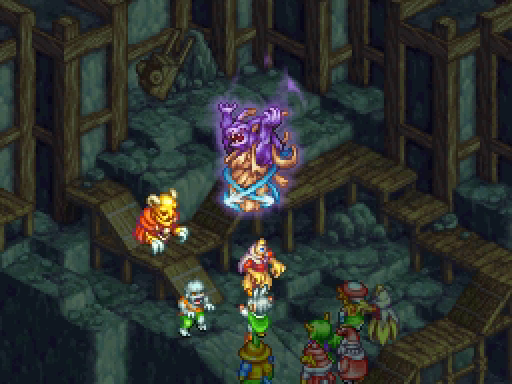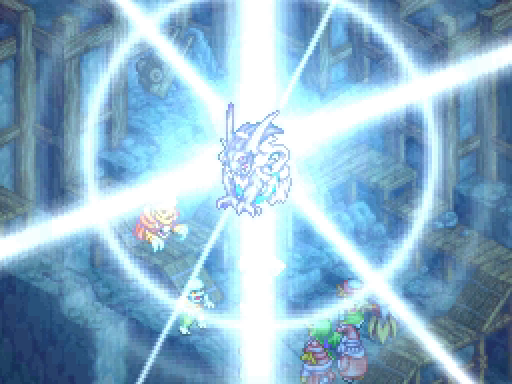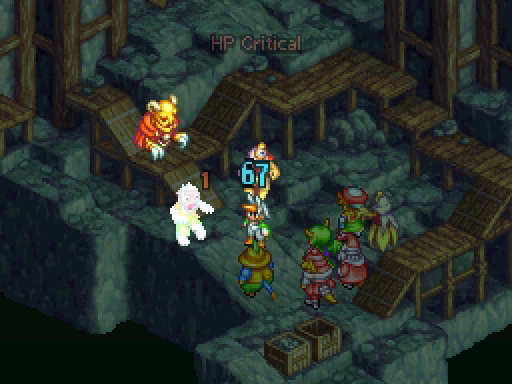 Maduin costs 24 MP, or 48 HP with Blood Price.
Watch this in motion!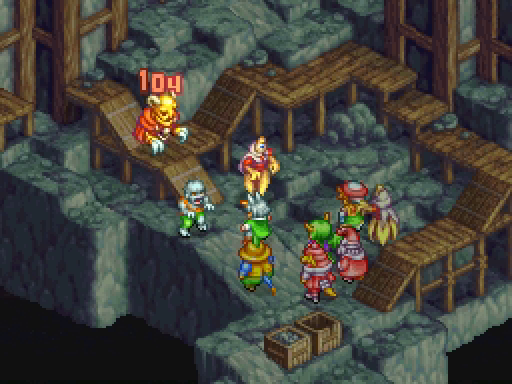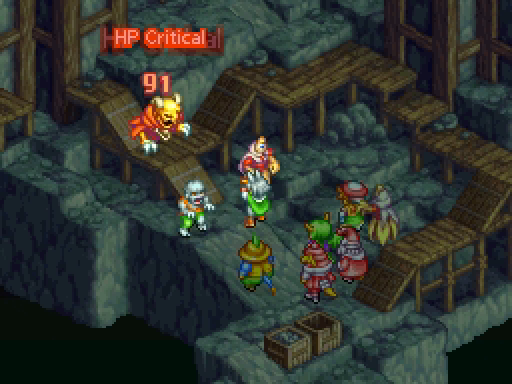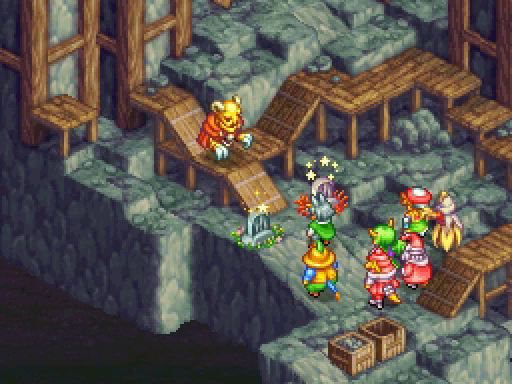 Two casts later, the zombie and wraith are dead and the Oversoul is at critical HP.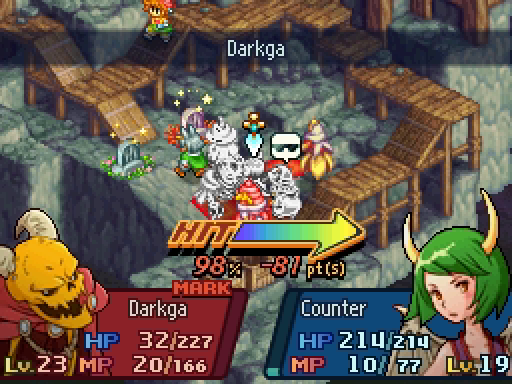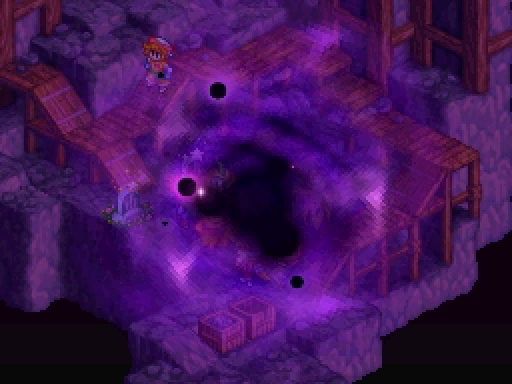 I'm an idiot and wanted Samuel to finish off the source of his nightmares. Tsing had his turn right after Lenolia's and could easily have finished it off.
Never show mercy.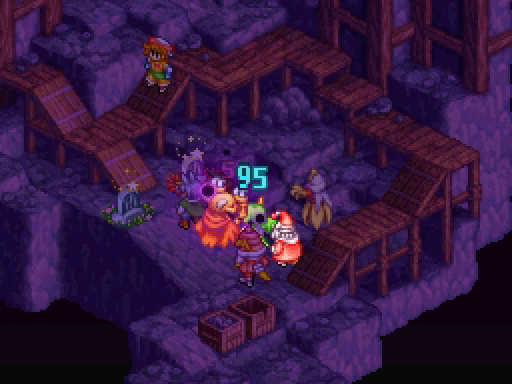 Oh, but Zoe is wearing Bone Plate. She's healed for twice as much as the Oversoul is, and she got a free counter-attack.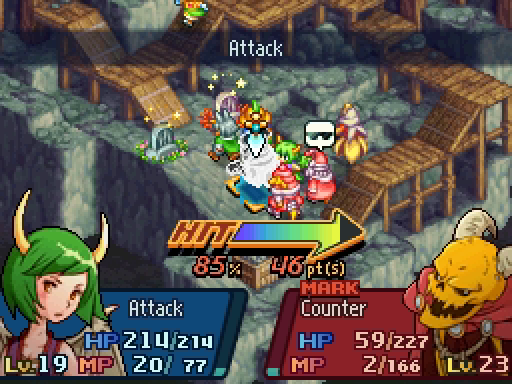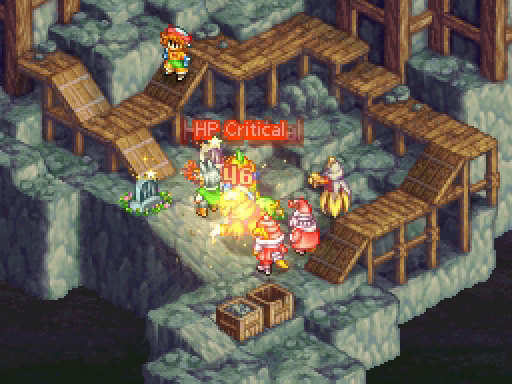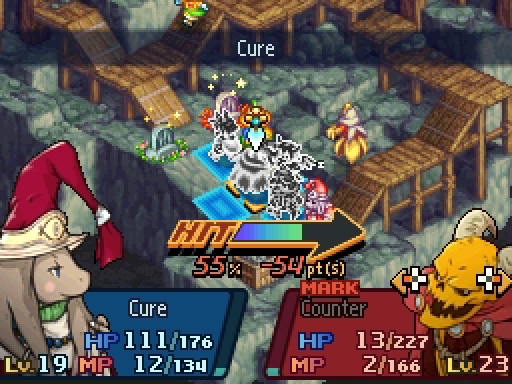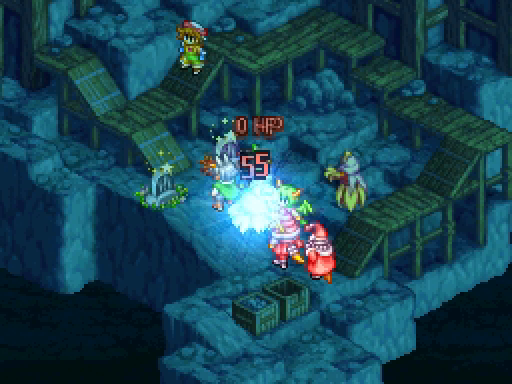 She and Talf easily finish the job.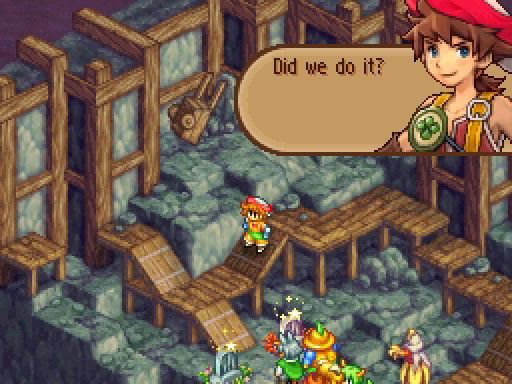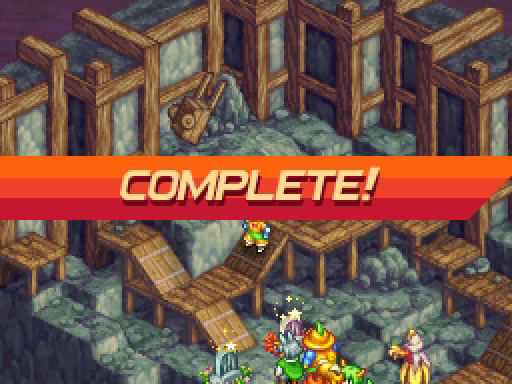 ---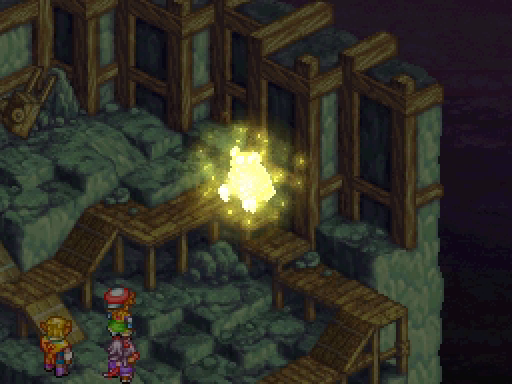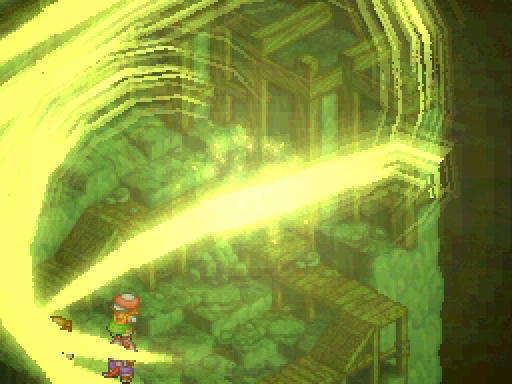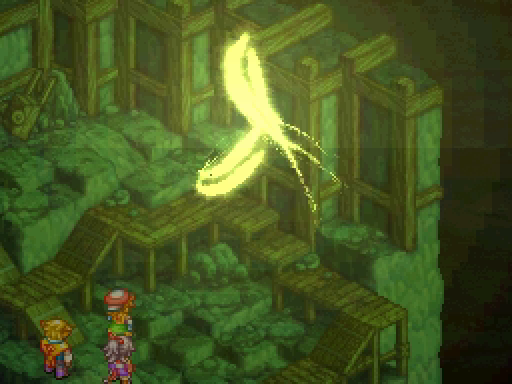 The Oversoul explodes in a fountain of Mist.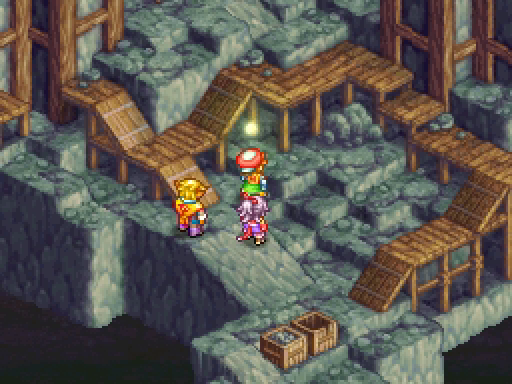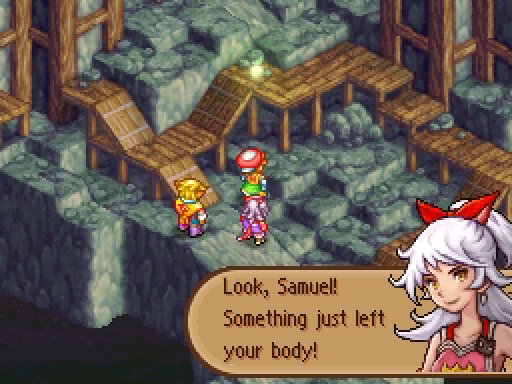 The little sprite that infected him earlier leaves Samuel's body.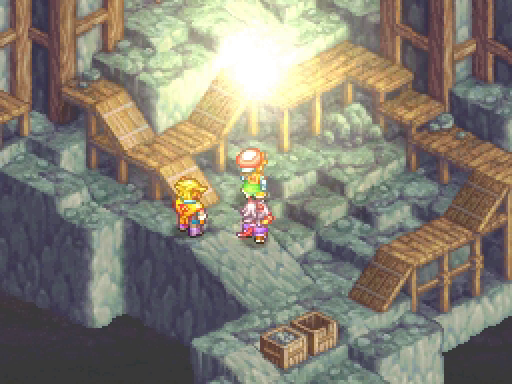 It then explodes, and the world shifts.
---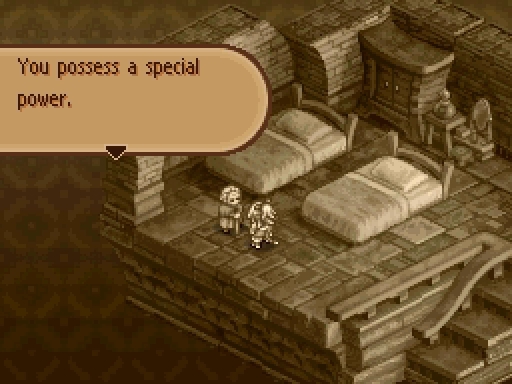 Adelle's memory.

: You must live the life your parents could not.

: [unintelligible]

: It is not so hard. Simply be yourself. You understand, Adelle?
---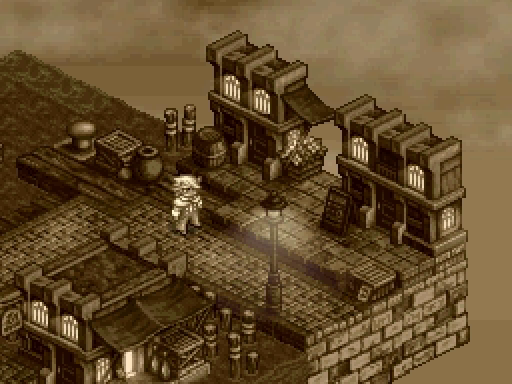 Cid's memory.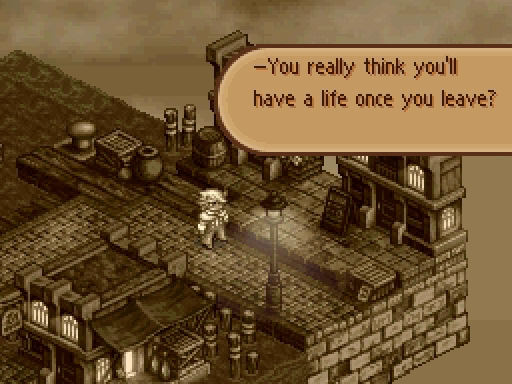 : I know I'll have none should I stay.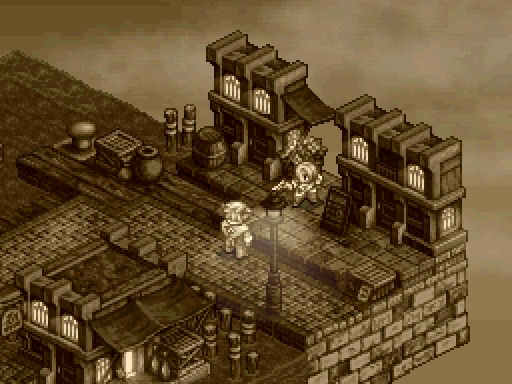 A shot rings out.
---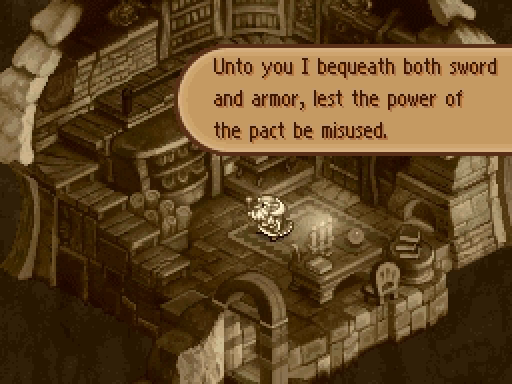 Wait why does Lezaford get a flashback?
---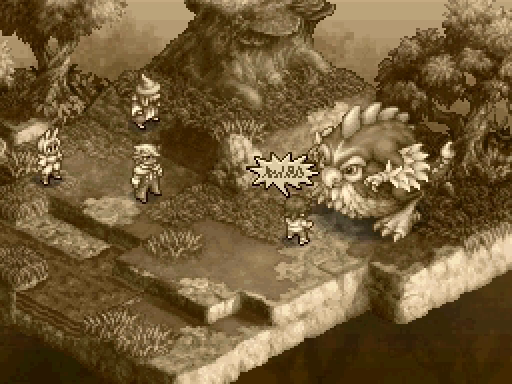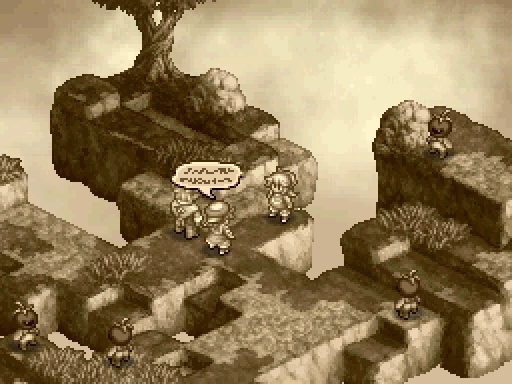 Samuel remembers the first time he met Cid and Adelle.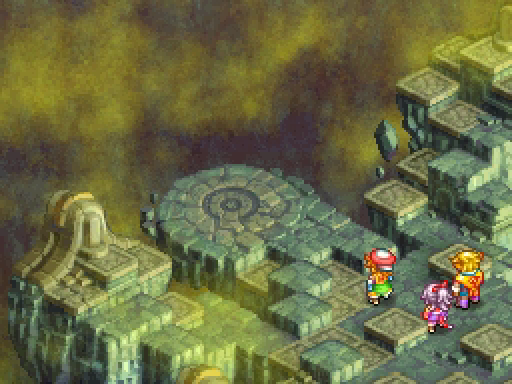 And then we find ourselves in the gray and barren land.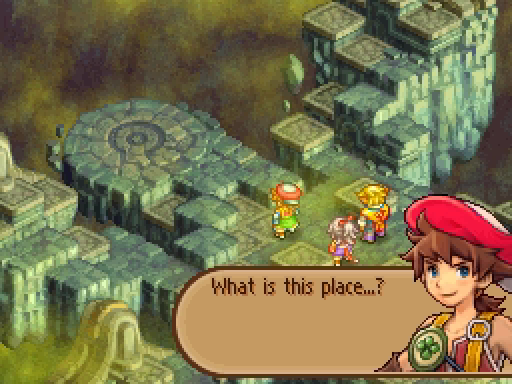 His question goes unanswered, and the scene fades away.
---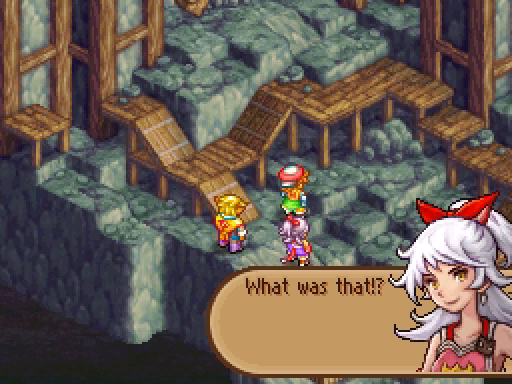 : I've seen that place before, in a dream... Those barren stones... And something odd about it, almost as if... You saw it too, didn't you, Cid? Where was that?

: I cannot say. Perhaps it was merely a vision?

: Well, it still bothers me. Like I should know where it is. I don't think it was just a dream. Look, this may sound crazy, but I feel like I have to go there. I... I'm going to go find it.

: ... For now, we need to return to town. I must rest.

: Right.

: Adelle? Have you heard a word we've said?

: Oh... huh? O-Of course! Back to town, right? Well, what are we doing standing around? Let's be off!
---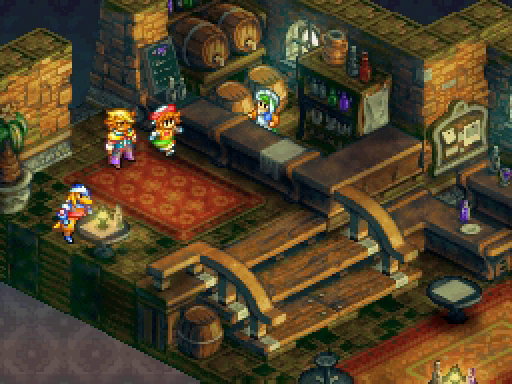 The clan returns to Fluorgis.

: Hmm? What's going on over there?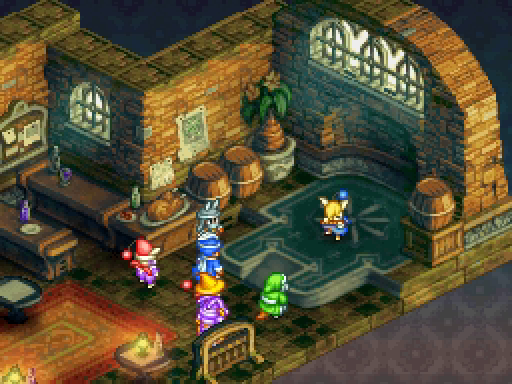 : Probably a bard, come drifting in from somewhere.

: That music... it's really not bad at all. Kind of soothing after having my head put through the ringer back there.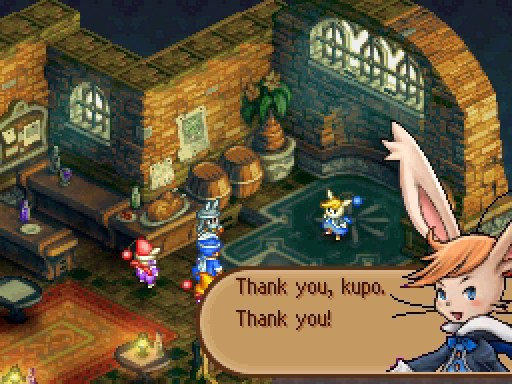 The crowd applauds the bard's performance. The moogle approaches the bar, walking past Cid and Samuel.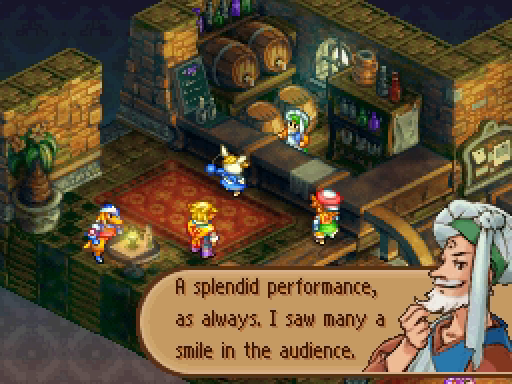 : Just what someone in my profession wants to hear, kupo! Well, barman, if you could post that bill for me, I'll be off, kupo!

: Aye, you're in good hands. I'll send word as soon as your request's been accepted.

: Thanks, kupo! I'll be off then.

: Come back any time, friend!
The moogle bard leaves.

: Hey, barman. I couldn't help overhearing something about a "request"?

: Ah, yes, the moogle that just left's a traveling musician. And a bit of a collector of instruments on the side. Seems he's searching for materials to make a new instrument. I've just posted the bill. Have a look, if you're interested.

: Hey, if that bard's been around, maybe he'll know the place I'm looking for.

: Bards are well-versed in lore and the lay of the land... Aye, can't hurt to ask him.

: Great! I'll go get that stuff he wants and have a little chat with him!
---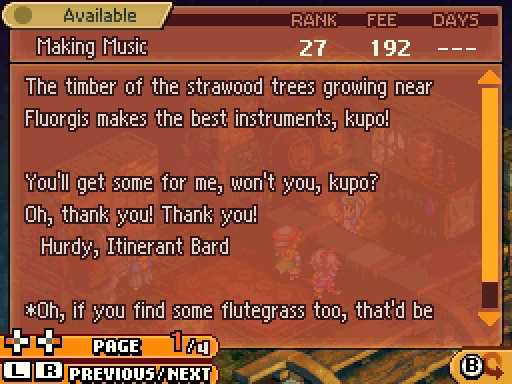 "Oh, and if you find some flutegrass too, that'd be awful nifty, kupo!"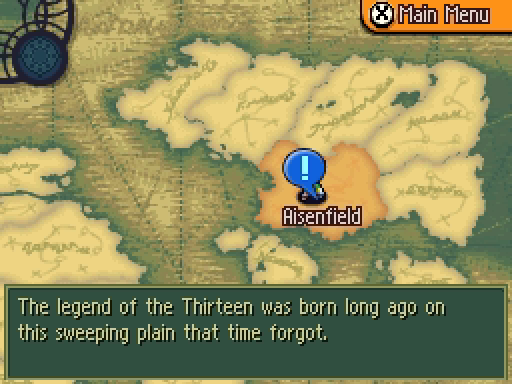 This quest is pretty interesting, at least from a design perspective.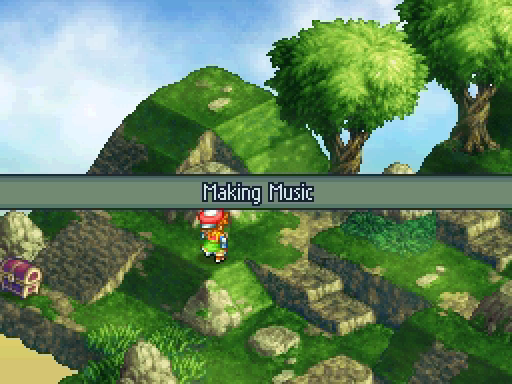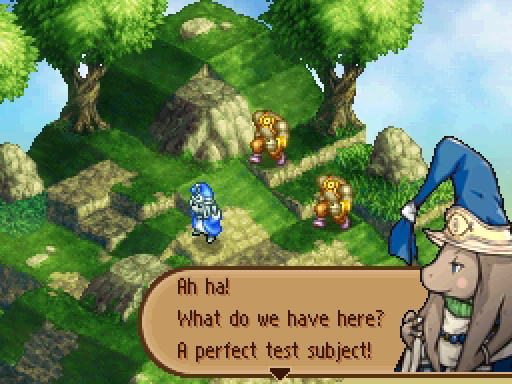 We're trying to get the stra wood from the stra trees, but some Alchemist is testing out his new golems.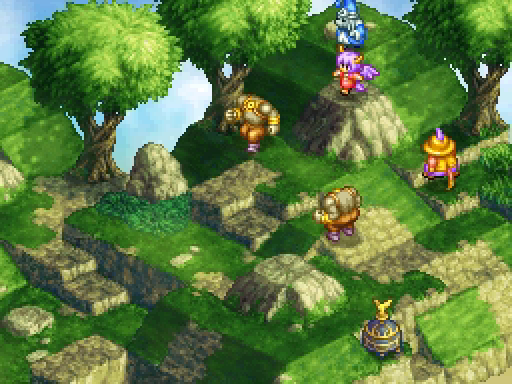 He brought some friends, which seems a little counterproductive.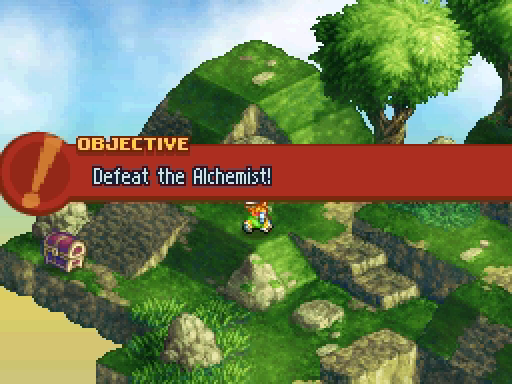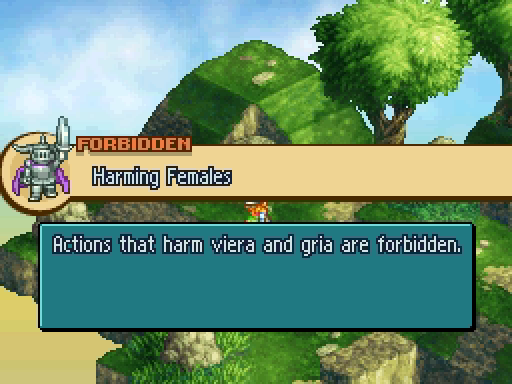 This law is mildly annoying -- there's an enemy Gria, but since we just need to kill the Alchemist, it's not actually a huge problem. It could be inconvenient if she gets in the way of our spells.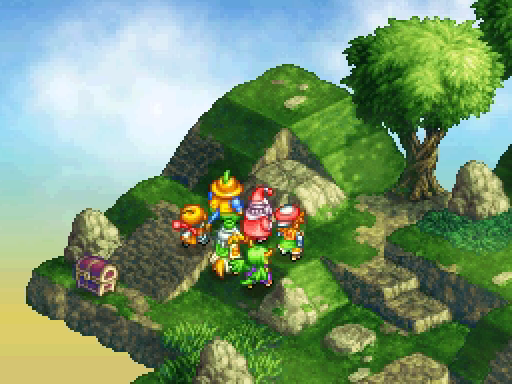 Imino is showing off Fusilier. Tsing is with us to help with the enemy Ranger, who is very trap-happy.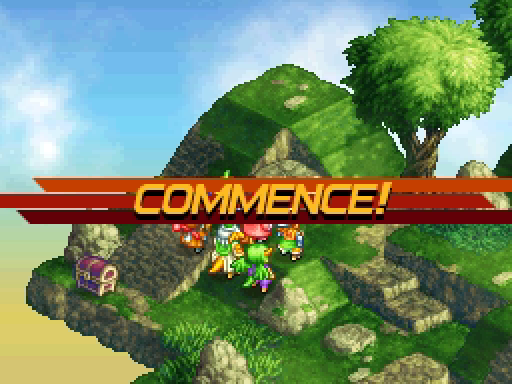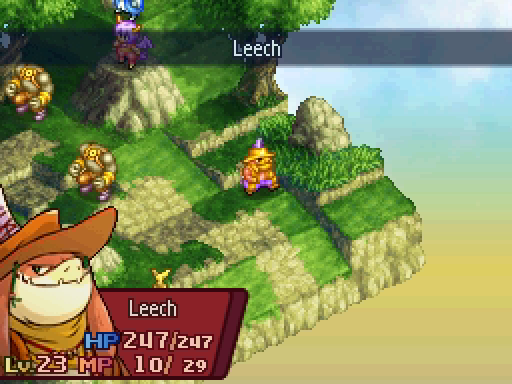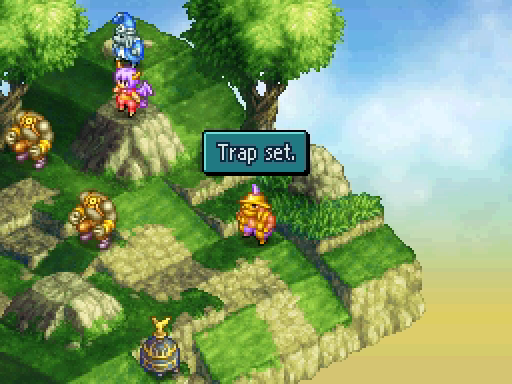 You can expect this Ranger to set a trap every turn.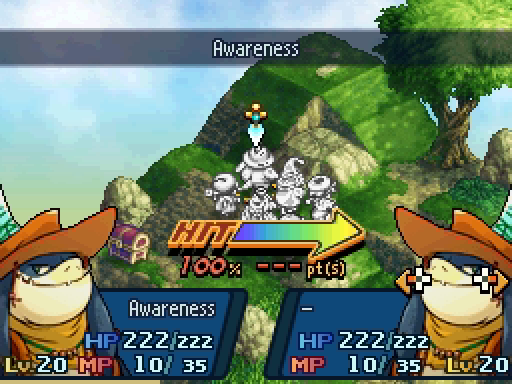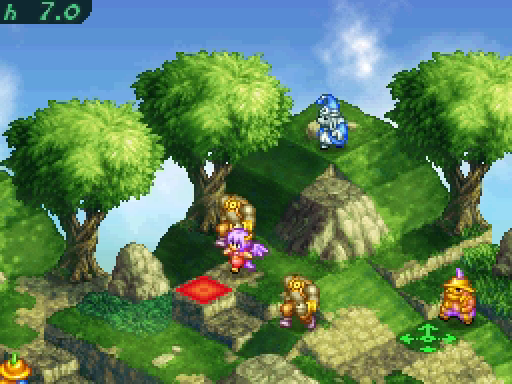 Awareness will help reveal those traps, of course! (It's the green square on the right, in front of the ranger.)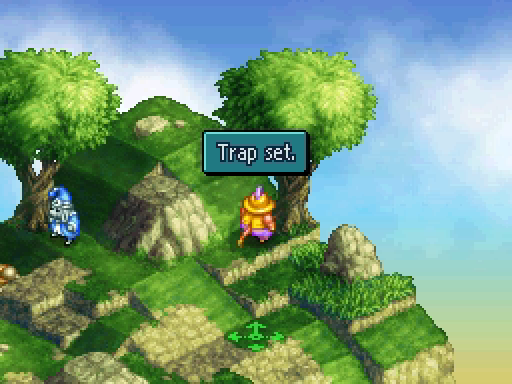 Except any new traps won't be revealed. Fortunately, the Ranger stays in that corner while everyone else moves toward our team.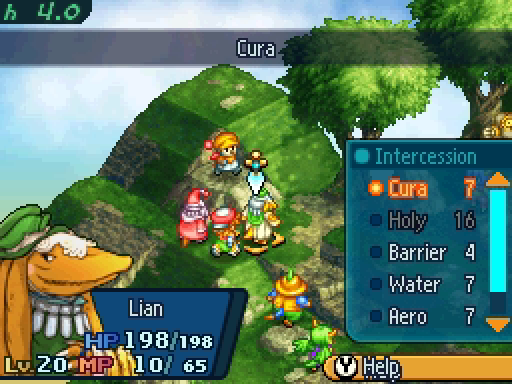 Lian has Halve MP P-Ability thanks to the Luminous Robe we won in the Fluorgis auction. He can most spells every turn now!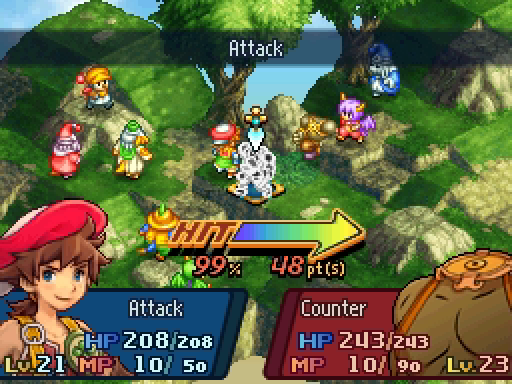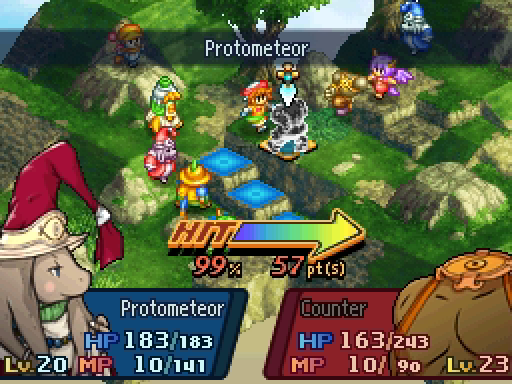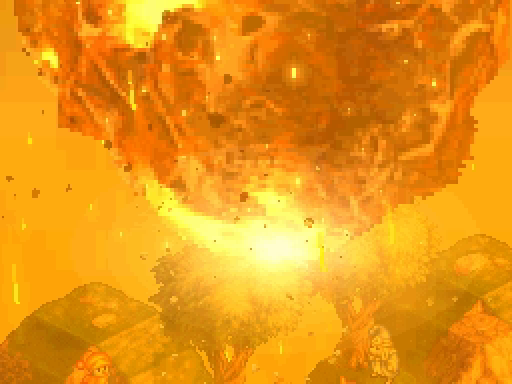 Samuel moves forward. I still love Protometeor.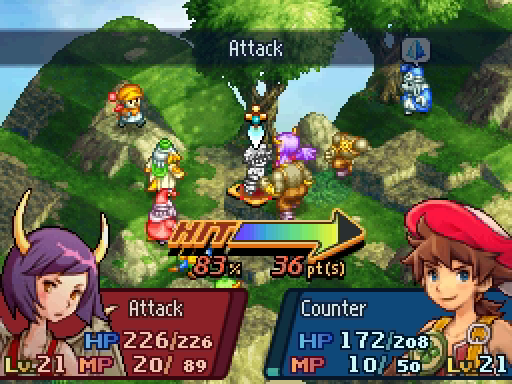 Our counter attacks don't break the law, since it specifies that only actions against females are illegal. Reactions are just fine.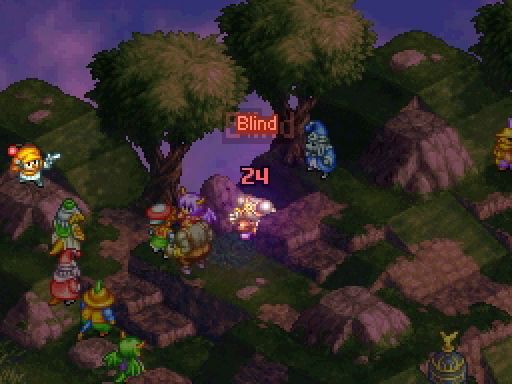 Anyway, this is a straightforward slugfest. Imino's Blindshots are pretty effective. I'm considering keeping him as a Fusilier for a bit due to all the conditions.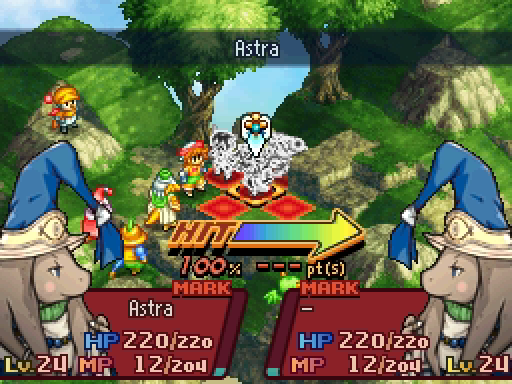 The Alchemist himself isn't really a threat. All he does is drop Astras on his teammates. He doesn't stay alive long enough to do anything else.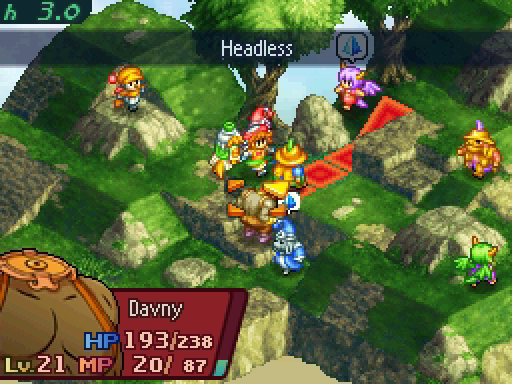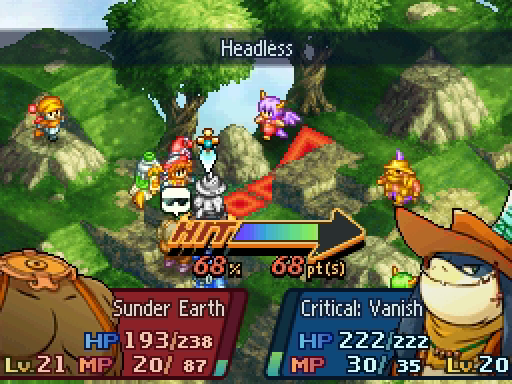 He does have one trick up his sleeve: He knows the Beastmaster abilities for controlling Headless, which are what his Golems are.
It's pretty cool that he can actually control his creations.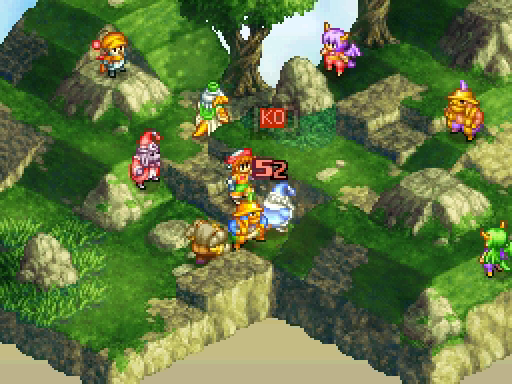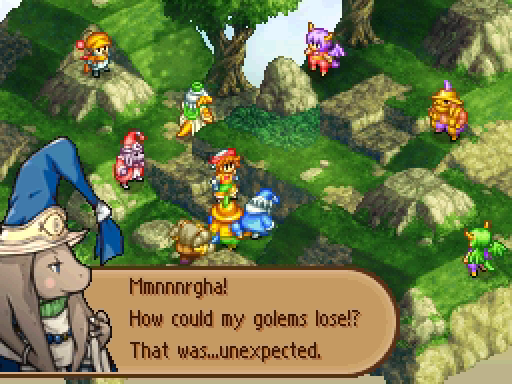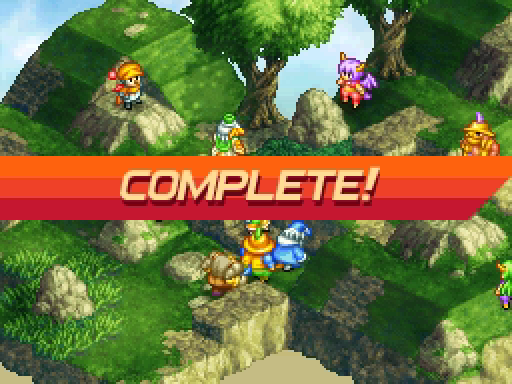 Anyway, he doesn't last long.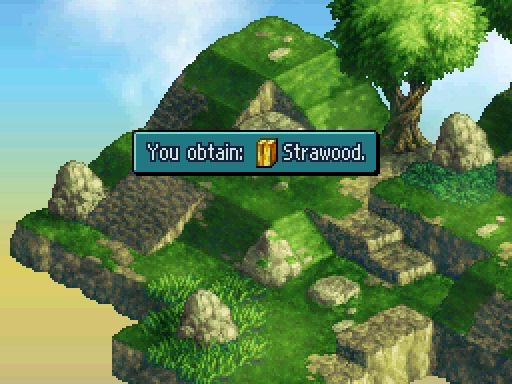 Apparently the tree immediately to the right of the message box is a stra tree.
---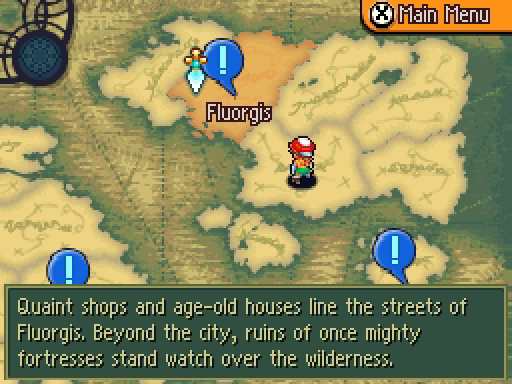 Now, the game tells us to go back to Fluorgis.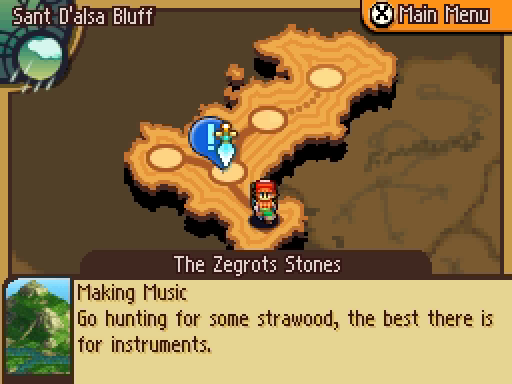 But we're ignoring that and instead heading to Sant D'alsa Bluff.
I mentioned earlier that this mission is mechanically interesting, before I got distracted by the whole battle.
As far as I can recall, this is the only mission with an optional battle. The quest description mentioned that finding flutegrass would be a nice bonus, and the only place to get that is from this extra battle.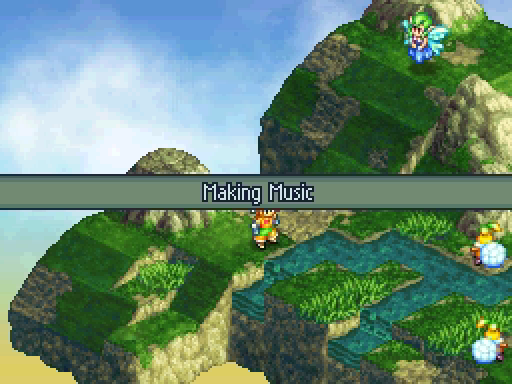 It even has the same name as the regular quest. The only way to know where to go is to check your quest log, which will show a quest in Sant D'alsa Bluffs.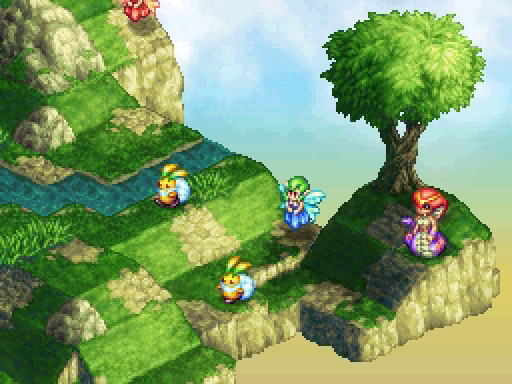 This is just a battle against a Lamia and a handful of Sprites and Dreamhares.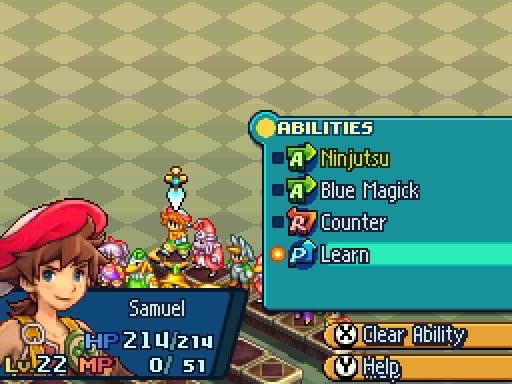 The Lamia does know Night, which Blue Mages can learn. Samuel forgoes his second sword so he can remember stuff better.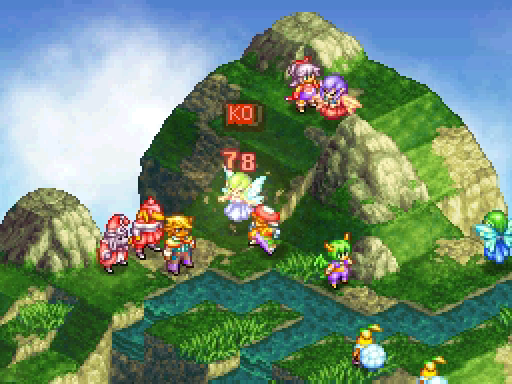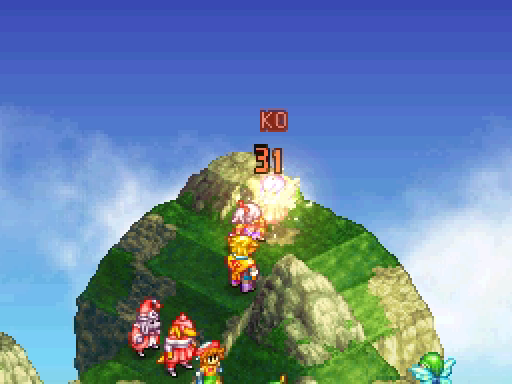 Night targets every unit except the caster, and I don't think the Lamia will cast it while any of its friends are alive.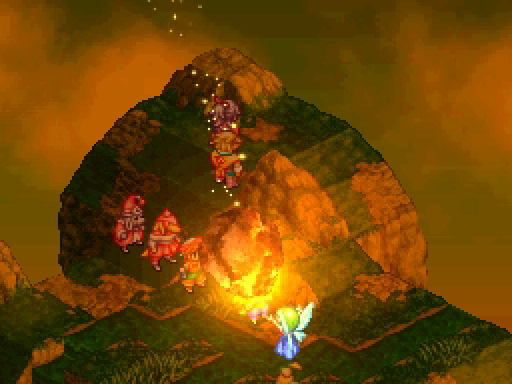 Man, remember when Meteorite's animation was the coolest thing? Now we have space rocks of our own!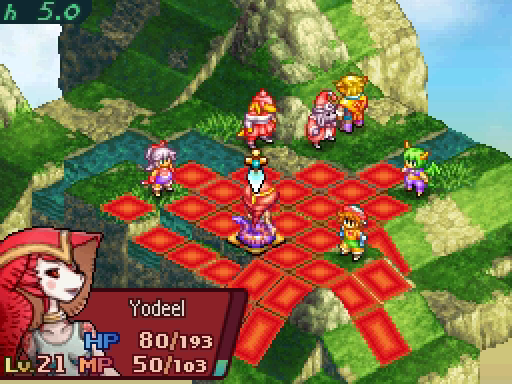 Alright, everything is dead except the Lamia. She's a little low on HP, but she should cast Night soon. I think it's a 64 MP spell.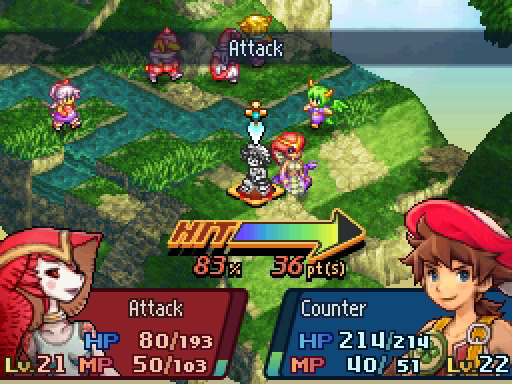 Oh dear. Well, Samuel only has one sword, so she should be safe from the counter attack.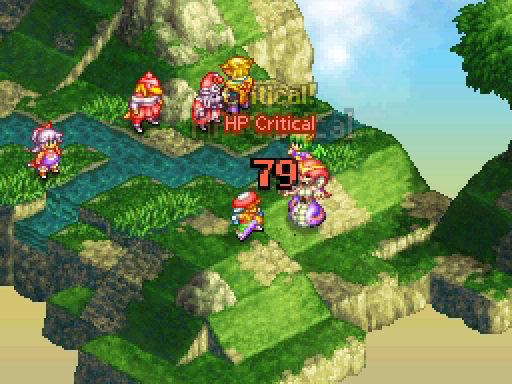 Oh man that was too close. I spend our turns moving everyone away from her.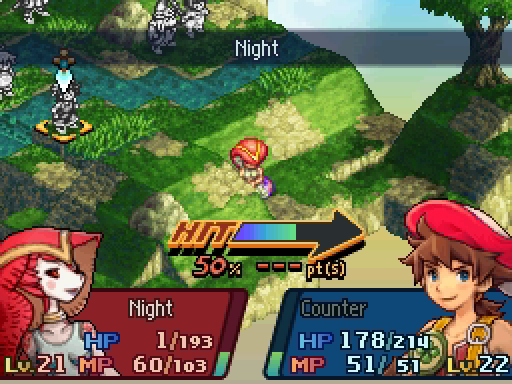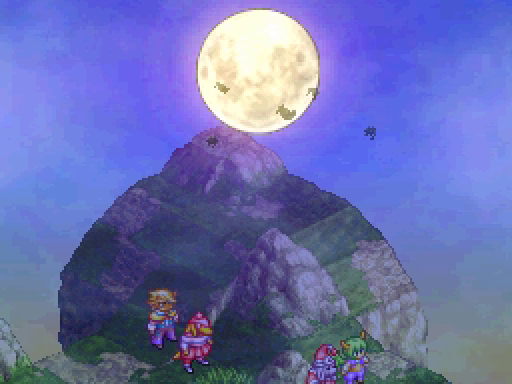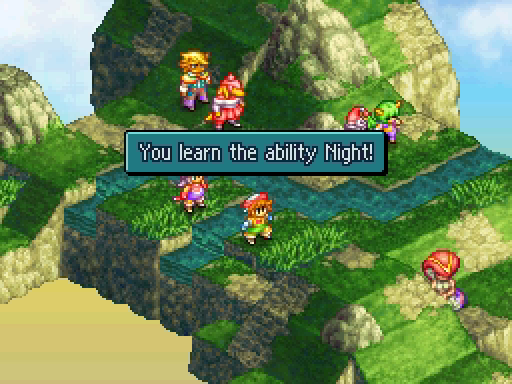 Awesome! Note that this would have failed if Samuel hadn't fallen asleep.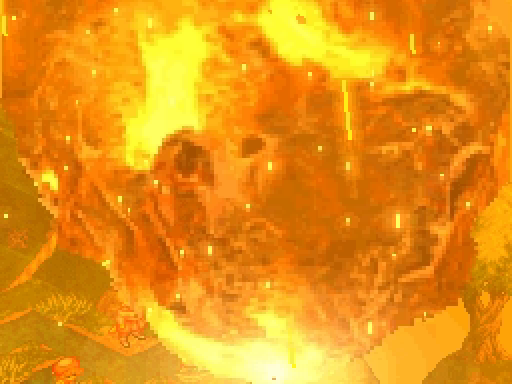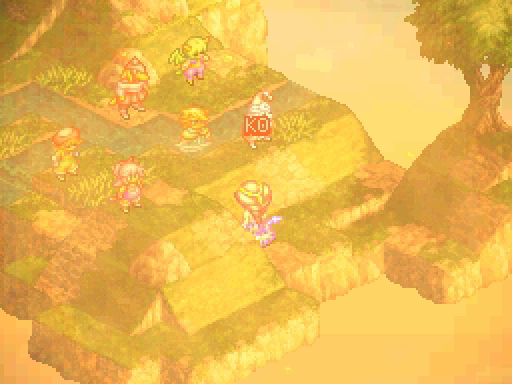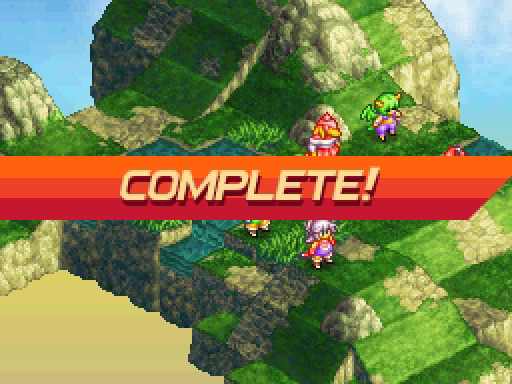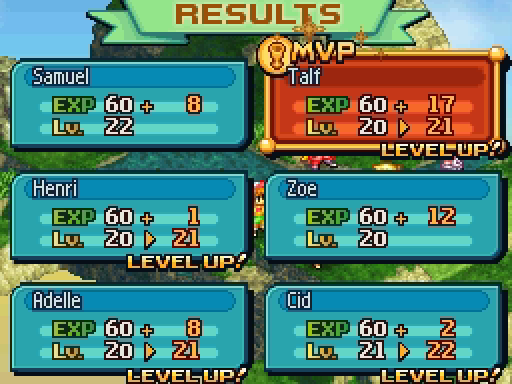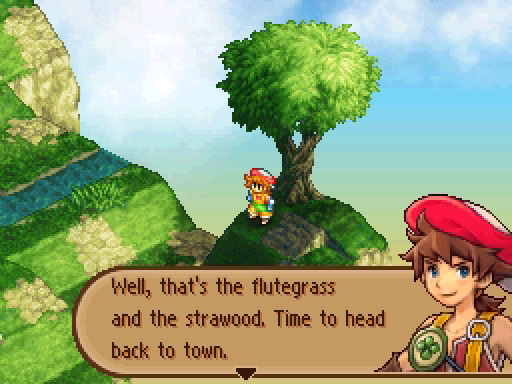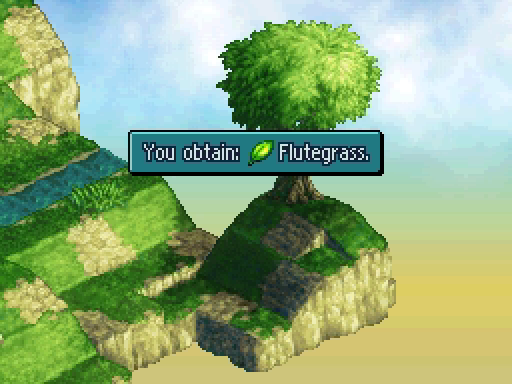 ---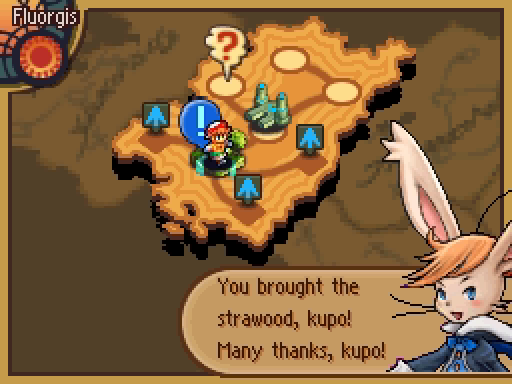 Right, now we can return to Fluorgis.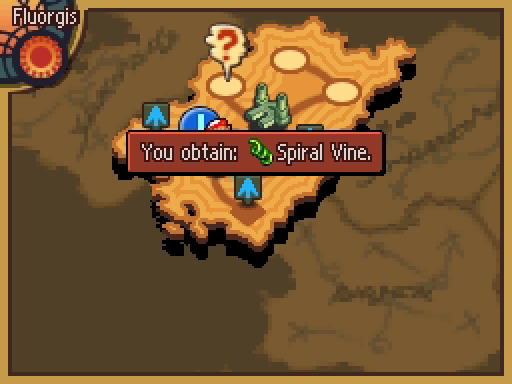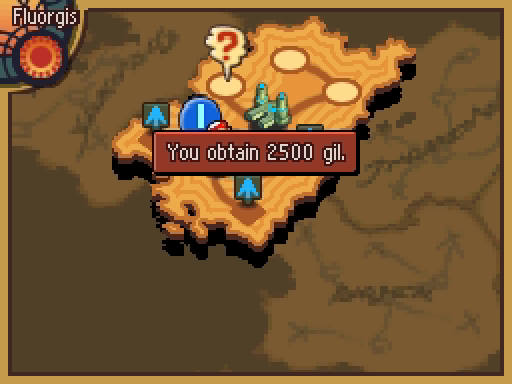 The bard, Hurdy, gives us the materials and gil we need to complete the quest.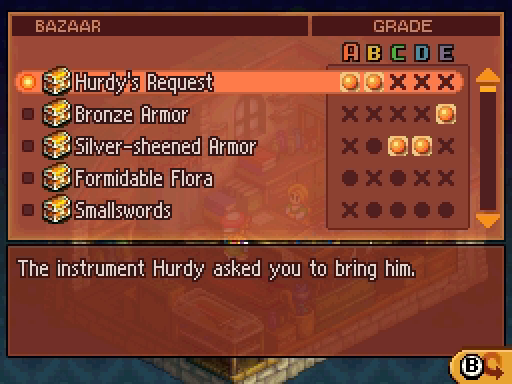 We do this by ordering the item from the bazaar. Honestly one of the cooler things they make you do for a quest.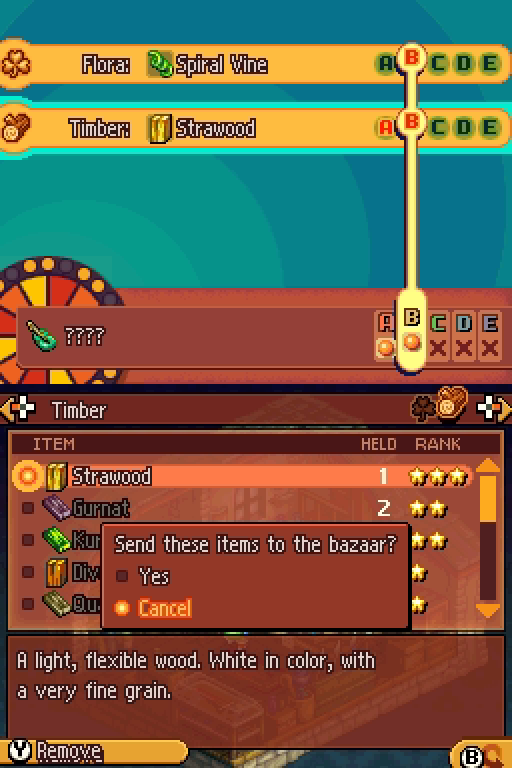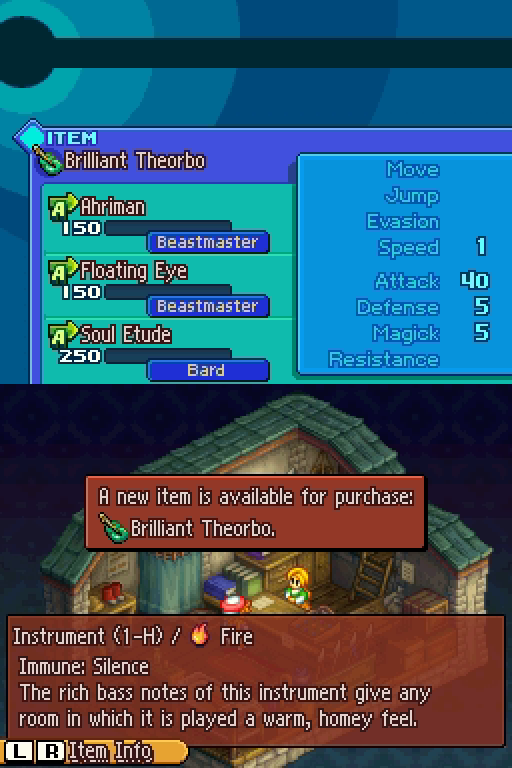 Hurdy gave us a Spiral Vine, which when combined with the stra wood unlocks the Brilliant Theorbo.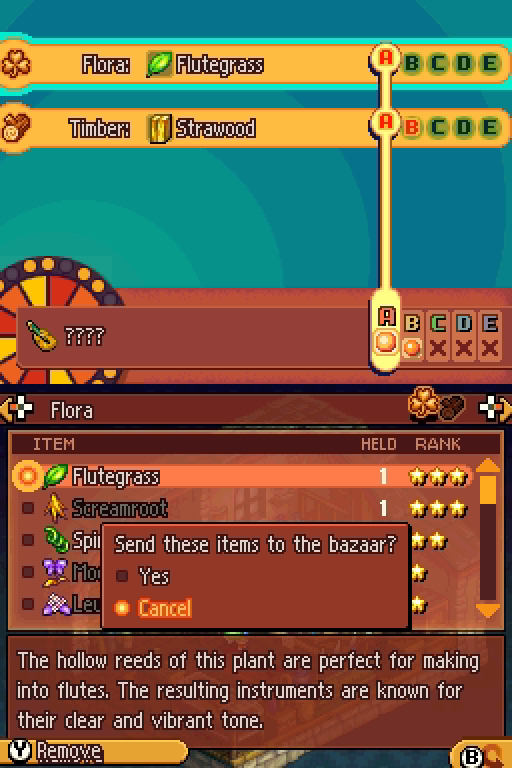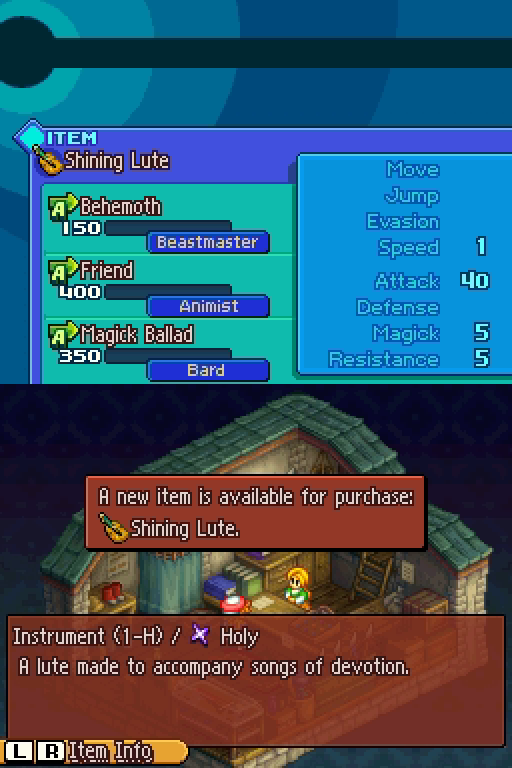 The Shining Lute is unique and can only be bought during this mission -- you can't get the necessary Flutegrass anywhere else!
The Shining Lute is the superior option because of "Magick Ballad," which restores 10 MP to units in a 2x2 area. It's one of the best MP restoring abilities if you use multiple casters.
You can only pick one. Choose wisely and get the Shining Lute. The Brilliant Theorbo can be found later.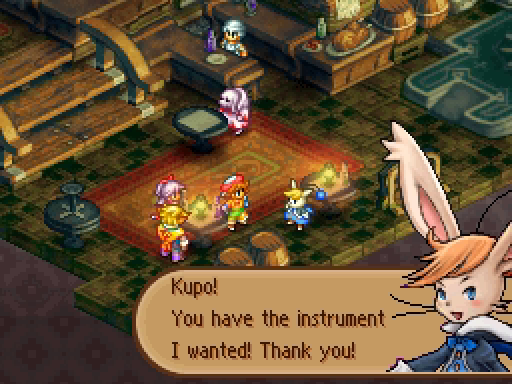 : No problem! Just seeing how happy you are is thanks enough for me. Actually, there was one thing I wanted to ask you - if you don't mind.

: You've seen a lot of people... been to a lot of places, right? Well, there's this place I'm trying to find. It's covered in a really thick fog - Mist, I guess. It's all rock - nothing living. It feels like it's underground, but you can't see the ceiling. For some reason, it makes me think of a graveyard. You ever heard of any place like that?

: You seem to know a lot about it! Are you sure don't know where it is?

: No, well - the thing is, I saw it in a dream. For all I know it doesn't even exist. But it was so real.

: I've never been anywhere like that before. Sorry I can't help, kupo.

: Nah, it's okay. I'm sorry for asking such a stupid question. Anyway, I can't wait to hear you play again. That last thing you played for us was great!

: It would be my pleasure, kupo! It's not every day you meet someone looking for a place from their dreams, kupo. I bet you have all sorts of interesting stories just waiting to be told! As it happens, I don't just sing songs. I write them, too! There's nothing like hearing about exciting adventures to set the quill scribbling, kupo!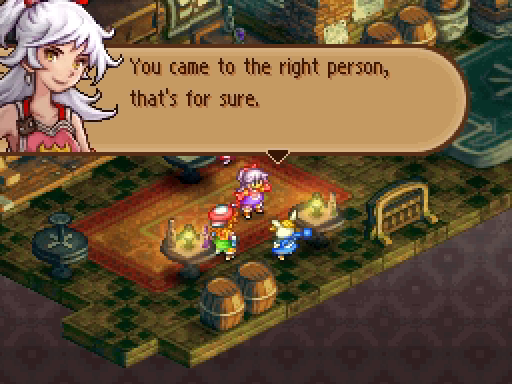 Cid wandered off in the middle of the conversation, by the way.

: I don't know anyone else who came to Ivalice from another world through a magick book.

: Did that really happen, kupo!?

: Yeah... That's why I'm doing quests and looking for adventure. To get back to my own world.

: That's amazing, kupo!

: Do you suppose I might ask you a favor? Could I travel with you? Kupo? I've decided I want -you- to be the subject of my next song!

: Me? What!?

: I'm small, I won't get in the way! And you may not know it to look at me, but I'm not a half-bad fighter, kupo!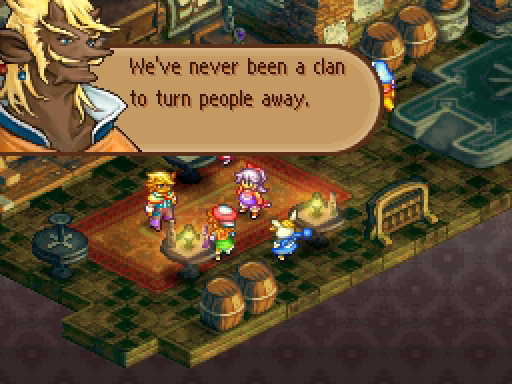 : Thank you, kupo! You won't regret it! My name's Hurdy.

: I'm Samuel. And this is Cid, and Adelle.

: Kupo! The pleasure is mine!

: Oh, there's word from the appraiser about the stone, Samuel.

: I was wondering when they'd be done. Guess we're off to Moorabella to pick it up then.
Samuel runs off.

: He's always running off somewhere. You get used to it, though.

: That's perfect! Just what I need! Something tells me this song is going to be epic! Kupo-po!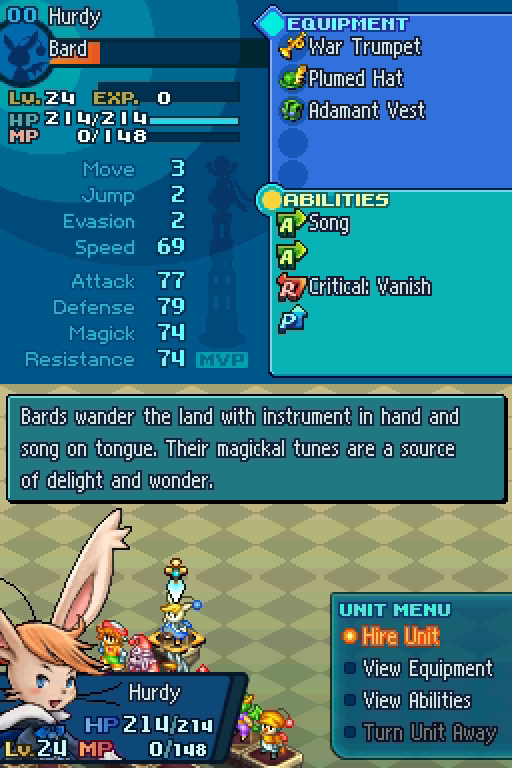 Hurdy is our first unique unit. He's a Bard, a magic support job with a variety of useful abilities. Magick Ballad is probably his best ability, but he can also raise defenses and purge undead.
Bards use instruments, of course. Previously, I complained about the lack of useful instruments for jobs like Animist and Beastmaster. It seems likely that there are so few early-game instruments because they were saving all of them for Hurdy's appearance.
Maybe they didn't want Bard to be spoiled by finding an instrument with a Bard ability on it. I don't think that's likely -- Bard only learns four more abilities, and we've seen weapons with skills for other unique jobs already.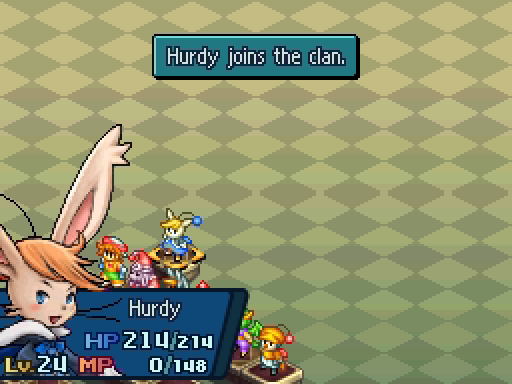 Basically, Hurdy is what's wrong with this game.
---
Now that we've advanced the story a bit, let's grab our next recruit before returning to Moorabella.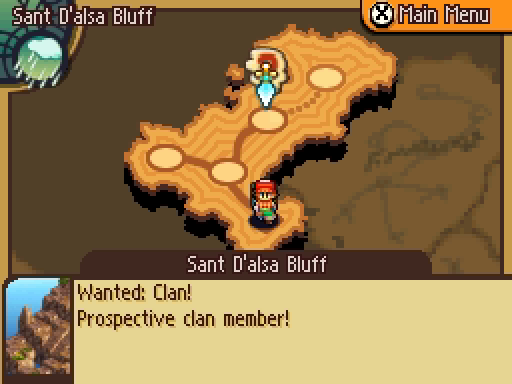 Because they have so many jobs, humes can be recruited in three locations: Targ Woods, Galerria Deep and Sant D'alsa Bluff. They'll show up in all three locations during Blackfrost and Skyfrost.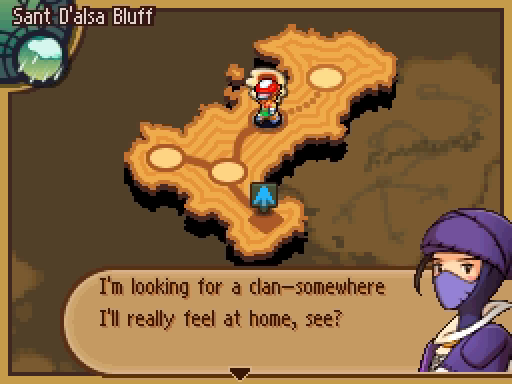 The last location, located in Ordallia, only shows up when you've made enough progress through the story -- I did this recruitment after completing the "Making Music" story quest. When I tried doing this right after recruiting Zoe, no unit appeared.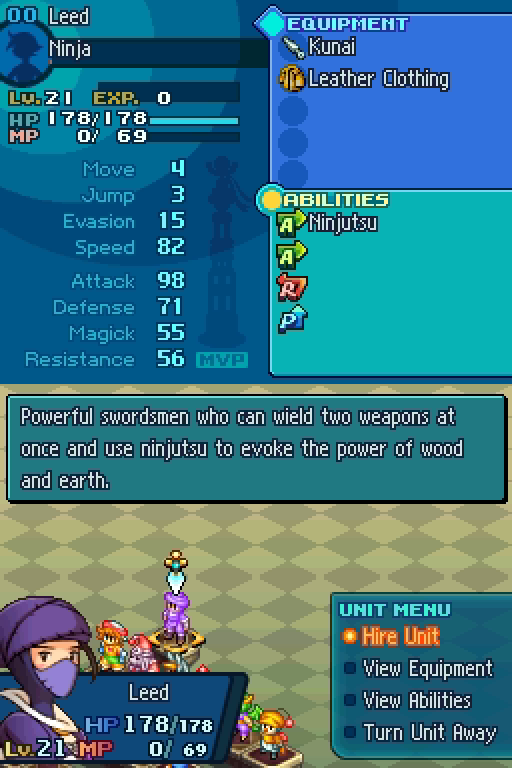 Ninja is pretty much always the best recruit for humes, even though we're going for a mage. The extra Speed really is worth it! Most mages have terrible speed growths, and we can always keep him as a Black Mage for a couple levels and get that Magick stat up.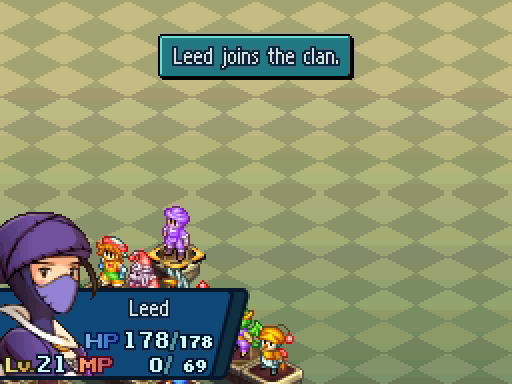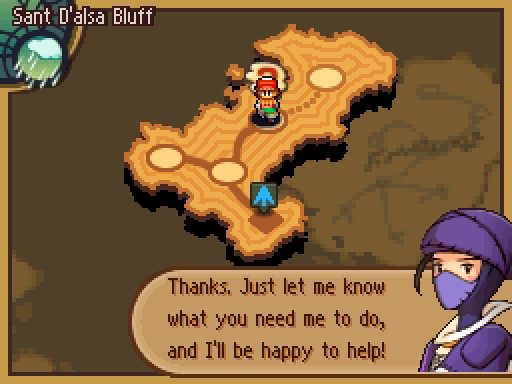 Welcome Leed to Clan Sawyer!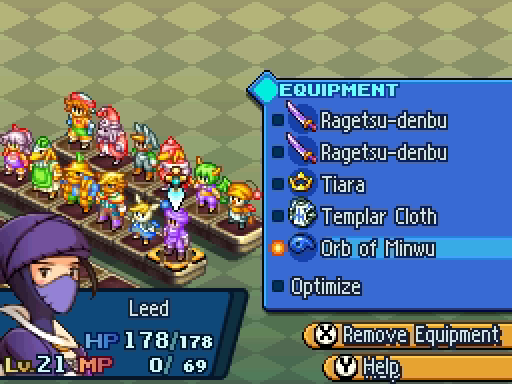 Of course, the other advantage of recruiting a Ninja is you don't have to teach them a bunch of Thief skills! Leed can start learning Dual Wield right away.
I will later fuck this up by switching him to White Mage before teaching him any of the Veils.
---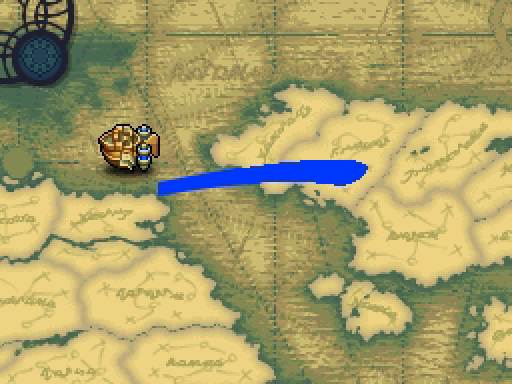 As you may remember, Samuel left the magicite with an appraiser in Moorabella. We're headed back there to see what they found.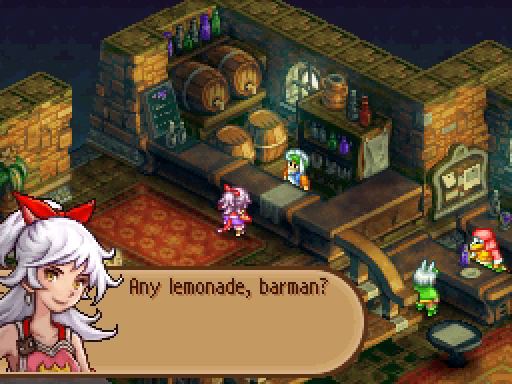 While Samuel and Cid are busy with that, Adelle is waiting for them at the pub.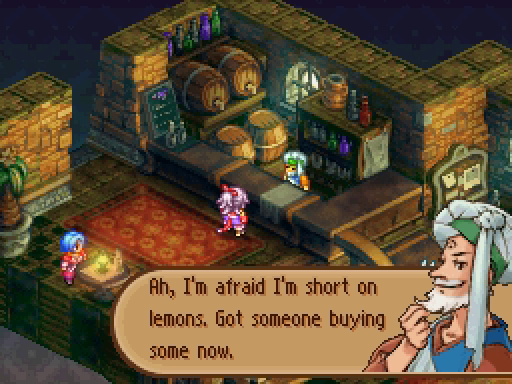 Wait, who is that at the table?

: That's a shame. But I'll wait. I've time to kill anyway.

: Eh? Not here to check on the quests?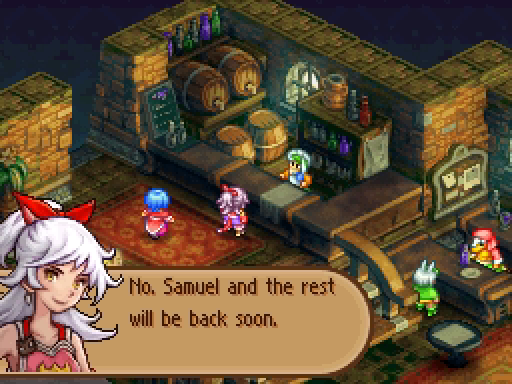 She looks a little familiar.

: I am, and you're not. If you've some tasty titbits, you're talking to the right gal. You see, I'm much more than just another pretty face.

: Yes... Better than the average hume in almost every respect.
Adelle backs away from her.

: What did you say?

: Come work for me.

: Huh? I... what? I-I'm with a clan, you know. The top-earning ace hunter, as it happens. Hard to just up and leave, see?

: That is... unfortunate. Thanks for the drink, barman. I would talk with you at greater length, but... work beckons. Fare well, hunter.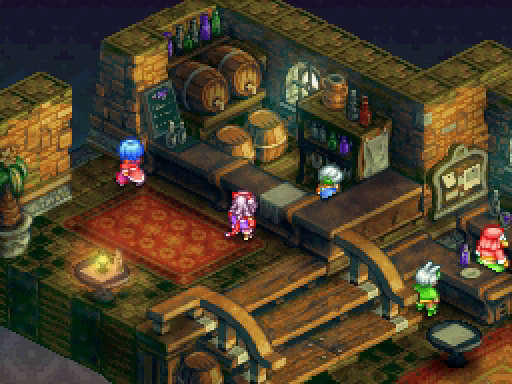 : Why...? Who was that?
Adelle wanders down into the pub, deep in thought.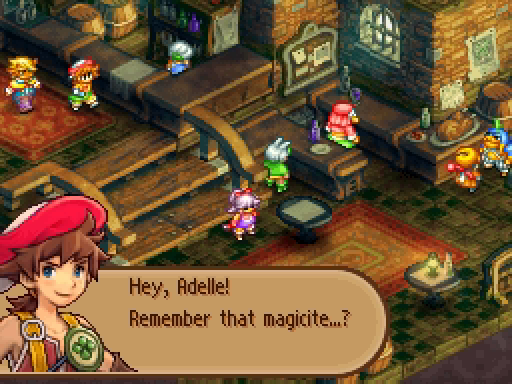 : Turns out it's pretty rare stuff. The appraiser wasn't 100% sure, of course...

: Aye, but it's stolen, as we suspected. The appraiser'd heard of it. Word is the rightful owner's put up a bill requesting its return.

: Yeah. We're gonna pick up the quest and bring the stone to him.

: Ah. Great.

: "Great"? What's with you? Something wrong?

: Nothing. Just, giving away treasure isn't exactly my style.

: Hey, we're just bringing it back where - Hey, you didn't sell it, did you?

: Would I do such a thing? If you're so concerned, why not go get your quest and bring it back now?

: Good idea. I'm gonna go have a chat with the barman!
I think this scene really shows off Adelle's character. She's very quick on her feet, immediately throwing out the "ace hunter" excuse to the weird woman and, later, excusing her quietness by saying she doesn't want to give away treasure.
She's also still thinking like a lone adventurer, keeping her doubts to herself instead of telling Samuel and Cid about her strange encounter. Or perhaps she's still on guard from being spooked by the woman's strange comments.
---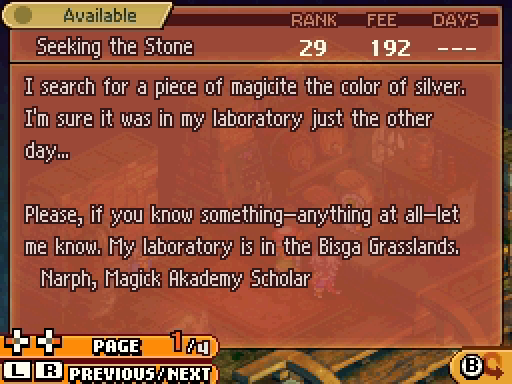 Now we're off to hand over that stolen magicite.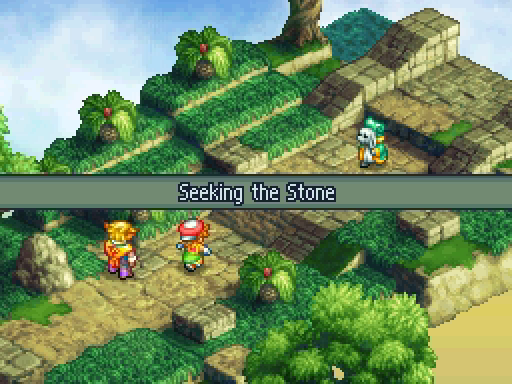 Of course it's a Scholar who lost it.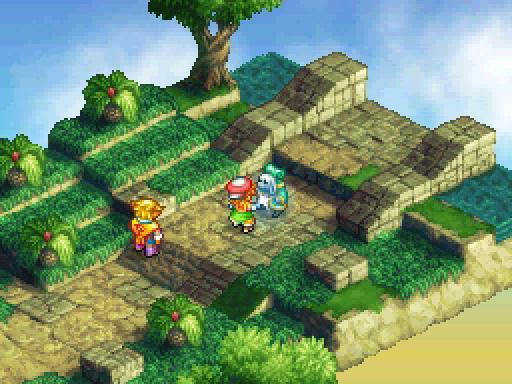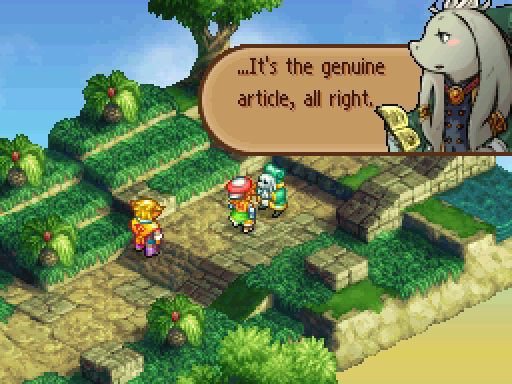 : Whew. That magicite's pretty rare, isn't it.

: So it is. You have done me a great service.

: Don't mention it.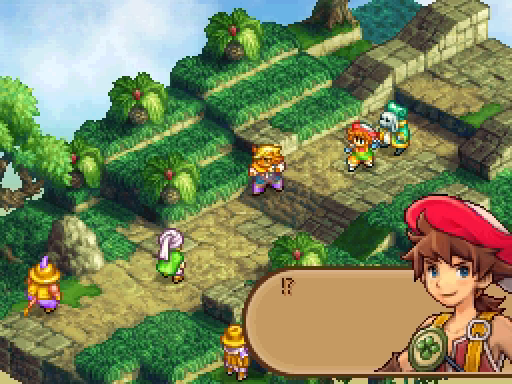 We're surrounded by enemies!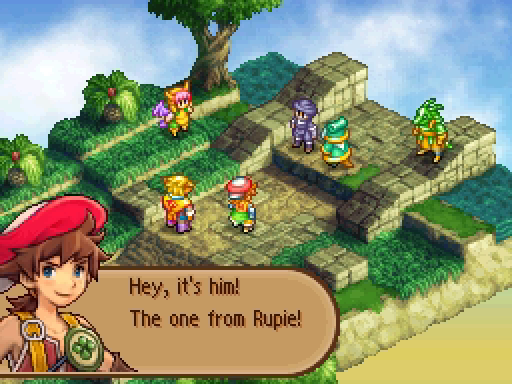 Oh. It's you.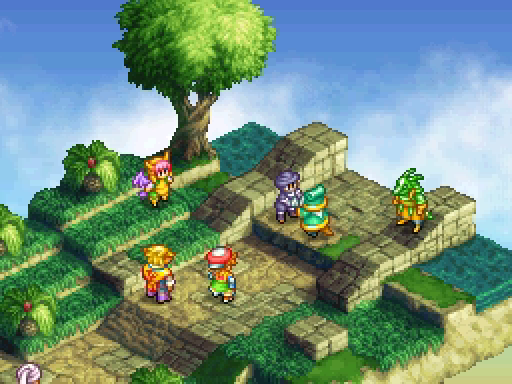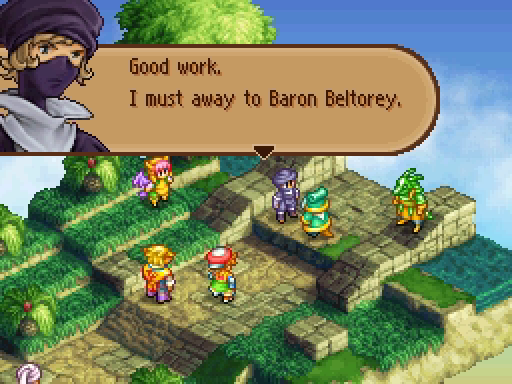 The Scholar hands over the magicite to the ninja.

: So you were behind this!

: Ah, I see you have failed to die yet again. How many times must we kill you?
He leaves.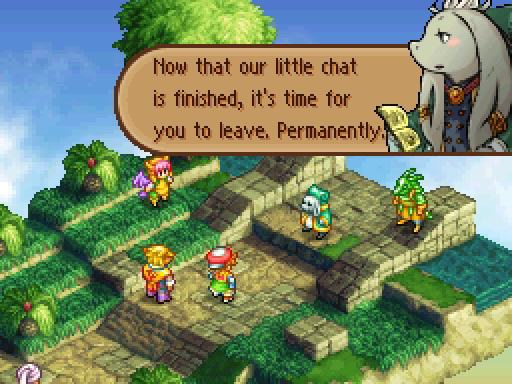 We have a Judge, we can't actually "leave permanently."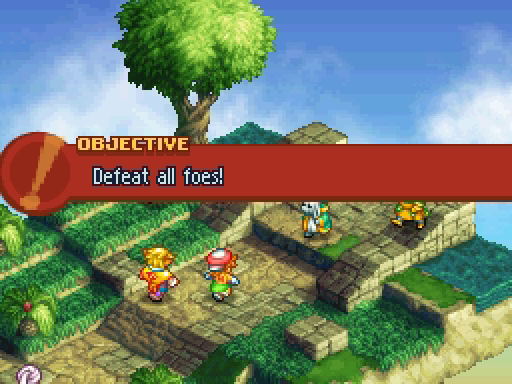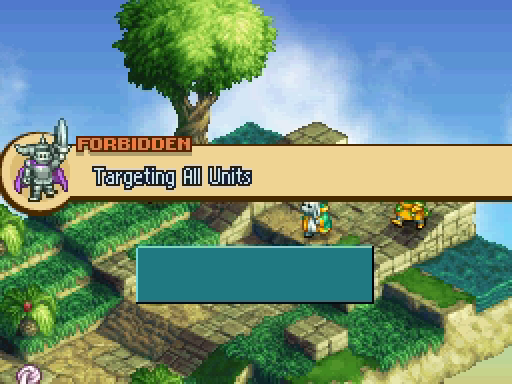 Another brawl, and a pretty lenient law to follow.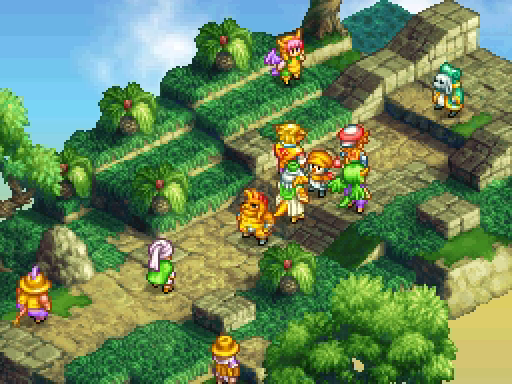 Tsing is a Berserker, because he might as well pick up one of their skills so he can unlock the other advanced seeq job. Lian and Imino are here for support, while Cid, Samuel and Zoe are our frontline attackers.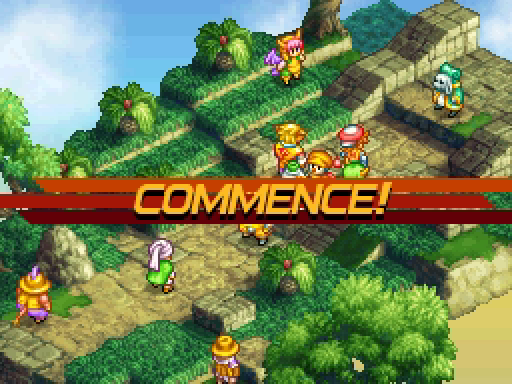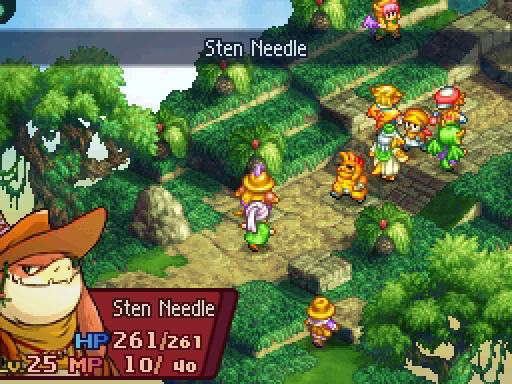 This Ranger is our first priority. With the law barring targeting all units, we can't use Awareness -- and as we've seen, it won't help us if he plants more.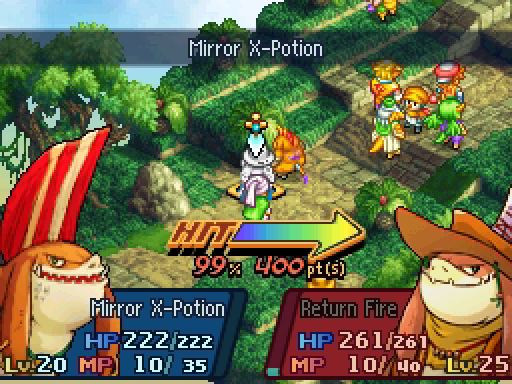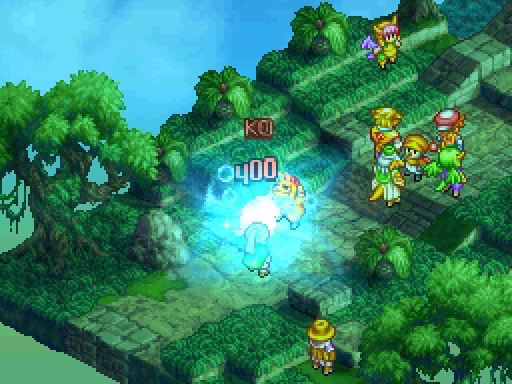 I feel no guilt for this. It's the only time I'll use Mirror Items this battle.
This is a really straightforward fight, and this update is starting to get too long. Nothing much of interest happens, though we do see our first Paladin!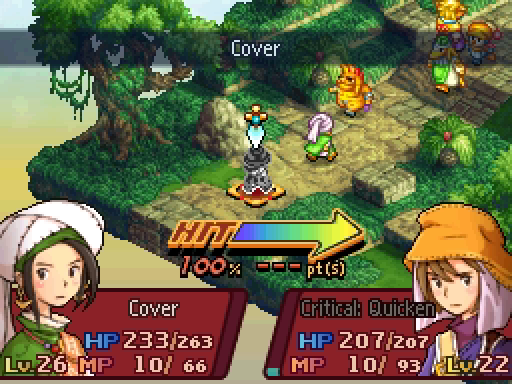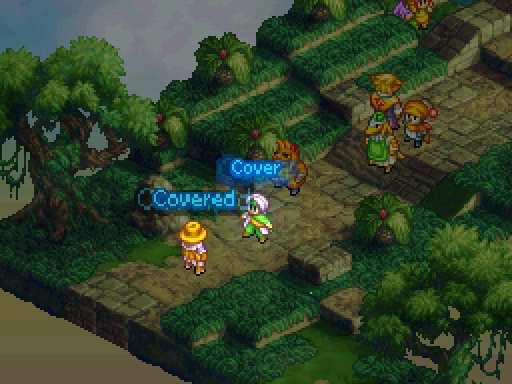 The Paladin job has a few unique abilities, which all follow their theme of "holy knight." One of their signatures is Cover, which lets them protect another unit against all damage.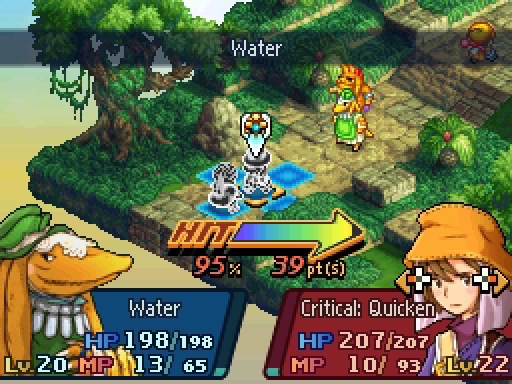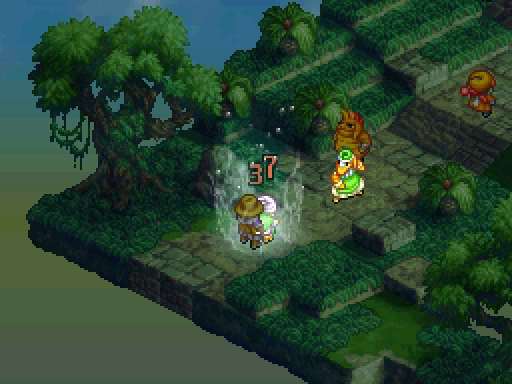 Now every time that Hunter is targeted, the Paladin jumps in and takes the hit instead. Cover only lasts one turn, but that's sometimes all you need.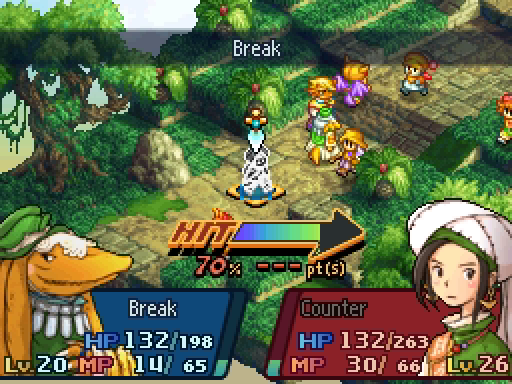 I think Cover is a buff and Roar might be able to remove it, but the easier way is to just disable the Paladin.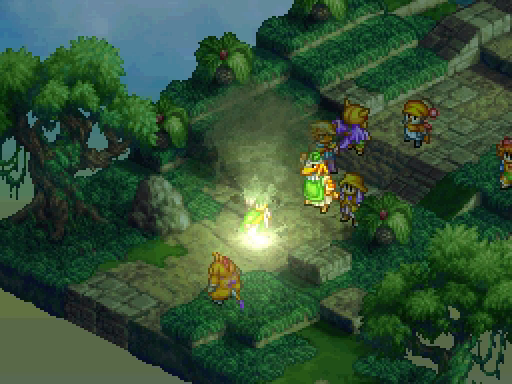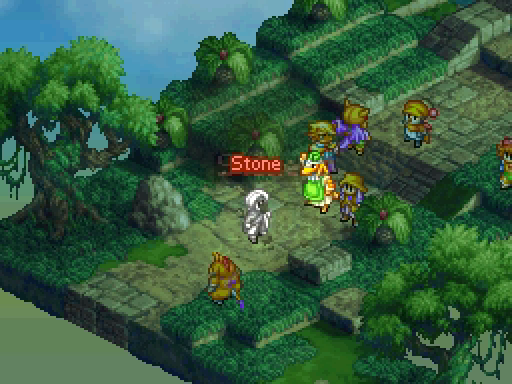 Like so. Stone, or Petrification, is a very powerful status that does not wear off. It's basically a form of death. Certain spells and item can cure it, thankfully, but the unit counts as KO'd in the meantime.
It's extremely rare. Only Bishops and (of course) Assassins can inflict it.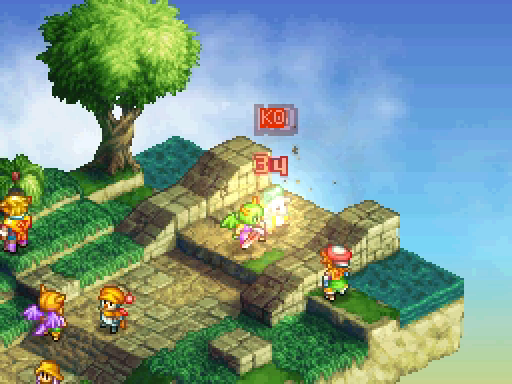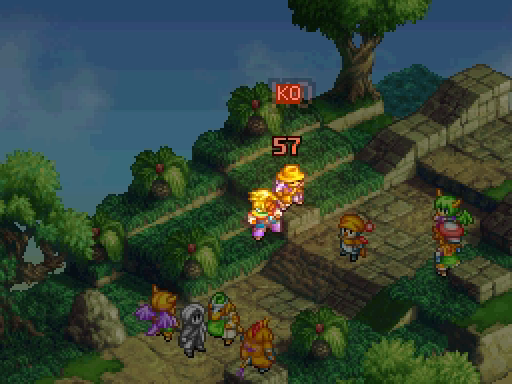 The Scholar didn't get a single spell off, and the Hunter wasted his time depleting Imino's MP. Everyone else falls pretty quickly.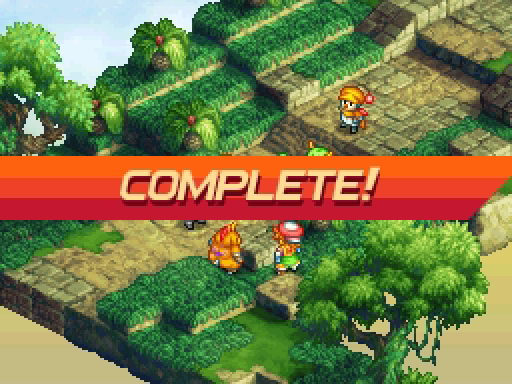 ---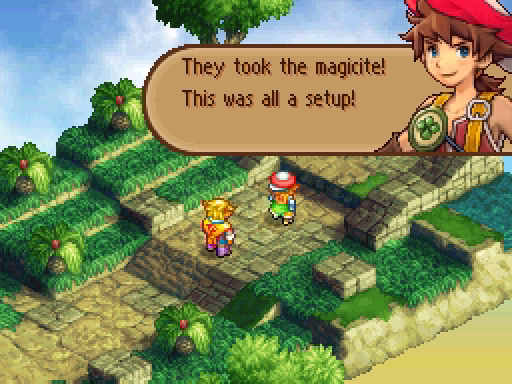 : Relax, you couldn't have known. The petitioner's credentials were flawless. We've no time to investigate every nu mou claiming to be an Akademy scholar. For now, all we can do is wait... and watch. We can't move until we know what it is they're up to.

: Cid... The way that guy talked to you before the battle... You know them?

: ...You could say that. They're part of Khamja... an organization working out of Graszton. Officially they wright sea-vessels and airships. Unofficially, they smuggle outlawed goods, and trade on the black market.

: So... they're a crime syndicate? In Graszton? Wait a second... Cid! They weren't the ones who shot you in Graszton!?

: I failed to die, it's true... but he certainly didn't fail to make living painful.
Cid tried to walk away from his life in the mob and they didn't let him.
I like how they just brushed past "Cid was in the mob." I wonder how many skeletons are in his closet?

: And they went through all that trouble to get the magicite...

: Aye. Which means it's not just any rare rock. As I said, best to wait, see how they move. Jump too soon, and you'll land in a pit of vipers. To town, Samuel. Kicking at the dirt here will only scuff our boots.

: ...You're right.
---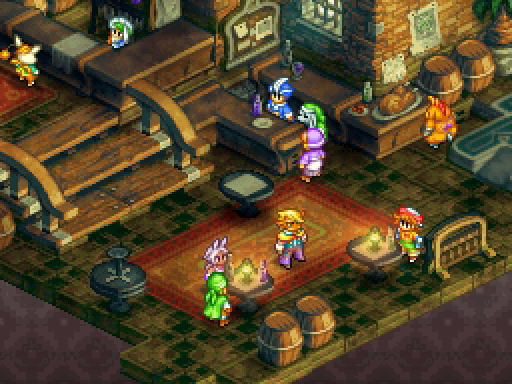 Clan Sawyer decides to wait at the pub, which is reasonable. After all, that's where we'll hear some juicy rumors.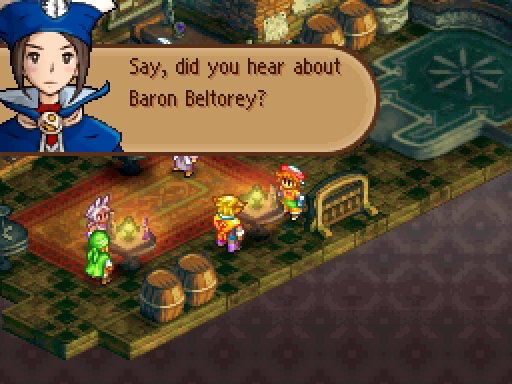 : The attempt on his life? Who hasn't? I hear his wounds may yet do for him.

: Beltorey... That Khamja guy was talking about him! He was attacked?

: His house had a price on a certain criminal's head.

: They know who did it?

: Them sky pirates are the streetears' favorites. You know, the ones come in from the east.

: Sky pirates from the east... He doesn't mean those two!? I'm not buying it. I met them... They really didn't seem the types to attack anyone.

: Baron Beltorey is the most powerful man in Graszton. The roots of his house run deep. Meaning he'd have more than enough to tempt a sky pirate fallen on hard times. Still... with Khamja on their way to meet him, and now this story... It's suspicious, to say the least.

: Let's check it out!
---
Thanks for reading! We're finally latching onto the main story arc, after "Can Samuel Go Home" in the tutorial.
Our clan is really filling out now. I see maybe one or two more recruits in the near future.
Next time: Quests.