Part 26: Update XXIV - Tier Lists Are Popular These Days, Right?
Update XXIV - Tier Lists Are Popular These Days, Right?
Alright, let's make a tier list. I'm going to be ranking our playable characters based on how much use they were to me in this playthrough so far. I might give some units more credit due to being useful in general even if I didn't use them myself that much.
---
-----
---
S TIER:
---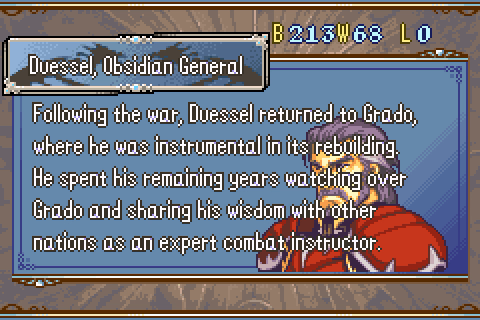 Duessel:
Duessel gets absolute top S tier. From the moment he joins all the way to the end, Duessel was an invaluable tank, could always be relied on to hold the line, and was more than capable of dealing out damage. Absolute god tier unit, Seth fucking wishes he could be this badass.
---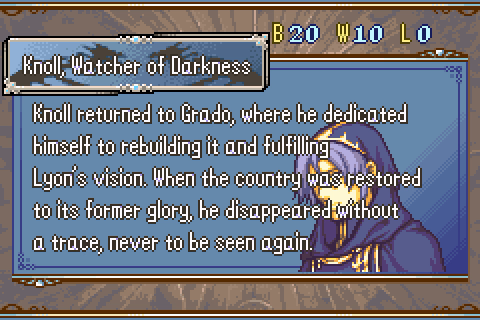 Knoll:
S tier on the phantom alone. Holy shit, the phantom is so fucking good. Though I'm not sure how much better two phantoms would be, so I still stand by not making Ewan a summoner too. But yeah, just the escapades in the final chapter put Knoll here.
---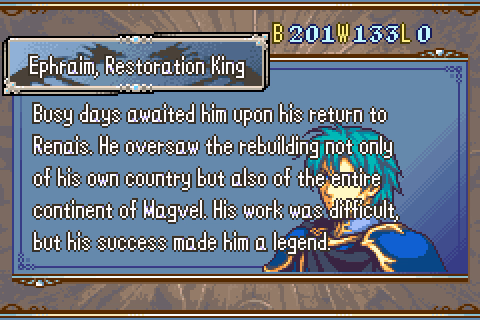 Ephraim:
Much like in vanilla, Ephraim fucking beats people up. He lands here for his bosskiller ability alone, plus I have all three of the units that helped me clear THE HORDE in the final chapter in S for their service, but you could also just load him up with javelins and he'd slaughter his way through everybody. Elite.
---
-----
---
A TIER:
---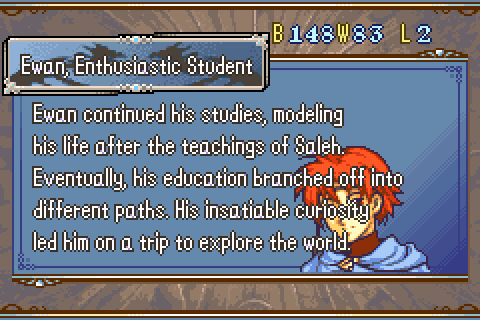 Ewan:
Super good magic user with staff utility. I could just throw Ewan into bad situations and he'd usually come out fine. Still not sure if Sage wouldn't have been better.
---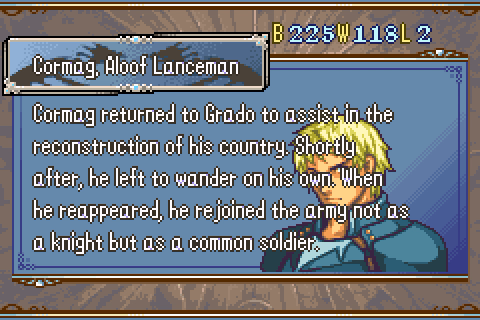 Cormag:
Cormag was just a great all-round flier that could always deal some big damage, be annoying as fuck on peaks, and get all over the place. Only problem: His weak RES made him a bit of a liability when mages were around.
---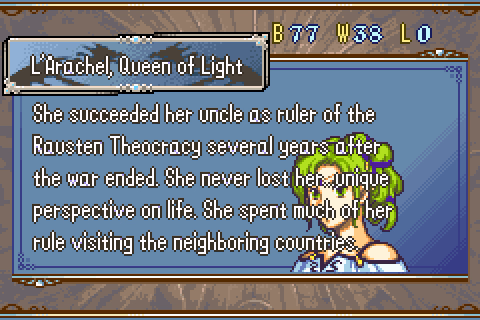 L'Arachel:
Top tier healer, and a useful dodge tank thanks to her ridiculous EXP gain. For a while, she was also the most powerful unit in the party. Great unit.
---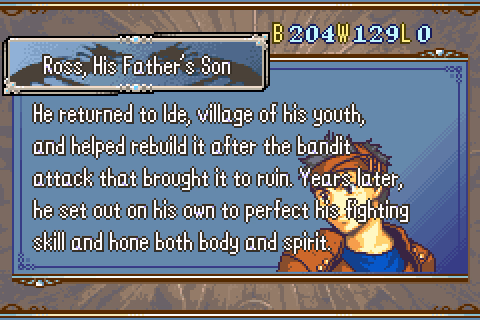 Ross:
Ross took off hard after promoting from trainee, and the move to Berserker made him even more powerful. Give him some hand axes and he'll absolutely go to town.
---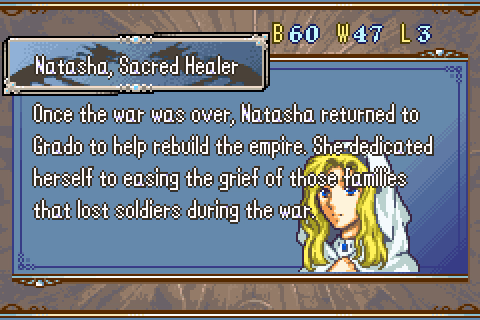 Natasha:
Excellent staff skills, the critability of light magic and the Slayer skill just turn Natasha into an all-around solid unit, especially in monster-heavy chapters.
---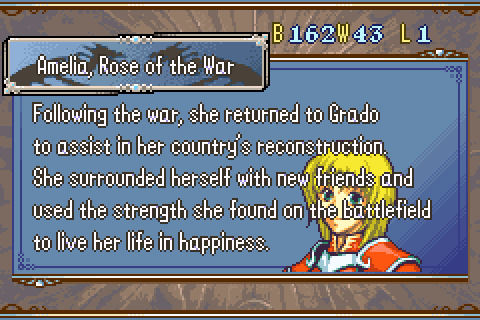 Amelia:
Amelia had a pretty hot phase for a while right after promotion, and while she never was a big killer, she was an important part of the crew. Chip damage is important too, and paladins are good at getting to places to chip.
---
-----
---
B TIER:
---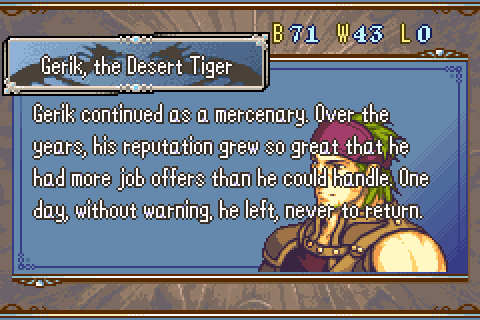 Gerik:
Like 50% of this placement is Nidhogg with horse movement. That 2-3 range with monster effectiveness was just sooooooo good.
---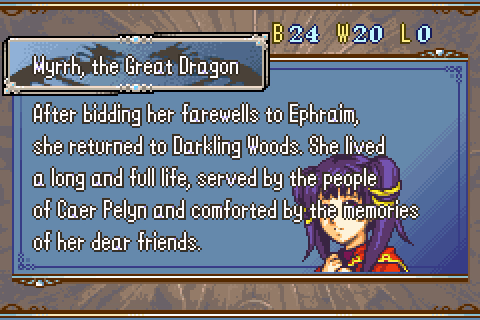 Myrrh:
Myrrh does exactly what she's supposed to - nuke the fuck out of some poor unsuspecting bastard. Her limited use dragonstone keeps her a bit limited in this list.
---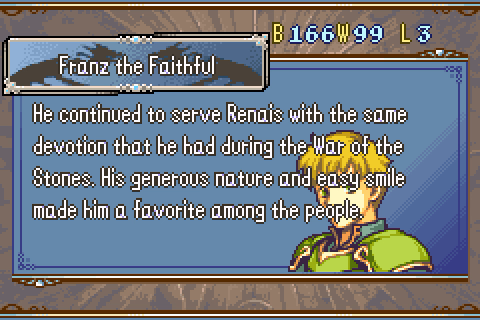 Franz:
Was very solid early on, but seemed to lose some power in the lategame as he seemed to lag behind. It's not that I couldn't have used him in the lategame... I just didn't. Still, his early game heroics land him in B tier.
---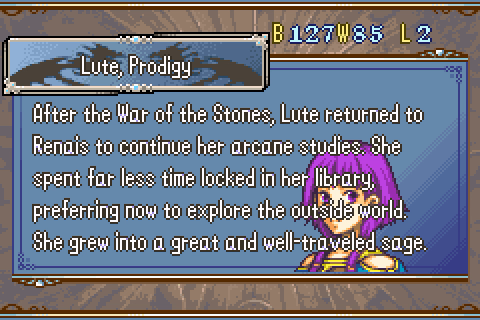 Lute:
Very solid contributor the entire way through. Staff utility was always good, and Lute was there for a long amount of time.
---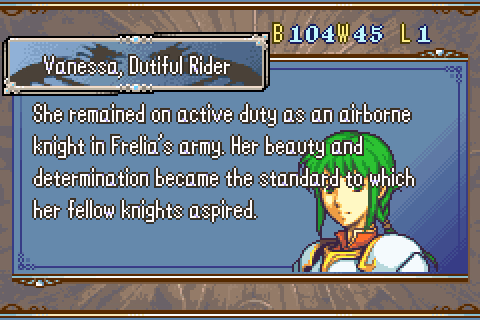 Vanessa:
Vanessa, much like Tana right after her, had a period of great use, but much like Franz, fell off during the lategame due to a lack of firepower. Maybe the postgame could lead to some use later.
---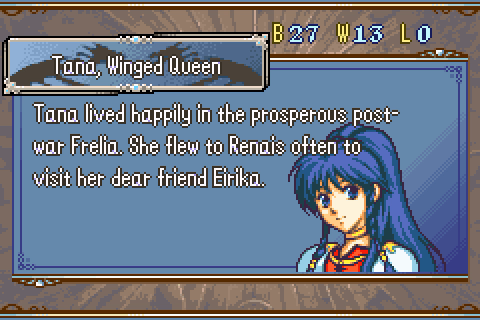 Tana:
See Vanessa. Basically the same applies to Tana, but with a later join date.
---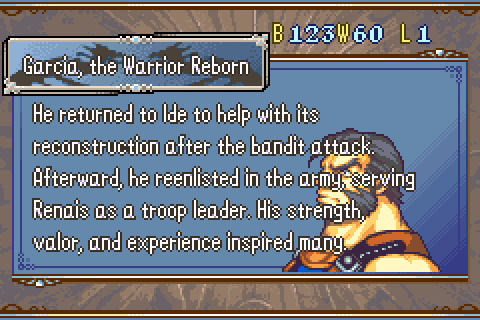 Garcia:
Garcia was kinda hovering around the line between "kinda useful" and "fairly useful", I guess? Like, during the lategame, he kinda fell out of use due to a lack of defenses and dodging, but still I guess he was still useful.
---
-----
---
C TIER:
---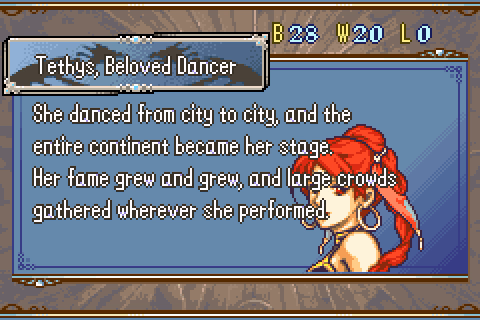 Tethys:
Staffbot, basically. She had some combat utility early after her joining chapter, but I never really gave her a chance later. She will however go up in utility big time in the postgame.
---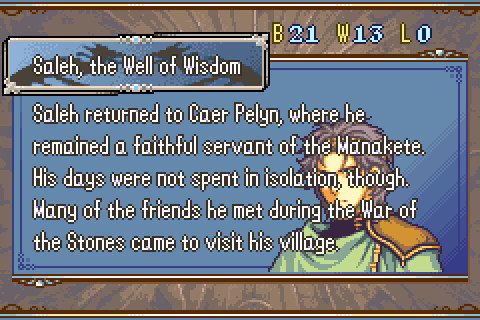 Saleh:
I'm sure Saleh could've been A tier. I just didn't need to use him because Lute, Ewan, Natasha and L'Arachel covered my magic needs mostly, leaving staff bot duty for Saleh.
---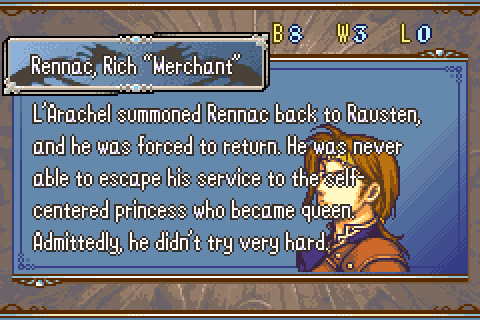 Rennac:
I basically have to have him at least here at the end of the group I regularly deployed, but he just had like zero combat utility to me, which is a problem.
---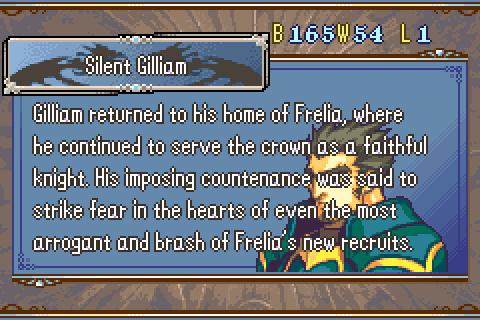 Gilliam:
Was incredibly useful in the early game, but fell off a fucking cliff in chapter 15 and just became entirely unusable due to RES problems.
---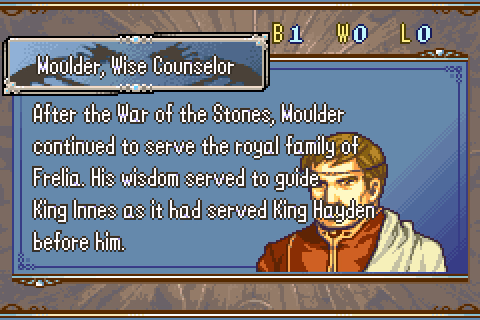 Moulder:
I mean... he got to heal for a bit until I got Natasha? That was useful I suppose, and I don't really feel like marking him negatively for it.
---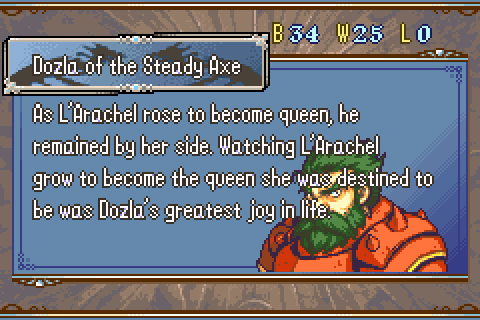 Dozla:
Meeeeeh. I might look more favorable upon him if Ross didn't just completely outclass him in every possible way.
---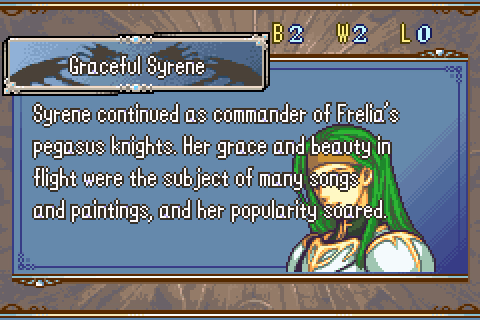 Syrene:
I mean, I talked a lot about how Syrene was good now. But, uh, I didn't use her. Like, at all. Two battles, two wins. She might get some use in the later postgame.
---
-----
---
D TIER:
---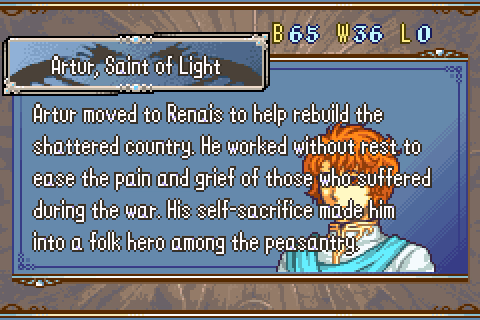 Artur:
Artur had some use very early against some monsters and did get a fair amount of levels, but he basically got done in by my decision to promote Natasha and Lute instead. He never recovered from that.
---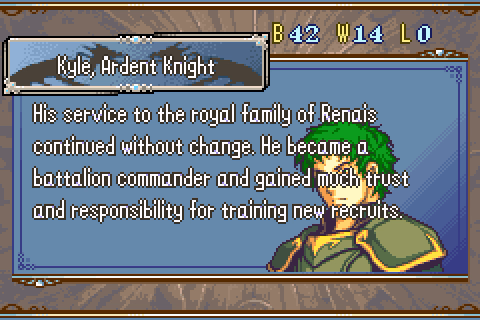 Kyle:
Never managed to do as well as Amelia and Franz and fell off the wagon because of it. Could've been just fine, but alas, I only had so many knight crests to go around.
---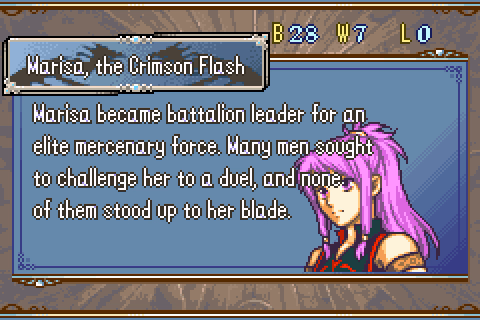 Marisa:
I didn't want to believe that sword locked units suck in this, but boy, the game sure taught me that lesson. I had more trouble using her than she helped.
---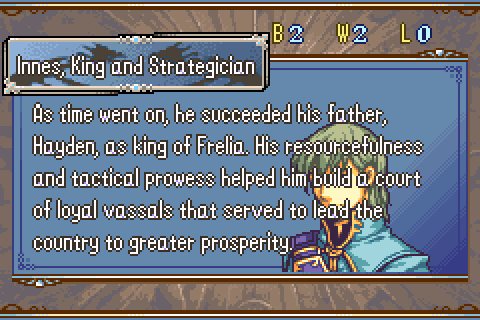 Innes:
I used him a bit in his joining chapter and then immediately benched him. So he goes in the benched tier. Simple as.
---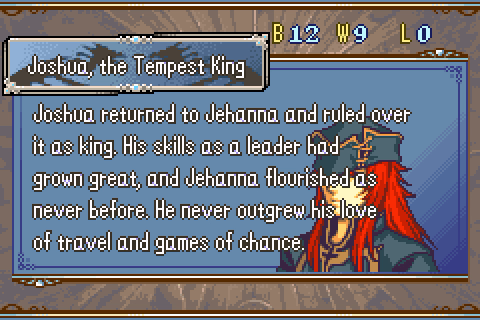 Joshua:
I wanted Joshua to work. I really did. Did you know this hack changes the swordmaster sprite for him to add his hat? It's awesome. But alas, myrms just suck in this.
---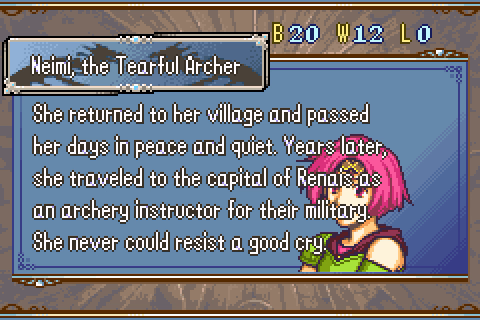 Neimi:
I used her a little bit and she got benched, never to return to the team. Not a lot more to say to that.
---
-----
---
F TIER:
---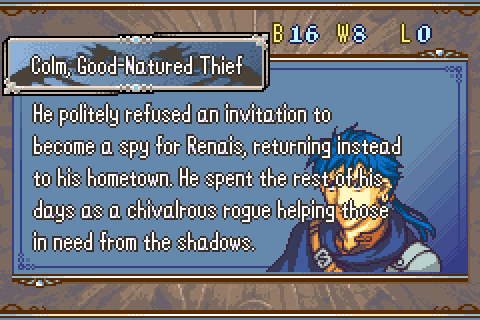 Colm:
OK, so, F tier is basically "D tier, but they additionally pissed me off". Colm got on my shitlist with those fucking escapades at Fort Rigwald. Yes, I know that was entirely my fault. Shut up, it's my fucking tier list.
---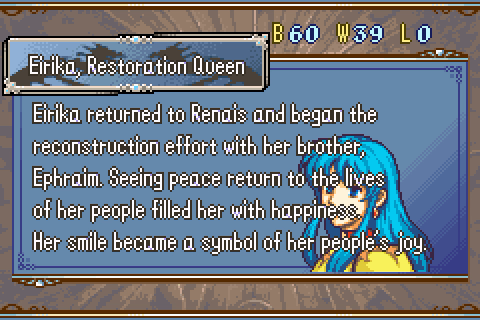 Eirika:
Eirika lands in F tier because of her STR growth bullshit she pulled early on. That is just some unforgivable bullshit. I'm sure she'll actually be useful in the postgame because her class is actually kinda rad, but for now, fuck her.
---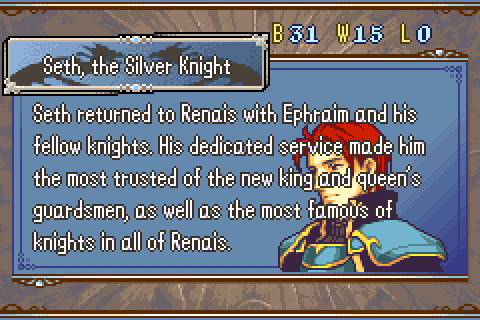 Seth:
Seth lands in F tier because his redesign really pissed me off. He had some utility early on, but the fact that he just can't fucking get experience at any decent rate plus his honestly terrible bases for his level make him into a Jeigan-type (under the definition "strong early, has use, then falls off hard as the game goes on"). We might end up using him in the endgame, though it'd take me some work.
---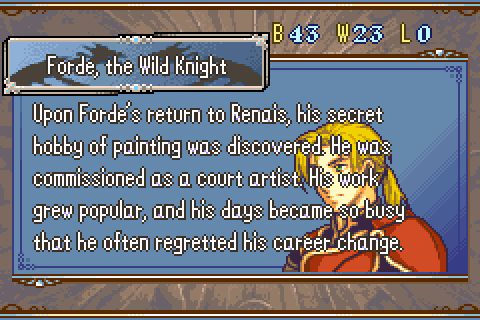 Forde:
Forde lands in F tier because fuck Forde. I gave him a fucking Dragon Tear and he got outclassed by Amelia so fast it just pissed me the fuck off. Fuck Forde. He gets the bottom spot.
---
-----
---
FINAL TIER LIST:
---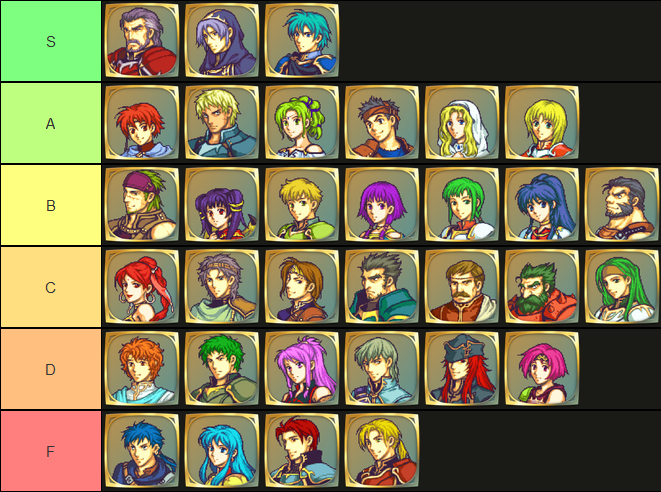 Alright, I'm sure if I tried to pass this off as a regular Sacred Stones tier list, I'd have several people calling massive amounts of bullshit. Not sure if I'm going to make another one after the postgame, we'll see.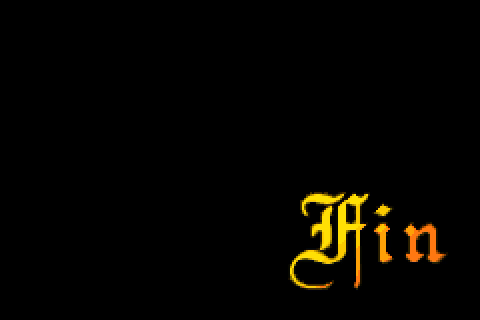 But that'll be it for now. I'm still in the planning phase for the postgame, so it might be that there's a bit of a break between this update and the postgame. We'll see how it goes.