Part 11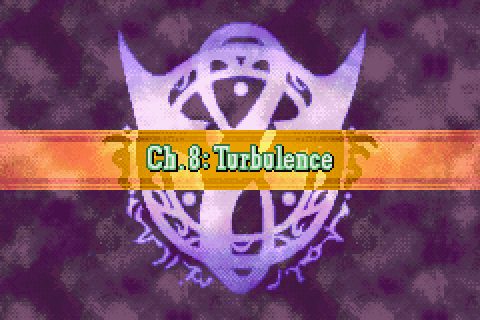 Back to making no sense, are we?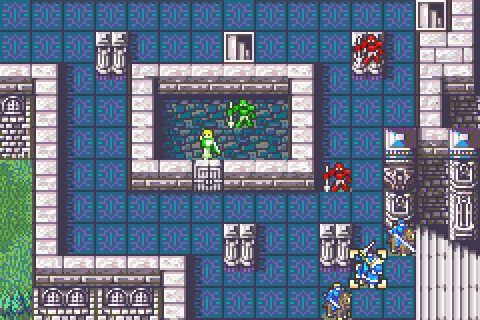 I mean, this is obviously not a plane.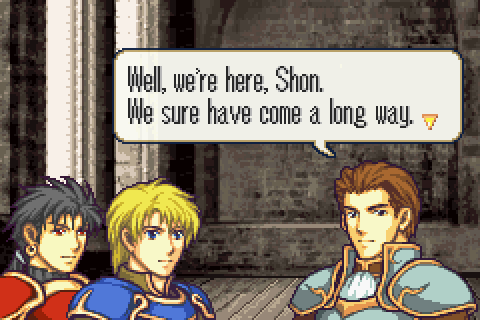 : So, I know we're in Valencian territory, but...

: This is an encampment where many ex-Valencian soldiers are taken captive. We're outnumbered, but that's not a problem, right? I'm thinking if we can take over and seize the castle, we'll gain some more support for our cause. Though, whether they actually join us or not isn't quite certain... It would be a good idea to deploy soldiers in some other areas. If our forces are concentrated into one group like this, it'd allow them to surround us and cut off any escape routes.

: Yeah, you're right. Though honestly, I wish the situation here hadn't come to this in the first place. I wanted to come here and become a real knight one day, but so long as Magnus controls these territories, that won't happen.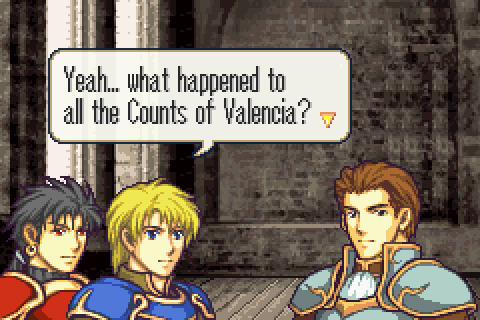 : It's hard to believe that they'd lose so easily...
Get ready, folks. It's time for the exposition dump to end all exposition dumps.

: ...Count Praze died many years ago, by poisoning, and left no heir. I was the Knight Comander of Regalia at the time, and took leadership temporarily, until some course of permanent action could be decided. But that time never came, and I left Regalia as well. Of course, I was born in Yulia, not Regalia, but I... detested it. Its ruler, Count Pellenore, is greedy and selfish. I love my homeland, but I detest its government. After all, Count Pellenore and Count Paris of Devisio both sided with Magnus when they heard that the Empire had begun a war with all others. Count Purlain of Alexia was killed in battle, as was his son, the only heir. Count Perry of Clepto does not have a true army, and so to survive, he sided with Magnus as well. I'm telling you this because you asked, Shon. But the truth is, Valencia's rulers failed to protect their people or land.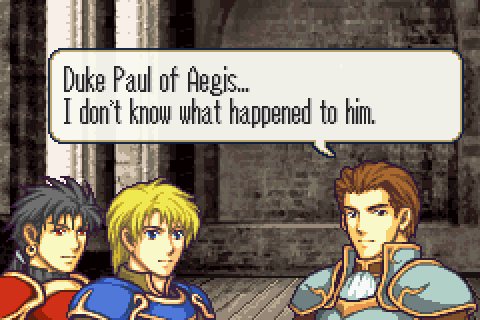 : But I presume that he died when Magnus conquered the city.
Paying attention to all that? No? Well, it doesn't matter. They'll be happy to explain it all again later.

: I... I'm sorry...

: There's no need to apologize. Yes, the truth is sad... But to move on and make change for the better, knowing the truth helps. Valencia is lost. The leaders that are left are traitors to their people. But when this happens, it's up to people like us to overthrow them. Isn't that what it means to "rebel", Shon?

: Y-Yes...You're right...

: Well said, Siegfried. This is why I follow you.

: Thank you, Corben. But the time for words is over, and the time for action is here!
Well said. But first, how'd you like a little more talking?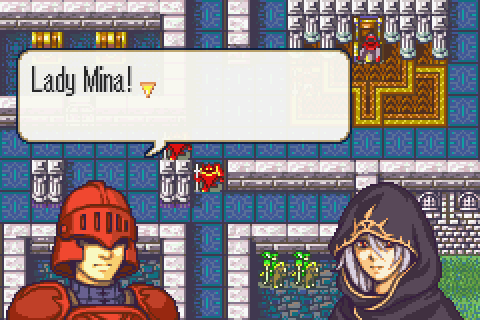 : A number of insurgents have broken through the gate! How should we engage them?

: So what? Send some of the guards.

: The guards have already engaged the foe, my lady. Should we deploy our main force?

: Go ahead. I want everyone in formation immediately! Repel the invaders!

: Yes, Lady Mina!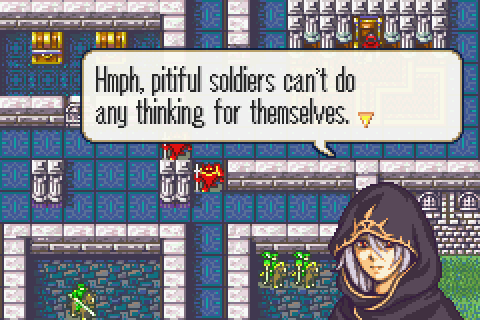 : Must I truly shout such basic commands for them to take action?
If they're controlled like player characters, then yes. Now can we finally-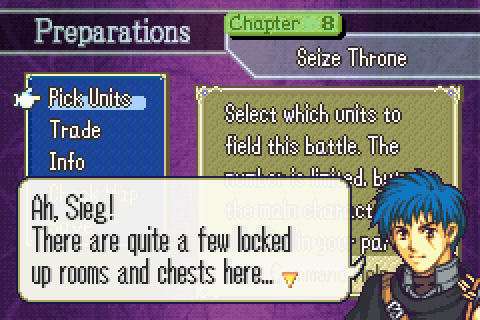 Son of a...!

: Just...keep in mind you'll need some way to access them. Naturally, I'll leave the details up to you.
Yes, fine! I'll deploy you, you git! Now shut up and let me talk.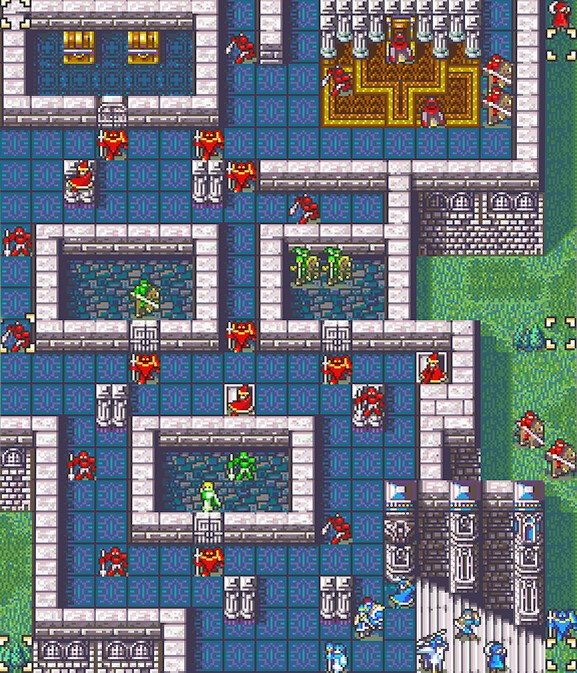 Anyway, this is a map for magicians. And axes, presumably, but we're not deploying Noah, because everyone's Level 5 or below, unpromoted. The Armor Cutter we got last chapter will also come in handy.
Also, notice the folks in the cells?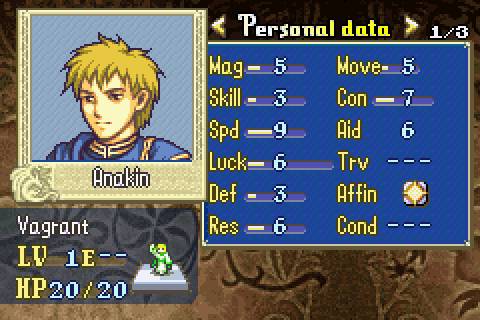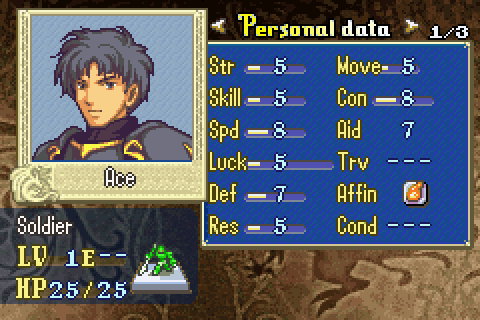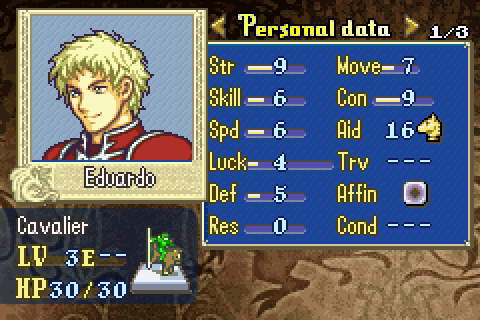 Yeesh. Compared to our dudes, these goobers are out of their league. They're also unarmed, but we'll be able to fix that.
You might have noticed that one of them has a unique class, Vagrant. We'll get to that.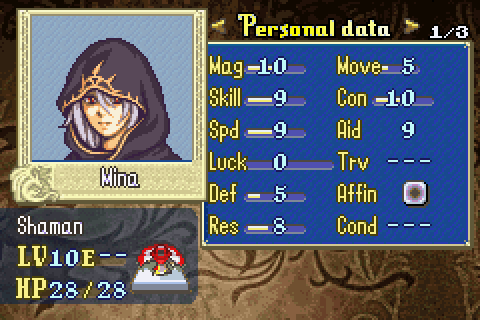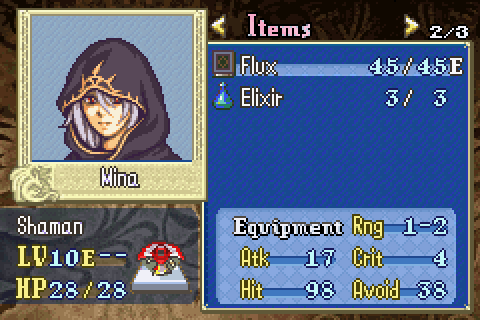 Mina's not too bad. If we wanted to, we could squash her using Nothung, but there are more deserving characters.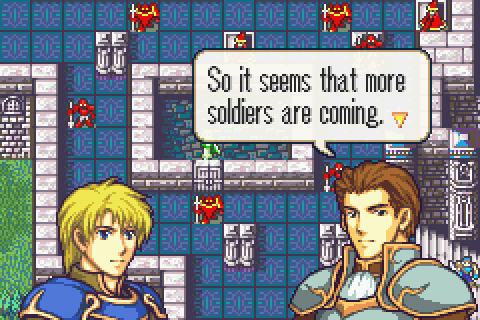 : Father? H-How can you know this already? The guardsmen have just retreated deeper inside... They couldn't have sent for reinforcements so quickly. Could they?

: Hm...

: What?

: It's nothing. Let's continue our attack before they get a chance to retaliate. And I have to get to the prisoners before Magnus decides to kill them...
Siegfried's talking out of his ass, by the way. There aren't any reinforcements in this map.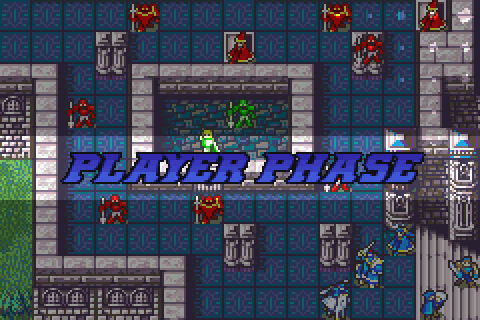 Let's roll!
Player Phase:

Enemy Phase: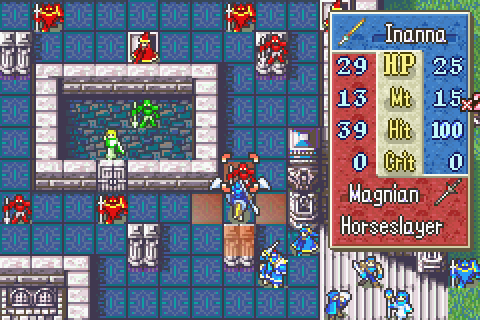 Right off the bat, we can take out this soldier loitering near the entrance.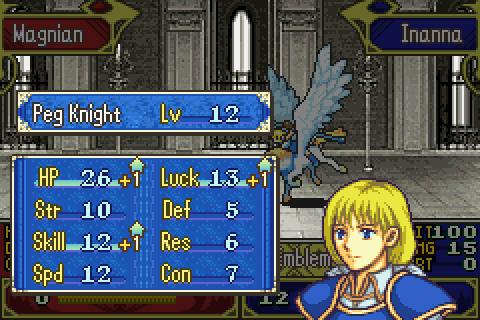 Why are we building up this lady, again?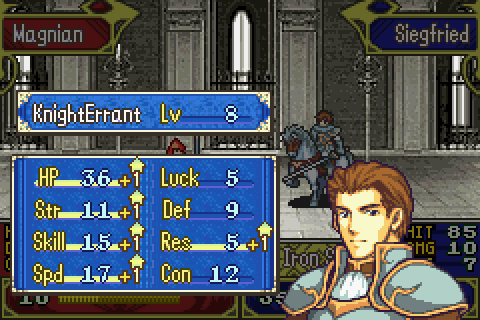 Can't be impressed by that, since you'd have to be in a pretty poor chapter for his growths to go bad.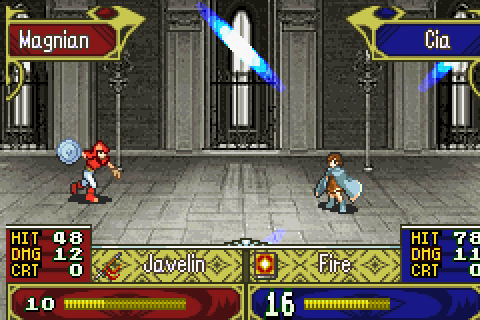 Cia's in the chapter instead of Arthur, mostly because her level's low enough to make these folks a decent source of experience. We'll want all our guys to be a pretty good level by the time Act 1 is over.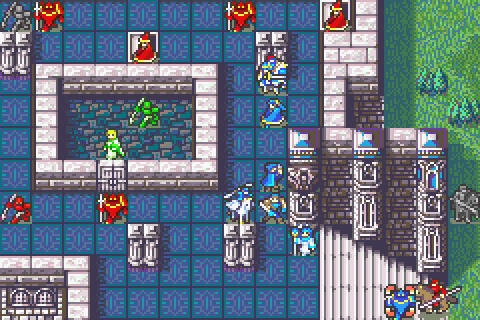 Kevin's lagging behind as well, in both the literal and figurative case.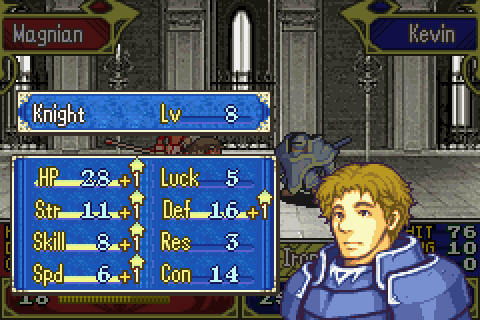 But boy, does he want to catch up.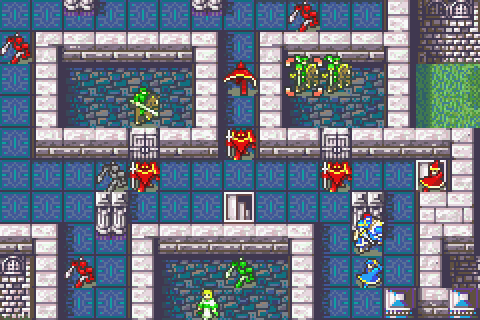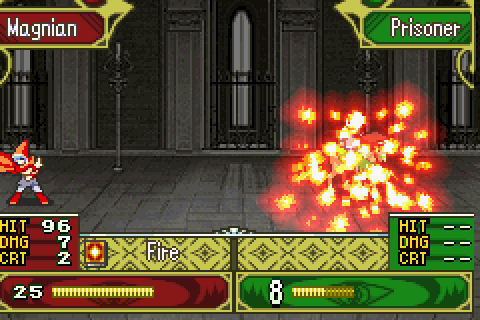 These troubadours are in a bad way, but I don't know why I should help them. Near as I can tell, they don't actually say or do anything. I suppose I could save them out of a feeling of duty or whatever, but I'd honestly have to rush to do it.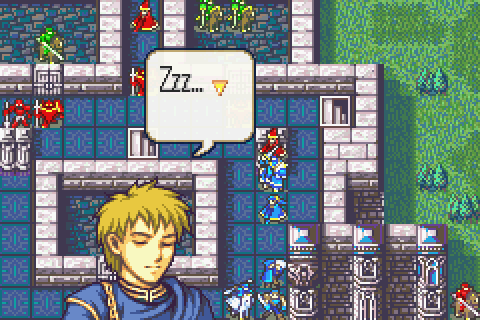 At the end of the enemy phase, we get a brief interlude.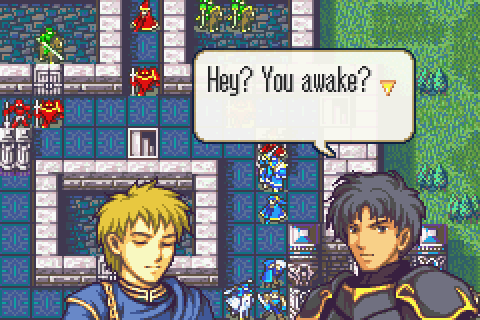 : Zzz...

: I guess not... Damn, this guy does nothing but sleep. Though it looks like he needs it...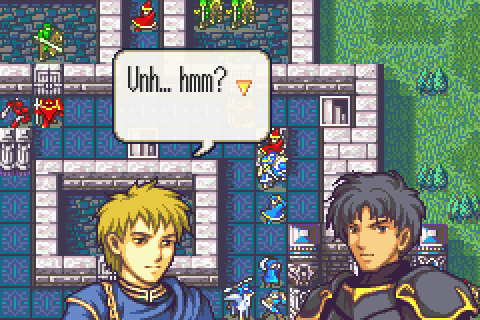 : Ah, you're awake.

: You know what's happening over there?

: I'm not sure, but it sounds like a battle.

: I wonder who would attack this place? You never know...

: What do you mean "you never know"? Man, you're a real drag sometimes, Anakin.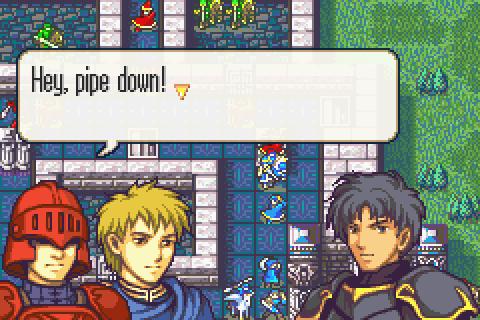 : If you don't shut up, no stay for you. We'll execute you on the spot!

: That must be it...There must be a battle happening. Some way or another, we need to get out of here...

: Hold on, I can hear the soldiers from here...

: What's up?

: The person leading the charge is a brown haired knight. That's all I could get.

: Well, out of the people who might come to liberate us... I met the mercenary Kelik once, and he has jet black hair... So maybe it's the rebellion led by the former knight? He's been fighting in Atheya. Maybe the rumors are true... He could be bringing his rebels here to Valencia after all.
Blazer, as much as I try to be charitable, just because the characters don't know who it might be doesn't mean that we need a rehash of what we already know. It just takes up space and wastes time.

: Ah, well perhaps that swordsman is among them?

: I doubt it. That one doesn't seem like the kind to conform to an army.

: Well, anyway, hopefully they'll come to free us.

: If the knight is in charge of this then we're probably his top priority.

: Good to hear. I suppose we should just stay put then. In the meantime, I'll get back to my nap...

: Anakin?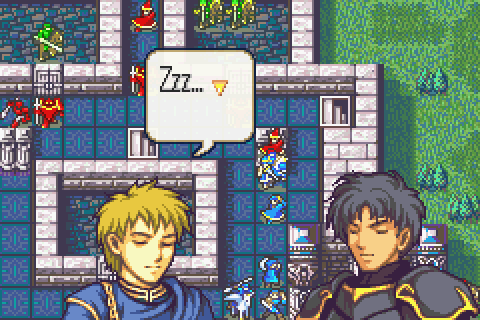 : ...I guess I'll wake him up when we're free...
I suppose it's not too spoiler-ish to say that the guy with the unique class is yet another one of our main characters. So we've got a jerk, a wimp, another jerk, and a narcoleptic. Our heroes.
And speaking of our heroes...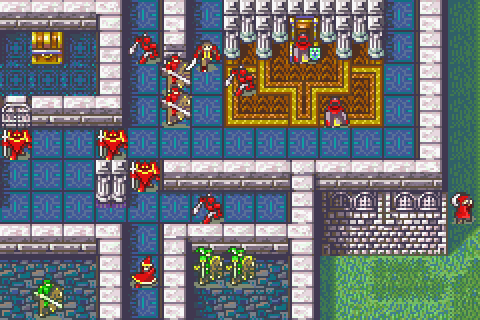 Look who's all chummy with the boss of this chapter.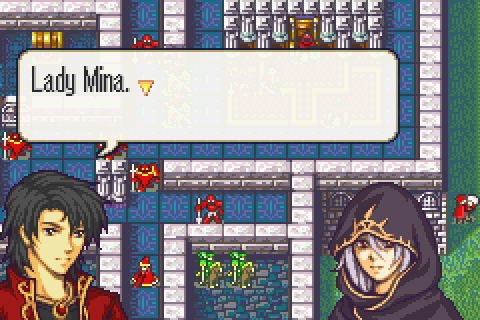 : Thank you for all the help thus far. You've really taken a risk helping us out, but we appreciate it. We've gotten all the documents about the Raison Runes that we needed. The blacksmith I'm going to take it to is the greatest I know. If anyone can implement those runes into a sword, it'll be him.
That's some random French in there. Of course, once you see what the Runes of Reason create, you'll agree that they deserve a fancy name. Perhaps a fancier one.

: Yes, yes, just remember your part of the deal.

: Of course. If there is anyone who can find Rana, it's us. We'll give him your message.

: .......

: I'd like to continue speaking with you, however...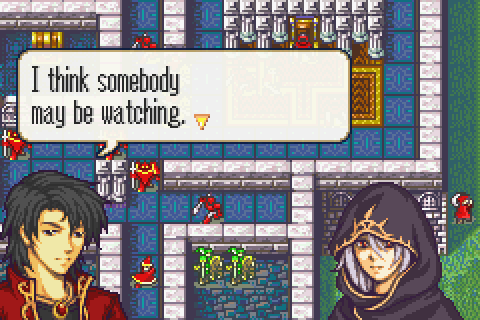 Meta.

: I'm going to leave after this battle is done with... What about you? Are you really going to stay?

: Yes. I don't have a choice. I... really want to see him, one last time... But at least, I trust that you'll give him my letter...

: Yeah. I've never failed a client. I won't start now.

: ...Sadly, as the leader of this force, I have no choice but to stay. Fate is cruel, isn't it? Cruel, and unavoidable...

: If that's how you truly feel, then I respect your wishes.

: Goodbye, Kelik...and... thank you...

: Farewell to you as well, Mina.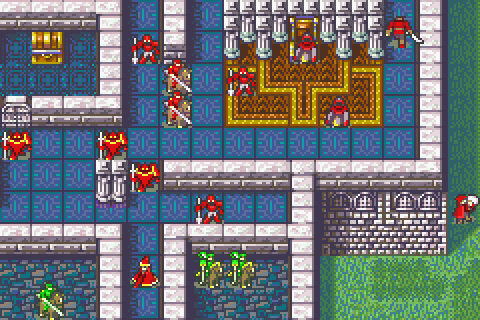 You know, while we would have gone from the Blood Knight to this had we skipped the gaiden, doing two sympathetic characters in a row is just a little too much. At the same time though, I think Mina might have been a bit better done in terms of characterization than Lorraine, even if she hops back and forth from calling her soldiers incompetent to moping over her love that she'll never see.
I guess what I'm saying is that she has more character traits, even if they never seem to interact with one another.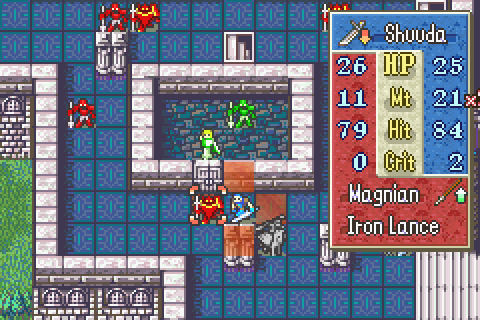 As I said, the Armor Cutter is very helpful with all these knights about. This knight in particular drops a door key if we didn't bring Althares. I like that. It's Blazer trying hard to make sure that the player can't get stuck if they decide to do something stupid.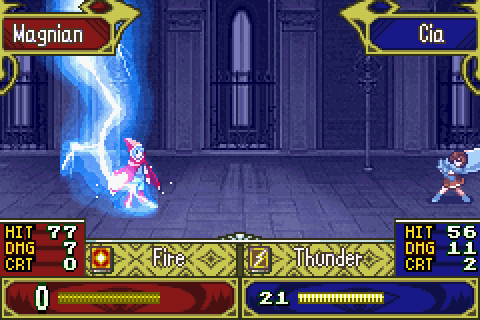 Putting our new Thunder tome to use here. It's on the heavy side, but it's good for when we want to take foes down in one shot instead of two.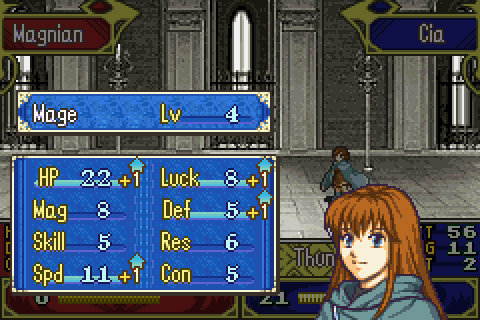 And until our mage here gets into the mood to gain magic, we'll be wanting to use it a lot. At least she's minimizing the speed problem.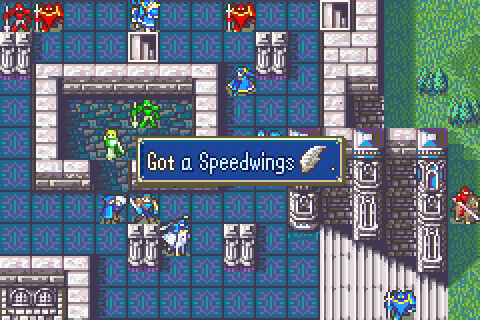 Meanwhile, killing the cavalier here gives Kevin a much-needed speed booster. I'd also give it to Corben if I decided to bring him, but I didn't, so I don't.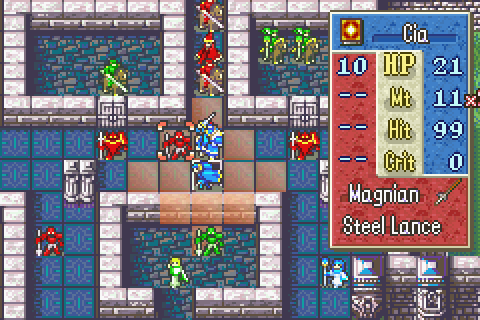 The knights here are all immobile, so we can safely just run around them to get the moving enemies at our leisure.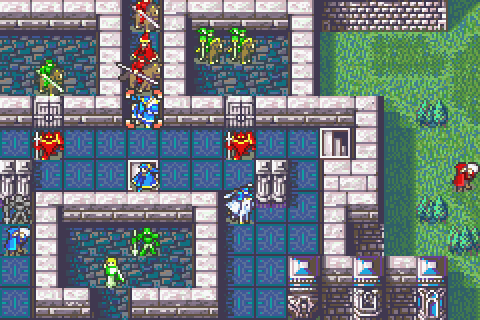 There are some cavaliers here, but we can corral them into this tiny chokepoint.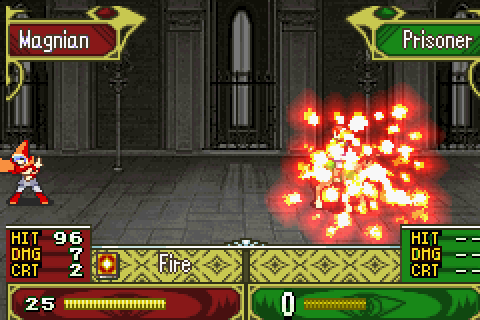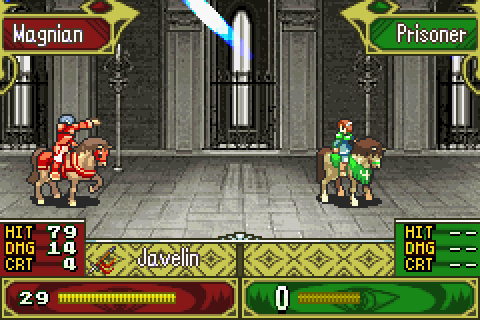 And there go the Troubadours. Once again, I really don't know what the point of their existence is, especially since I probably couldn't save them without sacrificing a whole lot of experience to Siegfried.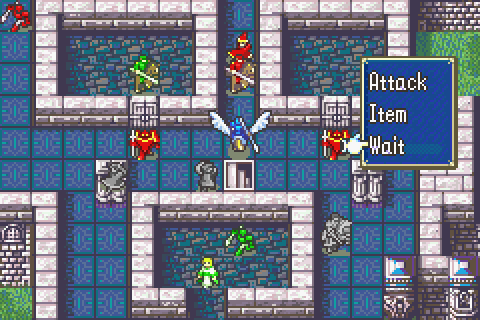 As Siegfried moves back down to recruit the first two, Inanna fills the gap.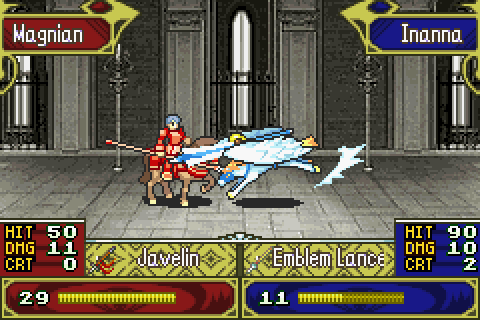 It's a little difficult, since she's not the most defensive unit, and her evasion isn't that high yet.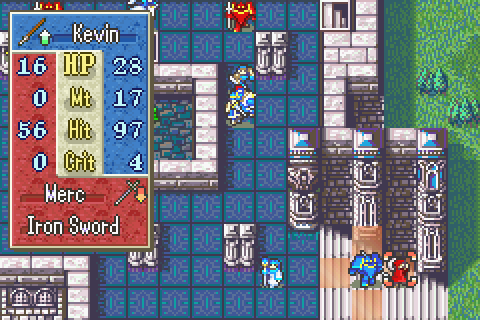 To complement the door key, here's a thief with a chest key. This'll come in handy, actually.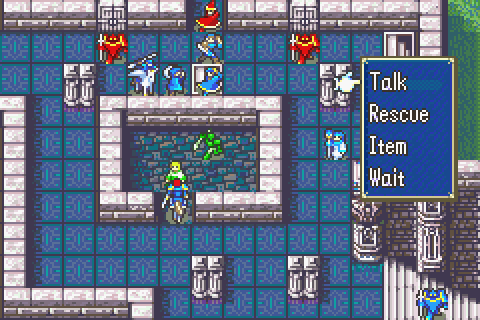 And now, it's recruiting time.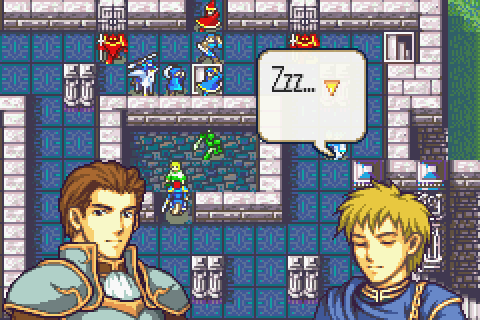 : Are you... awake?

: Huh? Oh... Are you in charge of this army?

: Yes, and who might you be?

: I am Anakin, just your typical vagrant.

: A... beggar? Why has someone like you been put in a prison?

: I really don't know. One day I cruised into town and started telling tales of the numerous rebellions scattered throughout the land. I was trying to give the oppressed people hope. Then Magnus came all of a sudden and just locked me up!

: Oh, well, that's understandable, for Magnus... They probably saw you as a threat to their own control of Valencia. So, your skills with words are used for more than just begging, huh?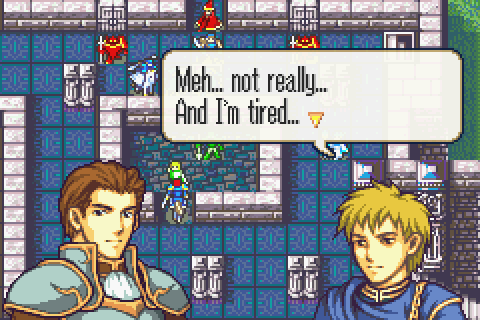 : A tired guy is no threat to an empire like Magnus...

: Well anyway, can you fight? If not, it might be better if you just stay here until the battle is done...

: Who said I can't fight? I can use light magic. Though I never got that far into my studies. I just barely remember how to use a Lightning tome... I think...

: Well, it's your lucky day. I only have one, though.

: Gah, now I have to fight...How is that lucky? Well, I suppose I'll see what I can do...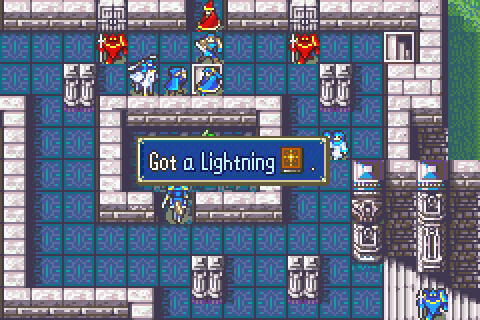 A free Lightning tome for Arthur? Sweet! These three folks are leaving after this chapter, so we should loot the free gear that the game gives them with wild abandon.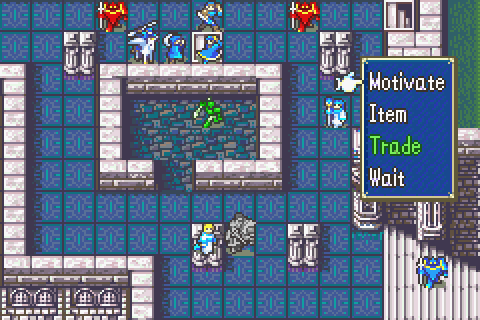 So as Anakin said, he can use Light magic, but there's one more thing about him. Something so special that he needs a video to demonstrate it.
TLP - Anakin's Motivation Quote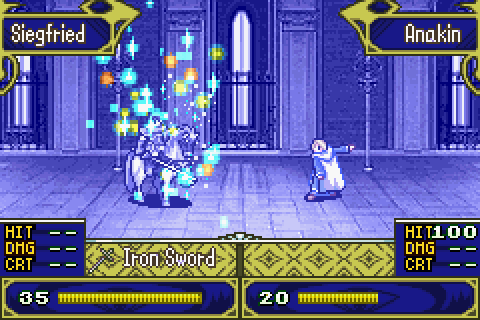 Yes, this little guy is not only our bard, but he also refreshes people with voice acting. That's rather impressive from a technical standpoint, but it's also rather silly. For one thing, if you're going to be offering people encouragement, why pick such a generic quote to use? Why not something like "We're not done yet!" or "Let's keep moving!" or "BLOOD AND THUNDER!"
Still, voice acting is definitely ambitious. I can't fault Blazer for trying it, even if the execution is a little bland.
Suitably empowered by fortune cookie slogans, Siegfried can run over and grab Ace.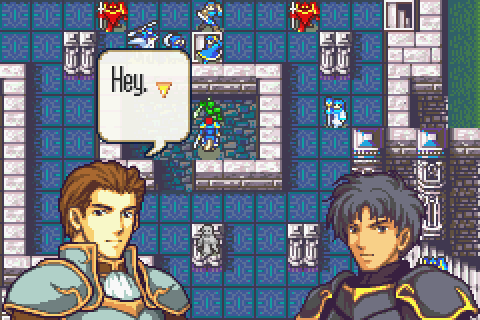 : Sir Siegfried...thank you for freeing us!

: You can flee this place now. You are also free to join us if you desire.

: I've had a lot of time to think in this prison. I decided that I will fight alongside you. It's the least I can do to repay you.

: Alright, although you don't have any equipment...

: I was completely disarmed when I was taken prisoner, so...

: No, it's alright. I'm prepared for this. I knew that some of you would want to fight but be unarmed so I brought a few spare weapons with me. Are you feeling healthy enough to get into the fray though?

: Oh, I'm fine, and this'll do. This is pretty considerate of you. You have my thanks.
And we have another Iron Lance and Javelin. Nice haul.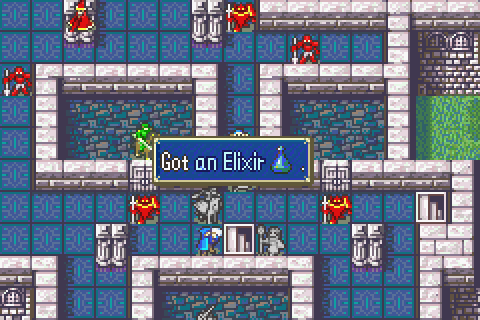 Blazer, this should come as an odd complaint, but would you please stop giving me so many Elixirs? At this point, I'm just selling them anyway.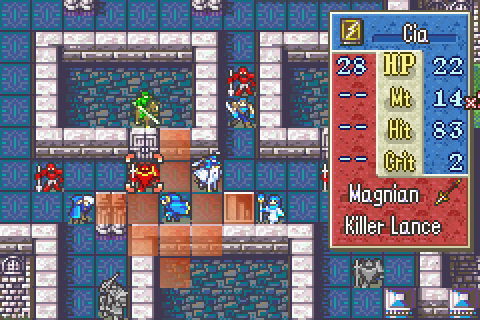 It's a very good idea to have a ranged option on this map, since the knights are actually quite strong.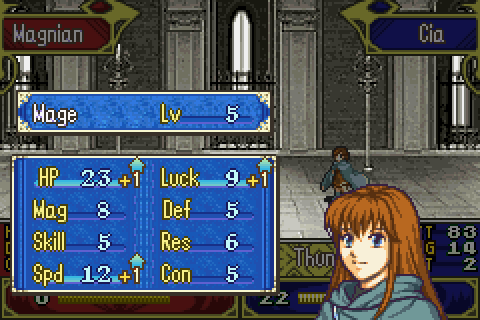 And it's very fortunate that Cia's base magic is so good, because she doesn't seem to want more.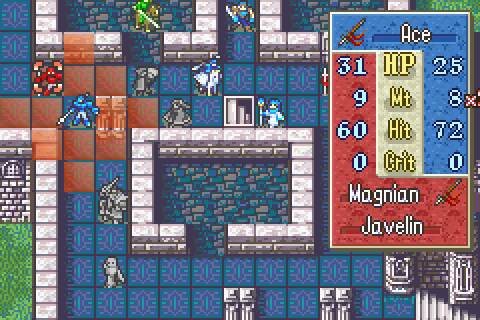 So the main problem with this map in regards to the new folks is that the enemies are a low level presumably for their benefit, but they can't really do much against them.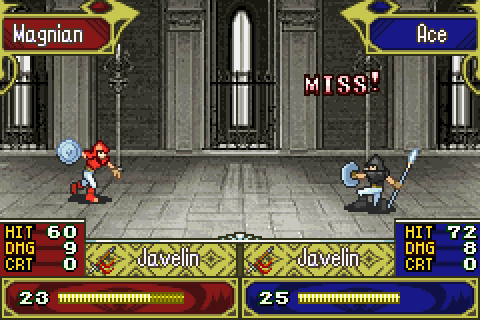 Nice color scheme though.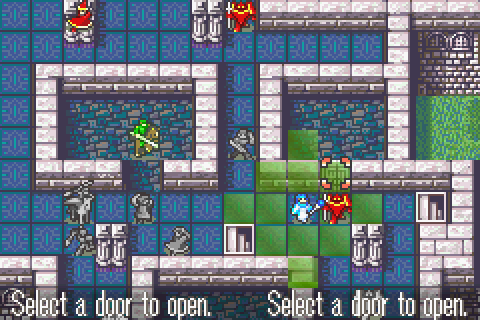 And just for kicks and giggles, here's the Unlock staff.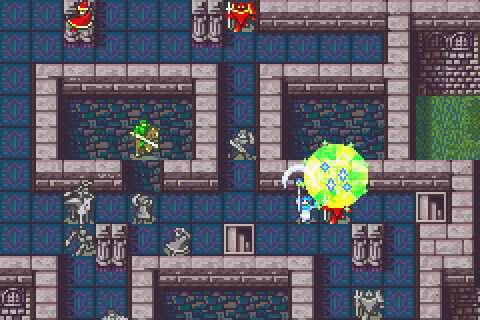 I've honestly never used Unlock before, so seeing what the effect looks like is a new experience for me.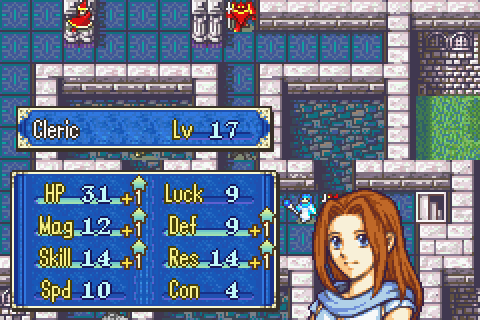 Plus it means that Tamiko gets to show off some more.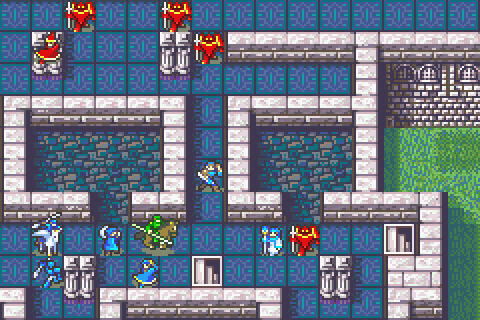 The instant we open the cell door for Eduardo, he immediately goes running off without any weapons to fight this knight.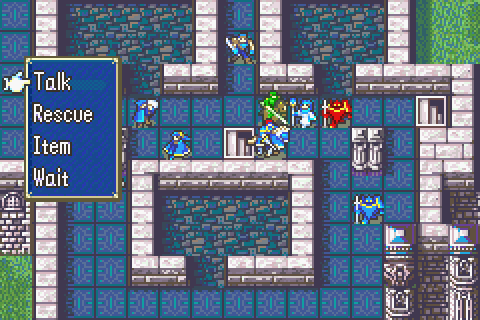 The reason for that will become painfully obvious right about now.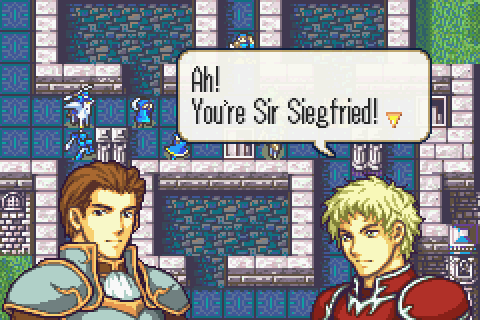 : I am. Who are you?

: I am Eduardo, a captured Regalian knight! I have long awaited the day I could fight alongside you to help free my homeland!

: Always good to have someone so... enthusiastic.

: Alright then, FOR REGALIA!!!

: Wait!

: Huh?

: You're completely unarmed! The enemy would just catch you and lock you back up! Or even worse, kill you!

: None can withstand the might of a Valencian knight! Armed or unarmed, my charge will bring defeat to the enemy!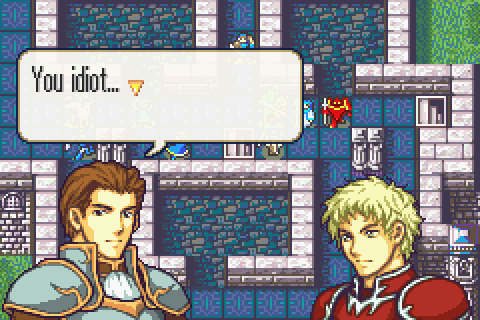 : Take this sword and spear. And you better use them!

: Ye-Yes sir! FOR VALENCIA!

: Sigh...
Eduardo's stats also reflect this, as he's all about hitting for big numbers, if he can hit.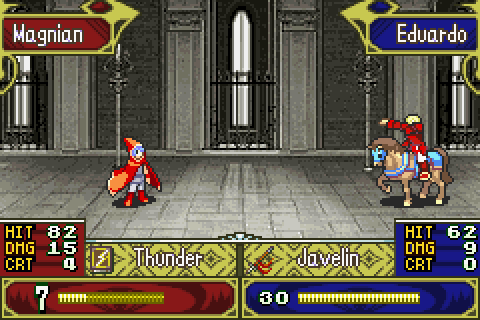 Even if Ace, Eduardo, and Anakin leave at the end of this chapter, I tried to get them a level each just to show off their abilities.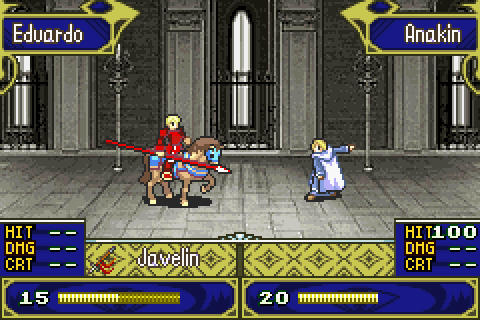 It's fortunate that I have the three of them working together, since that's the only way that Ace or Eduardo could actually kill something.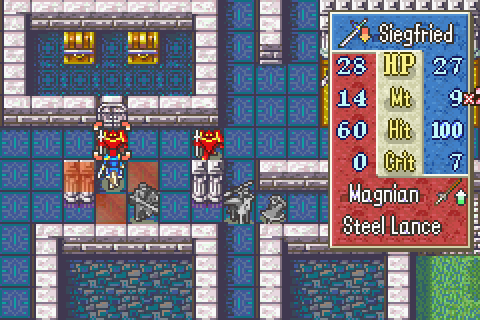 See if you can tell me what the glaring hole is in my strategy.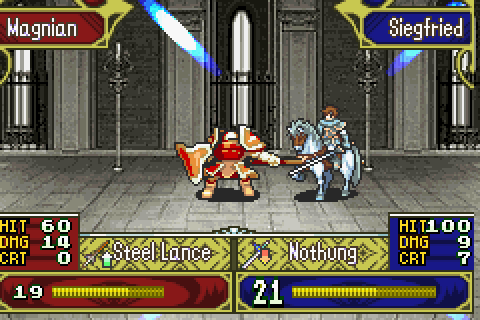 Yup, Siegfried looks like he's in some real trouble now.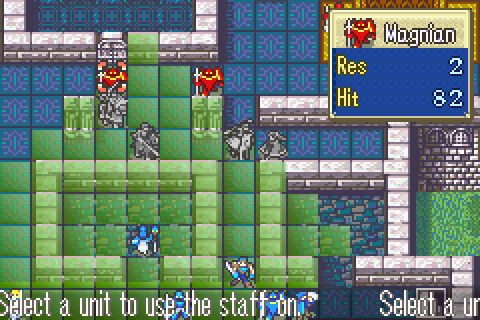 Fortunately, I come prepared.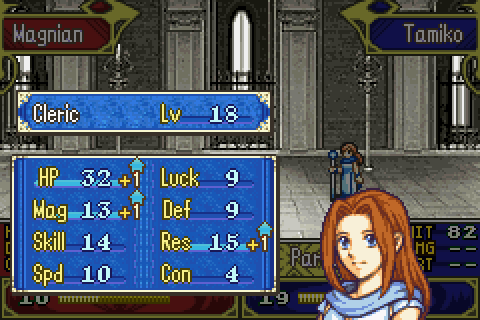 Just gonna keep gaining magic, huh? That's cool.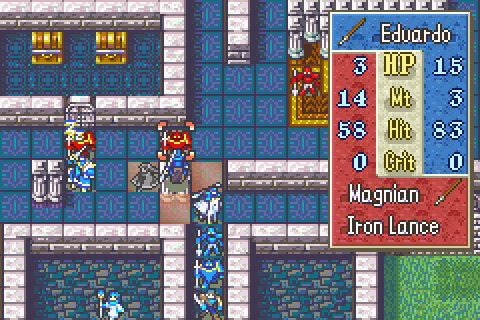 And with all this setup, I can get Eduardo a level.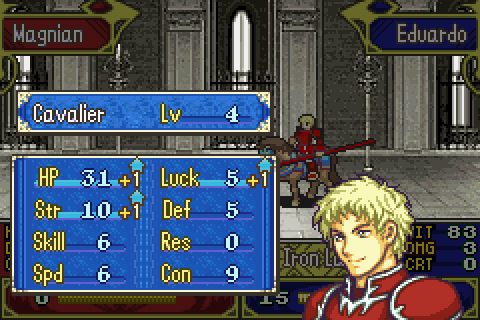 Seems about right.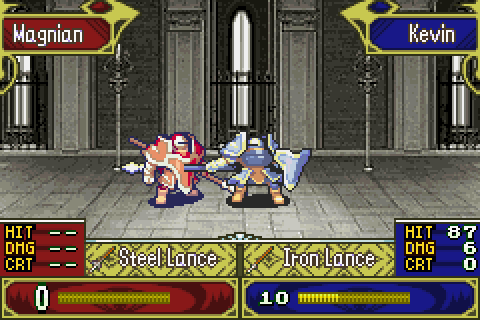 When a guy's snoozing, Kevin can just walk right up and smack him in the face without a counter. Always handy.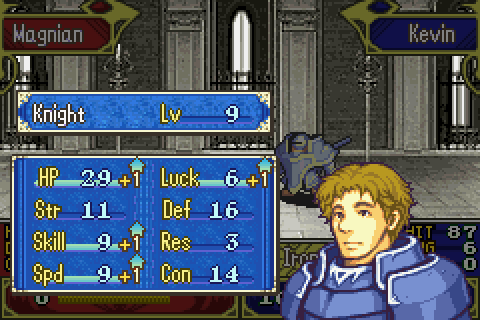 Even if I hadn't given him the Speedwing, that's an unusual amount of speed for a knight.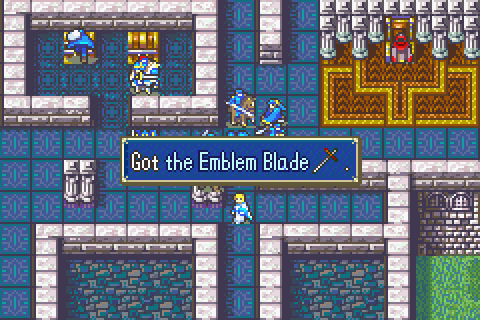 Treasure one: another of the Emblem Weapons. You've probably been wondering to yourself, "If you lose all your gear after Act 1, why are we getting these unique weapons?" Well, assuming the event triggers properly, Blazer's accounted for that.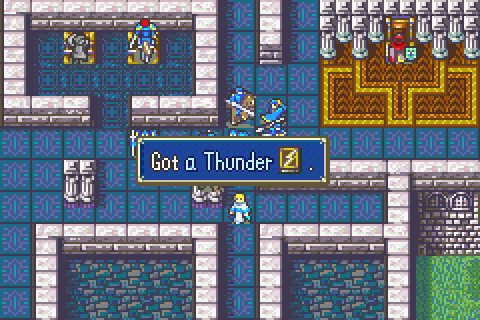 This ought to come in handy as well.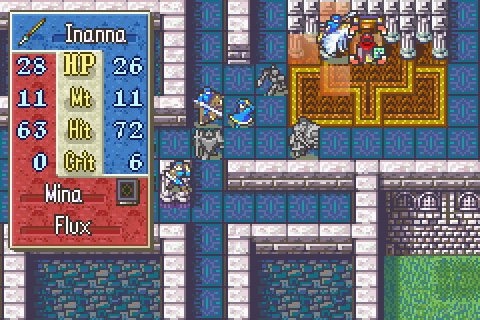 Now then, it's boss time!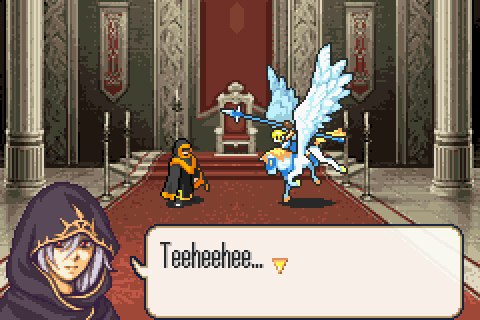 : You'll be sucked into oblivion by my magic!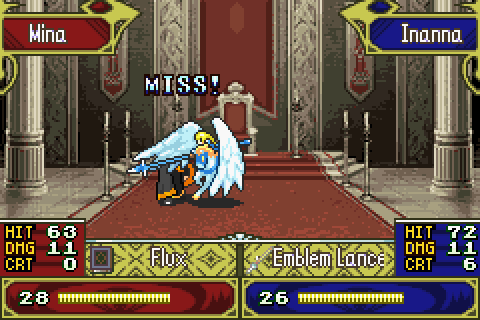 So it goes. Matter of fact, it goes like that for about half the rounds.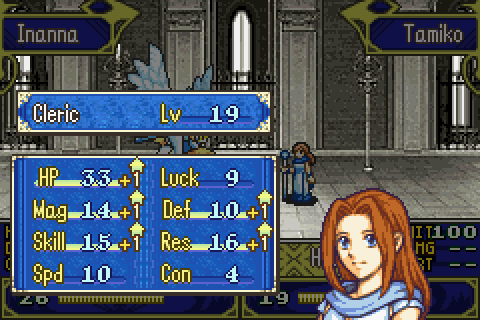 In the time that it takes to wear her down, Inanna has a chance to impress me again. It's only +2 on her average magic, but it's still pretty dang amazing.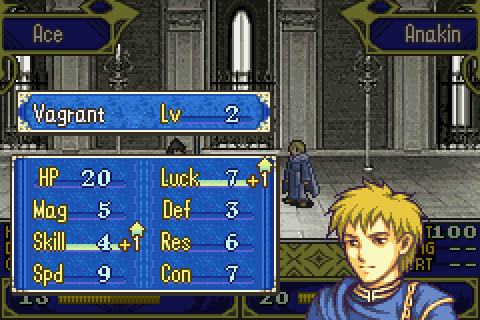 Anakin...not so much.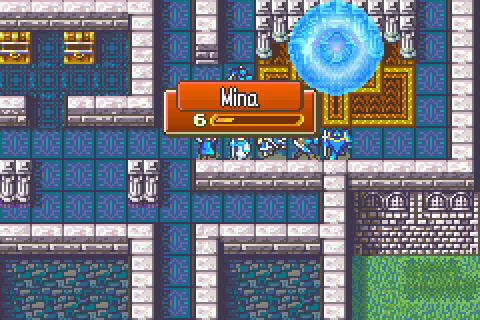 Blazer, why do you like giving bosses Elixirs?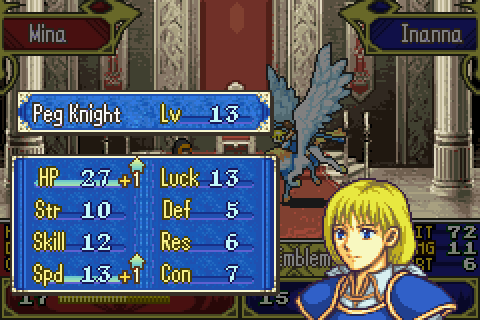 Level 15 is my goal for Inanna. If she doesn't pick up her stat gains, I'm just promoting her then and there.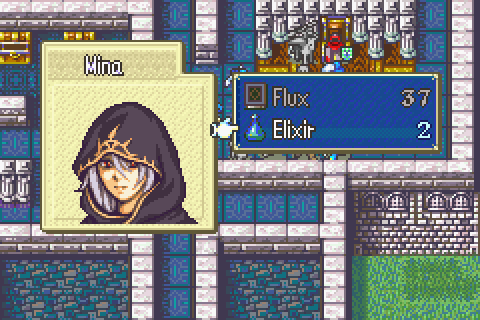 Gimme that!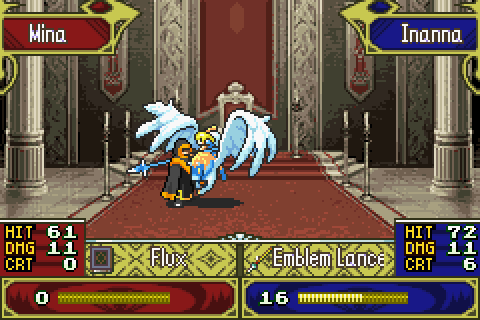 Two more misses later...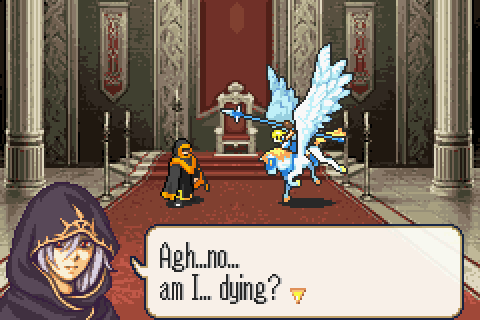 : Rana...
Will we get a chance to meet this character who got name-dropped? Perhaps we shall.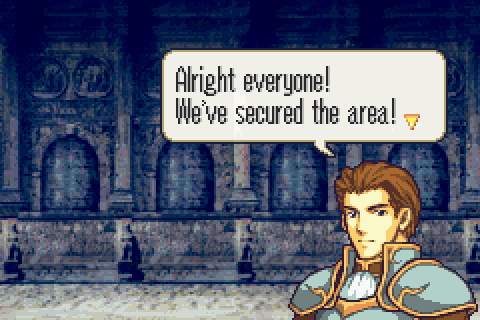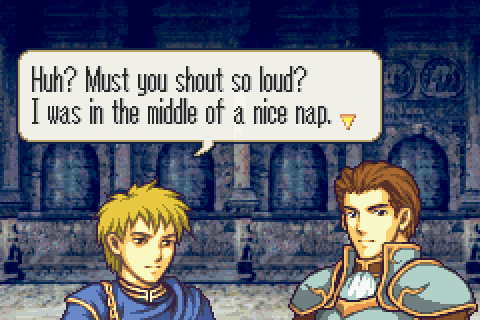 : Napping on the battlefield... How do you fight like that?

: Well, I'm not really a fighter. I'm more of a... motivator.

: A motivator?

: Uh... yeah. I'm not that great at fighting myself so I motivate others to fight harder to pick up the slack.

: It seems to me it would be more worthwhile to hone your own skills than to rely on the skills of others... At the very least, you seem to have some fighting potential.

: Well, we've all got our ways of doing things. You've got your sword and I've got my... voice.

: I suppose, but you have to be awake to speak.
You don't say.

: Our enemy is Magnus, a relentless and fearless foe. They won't hesitate to kill anyone, even a defenseless sleeping soldier. Perhaps fighting when you can, and motivating when you can't, would be the best way to strengthen yourself.

: Perhaps...I'll keep that in mind, I suppose.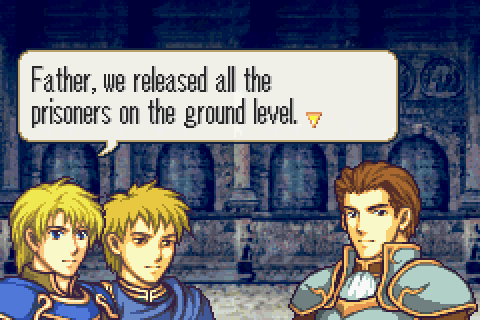 : The documents in the warden's office indicate many more prisoners, however it doesn't say where they are.

: Well, while I was in prison I heard rumors of an underground detainment center. I think they held some of the captured Yulian knights down there. Most of them sided with Pellenore, but a few of them didn't...

: I saw a path leading to a cellar... The enemy commander had this key with her, so I'm assuming that...

: They're in that cellar! Come, father!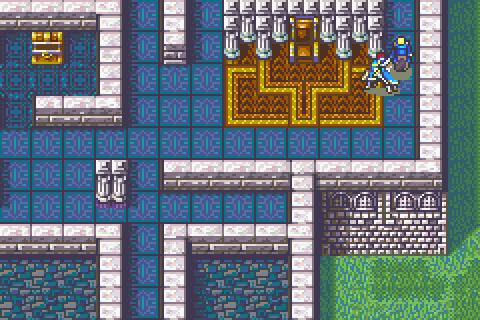 Hey, Shon got to contribute in this conversation for once. Good for him.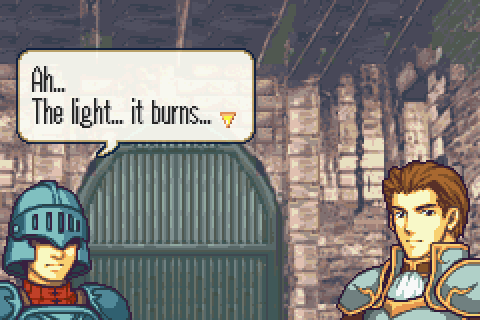 : Hey, you? Are you alright?

: Yeah. Thanks a lot...I was terrified when I heard the sound of battle! I thought maybe someone had come, but I... I was afraid the soldiers here were too much for you.

: Thanks for the optimism. We're going to stay around for a day and leave tomorrow. You or anybody else who wants to join, you have one day. Our goal is to free Valencia from the clutches of Magnus... So if you are a true knight of Valencia, be true to your oaths, and join us!
Okay, now brace yourself. If you didn't believe me before when I said that Kelik was 90's cool, then listen to his theme song.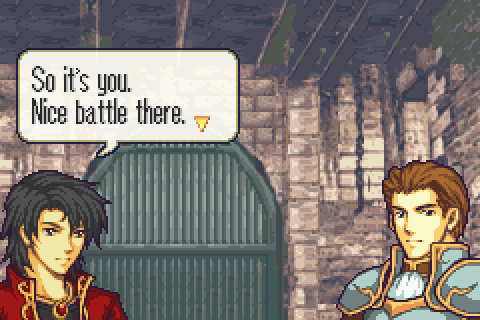 : So we meet again...What are you doing here?

: Just minding my own business.

: So, you still considering joining our forces? You hate Magnians, don't you?

: No, I'm not going to throw my life away so quickly.

: ......

: I have to take care of some things. Later, Sieg.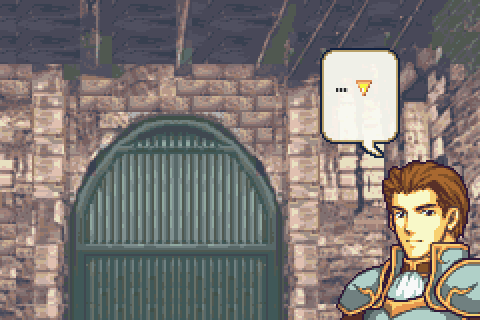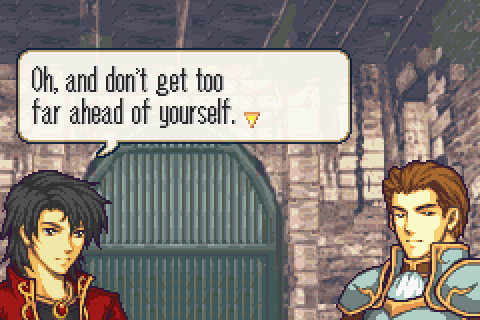 : Charging straight into places isn't going to work everytime.
Yes, it will. What series does Kelik think he's in?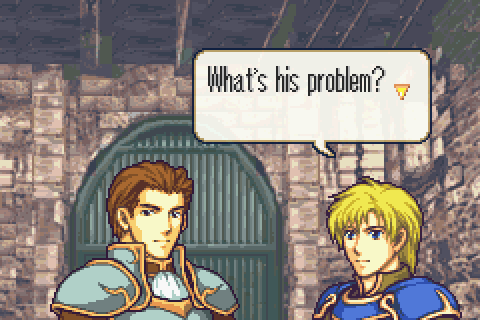 : I'm not sure. He sure is full of himself.

: Father, your eye is twitching...is something wrong?

: It's nothing, Shon...
That's just him fighting his urge to strangle someone.
Next Time
: We meet a boss with the best facial expressions. The fact that he has more than one should tell you something.
Extras
: Even though they're gone next chapter, let's see them anyway.

Anakin
Class
: Vagrant
Weapon Ranks
: E in light
Affinity
: Light
HP
: 20 (55%)
Lck
: 6 (75%)
Mag
: 5 (35%)
Def
: 3 (30%)
Skl
: 3 (65%)
Res
: 6 (45%)
Spd
: 9 (50%)
Con
: 7
All these great growths, and then he has mediocre magic. At any rate, with those growths on deck, Anakin can just zoom around the battlefield, refreshing anyone he needs to, and not have to worry too much about getting hurt in return. He also supports with a lot of the heavier hitters, so if he can mix it up with them, he's almost guaranteed to go unharmed.

Ace
Class
: Soldier
Weapon Ranks
: D in lances
Affinity
: Fire
HP
: 25 (80%)
Lck
: 5 (40%)
Str
: 5 (45%)
Def
: 7 (35%)
Skl
: 5 (45%)
Res
: 5 (25%)
Spd
: 8 (50%)
Con
: 8
The balanced member of the three, Ace is good in most of his stats and should turn out okay once he's gotten some levels under his belt. Unfortunately, much like his partner in crime, it's a case of needing a lot more of an investment that may already have been placed in other characters of an equivalent type.

Eduardo
Class
: Cavalier
Weapon Ranks
: E in swords, D in lances
Affinity
: Dark
HP
: 30 (125%)
Lck
: 4 (35%)
Str
: 9 (60%)
Def
: 5 (30%)
Skl
: 6 (40%)
Res
: 0 (30%)
Spd
: 6 (40%)
Con
: 8
As can be seen, Eduardo's growths are skewed more towards charging wildly, with little regard to his safety. He'll have enough HP to shore up his self-destructive habits, and his defensive growths are good enough that he might be able to increase those too. Would I use him over Corben? It's hard to say. I'd see which of them does better in their speed growth, because that's the deciding factor in the long run.