Part 2: Gond Fishing

Update 2: Gond Fishing

The official instrument of Gond is the bellowing very loudly. It is also the national bird.
Hello again and welcome back. Last time we found a fish and it was not our fish and it also wasn't food! Let's see what the hell that means.

3-Civilization 2 - Tenochitlan Revealed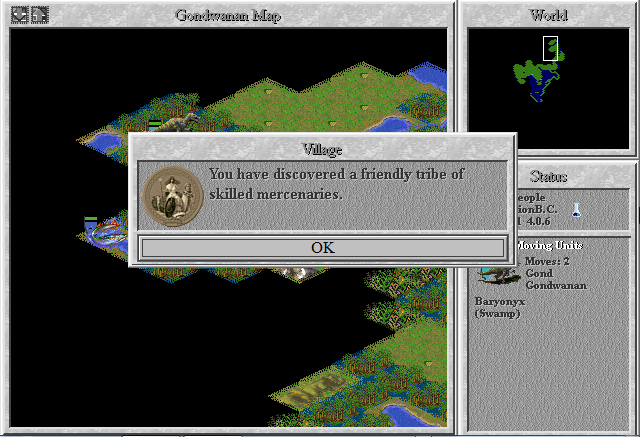 Also we recruited another Baryonyx. I guess having big fat fish-grapplin' arms and nobody to hug makes you very lonely and easily manipulated.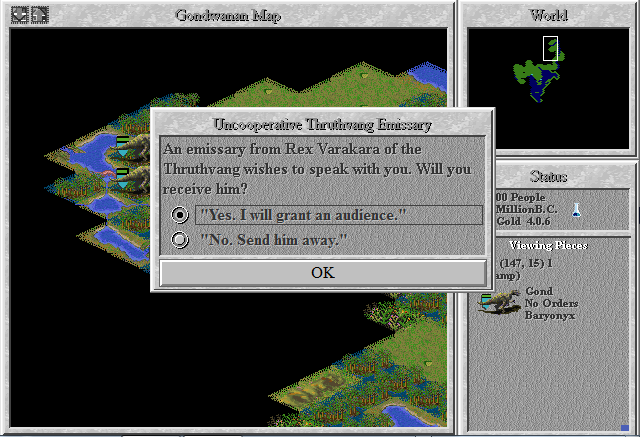 Oh yes, please!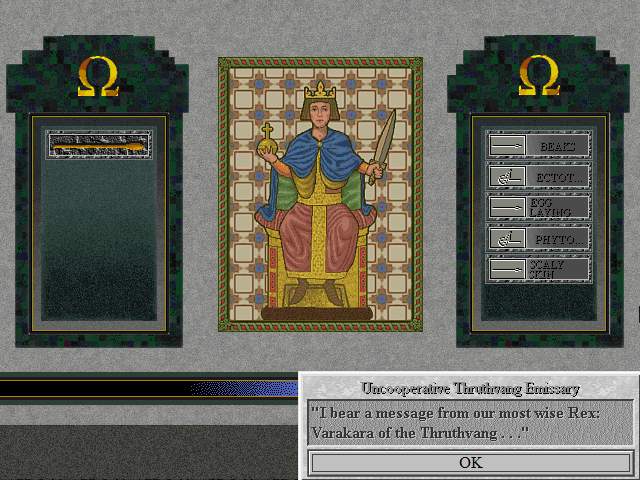 what.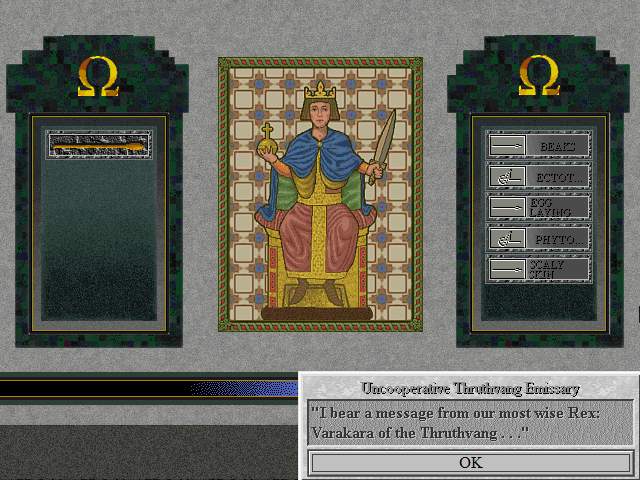 whaaaaaaaaaaaaaaaaaaaaaaaat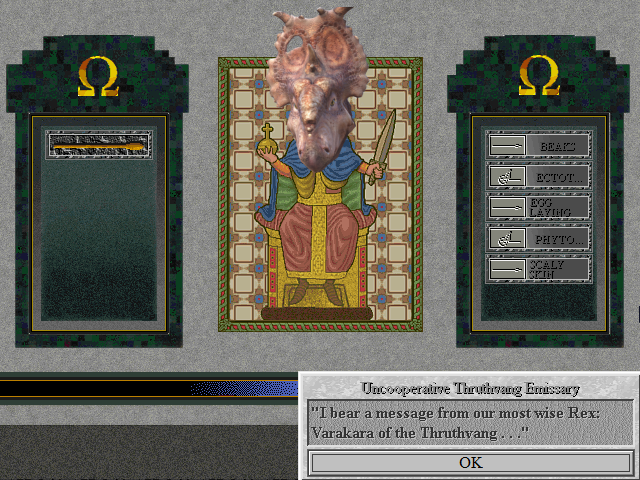 whaaaaaaaaaaaaaaaaaaaaaaaaaaaaaaaaaaaaaaaaaaaaaathat's better.
Now, what's cookin', Varakara?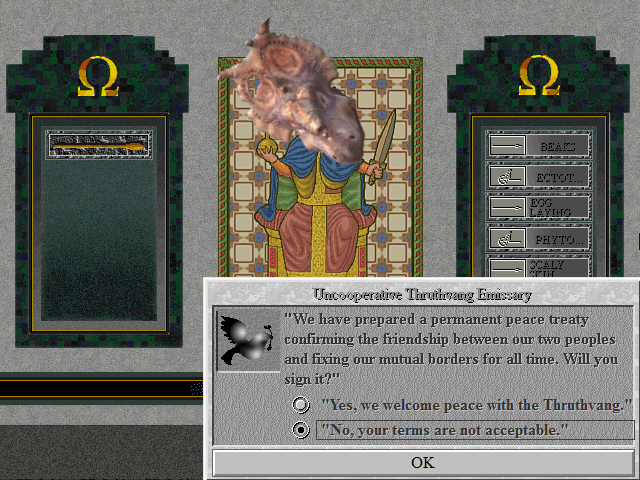 Man we literally just met you and you're already trying to be our pal. This isn't how you earn people's trust, you know? You've got to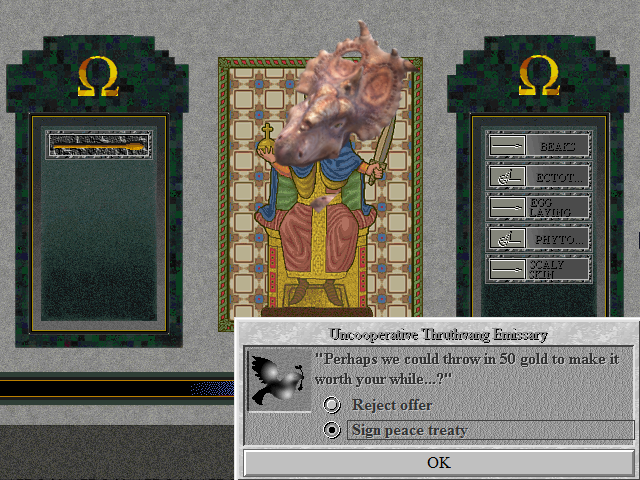 welcome aboard great to meetcha want to see Gond it measures four hundred cubits by eighty cubits by nine hundred cubits and as soon as we discover what a cubit is you will be very impressed.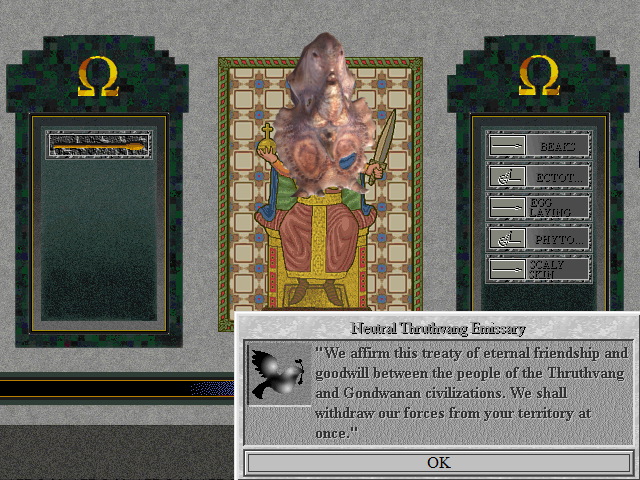 Okay, the strong, silent, isolationist type. I can deal with that.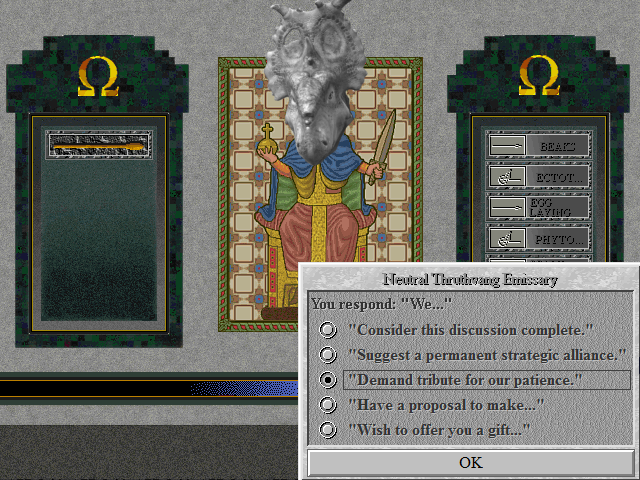 I could deal with THAT even better though.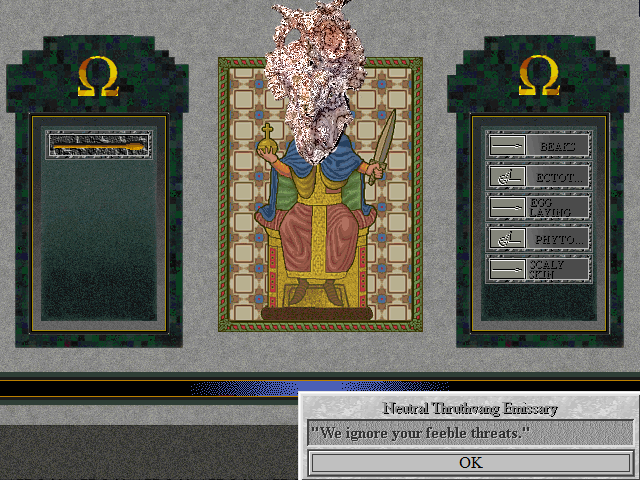 Alright, I've only just begun this eternal friendship and I'm starting to regret it.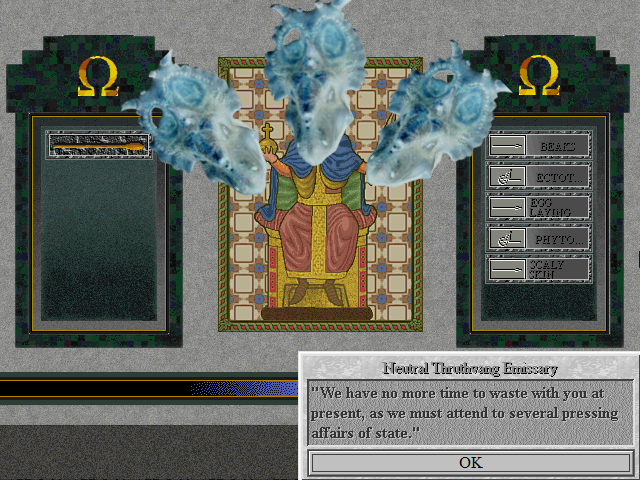 Wait, excuse me? You were just willing to PAY ME to have a conversation and now you're hanging up on me!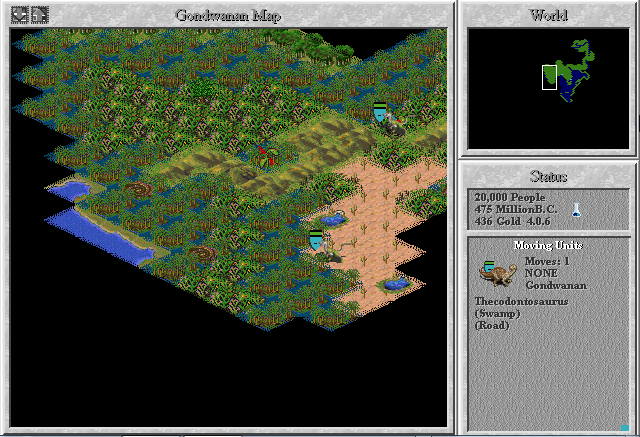 Asshole. We're going to explore this desert and find better friends.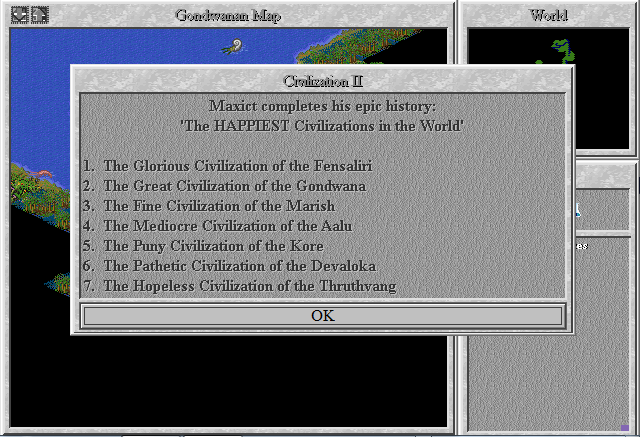 See even the dinosaur internet knows you're HOPELESS. You hear me, Varakara? HOPELESS. And we're not. Because we're GREAT.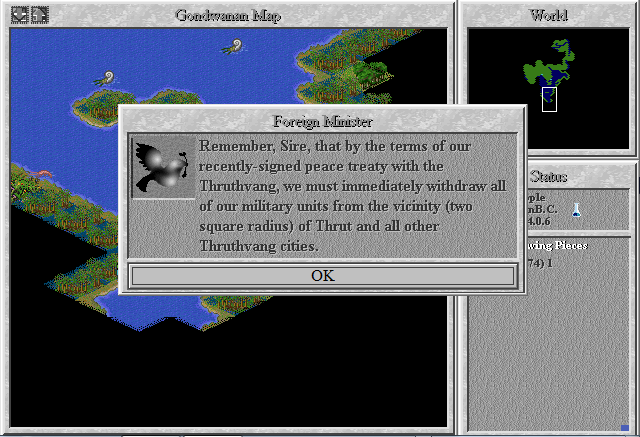 Oh what the hell is this. What fuckin' fresh hell is this.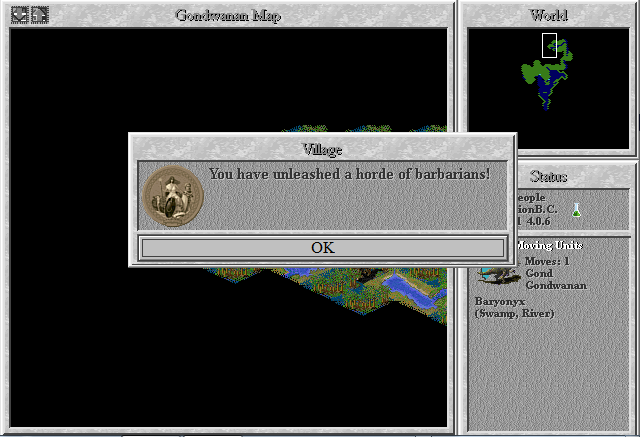 And what is THIS. I go to all the trouble of stealing this goodie hut right off your front lawn and you've let it get full of barbarians! Barbarians, Varakara! What the hell are you even DOING with your life?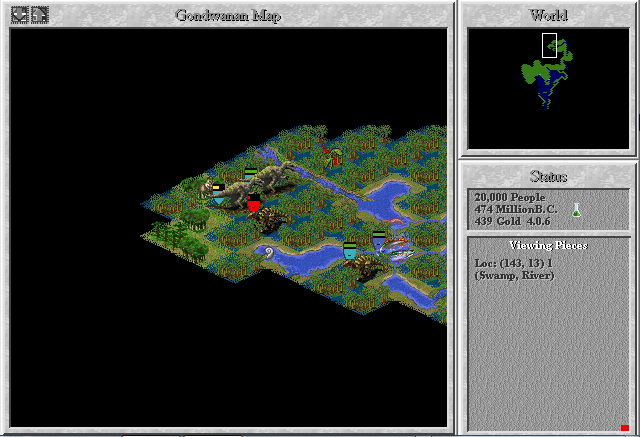 (
CLICK HERE
to be roused by the stirring battle cries of Gondwana)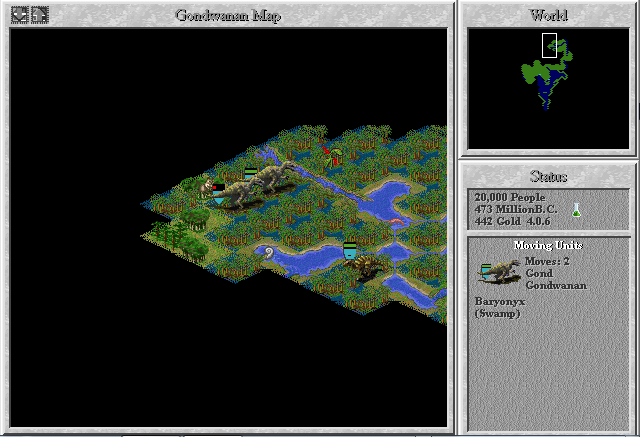 Victory, but at the cost of severe injury. Those thumb spikes really hurt.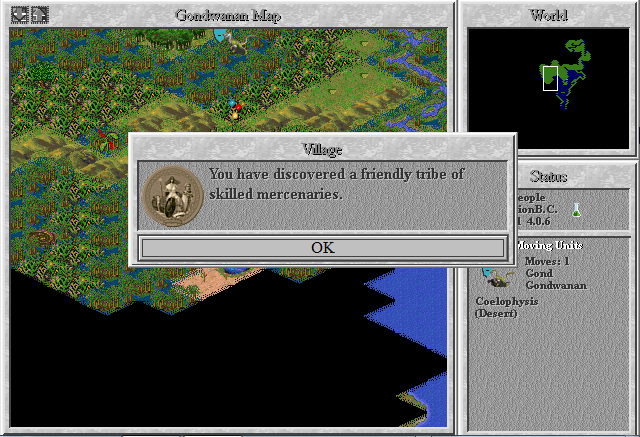 Why is it that the only friends I can make are homeless?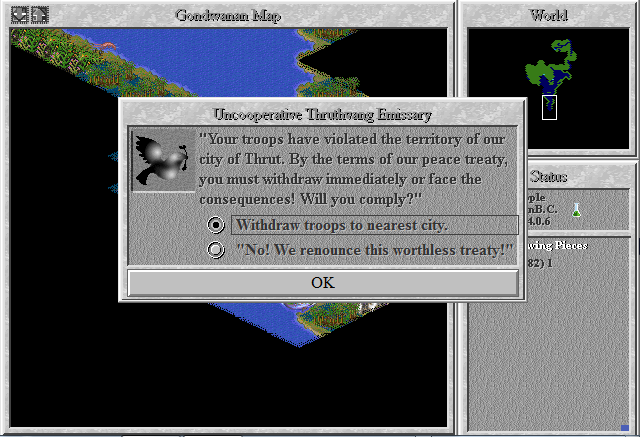 Oh you know what?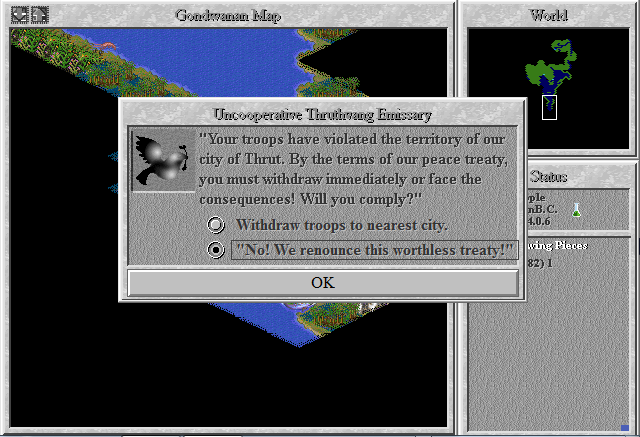 FUCK YOU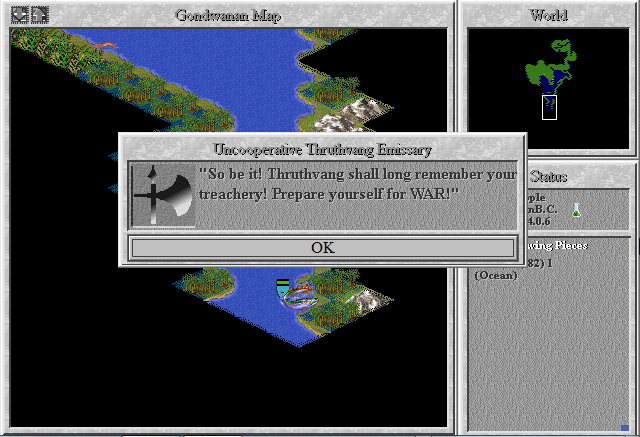 AND FUCK YOU TOO I DON'T NEED YOU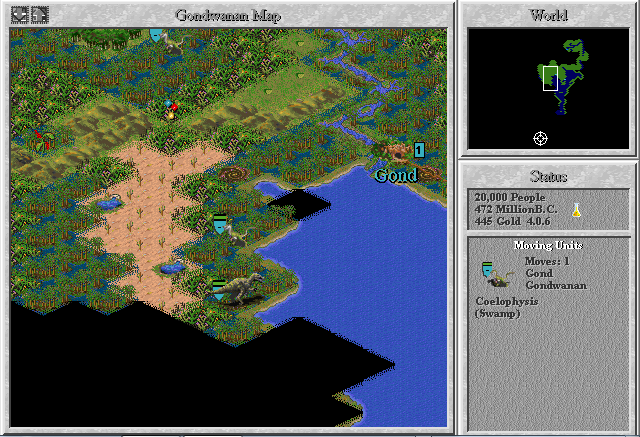 I DON'T NEED YOU EITHER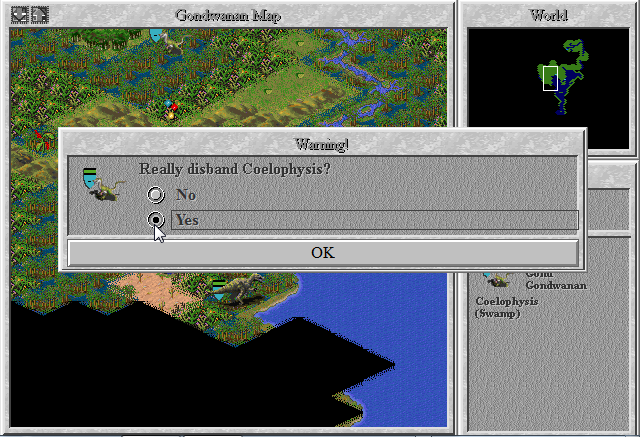 YOU'RE SLOW AND COSTING ME UNNECESSARY AMOUNTS OF UPKEEP, GOND CAN BARELY FUCKIN' TIE ITS SHOELACES AND YOU'RE
SMOTHERING
IT IN INEPTITUDE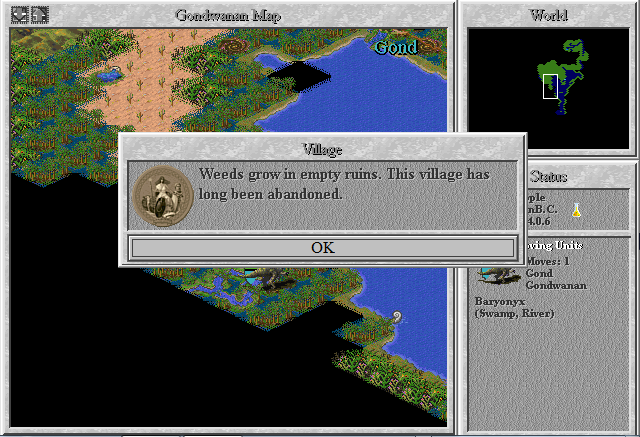 I DON'T NEED HUTS EITHER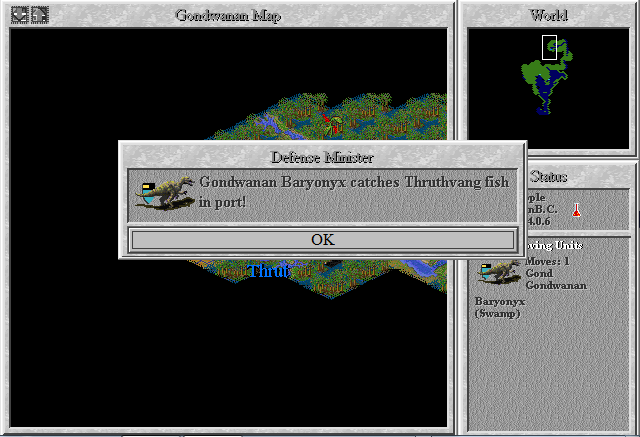 ALL I NEED IS DEAD FISH AND THE LYMPH OF MY ENEMIES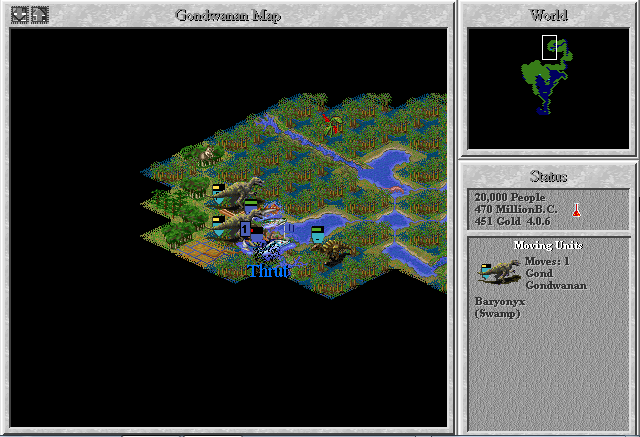 (
CLICK HERE
to relish the anguished death throes of the enemy at sea)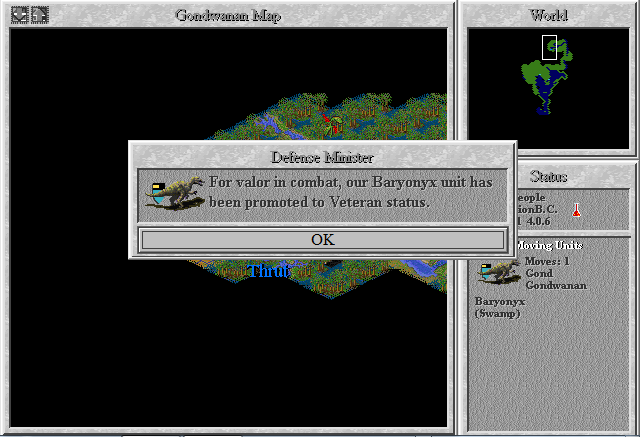 Wear it in pride, Barry. Wear it in pride. That's some good fishing right there.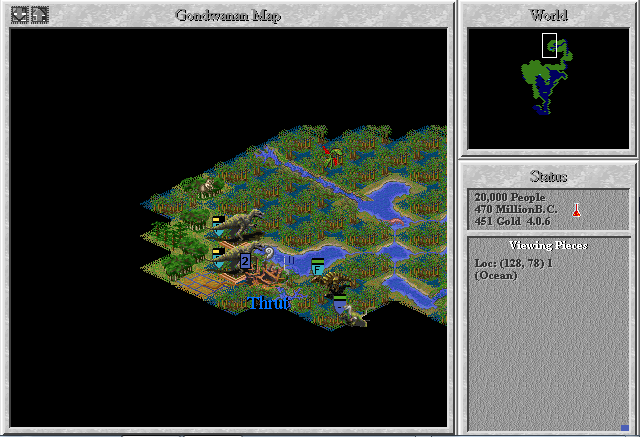 Though satisfying, our murder spree has depopulated Thrut - with each failed defense, a city loses one population. One more assault and we could murder literally everyone, leaving us no city to take.
And now we play the most dangerous game.
The waiting game.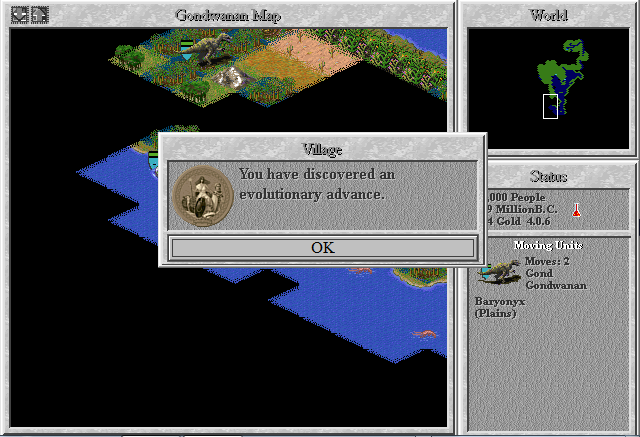 This hut contained DNA. Complicated, but rendered plausible by Michael Crichton.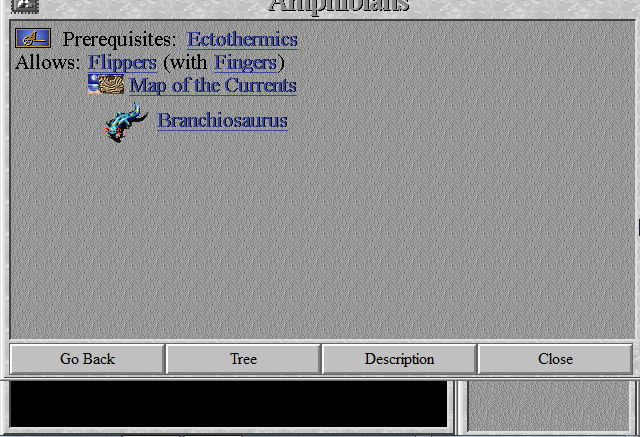 It's not easy being amphibious, but we love them anyways. Mostly because we have no choice: these are the only units in the game that can hop straight off a
boat
fish and straight into attacking a city. Without them, a 1-tile island city is invulnerable.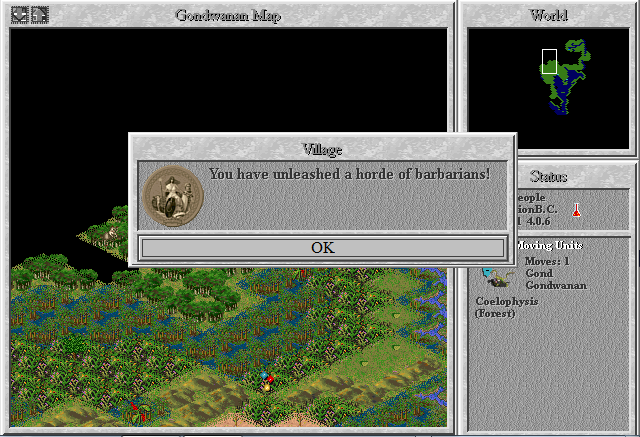 Oopsie. Looks like our Coelophysis maintenance problems are taking care of themselves.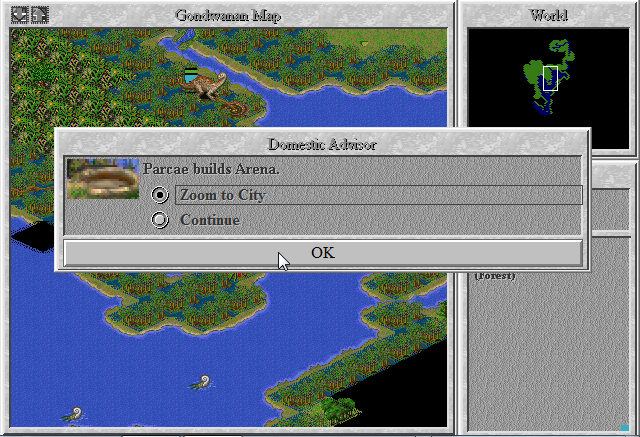 (
CLICK HERE
to nod in approval of the architectural skills of
Gond
Parcae)
Parcae continues to excel. Why can't you be more like Parcae, Gond, and less like Gond?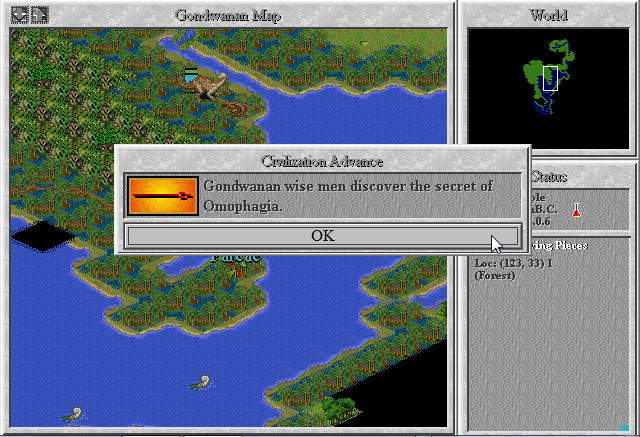 But wait, there's more! We have now discovered....
how to eat raw flesh
.
Huh. Funny trick. Wonder what we were doing before.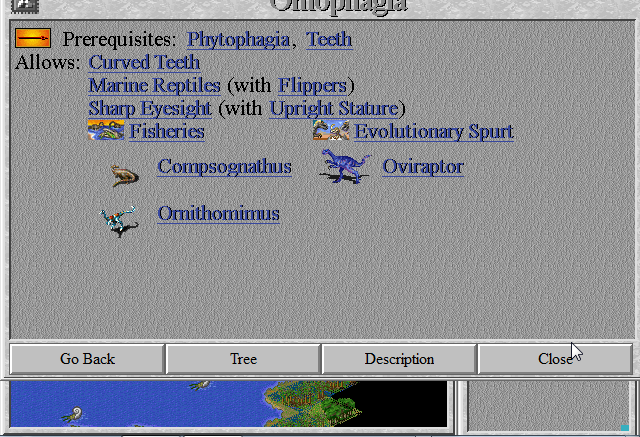 More importantly, it's led us to all sorts of knowledge and murdertools! That's a vital piece of maritime infrastructure, a Wonder of the World, and three military units all unlocked from one evolutionary advance. Not too shabby.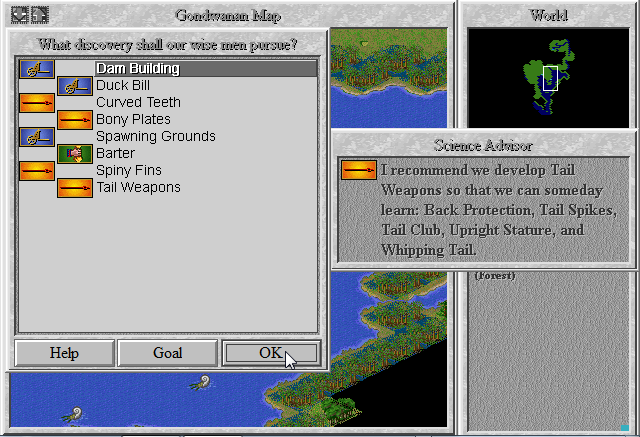 Man Dam Building almost sounds like a plausible thing to discover, let's get on that. I'm not sure if I can take us unravelling the mysteries of 'digestive system' or something like that.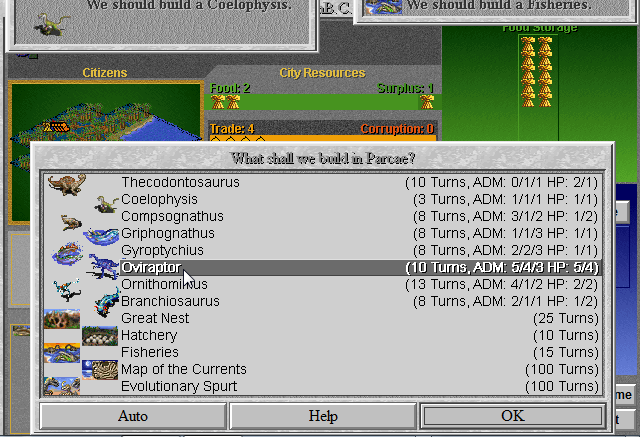 And now we're going to build an Oviraptor, which, thanks to Parcae's Arena, will come out as a veteran with bonus combat stats. This is fine. This is good. Nothing bad will happen.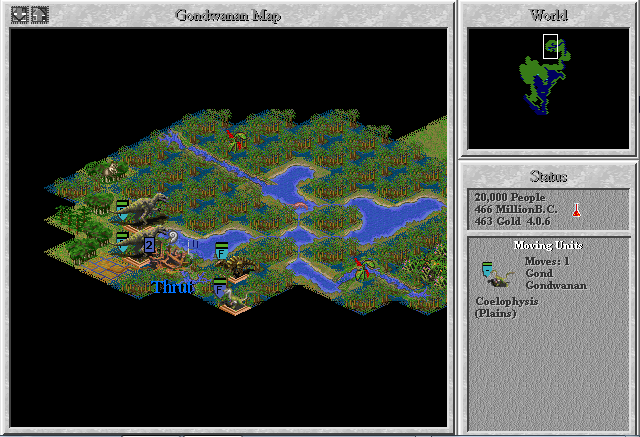 I promise you Varakara I will not lose this waiting game. I am very patient. You'd better not blink.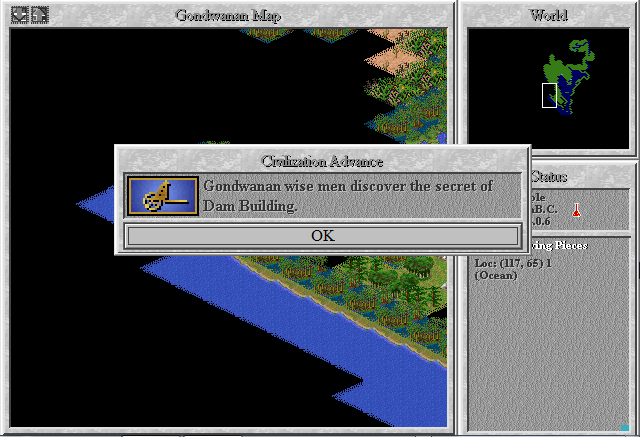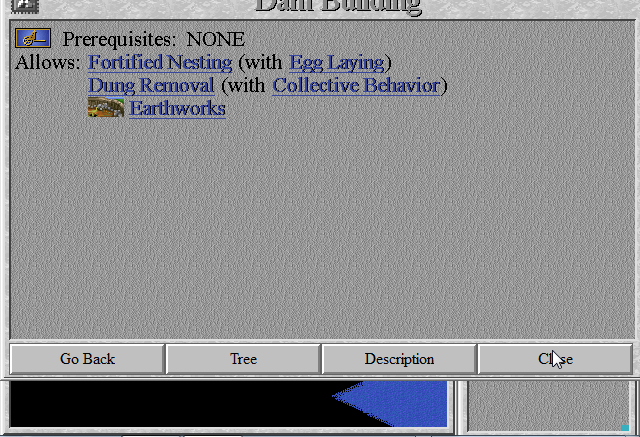 Earthworks, another Wonder. And we've opened the way to even bigger and more complicated techniques. Like picking up after our poop.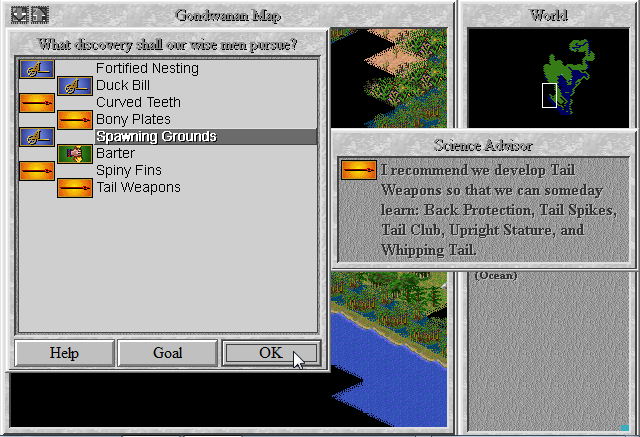 Let's not learn how to do that just yet.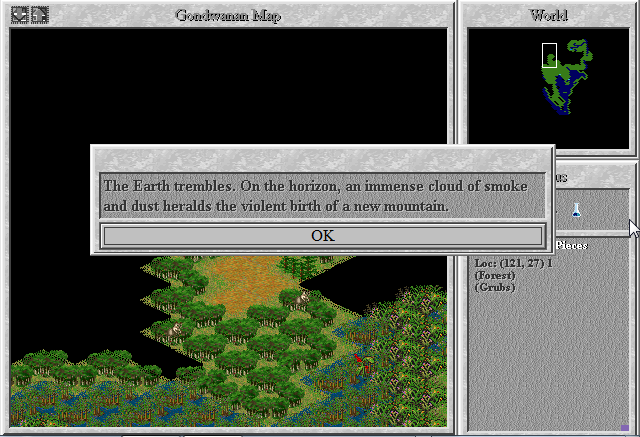 This happens now and then. We're playing over milions of years here; sometimes the world slips and shudders and an ocean is now a bit of land, or a mountain pops up out of a plain, or something like that. Don't blame me, blame tectonics. And lots of time.
Lots of time. Lots of long, boring, endless, grinding, eroding, sighing, ti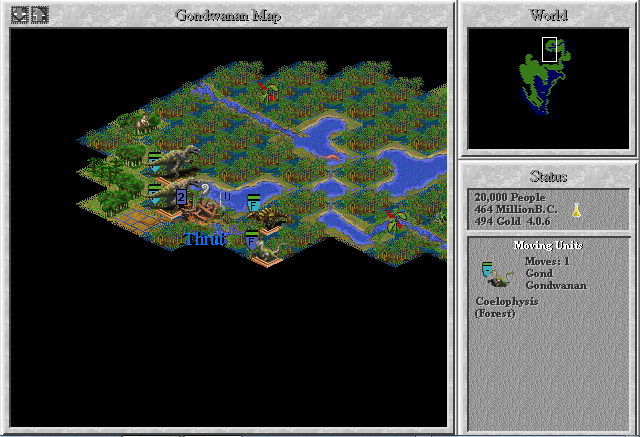 i am very bad at the waiting game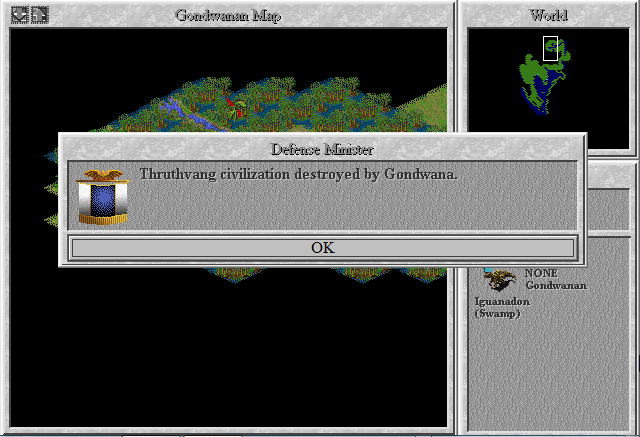 Ah-HAH!

Civilization 2 - Funeral March
Wait what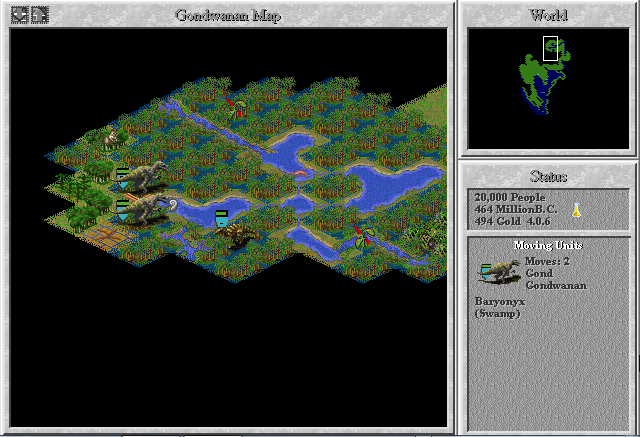 I have just committed murder on a scale incalculable. A thriving, warlike, hostile society has been eradicated from the face of this planet, passed from the ever-moving NOW into the paralysis of the past, into the dust and the dirt and the dinosaurs' graveyard*, bone-choked and mineral-coated, lost and gone forever.
Man, they had a REALLY nice place. I bet I could fit a city in here. We'll just save this for now and

Well.
I guess we'd better work on changing our government.
NEXT TIME: LEBENSRAUM, REDECORATION, IKEA.
*
I asked Al Purdy yesterday if I could use this and he said Sure Go Ahead.
New Buildings
New Units