Introduction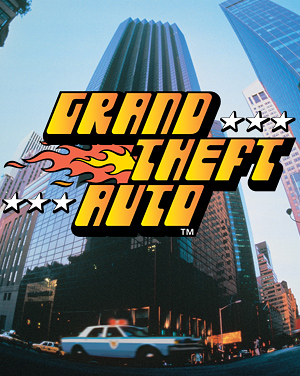 In the mid 1990s, a small company called DMA Design is struggling to release their multiplayer racing game Race'n'Chase while all kinds of management try to shut them down. A glitch causes the racers to be chased by the police and so the game was retooled, first as a cop game, but things are much more entertaining when you're the bad guy. So, in October 1997, Grand Theft Auto 1 was released on the PC and has the player go through six large levels in three expansive city maps committing crime either by themselves or for the local crime syndicate via missions.
Unsurprisingly, due to the difficulty of the game, the lack of a save feature and how if you fail a mission, it cannot be completed, this is a pretty hard game to format into an LP. However, due to a magical thing called a Dosbox modded with save states, I can ignore these problems completely. Well, I'll still fail missions, sometimes over and over again, but if I'm vigilant in my saving, I can complete every level perfectly. And there's plenty packed into the levels, secrets and weapons and bonuses, all the good stuff.
This does have a couple problems though; I can't have any music, but it means I can put in the absolutely excellent soundtrack whenever I please. If you know of any songs that I can add into the pool, any fantastic songs from later GTA games, then link them and you'll see them in a future video. And sometimes when I reload a state, or play the game normally, the audio can get a bit messed up, but there shouldn't be any problems.
And in April 1999, an expansion pack, GTA: London 1969, was released, which will also be covered. And, since I can get it working (more or less), we will also cover London 1961. Happy days.

SPOILERS ARE OKAY

Joining me, as always, is my partner in crime Dirty Deeds Done. So let's smack them bitches, cap them crims and fuck shit up.

Kill Frenzy Locations
Item Crate Locations
Kill Frenzy Locations
Item Crate Locations
Kill Frenzy Locations
Item Crate Locations
(excluding additional Multipliers)
Kill Frenzy Locations
Item Crate Locations
(excluding additional Multipliers)
Kill Frenzy Locations
(no video due to CRASHING)
Item Crate Locations
(excluding North Vice Beach bonus)
Kill Frenzy Locations
Item Crate Locations


Kill Frenzy Locations
Item Crate Locations
Kill Frenzy Locations
Item Crate Locations
Kill Frenzy Locations
Item Crate Locations

Kill Frenzy Locations
Item Crate Locations

MUSIC APPRECIATION STATION

Joyride by Da Shootaz (Theme)
|
Post
Four Lettered Love by Stikki Fingers (Rock)
|
Post
The Ballad of Chapped Lips Calhoun by Sideways Hank O'Mally and the Alabama Bottle Boys (Country)
|
Post
Complications by Ohjaamo (Chart)
|
Post
Days Like These by Reality Bubble (Chart)
|
Post
Let It Out by The Hounds (Rock)
|
Post
On The Move by Ghetto Fingers (Funk)
|
Post
Grand Theft Auto Pause Music
|
Post
Ride by Rotorman (Dance)
|
Post
Figiwhiz by Trancefer (Techno)
|
Post
Automatic Transmission by Meme Trader (Chart)
|
Post
Benzoate by Retrograde (Techno)
|
Post
This Life by Slumpussy (Hiphop)
|
Post
E104 by Government Listening Post (Techno)
|
Post
Blow Your Console by CCC ft. Robert DeNegro (Hiphop)
|
Post
Just Do It by Bleeding Stump (Rock)
|
Post
Aori by Ashtar (Funk)
|
Post
Pootang Shebang by Stylus Exodus (Funk)
|
Post
DSP by Animal Testing Centre (Dance)
|
Post
Largerstar by Technophiliak (Dance)
|
Post
London Station - Westminster Wireless
|
Post
London Station - Radio Penelope
|
Post
London Station - Bush Sounds
|
Post
London Station - Sounds of Soho
|
Post
London Station - Blowup Radio
|
Post
London Station - Queen's Theme
|
Post
London Station - Kaleidoscope
|
Post
London Station - Austin Allegro Chase
|
Post
London Station - GTA Pomp
|
Post
London Station - Radio Andorra
|
Post
London Station - Heavy Heavy Monster Sounds
|
Post
London Station - Radio 7
|
Post
London Station - Police Radio
Carbon dioxide posted: