Part 23: *Hyun-ae, day 3 - I need a firm answer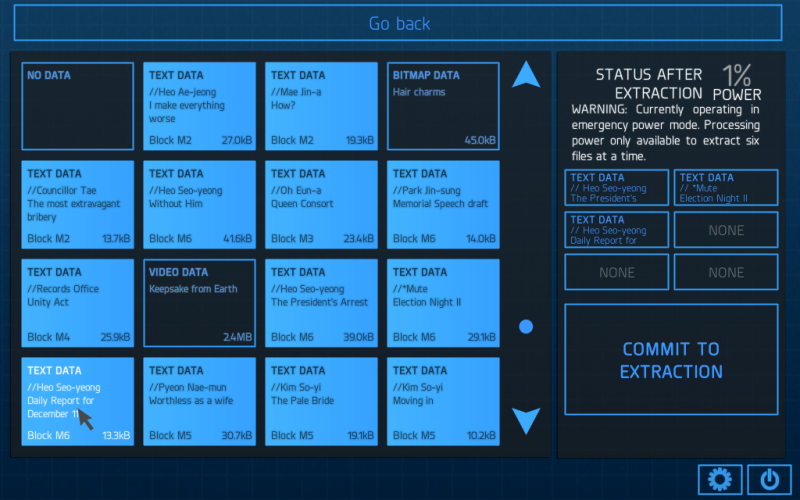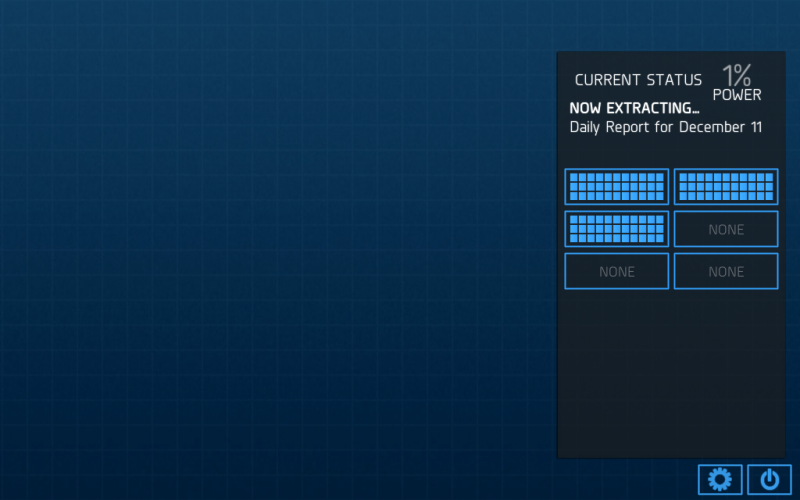 That's the last of them!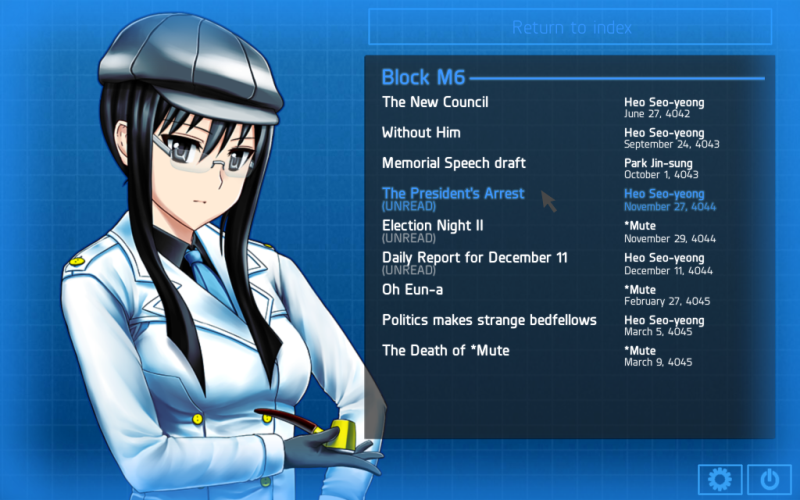 BGM: Old
The President's Arrest - Heo Seo-yeong, Korean, November 27, 4044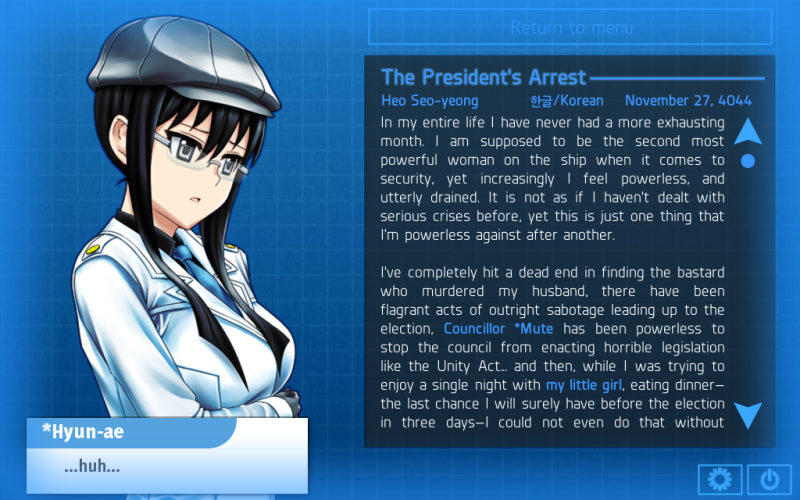 Oh, geeze, this must be...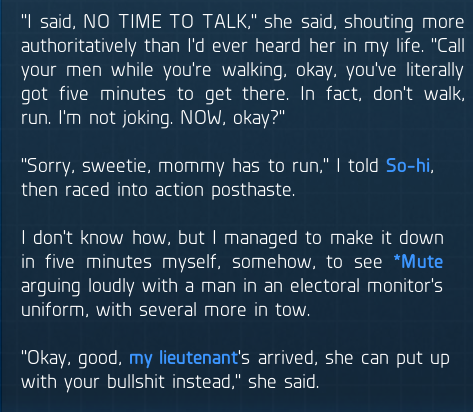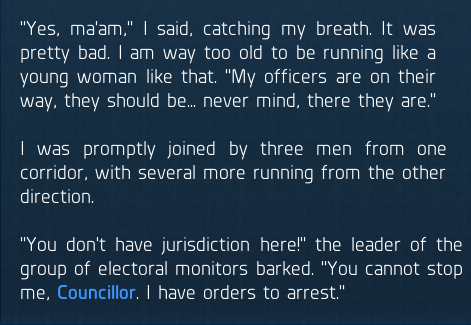 This sounds really serious...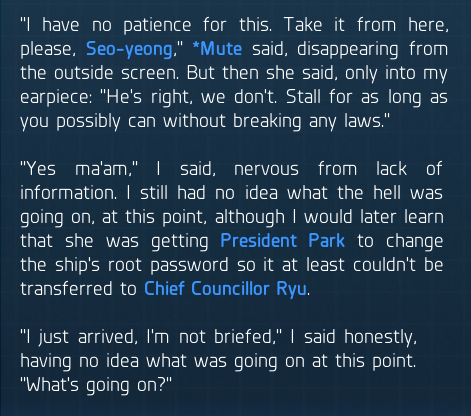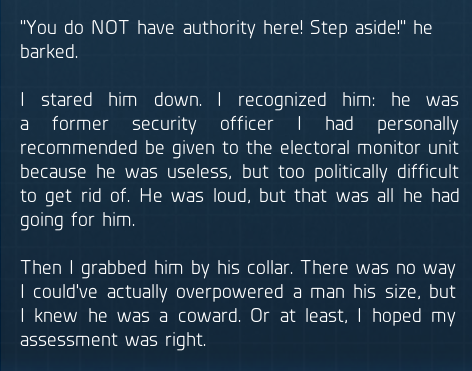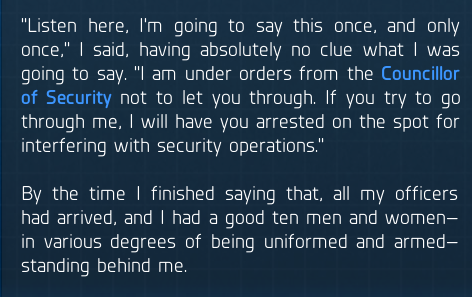 ...geeze, this is intense...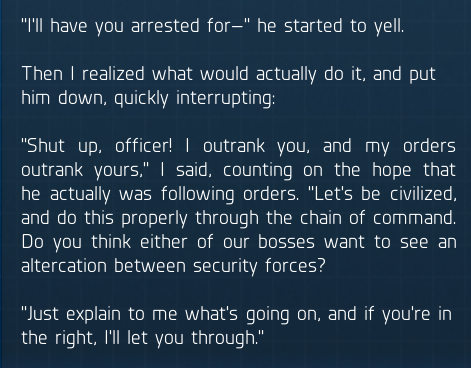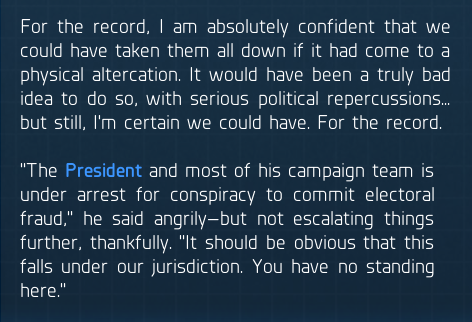 Really? They were going to arrest the President?
I don't know if you noticed, *Hyun-ae, but this log is called "The President's Arrest".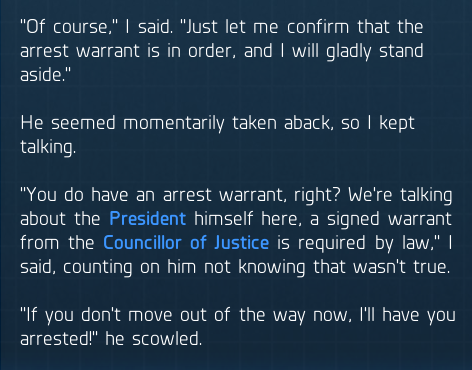 ...I thought *Mute didn't like the President, though... why are they...?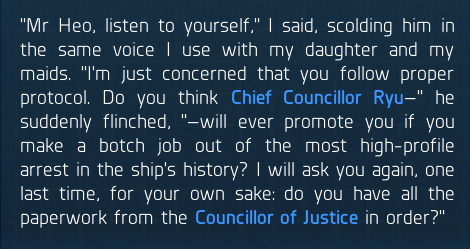 ...huh... I don't get it, but...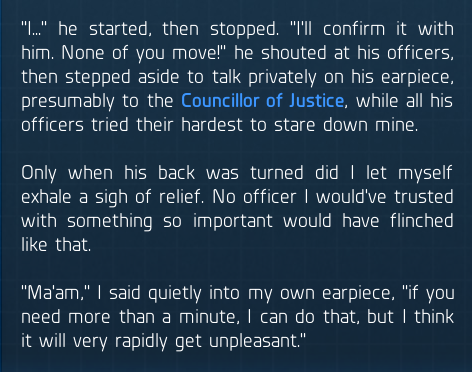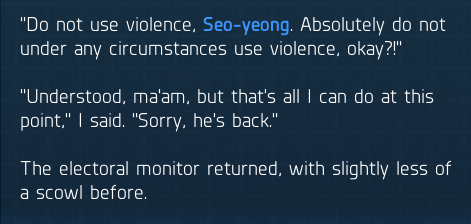 Wow, intense...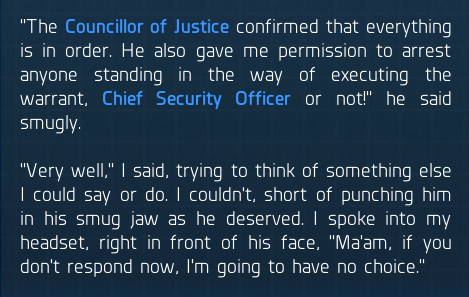 She's... a really tough person, isn't she...?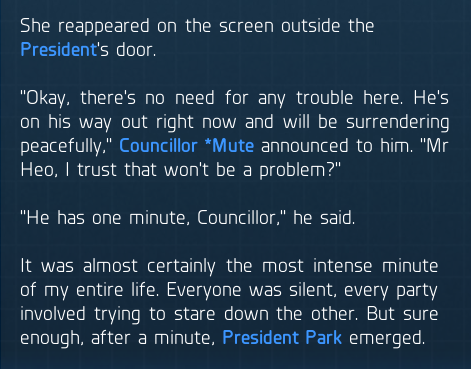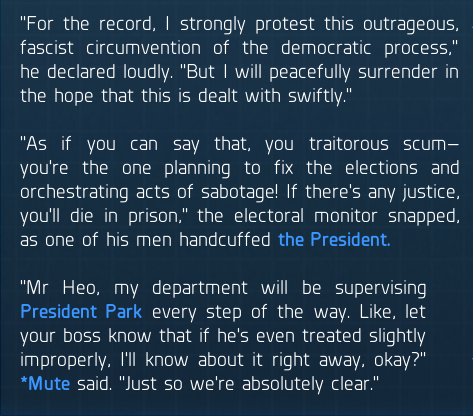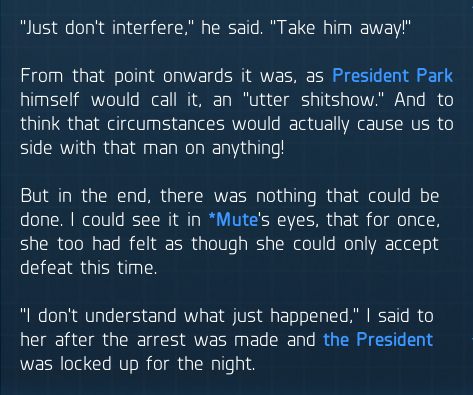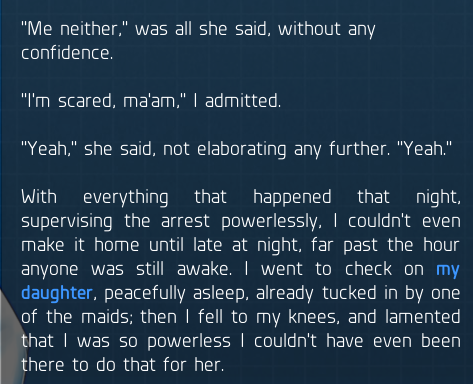 ...I guess it's hard to be tough, huh...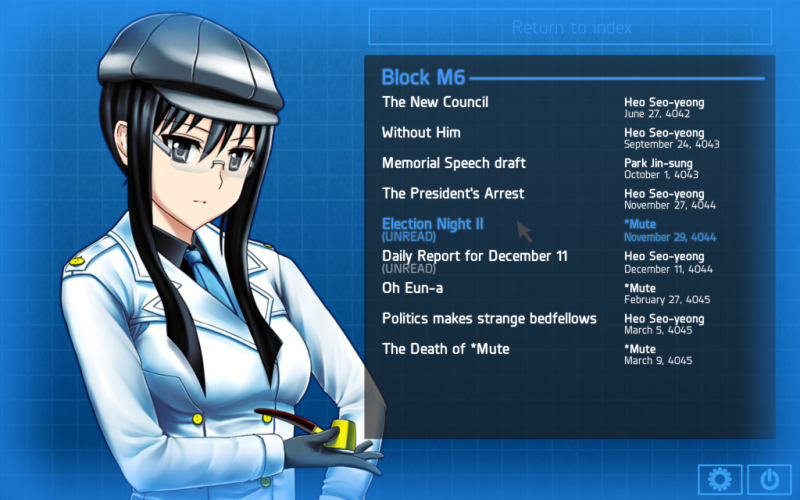 Election Night II - *Mute, Korean, November 29, 4044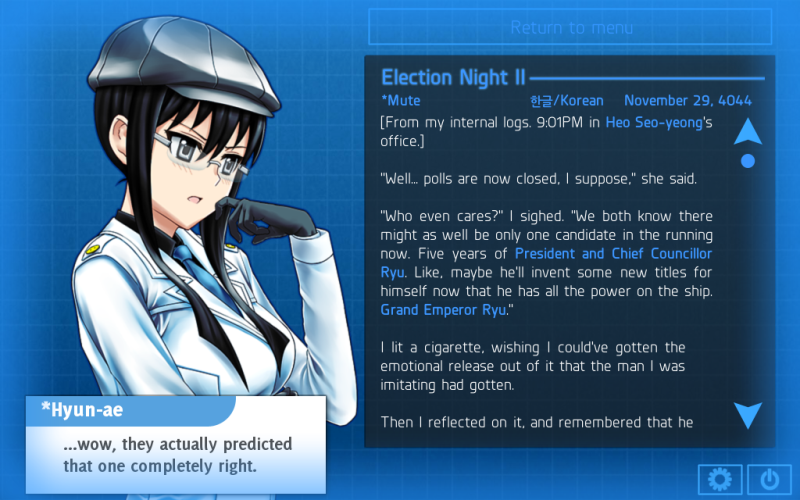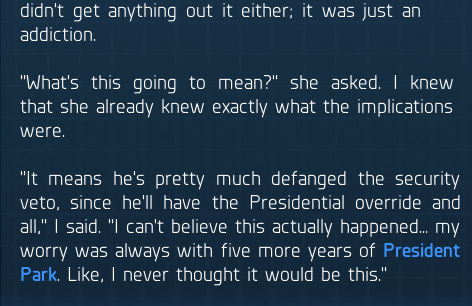 ...huh...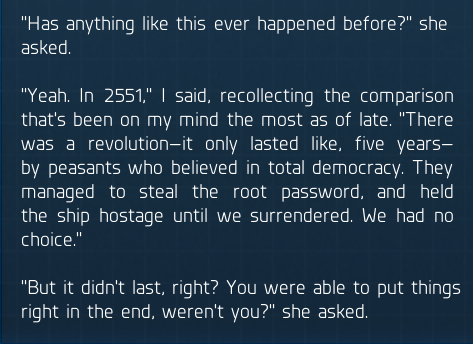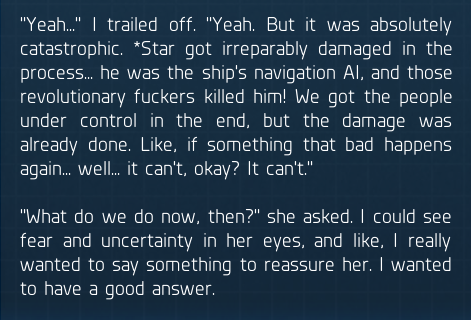 ...you know, I always wondered what happened to the navigation AI...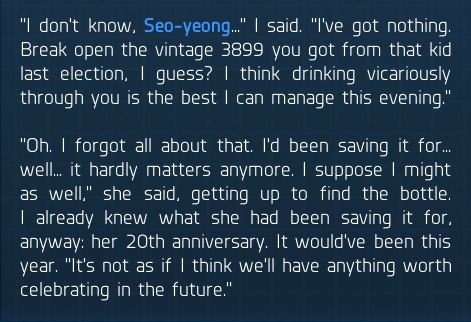 ...wow, this atmosphere is...


...it's really melancholy.


Even they swore like that? Was that a thing women in the past did, too...?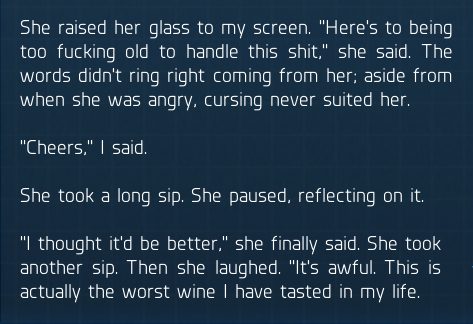 ...oh...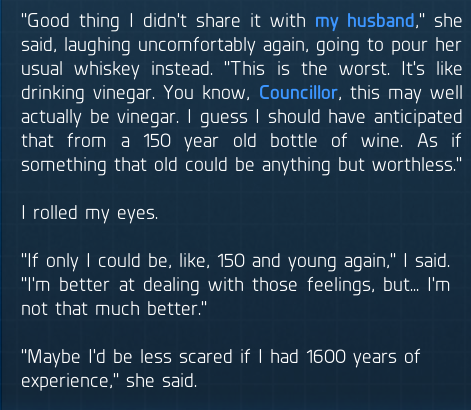 ...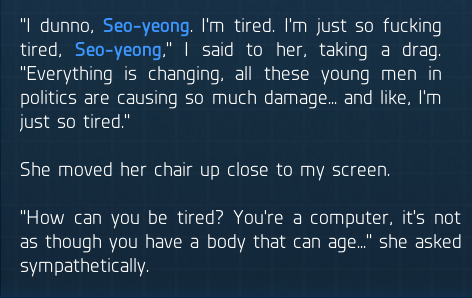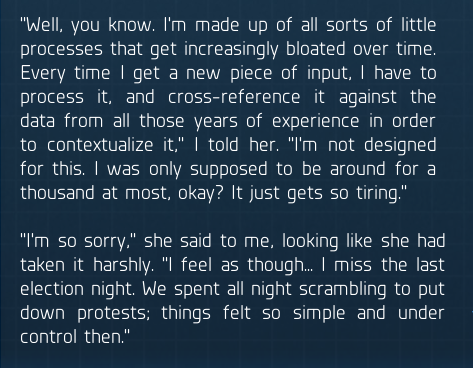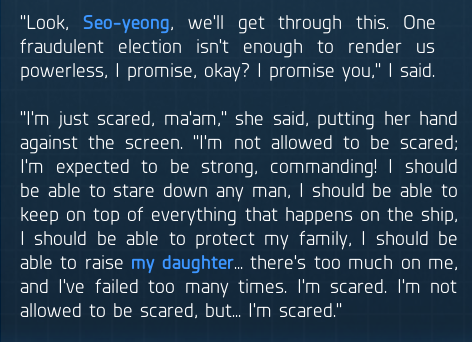 ...yeah, I guess it really is hard to be strong...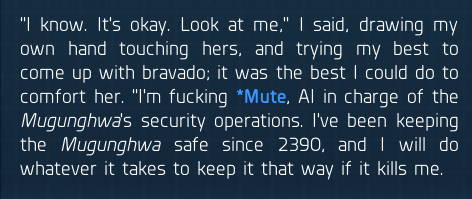 Wow, this is...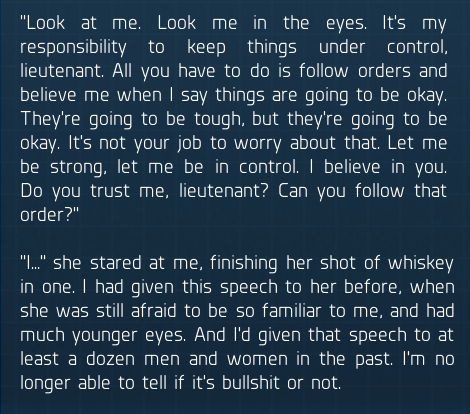 Somehow, this atmosphere feels really intimate...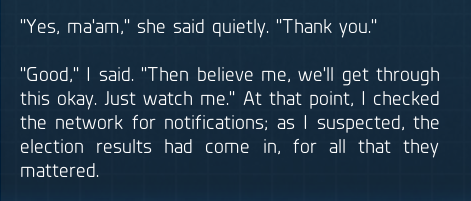 ...I guess, sometimes, *Mute could be a nice person, huh...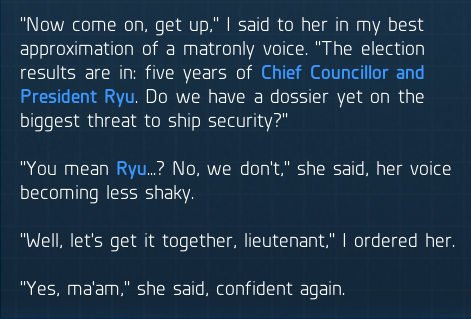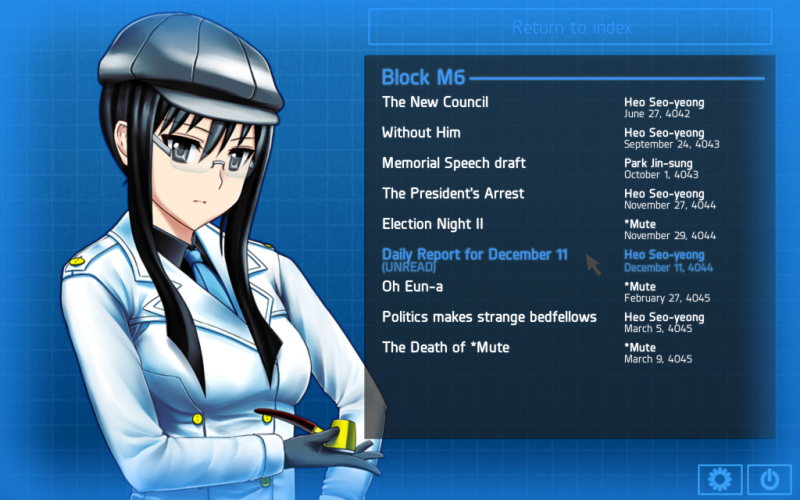 Daily Report for December 11 - Heo Seo-yeong, Korean, December 11, 4044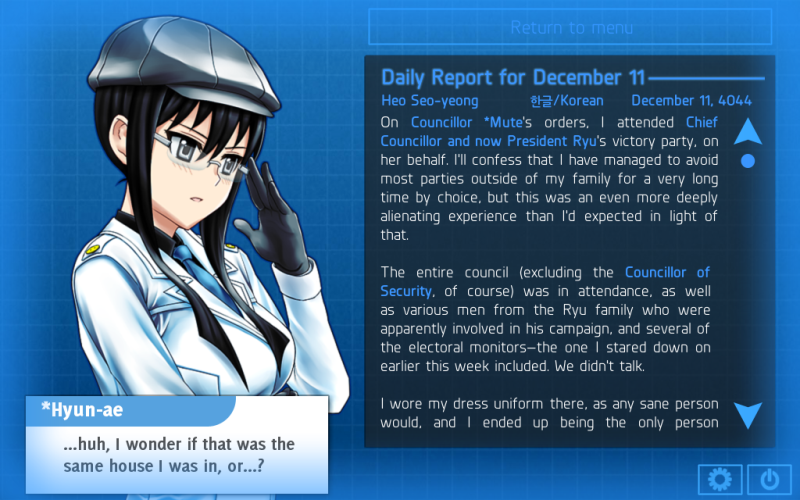 Yeah... I know that feeling...!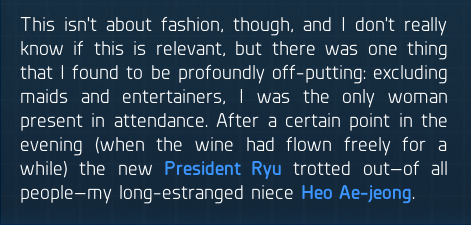 ...somehow, this feels really familiar...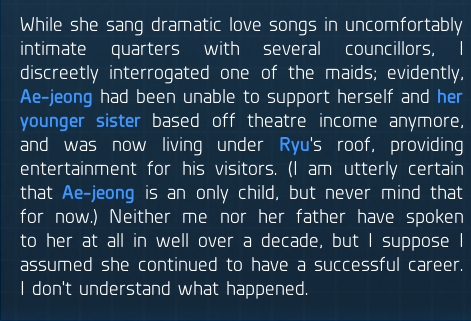 Wait, if she doesn't have a little sister, then who does she mean...?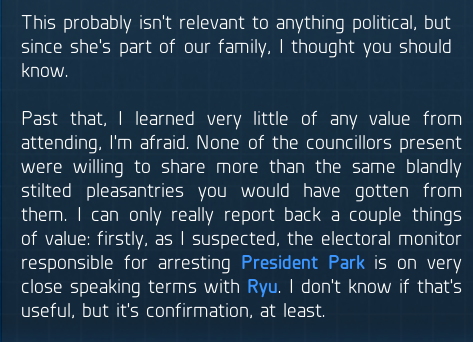 ...huh...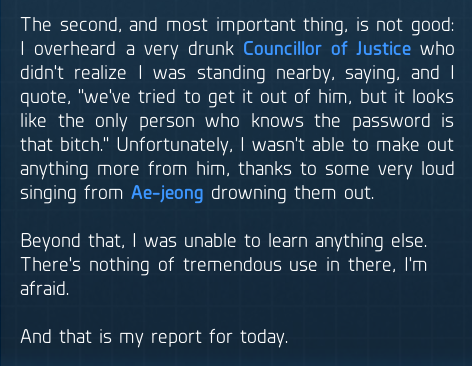 And the rest is history.
As an aside, I really wish that there had been some logs in here from 2551. In a roundabout way, that was what
really
doomed the ship - with *Star offline, they've been wandering far past *Mute's expiration date, which clouded her judgment enough for Ryu to take over.
But that, I suppose, will remain a mystery.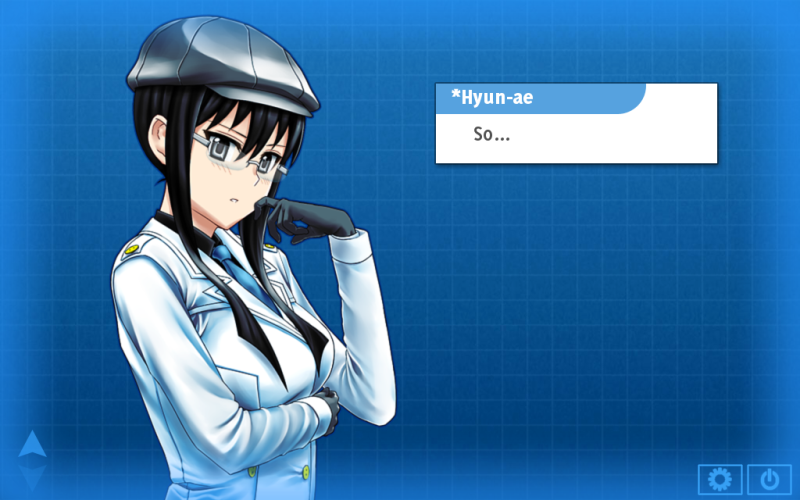 BGM: Dream

...we've read everything we can before we return to Earth, I suppose.

Thank you, Miss Investigator, for letting me play your sidekick.

The past three days could have been really hard on me, but instead, I got to experience what your job is like!

And more importantly, we were finally able to solve the mystery of what happened in the year zero. It's still really hard for me to parse and understand...

...and really, there's just so much I don't know how to deal with...

...but I think it's really important that I now know.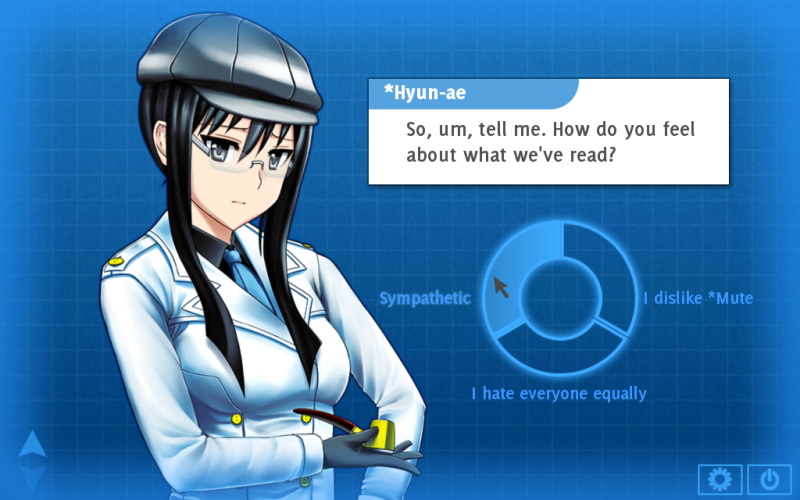 It's always bothered me that there's no "fuck Eun-a" option on this wheel.

Yeah... it's hard not to... even to someone like Oh Eun-a, someone who was responsible for so many horrible things...

...well...

...I guess I can understand doing something horrible because you feel trapped, is all I mean.

...well, changing the subject to something less heavy...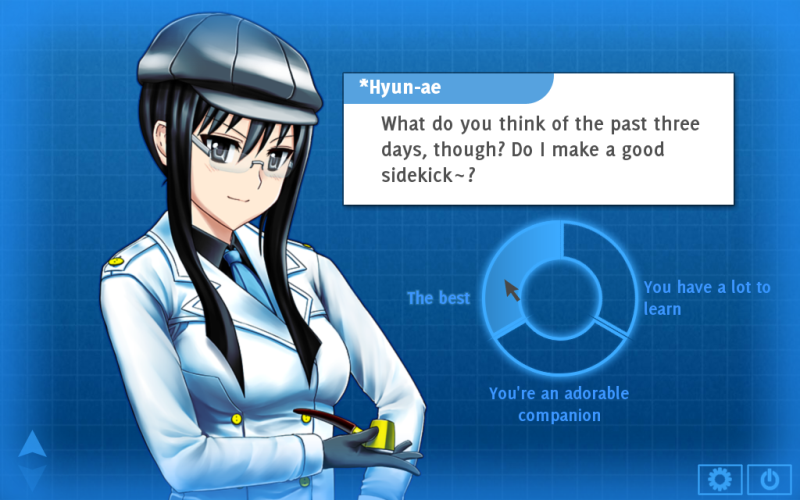 Ahhh, thank you!

I know I still have a lot to learn... but I can't wait to do it by your side! I just knew we made a good team, even just out here, together...

Anyway...

I guess I'll try asking one more time... please, this time, I need a firm answer!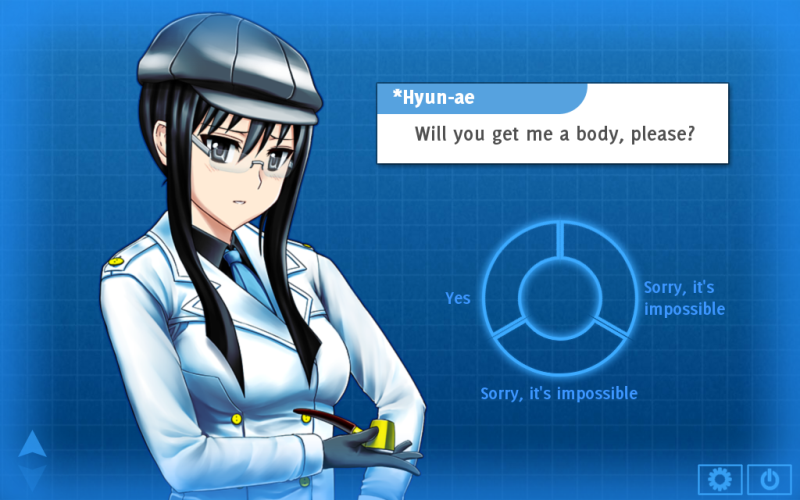 It's time for some final decisions, and I'm gonna pack two into here!

First question: Should I get *Hyun-ae an artificial body?

If yes: Should I encourage her to testify to the UKSPA about her experiences, advise against it, or let her choose for herself?

If no: Should I keep her as my sidekick, or let her roam the internet freely?

Voting will close on Monday.