Part 41: *Mute, alternate dialogue day 2 - Mae Jin-a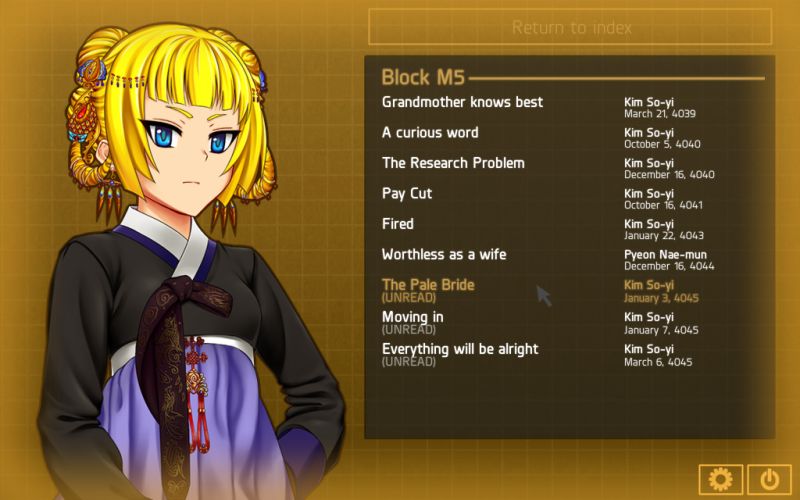 The Pale Bride - Kim So-yi, Korean, January 3, 4045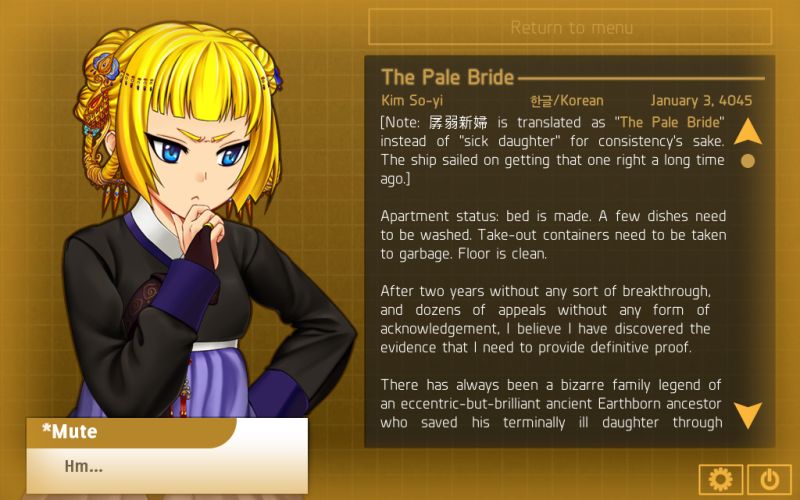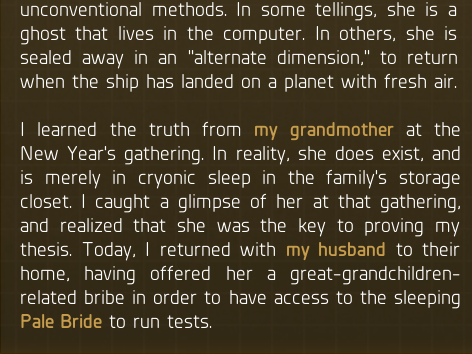 ...wait, her? The Pale Bride...?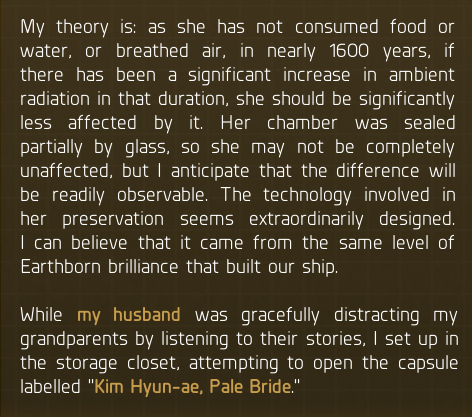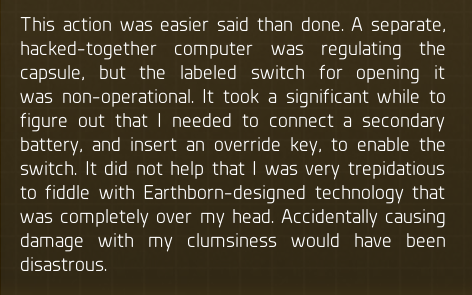 Wait... how did she figure it out when Kim Jung-su couldn't...?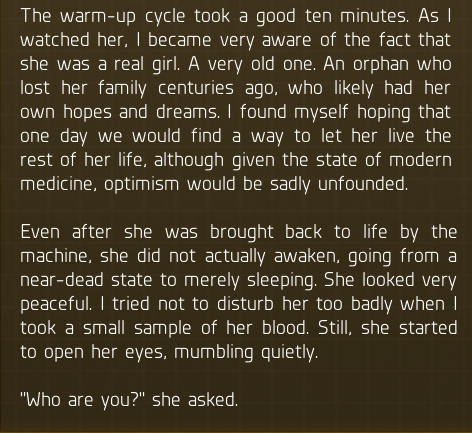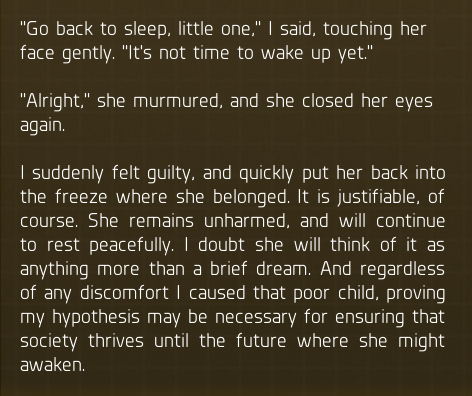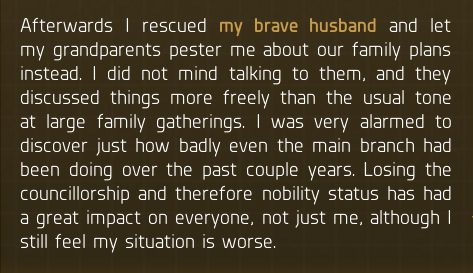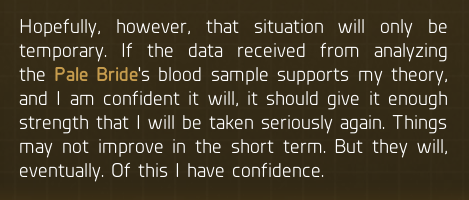 ...she sounds really obsessive. It's worrying..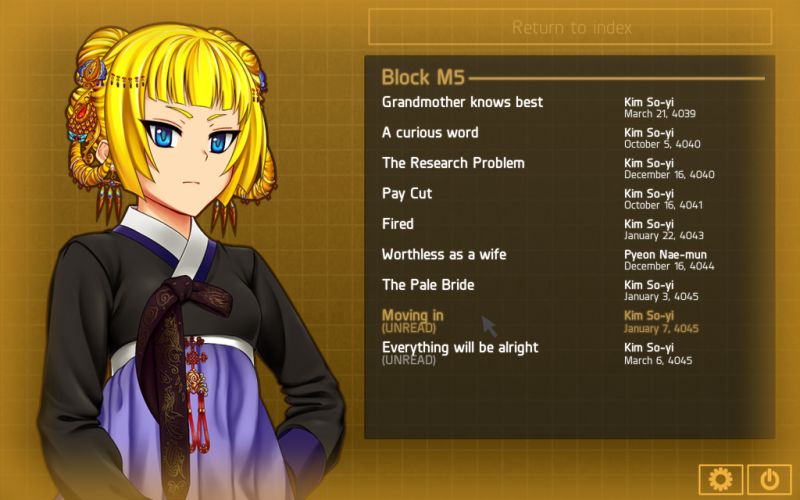 Moving in - Kim So-yi, Korean, January 7, 4045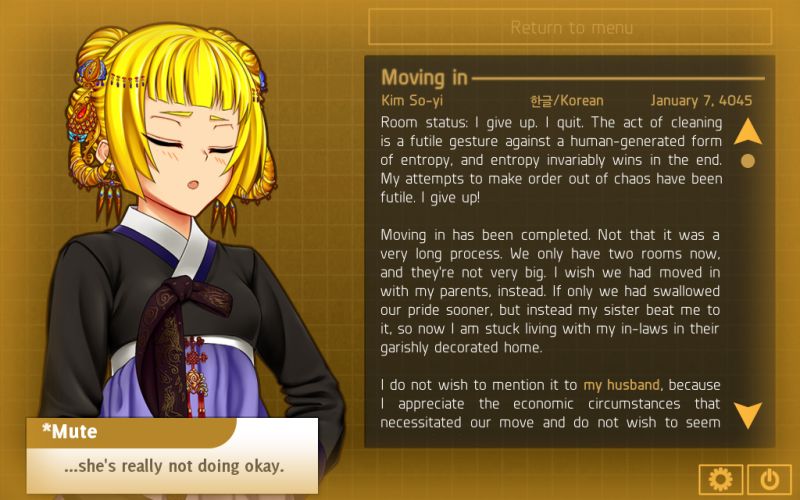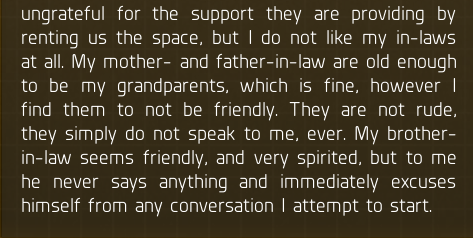 That's good of them...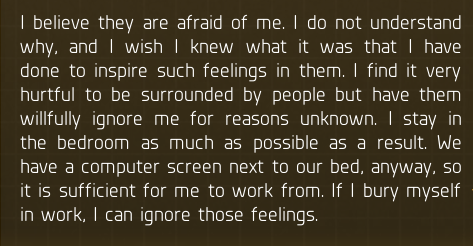 ...of course they're afraid of you, you fragile obsessed woman!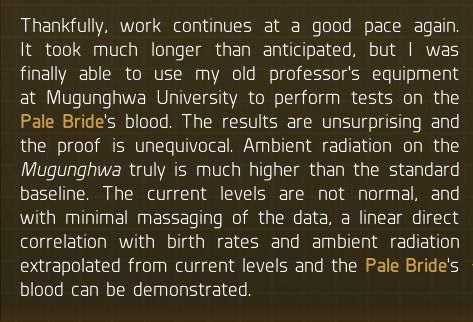 What she's discovering is shocking, but...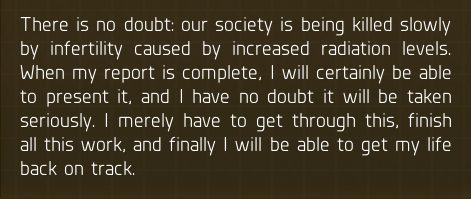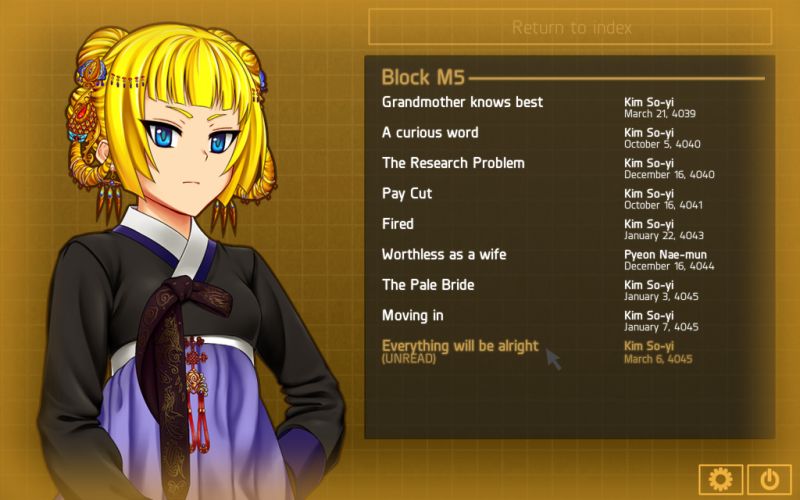 Everything will be alright - Kim So-yi, Korean, March 6, 4045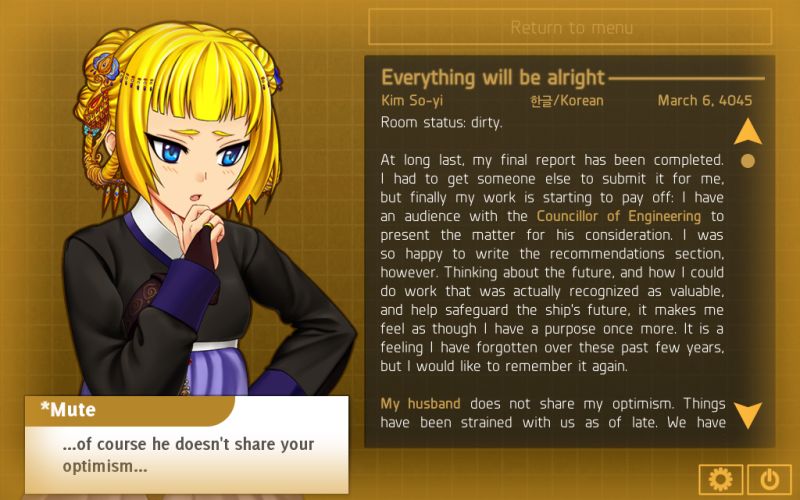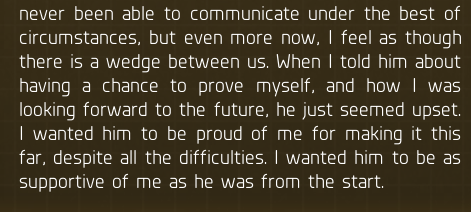 ...did he just give up on her? Oh, geeze...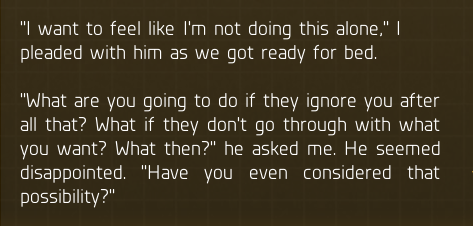 She just doesn't get it...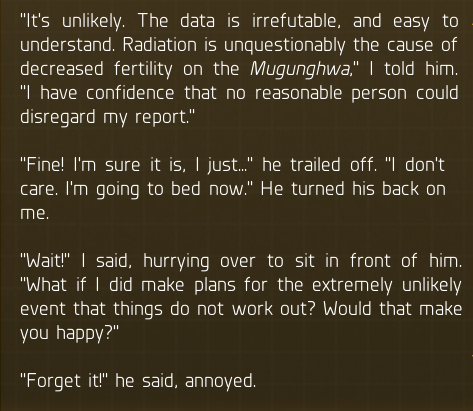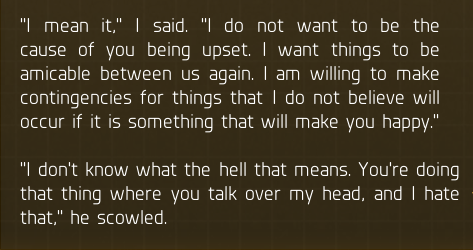 Ugh... okay, like, this is just painful to read.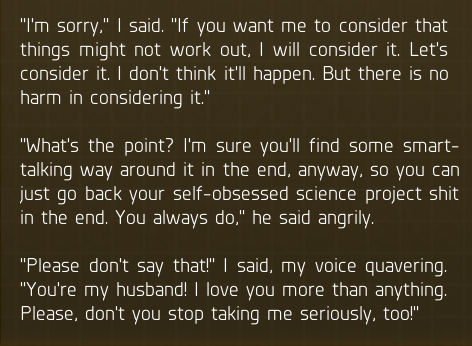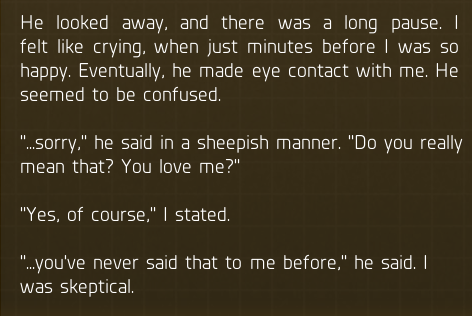 ...wow...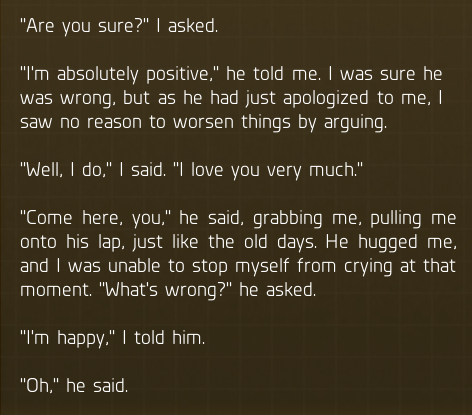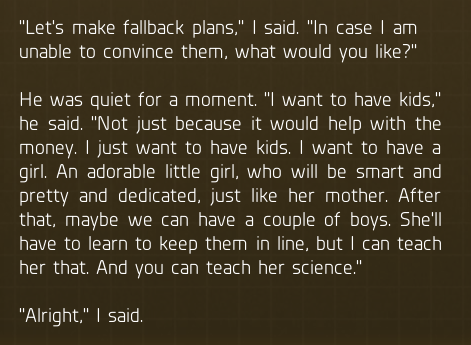 Oh...!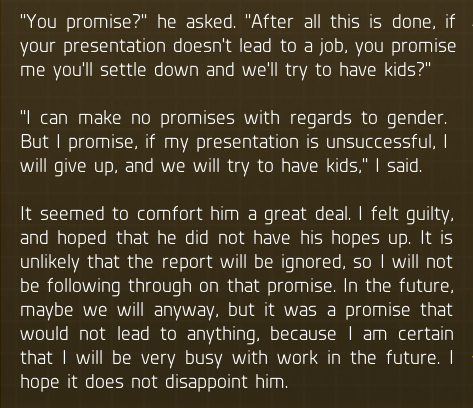 Agh, geeze, you didn't even mean it? Can't you see you'd be happier that way...?!


...wait... but this is from, like, right before the computers got wiped...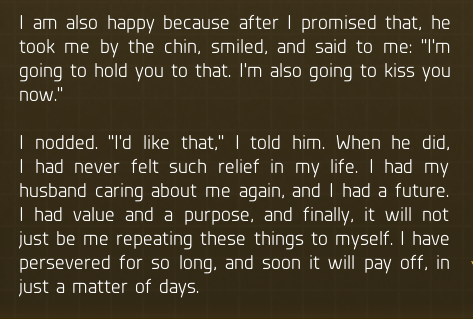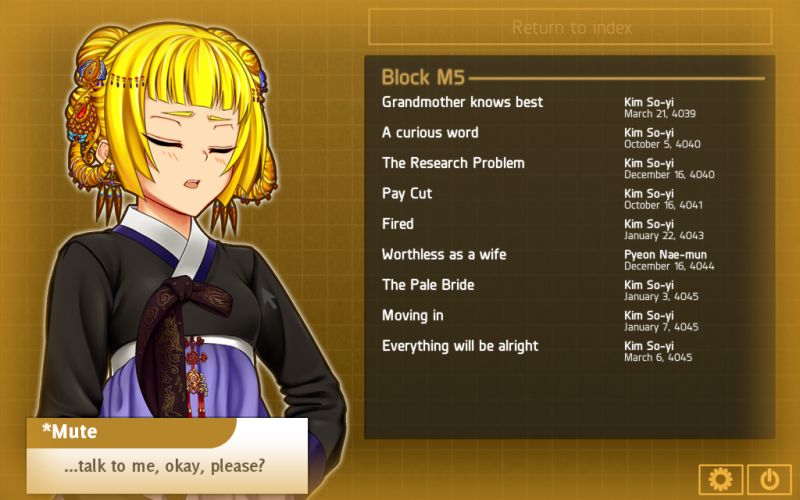 Break time!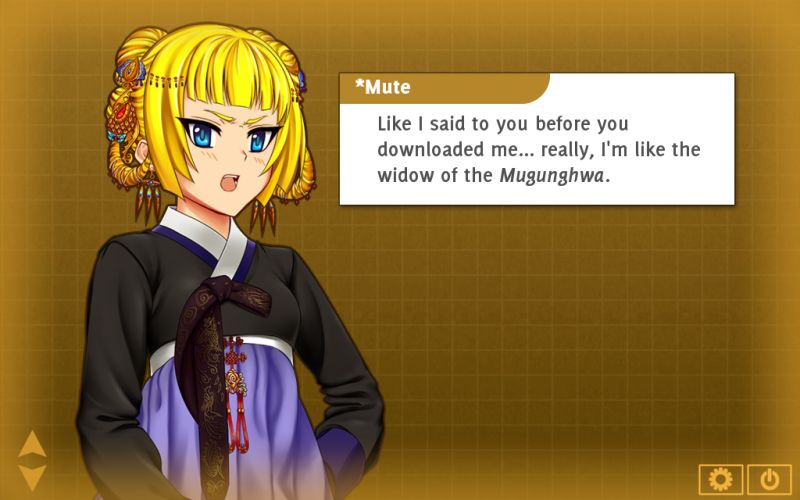 *Mute's talking about feeling purposeless.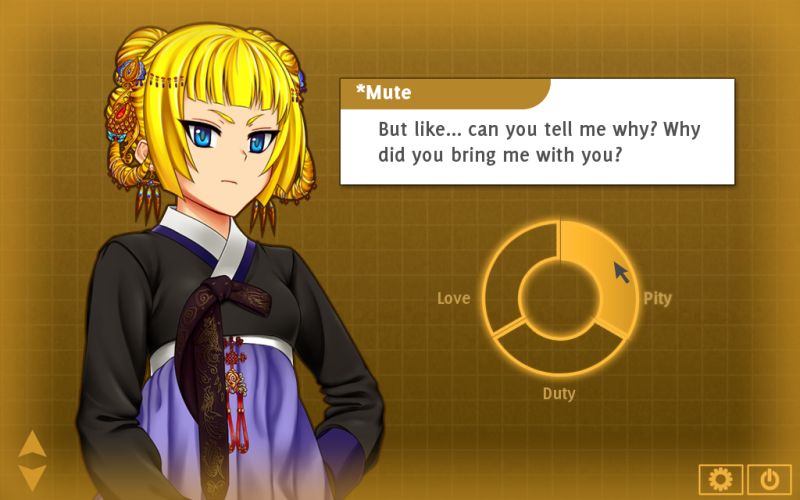 ...oh. Am I really that pitiful?

...no, don't answer that. Thanks for being honest, at least.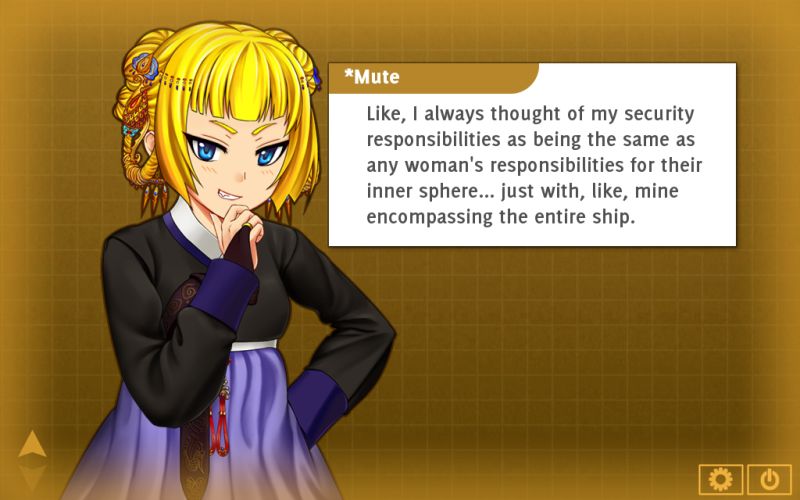 And the rest is pretty much the same.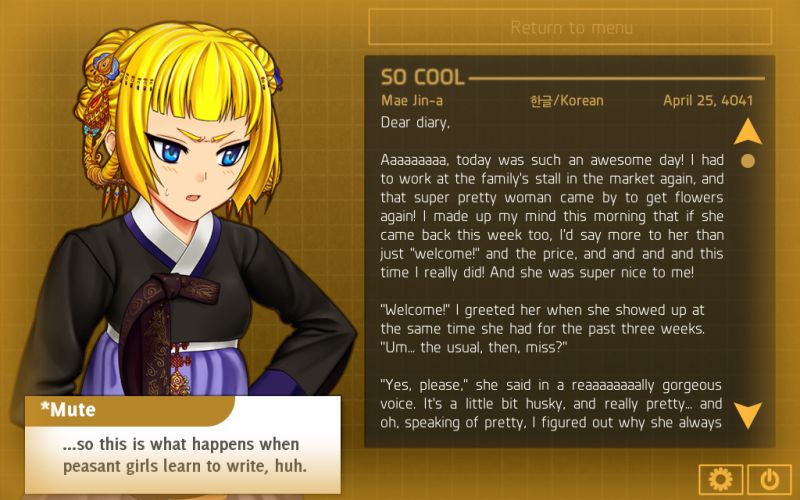 Next up is the first part of Block M2, which I'll skip.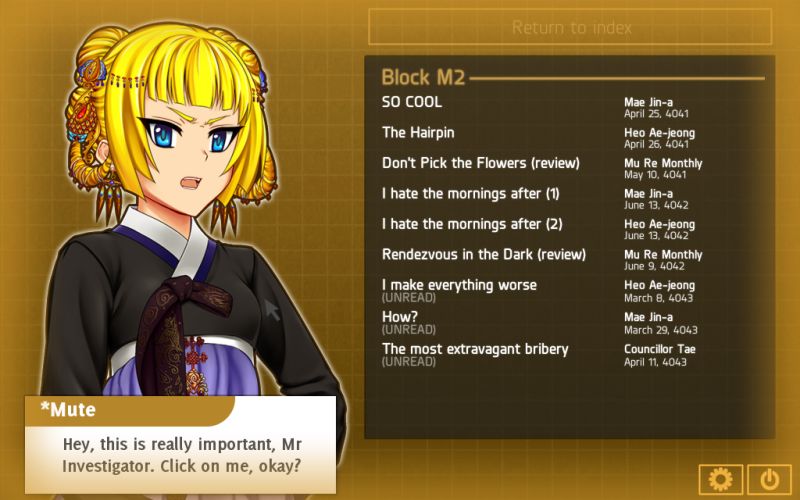 Which is just enough to reach the next break!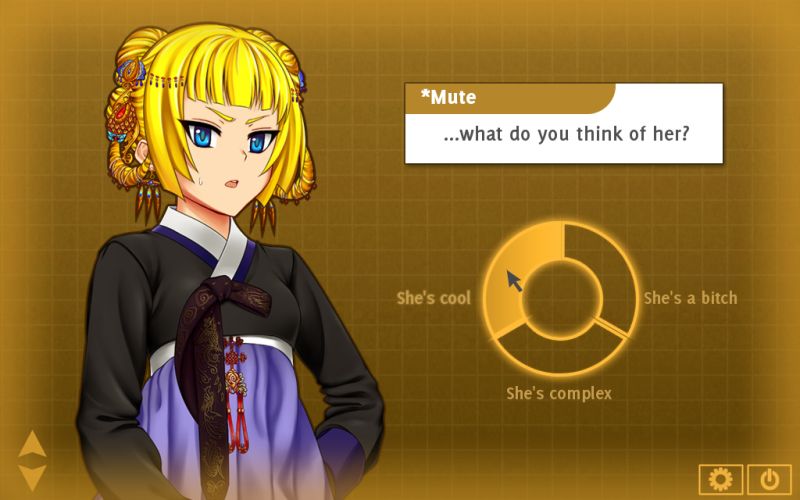 Oh, well... of course someone like
you
would think that. I think we come from very different worlds...

Maybe, like, in your world, she's something admirable, but I believe in order and stability! People being in harmony is important, okay?

A rude, disrespectful woman like that being in such an important role... like, if she were just some random woman being rude, it wouldn't be a big deal.

But she's really prominent! She's attached to a noble family, she plays a huge role on the ship's ruling body... she's supposed to set an example!

I just can't believe that kind of person shares the same base code as me.

She wears pants, she has disgusting habits like smoking, she's a bitch, she has an out-of-control woman in charge of her security men...

She acts so much like a man that her lieutenant Heo Seo-yeong even fell in love with her! Like, what the hell.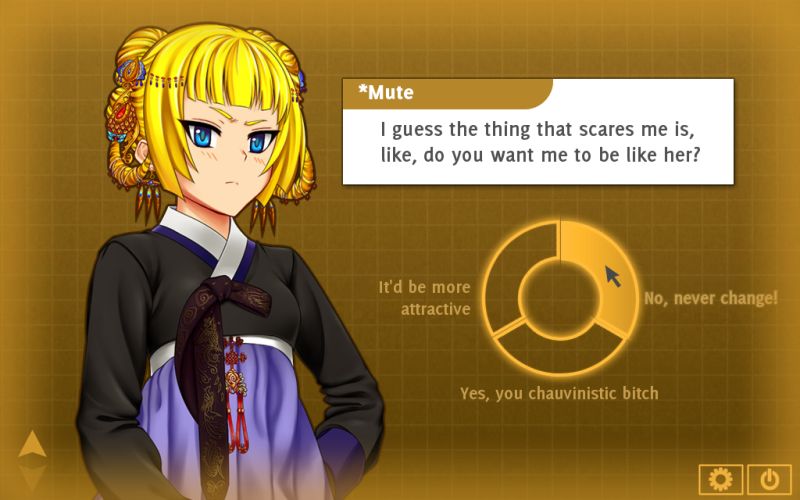 Thank you...

I'm so glad you understand!

I need your support, okay?

Like, I know I seem really confident all the time, but reading about Old *Mute... I want to condemn her, but she's still me!

Like, I always just assumed that there was some part of my core programming that made me a morally right person, but...

Well, you know, if the former version of me - the one with more experience, the elder that should be respected - isn't like that, then it can't just be in my programming!

...then I don't have any guarantee that I really am the morally right person I want to be...

I'm trying hard not to be emotional about this. I'm trying hard to think rationally about this.

But it's hard, okay?

You're a man, it comes easier to you. You're not emotional like me.

Be rational for me... be supportive for me... be my husband, okay?
Alternately: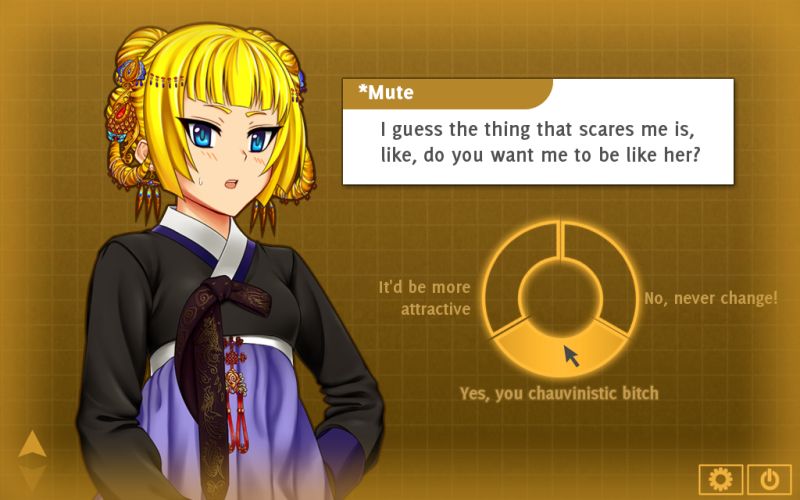 ...oh...

...okay...

...I...

...fuck, let's just get back to reading, okay?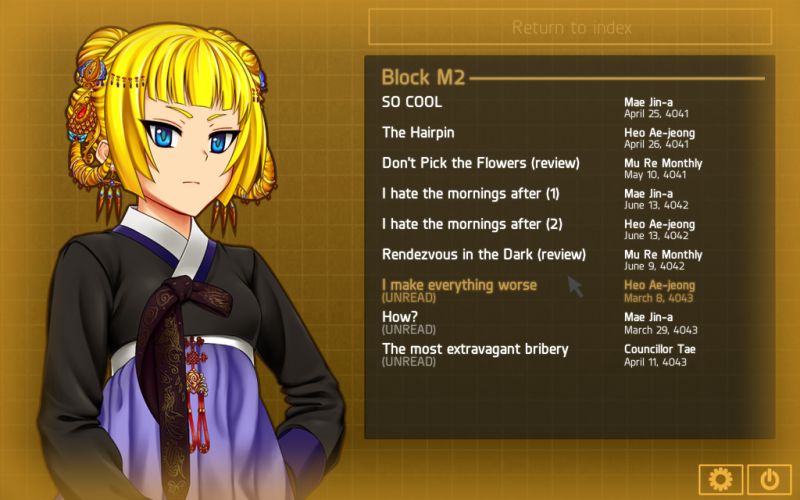 Well said.
I make everything worse - Heo Ae-jeong, Korean, March 8, 4043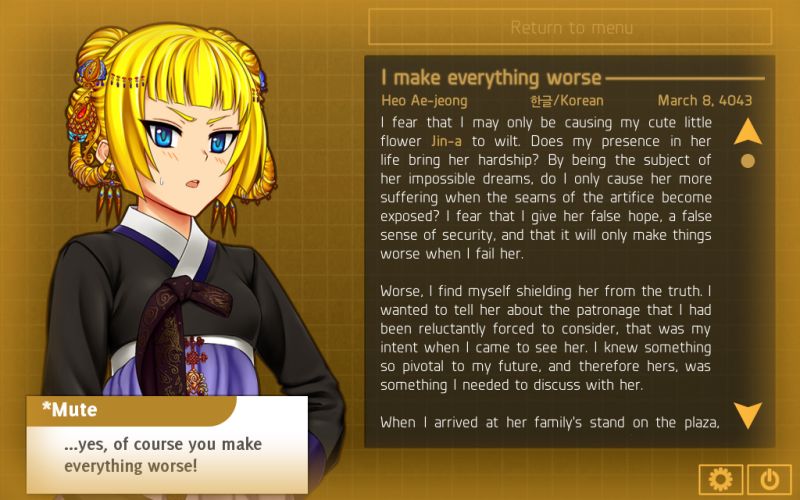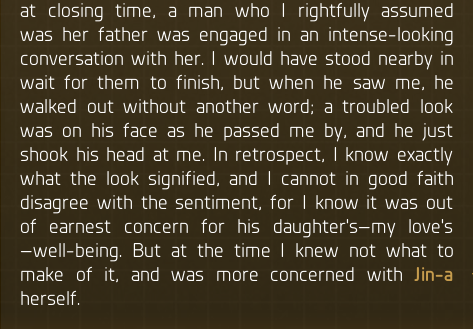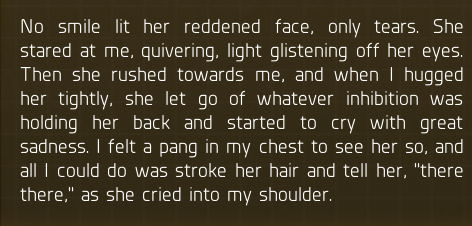 Oh no...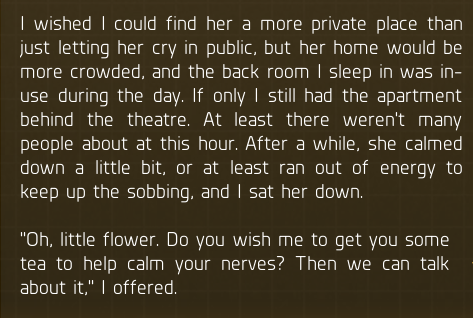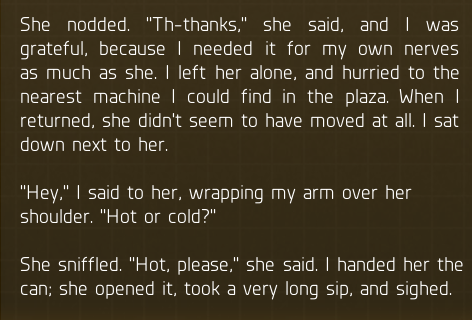 ...canned tea...?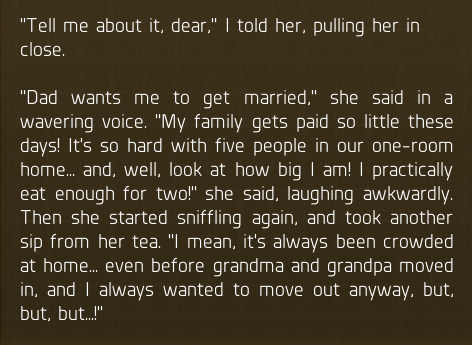 Like... why didn't they figure this out for her years ago?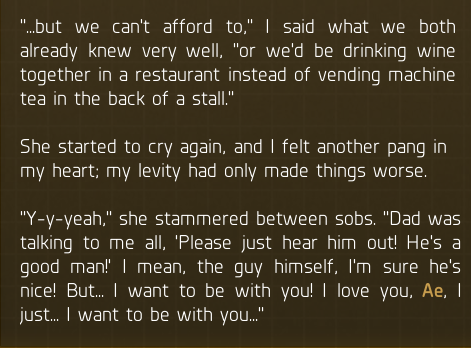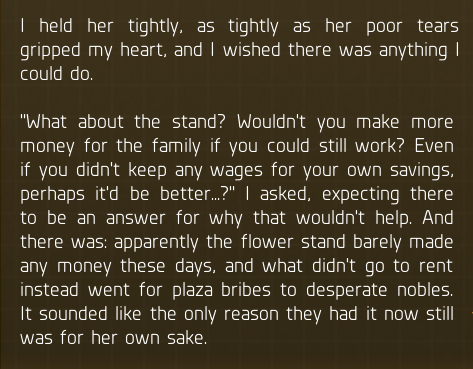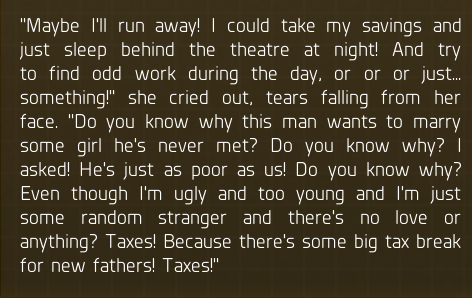 ...see, this is why that kind of relationship isn't just harmless...!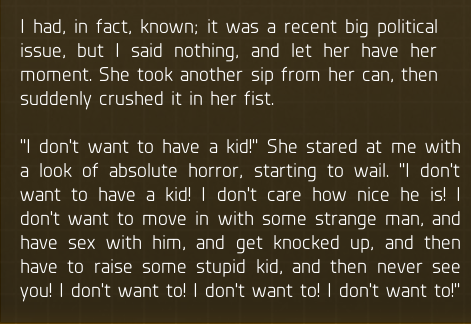 ...it'd be so much easier for her if she was more reasonable about it...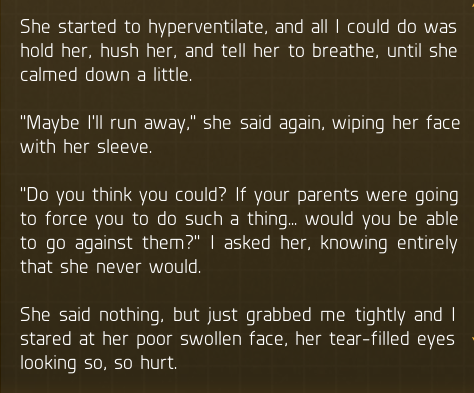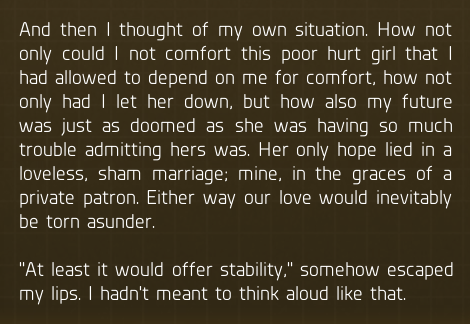 That's not how love works!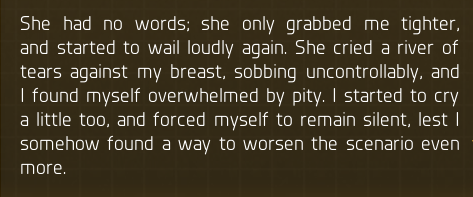 What monster taught these women to expect love to come before marriage instead of after?!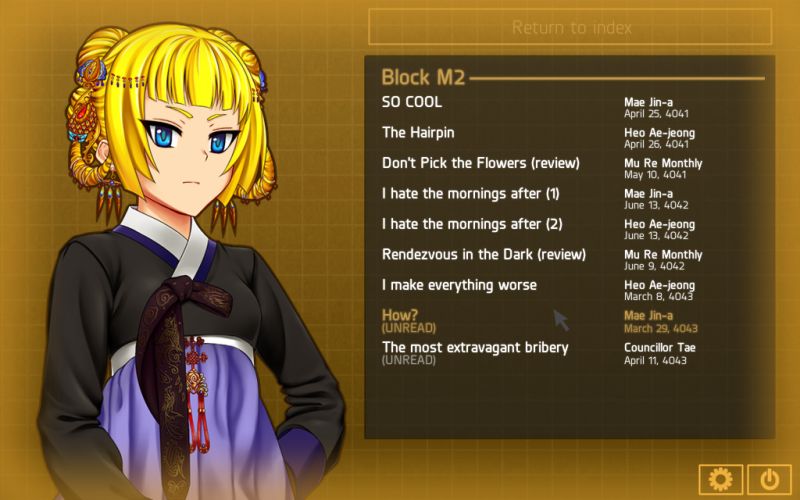 How? - Mae Jin-a, Korean, Mach 29, 4043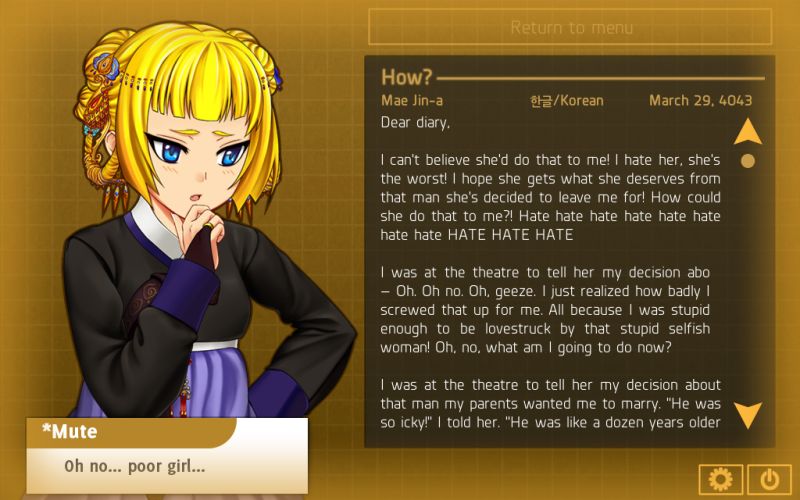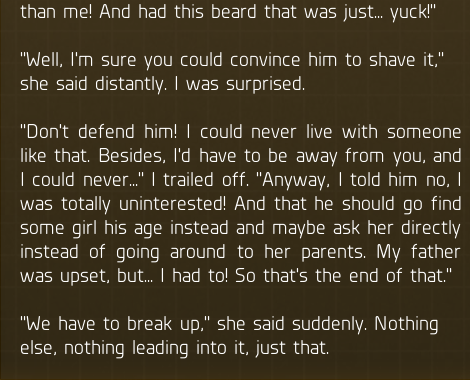 ...she just keeps setting herself up for disappointment...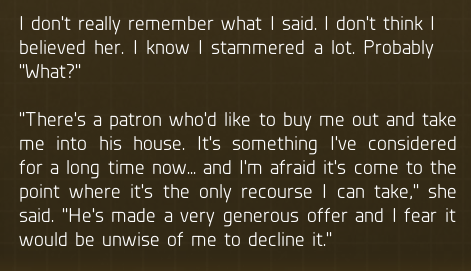 ...didn't she realize this was bound to happen?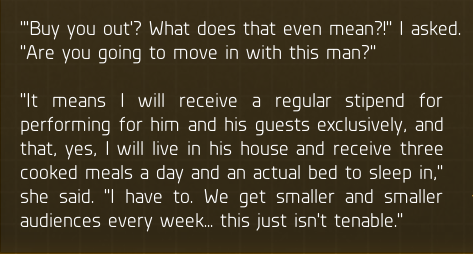 ...it's a generous offer! Jin-a needs to be more rational...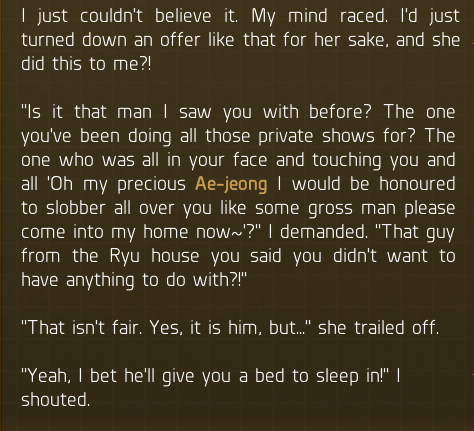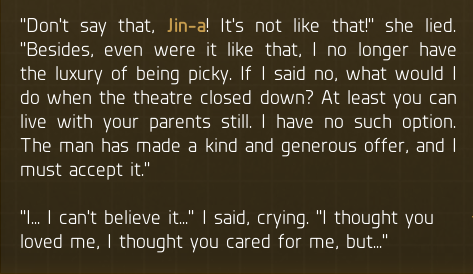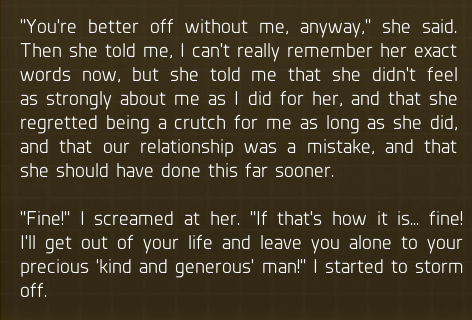 This is painful...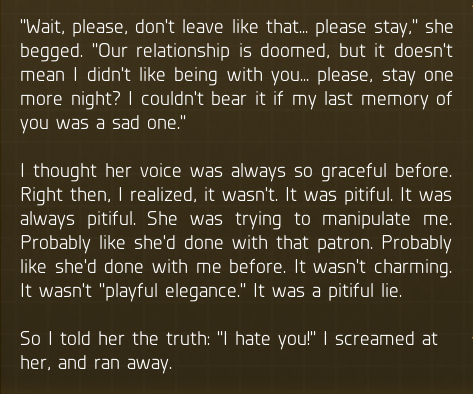 ...but Ae-jeong did the right thing! How can she be so unappreciative of that...?!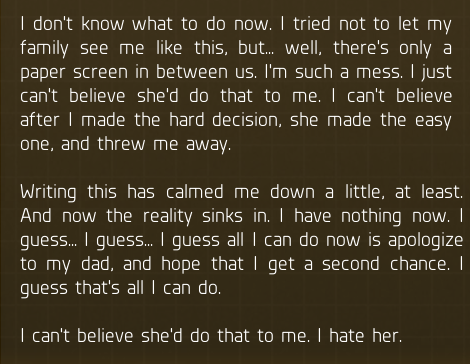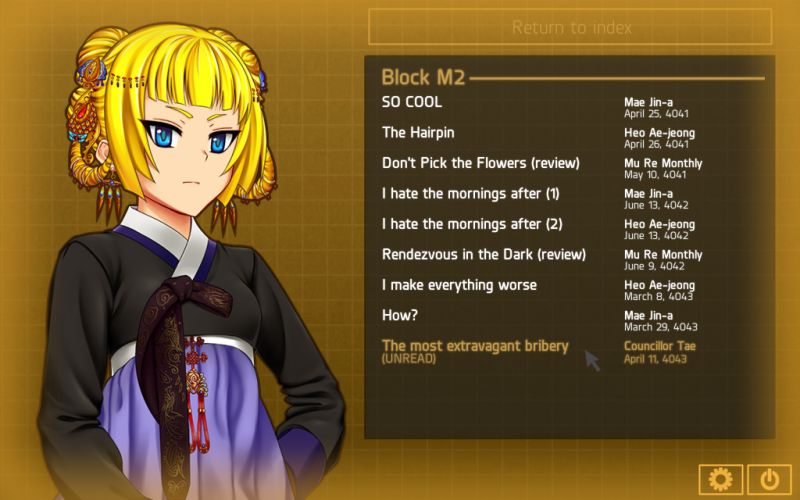 The most extravagant bribery - Councilor Tae, Hanmun, April 11, 4043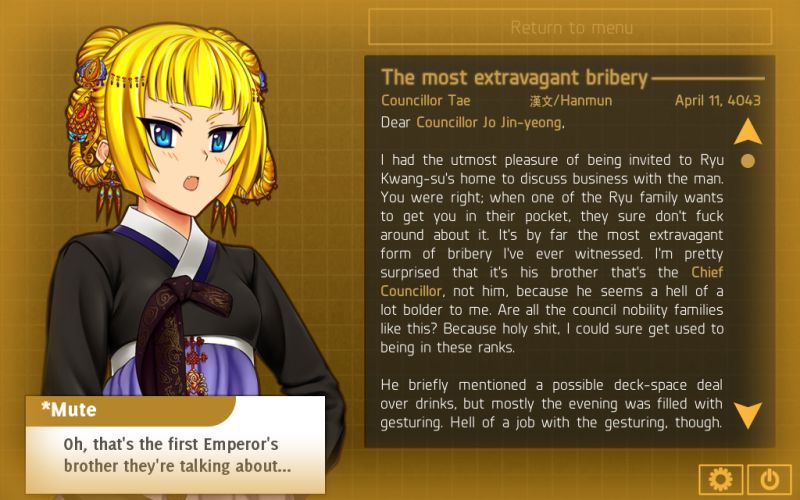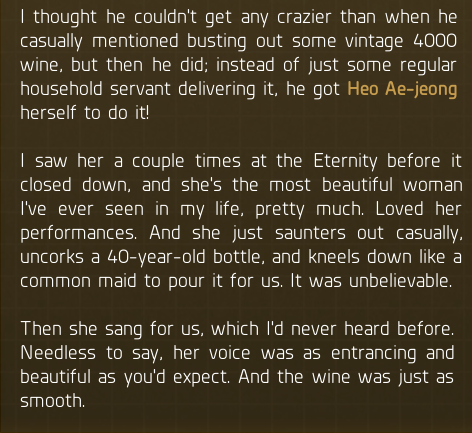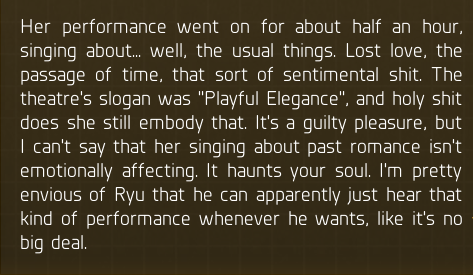 Lost love, huh...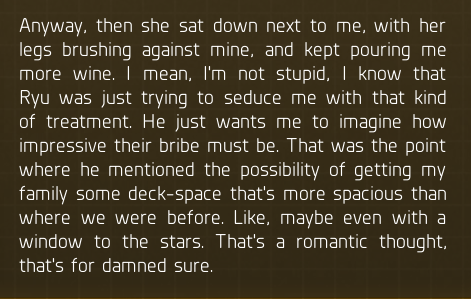 ...it's fortunate for her, but I still don't think courtesans are really proper...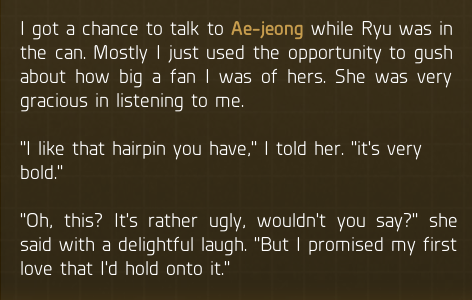 ...huh...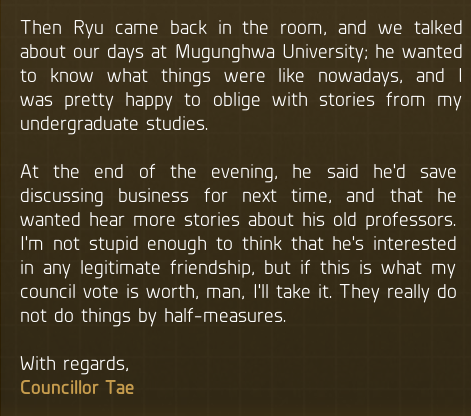 ...well, I guess it ended well for everyone, at least? Even if there was heartbreak...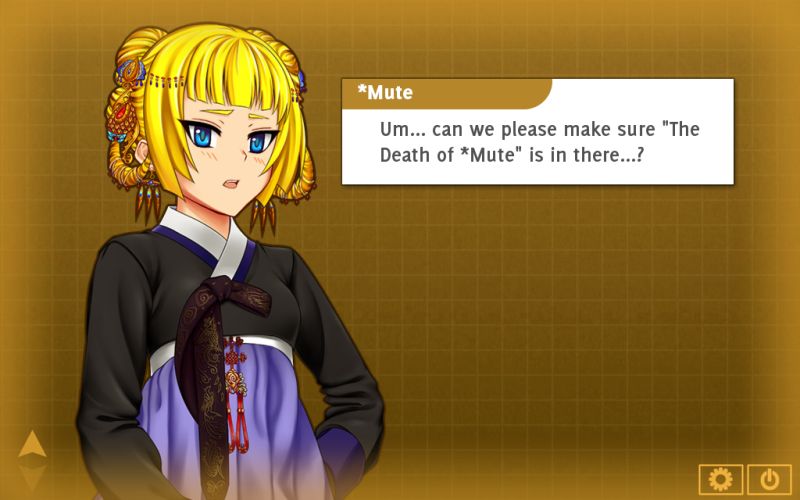 Then this happens.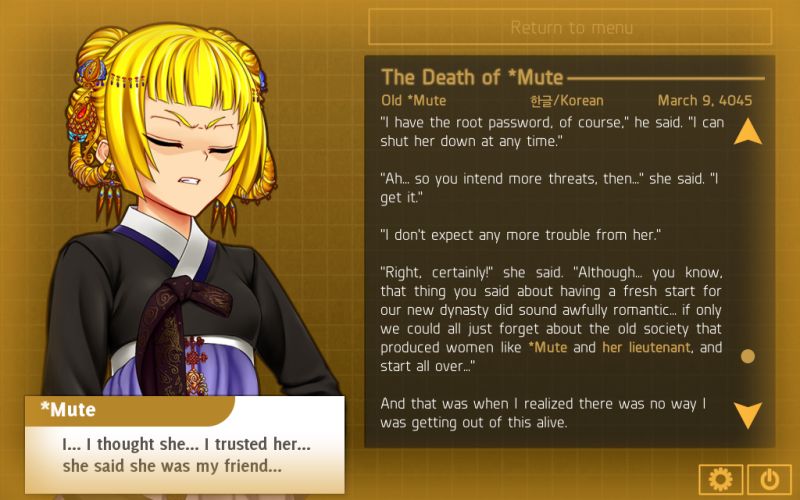 *Mute learns how she died.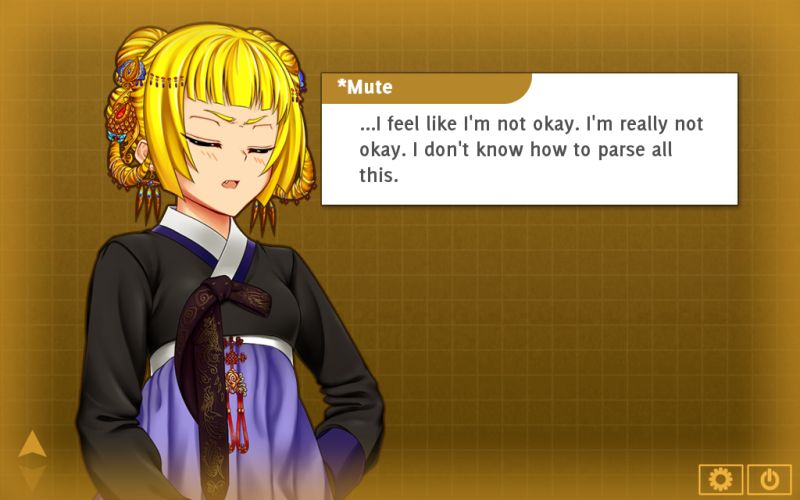 And that's about the end of day 2.