Introduction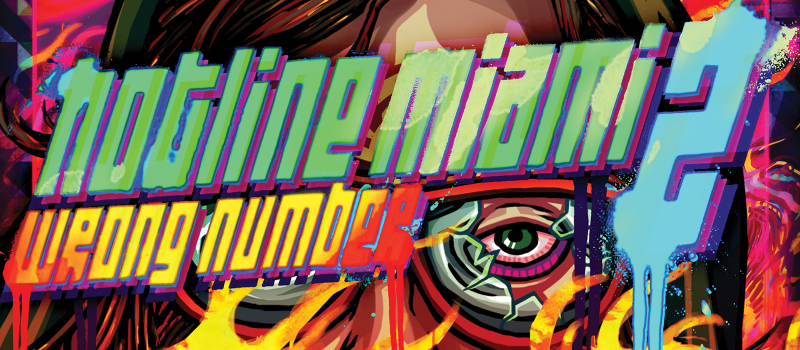 Working Title:
Ultraviolence At a Million Miles an Hour
Introduction "For Those Unaware"
So, Hotline Miami. In a sentence, it's a top-down fuck 'em up.
Slightly more verbose, it's a love letter to Miami Vice's stereotyped vision of the 1980s written in a potent cocktail of blood and adrenaline, all in perfect harmony with a world of fluorescent colors and pounding synth. You kill a lot of people in the most graphic manner the 16-bit top-down perspective allows, and have a whole lot of fun doing it. Then you drive home, witness some events that may or may not be happening, wake up and do it again.
Tome & cKnoor did a nice LP of it
, which you should absolutely watch first if you're not familiar with the game.
Hotline Miami 2 is a direct sequel and continuation of the first game, and one that builds off it considerably. The gameplay is pretty much the original but bigger,
better,
and tougher, while the story focuses on a bunch of characters the were in some way directly connected to or otherwise affected by Jacket from the first game. The game is also considerably harder. The game is supposed to play like
this
but usually ends up like
this
. It's a game that's almost too big for itself, both in narrative and raw game design as we'll see before too long. So strap in for high octane ultraviolence/storytelling!

THIS LP ASSUMES YOU'VE EITHER BEAT HOTLINE MIAMI 1 OR SEEN THE LP OF IT


THIS LP ASSUMES YOU'VE EITHER BEAT HOTLINE MIAMI 1 OR SEEN THE LP OF IT


THIS LP ASSUMES YOU'VE EITHER BEAT HOTLINE MIAMI 1 OR SEEN THE LP OF IT

Videos