Part 8: Trial
Wwwwwlecome back, everybody!
Last time, we found the ancient languages specialist employed by our pharmaceutical company(???!?) and had him translate the letter that came with a bunch of mysterious pills.
Whatever he read made him hang himself, but fortunately, Henry has taken the 0 seconds he needs to process that, and is going on with his day!
I'm trying something a little different with this update: since the 'plot' has officially kicked in, I don't want to distract too much with all the side-conversations that Henry can have, but I DO want to show them off: there is a (gasp) effective storytelling conversation in the office, the setup for one of the most "what" moments in the game in the downtown section, and you... you all really need to see today's therapy session.
SO: in order to segregate things and keep the focus, I'm going to present only the main plot in this main post, and have three other sections for the extra conversations you can have at the office, downtown, and the day's therapy sessions. Like....
THIS



Okay - once you've cleared those (or save them to the end, or read them at the appropriate place in this update:
create your own fun in this LP
!), let's pick up where we left off.
After we talk to the other suffocating drones fine people at the office, of course.
And THAT was leaving the office! Obviously, we're interested in how Stinky Pete is doing with the treatm...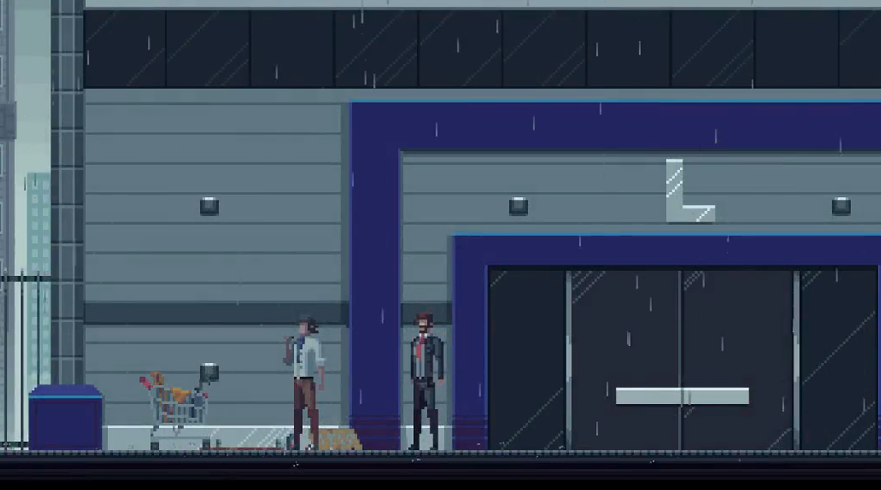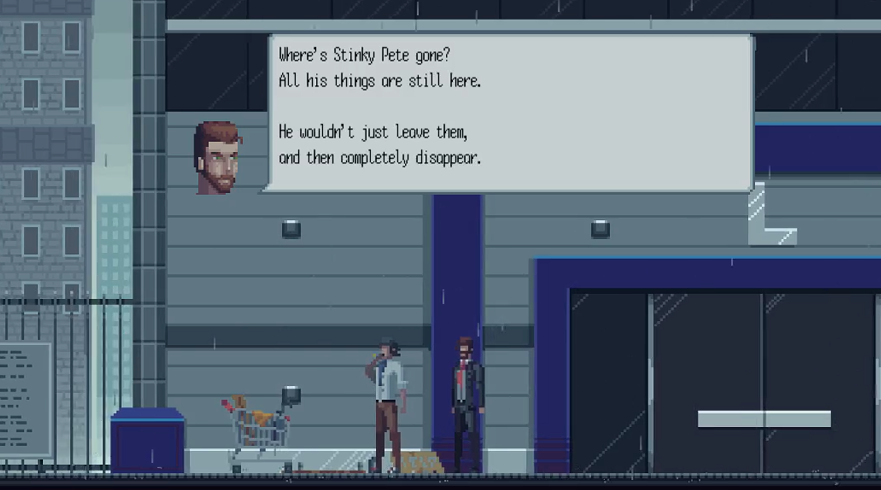 -
Didn't you hear about the miracle?
Pete apparently "learned" to walk.

He ran away down the street, leaving people to gawk.

-
He was shouting and singing about some miracle pill,
that cured all his ailments, leaving him no longer ill.

-
He must have been just scamming us all along,
then suddenly realized what he was doing is wrong.
Ahhhh, the old familiar trope of the extremely obtuse policeman in the magical setting. "Yep, didn't ask for anything, was dancing down the street, singing about a miracle pill right outside of this major pharmaceutical company. Definitely not either mental illness or somebody slipping him medicine. SCAMS."
Also is... is this like, detective-worthy? I don't actually buy that Harris would do anything more than burn all Stinky Pete's stuff. Do police get dispatched for potential miracles?
"We've got a 704 - miraculous healing - on 5th and Broadway, all units please respond"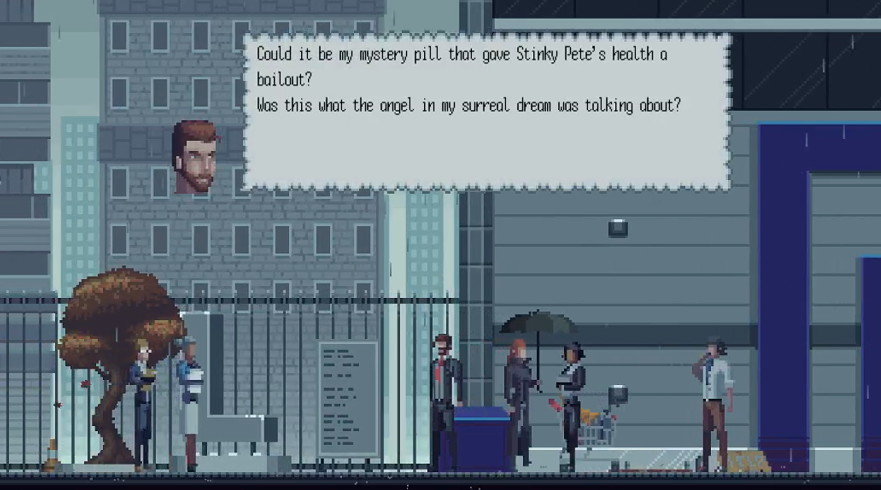 -
Is the "salvation of Grace" to be found in these pills?
Could it be that simple, no need for further medical bills?

-
Listen to yourself, you are losing your mind,
and talking like someone that to logic is blind.
Yeah, let's TALK about the logic here for a minute:
1) Mystery pills come in the mail, along with a wiggly ancient languages letter
2) You FOR SOME REASON give one to a homeless guy, rather than trying to figure out what's in it at your
job at a pharmaceutical company

3) Unbelievably, instead of (or, at least, before) causing fatal liver damage, the pills seem to fix Stinky Pete's bum legs
4) You conclude that they might cure your wife's cancer?????
Henry, you need to IMMEDIATELY turn around, march back inside the, I can't stress this enough, Pharmaceutical Company where you WORK, as a CHEMIST, and ANALYZE THIS COMPOUND.
No?
We're going home?
(After a quick stop-off downtown, catalogued here)
and a little therapy, of course
Ok. Neat.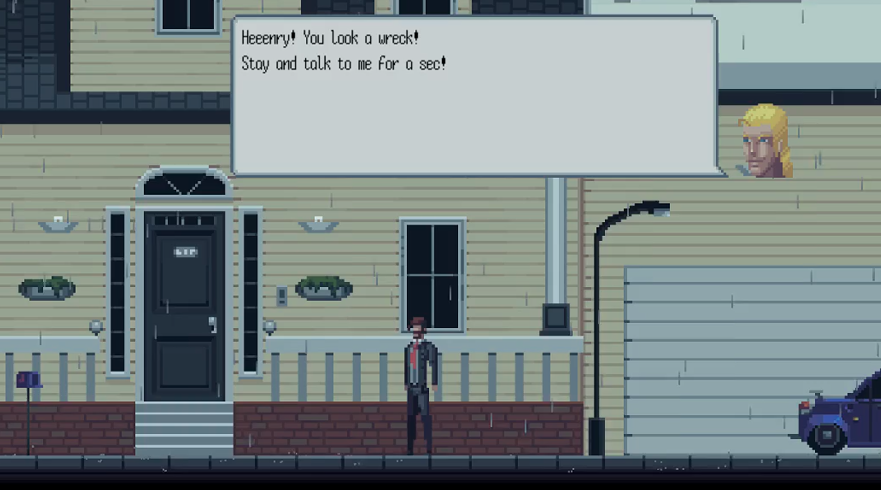 Ugh.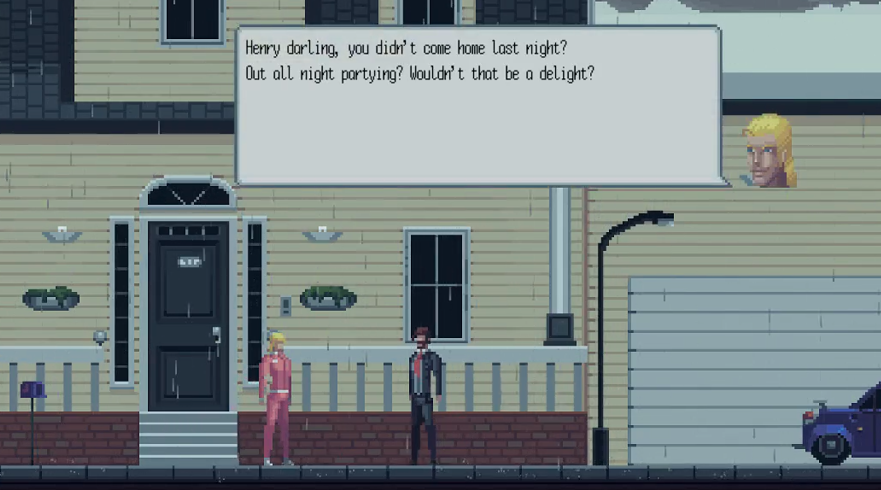 You know, in all fairness, I wouldn't put it past us.

-
Heh, no nothing like that,
just lots of work to complete.

I was stuck in my office all night,
didn't even get a bite to eat.

-
Mmm such a hardworking man is rare these days to see.
Next time you're working late, if you want a bite, have me.
SHHHHHH MS. JONES!
Doris might hear you! I mean, heck, she's PROBABLY stalking us right now.

-
Ehm, Miss Jones, I eh hmm I uh...

-
Oh you're such a sweetheart when you fumble and you blush.
You couldn't possibly expect a woman not to develop a crush.

-
Don't take me so seriously,
life is much too short.

To not have a laugh and a flirt,
you're a great sport.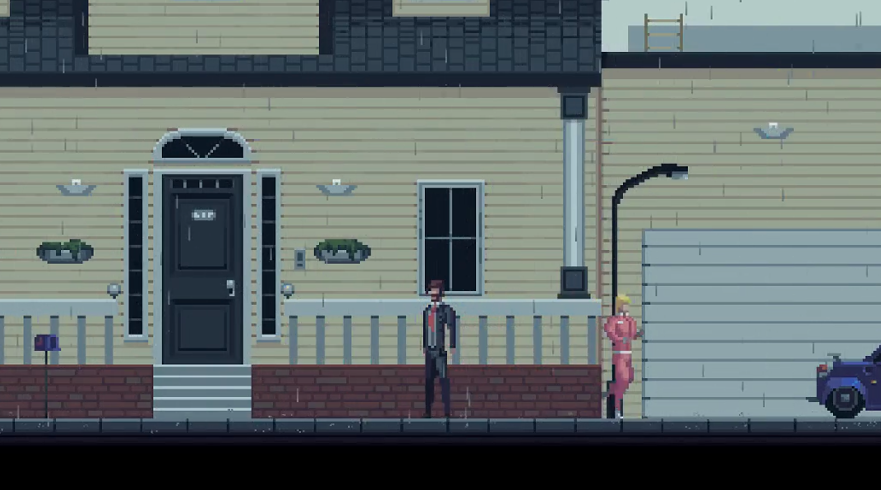 Yeah ok, lady. Just pointing it out, but having an affair with her is TOTALLY a possibility in the game.
And the achievement for not having an affair is like "Dedicated Husband". No, I wouldn't go that far. "Sane human", maybe?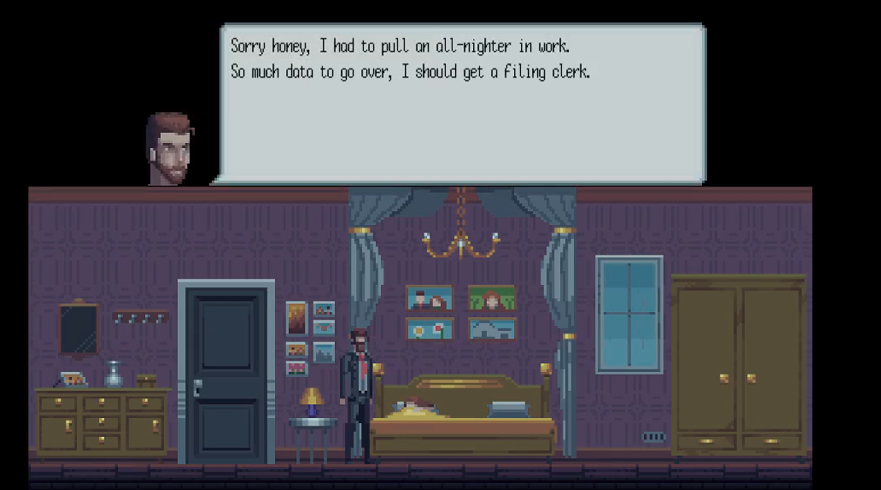 Lies, and the liars that tell them: Henry addition.

-
That's ok my darling,
but next time please call.

I've been too weak to get up.
I've just been staring at the wall.

Real talk, I know it's draining caring for somebody who is dying like this, but uh... this probably isn't the FIRST day she was too weak to do anything, so it's a given that you should be around in the mornings, Henry.
This WOULD make me go easier on you for being late to work, only I know you'd do that anyway.
Also, yes, I did KIND of force you to talk to every human who lives downtown, but in my defense, time doesn't advance at all while you're doing so, so


-
You're not feeling great today?
You're looking pretty pale.

Have you taken your medication?
They usually don't fail.

-
I took the last of my prescription this morning,
but the tablets can no longer the sickness quell.

I have been getting sick for hours now,
with nothing left in my stomach to expel.
Look, I'm SORRY, it's just that if I sit down at my desk for more than four seconds, I fall asleep overnight! That's just how I am, doll!

-
You know Stinky Pete, who you used to love to chat to?
Apparently he's cured now, and maybe you can be too.
What? No she can't.

-
I got these strange tablets, and gave him one to my curiosity ease.
Apparently just this morning, he ran off with fully healed knees.
Henry...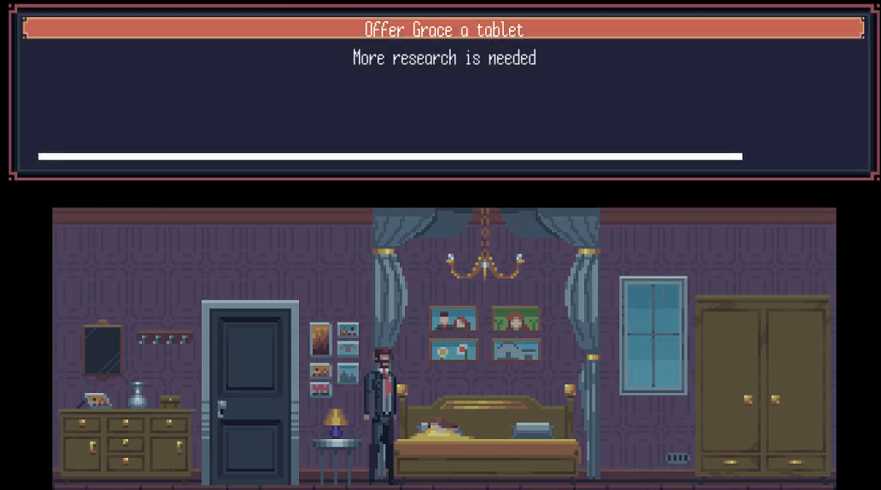 HENRY ARE YOU KIDDING ME?
IS THIS GAME KIDDING ME?
ARE YOU, THE VIEWERS, KIDDING ME, IN WHAT IS THE MOST IMPORTANT POLL TO DATE:
Do we just
GIVE OUR SICK WIFE MEDICINE WITHOUT TESTING IT AT THE COMPANY WE WORK AT, DOING THE JOB THAT WE IN FACT DO
, or do we uh... do that thing.
Break point time, goons! WHAT. DO. WE. DO???