Part 19: Breakthrough
Welcome back, everybody! To the timeline where we AREN'T doing the worst things imaginable!
This Henry is... well, he could be worse!


Anyway: last time, we elected to RECALL THE EMAIL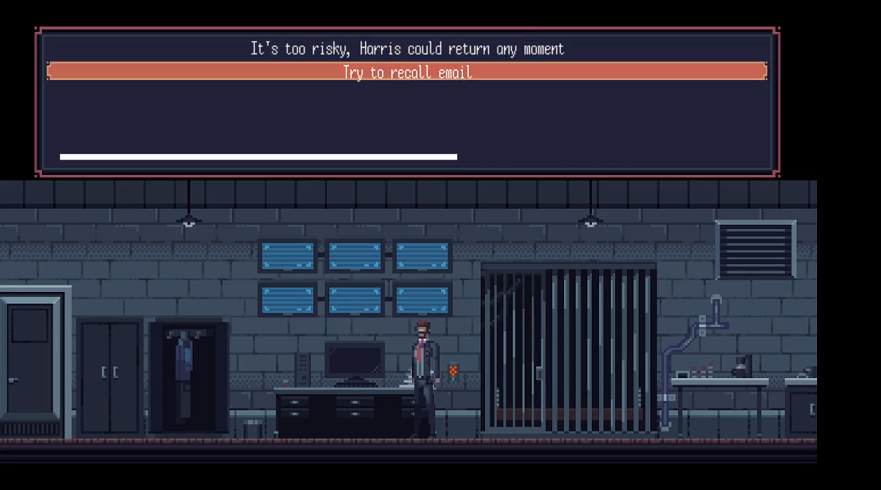 Which was....
....
drumroll....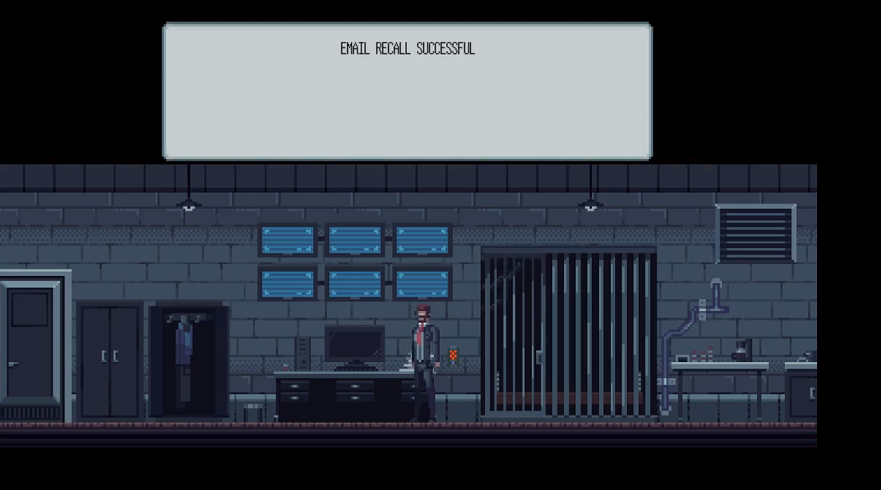 THE CORRECT CHOICE


-
There we go, that was easy enough.
I should scram before Harris returns.
Getting caught again would be rough.
Yeah, no downsides, and it prevents problems later.
As I said, you REALLY should be able to also do this after Harris gets his but... well, Henry doesn't have the GREATEST memory, I guess? Just can't even interact with the computer later.
Anyway, we vamoose to the janitor's office, and peek through with our snake cam: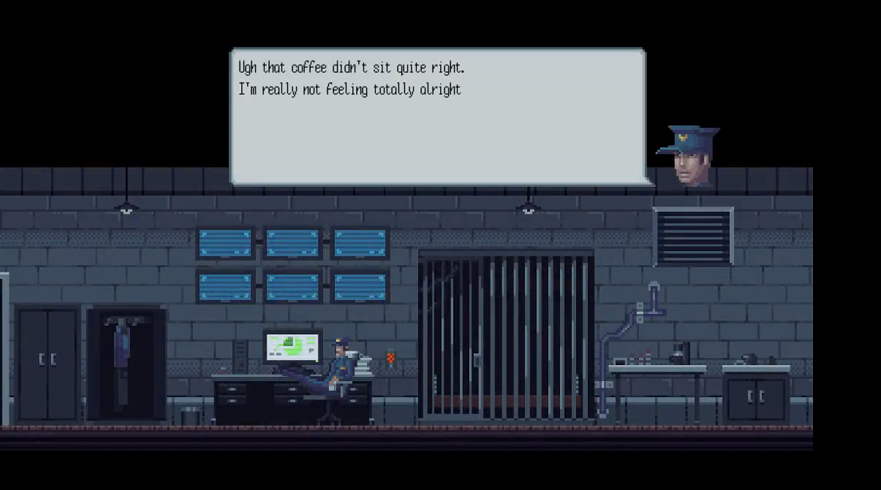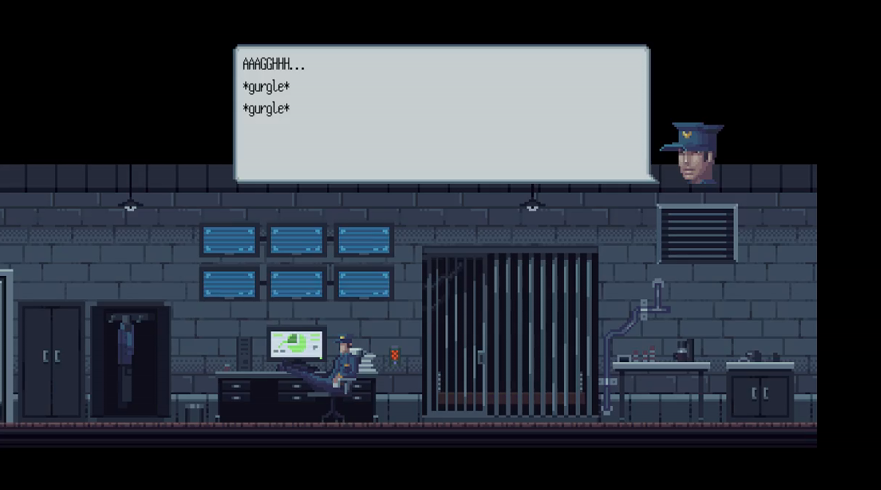 Numerous butt noises playing in this whole section. C-comedy?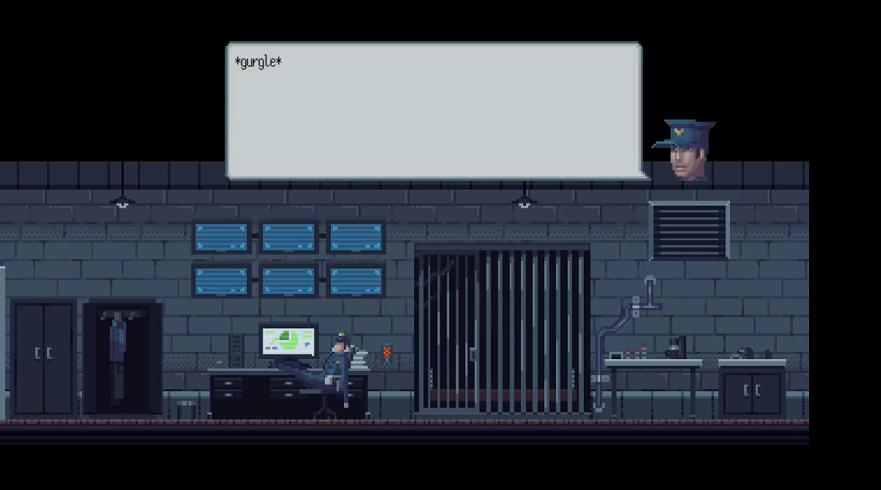 Harris then slumps back, the womp-womp-womp creepy music starts playing, and...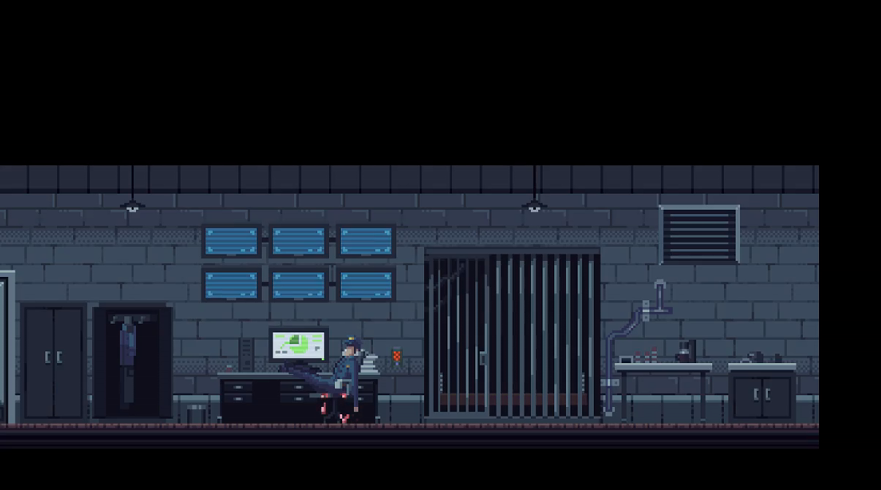 Blood! Blood forever!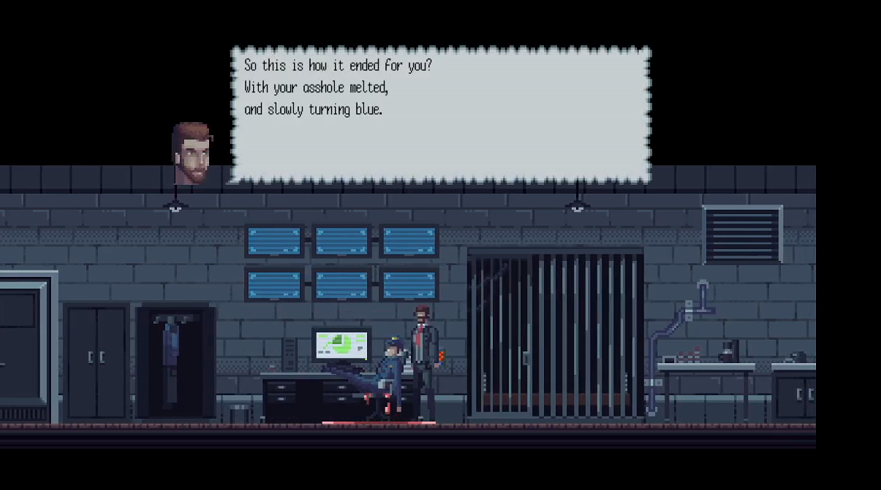 If it's melted, how is it... you know, never mind.

-
Let me just check your pockets,
for my key cards that you took.

You got what was coming to you,
you always where [sic] such a crook.
YOU RECOVERED YOUR SECURITY BADGES

-
These are the remains of Harris,
oru now former chief of security.

One thing I can say for certain,
is he had not a drop of purity.
You know, I say this a lot but: "The Protagonist, ladies and gentlemen!"
One thing we've discussed in the thread is that Henry really doesn't seem to care about the, you know, ACTUAL bad qualities that Harris has. And he has bad qualities! He's a real creep! But PROBABLY Henry would have this same reaction to murdering his boss, who isn't criminal (that we know of), just doesn't like Henry. This is one psycho taking out another, right here. I guess we're Dext-no we're not.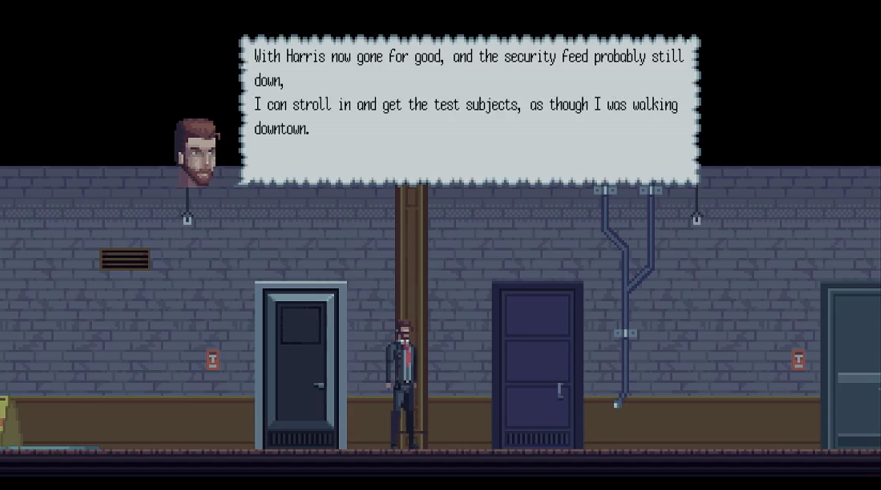 -
I should still be quick about it,
to avoid arousing suspicion.

This has gone on for long enough,
let's just end my current mission.
We... aren't going to like... hide the body? Do anything? I mean, if we try to go back in he complains about fingerprints, and yeah, our fingerprints are EVERYWHERE in there already so......
Oh who am I kidding, we'll probably frame the janitor because it's his special mix of acids that did it.
I could also mention something about the biology of this, but, let's just agree that it's unlikely.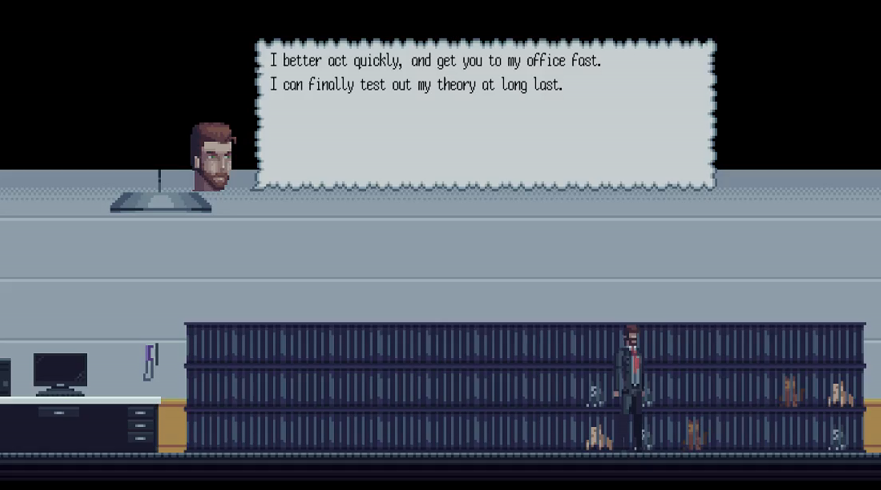 Henry IS right, though. With no Harris, we can easily grab some animals, and house them in our office.
Please, don't everybody point out the irony of this all at once, because for SURE we're all thinking it.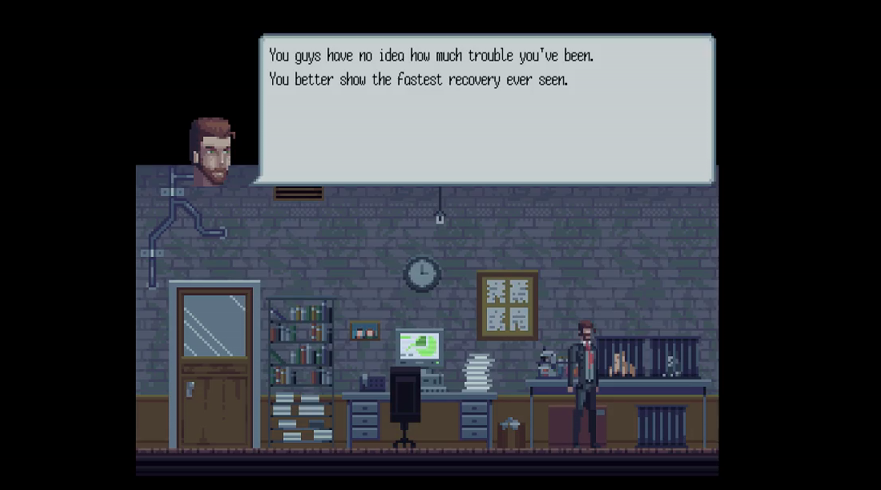 -
A pill for you each so I can study the miraculous effects.
You might just be the world's luckiest test subjects.
YOU GAVE EACH TEST SUBJECT A MYSTERIOUS PILL

-
If this stupid, crazy theory of mine actually proves true,
I'll be on the cusp of the world's biggest breakthrough.
FADE TO BLACK, THEN BACK TO OFFICE

-
And now to take a quick blood sample,
top see if it's got powers so ample.
YOU TOOK A BLOOD SAMPLE FROM EACH TEST SUBJECT
We've got to be down to... what? We started with 6 pills, one to grace, one to stiny pete, two to the animals here... we're running out fast, m'boy!

-
It's getting pretty late again,
I should tonight just sleep here.

Grace will understand I'm sure,
I don't want to her sleep impair.
Trying to justify this as good for Grace somehow is an act of theatre Henry, and I'm not really sure who it's FOR. WE certainly know better!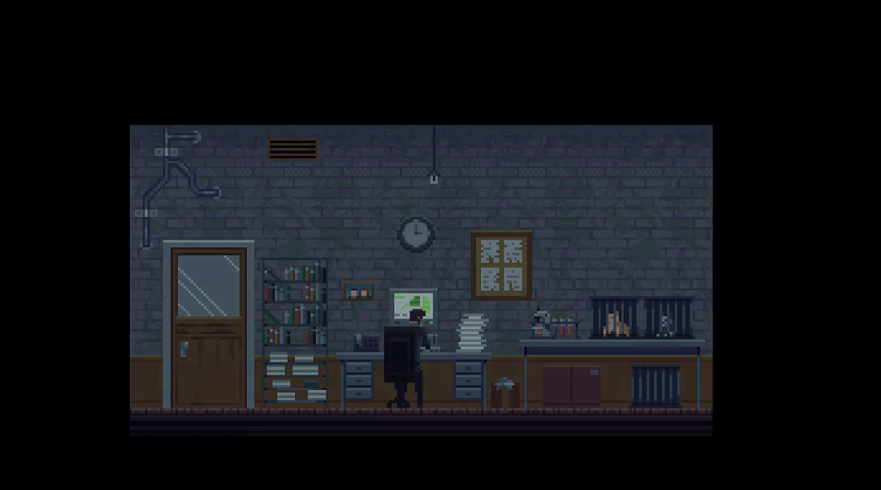 So of course, rather than actually try to make any kind of bed, we just do the time-tested tactic of trying to do any real work, which of course puts us out like a light instantly.
And of course, with sleep come DREAMS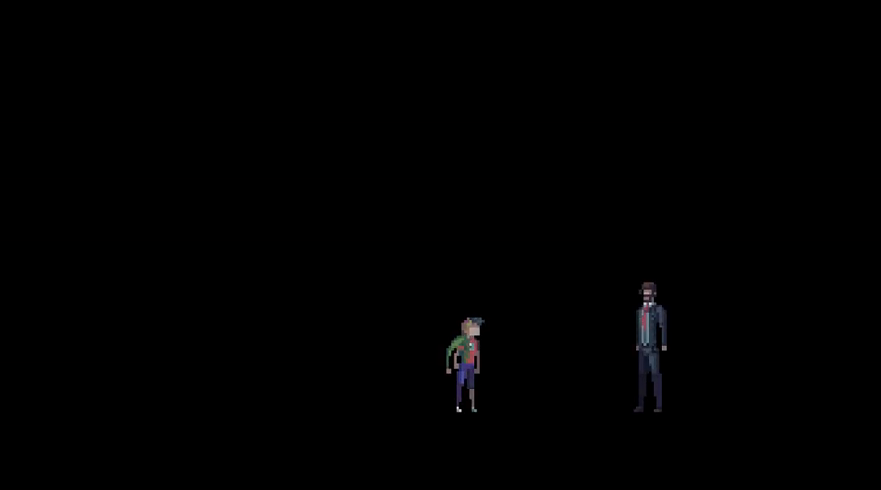 Ok, cool. This is going well.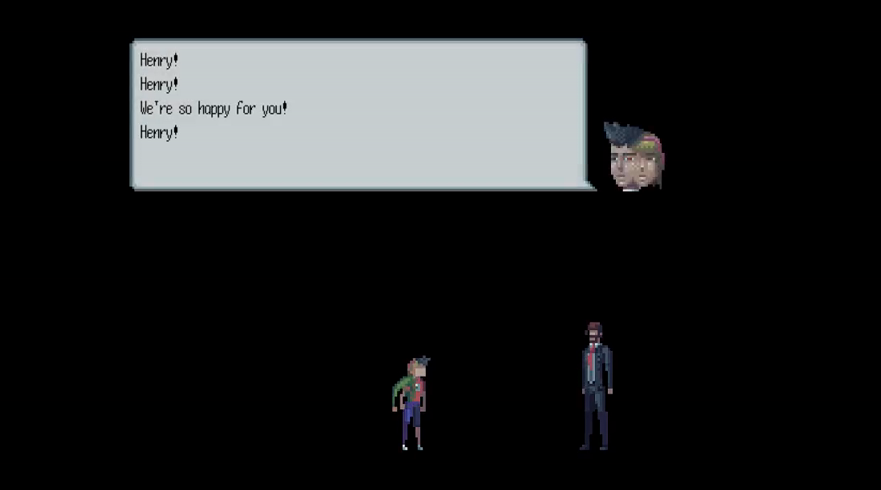 Terrific! Thanks, monstrocity! Totally not screaming!
WHY WOULD I BE

-
Henry!
Henry!
We can still hear him you know!
Henry!
...Harris I guess? What, is he telling you about torture too? Is he trying to arrest you for being an abomination?

-
We hear him gurgling, struggling to breathe...
Henry!
Ahhh yeah, that. Classic Harris! Tell him hi! Anyway I've GOTTA GET OUT OF HERE

-
Then the blood and feces come rushing forward...
Henry!
YES I'M LISTENING, I HAVE NOT DIVERTED MY ATTENTION.

-
Henry!
Henry!
We're so happy for you!
Henry!

-
Henry!
Do you know salvation is almost here now?
Henry!
Like... is one of them talking regularly, and the other one just keeps screaming "Henry"?
Phone ringing noise in the background starts here

-
Henry!
Before salvation the sinners will be cleansed...
Henry!
I'll be honest, that sounds like bad news for us. Unless being 'cleansed' is pleasant! And... odds are bad.

-
You should answer that phone Henry...
Henry!
Don't keep people waiting Henry...
You're not my DAD, kids! You're probably some kind of demon manifesting as the fused spirits of my unborn children! I... I think!

-
Remember the black spots in the ceiling Henry...
Henry!
Ok, so... the black spots are probably related to that sewer mold, right? And we haven't seen any yet, right? Kids, you're doing terrible at predictions.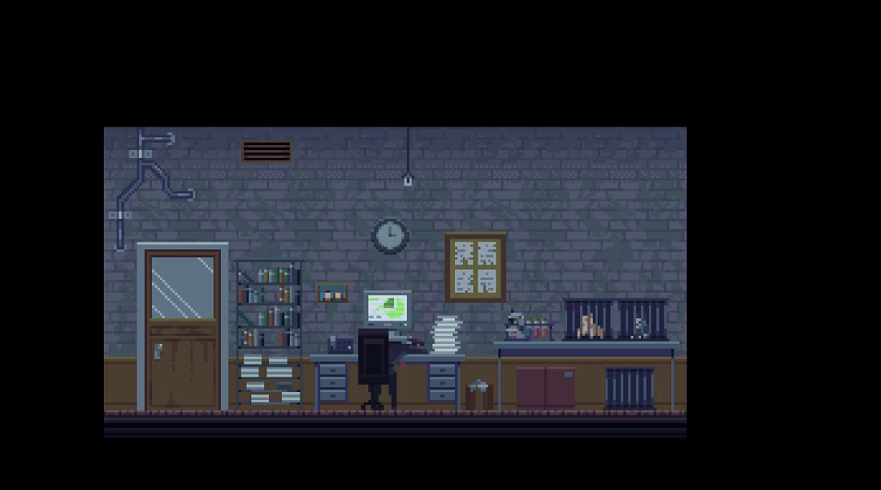 Yeah, even on the eve of the most important thing to ever happen in his career, a potential discovery that we have literally committed murder for, and the potential cure for our dying wife, we need to be woken up with an alarm clock of some kind.
He's Henry!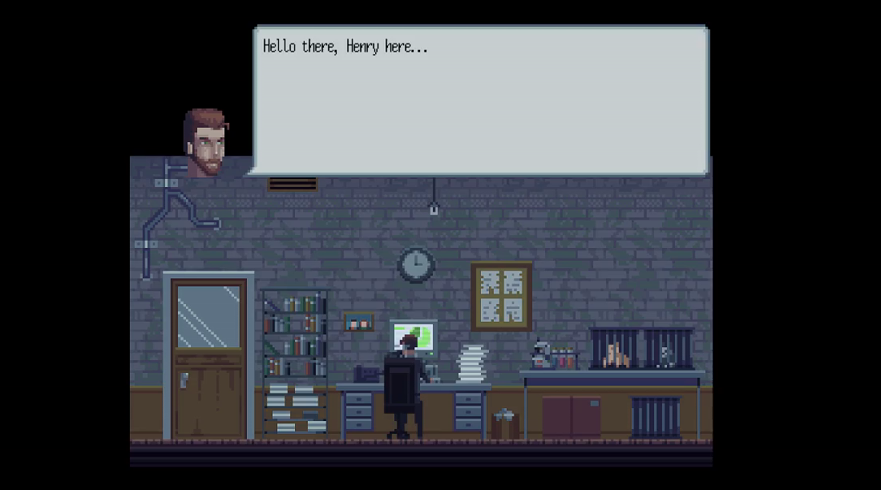 I insult the rhyming quite a bit, and honestly I wouldn't actually want them to try for anything more elaborate than this, but... come on.

-
Henry, why on earth didn't you come home last night?
I had another awful nightmare, it gave me such a fright!

-
The nightmares won't stop Henry!
Ever since I took that strange pill.

Whilst I'm feeling physically better,
my mind feels as if going downhill.
Hm. This is... probably a side effect we should take note of!
Also note, we apparently never once consider asking Grace about the CONTENT of the nightmares.
Even though we're having prophetic nightmares OURSELF that we are apparently starting to believe in.
He's Henry!

-
Sorry darling it just got so late,
I'll make it up with a dinner date!
Just don't drink anything I give you! Ha ha ha ha see I murdered a guy you had to be there.

-
Bad dreams cannot hurt you dear,
just try to forget all about them.

Focus on how much better you feel,
it's a miracle just like in Bethlehem.
Now MY dreams? I pay for a psychiatirst to reassure me about them. YOURS are probably stupid.

-
I'll be home in the afternoon,
let's spend the eve together.

Snuggle up under a blanket,
and forget about the weather.
The single sweetest thing Henry will ever say, only because it will probably placate his frantic wife and let him get his "work" done.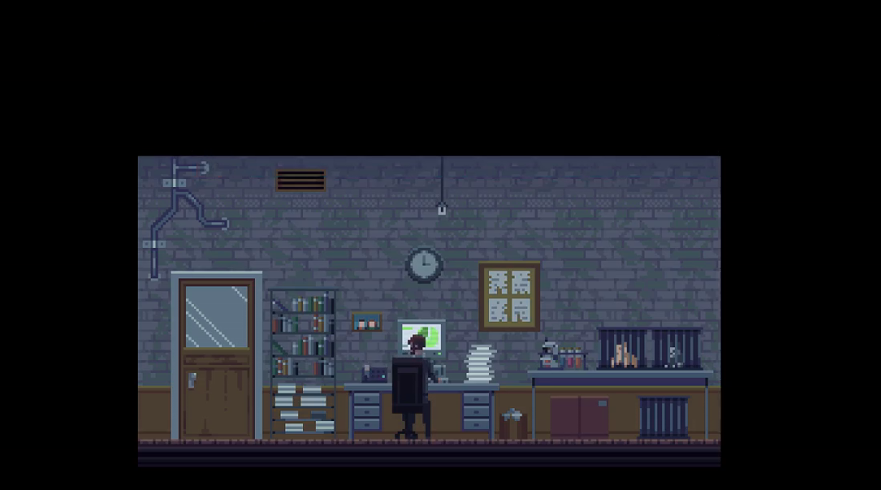 And we just hang up! CLASS.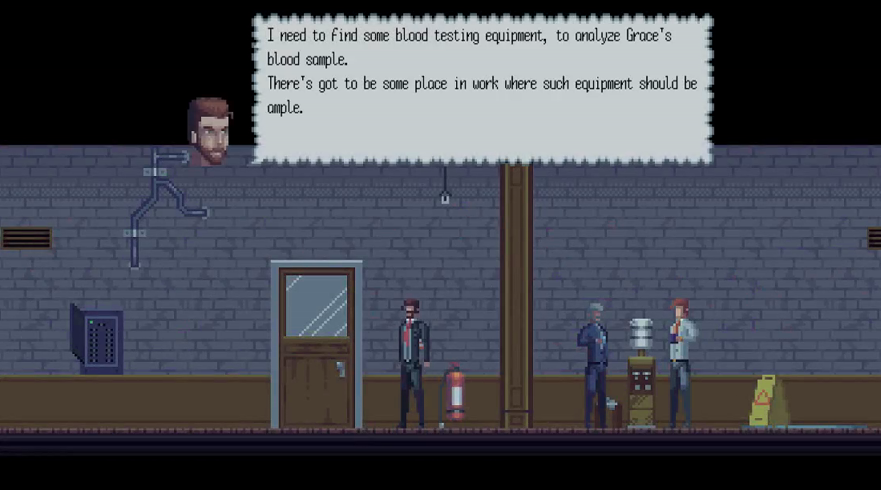 Well, to the task at hand. We DO, and we ALSO know where it is, because we've already slid out the window on the fourth floor! For some reason!
We've got no time to lose, which of course mean...
LET'S TALK TO EVERYBODY!


Once we've done THAT, NOW it's time to continue our vital mission!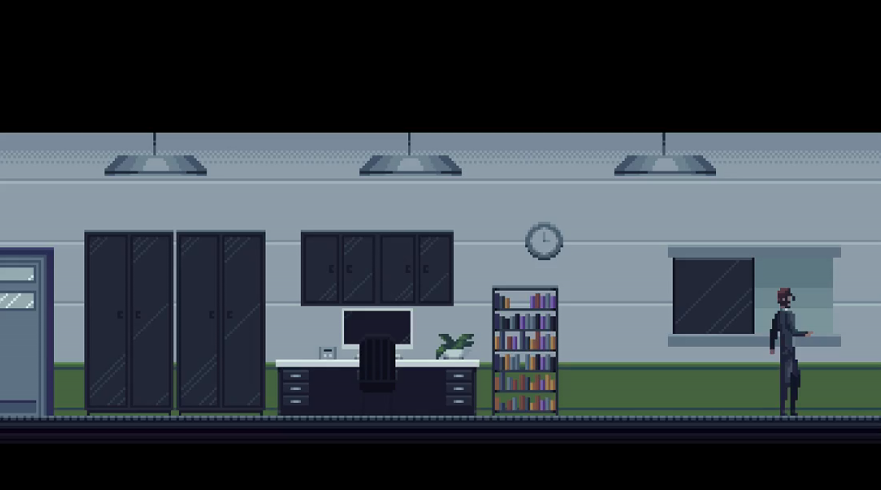 That's up to the fourth floor, hopping out the window...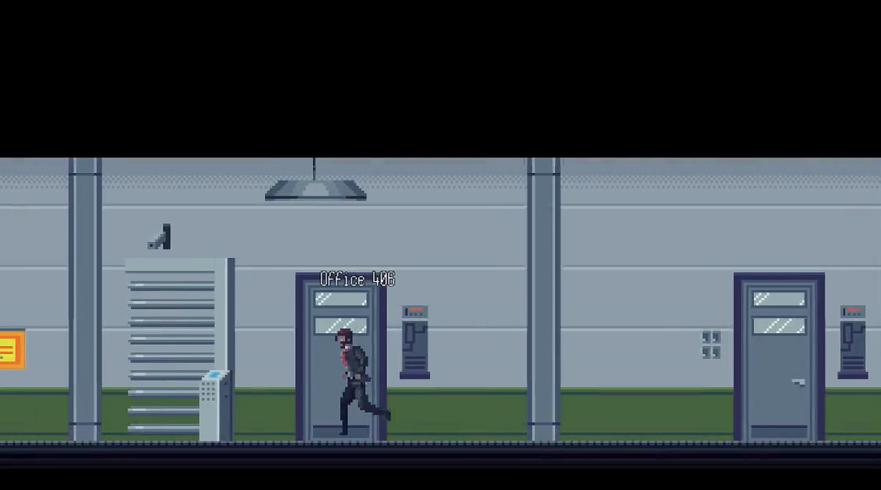 ...which puts us on the other side of the barrier...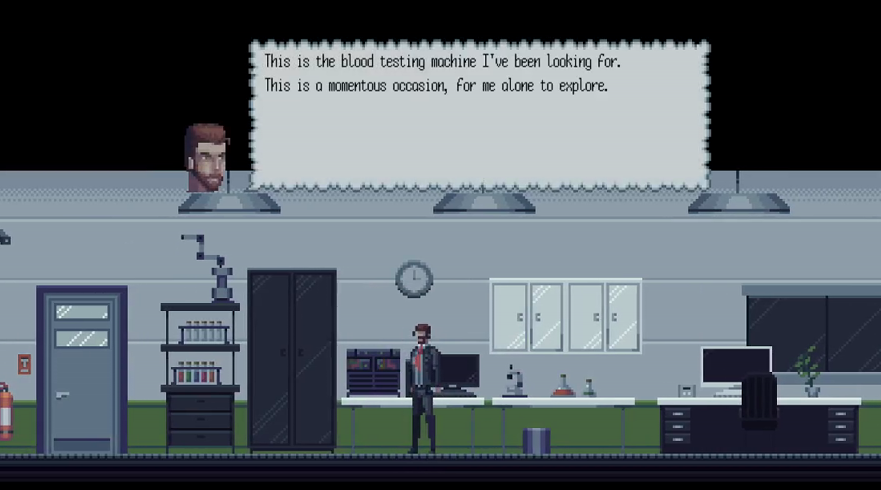 ...and right to the equipment we need!
Ok, let's feed in the blood samples, and-
*small klaxon goes off*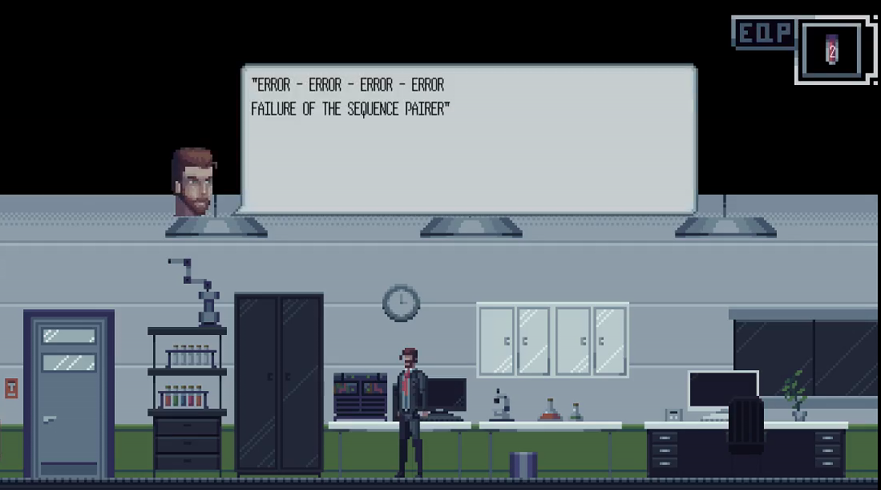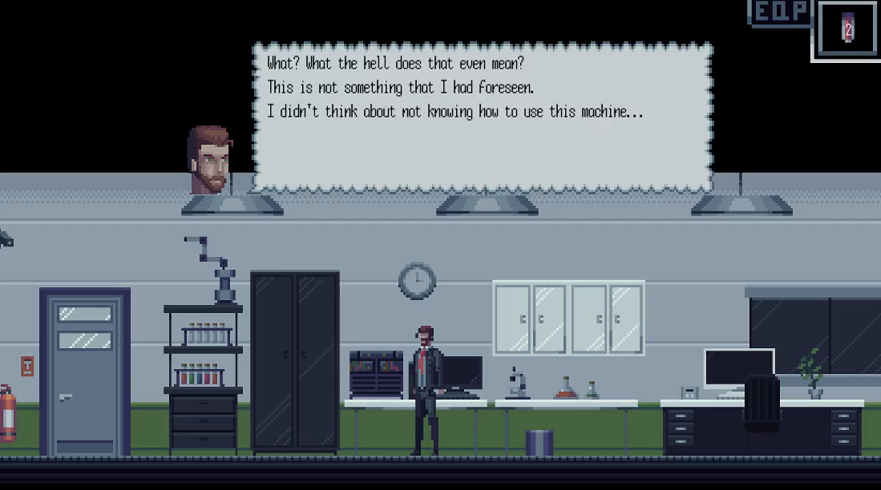 Henry I...
you know, of course. Of course Mr. Nobel here didn't realize that HE DOESN'T KNOW HOW TO USE THE MACHINE. He just opened it up, poured the blood inside, and hit the biggest button he could see.
Of course.
Now, the eagle-eyed among us will already know what to do: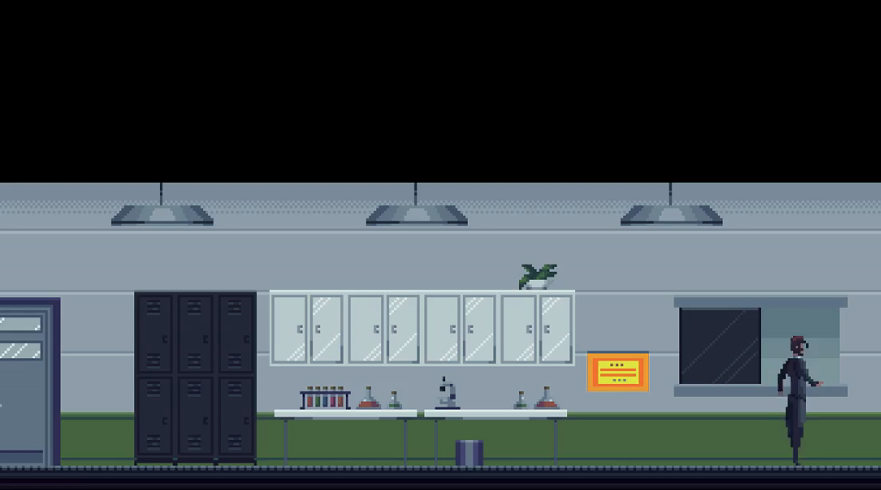 Back through the window (not to complain, but it takes FOREVER to do this part, with all the waiting for animations and slow scene transitions)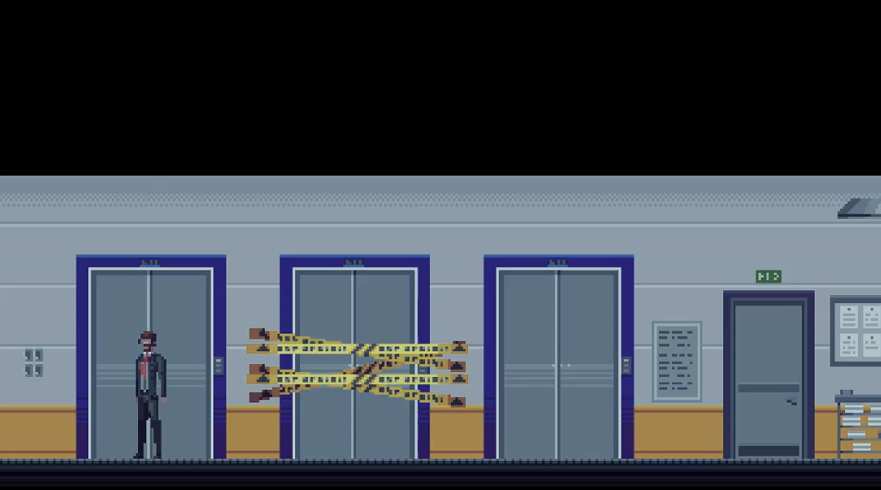 Down on level 3...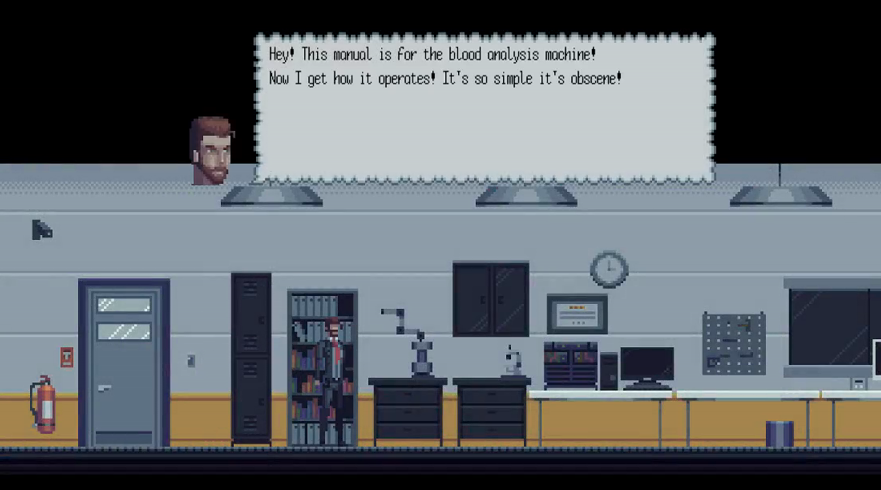 Yeah. No, you can't anticipate this and read the manual beforehand (I tried my first time!)
And yeah Henry, even complex scientific equipment tends to be designed with SOME kind of a user interface in mind.
Not all, mind you! I worked in a lab on an air force base for a while, and oh friends, the stories I could tell...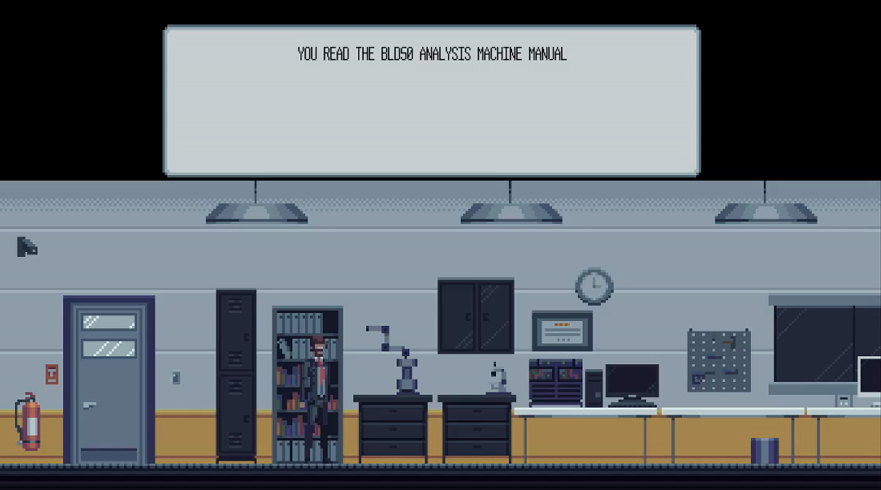 I love that it's called the BLD50. I just do for some reason.
ANYWAY: BACK UPSTAIRS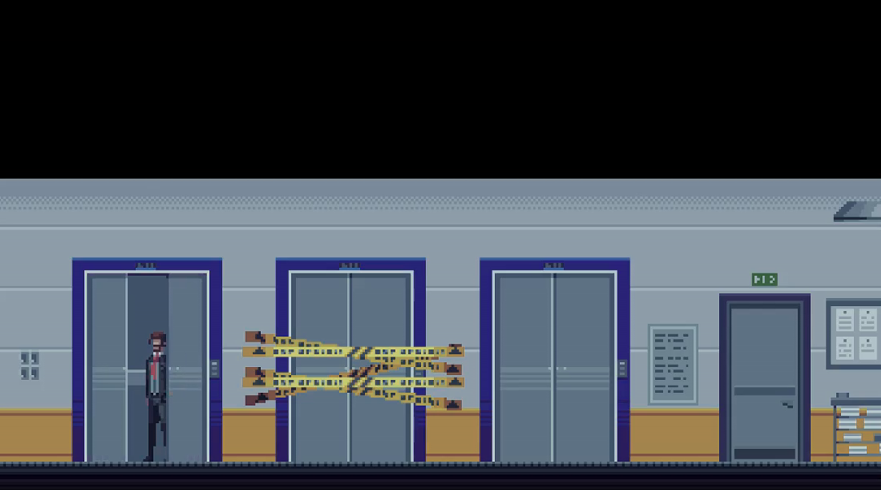 BACK THROUGH THE WINDOW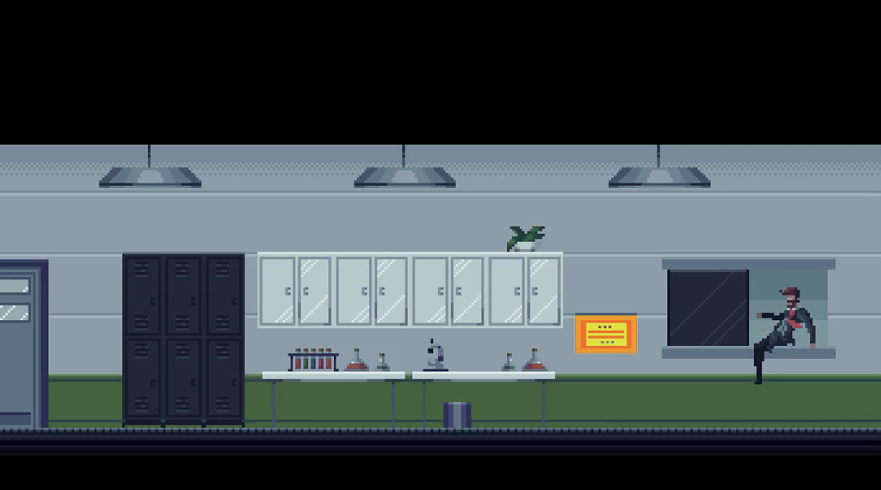 You know what though, I'm actually going to give this some credit. The point of this part is the anxiety and frustration Henry feels, being SO CLOSE but also SO CLOSE TO THE EDGE. Dragging out the simplest tasks like this, while potentially just padding, could also be meant to invoke that feeling. I actually think it's possible! There wasn't much of this obnoxious time-wasting before, so I'd be willing to believe it's purposely here for effect. Remember, besides the characterization and plot and dialogue (heh) this is not a bad game!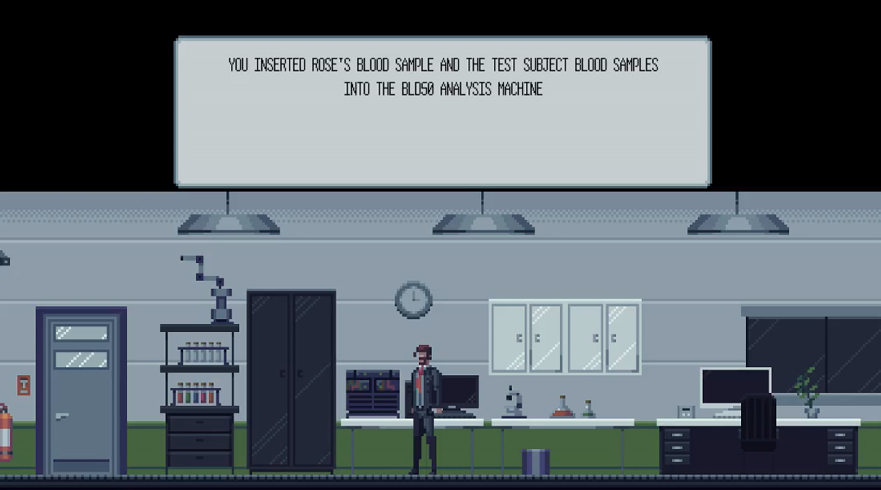 And after some cheerful beeping and whirring...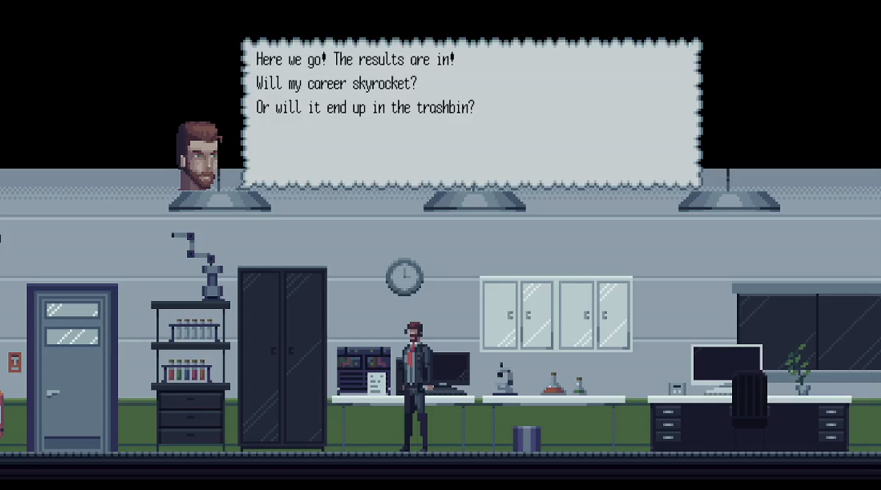 Did the machine show that the blood is cured, but now the machine has nightmares?


-
...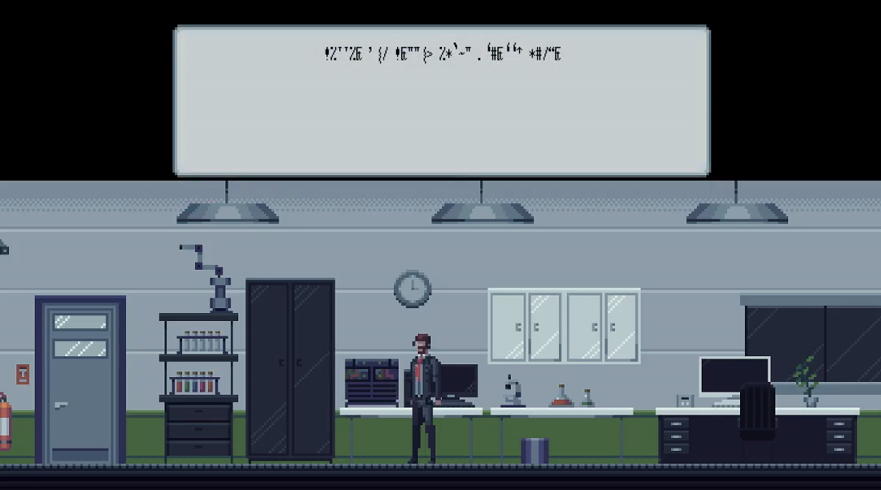 Ha!
Ok, fair's fair, that's pretty good. We DID give the machine a nightmare! It spit out that ancient Sumerian or whatever that made purpesuit off himself. A genuinely unexpected (by me) moment!
S...shame about our career, though. Oh well, at least Harris had it coming???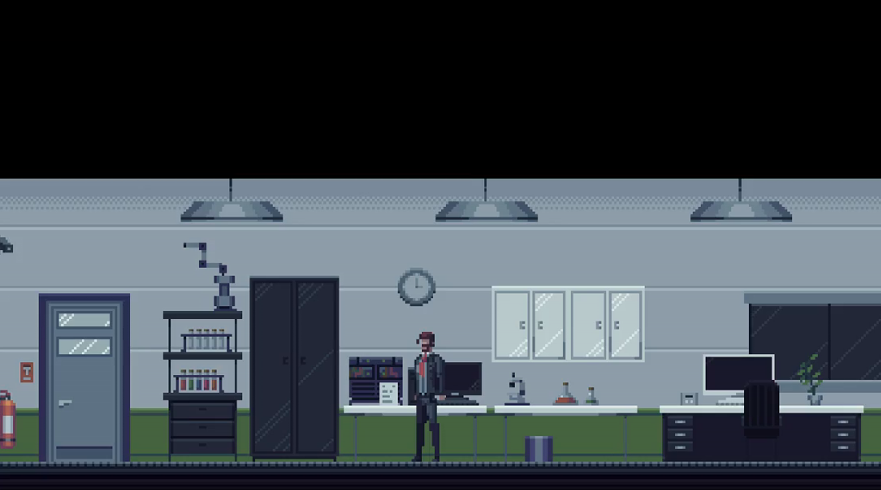 OH THANK GOODNESS ANOTHER PAGE
Phew, ok:

-
Now these are results that I can actually understand!
I can't believe what I"m reading - am I in fairyland?!

-
According to this, both Grace and the test subjects are fully cured!

I think a spot in the history books I might just for myself have secured!
Henry, expecting to find the animals and Grace cured, is blown away when the animals and Grace are cured.
Also, and I can't get mad about this enough, NOT UNTIL YOU KNOW WHAT IT IS HENRY! YOU'RE ALMOST OUT OF PILLS, HENRY!

-
I'll be known as the man responsible for the medical world's biggest breakthrough!
Oh yes, and of course Grace is now healed and better... that's a great thing too.
Henry, you melting pile of garbage.

-
I should find my mentor and show these results!
I'm sure after that we can speak as adults.
Aaaaaand cue a giant search for the mentor.
The receptionist doesn't know, the lunchroom doesn't know.
WE don't know where his office is.
Just, look everywhere! In this giant building!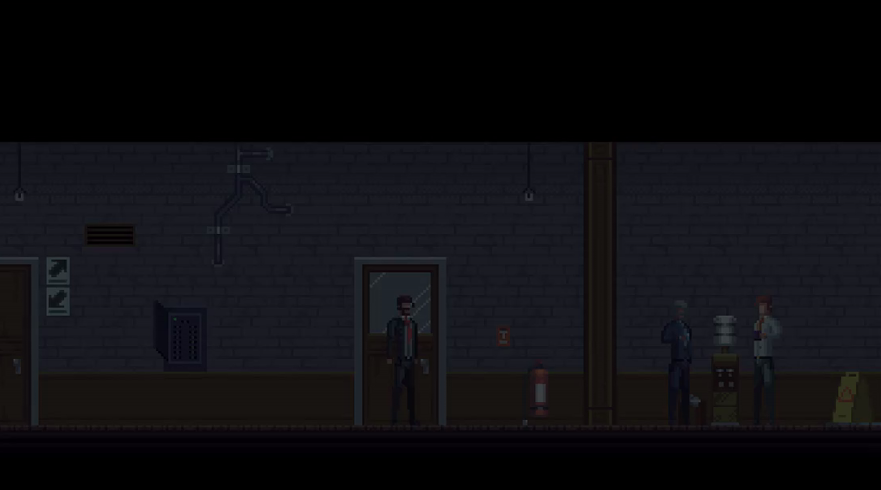 Eventually you'll find him...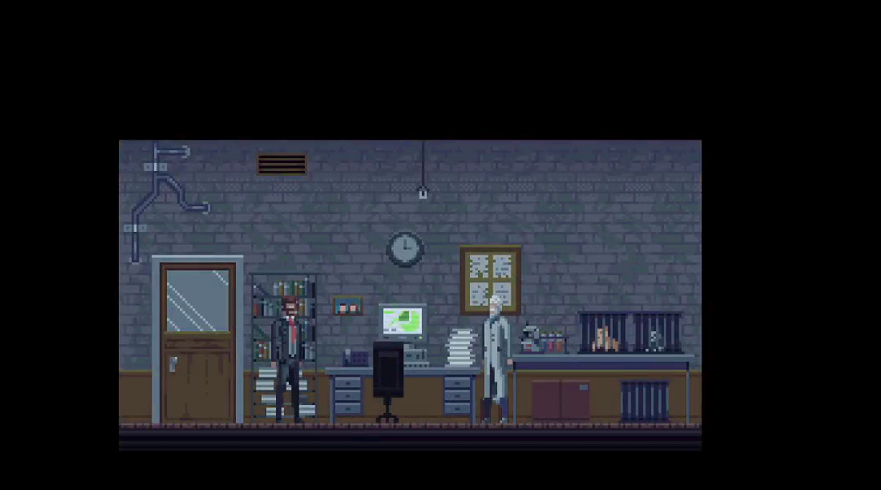 In our offiOH NO I CAN EXPLAIN!
I... I know this looks bad!
Just don't look next door, DAT'S EVEN WORSE!


-
Dr. Richards? What are you doing here?
You actually gave me quite the scare!

-
I was asked to search through your entire office,
as you are acting so very strangely and suspicious.

Your manager suspects you're performing covert resaerch,
with intentions that to our business are malicious.
Yeah, extra-curricular research is probably the LAST thing I'd ever think Henry would be doing.
And yet, though...

-
It's true I've been conducting research in secret,
but it was never meant to go to the competition.

Have a look at these test results that I just ran,
they're guaranteed to give me my due recognition!
I just want a small pile of money (for a pharmaceutical company) and a big trophy of myself!
I could friggin' care LESS who does well or benefits from our research! You know me!
It's genuinely amazing to me that Henry sees finding this pill as "his due", but MAN is he not questioning it or reflecting at all.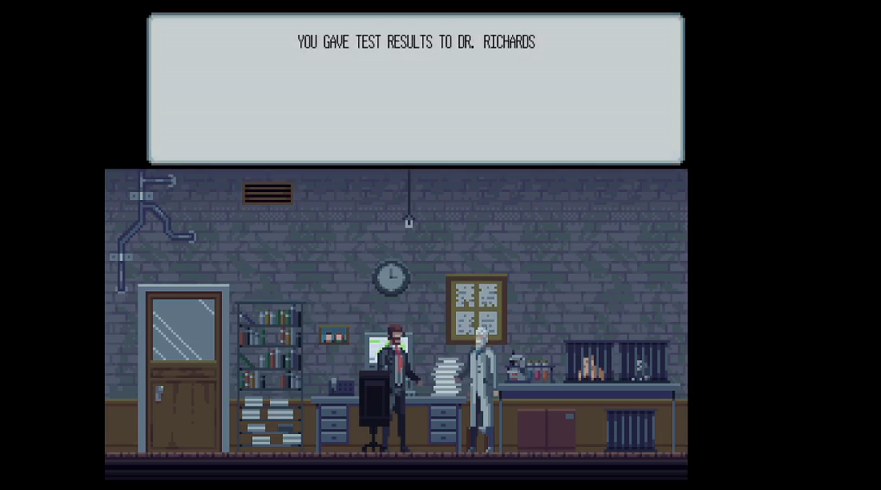 -
...

-
What's this? These are just blood results of someone healthy...
In fact, so healthy looking, they must be pretty darn wealthy.
This is... is this microscopic diamonds? Encrusting the red blood cells? S..so DECADENT

-
Those are blood results from my "terminally ill" wife Grace,
and form some very ill animals that i stole from this place.
Maybe avoid the s-word there, Henz.

-
The recovery was almost instant,
and I can prove it if you so wish.

All that you will need is this tablet,
and something to test in a petri dish.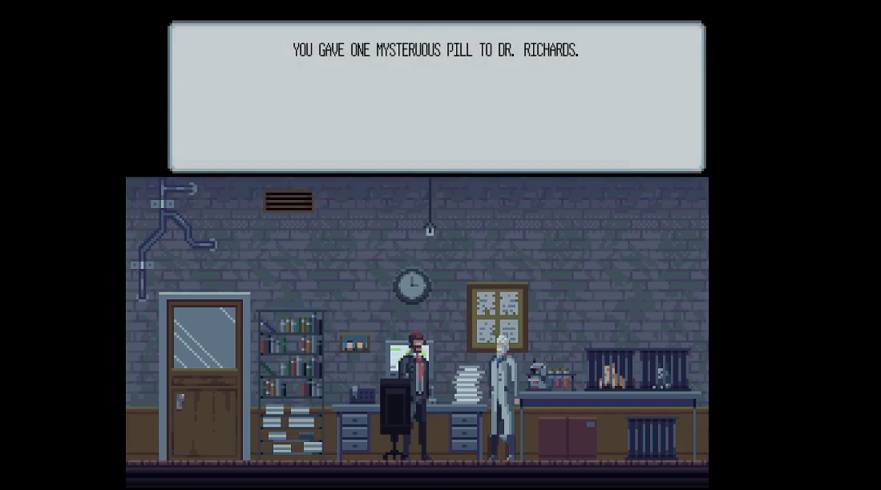 You sure about that Henry? Sure the pill doesn't need to interact with stomach acid, or something in the gut?
Of COURSE YOU AREN'T, YOU DON'T KNOW WHAT IT IS.

-
To be frank with you Henry, it sounds like you've totally lost the plot.
But I'll humor your request, and will test your "magical booster-shot".
WHY DID DR. RICHARDS NOT ASK WHERE IT CAME FROM


-
But when it turns out, that your little pill to illness is benign,
you'll have to honor my request to you, and immediately resign.
"Finally" he thinks, "finally I'll be rid of this idiot". Too late dude! We're the chosen one or whatever!
We have a magical pill that can cure anything in the universe, and we still had to murder a dude to not get fired!

-
If that pill doesn't cure whatever illness you throw at it,
I promise I'll resign, and to a hospital myself commit.
Also, please do not throw illness


-
Very well,
have a shower,
you smell...
Hah. Totally unrealistic, for somebody to call out a basic researcher on smell.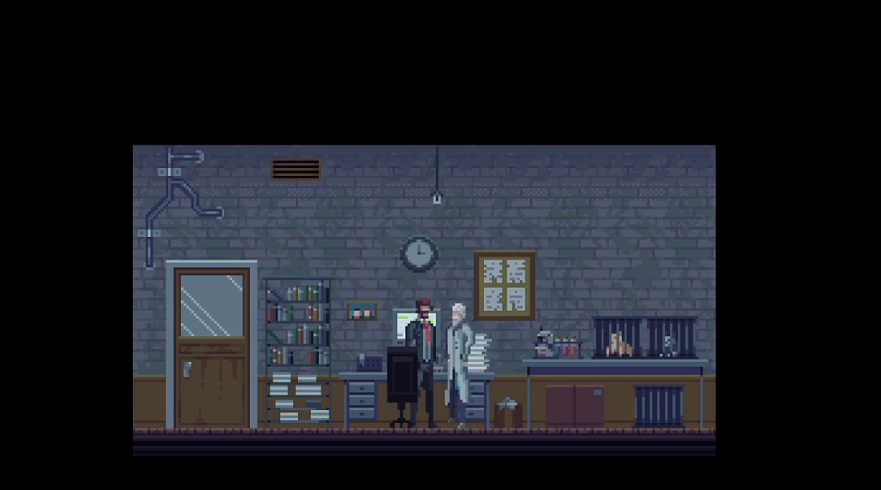 And off he trots!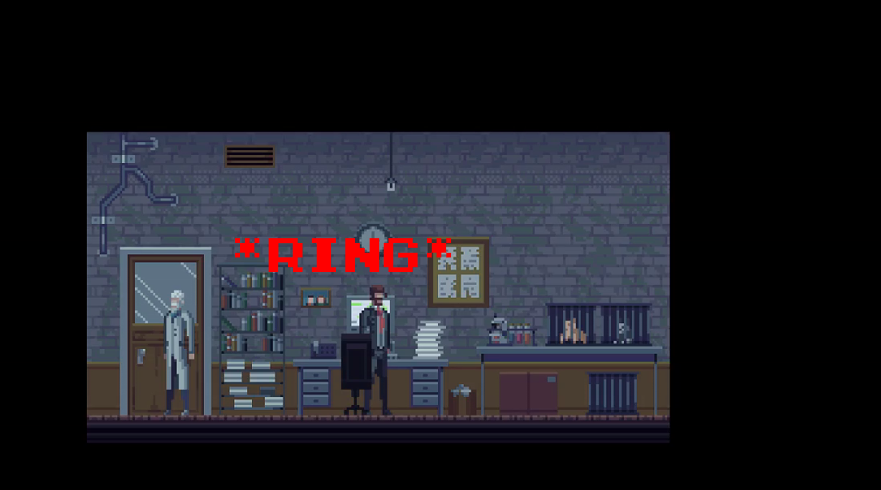 UGGGH Grace, what do you WANT, I was home like TWO DAYS AGO.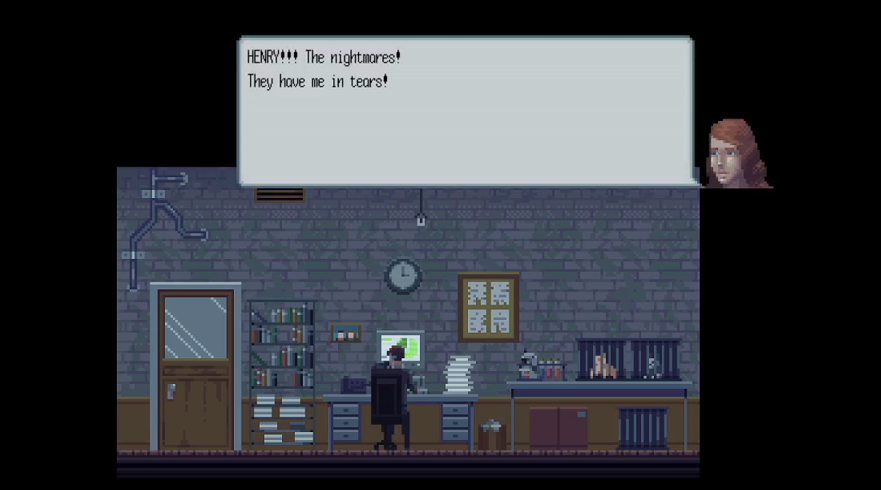 Ha ha yeah, for sure, for sure. Hey listen, I MIGHT have just got promoted, see my bos-

-
As soon as my eyes close they are there.
They follow me around, they're everywhere!

-
Honey they're just dreams,
they don't follow you around.

I'll come home to you early,
now how does that sound?

-
Grace? Hello?
Where'd you go?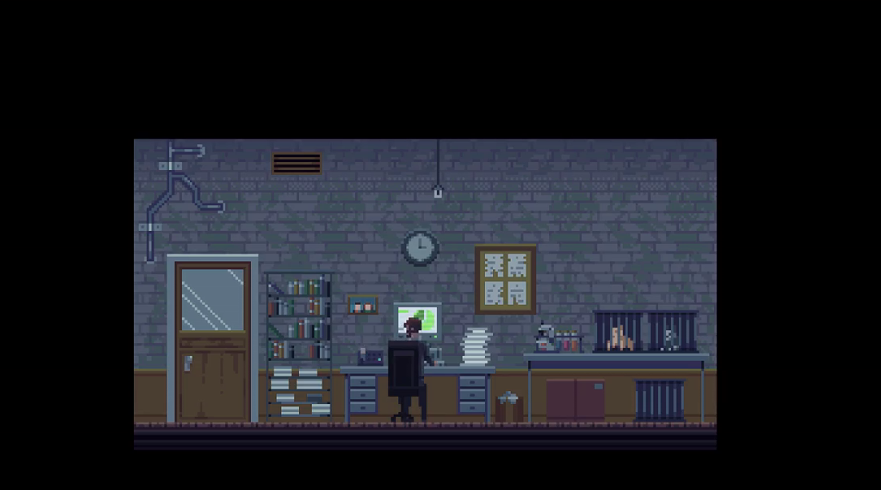 Henry stares at the phone for a while, which I think is a genuinely nice touch.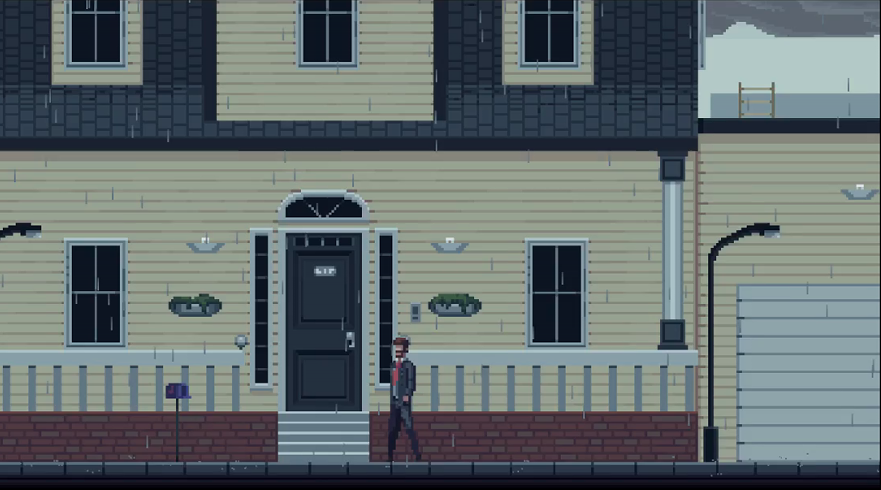 Now, we rush home (actually, you probably talk to everybody in the office first, then do the blood sample, get the call, then stop downtown and talk to EVERYBODY,
then
head home. Sorry Grace!)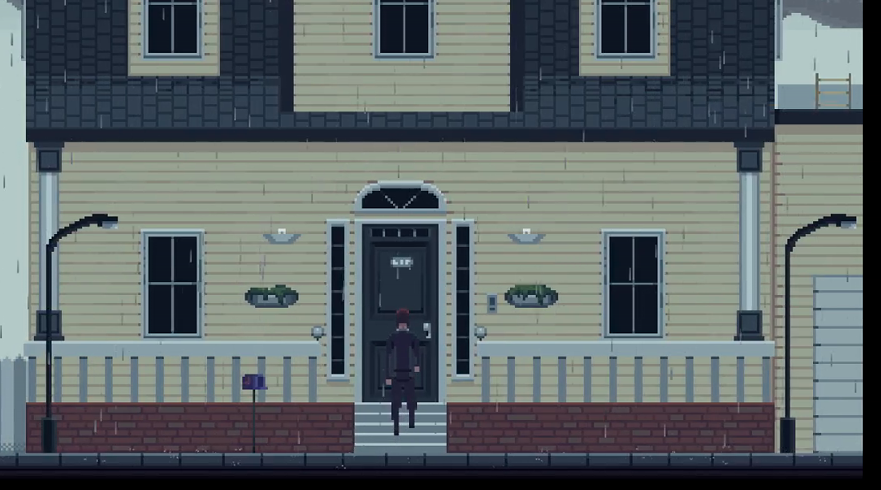 We've never seen Henry actually trundle up the steps before, we always just warp to inside...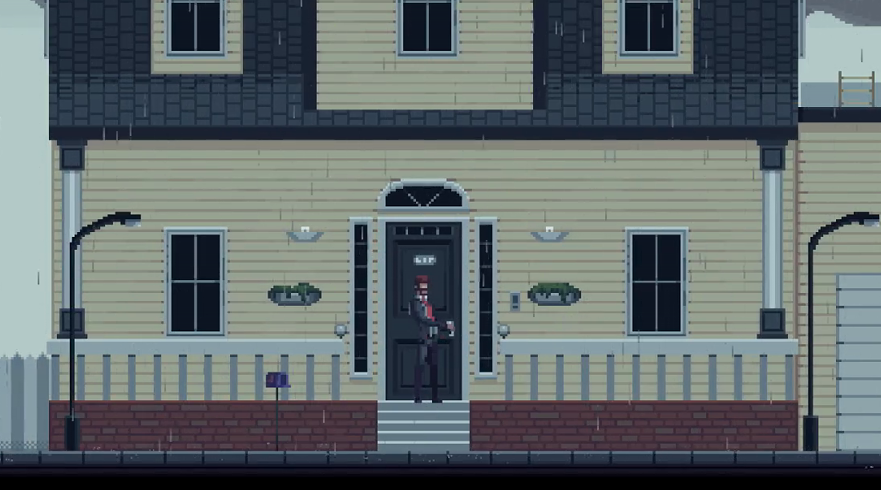 -
...
Hm. This seems... bad.

-
That's strange, the door won't open, and I cannot enter.
Reminds me of being evicted, as a young apartment renter.
I guess Henry just threw away his house key, either that or Grace is boarding the door to keep us out, clever girl.
I admit, this part was genuinely quite tense for me! We KNOW something was... bad inside the house.
We just don't know HOW bad.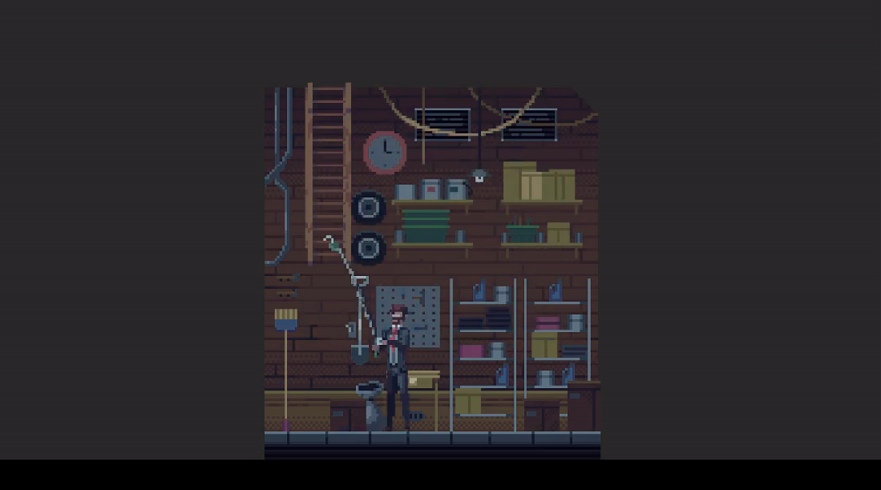 So we go into the garage. Remember the ladder that was broken? We use the fishing pole we picked up to pull the ladder down.
And if we forgot to pick it up earlier? Game dead stops here until we drive downtown, run aaaaaaall the way over and grab it, and run back.
THIS one wasn't an intentional thing, and it's kind of annoying and bad, but I always picked up the fishing pole, so it doesn't bother me that much.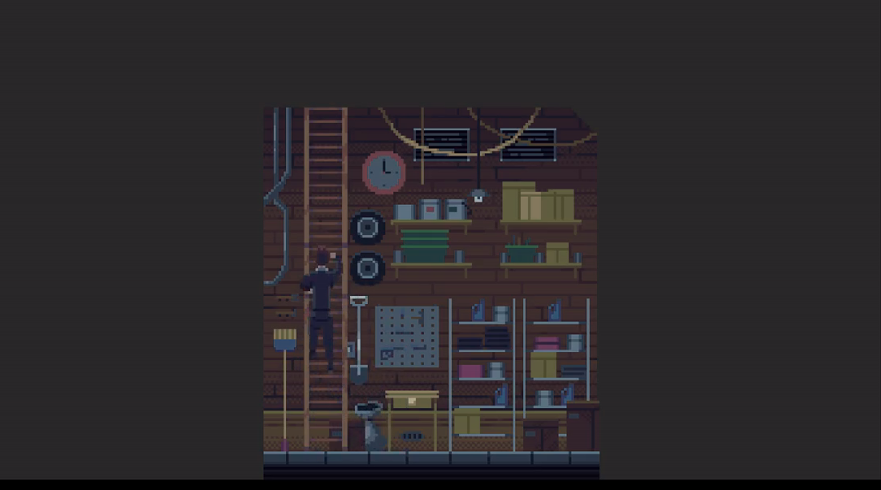 not for honooooooor but for youuuuuuuuu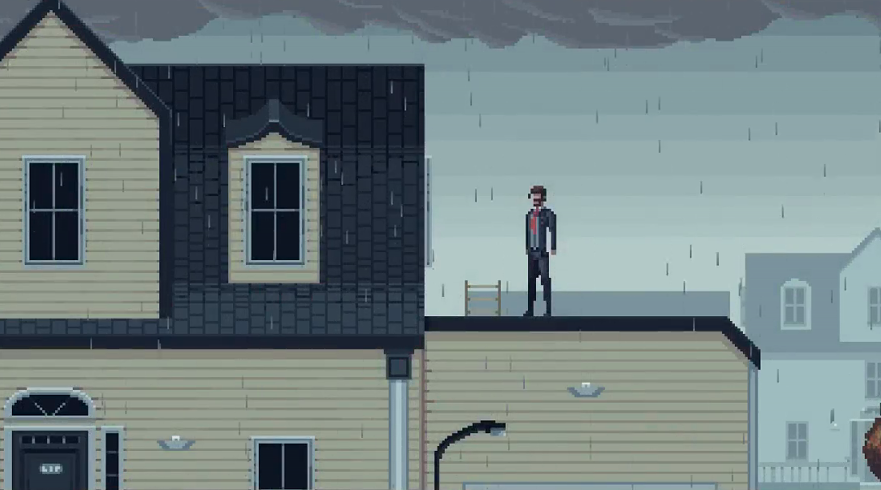 Why is... this a thing that exists? Oh well, it lets us get in this window...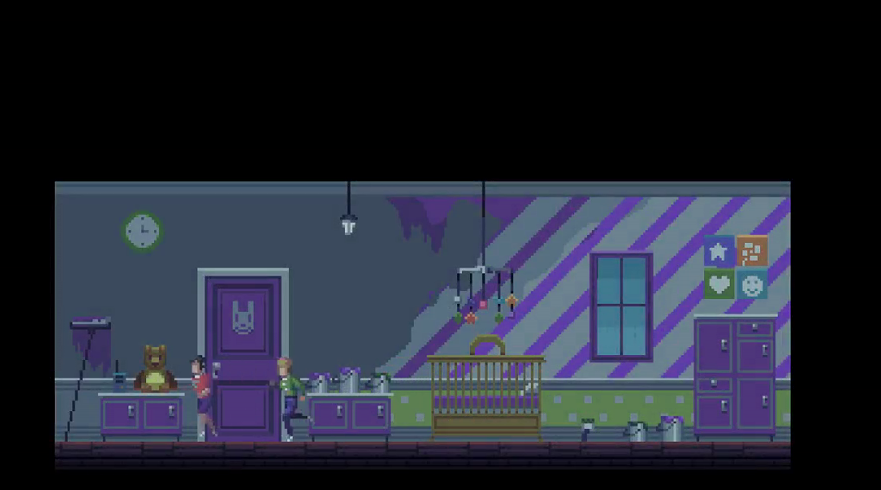 And into the nursery, as it turns out!
So I'm... kind of confused by the timeline. They had the furniture moved in, painted exactly half the wall, THEN were moving in boxes?
I dunno, seems odd.
These lovable little scamps run off giggling and disappear...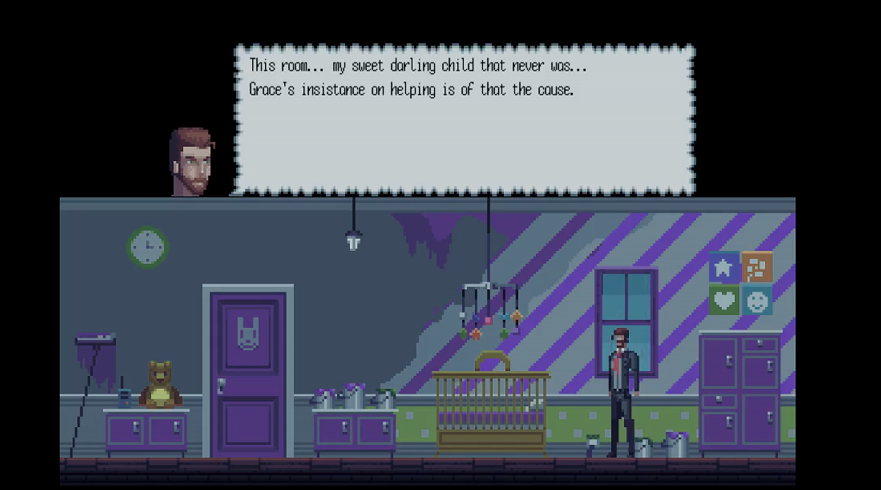 -
If she had just taken it easy like I had asked,
I wouldn't need to be told that you had passed.
Noooooot a middle finger big enough.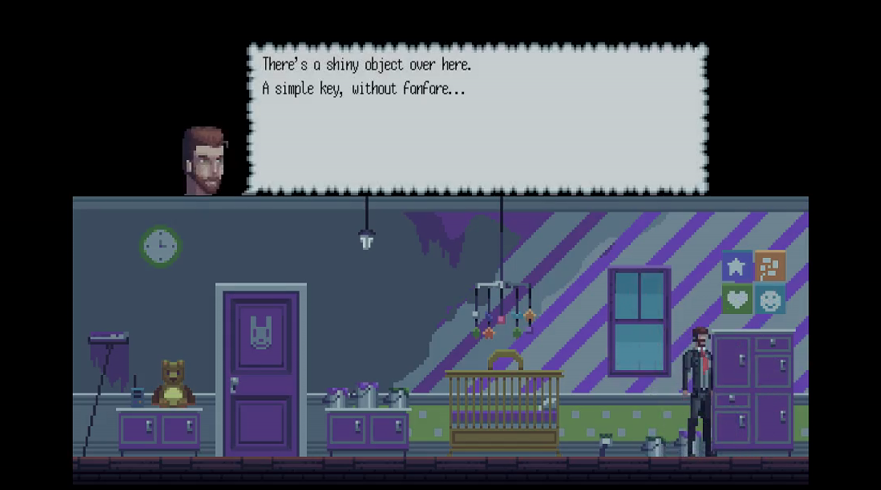 It's easy to miss, but off to the right...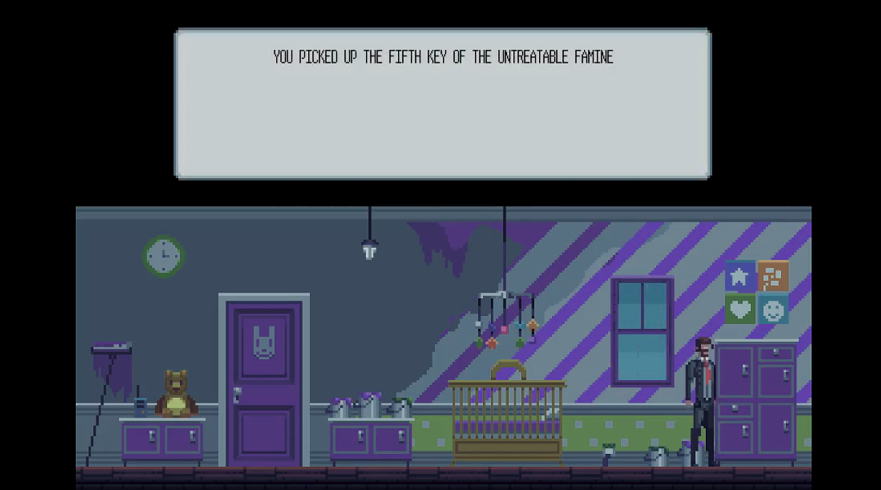 "HEY HONEY, HAVE YOU SEEN THE KEY?"
"WHICH ONE DARLING?"
"THE FIFTH KEY OF THE UNTREATABLE FAMINE?"
"DID YOU LOOK ON TOP OF THE DRESSER?"
"WHY WOULD IT BE THERE?"
"HENRY, YOU LEAVE YOUR HOUSE KEY ON TOP OF THE BOOKSHELF IN THE LIVING ROOM. I DON'T KNOW WHY YOU DO WHAT YOU DO."
Only 1 to go!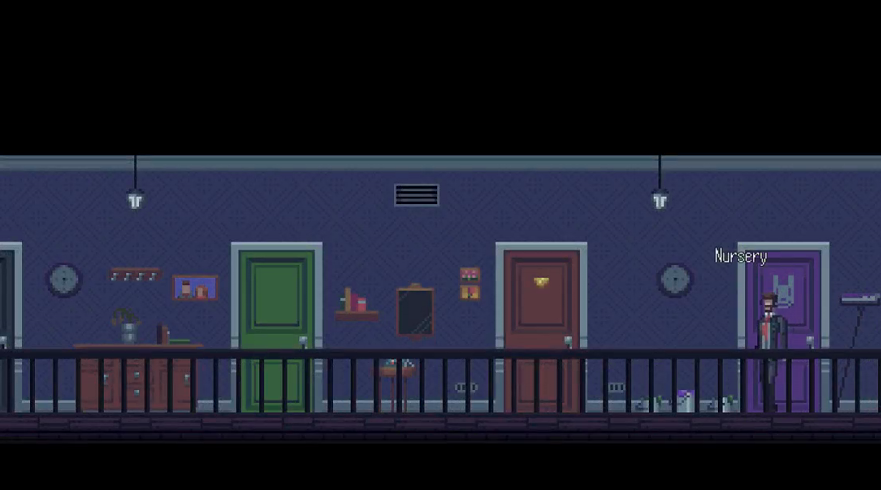 Having been in the room makes the "nursery" icon appear when we're near it. Kind of neat, actually.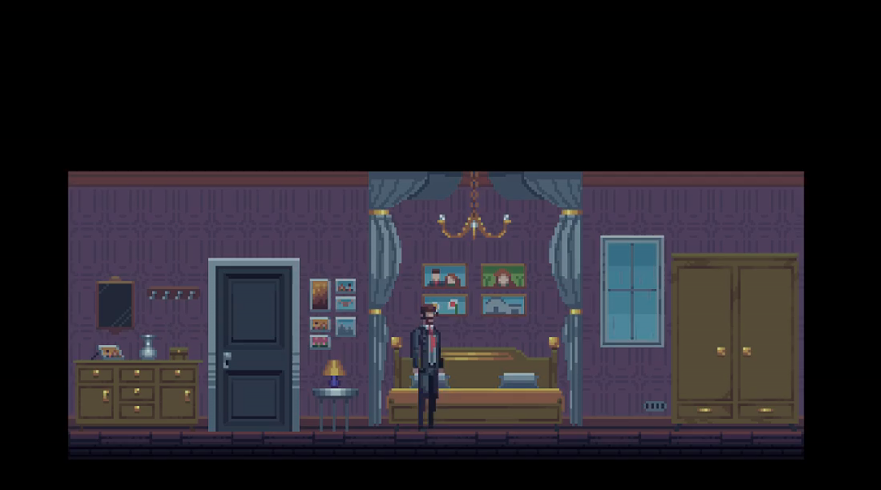 Hmmmmm.... not in bed....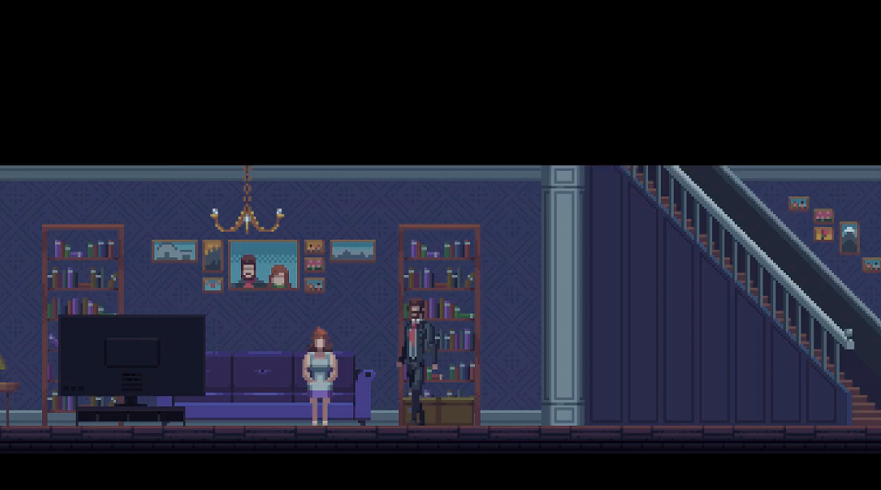 Oh. She's just downstairs. This wasn't so bad...

-
Grace my darling, are you feeling alright?
You look as though you've had an awful fright...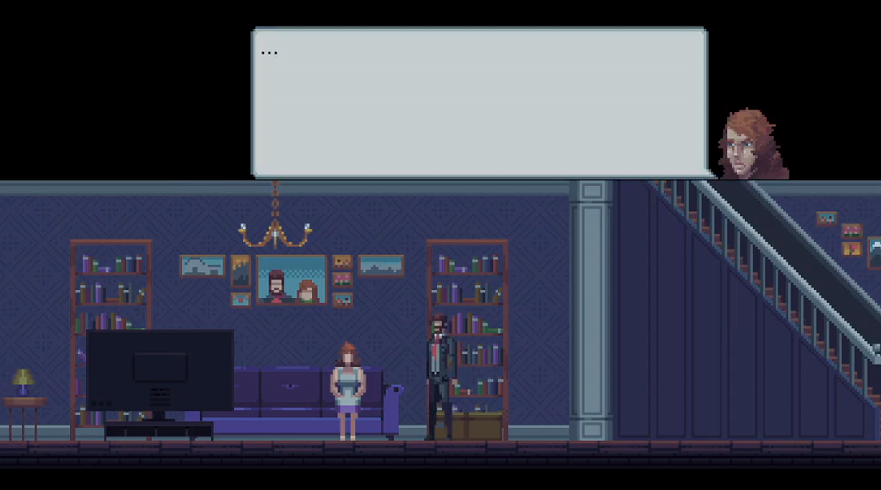 well... she IS kind of looking worse for wear. Worse than when she was sick, actually.

-
Henry, these nightmares,
everytime I close my eyes...

In them all hope is truly lost,
and everyone I know of dies.
Yeah, but do I get a trophy? DO I GET A TROPHY, GRACE?

-
What are the black spots Henry?
The ones that cover the ceiling?

Someone tries to warn me of them.
They cause me a horrific feeling...
Is it our kids? Our unborn kids? Because if so, WAY ahead of you! I didn't even take a pill! MAN I'm smart!
Also, somewhere out there, somebody is SERIOUSLY confused as to why their weed dealer Pete got so WEIRD all of a sudden. And uh, ambulatory.
Thirdly, look, they're probably sewer mold. I think. Maybe it's cthulu mold or something, I'm sure it can wait a week.

-
Darling, I don't-

-
I love you my darling Henry,
I deeply and truly do.

We will be toegether forever,
that I know for certain is true...

g....oooood?

-
I'm cured now Henry,
I can feel it inside me.

ALl thanks to you darling,
your actions set me free.
Oh THAT. No big deal, but yeah, they're really going nuts at the office. Hey, you think I'll get a corner office? I bet I do.

-
I love you too my darling Grace,
I have since long before we wed.

But you're looking very stressed,
so come on, let's get you into bed.
And not into, oh, say, the medical trial patient ward, which we as GAMERS know is probably a bad idea, but which Henry as a PERSON IN THE GAME should think would have nurses, psychiatrists, all kinds of observational equipment... where they could, you know, HELP her, and would be motivated to do so because of the sudden miracle cure.
Heck, maybe a regular hospital? No? Just bed? Gonna watch fart-goofs III finally?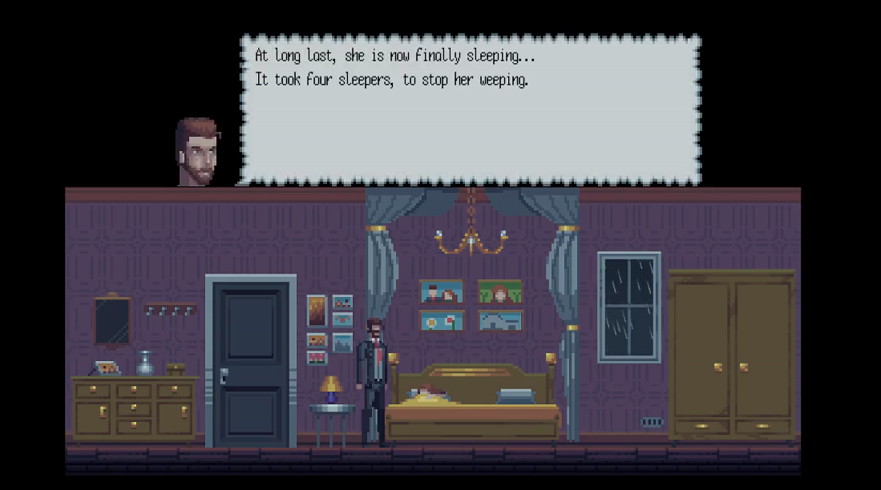 TAKE HER TO THE HOSPITAL YOU TROUSERED APE

-
I should catch some sleep as well,
today has been exhausting as hell.
More accurate for Grace than you, man. You... since waking up, read a book, did one test, and then came home.
Truly, grueling!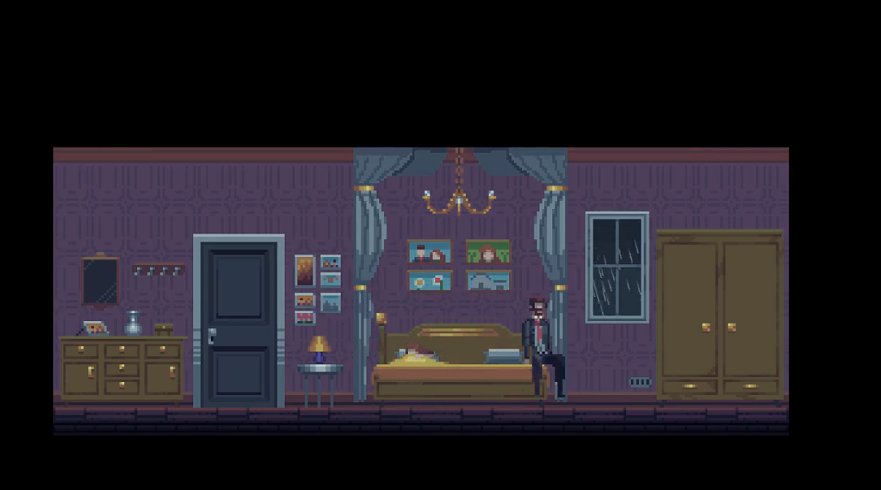 But, at least that's all behind us now.
Our career is safe, Grace will calm down soon, it's all easy street from here on out!
Tune in next time: for
THAT LAST THING I SAID BEING WRONG?!
(also: THE LAST MAJOR DECISION OF THE LP!)
ALSO ALSO:
After you kill Harris, before you get the animals, if you feel like being ESPECIALLY Henry-like, you can do this: