Part 65: Episode LIII: A Tale of Two Dads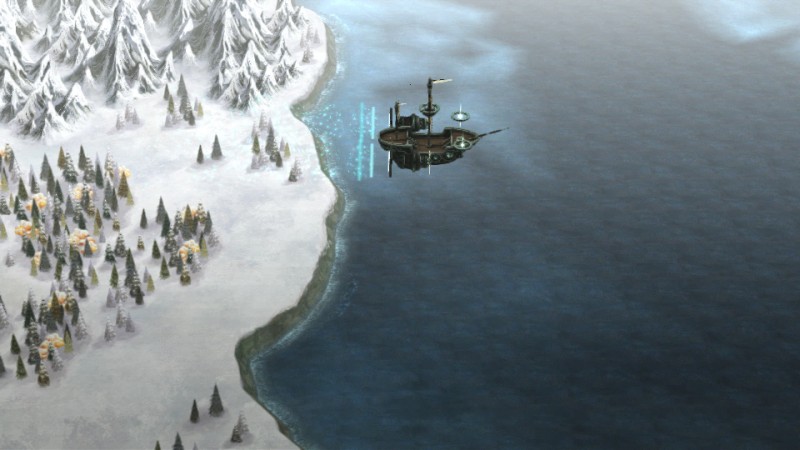 Down to the final character side quest of I am Setsuna. Democracy decreed that Setsuna herself was to be last in the popularity poll. Which, I cannot really dispute since Setsuna as a character is kind of just a boring inoffensive moron.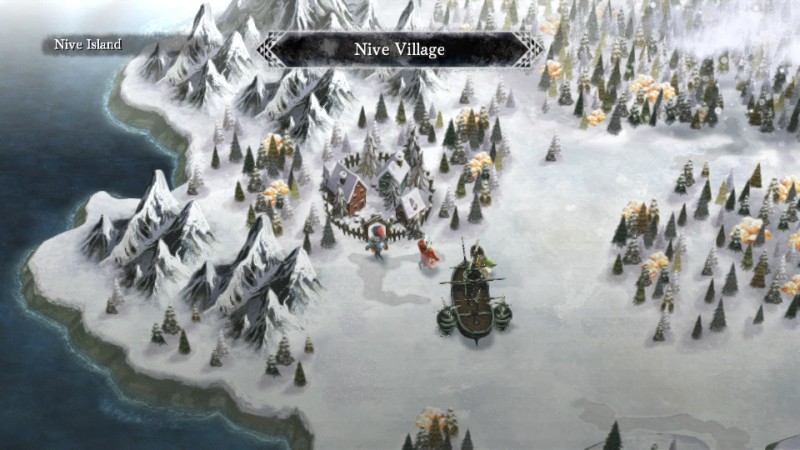 The thing is, Setsuna's sidequest doesn't actually have a lot to do with Setsuna herself. It actually has way more to do with Nidr, as you'll soon see. Regardless, to trigger this quest we need to keep Setsuna in our active party and return back to her hometown of Nive Village.

Music: Tender Glow
I don't think we ever had reason to enter here after setting off on the journey, but this house in the middle of town is Setsuna and her father's home. That is, Raishin the dad that raised her, not deadbeat secret dad Nidr. Remember that guy? We're going to be seeing a lot of him this side quest.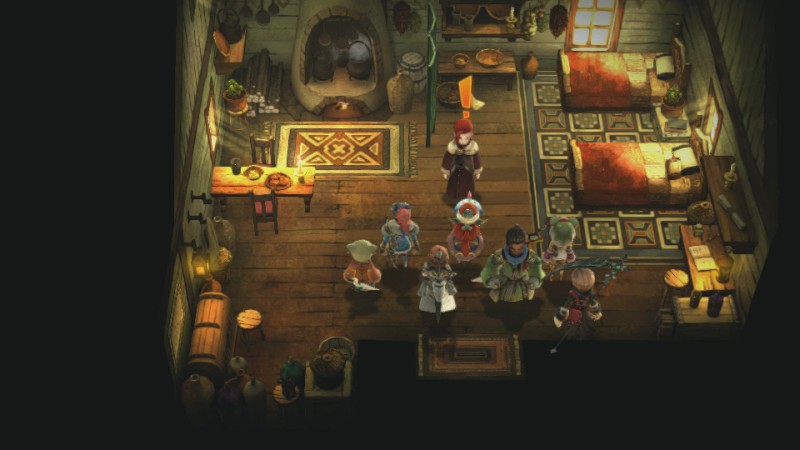 It cannot be... Am I dreaming...?

Hello, Dad...

Setsuna! What are you doing here?

And umm... your extended entourage...

I presumed you had already reached the Last Lands long ago...

Listen, Dad... The thing is...
A fade out to an explanation of things later...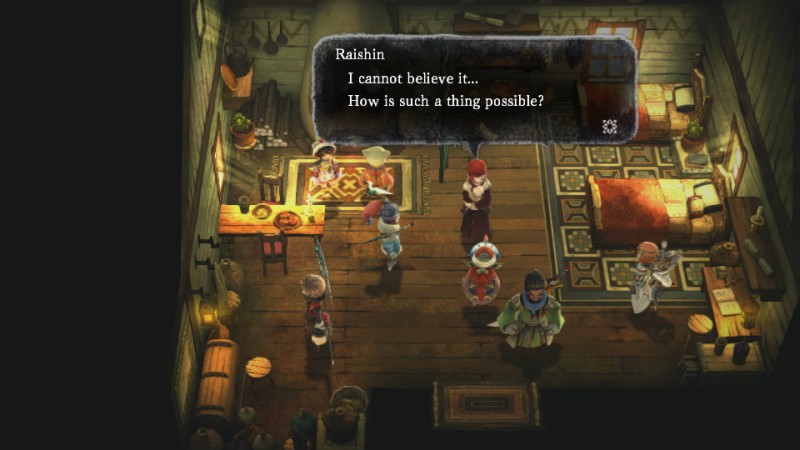 So now we're searching for more powerful spritnite stones, to prepare for our final battle... Please don't tell the others about all this... it'll only make them worry...

But what will I tell them? How will I explain your return?

Make something up.

Make something up... Yes, I suppose I shall have to. I know them all well, after all... I suppose it will be all right...

Just say she's a ghost or something. You superstitious yokels will buy that, right?


I don't appreciate such remarks about my neighbors.


Mhm. Gonna file that complaint under "peasant grievances I don't care about."


...Charming.

*nods* Very well... I shall explain to the others somehow.

Thank you, Dad.

*shakes head* Still, Setsuna... I never dreamed I would be able to see you again like this. Life without you feels empty... Everything is grey...

*notices Nidr*
!
A-are you...

Aww dammit...

Oh, I forgot... Nidr is from this village, too, isn't he! Do you two know each other?

Piss hell damn...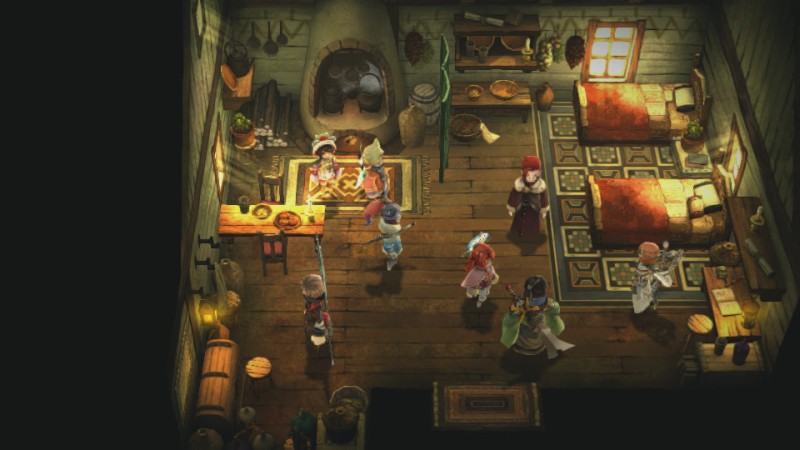 *shakes head* No, no... I'm sure he just mistook me for someone else...

No, no... the pleasure is... mine... I am Raishin... Setsuna's... father...

......

......

?
Is it just me, or was that the most awkward greeting ever...?

Mm...

*holds back laughter* Yeah... Weird tension in the air... wonder what that's all about... *snort*


*glare*


......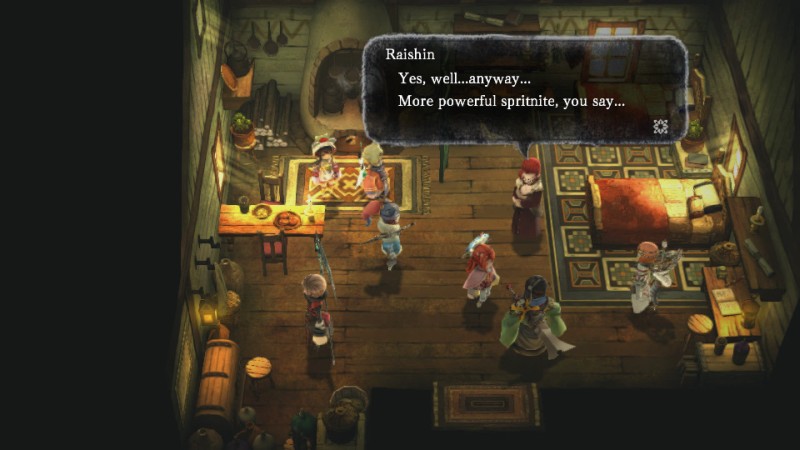 Do you have any ideas?

*shakes head* No, I am afraid not. I would love to be of assistance to you, but there is no spritnite like that left here in the village.

Have a better think.

As amusing as it is, we better not have come back here just so two old guys could glare at each other at length.

I really would like to help you... but...

......

*turns to Nidr* Unless... You know something...?

!
Nidr? Really!?

*sweats* No... I don't know any...

It's a very long shot. Especially since it would make Nidr useful for the first time in 18 years...


E-Excuse me...?


*glares* Did I stutter?


*big grin* Teamwork. That's what I like to see...

*turns to Setsuna* Would you mind? I would like to speak with him alone for a moment.

With Nidr, Dad?

Yes, daughter... I need some words with your... recent... acquaintance...

......

*silently walks out of cabin*

It will not take long at all. Would you mind waiting here?

*nods*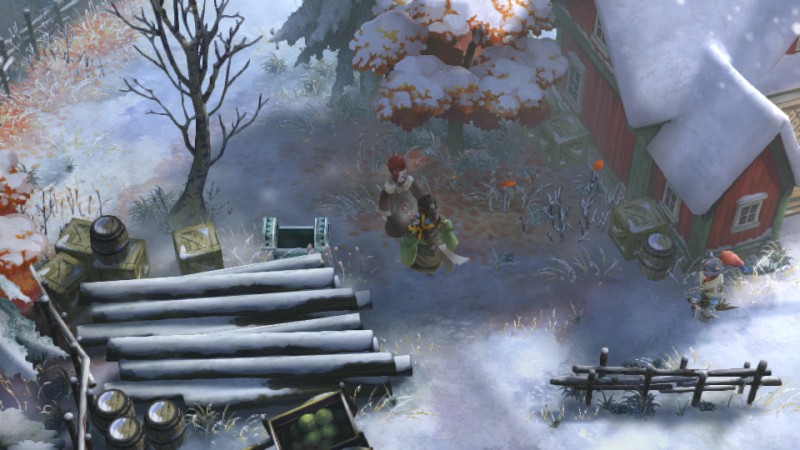 Some time passes as the two dads have a heated argument in Raishin's back yard. Eventually, Endir decides he's bored and wants to grab some popcorn and watch the debate. I'm happy Silent Protagonist Endir just morphed into being a huge dick on his own towards the end of the game.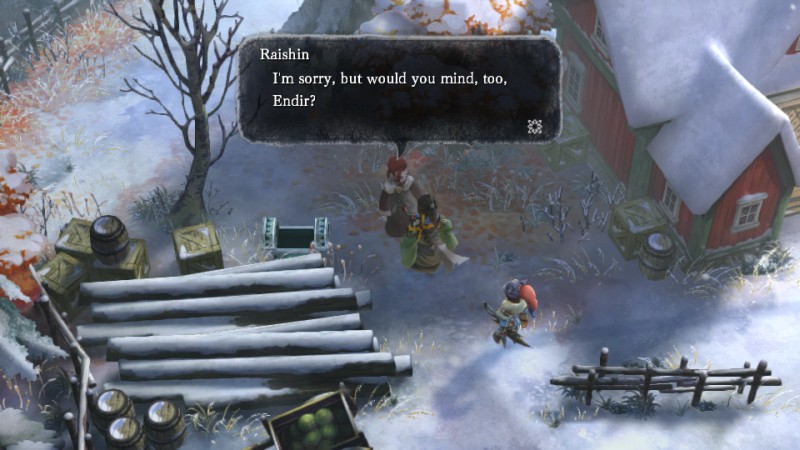 No, I'm staying.

I'm sorry... but this is between me and Nidr...

Aww... don't you two dads pay me a bit of mind. I'm just here for the show...

No, it's all right. Endir knows everythin'...

......

Him...? You told him...? You do know this man tried to assassinate Setsuna, correct?


You still sore about that? Tch... If it's any consolation, I'm not getting paid for that job. Besides, the moody guy with the scythe tried to kill her four or five times. I don't see you giving him any guff...


......


Fine... Whatever.

I dislike beating around the bush, so I shall get straight to the point. After you finished guarding Nanase's pilgrimage, why did you not return here? Mana waited and waited for your return.

...... *shakes head and turns away*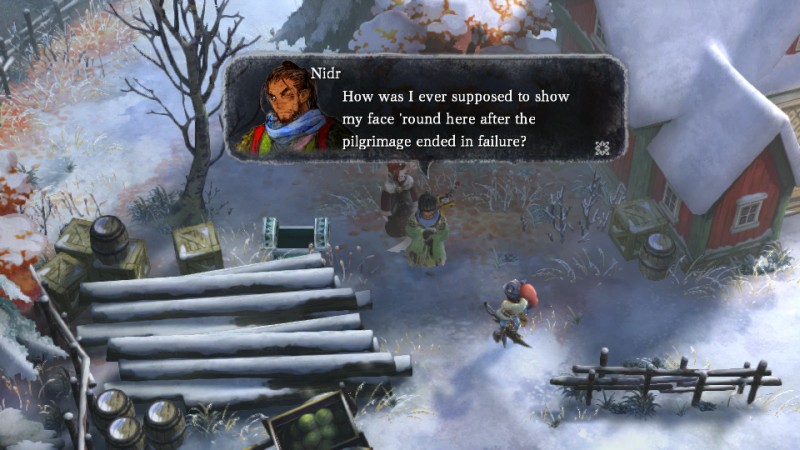 But still, Mana awaited your return...

......

You know about Setsuna, do you not?

*nods* Yeah...

The hell do you think we been talkin' about the last ten minutes...?

I presume you do not intend to announce yourself as her father, after all this time.

No... I ain't that shameless...

He pussed out on his chance to do that months ago.


It ain't my place.


Mhm. That's like the first entry in the big book of lame excuses.

*shakes head* Then I have nothing left to say.

If you wanna criticize me, go ahead. I'm ready.

Well, for starters you ar—


Not you, Endir!


Typical...

Do not make me laugh. What worth do you possibly think there is in my criticizing you? You are a cowardly man, and I shall never forgive you. That is all.

......

However, as Setsuna's father, I shall show you a bare minimum of courtesy. After all, you are one of her guard now...

*nods* So what did you mean by what you said? How I might know somethin' 'bout some spritnite...

I meant exactly what I said. Who do you think is most worried of all about Setsuna's current predicament? Her mother, Mana.

Err... Don't think the dead don't worry much...


Neither do the living, given your absentee status for most of Setsuna's life. If you'll allow me to explain...

Knowing her, she would have planned for her daughter's future. Even for a situation such as this...

!
But...

I knew her ever since she was a little girl... that is the sort of person that Mana was.

Boy, that's a creepy way to word that...


Why is he still here...?

You mean...

Have a good think... Your memories with Mana... your child's future...

*folds arms* My memories with Mana...

Can you think of anything she said?

Anythin' she said...?

Yeah, like wishy-washy vague crap about the future. Maybe something about dreams... I dunno.

She never spoke about things like that when other people were around... I often used to take her to the woods with me... We'd spend hours there, talkin' alone together...

*looks around corner* Hehe... This trip was definitely worth it...


We had this one spot where we'd always talk for a bit and then go dow—

Let's try going to the woods, then. Maybe we'll find something!

Music: Lighthearted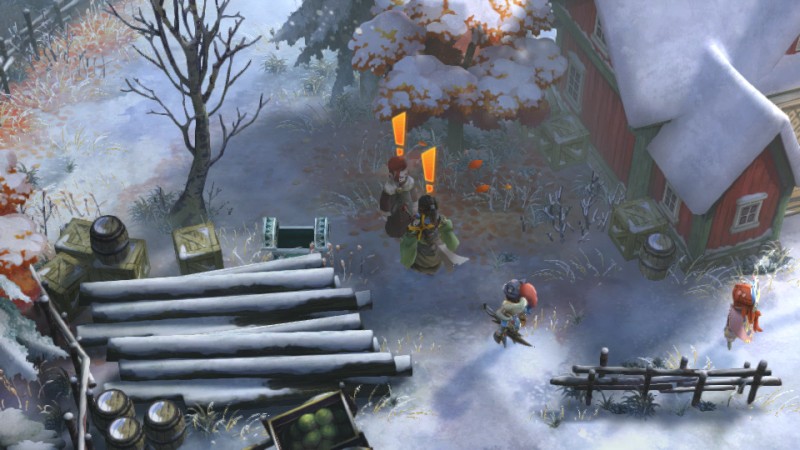 SHIT!


CRIPES!


Hah!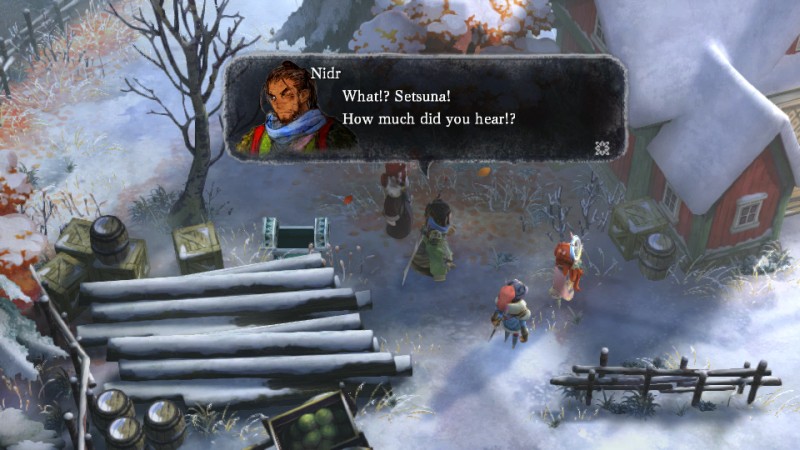 I mean, I can explain... It's just... the thing is...

*surprised* Don't worry, don't worry... I'll keep it secret from everyone.

......?

So you had a crush on my mom when you were younger, right, Nidr? Hehe! She was very pretty, after all!


*face palm*

Boy... you really produced a sharp young lady here. You must be a proud dad, huh?



*death glare*

*shakes head* Then why not try looking in the woods? Perhaps there is some secret place that only you know of, Nidr.

?
A secret place...?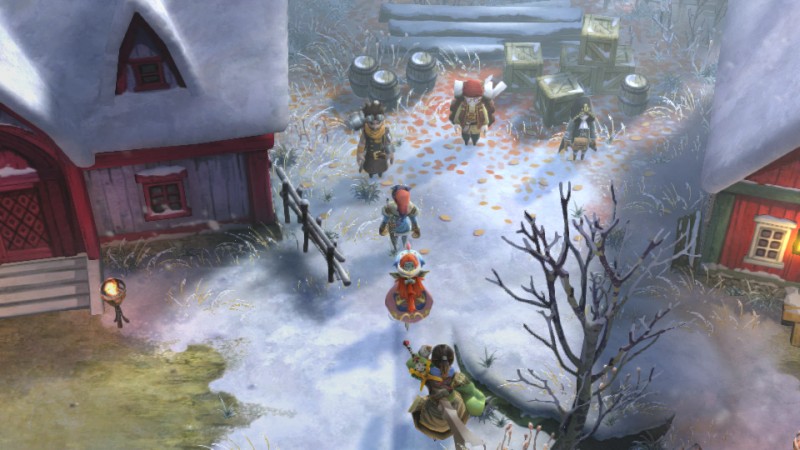 Right, a secret place off in the woods where Setsuna's mom and Nidr spent hours together "talking", huh? Sounds like a lead. Before we take a brisk winter hike through the woods, let's stop by the merchant corner to pick up Dingus' final weapon.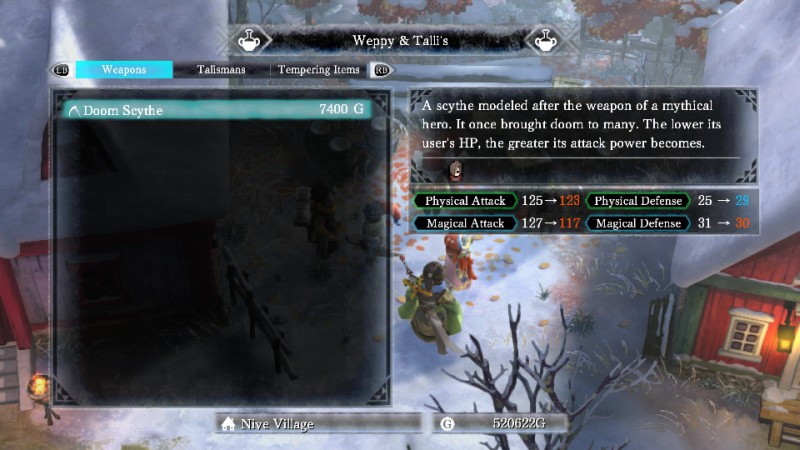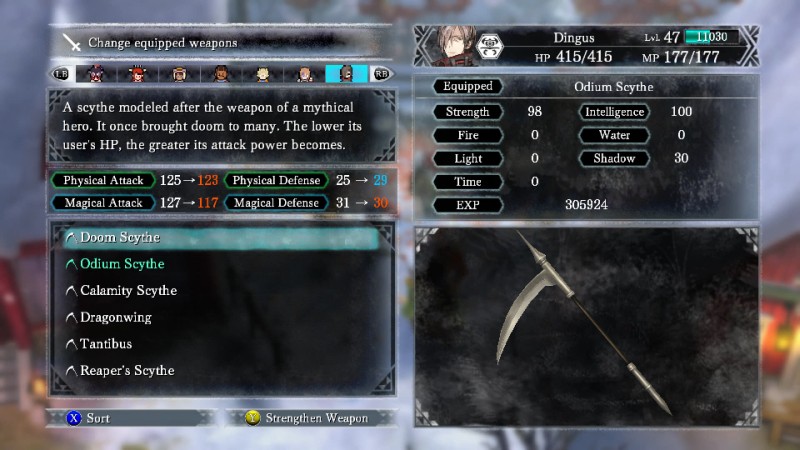 Everyone else got a direct Chrono Trigger reference, so of course so does Dingus. The Doom Scythe is identical in design to the one Magus is wielding in his Chrono Trigger concept art. It's also shares the name of Magus' ultimate weapon (okay, it was technically translated as Doom Sickle because Ted Woolsey didn't look up the difference between a sickle and a scythe.)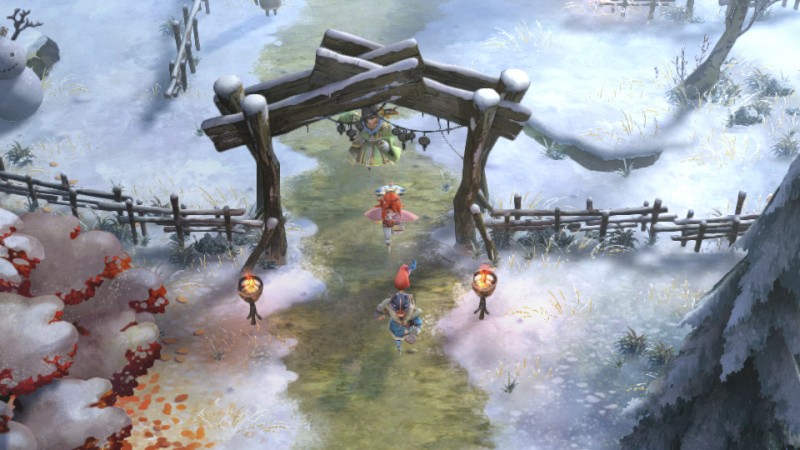 That is the very last weapon available from Weppy & Tali's shop... at least until the game is beaten. There is no New Game Plus in I Am Setsuna, but you can load a save after beating the game and it will spit the party out before the final battle to go finish up trophy collections or other activities I'm not going to participate in.
But, for now let's focus on the side quest at hand. Back to the world map...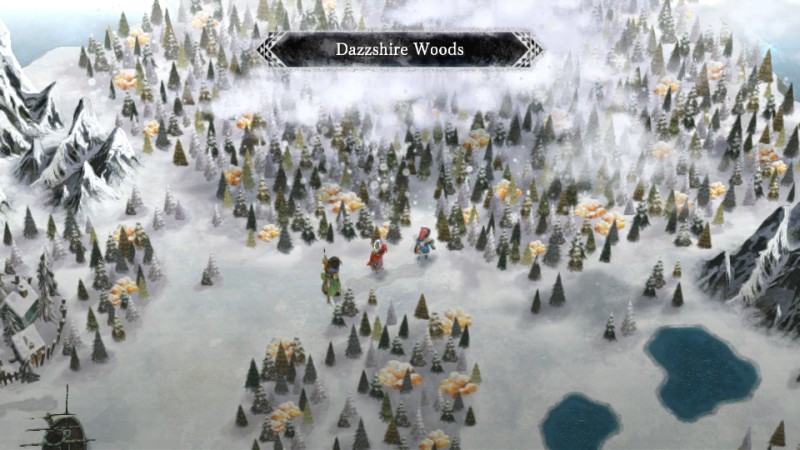 The woods Nidr spoke of is the Dazzshire Woods just east of Nive Village.

Music: Into the Woods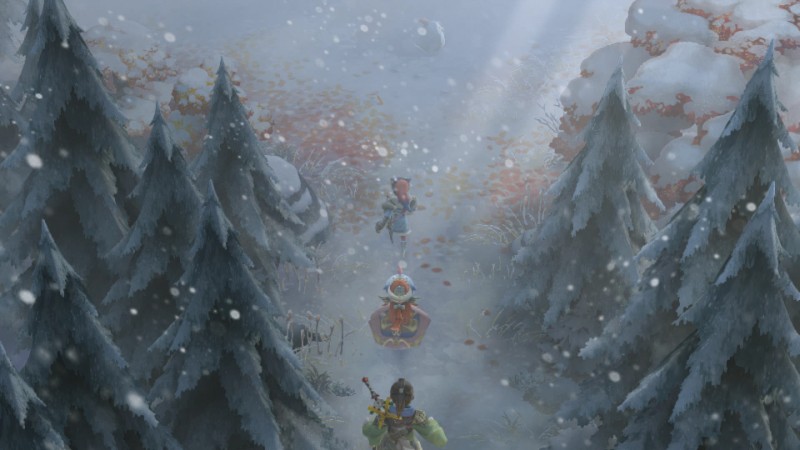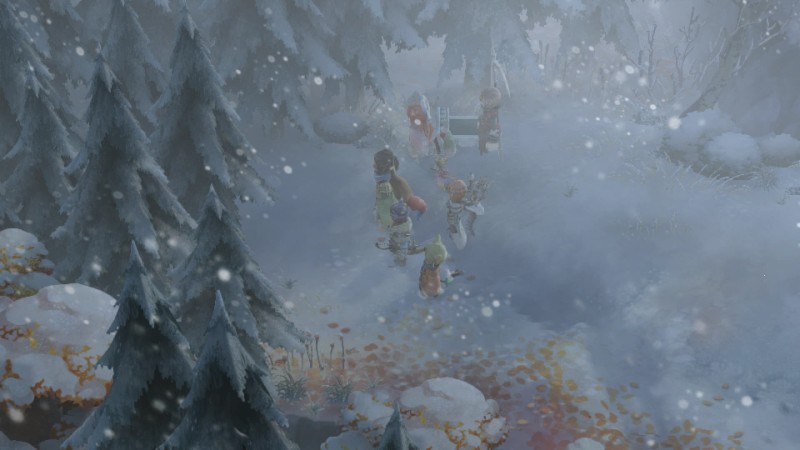 We're not given much in the way of direction. Thankfully, the game takes over as soon as the party brutally annihilates that Level 1 Pengy skulking about.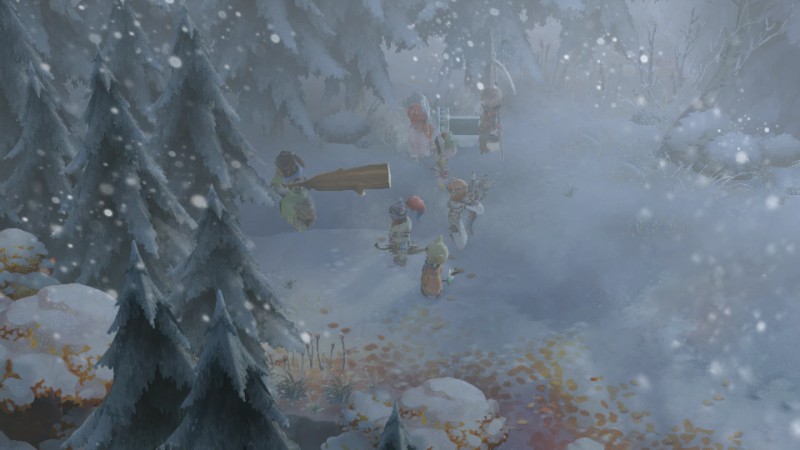 Nidr performs some very unorthodox lumberjack techniques to clear the path just to the west of the area's entrance. Nidr... it's a forest and the party consists entirely of thin, weedy folks. You could have just, I dunno... walked around the trees...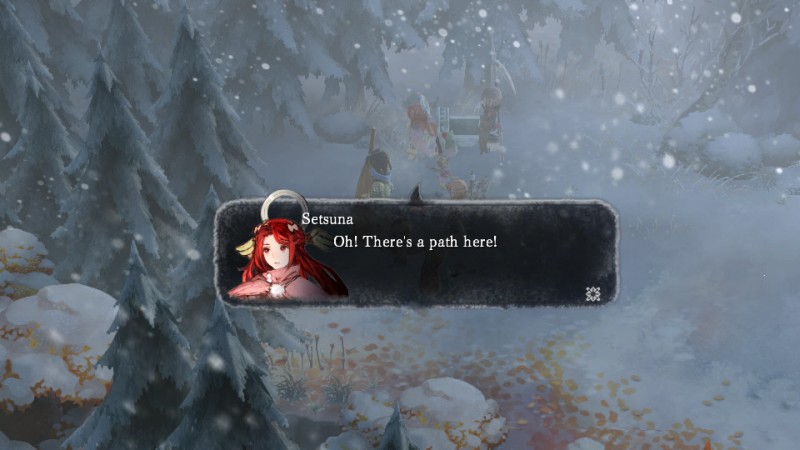 It's been closed off ever since the monsters started increasin'. We'll be fine, though, of course...

*jumps* Wow! This is like a mystery trail!

How'd you know it'd been closed off and why...? Hadn't you been away from this island for... oh... what was it? About eighteen years and nine and a half months or so...? Give or take...


*glare* Setsuna's dad told me.


*smile* I glad you two are getting along.


*grins* Me too.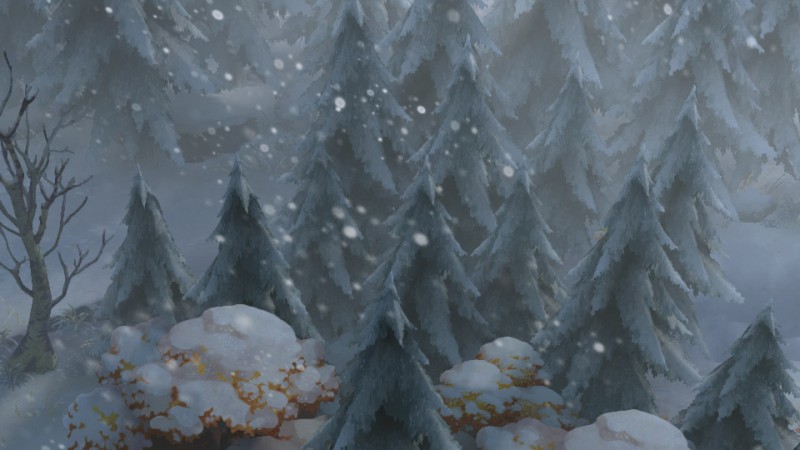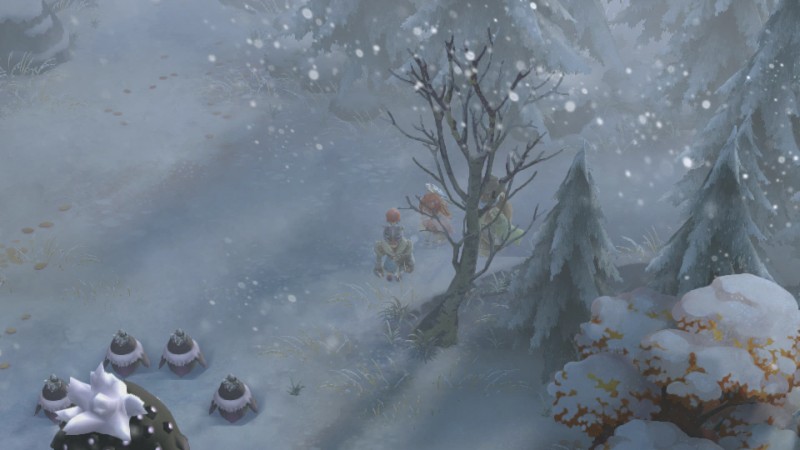 Through the woods we go. Setsuna's side quest, much like Aeterna's quest, doesn't actually have any combat. Well... not counting that poor Pengy that made the mistake of hanging out close to a cutscene trigger. There is, however, an optional boss fight hanging out in Nidr and Mana's Boning Grove.

Music: Rare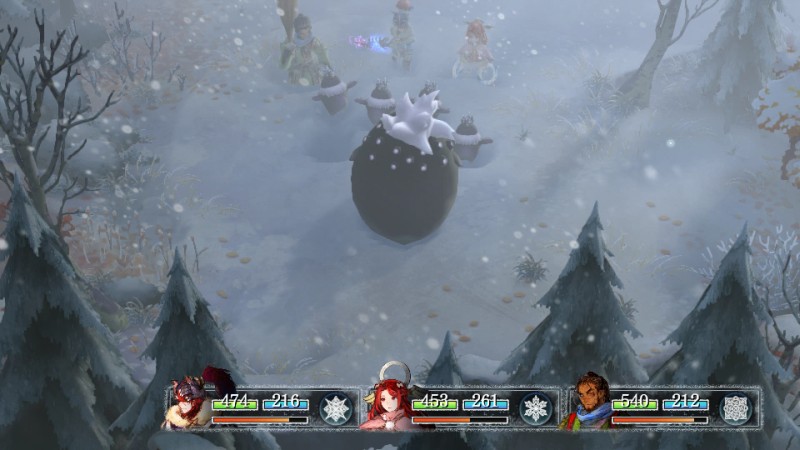 Here we find a King Empy and an entourage of standard Empy (aka the strongest non-Spritnite Eaten penguin critters.) This is not at all a difficult fight. It's literally just those King Pengy from back in the tutorial woods revisit with even higher inflated stats which were in-turn a common enemy version of an earlier boss.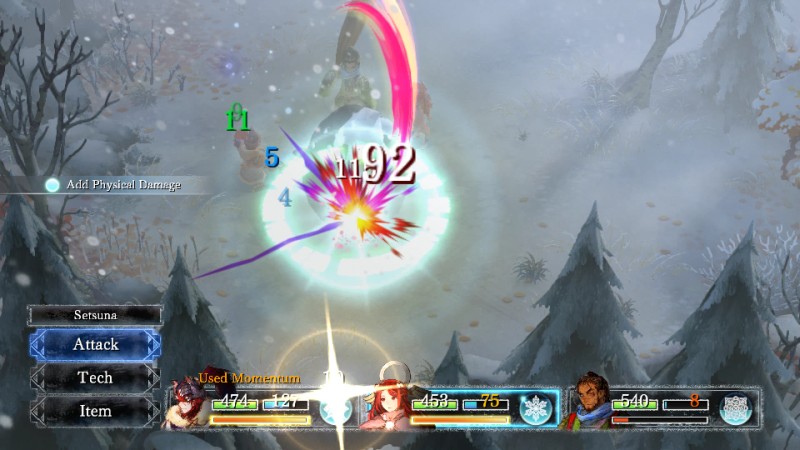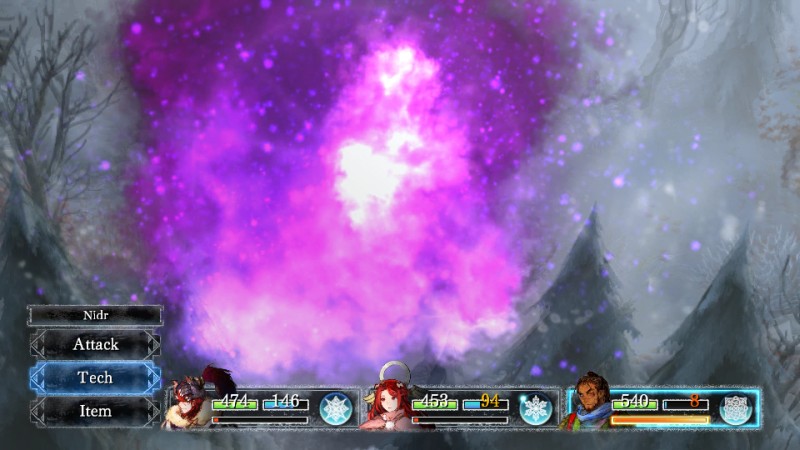 The biggest issue being it has a frikkin' ridiculously stout 11340 HP that even locking it down with Blowbeat and wailing non-stop with everyone's strongest Techs augmented with Battlecry non-stop, it was still a solid 12 minute slog of a battle.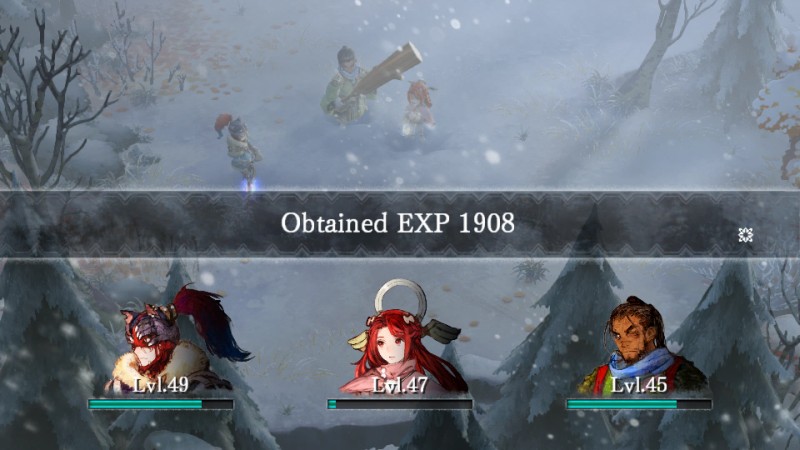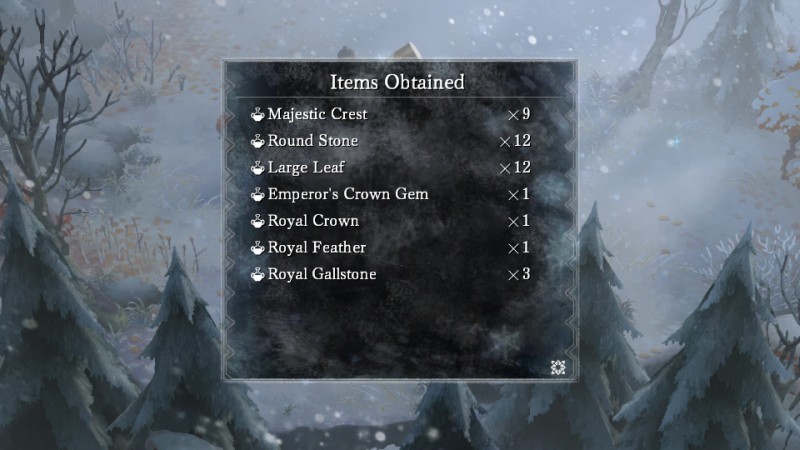 It didn't even give any kind of good EXP and Royal Gallstone is one of the grosser sounding material drops this game has produced. Oh well, figured I'd just mention there was a "unique" enemy hanging out in this optional area.

Music: Into the Woods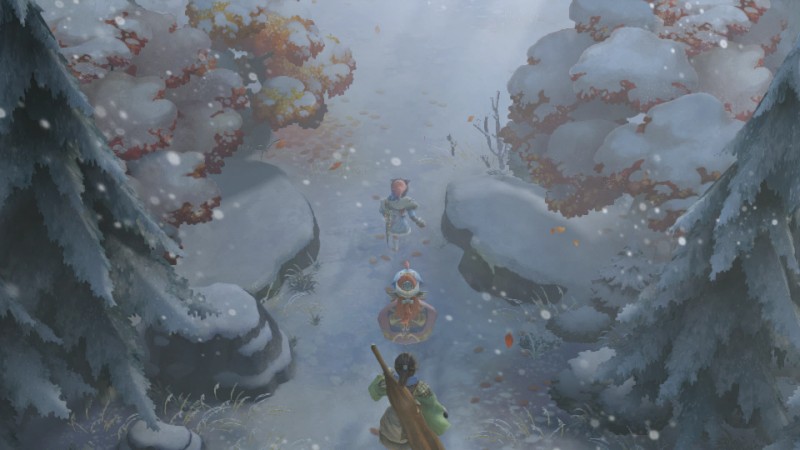 Let's get back on track, eh? Beyond the King Empy's campsite, we want to travel north in this newly opened area. There's nothing particularly noteworthy to the path. But once we reach the edge of the map, a cutscene begins...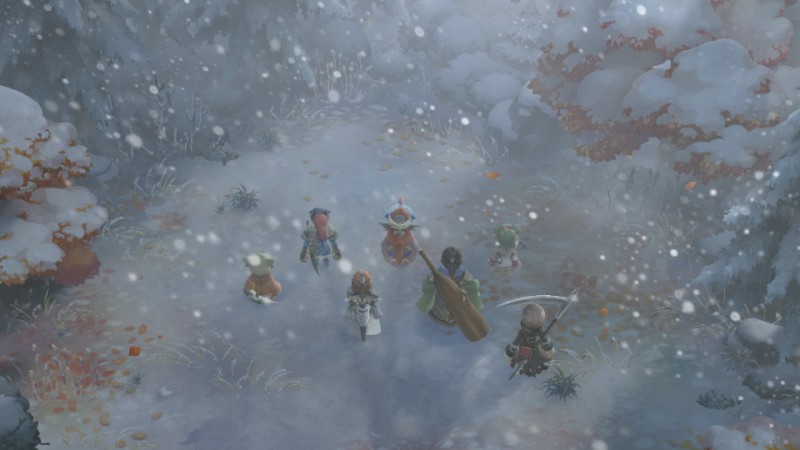 So this is it? This is your secret place, Nidr?

Yeah, I guess... I often used to sit here with Mana and talk.

*looks under tree and nods* Right over there is probably where you were con—ergh... Nevermind!

I see... So this is the place...

Is there spritnite to be found here, then?

No idea... This is the only place I could think of, so I thought it was worth a try... How about you, Setsuna? Can't you sense anythin'? I thought if you came here, then maybe...

*cringe* Phrasing...

......

Wait a minute...

Music: No Turning Back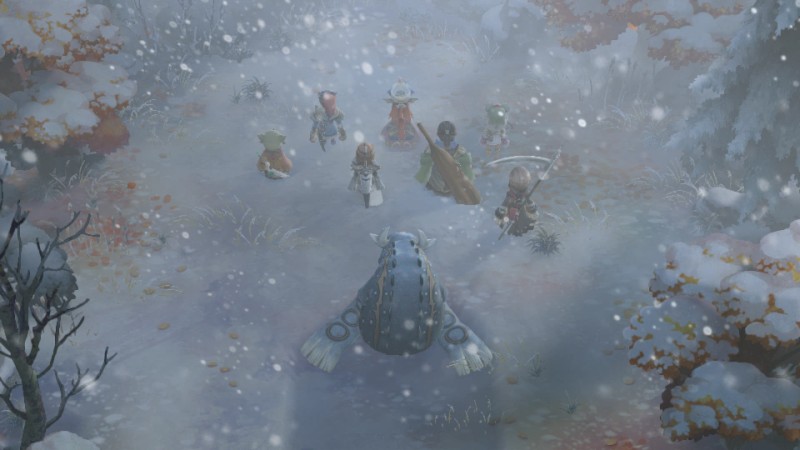 Setsuna begins mucking about in the snow. As she does, a curious Waloompa wanders over to see what all the fuss is about in this grove. Lousy
curious animal
malicious monster.

Calm your pants down. That thing is like Level 2. Just throw a snowball at it. You'll probably one-shot the thing...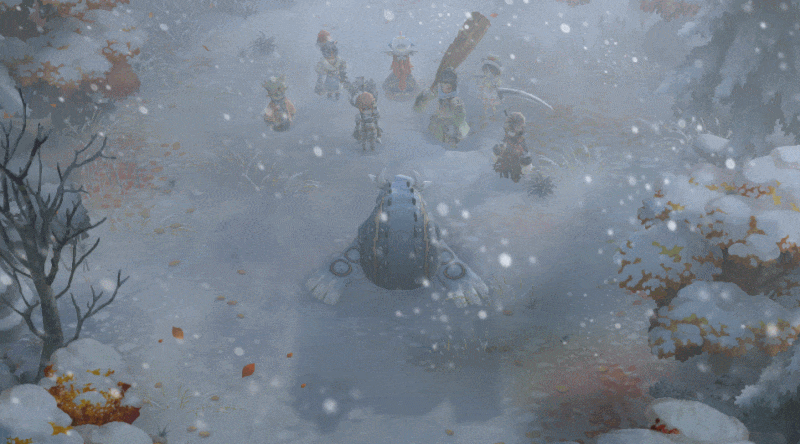 Tch... I said SNOWball, not FIREball... Nobody ever listens to me...

Music: Into the Woods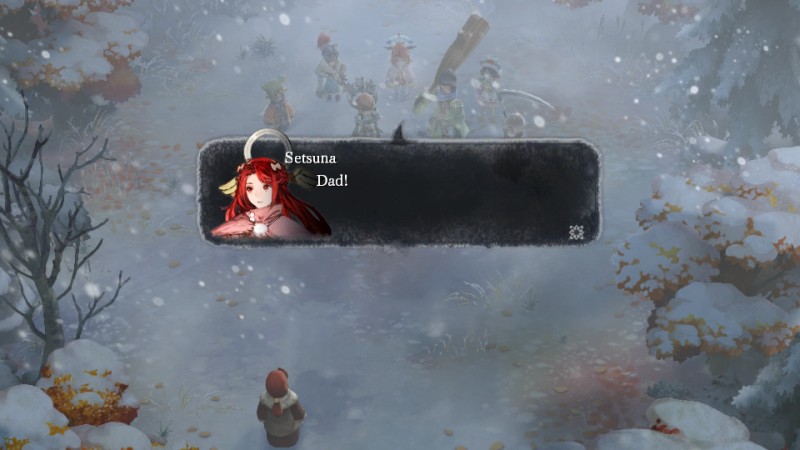 Gee, thanks Raishin. You really saved the day in this seven vs. one monster brawl in the second dungeon of the game. Father of the year up in here.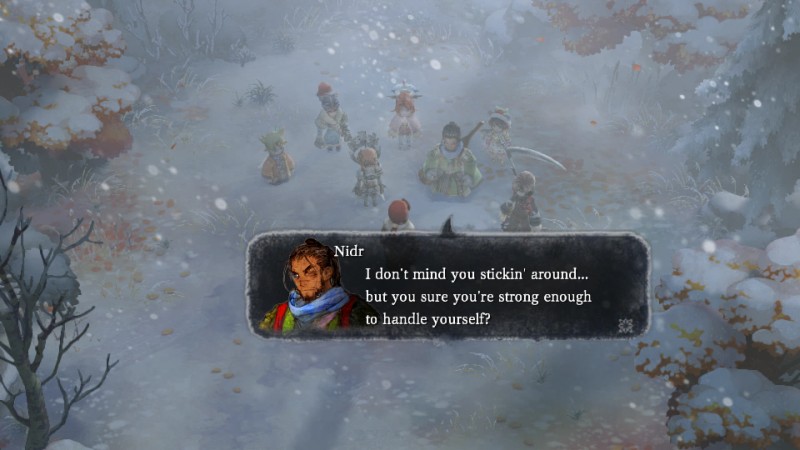 Doubt me, do you?

We're the ones who're gonna have a problem if you're holdin' us up...

Then just make sure you do not get yourself caught up in my magic.

Oh yeah, I'll bet it's real impressive. Raishin the Great, mighty magician... What can you do? Pull a Muffy out of a hat?

How much MP did that cost ya? Running on fumes now? Oh, that's right... You only do magic outside of a real battle like a coward.


*rubs mask* I still gotta pay this jerkwad back for that one time...

You're a fine one to talk, with that oversized sword of yours. The word "overcompensating" comes to mind...

*stomps foot* Hah! Just you watch, dammit...

Like you did when my "overcompensatin'" sword did a number on Mana... I'm pretty sure she liked that over yer itty-bitty magic wand...

*shakes head and shrugs* I shall make you eat your words!

Fight! Fight! Fight!


*frown* Let's calm down...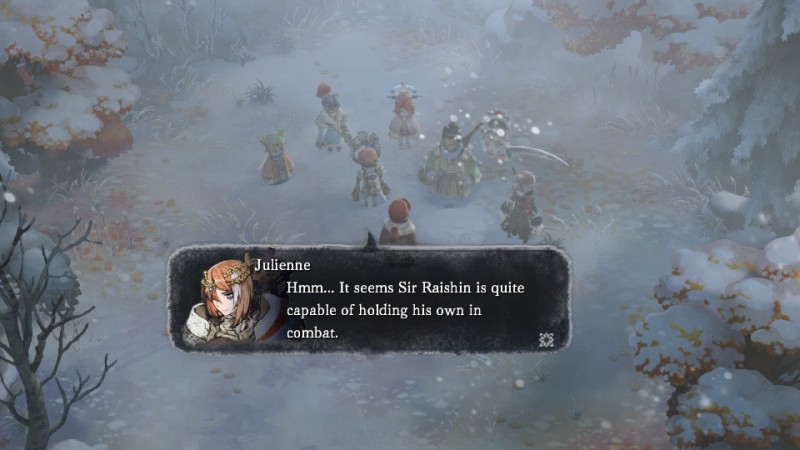 ?
Don't you think there's a lotta tension between these two, considering they just met...?

*ponders* To me it seems the opposite... Are they not comrades?

*shrug* What? Nah, you're imaging thing, Dingus...

I think what Dingus is trying to say is "get a room you two."


......


...No, that was not my intention.


*sigh* Every time I pitch a softball and you just let it sail past with a quizzical look...

Music: No Turning Back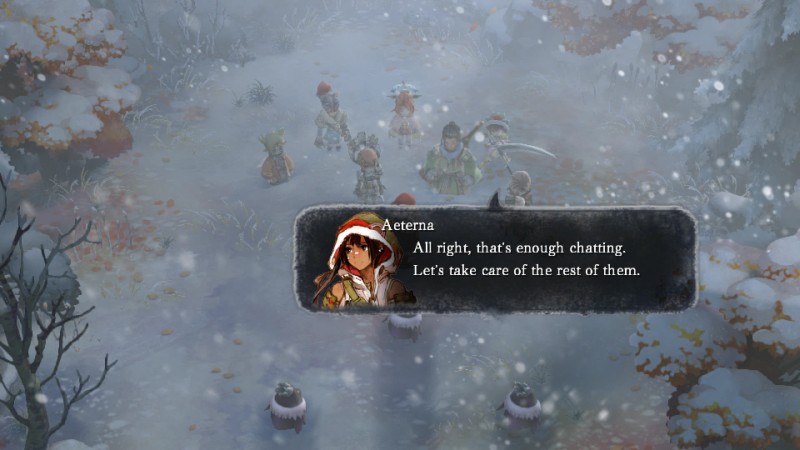 Some more Empy decide to break up the crippling sexual tension between these two middle-aged dads. Time for another
cutscene one-shot
battle.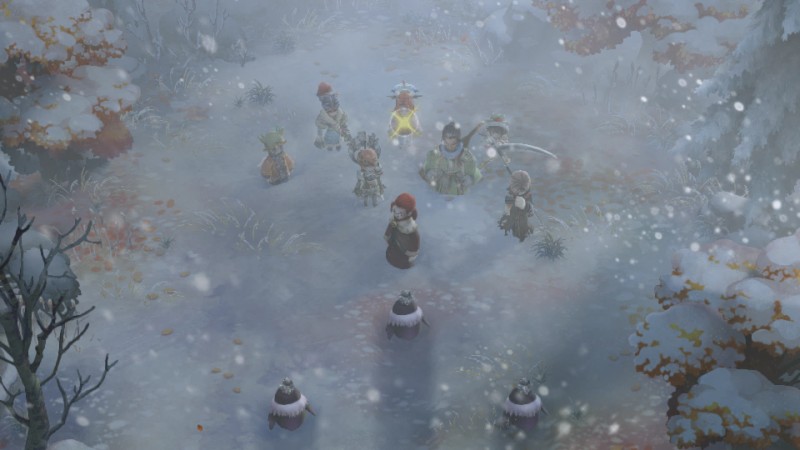 Before things get heated, Setsuna begins shimmering. Or rather her pendant begins to do so. Remember, the one Raishin gave her when she was leaving way back at the beginning of the game and was never mentioned again until now? Yeah, I had to go look it up to remember too...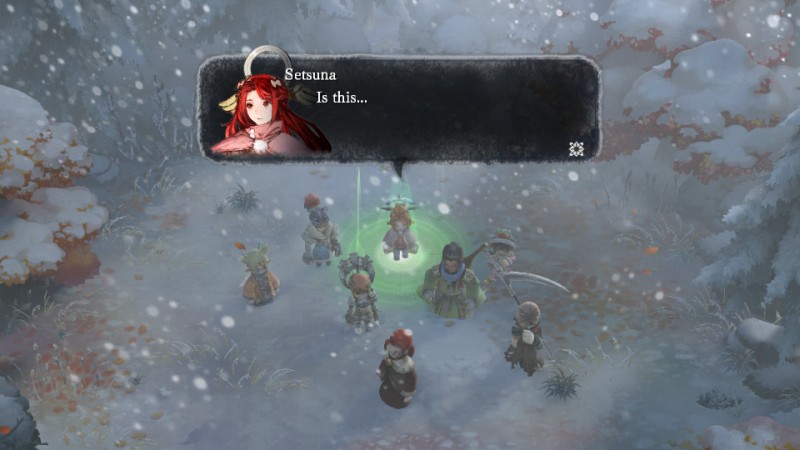 Mom...?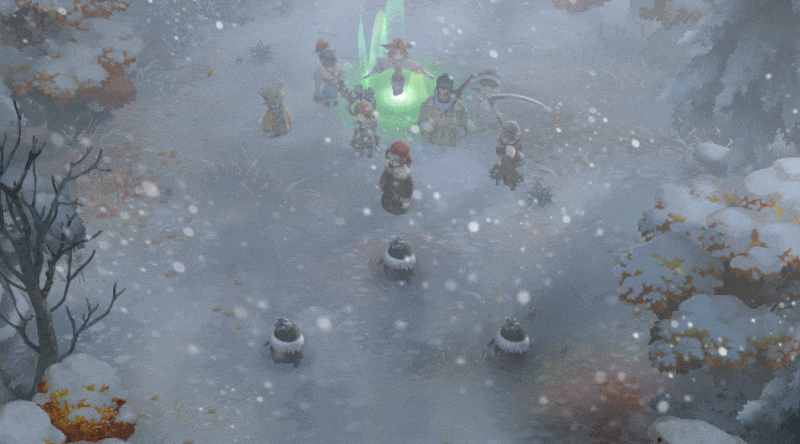 Setsuna... you had ANOTHER holy magic nuke this whole time you'd neglected to use until your dads quarreling activated it...?

Music: Farewell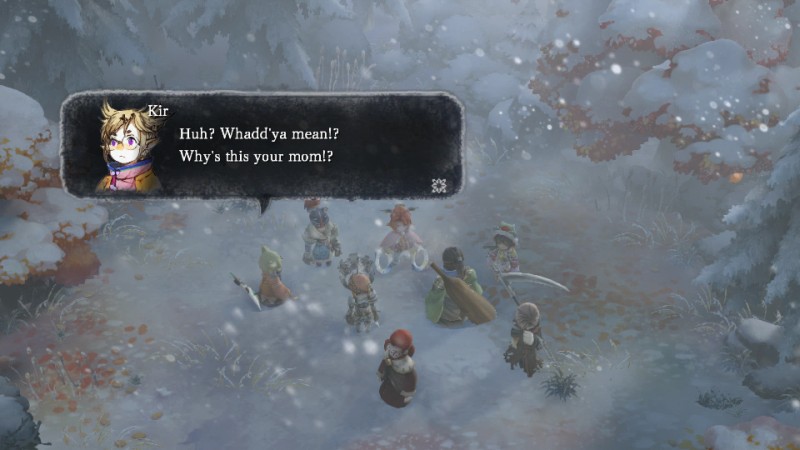 Indeed, it is your mother... As I thought, it seems she left behind her energy for you, Setsuna.

*blink* Excuse me...? You know Eutess had to create the time loop because the previous two sacrifices failed and had insufficient energy to continue Dark Samsara's seal respectively. Are you telling me this was all because your mother drained her power into some trinket in the off chance her daughter would come upon the means to activate it...?


...What is she talking about?


Oh... It's a long story.


*severe eye twitching*

Mana... Sorry to take so long comin' back.

Mom... So you left your energy behind for me... This spritnite is... you...

Yes...

That's real nice, Setsuna.

Mm... she was watching over me all this time, after all...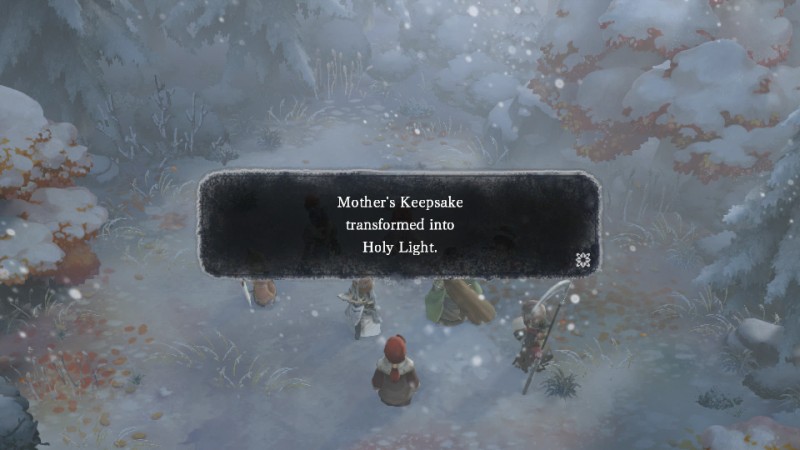 And that's how we got Setsuna's ultimate tech: bringing a pendant she had the entire time to the place in the woods she was likely conceived. It was SO obvious...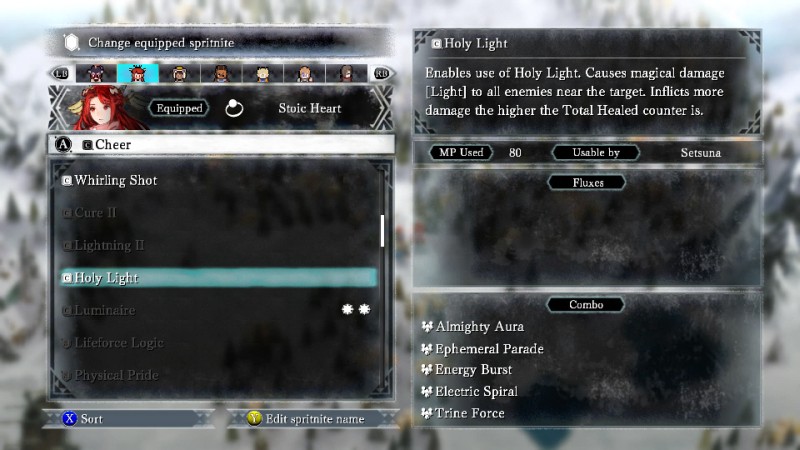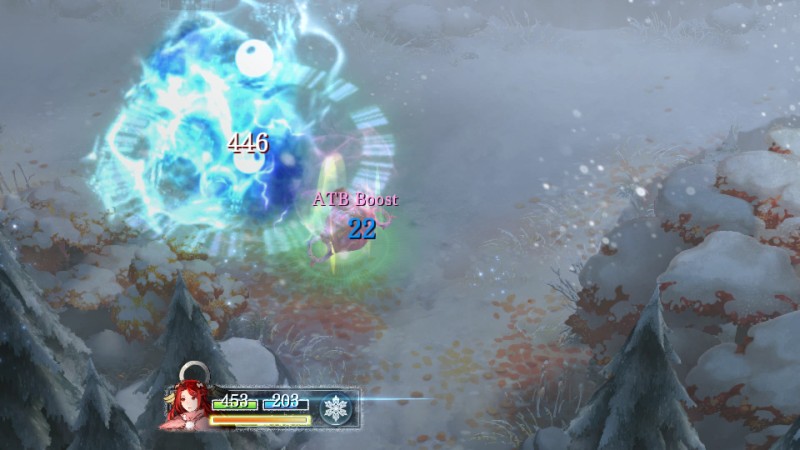 Holy Light's gimmick is it grows in strength with the number of healings Setsuna has performed in a battle. At base level it already does 450 HP of damage. A few heals by the party's designated healer and it will do 700-800 HP of damage on cast. It's pretty darn strong! The major downside is that it sucks up about a quarter of Setsuna's total MP on cast and if Setsuna is in the party, she's probably going to want that for heal duty. Still, it's definitely a step up from the last few wet fart ultimate spritnite stones.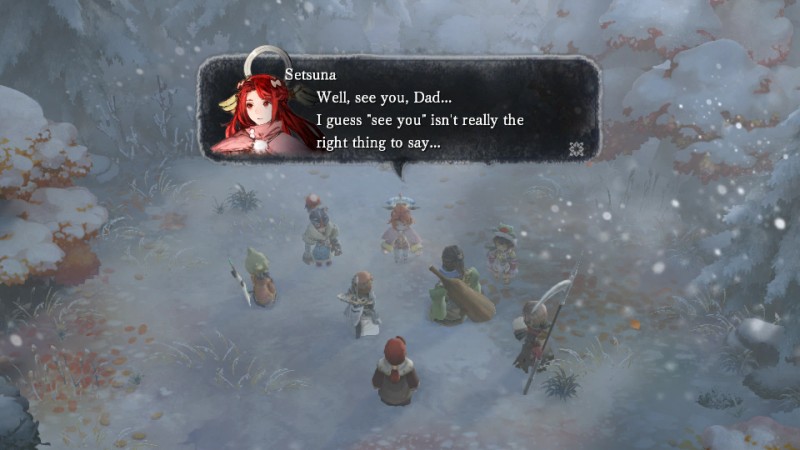 But anyway, I'm glad we got to see each other again. Looks like Mom saw all this coming, though... She really is so amazing...

Yes, well... You have very few memories of her, so in your mind she may be perfect... But Mana had many faults, too.

Really...?

She was a carefree woman, and as a result often careless, too... She was constantly losing things, and always forgetting to bring in the laundry. She was not what you would call a great cook, either. I suppose she was good at putting together something edible from whatever was available, though...

She never did the dishes afterwards. It was always just a stack of filth until I did them. And she never took out the trash for collection on Mondays. Oh, it's on Mondays, she'd say? Yes. It was always Mondays! It is STILL Mondays... I'd leave a note by the door and it might as well have not existed. And I cannot even count the number of times she clogged up the toilet and just left it there until I fixed it...


Just gonna have a full post-mortem airing of grievances, huh?

Yeah, now that you mention it...

?
Hmm? Did you just say something, Nidr?

*sweats* N-no... nothin'... just talkin' to myself...

*sigh* Really, the only consistent thing Mana did was be oblivious to obvious facts...

Most of all, her kind personality meant that she trusted people far too easily. In the past, she even put her trust in a man that she could not see for the good-for-nothing he was...

*Cough, cough*......

Raishin, you really got to stop talking yourself down like that.


*glare* I was not—


Stuff it, nerd.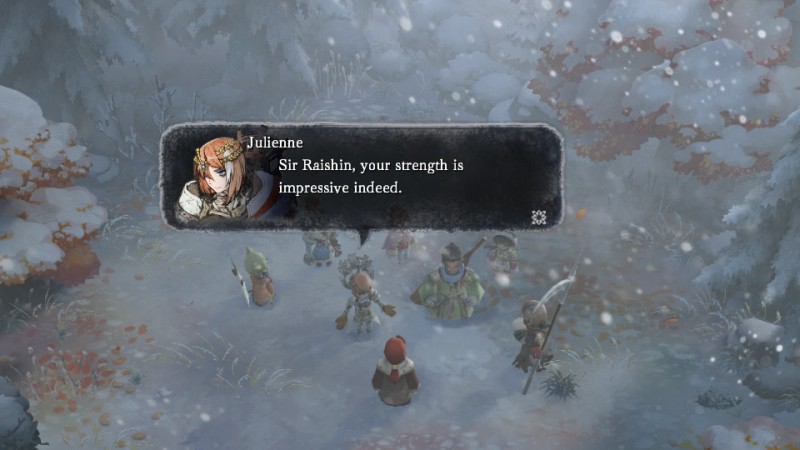 No doubt you would be able to hold your own if you joined our guard.

*surprised* Ha ha ha... It is very nice of you to say that. If no one has any objections, then perhaps I shall indeed join you...

Tch... I don't think so. We already have a scrawny geek that throws fireballs which we never use and his name is Kir.


Hey!

*shakes head* No way, you'd never keep up... You stay here in the village.

Now you give me orders, do you?

Just shut up and listen, all right? We're gonna win this final battle, and come back alive, no matter what. So Setsuna needs a home to go back to. You need to protect that home... this village. I'm... I'm countin' on you... Raishin...

......

Finally you call me by my name, you stubborn man... I cannot very well refuse such an honest plea, so it seems I have no choice. I shall do as you say.

You mean... you forgive me...

Do not be so foolish. As a man, I can never forgive you.

I see...

But you are one of Setsuna's guard. As an old friend, I wish you well on your journey.

Huh? You mean these two were friends, after all?

I don't know the details, but it seems so...

But now that EVERYONE has had their weird little session and a powerful new spritnite... can we, for the love of whatever gods are watching, go and deal with Dark Samsara?!


Eh... Sure.


Yea...


Why did you even let us leave in the first place?


That seems reasonable.


I'm uncertain why we were waiting this long to begin with...


Thank you! Gawd!

......

Good-bye, Dad.

*nods* Take care. I shall be waiting here, always.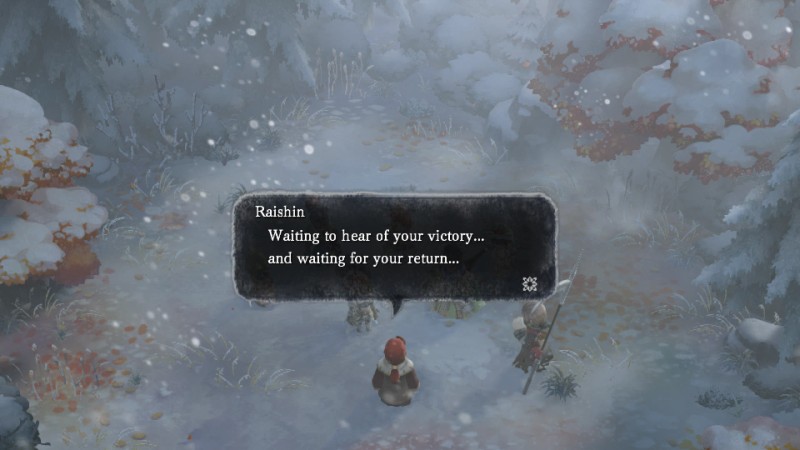 And that concludes the final character side quest of I Am Setsuna. I liked that one, other than Setsuna being dumb as a brick. It's nice for some characters to talk about their issues for a change instead of just presenting them, shrugging, and going about their business. And that actually felt like proper side quest specific content for once, since hell if there would be a reason to return to Nive Island otherwise.
Anyway, we've got two more proper updates wrapping up the last of the end game content and then it's off to finally fight Dark Sammy back in the Frozen Lands. Stay tuned as I am Setsuna makes the final push to the ending...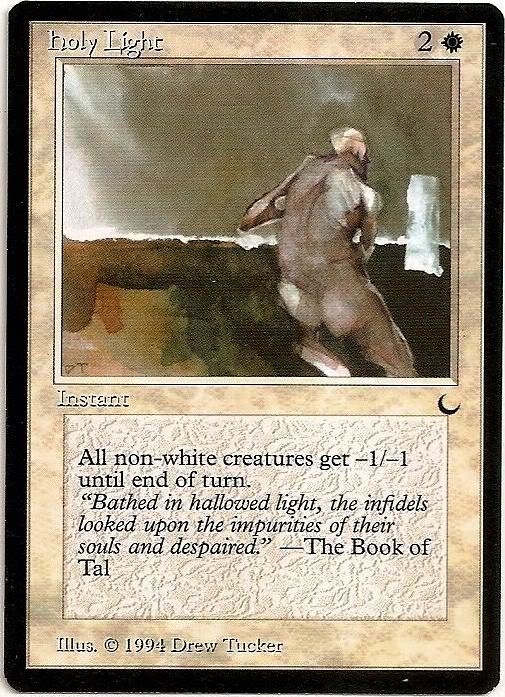 Video: Holy Light Tech Demo