Part 70: Episode LVII: I Am a Record


New Music: Immovable Object
(I mean it's the final boss theme. You should probably listen to it.)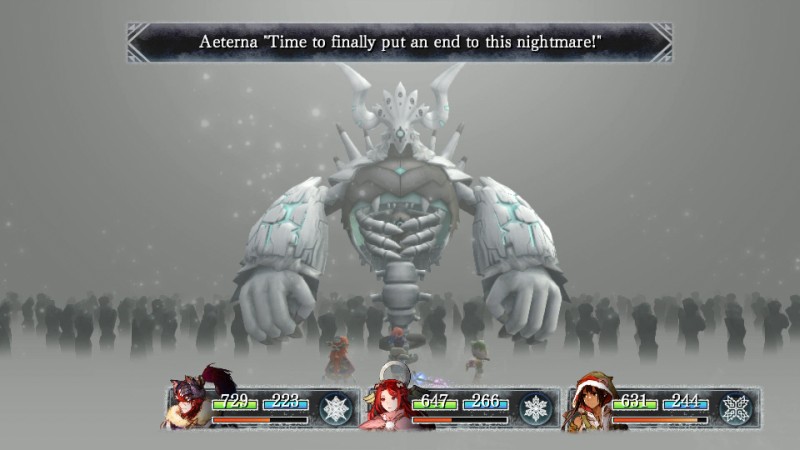 Let's give this last battle everythin' we got!

I don't need you to tell me that, old man!

For the future of this world!

I cannot die here...

Endir! I'm counting on you!

What else is new? C'mon. F this guy!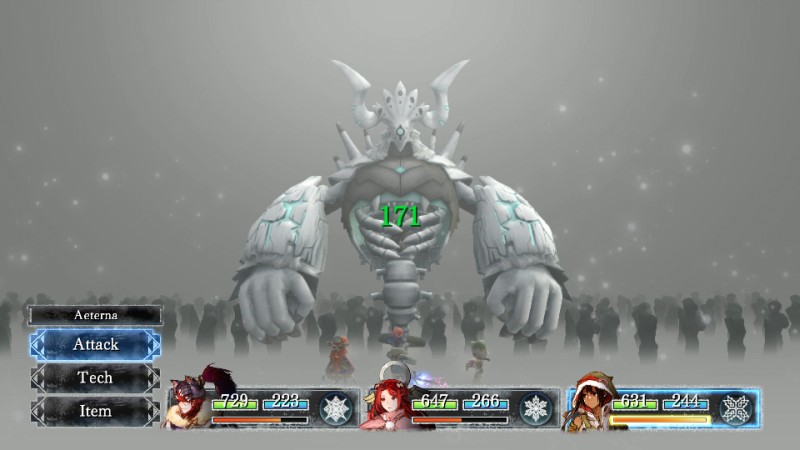 Now that we've thoroughly neutered Dark Samsara, the creature only has a mere 6864 total HP. At least that's its total health points on paper. The thing is, as you can see above, Dark Samus has regenerating health. Thanks to tackling the Four Symbols stand-in bosses, it's
only
171 HP healed... every five seconds. That adds up fairly quickly! And before you ask: no. There is no way to halt its health regeneration.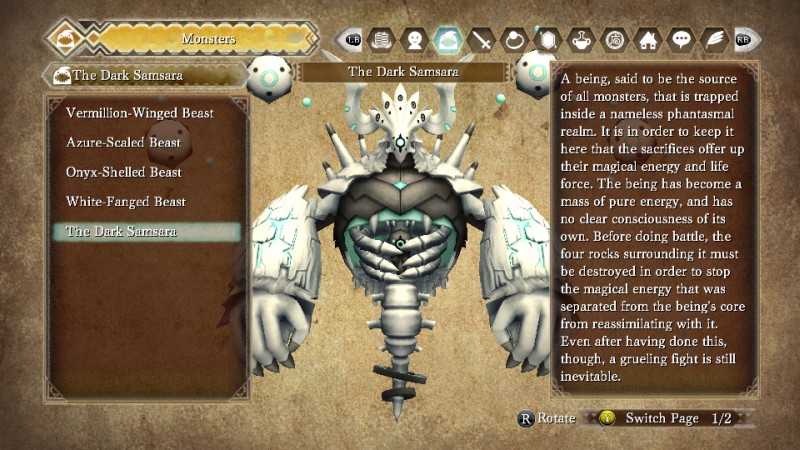 The thing that makes the fully buffed Dark Sarsaparilla difficult is that regen number is inflated to 310 HP every five seconds (3720 HP a minute!) That's on top of the super boss form having around 14000 total HP. It's quite a damage race! One that I'm happy not to engage with right now.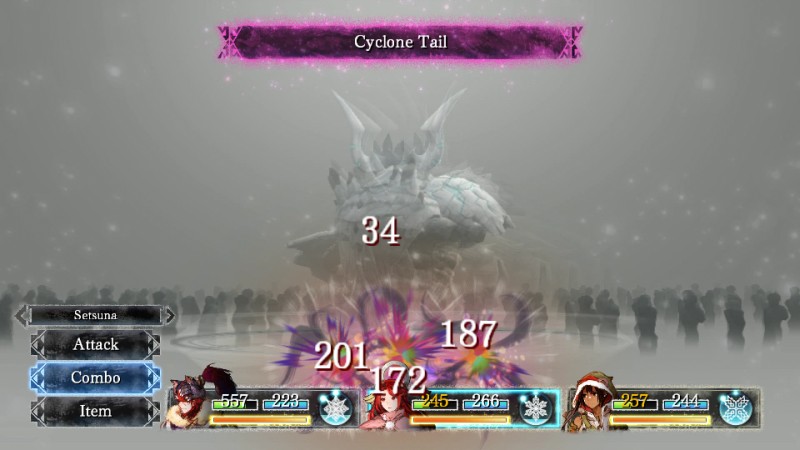 We've disabled a good deal of Dark Samael's attack abilities but it is far from fully disarmed. Rather undignified for an ancient world ending evil is just... spinning around and smacking everyone with its tail. Whatever gets the job done, I suppose.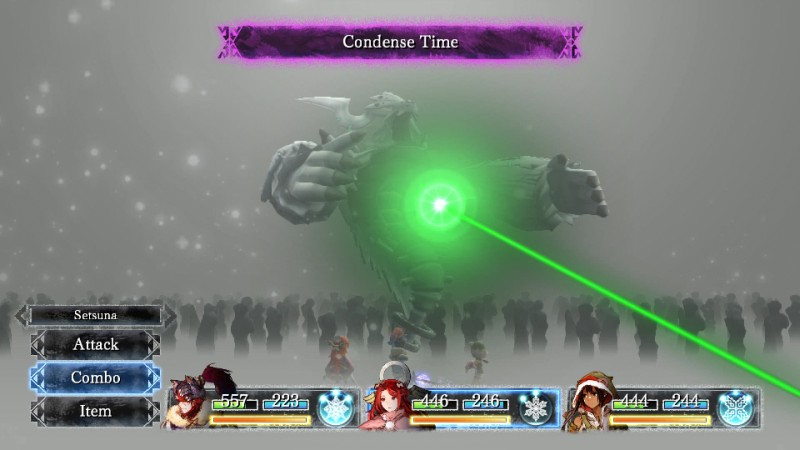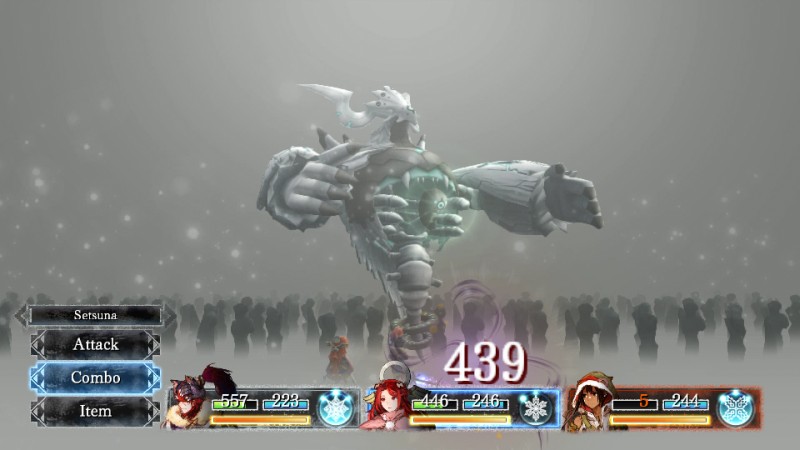 The Ruler of Time might have borrowed the special beam that reduces a party member's health to 1% HP which Nintendo DS also possesses. It's a bit more worrisome here since Dark Samsara is quite prone to following up an HP reduction with another tail spin and whoops. There's a dead party member!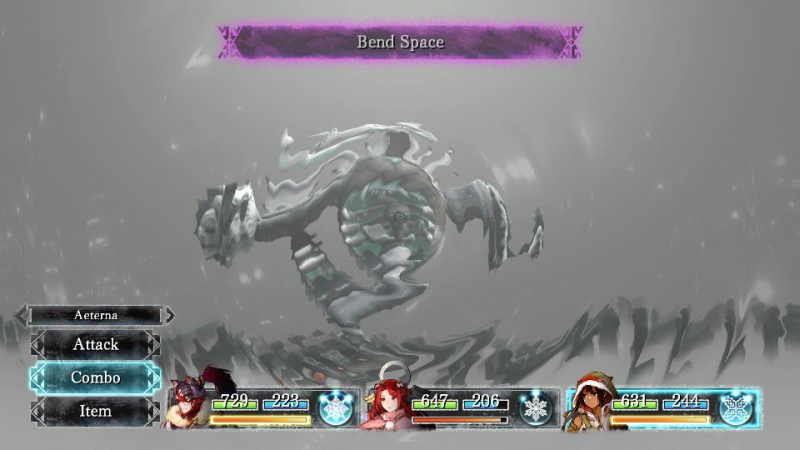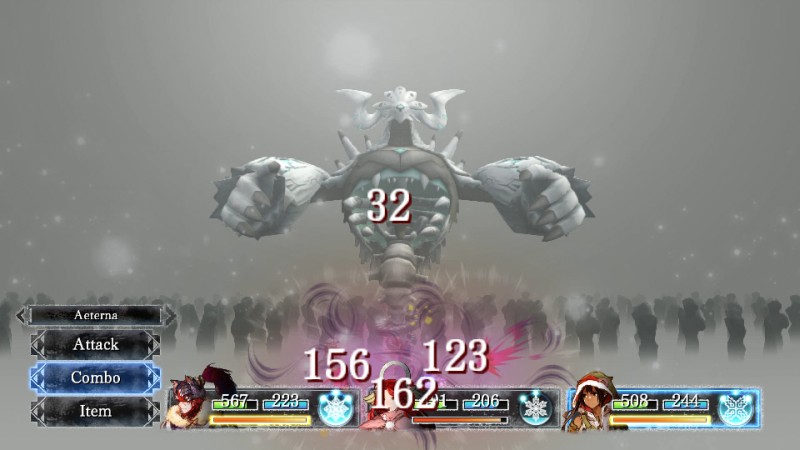 Bend Space just adds a flashback filter to the world briefly for a decent chunk of damage. This one is a magical full party attack instead of physical. It's always gotta be one or another with these bosses.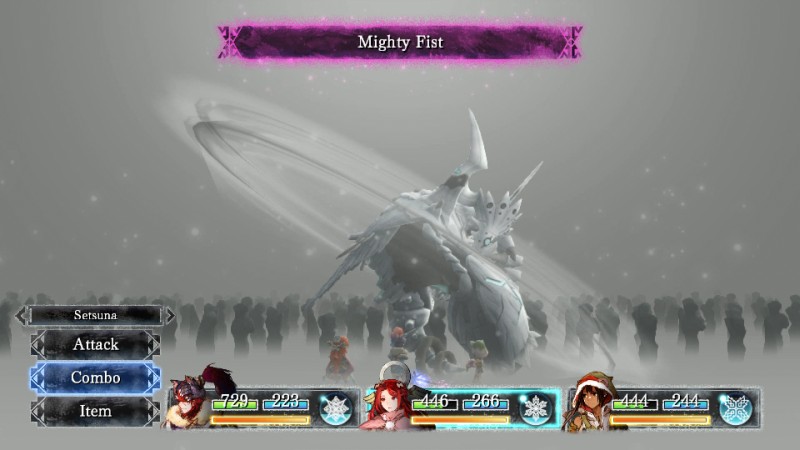 Finally, Dark Samuel can also just punch folks. There's nothing special about it... It's just a giant monster punch. It does about 250 HP of damage... Look, the thing has been sealed in a time stasis for a millennium. It was REALLY banking on those other bosses' move sets and really had to throw together a Plan B in a hurry. It's trying...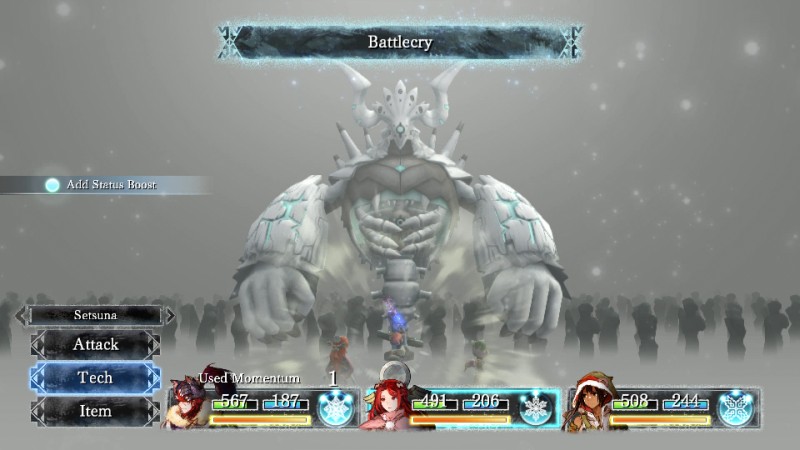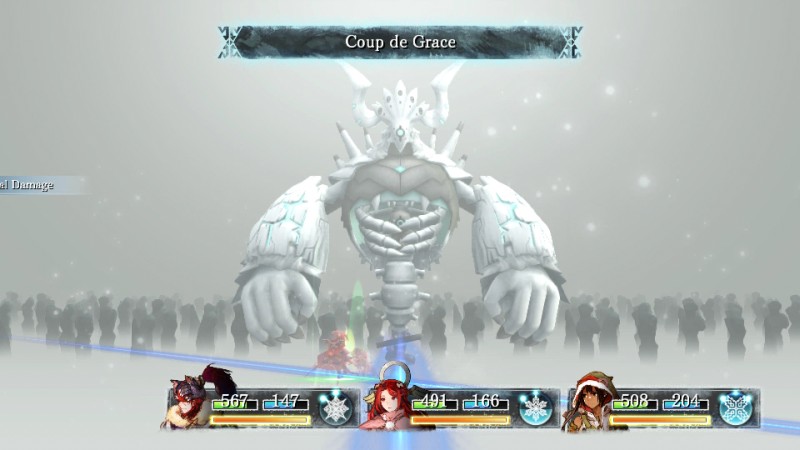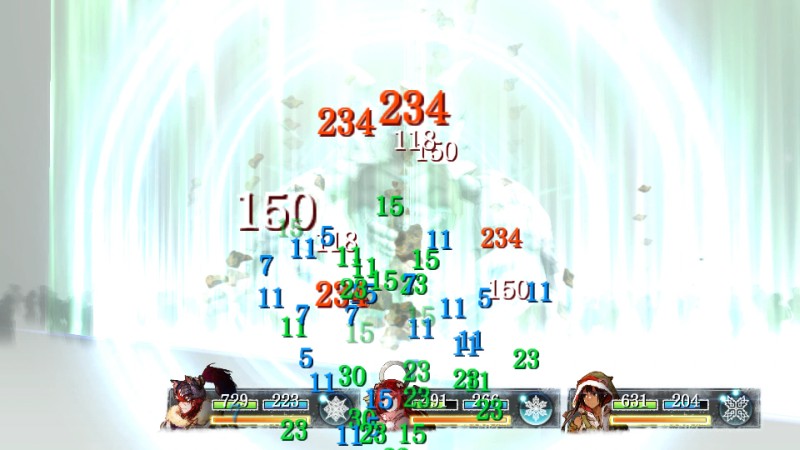 We're not changing the normal set-up here. Momentum buffed Battlecry + Coup de Grace still deals 3000-4000 HP of damage. But the problem is that set-up takes a good minute or so to get our ducks in a line and any time spent gathering Momentum is time Dark Samantha will regenerate. To make no mention we've got to blow turns healing anyone struck with Condense Time (a KO'd character loses all Momentum build-up and that's a problem!)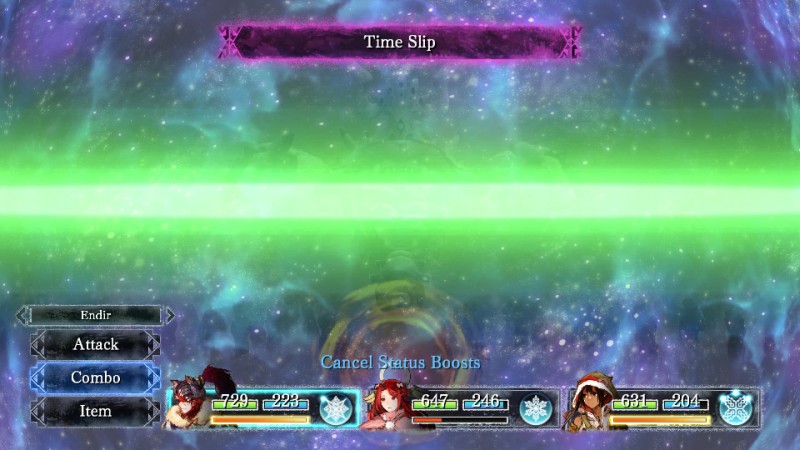 The Battlecry/Coup de Grace combo also needs to be pulled off immediately back-to-back. Dark Santiago REALLY doesn't appreciate the party casting buffs on themselves and will almost certainly spend its next round casting Time Slip, which instantly negates all stat boosts on a single party member. If anyone is out of the Battlecry loop on the Triple Tech launch, then the entire damage boost is negated with Coup de Grace doing a sad 1500 ballpark HP of damage.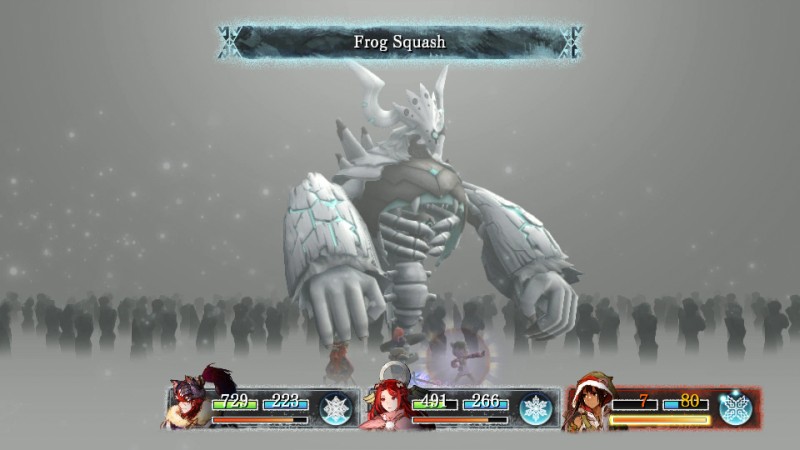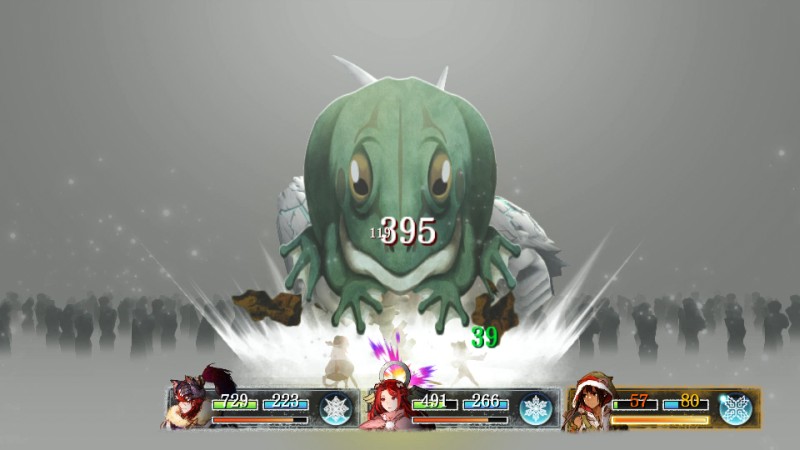 That's about it for Dark Samsara. It's just a big ol' damage race in the end. But to finish it off in the most undignified way manageable, Aeterna got banged with Time Condense and reduced to 7 HP. Frog Squash deals more damage the lower Aeterna's current HP. So naturally, the best way to finish off a world ending monstrosity is to drop a giant magic sky frog on its dumb head.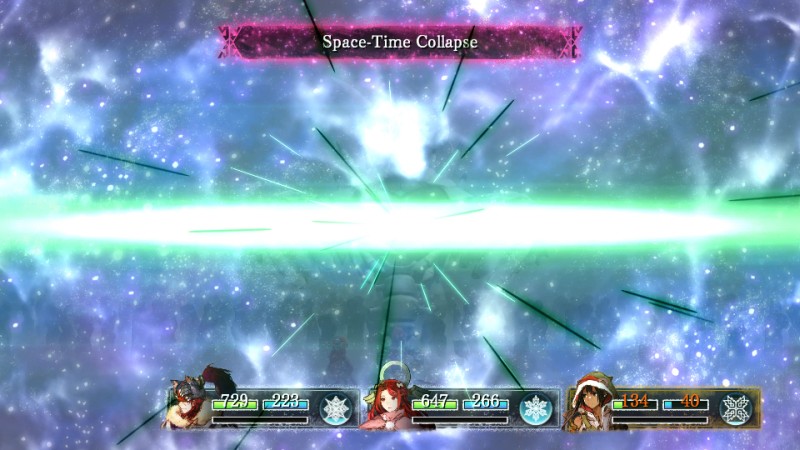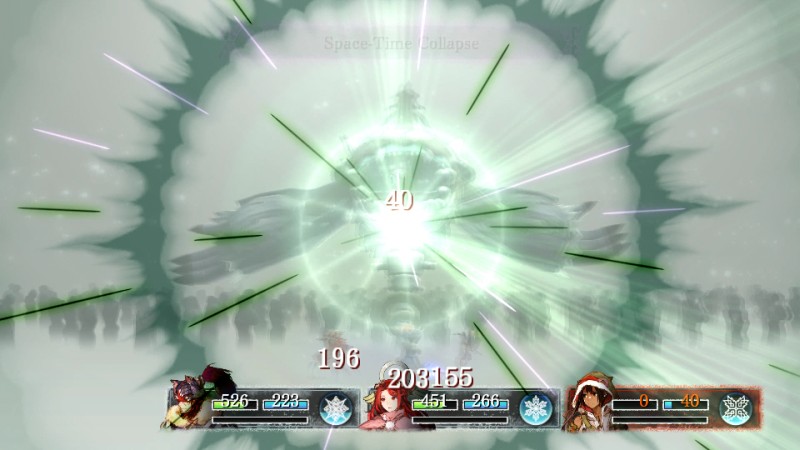 Granted, that indignity
might
have backfired a wee bit since Dark Samsara doesn't go quietly. Upon reaching 0 HP, it unleashes Time-Space Collapse and hits the entire party for 150-200 HP of damage. Which instantly sent Aeterna sprawling to the floor in a Double-KO. At full strength, Time-Space Collapse does 500+ HP of damage. Real dick move!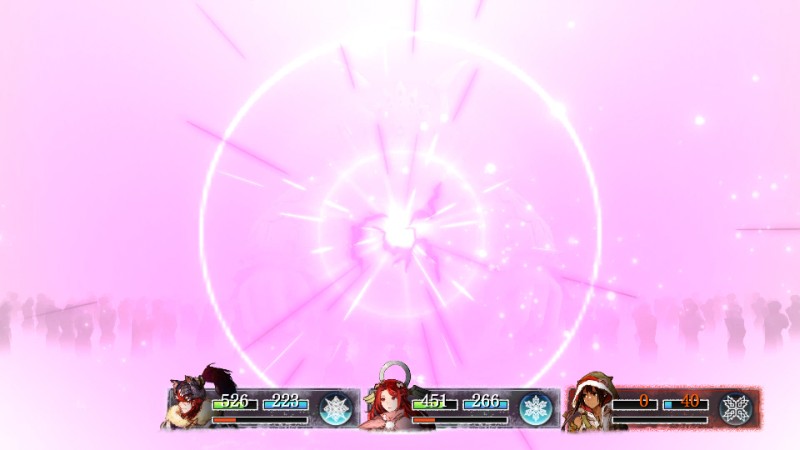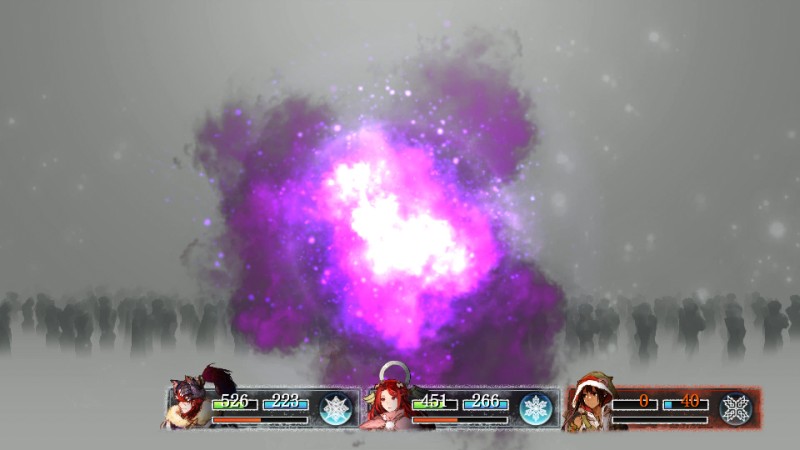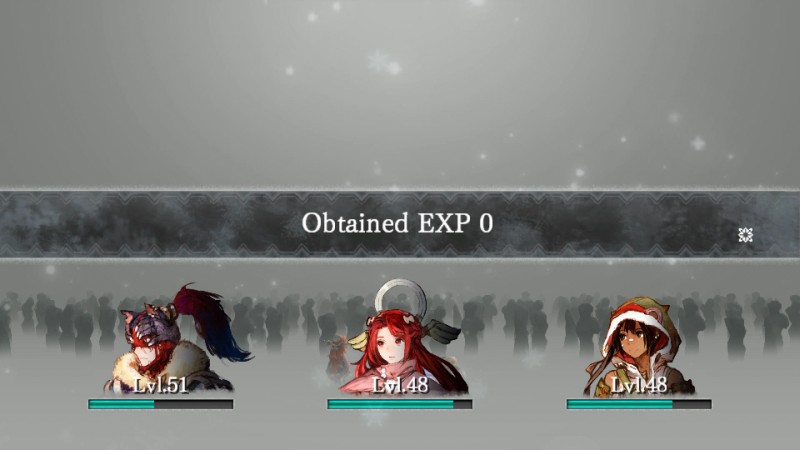 In any case, that's it! We've defeated the Dark Samsara and saved the world. Absolutely nothing of worth or value was gained from the fight because this is the end of the game! That'd be silly!


Music: A Moment of Respite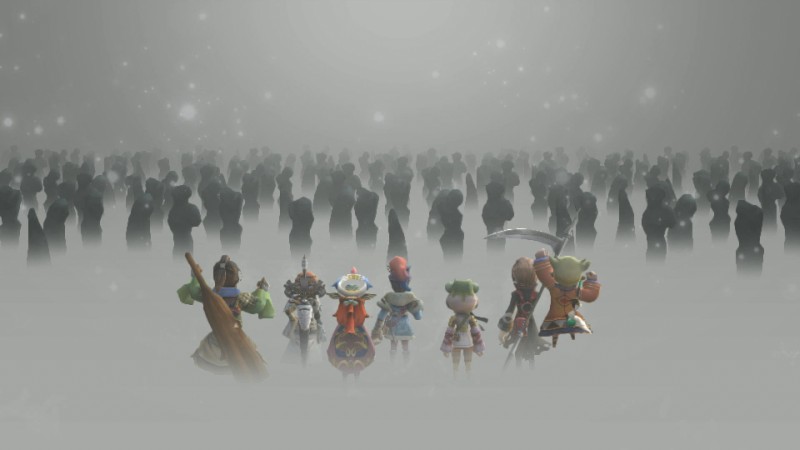 *celebrates*

......

?
What's wrong, Setsuna? You should be happy...

......

We won!
Music fades to silence...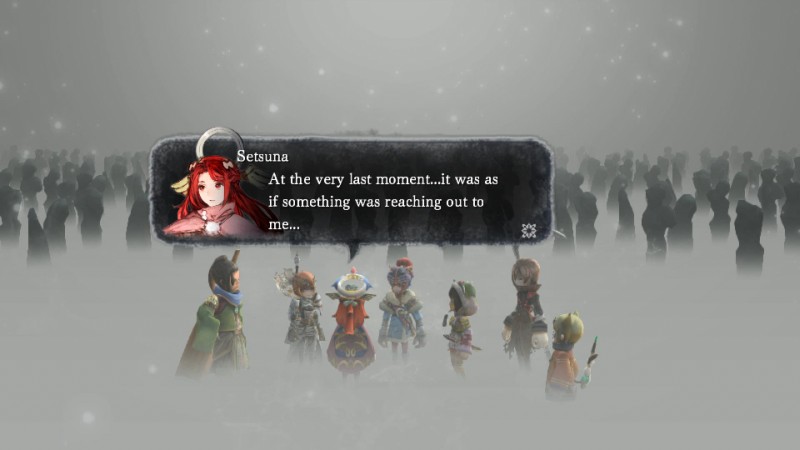 Whadd'ya mean...?

Ugh... You are not about to get all sad and empathetic for the 50 foot tall world ending monstrosity now, are you? We're not doing this...

It was like a feeling of intense rage... and of intense sorrow... And they... they were definitely human emotions...

Cool. Here's my human emotion: intense apathy at that dick's plight. F that guy!

......

...? Aeterna?


Music: Feel of Unease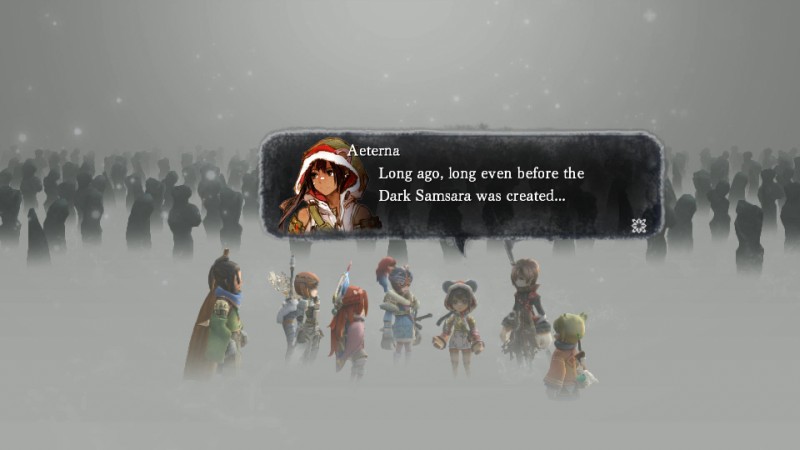 All humans possessed powerful magical energy. But at some point, their magical energy started to decline... And eventually, it was almost gone completely. People around the world conducted research into how to prevent it from disappearing completely. Although most of them came up with nothing, one kingdom produced striking results. It was the kingdom that once stood here... the kingdom of Julienne's ancestors. But...

They frikked it up, right?


Well... Yes... But can I finish explaining, please?

The kingdom's researchers were a little too brilliant... and they went too far. The came up with a horrific way of maintaining a supply of magical energy... A method of extracting it from living beings... As a result, most beings that possessed magical energy were used in experiments.

*shakes head* That's terrible! I never heard anything so selfish...

Other than what happened to Tronne, Syg, and Quotra. And everything the Magic Consortium was doing... And... Well, it's still bad!


*concerned look* Let's not spread this unfortunate chapter of my kingdom's ancient history too broadly...

Then one day, an innocent youth who possessed immense magical energy arrived in the royal capital. He volunteered to help with their research, in order to save the world from its predicament. Using spritnite, they amplified his magical energy, and extracted it... Then they repeated the process... over and over again...

*shakes head* But then, his magical energy began to amplify indefinitely, and quickly spiraled out of their control. Unable to contain this vast rampaging magical energy, the youth was destroyed. He became a mass of ever-growing energy...

RIP.

!
You don't mean... that youth was...

The thing we defeated just now...?

So the hatred channeled into me through the monster blood was his hatred...

The sorrow I felt... came from my master's human feelings of sorrow...

*shakes head* This can't be true...

*groan* So it just does hatred and sorrow? Dark Samsara was a giant magical moody teenager? Ugh... Let's just forget this detail. That really dilutes the accomplishment of waxing it...

The Time Judge used all the spritnite she'd been researching in order to seal it away... The kingdom was destroyed, but the entire world narrowly avoided complete ruin. As a result, though, the Time Judge became unable to move from here... So, in order to maintain her life force and magical energy...

She asked for sacrifices?

Why... are you telling us this? I mean... I think we already figured that ou—


Oh my gosh!


Ah... right. Not everyone is as quick on the uptake...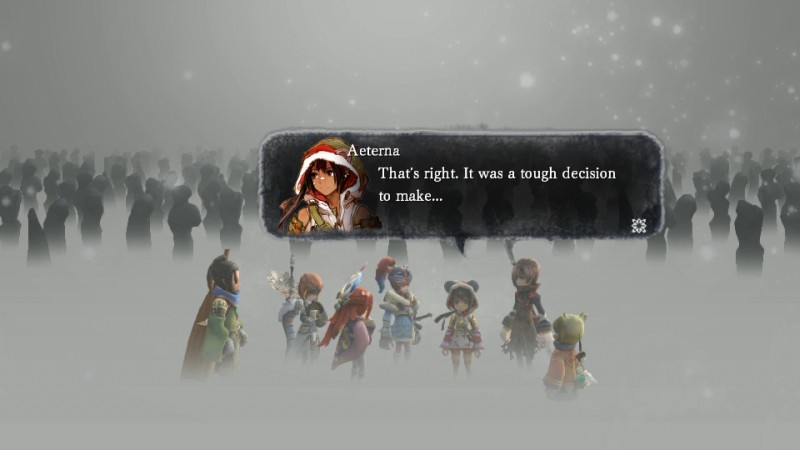 But in order to keep the creature sealed away and protect the world, she had no choice... There was no other way.

So the root of all this was the greed of humans, desperate to regain their magical energy... Because of that greed, my kingdom perished, and the sacrificial rites became necessary... Humanity suffered at the hands of the monsters, and the world was unable to advance into the future... We continue to play out the past over and over again, stuck in a constant stalemate...

*shakes head* What foolishness... What complete and utter foolishness...

Alternative means to subjugate the populace will need to be swiftly employed.

What was that...?


Oh nothing... Such foolishness.

*sweats* Well, it's over now. We have to look towards the future...

No, you idiot! Never say it's ov—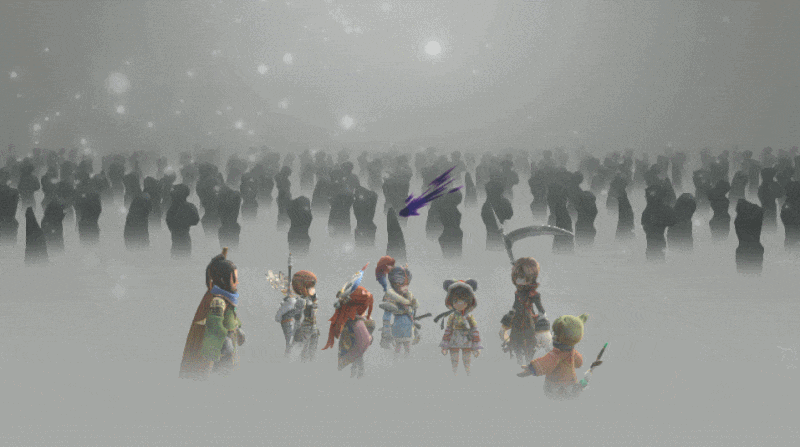 Aww beans...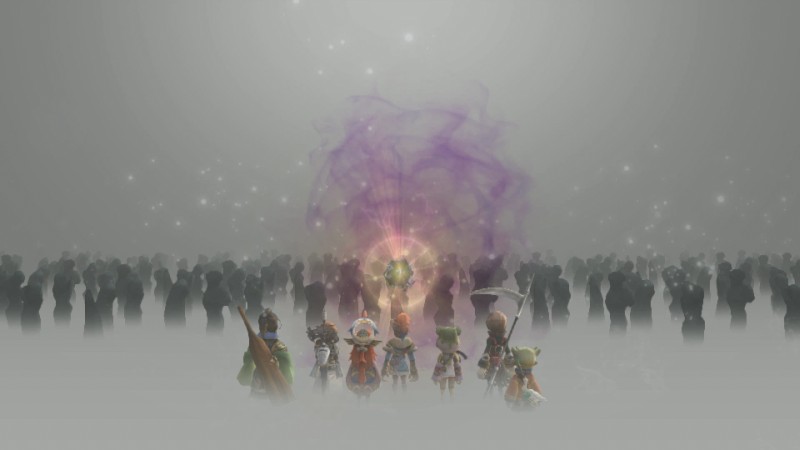 Music: Loss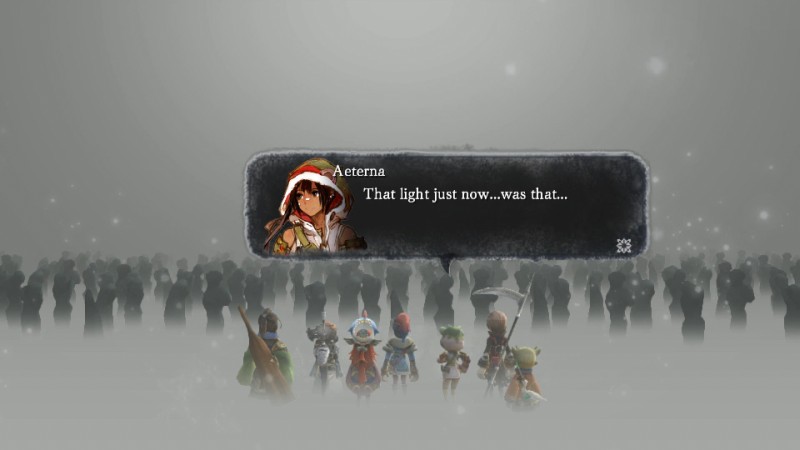 So the Dark Samsara is still alive...

*looks around* It is strange... I cannot sense its presence.

I'm NOT stripping naked and going to a higher dimension to go finish that thing...


I... what...?


Old story I heard. Don't worry about it... Hopefully...

You're not going to sense it, no matter how hard you try. It's no longer here... I mean, no longer in this world...

What it is like in... space?

Then surely there is no problem.

No, there's a big problem... It's escaped to the past... It's planning on changing the flow of time.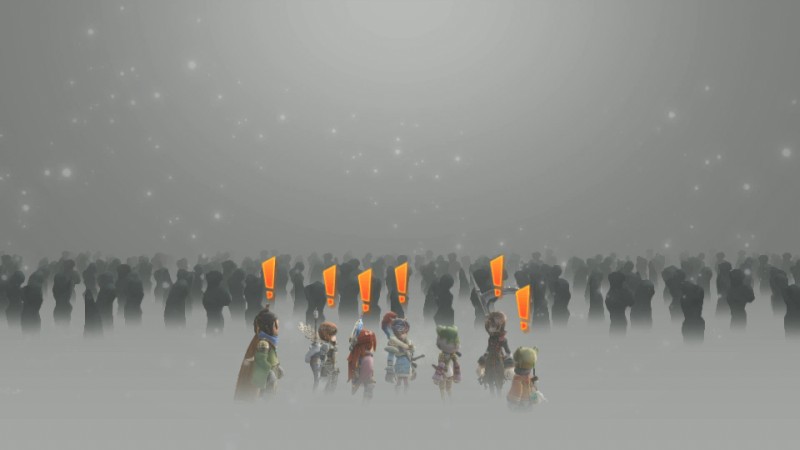 Escaped to the past...? Whadd'ya mean?

*rubs eyes* This is gonna get real stupid, ain't it...?

The Dark Samsara sent itself back in time... It managed to avoid the effects of time being wound back over and over again... It learned... It evolved...

Then there is no way for us to follow after it?

*shakes head* None at all... The Space-Time Spritnite disappeared along with the Time Judge. There's no way to go back to the past...


Music: Winter's End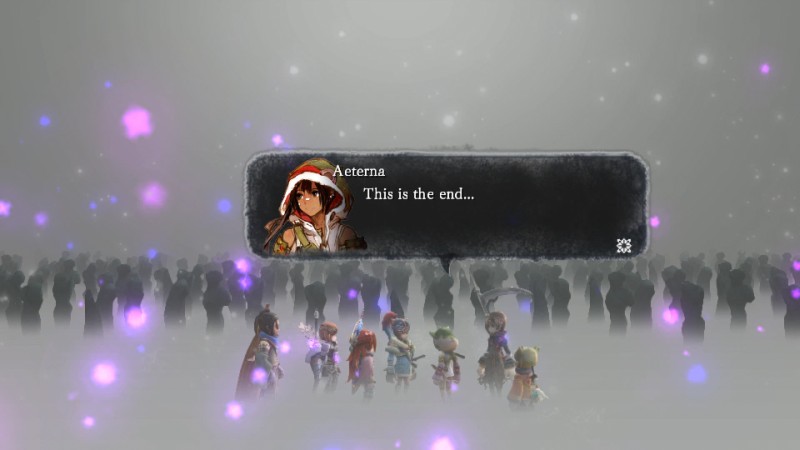 It's starting to collapse... With the Dark Samsara gone, this space is vanishing...

We should PROBABLY leave, huh?


This place exists outside of time. If Dark Samsara has already destroyed the world in the past, setting foot outside would be... less than optimal, let's say. So...

Dammit! Ain't there some sorta way!? We came so far!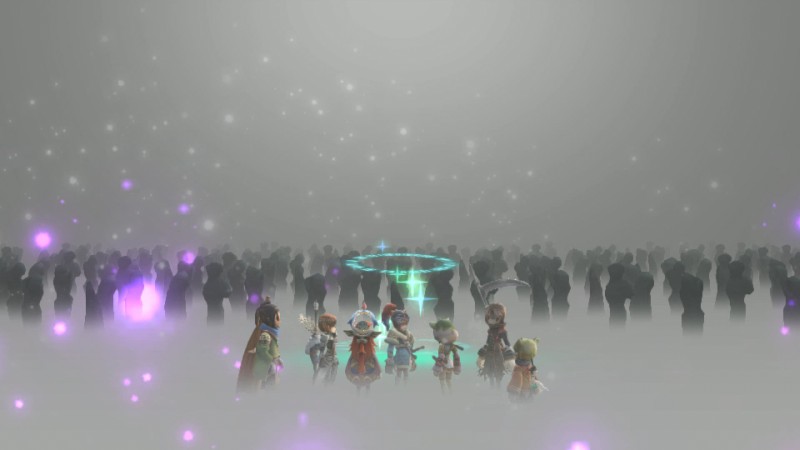 ......


Music: Inside the Beast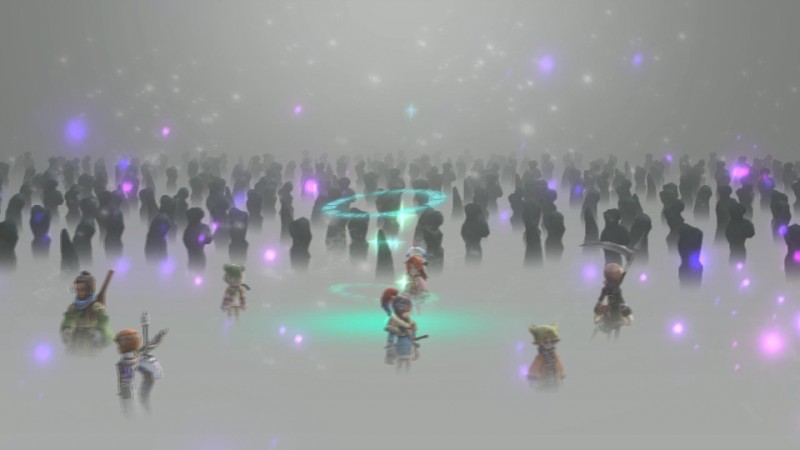 Alright, then. Seems Dark Samsara pulled the old travel back in time to undo getting owned trick. That wily jerk! And as such, we're rather boned. Setsuna is hanging out with a newly appeared save point. Speaking with her will advance the scene. But before that, let's have one final chat with our party members before we embrace oblivion.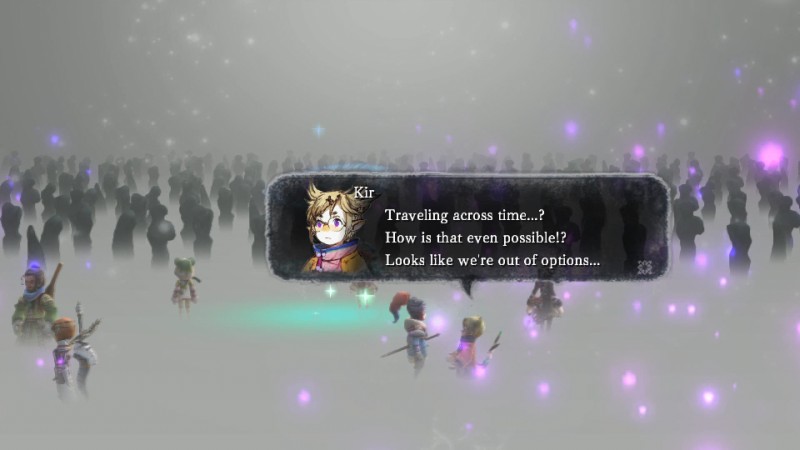 *rubs chin* I don't suppose there's time to construct a catapult mighty enough to swing someone back in time, huh?


......


*blink* No, Endir. No there isn't...


Dang.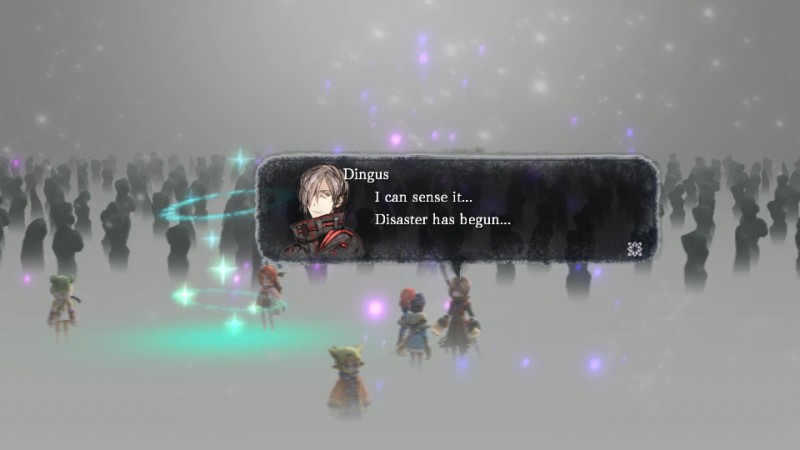 *rolls eyes* Got a real nose for this kinda thing, huh?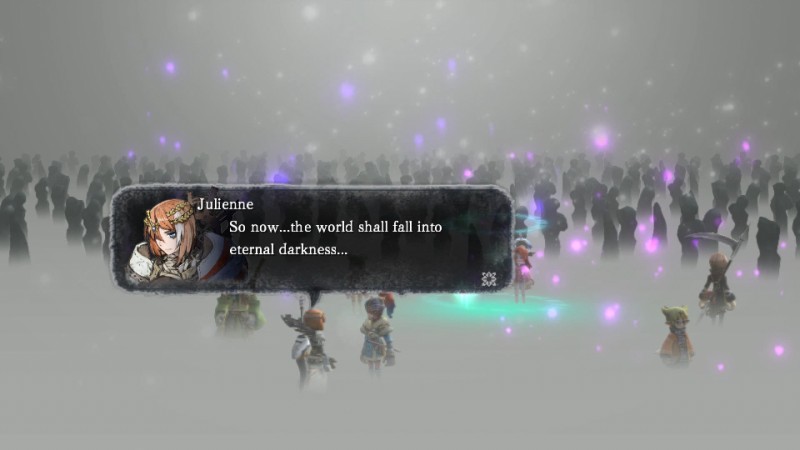 If we're lucky, at least the snow will FINALLY stop...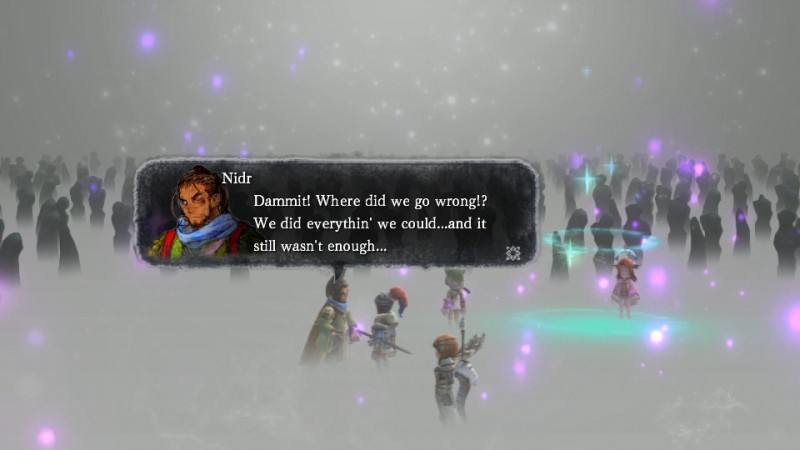 Taking that stupid job. At least, that's where *I* went wrong...


Weren't the world stuck in a time loop...?


Yeah, but I didn't know that until now. And now look what happened... I wish I could go back in time to kick that old butler in the dick...


...?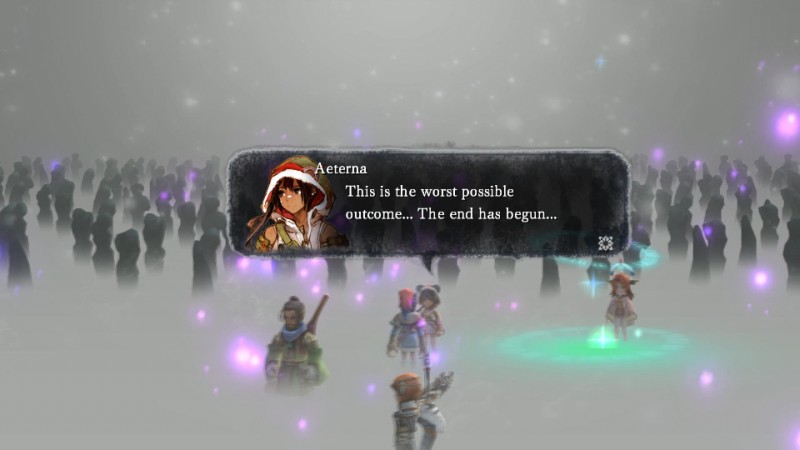 In retrospect, that Time Judge lady probably shouldn't have let us kill her, huh?


......


*intense glare* Yes, Endir. In retrospect, that was a poor idea...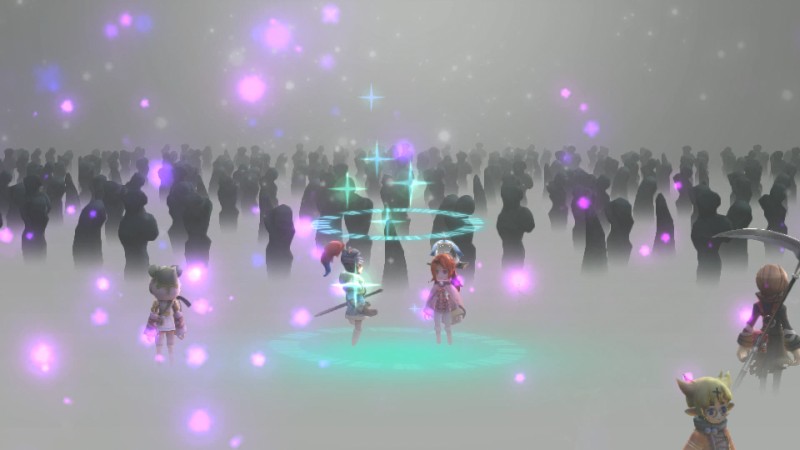 Alright, you've been staring me down for five minutes looking concerned...

What do you want to do?


Music: A Hidden Force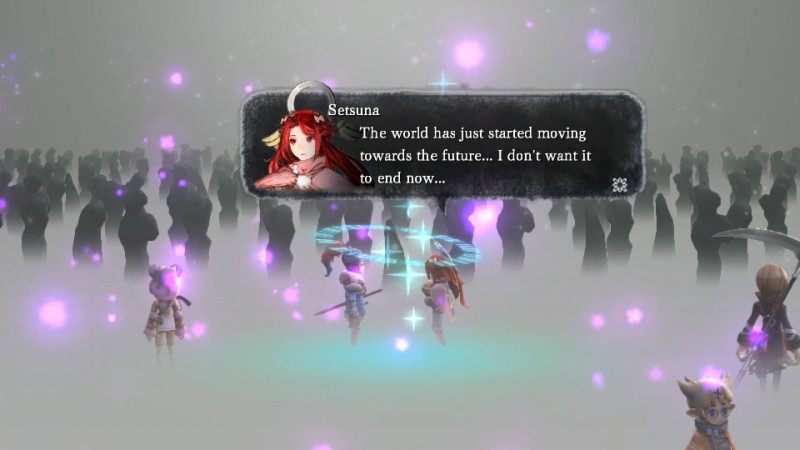 I don't want to give up.

*turns to Aeterna* Tell me something, Aeterna...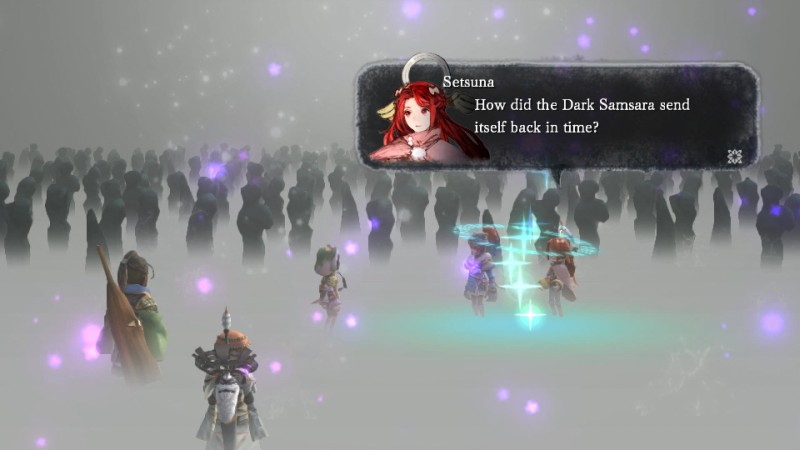 The Time Judge's Space-Time Spritnite is gone, isn't it?

Powerful or highly emotionally charged magic is said to leave behind a trail in space-time. The trail is a record of the magic used, and also of its user's memories... It stays fixed in space. Time being repeatedly wound back must have left behind a very powerful trail of magical energy... And now the Dark Samsara has followed it back through time.

Can't we follow it as well, then?

No, not just anyone can sense it... Even I don't have any idea how to do that...

Oh, right...

Time Judge really dropped the ball training you, huh?


Sorry, I was a touch busy guiding this party to their journey's conclusion in the off chance things would actually change.


Mhm. And look where that got us...


*glares*

Endir... Can you see them?

See what?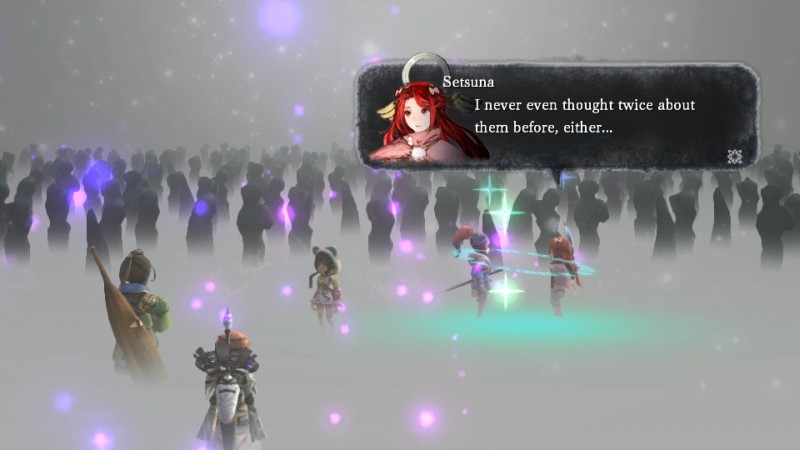 These wavering rings of light in front of us... it seems we're the only ones who can see them.

Rings of light...?

!
You mean you can see it!? You can see the trail of magical energy!?

...What? You mean the glowing ring thingies?
Everyone rushes over...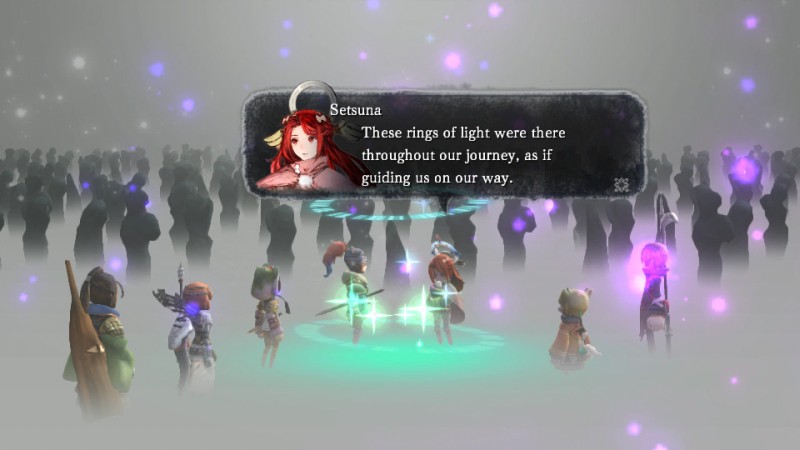 They always showed up right before we were gonna fight some mildly badass monster. Why do you think I knew we ought to eat a healthy, fortifying meal before every boss fight? You... all... couldn't see those...? Huh.

Now I understand why... They're a record of all our journeys together... A record of our determination... of our steps towards the future...

I dunno. Sometimes it was weird and it felt like ages before we'd advance past one of 'em. Dunno what that was all about...

How many times did we repeat this journey? How many times did we fail?

159 times. Not counting this one...

But no matter what, we always ended up together again... Here we are, after all. That's because the rings of light always brought us together. No matter where you were, I could always sense everyone's presence.

*ponders* Endir...

So you and Endir have been able to see it all this time...

*rubs neck* I... guess...? I never saw these weird things until the day I made the terrible decision to take that contract to off her...

*ponders* Maybe you two really will be able to follow after him...

!
Really!?

The trail is a record of the magic used, and also of its user's memories... If there's a trail here... They should be able to travel across time, like the Dark Samsara did. It'll probably require an incredible amount of magical energy to do so... But I'll do it... I know I can do it... I'll send you back in time.

I don't like where this is going...

*nods* I believe in you, Aeterna... I'm ready. I've been ready all along. Endir... Will you come with me?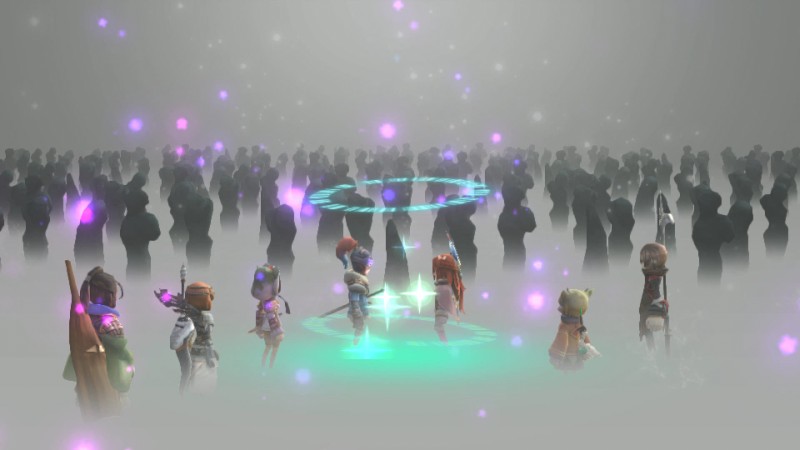 That was my plan all along.

Thank you, Endir...

I'm ABSOLUTELY not letting you muck around in the past handling this alone... That is just asking for a world of trouble...

Looks like we're going to have to stake everything on these two...

We need to hurry. Before all hope disappears...

*nods* I'm giving all my remaining magical energy to you two.

I don't have a massive amount of magical energy left because we spent a month wasting time after Eutess gave her life to unseal this realm... So if anyone else wants to pitch in for this final longshot at saving the world, that'd be just GREAT...




*nods*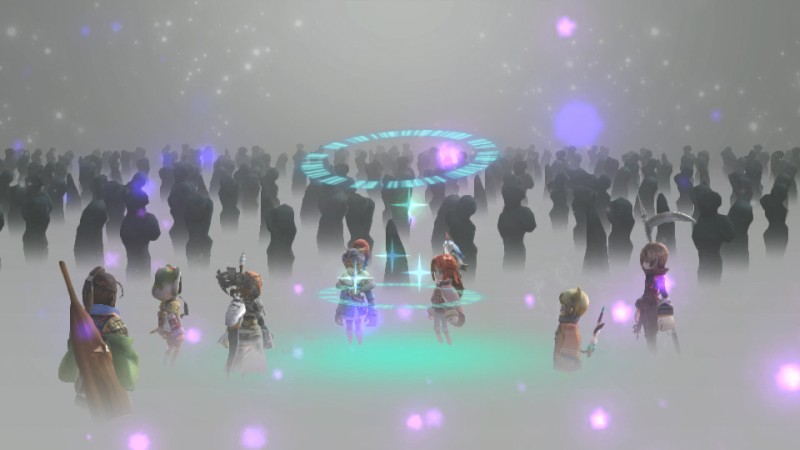 So yeah, turns out the save points are a plot point as well. Which also happened in both Xenogears and Chrono Cross. Albeit they were tools of a massive surveillance network in both those cases, not a flimsy justification for time traveling coordinates to chase the final boss into the past. Anyway, it's time for a closing word from the rest of the party. The remainder of the game is just going to be Setsuna and Endir.
This is actually everyone but those two's final speaking role in the game.


Music: Farewell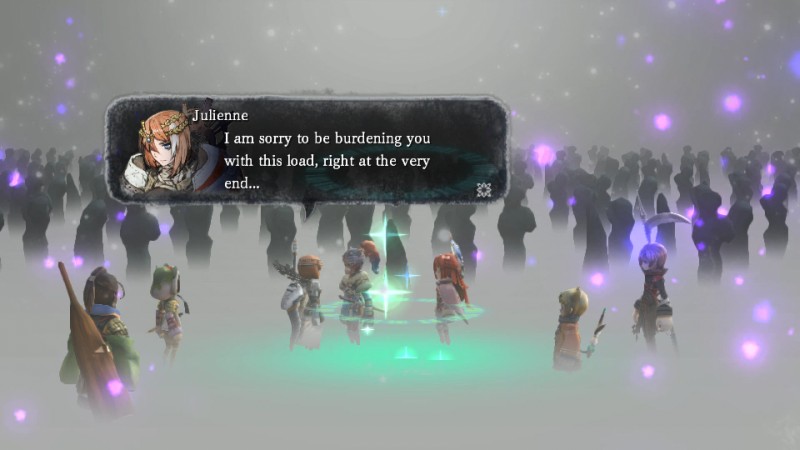 Ehh... Story of my life...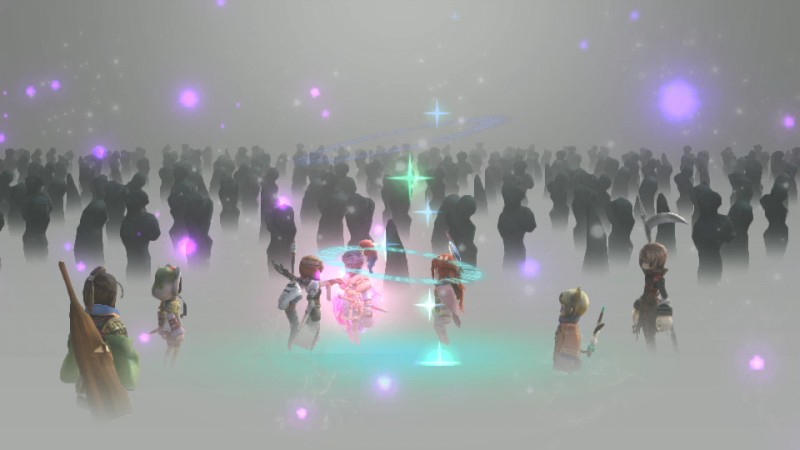 You must return... no matter what.

That's the plan... Err... At least it better be...


......


Aeterna, can I ask some questions before we commit to this...?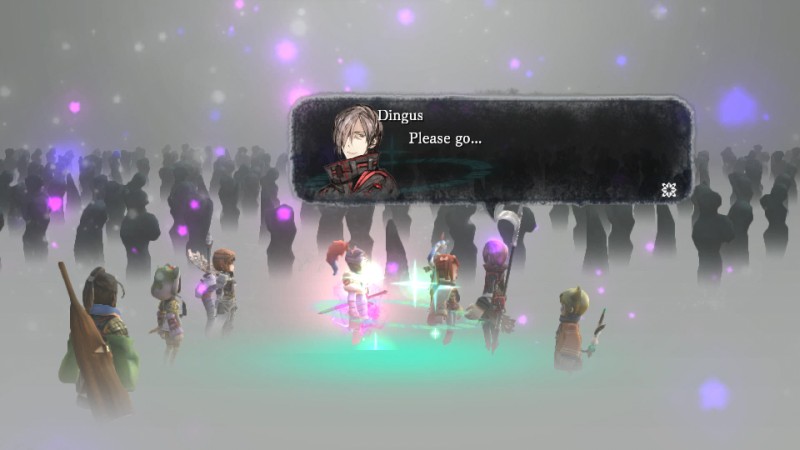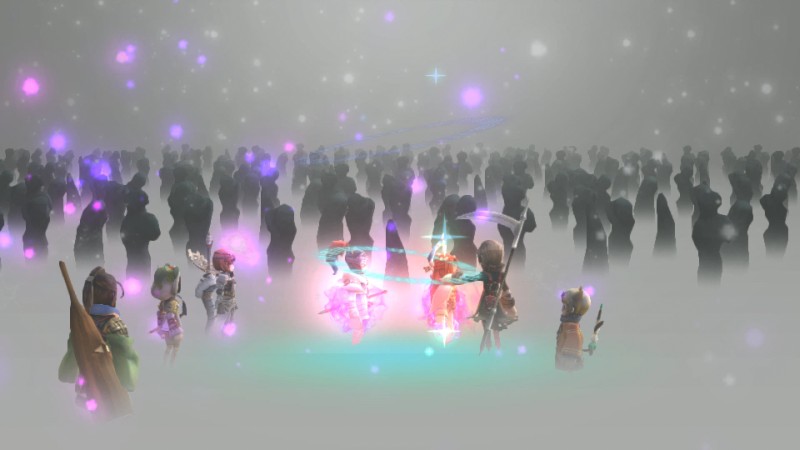 *nods* Go to him...

That is the plan.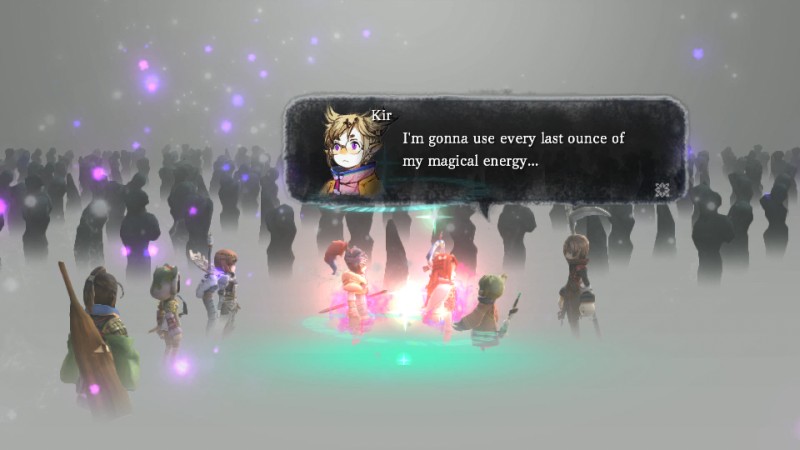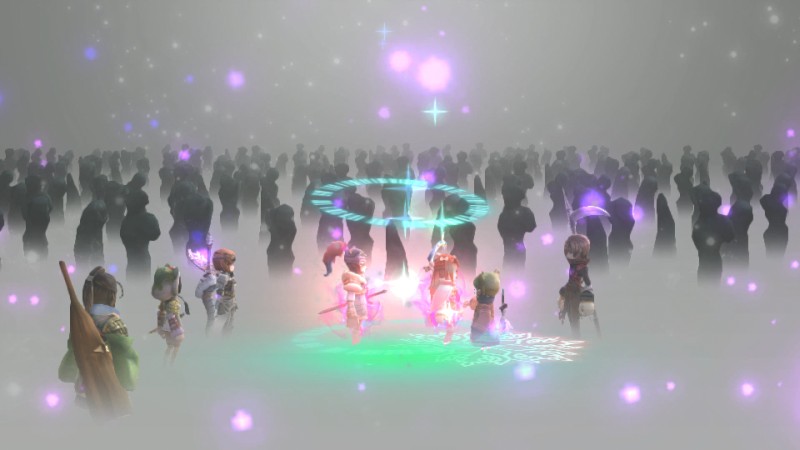 And we're gonna send Endir and Setsuna into the past!

*nods*

*wavering smile* Maybe not ALL of it. I'll be upset if you keel over before things were settled.


*sweats* Okay... 95% of my magical energy!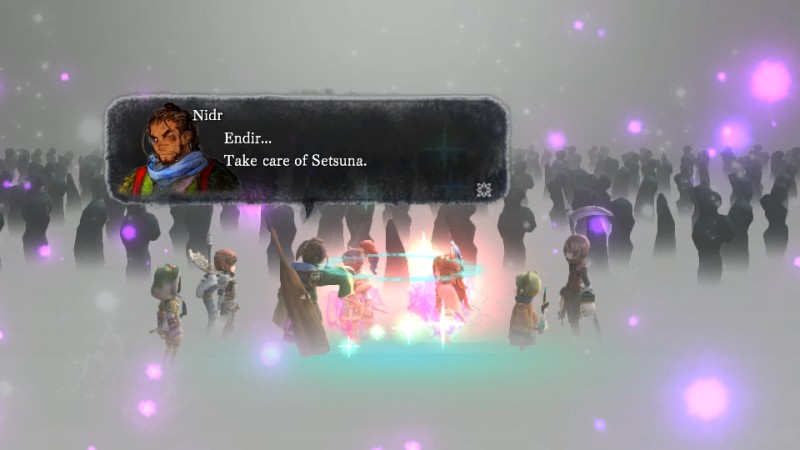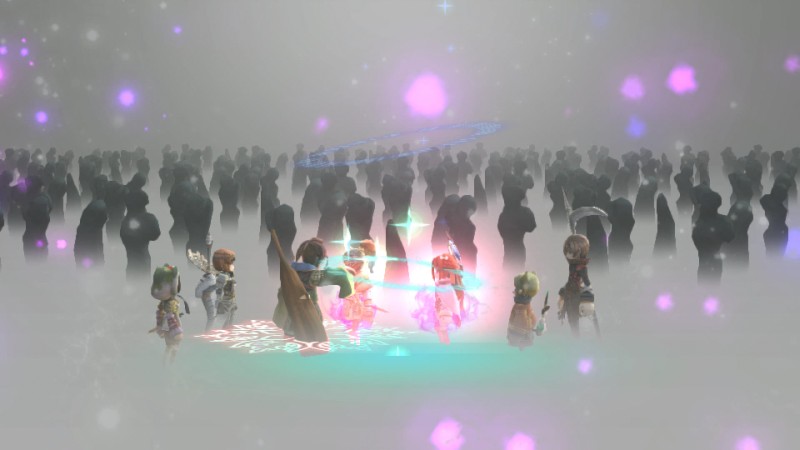 *nods*

Don't worry. I'll take care of your totally not secret daughter.


I'm not even gonna get mad anymore about you doin' that in front of her...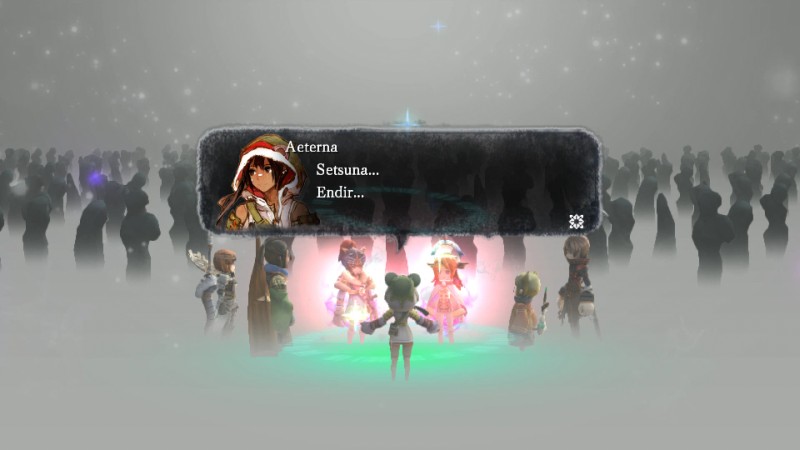 I'm proud to have spent my final journey together with the two of you...

Endir... you're an obnoxious, immature tool. But a strangely competent one, all things considered... If you pull this off, maybe there's hope for you yet.


...Thanks?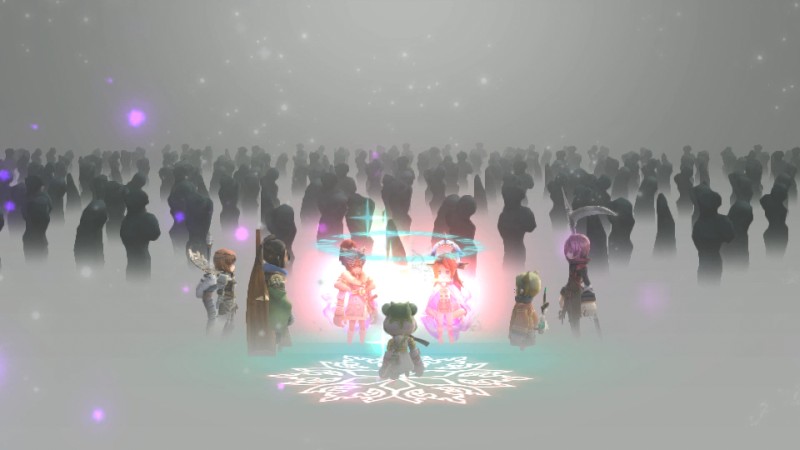 So... once we beat Dark Samsara in the past, we're gonna be able to follow this magical energy... light ring thingie... back to present, right?


If you stop Dark Samsara, I have no doubt you'll be able to return to this time period.


Okay. Cool. There's a worry gone. This is a terrible idea but meh... whatever. It's bad enough this thing already screwed me out of one paycheck. I'm damned if it's going to go back in time and screw me out of paydays I've already gotten...


*sighs and smiles* Your priorities are always in the right place, Endir...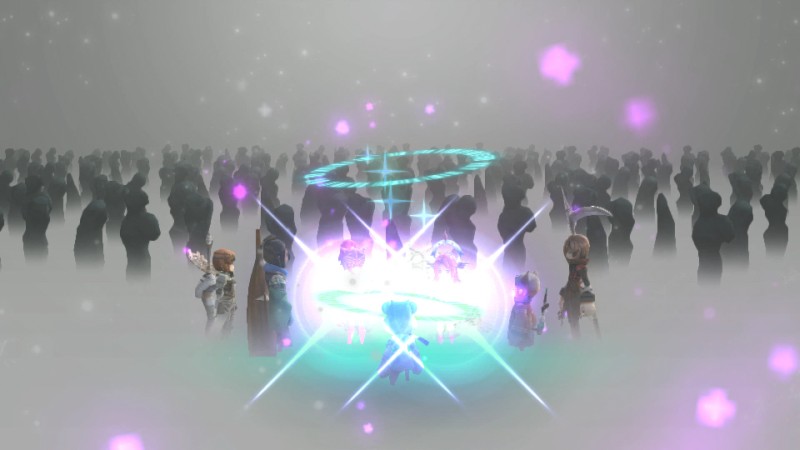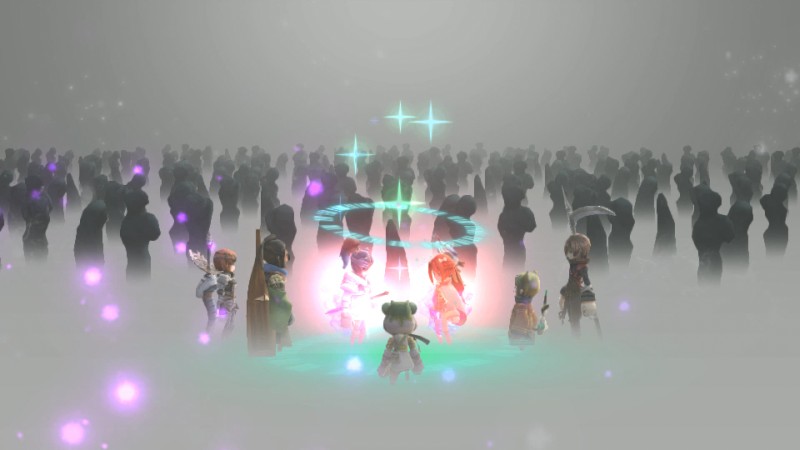 *turns to each other and nods*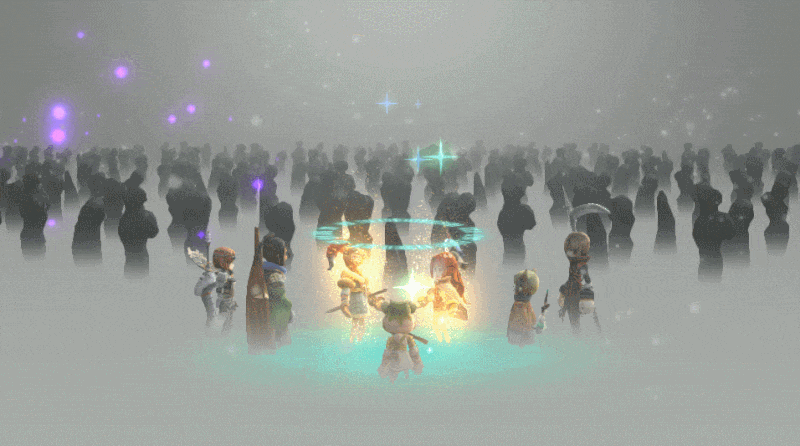 Tune in next time when we travel to vague points back in time... Sure, why not? What could possibly go wrong...?