Part 11: Anime Kururugi Accepts Hospitality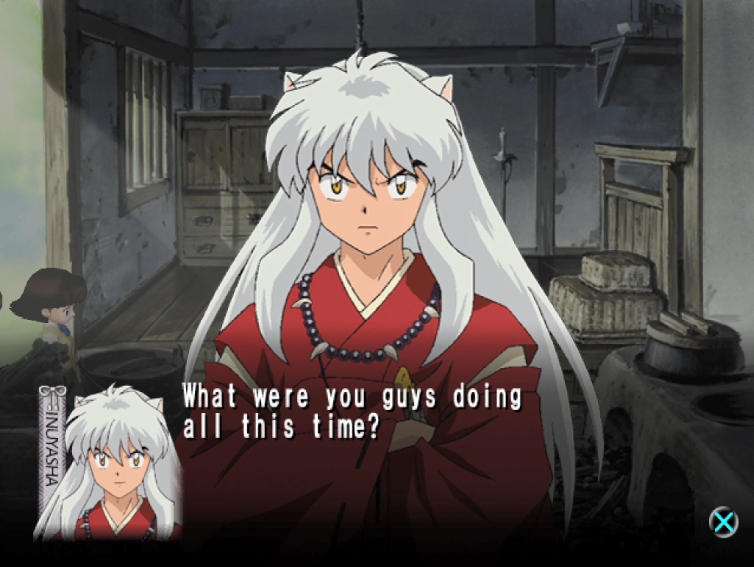 We're back!

You disappeard [sic] so suddenly. We were worried.

Even Sango, who went to look for you, didn't come back.

Anyway, we're glad you're safe.

I'm sorry.

Hmm. You look happy. Did something good happen?
Not really, almost died.

Not exactly.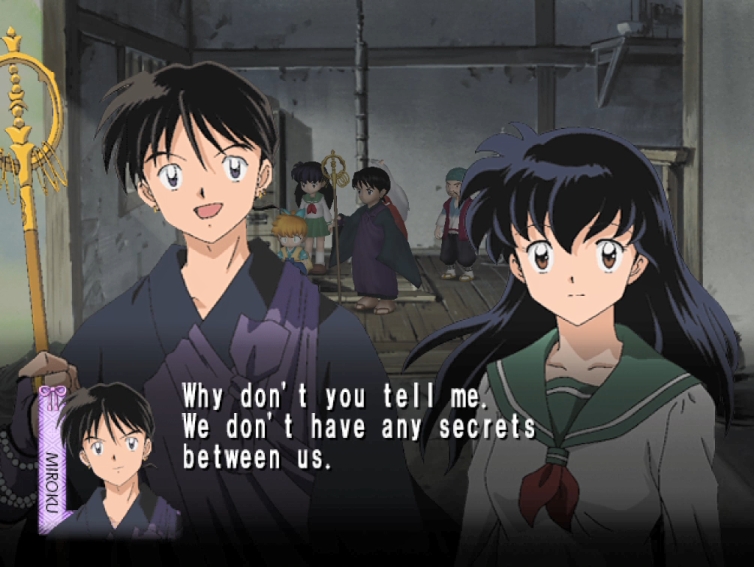 WOW THAT'S CREEPY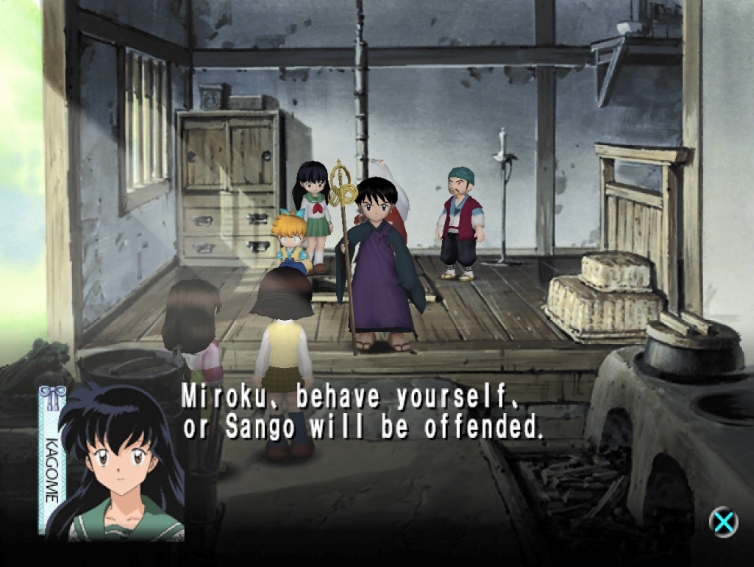 I don't get offended.

Of course, I was worried about Sango too.

Were you really, Miroku?

Yes I was.

Why are you blushing, Sango?

I wonder if Sango likes Miroku?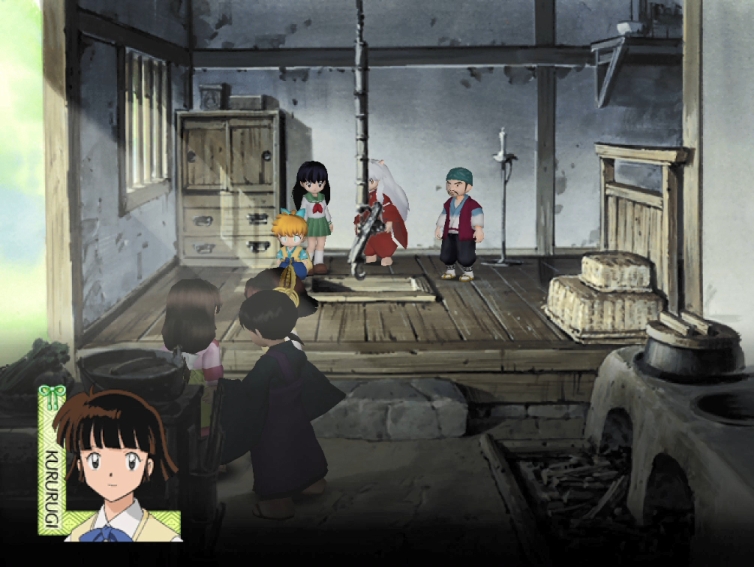 If you can't tell, Miroku is sexually assaulting Sango. As he do.

Miroku, why are you touching me?

Uh, ehehehe.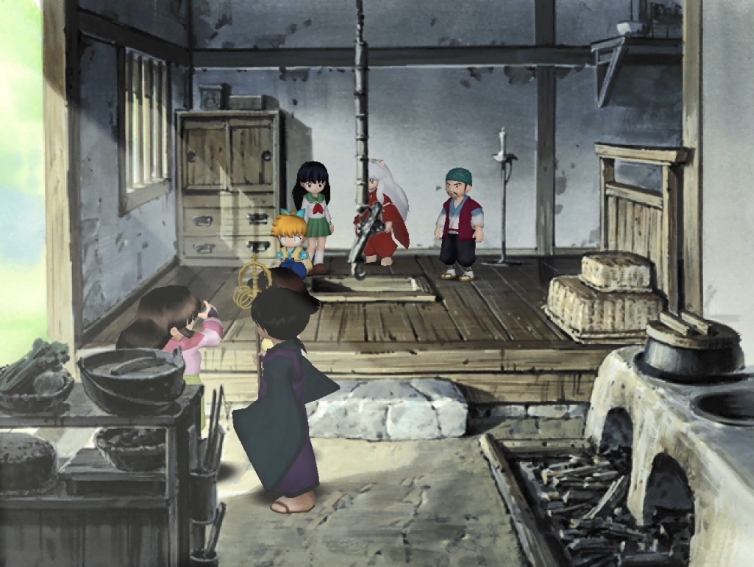 WHAP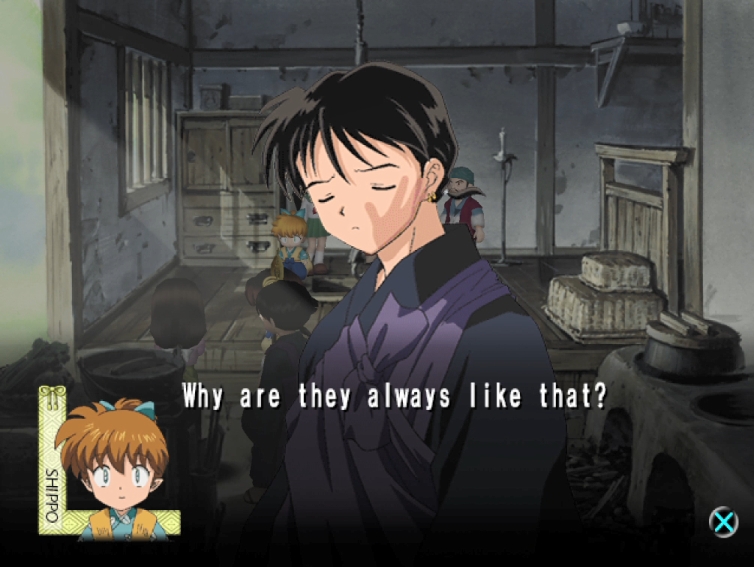 I hate all of this.

Sango's gonna get into a bad mood again.

I see. Sango was treating me like that, because Miroku was giving me so much attention. It's not because she doesn't like me.
FUCK OOOOOOOOOOOOOOOOOOOOOOFF

Is something wrong?

No, it's nothing. That's right! I found a road that goes to the castle.

Really!!

Yes. You can get there from a cave on the outskirts of the village.
Breaking our promise.

You sure seem enthusiastic!
WE WERE TRYING TO GET THERE, WEREN'T WE?!\

Do I? Well, I had a good day today!
YOU REALLY DIDN'T, YOU GOT HIT WITH A LARGE BLADE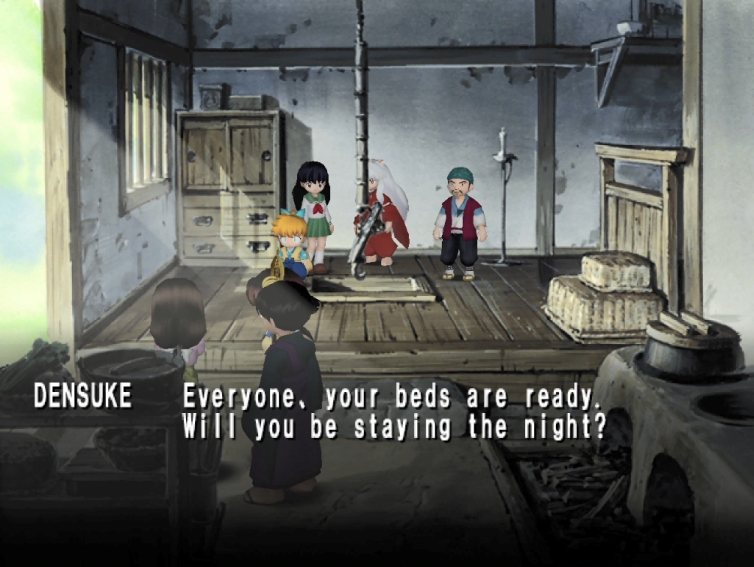 Yeah, we're staying.

Thank you, Densuke. Good night.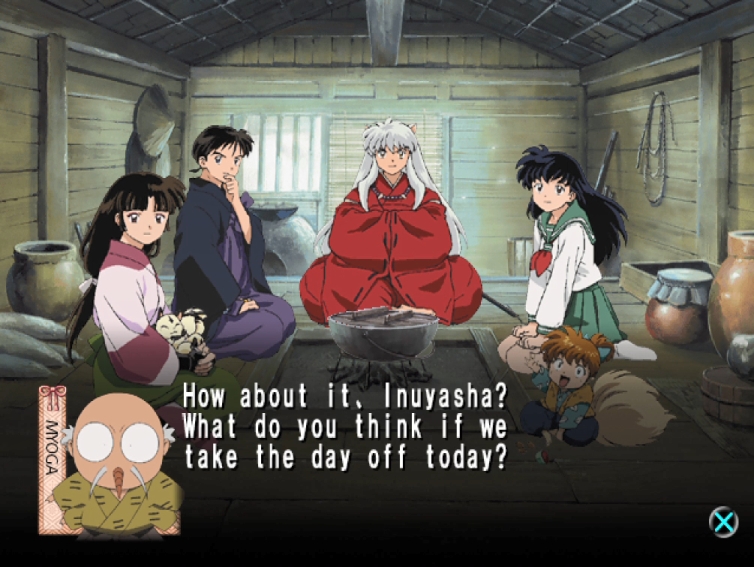 Sounds good, I agree.

Anime. So, who do you want to travel with today?
Sango.

Thank you.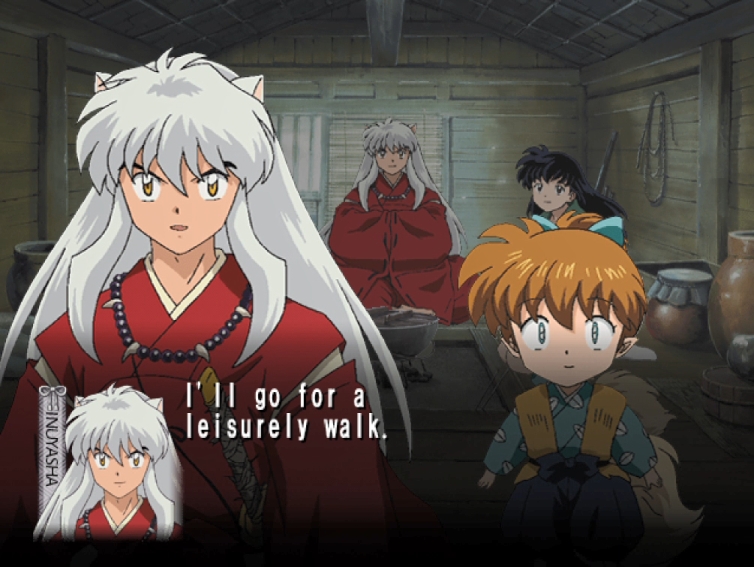 Me too.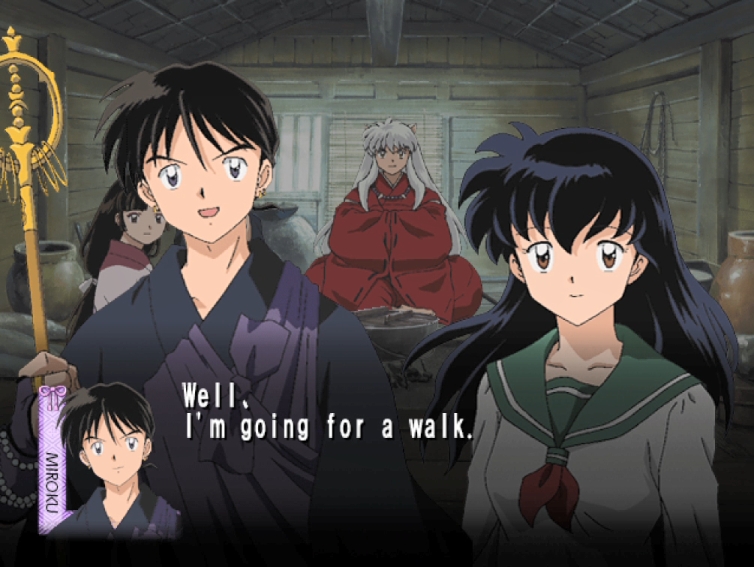 Me too!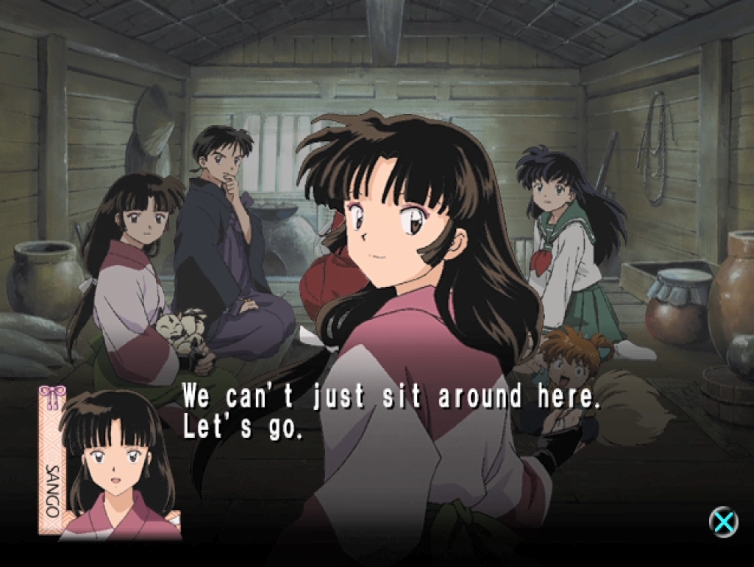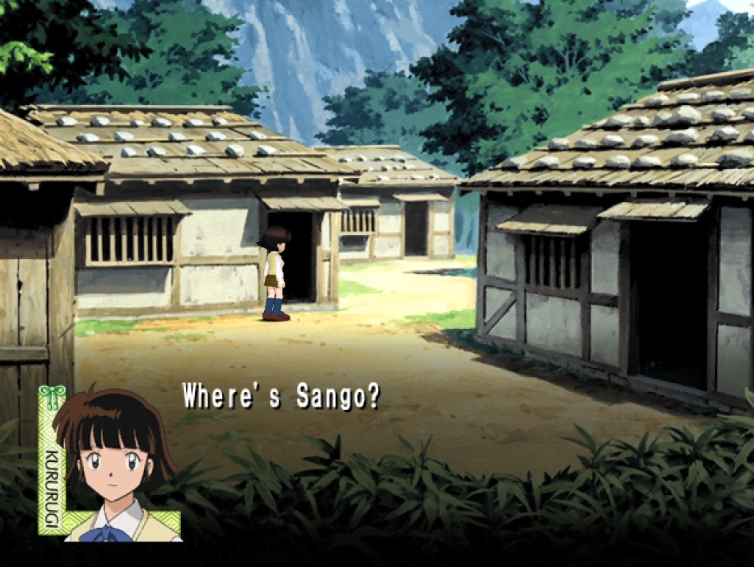 Did she just immediately ditch us?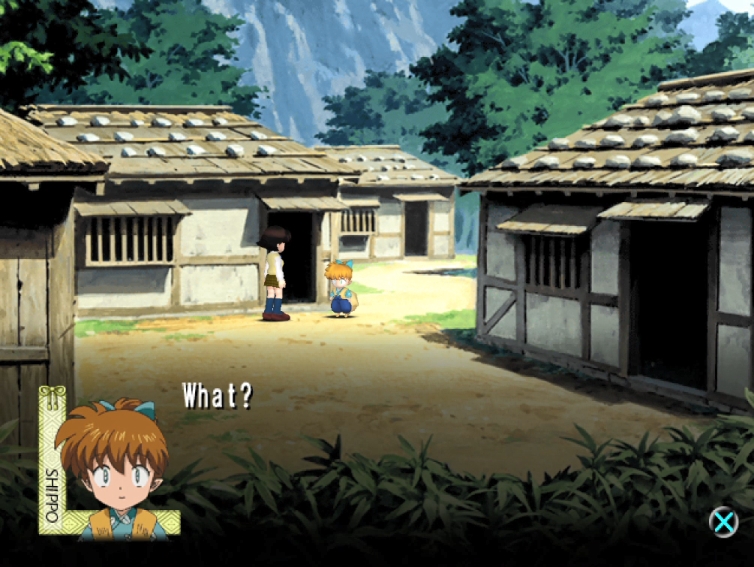 What?

Have you seen Sango?

Isn't she in the woods practicing like she always does?

Thanks! I'll go see.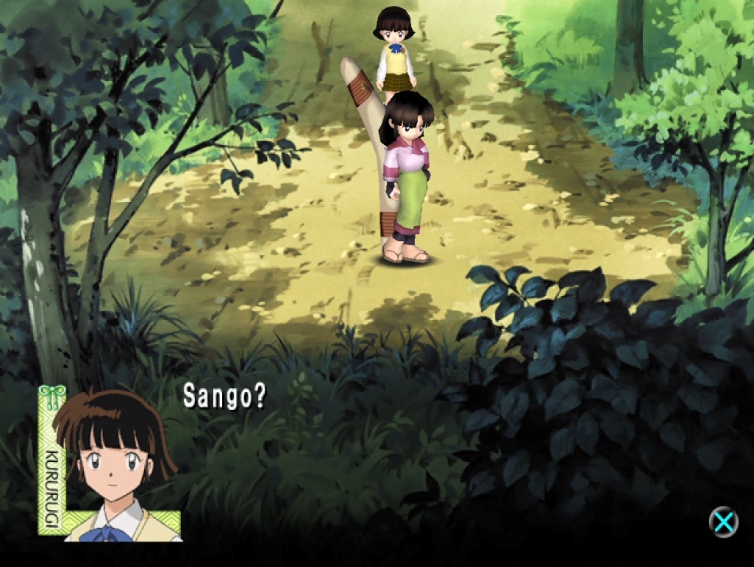 You're here again. I'm not doing anything interesting.
WE WERE EXPLICITLY SUPPOSED TO HANG OUT THOUGH?

Do you remember you were saying that you're just a regular human being?

Yes.

Well, do you think if I practiced I could become like you?

Huh? Well, um...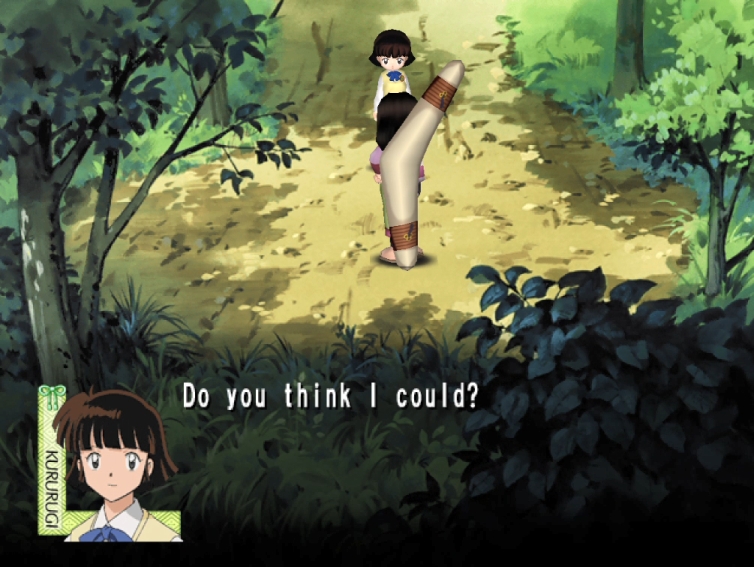 Please Buy My Protagonist A Sword

Hmmm...Would you like to try to carry my Hiraikotsu?

Yes. Wow! Sure I'd love to!
FINALLY.

Here, I'll hold this side.

Wow! It's heavy.
*Bom!*

Aaaaaa!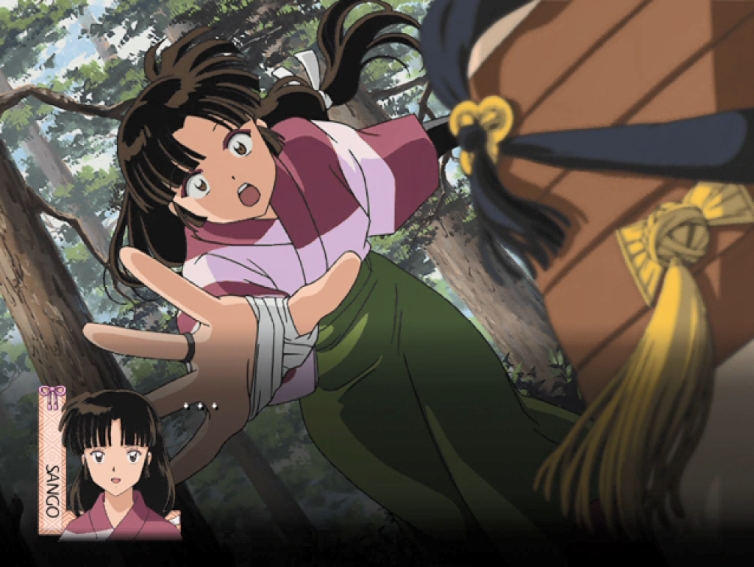 I'm surprised at how heavy it is.

Ha ha. Now do you understand? Nothing is easy, not even getting strong.

I'm going to try hard so I can be like you one day.

Yes. It's important to think that way.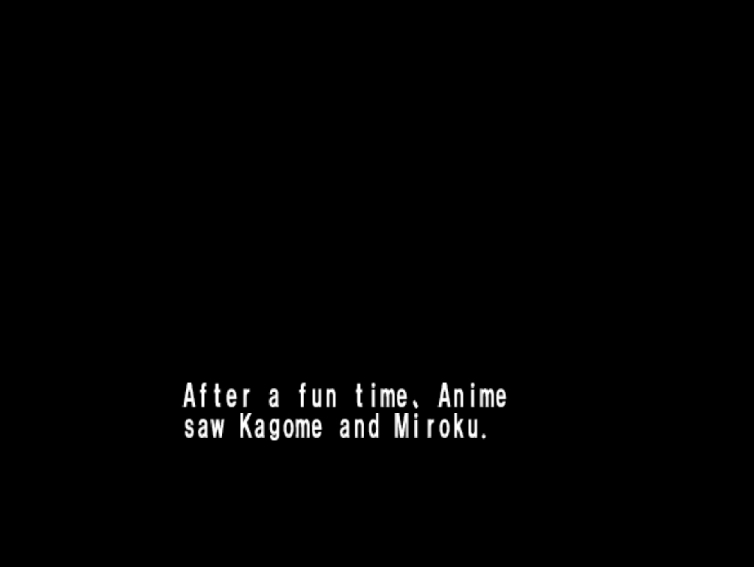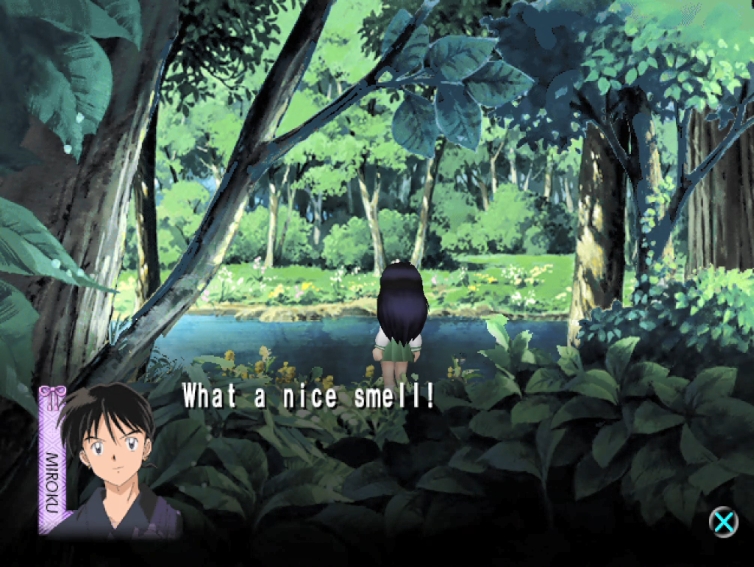 ...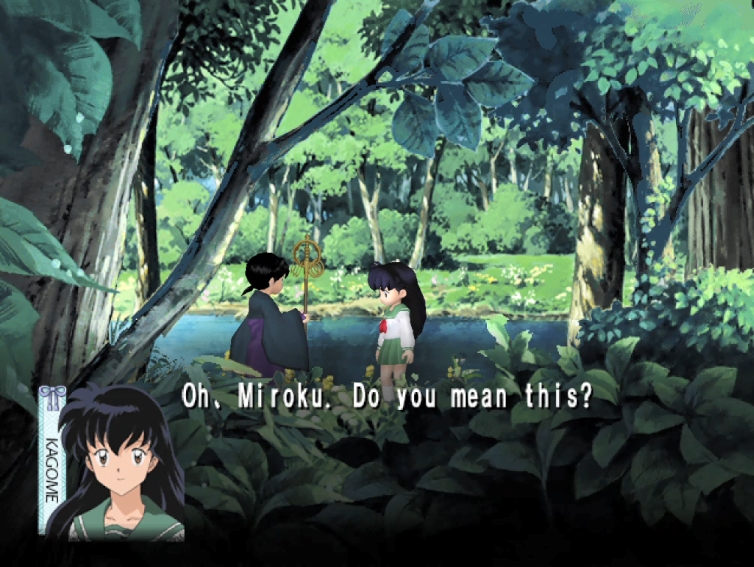 What is that?

It's soap. You wash your face and body with it.
Thanks game, now I'm thinking about Miroku's incredible stink. In fact, this entire TIME PERIOD STINKS.

That's why you always smell so good.

Hmmm...

Kagome!

Huh?

I need to ask you a favor. Would you share some of that soap with me?

Sure. But what for?

Um...

Maybe he's going to give it to Sango as a present. Sure, you can have it.
Okay this keeps pissing me off. I don't remember the characters themselves pushing this relationship so much in the original.

I'm very grateful.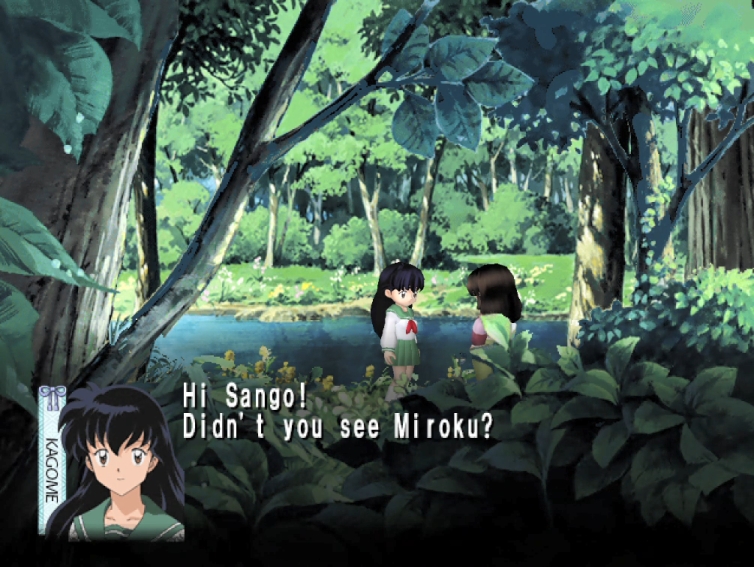 Yeah, he went running by.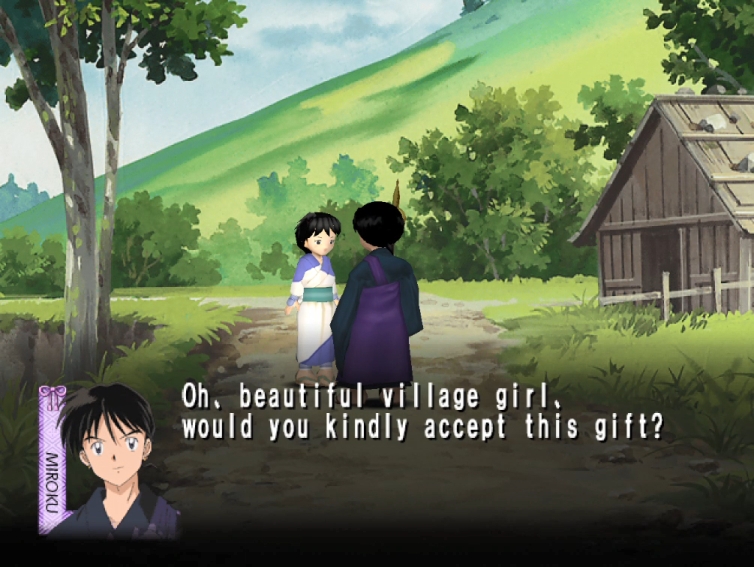 So this is a background you only see in a couple of interval events.
Okayo:
What a nice smell! What is it?

It's called "soap." It will make you even more beautiful!
Okayo:
Beautiful? Oh, I think my dad can really use this! Thank you so much, Miroku! Bye!

Ahh...That's not what I had in mind.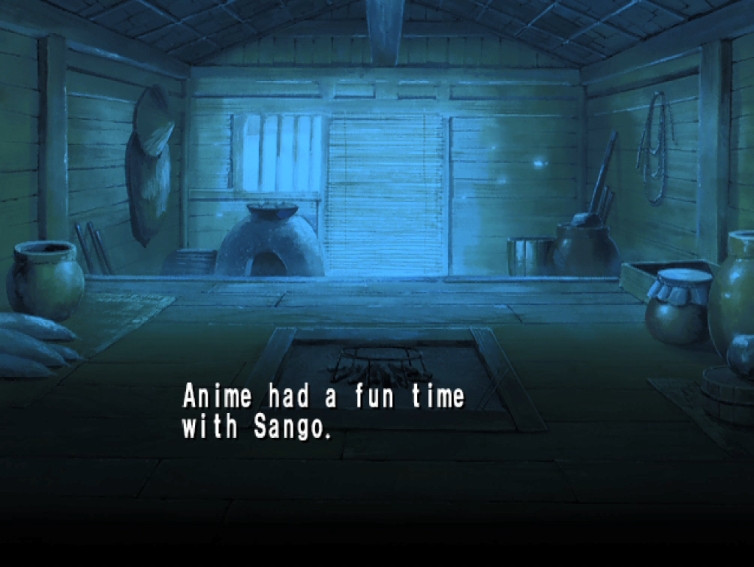 Anime gained a stronger friendship with Sango.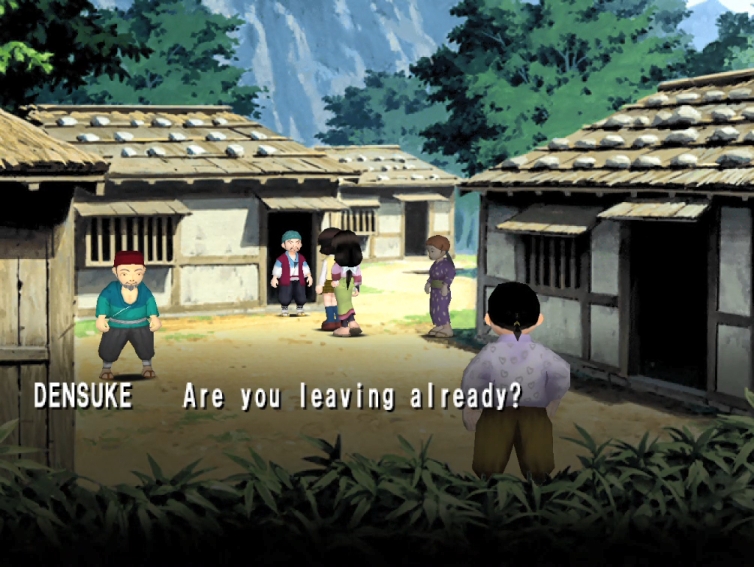 Yes. Thank you.
Densuke:
Take care.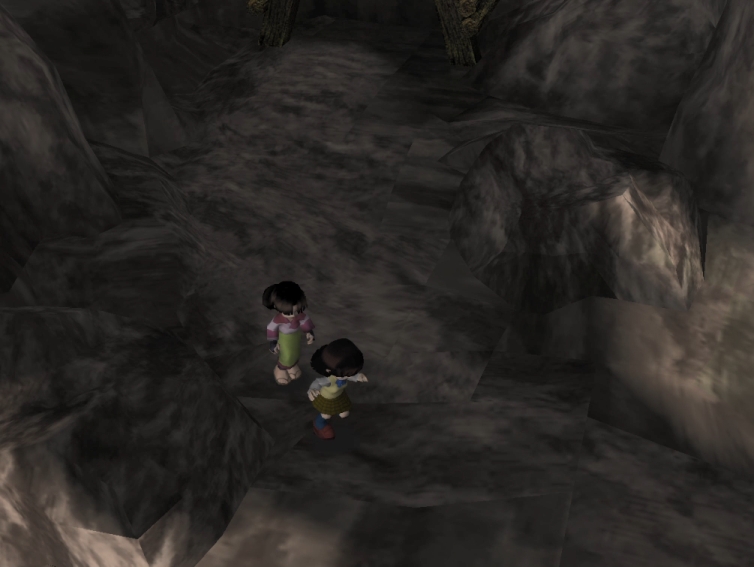 Heading to our secret route...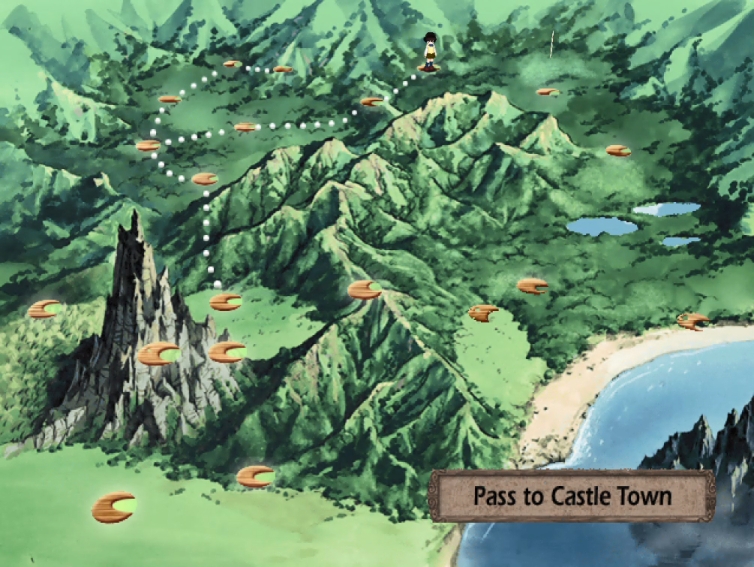 Let's head to Castle Town! The pass is pretty uneventful, so I guess I'll leave you here and meet you in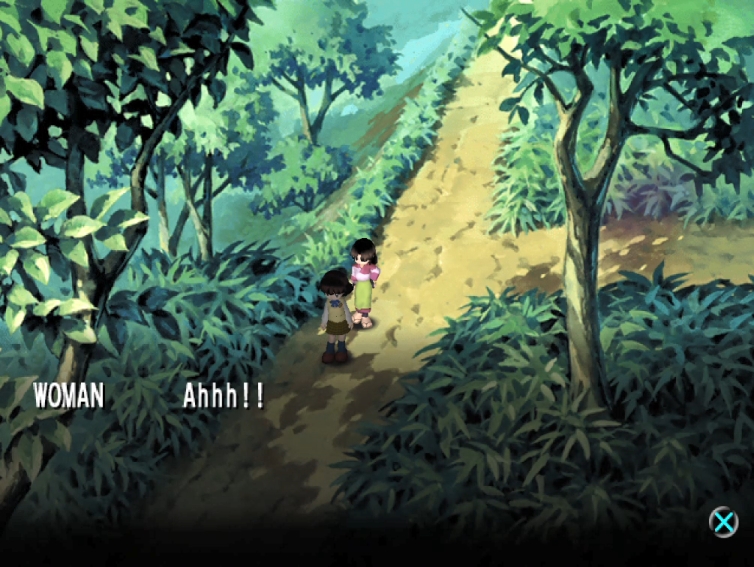 Huh.

I can hear the voice of a young woman.
Woman:
A demon! Someone help me!

What?

Oh, and she's a beautiful woman.

You can tell just from her voice?

There's no mistake. Let's go.

He sure reacts quickly when it comes to women.

Whatever. If it's a demon, we gotta fight him. Everyone, let's go!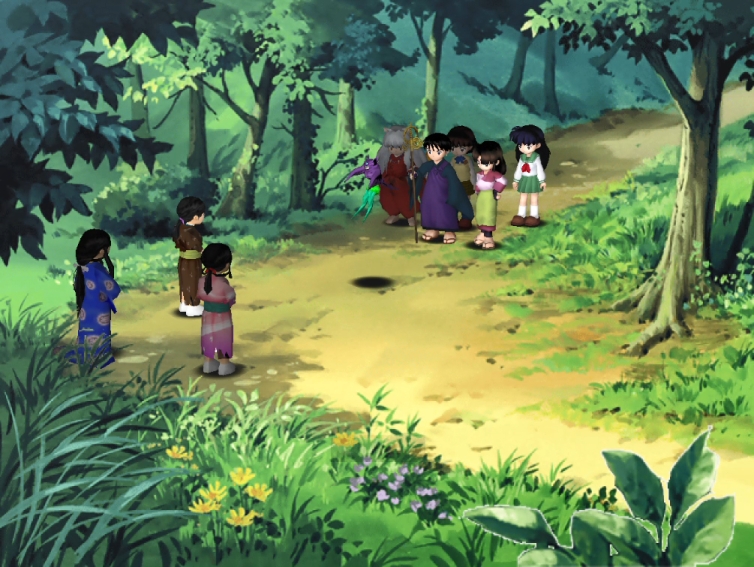 Oh dear.

Hahaha...
Yurihime:
Travelers, please help me.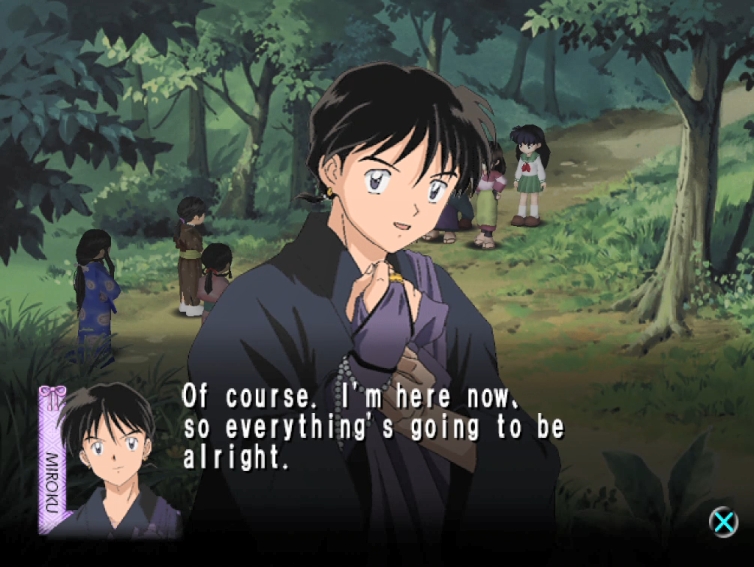 It really is a beautiful woman! Wow, Miroku!
DON'T PRAISE HIM

Don't waste your time on stupid things. Let's go!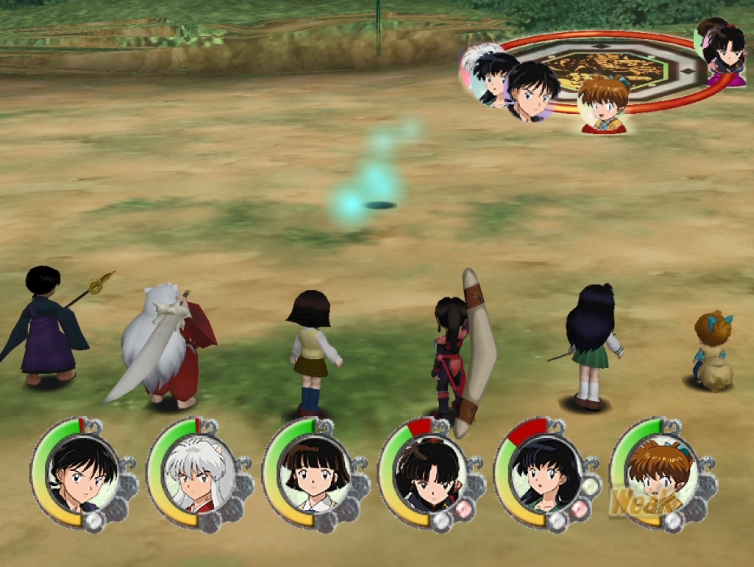 That almost wasn't fair.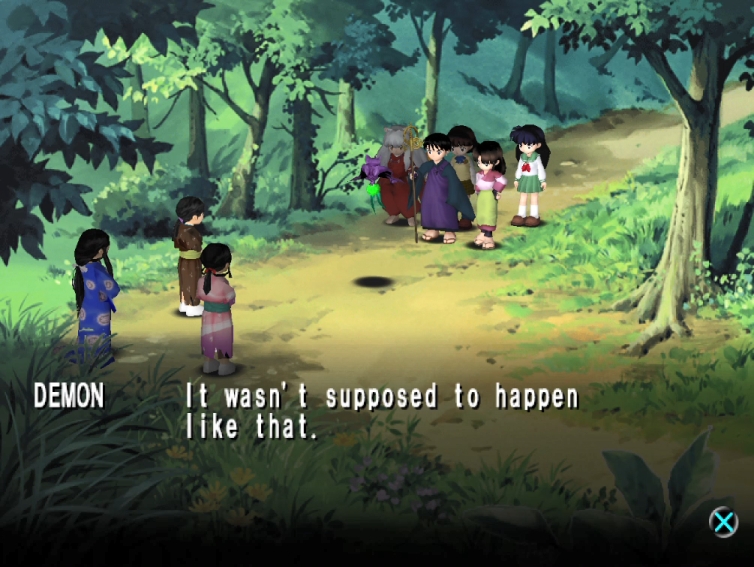 Get off me!
And then Inuyasha just hits him with his sword.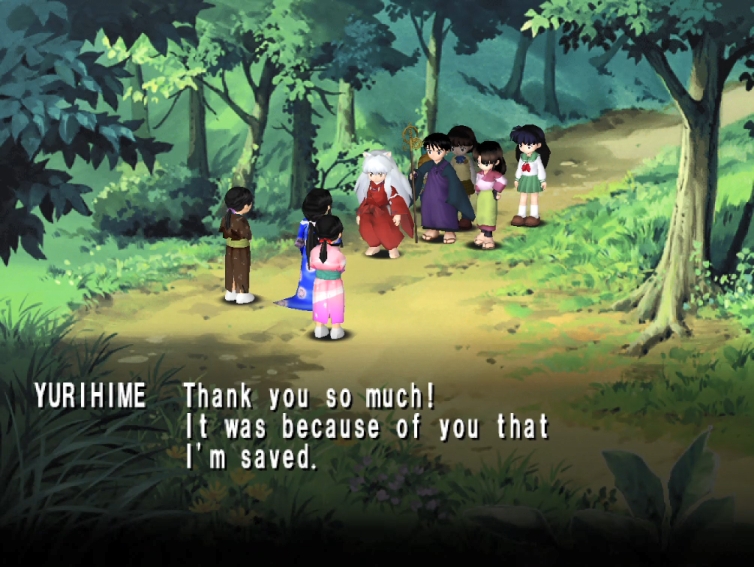 Oh, it's nothing.
Yurihime:
I don't know what would have become of me, if you hadn't saved me.
Koto:
Oh, I know.

I'm here now, so everything will be alright.
Kinu:
You're so strong.
Koto:
You really are a handsome monk.

Hahaha, I never get hurt by such small demons.
You didn't even do anything in that battle.

Come on, you're such a flirt.

Either way, it looks like there aren't any more demons. We should go.

You're right. It's still a ways to the castle. We need to hurry.
Yurihime:
Wait a minute. I would like to show my appreciation. If you would like, please come to the mansion.
This seems suspish.

Thank you very much. We will gladly go with you.
God dammit.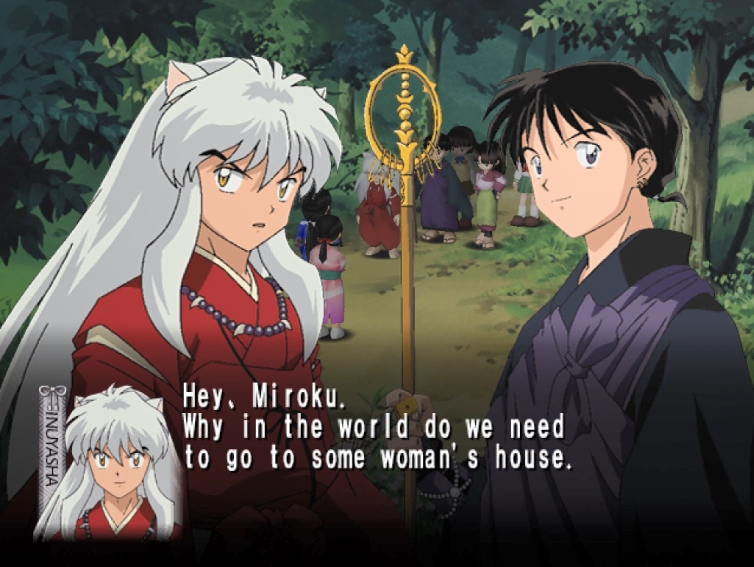 Yeah, no more distractions!
Yurihime:
Of course, I'll prepare you a delicious meal.

Food, huh? Actually, I'm starving.
Koto:
I'll prepare meat and fish and mountain vegetables.
Kinu:
There are a lot of demons ahead. If you come, we could at least feed you a good meal.

It seems pretty dangerous around here.

Maybe it's a good idea if we go to the mansion.
No, no!

It would be scary to part ways here.

Yes, I agree.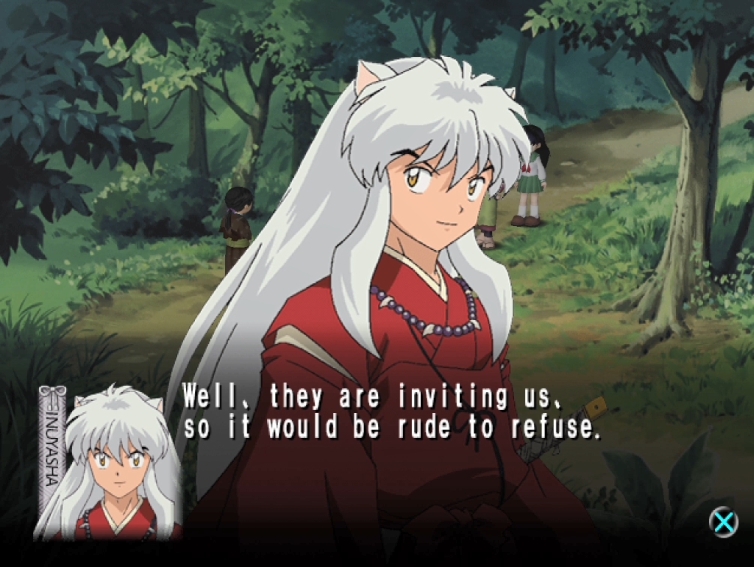 As long as I am here, you don't need to worry about demons.

He sure reacts quickly when it comes to this sort of thing.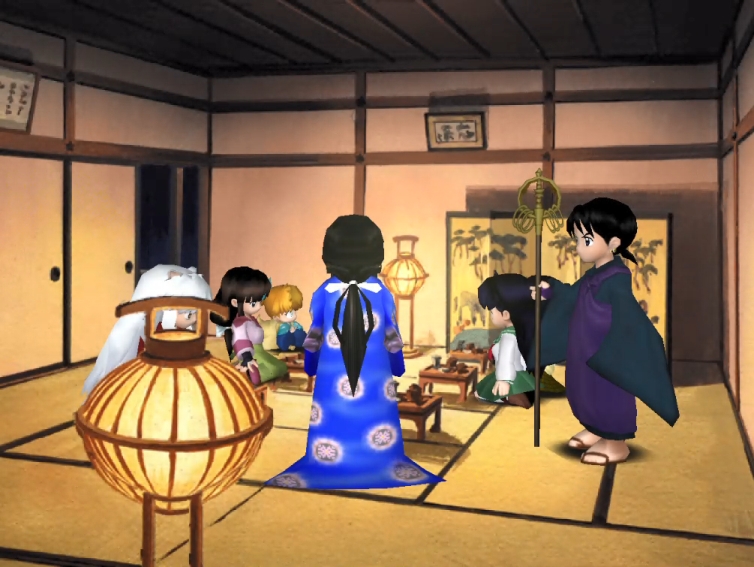 I guess we're at this house now.
We'll see what's up with all this next time.