Introduction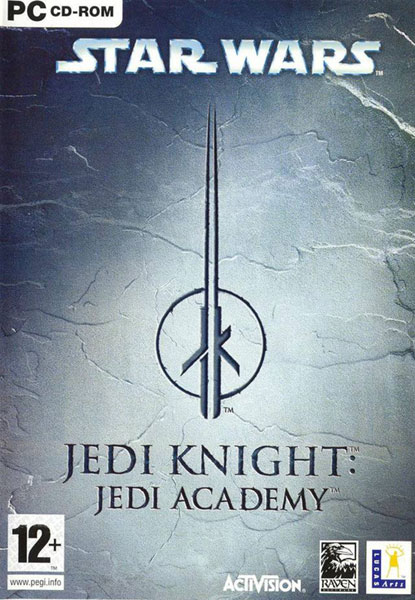 There are rumors that Jedi Academy was originally planned to be an expansion pack for Jedi Outcast, but whatever the case, it ended up being a stand-alone game, also developed by Raven. The combat is much better then Jedi Outcast, the story... the story is not.
This game puts the player into the shoes of Jaden Korr, a young force-sensitive accepted into the Jedi Academy. Unlike in Jedi Outcast, you can allocate force powers to light or dark abilities, instead of having them get unlocked as you progress through the story.
The game is set up in a tiered system of missions- there are three sets of five missions that can be played in any order. That's because the story in the game is pretty much entirely doled out in the missions at the start/end of a Tier.
You'll pick the order we'll play the missions.
Next Tangent and I will both be doing a VLP of this game. Nakar may join us if he can solve some technical issues - he's getting bad lag when he starts recording videos. One of us will play Light side, the other will play Dark side, so you'll get both endings. After we beat the game,
we'll change sides and do it again.
The game eventually lets players wield two lightsabers or use a saber-staff, so we'll do that. Naturally, we'll both be keeping track of our death counts again.
The game also introduces some new Lightsaber and Acrobatic moves. Note that because you're choosing the next levels we play, we cannot play ahead in the game, and so we won't be updating every day, there will be at least a day between videos.
---
Here's the order you voted to play Tier 1 in:
Cult Investigation - Corellia
- First T1 mission
Droid Recovery - Tatooine
- Second T1 Mission
Merchant Rescue - Blenjeel
- Third T1 Mission
Emergency Assistance - Bakura
- Fouth T1 Mission
Mercenary Activity - Tatooine
- Fifth T1 Mission
Here's (roughly) the order you voted to play Tier 2 in:
Capture Crime Lord - Coruscant
- First T2 mission
Covert Operation - Kril'Dor
- Second T2 Mission
Rescue Mission - Nar Kreeta
- Third T2 Mission
Cult Investigation - Dosuun
- Fouth T2 Mission
Meet Contact - Zonju V
- Fifth T2 Mission
Here's the order you voted to play Tier 3 in:
Weapon Destruction - Ord Mandell
- First T3 mission
Force Theft Investigation - Byss
- Second T3 Mission
Cult Investigation - Tanaab
- Third T3 Mission
Dismantle Device - Yalara
- Fouth T3 Mission
Cult Sighting - Chandrila
- Fifth T3 Mission
---
If you liked Jedi Academy, you may also be interested in our previous LP of Jedi Outcast
Jedi Knight 2: Jedi Outcast
Videos
| | | |
| --- | --- | --- |
| Mission | Next Tangent | Stabbey the Clown |
| Mission 1: Yavin Jungle | --- | Part 1 |
| Mission 2: Yavin Training Course | --- | Part 1 |
| Mission 3: Cult Investigation on Corellia | Part 1 | Part 1, Part 2 |
| Mission 4: Droid Recovery on Tatooine | Part 1 | Part 1, Part 2 |
| Mission 5: Merchant Rescue on Blenjeel | --- | Part 1 |
| Mission 6: Emergency Assistance on Bakura | Part 1 | Part 1, Part 2 |
| Mission 7: Mercenary Activity on Tatooine | Part 1 | Part 1 |
| Mission 8: Hoth Surface | Part 1 | Part 1, Part 2 |
| Mission 9: Echo Base | Part 1 | Part 1, Part 2 |
| Mission 10: Capture Crime Lord, Coruscant | Part 1 | Part 1, Part 2 |
| Mission 11: Covert Op, Kril'Dor | Part 1 | Part 1, Part 2 |
| Mission 12: Elders Rescue, Nar Kreeta | Part 1 | Part 1, Part 2 |
| Mission 13: Cult investigation on Dosuun | Part 1 | Part 1, Part 2 |
| Mission 14: Meet Contact on Zonju V | Part 1 | Part 1 |
| Mission 15: Vjun | Part 1, Part 2 | Part 1, Part 2 |
| Mission 16: Bast Castle, Lower Floors | Part 1 | Part 1 |
| Mission 17: Bast Castle, Upper Floors *BOSS FIGHT* | Part 1, Part 2 | Part 1, Part 2 |
| Mission 18: Weapon Destruction on Ord Mantell | Part 1 | Part 1 |
| Mission 19: Force Theft Investigation at Byss | Part 1 | Part 1, Part 2 |
| Mission 20: Cult Investigation at Tanaab | Part 1 | Part 1 |
| Mission 21: Dismantle Device at Yalara | Part 1 | Part 1, Part 2 |
| Mission 22: Cult Sighting on Chandrila | Part 1 | Part 1, Part 2, Part 3 |
| Mission 23: Taspir III Exterior | Part 1, Part 2 | Part 1, Part 2, Part 3 |
| Mission 24: Taspir III Power Station | Part 1, Part 2 | Part 1, Part 2 |
| Mission 25: Korriban Tombs | Part 1, Part 2 & Redux Part 1, Part 2 | Part 1, Part 2, Part 3 & Redux Part 1, Part 2 |
| Mission 26: Korriban Valley | Part 1, Part 2 | Part 1, Part 2 & Redux Part 1, Part 2 |
Stabbey's Bonus videos