Part 65: Update 30 Bonus
Update 30 Bonus

Since there's only so many questions you can ask Cut-throat, I had to leave some out. Here's the rest.

Does Kusnetsov intend taking over the crack shipment?

Crack shipment? I don't know about that.

Did you find out about any incoming cargo ships?

A number of merchant ships. Nothing in particular though.

Tell me about Obukov.

Alfred Obukov is a criminal, recently arrived here. His record mentions drug-related misdemeanors. He appears to enjoy some sort of official protection. That's all I've had time to discover.

What can you tell me about Savchenko?

He's a small time gangster, working for a man called Mechulaiev in the warehouse in Hammer and Sickle street you asked me about.

Is Viktor Matsnev a fishing boat?

Yes.

Do you know anyone who smokes cigars?

My father in Minsk. Nobody else in particular.

Aren't you manipulating me on Kusnetsov's behalf?

No.

On the phone with Cut-throat:

Identify yourself.

You first.

Cut-throat.

Prove it.

Don't play games. Identify yourself.

I want proof that you're Cut-throat.

I have no proof. Either you identify yourself, or I'll ring off.

Sorry, comrade. I must insist.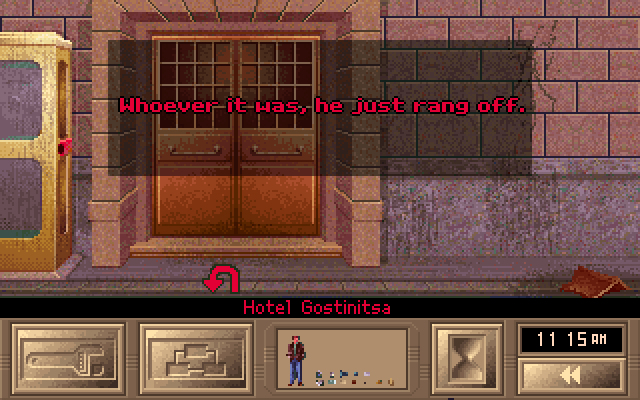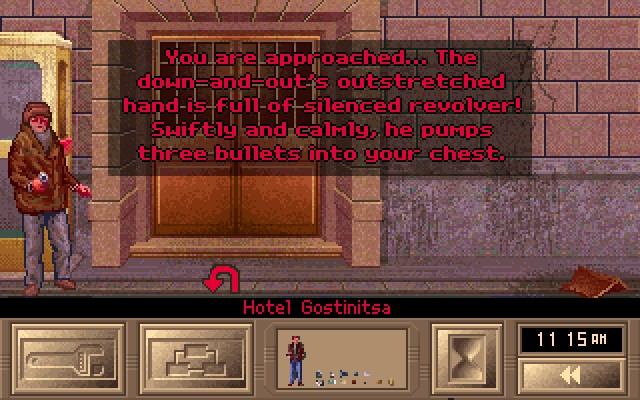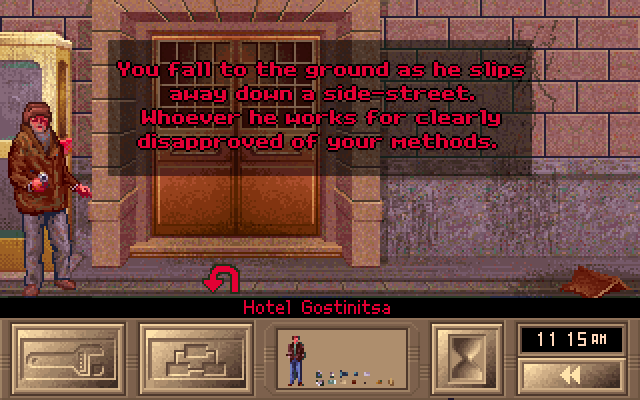 I hope you put your finger on that Viktor Matsnev guy?

I was hoping you'd find out about him.

You're a fool, Rukov! You know Matsnev's making his move today but you don't know who or where he is! We're out of the game, and all because of your incompetence. I knew we couldn't trust you.
Cut-throat rings off, and the hobo pumps you full of lead yet again.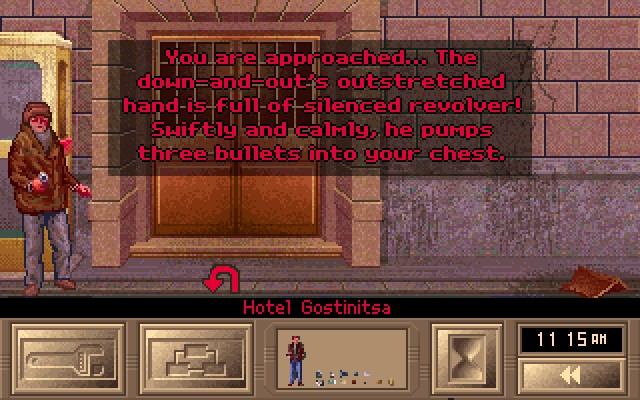 While talking with Greenberg: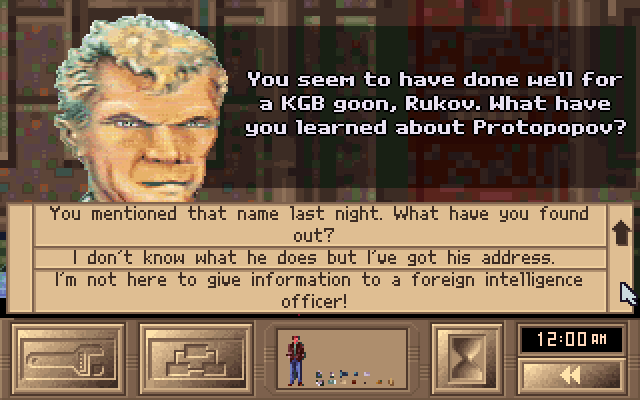 I'm not here to give information to a foreign intelligence officer!

Now that's more like the KGB goons I'm used to dealing with. You can go straight to hell, Rukov!