Part 4: Sakurai Says - Part 1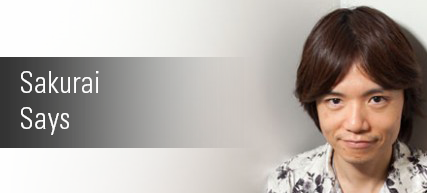 Masahiro Sakurai is a pretty well-known guy as far as Japanese video game developers go. His name hasn't achieved the level of recognition that Shigeru Miyamoto has, but it did become memetic on the internet during the development of
Super Smash Bros. Brawl
, when he became the public face for its development team and the focus of impatient fans' ire. Among his other accomplishments are the entire
Kirby
franchise and a close working relationship with Nintendo of Japan's CEO, Satoru Iwata.
Kid Icarus originally started out under the supervision of Yoshio Sakamoto. He and Sakurai have a fair few things in common: they're both Japanese game developers who worked at Nintendo overseeing big-name franchises involving flying blobs (and their surnames start with "Sak"). The big difference lies in their philosophy regarding game design, game stories, and characterization. If you've enjoyed the LP thus far, you'd probably agree that Sakurai's approach is pretty interesting. But what drives it? Why does Sakurai do what he does?
To answer that we'll have to look to the extensive writing he's done on the subject. In a recent issue of the popular Japanese gaming magazine
Famitsu
, Sakurai wrote an article about the subject of stories and characterization in video games. Specifically: how he hates most of them.
Game news/reviews site Polygon translated a few choice tidbits from the article for your viewing pleasure:
Sakurai is a pretty firm believer that
any
story elements must first and foremost balance themselves against the need for gameplay. In the
Iwata Asks
segment for
Kid Icarus: Uprising
, Satoru Iwata and Sakurai discuss how this imperative shaped
Uprising
's plot:
Going back to the
Famitsu
article for a second, Sakurai elaborates on why he decided to write everything himself:
To conclude, let's look at another interview Sakurai gave with the site
Metro
shortly after
Uprising
's release: