Part 6: Sakurai Says: Chapter 18 Addendum
For those of you jumping to this post from the OP or the Behind the Scenes Table of Contents:

There are spoilers in here.

Major ones, even. Do not open 'till X-Mas, or you watch Episode 18. Go with the latter, to be safe.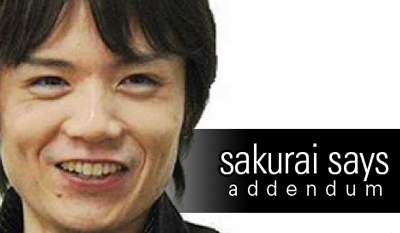 As previously mentioned (and demonstrated by Maple Leaf), Chapter 18 is a trainwreck to play on any high intensity, let alone 9.0. The combination of a long unskippable intro, beefy enemies, and an overall increased level length capped by a tense flying segment and boss battle results in poor replay value.
Despite all that, this chapter and the next few are pretty much my favorite section of the game. Sakurai nailed the reason why in a portion of
Iwata Asks
that I omitted from my previous post due to obvious spoilers.
Iwata
How big is the single-player story mode?

Sakurai
I don't want to spoil the fun so I'd rather not say it, but I will say we've packed in quite a lot so it's highly concentrated. There definitely are developments after the battle against Medusa. One theme this time was not simply having a plain structure of Medusa versus Palutena.

Iwata
You didn't want it to simply revolve around a battle between good and evil.

Sakurai
Well, I think good versus evil is all right. But in this game, multiple armies led by gods appear. They each have their own claims and way of thinking and move toward different goals.

In the early stages, there's a battle between good and evil—with Palutena's army, to which Pit belongs, squaring off against the Underworld Army led by Medusa. Then the Forces of Nature steps in and tries to destroy humankind for behaving contrary to the natural order and it becomes a three-way battle.

After that, mysterious invaders called the Aurum steps in. They speak a different language and their purpose is unclear. Pit allies himself with the Forces of Nature and it gets more complicated.

Iwata
The situation gets even more chaotic.

Sakurai
But not just the fighting. The world itself gets chaotic. And actually, the cause lies with Palutena…

Iwata
Huh? The goddess is to blame?

Sakurai
Yeah. (laughs) If you want to know more, you have to play the game! This time, I didn't write a script with enemies and allies entangled because I wanted to create a real sob story or increase the number of enemies. Shooting games are by nature all about defeating enemies. By showing the enemies' intentions to target each other and their motivations behind their actions, I wanted to avoid having the flow of the game become a chore of taking out targets one by one. I think this idea is very much in line with the original concept of air battles.
Shooting games can get pretty dull without something to mix up the gameplay! This is actually a widespread problem among shooters: enemies in the genre tend to blur together into a generic, faceless horde of cannon fodder after a while, regardless of whether they are zombies, Nazis, robots, or zombie Nazi robots riding dinosaurs (through space). This in turn drags down the gameplay until it becomes a grind of mashing the shoot button to reach the next cutscene.
Sakurai understands this, and did two things to address it: 1. Increase enemy diversity with multiple factions, each containing unique enemy types with contrasting designs and different attack patterns; and 2. Mess with the player's expectations.
Point 2 pops up throughout the game: instead of having all factions be united in their singleminded hatred of Pit, they display varying levels of aggression, ranging from fighting each other when left alone to straight up treating Pit as an ally. Then this chapter happens, and a faction you never assumed would turn hostile suddenly does.
Iwata
The great goddess Palutena explains all kinds of things.

Sakurai
Right. She's also useful for tactics. For example, there's a mission in which a giant bomb is dropped to the world of mortals and you have to stop it.

Iwata
You're like, "What?! What am I supposed to do?!"

Sakurai
As you're looking for the bomb, she tells you that Viridi, the Goddess of Nature dropped it in order to destroy the town, and as you draw near, she offers guidance in strategy.

...

Iwata
Sometimes it's like you're idly chatting as you're engaged in a battle. Palutena will even say things like "If your eyes are tired, turn off the 3D Depth Slider!" (laughs)

Sakurai
That's because the original Kid Icarus was like that.

Iwata
Like that message when you mess up—"I'M FINISHED." It isn't terribly serious. (laughs)
Throughout the game, Palutena is set up as someone the player can not only trust, but appreciate - she's generally helpful, provides valuable exposition without sacrificing gameplay, and even offers some endearing entertainment through banter with Pit and other characters, both inside and outside the Fourth Wall.
This is deliberate. Behold, the master plan:
Iwata
Why did you choose Palutena to be Pit's interlocutor?

Sakurai
We thought about placing a mascot-like character by Pit's side but abandoned it. I thought it would be great to have an incredibly serious and imperious goddess who's close to Pit supporting and offering him words of advice.

Iwata
No matter how hot the battle, Palutena always speaks cool-headedly. That discrepancy makes it interesting.

Sakurai
Yeah. I also wondered if I couldn't dig into the subject about what you think is right may not necessarily be good.

Iwata
That connects to what you said about Palutena throwing the world into chaos.

Sakurai
It feels like a goddess's instructions must be right. But just because she gives mission instructions doesn't mean, for example, that it's like she's a voice over a fighter plane's radio—"There's a formation that way!" "Roger!" "Head for such-and-such!" "I'm on it!"
By Chapter 18, the player has more or less warmed up to Palutena and accepted her as an ally. This trust extends to the goofy-looking army under her command, who are consistently depicted as harmless, who serve Pit in battle as a powerup item, and who go so far as to sacrifice their lives for Pit during the Aurum Arc.
Speaking of which: Sakurai cheated a little on point 1 with the Aurum, who borrow attack patterns from other factions, but even they use cool new designs instead of being recolors. And even then, their flagrant ripping-off is also deliberate: it tricks the player into assuming the remainder of the game will be filled by Underworld Enemies and Forces of Nature with different coats of paint applied. Sakurai chooses this moment to grab that rug made of assumptions that the player is standing on, and pull it out.
A new enemy faction is introduced: The Good Guys. It's a
Chekov's Gun
using video game mechanics since the faction has been there from the beginning, and is even foreshadowed a couple times (such as in
Chapter 11
- what, you thought that was a throwaway joke?), but the twist still manages to surprise the player and somehow, make those faceless cannon fodder mooks interesting again. It's not the only Chekov's Gun either - Magnus, who disappeared after Chapter 2, is suddenly the new protagonist and playable character, to boot.
Sakurai has carefully orchestrated the entire game to bring the player to this point, where they are amazed, thrilled, and wondering what will happen next. Once again it all comes back to good, solid gameplay, which Sakurai believes story is subservient to. Here he has used the story to help ensure that, above all else, mashing that L Button is never boring - and that's why I love this chapter. No matter how obnoxious it can be, it's still the point where the average player goes from "Wow, this game..." to, "Holy shit,
this fucking game
."
Also, I like the dog's music.