Part 35: Faerie Stew
Update 12: Faerie Stew
So, right about now we're approaching the end of the game and getting all the side quests out of the way. That's going to be easy, since we only have two left, near the southern end of the map. Starting out we have...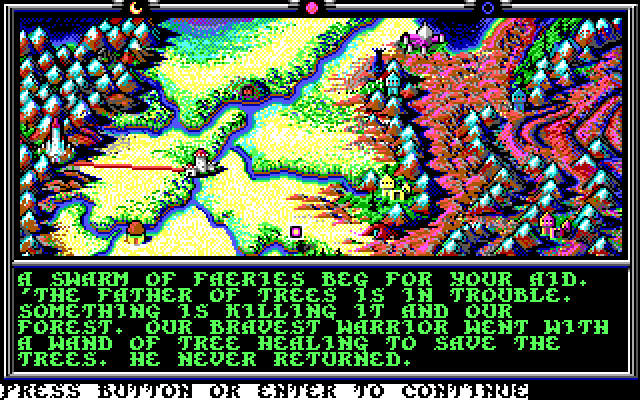 "Aww, c'mon. I know I said I was okay with faeries but I didn't expect to have to deal with any more of them for a while."

"If your bravest warrior was less than six inches tall, I think I can see why that might have turned out badly."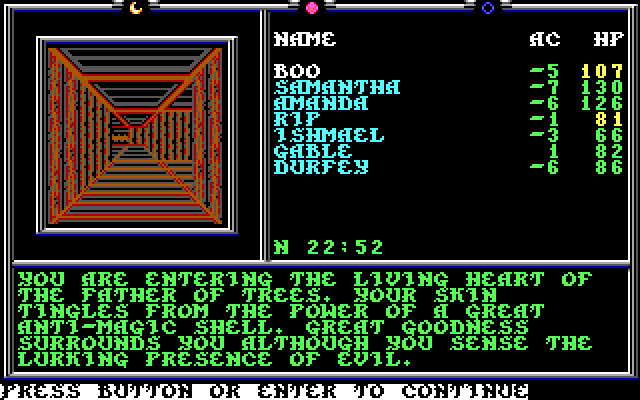 "This isn't good… I can't seem to feel my magic."

"Makes two of us….and is it me, or does this look awfully artificial for the inside of a tree?"

"I've never been inside a tree before, so I can't tell you."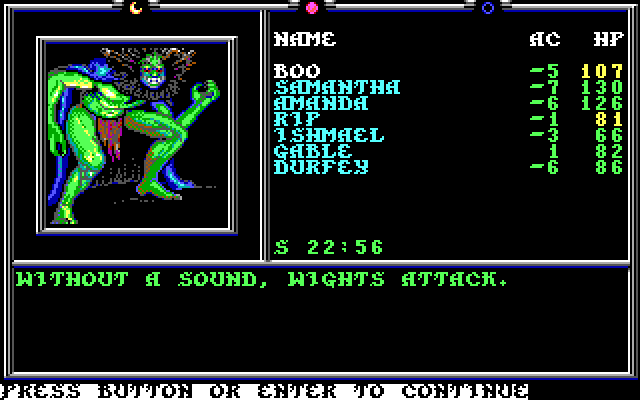 "I think I found the problem! And probably what happened to the faerie as well."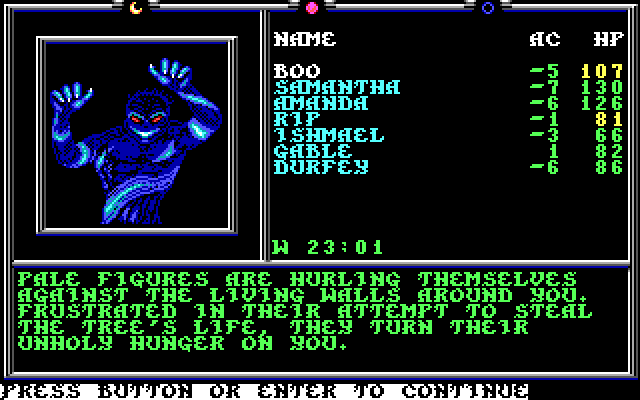 "Somehow this tree is enough like a person that the undead are actually trying to feed off of it. How curious."

"Since they're doing so poorly at it, I'm halfway tempted to leave them to it."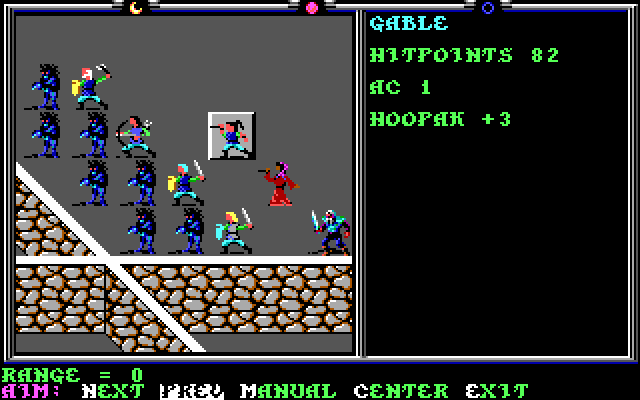 More backwards facing wraiths. I suppose in this case it actually makes sense, since they're trying to attack the tree when we find them."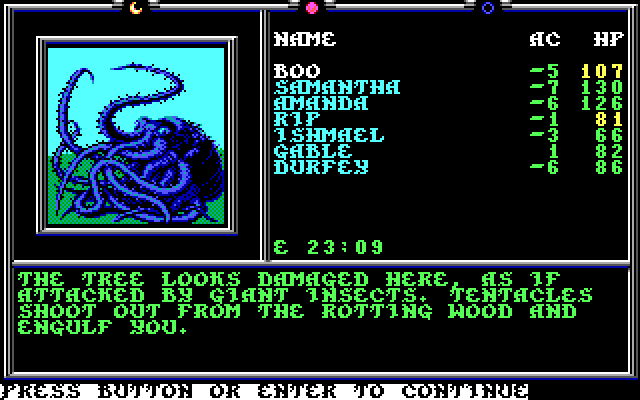 "I don't like where this is going!"

"If it makes you feel any better, these at least appear to be natural creatures preying on the tree."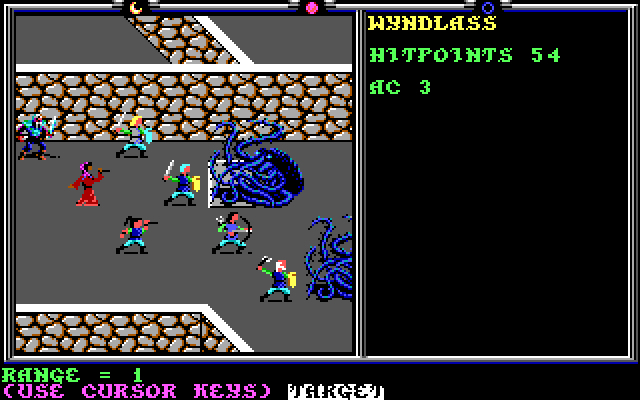 Wyndlass actually look pretty cool, and they get a lot of weak attacks per round. They're also fairly easy to take down. All around good fun.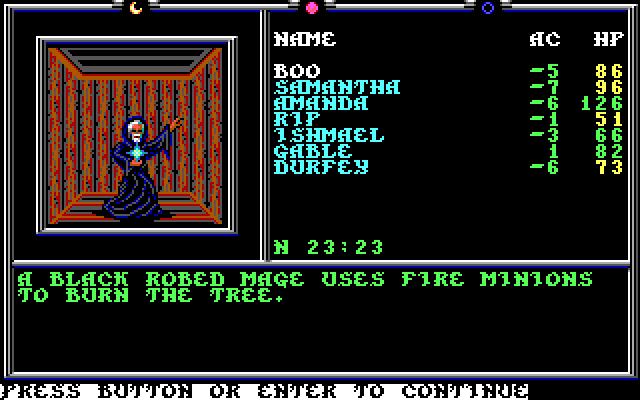 "Wait, how on Krynn does he still have control over those fire elementals?"

"We can fix that in no time flat."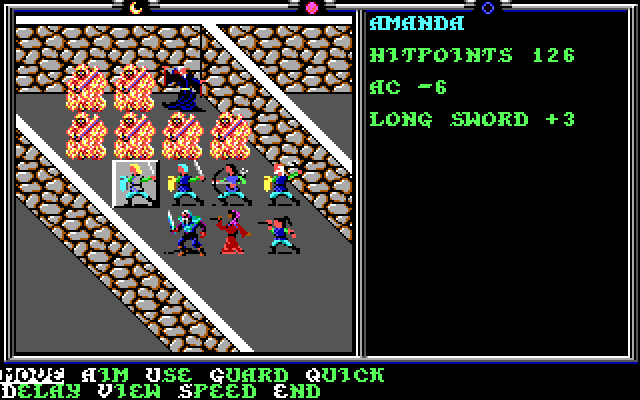 His magic is blocked as well, meaning that he's even more of a speed bump than he normally would be. This is actually a fairly easy quest that could be done pretty early on safely.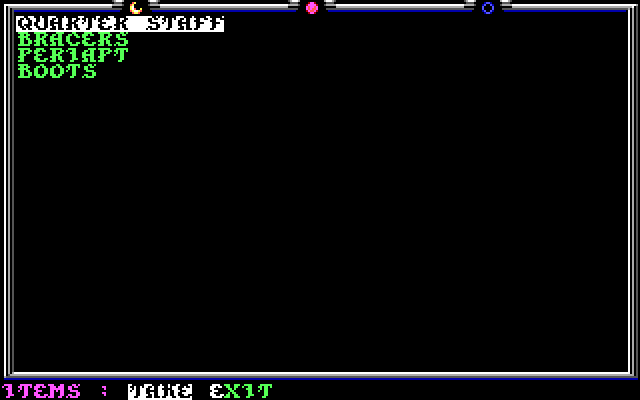 In addition to the standard quarter staff and bracers, the mage also drops a Periapt of Proof vs. Poison (+4 to saves vs. poison) and a set of Boots of Speed. Those go right on Boo to even him out with everybody else.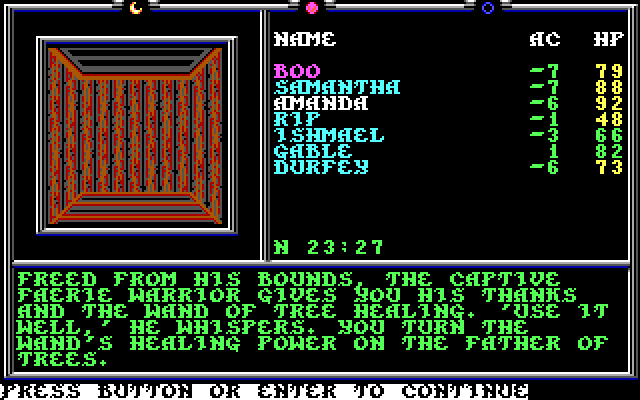 "I can't believe one of those monsters didn't eat that faerie."

"You'd be amazed at the magical uses you can get out of a faerie."

"D'you think you'd be able to fly with the faerie dust?"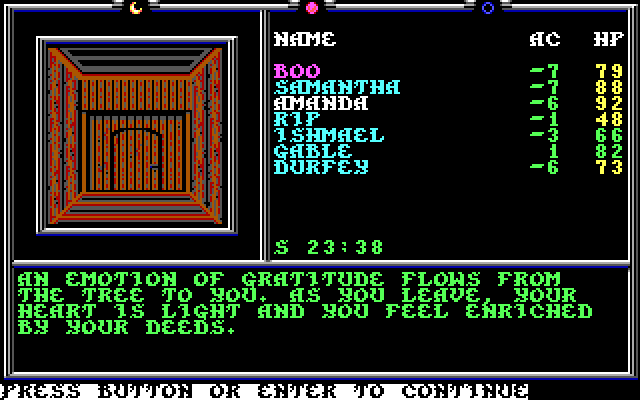 "That's just swell. Are we done with faeries now?"

"If we see any more, we just keep walking."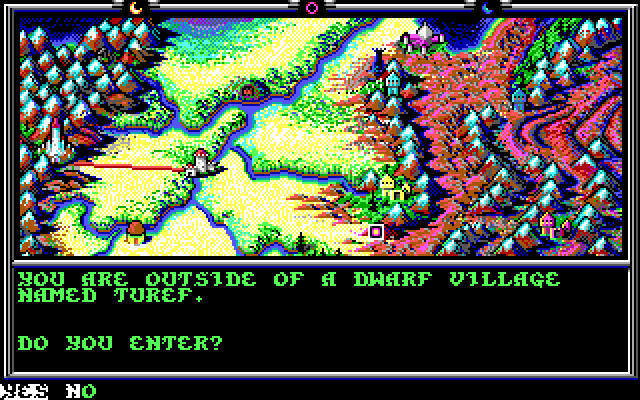 Our next side quest is hidden just to the south of Throtl, in what looks suspiciously like a hill with a door cut into it.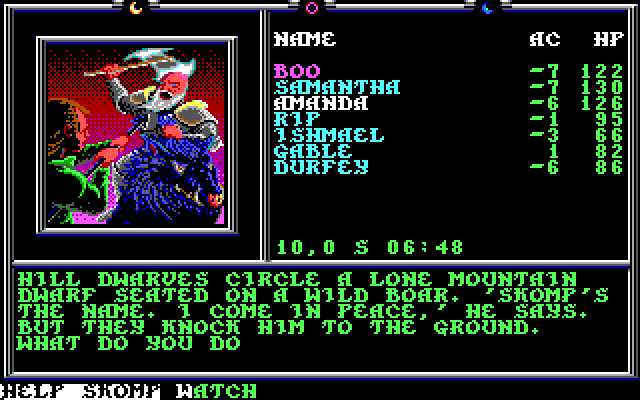 "I don't think there's really any other option for us as honorable people.

"C'mon lads, let's go kick some dwarf ass!"

"I find nothing wrong with this plan."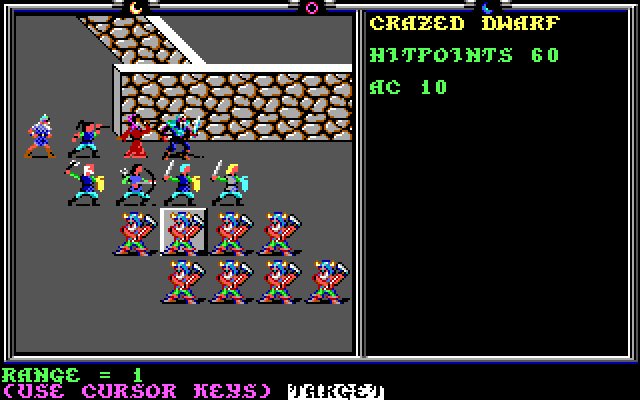 Our main foes within the village will be crazed dwarves, who are crazy enough not to be wearing armor and have a mediocre amount of HP. For some reason Skomp's icon doesn't have a weapon, so his animation makes him look like he's going around punching the other dwarves to death. And that's awesome.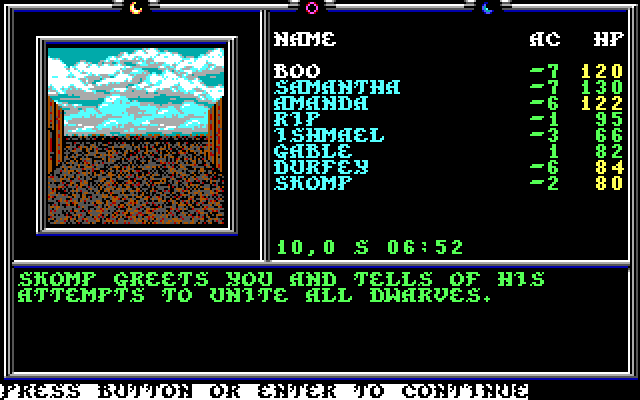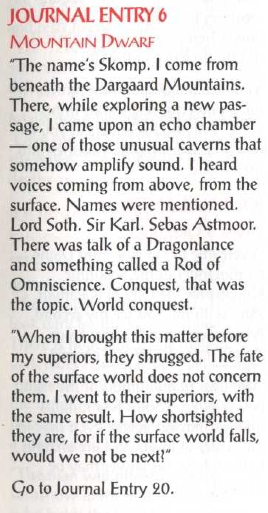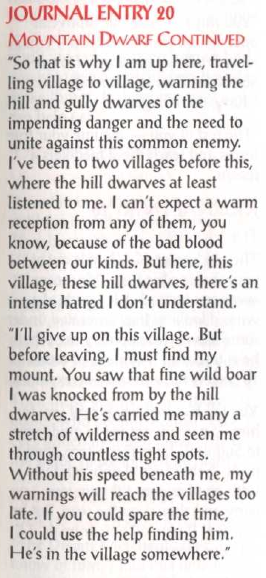 "If these dwarves are acting in such a peculiar way, there's more than likely some other factor at work here."

"We've certainly seen enough of that elsewhere. And we'll deal with it the same way."

"What they're trying to say is that we'll help you slaughter your way through town with you until you find your boar."

"Well, ye can't spell slaughter without laughter, as I always say."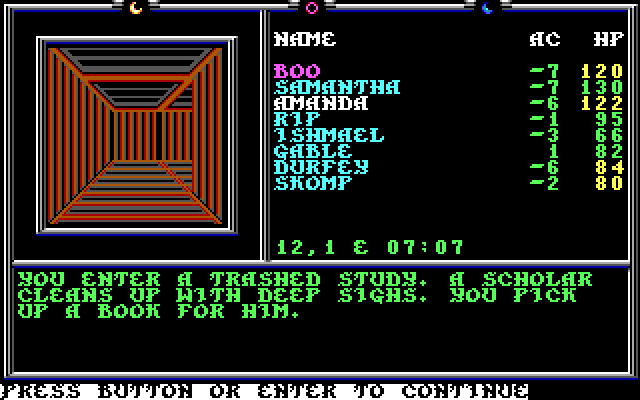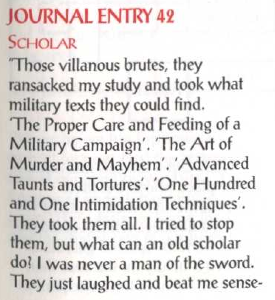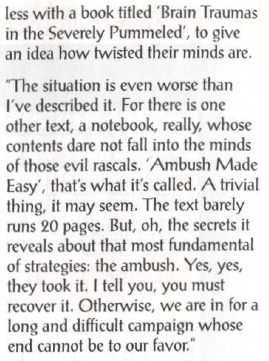 "Heh… I think it's actually pretty funny, to tell ye the truth."

"For my part, I don't know how you can get much more complicated with an ambush than 'hide and then attack when they're close.'"

"If we should happen across your book, we'll be sure to return it to you."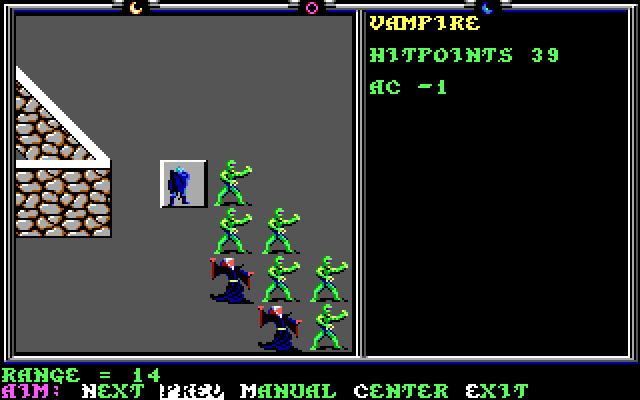 The town is also populated with undead random encounters, including the first vampires we've encountered thus far. Vampires have a good armor class and can drain levels if they hit you. In addition, they'll use their charm effect and try to turn your allies against you. Dispel magic will fix that, but it's annoying. I'm not sure how much vampires are really a part of Krynn's lore, but I can't blame the developers for putting them in.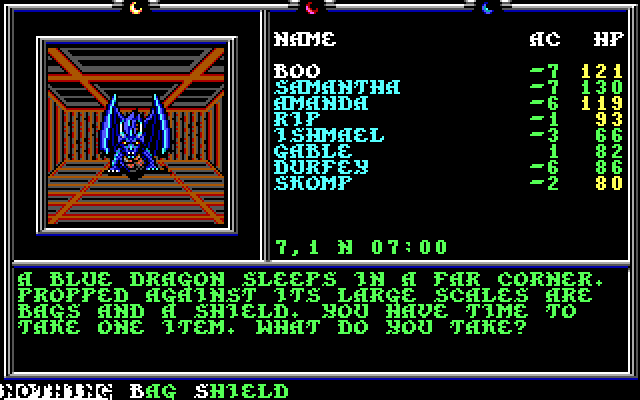 "Shield! We're taking the shield!"

"There appears to be a book inside the shield. What an odd place to hide a book."

"Ambush made… huh, that was easy."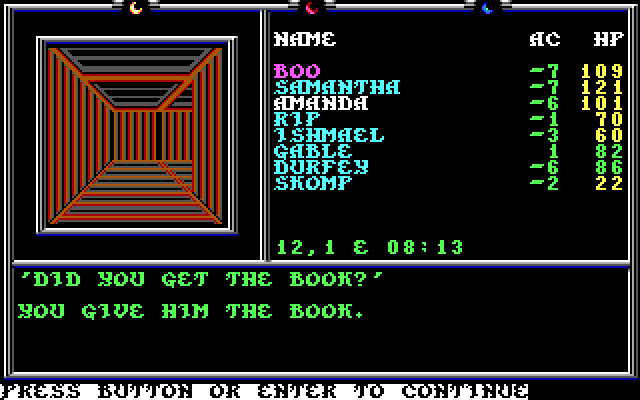 "Thank you! Now there is hope. It seems from the note in the margin that they are using cursed items to brainwash the dwarves and have prepared an ambush along the main avenue to their rooms."

"'s there any way around it?"

"There's a secret door in the tavern that could get you past that ambush. The bartender knows what type of key you'll need to open it."
Continuing to explore the town..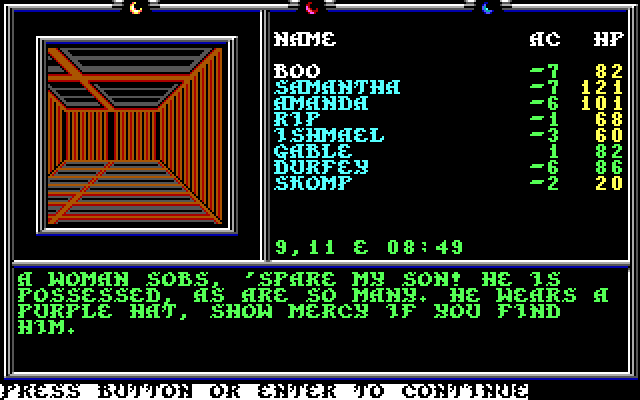 "Of course we'll keep an eye out for your son."

"Assuming we remember and that he hasn't taken off his hat."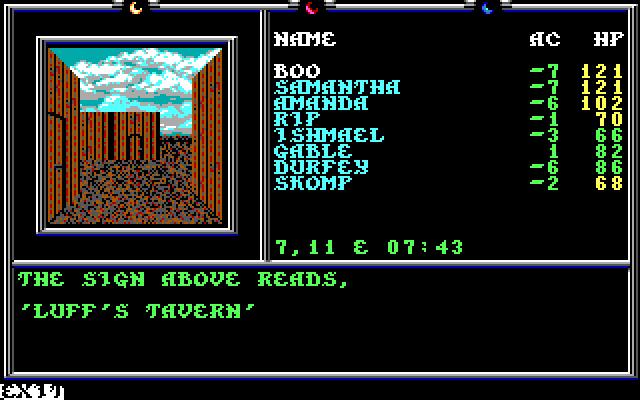 "Joke's on them. I would have come in here anyway!"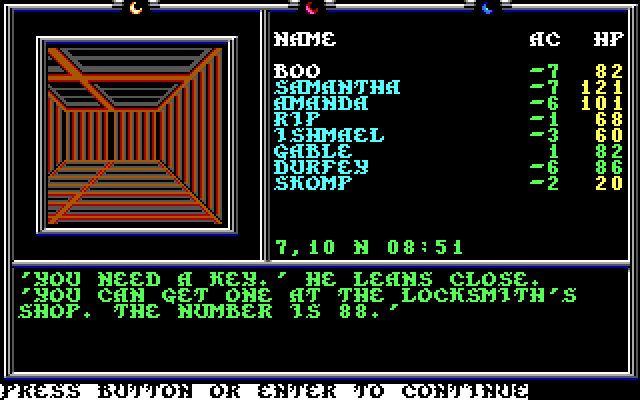 "And it only took you six drinks to get the information. Good job!"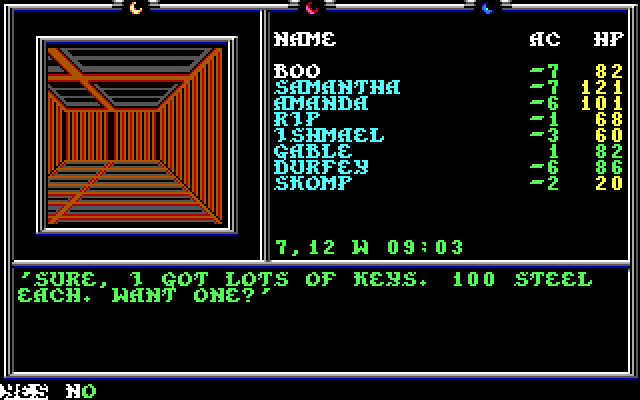 The key maker will give you all the keys we want, but having multiple keys means that you're more likely to be caught during any sneaking around. This is, of course, completely separate from all of the armor, steel, and jewelry we're carrying around with us which isn't even taken into account."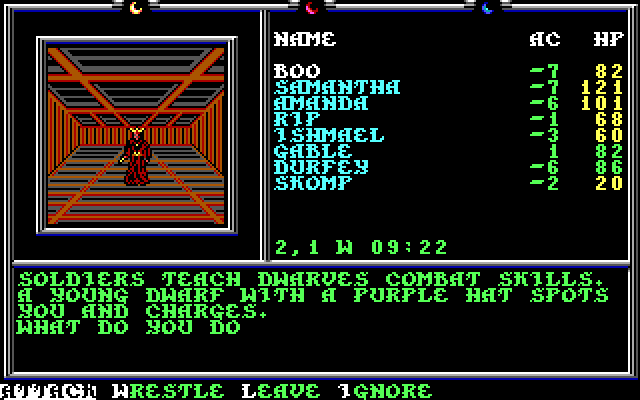 "He's STILL wearing that hat. C'mere, momma's boy!"

"Well, that's got him good and distracted…"

"Aaaand… he's out. Let's get the rest while he's asleep."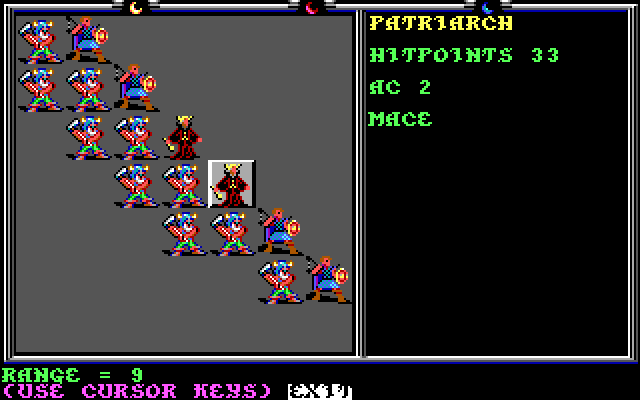 That's a lot of dwarves and humans. It's quite a battle, but as long as you get the patriarch's right off the bat it's fine.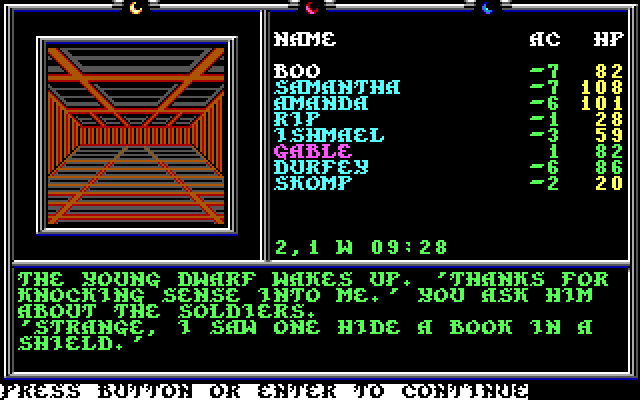 "Thank you, but we already knew about that. You'd better go back home."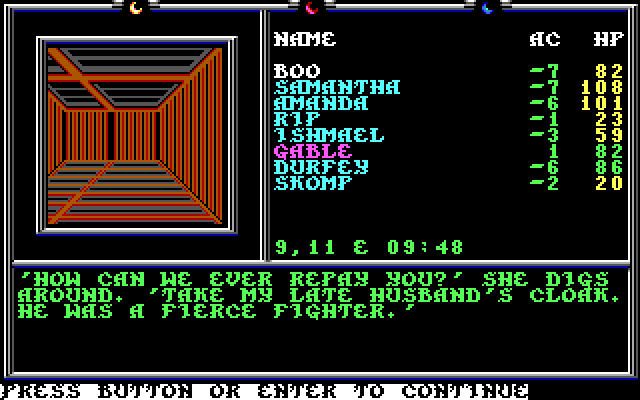 "Is that…a cloak of displacement? I've only heard about these! Nobody has ever seen a living displacer beast!"

"We still haven't, considering that it's in the shape of a cloak."

"Ooh… I like that color. It goes with my armor."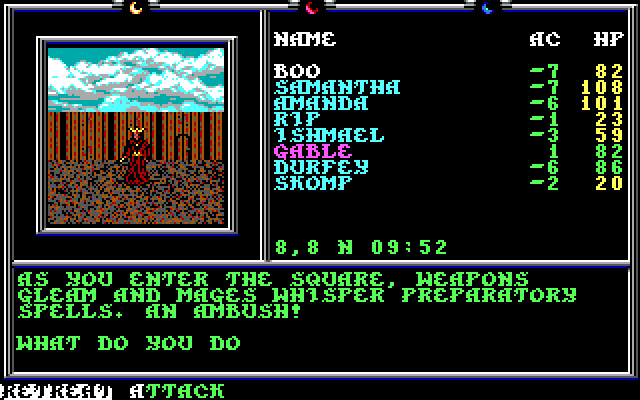 As a note, this is what you see if you attempt to make a straight attack on the enemy's base. The attack is really not worth dealing with.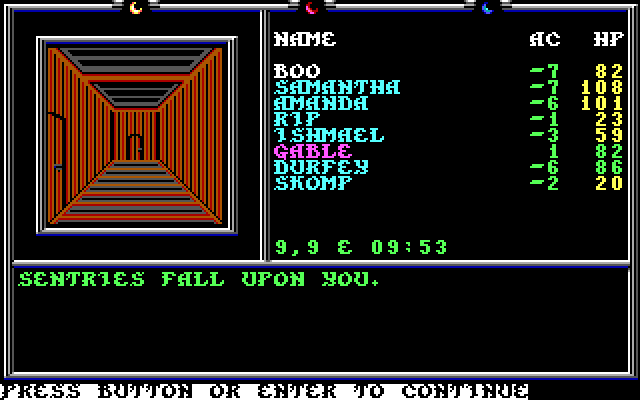 Trying to go around leads to a fight, but this one is a lot more manageable.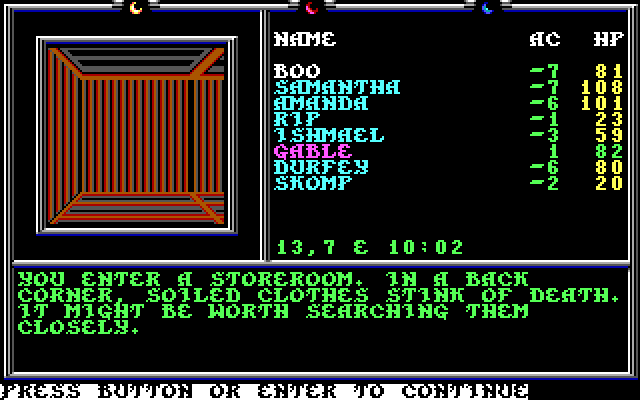 There's only one safe place to rest, and it's in this smelly closet. You can also find a negligible amount of steel and gems if you search here.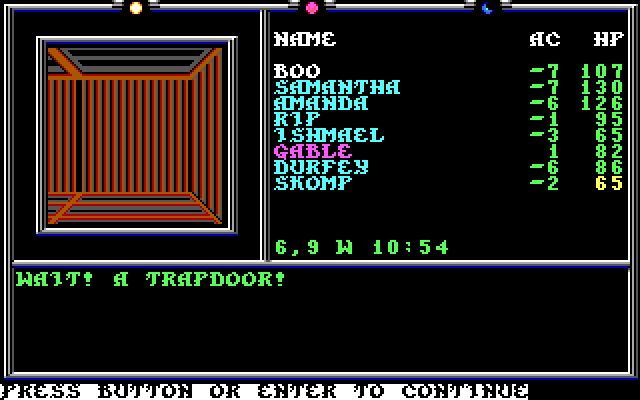 To find the secret door, you have to go into the tavern with the key and choose to wander. This area is treated like anywhere else for random encounters, meaning that I can and did have a brawl with about a dozen enemy troops in the two steps it took to reach the door.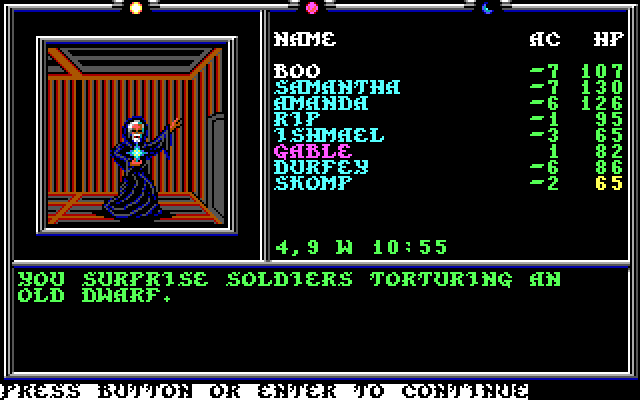 "Really? I think they've just hit a new low."

"Once again, I think we can somehow bring them a bit lower. Maybe by starting at the knees and working up from there."

"I'll start 'em with my axe!"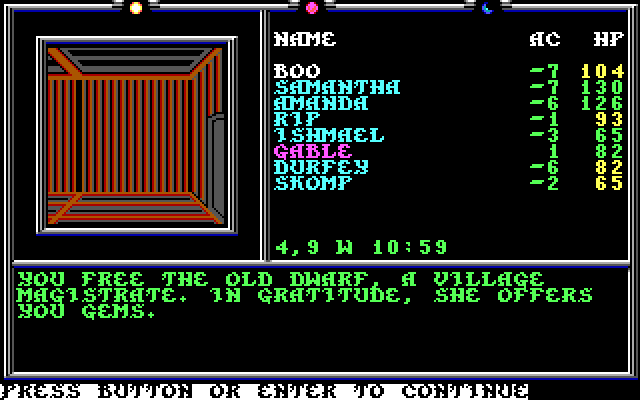 "That's a wonderfully dwarven gift."

"I'd rather have a barrel of dwarven beer."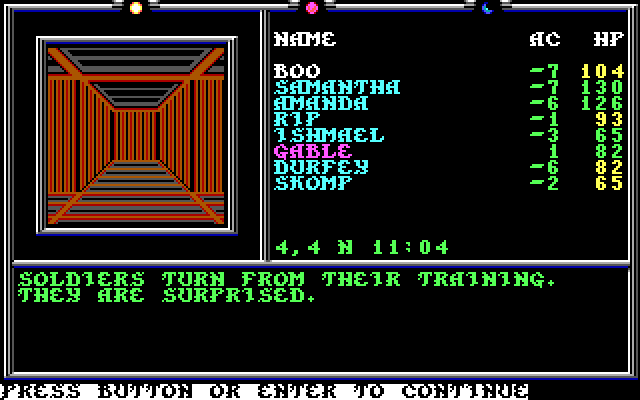 "They need more training than that if they're so easily surprised. You'd think they would have posted a watch."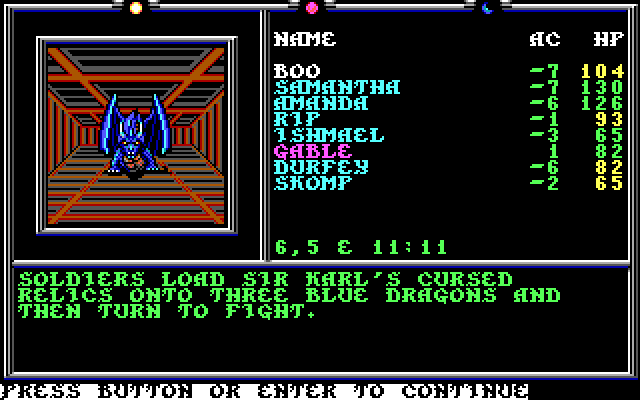 "Sir Karl's… how did they end up in a remote dwarven village?"

"They probably split them up among different groups in order to influence a wider area."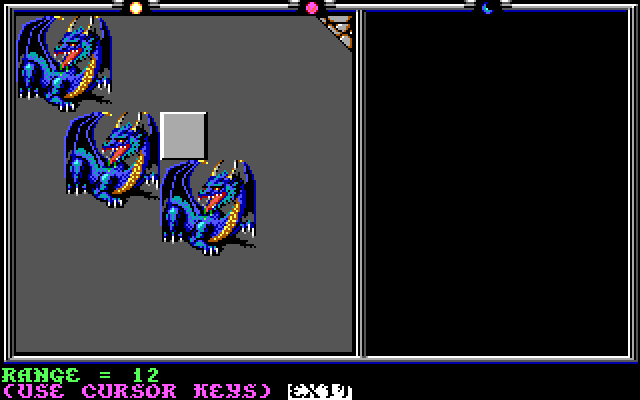 After a trivial fight against the human guards, we get a more dangerous fight against three blue dragons. They've got a wide open field for them to target their lightning breath, and although the dragonlance helps we still have to watch out for these guys. They're going to cause some damage no matter what you do.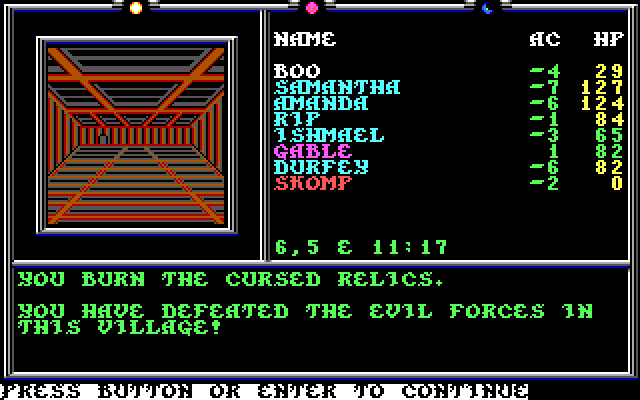 Clearing this fight sends the enemy packing, but we're not quite done here...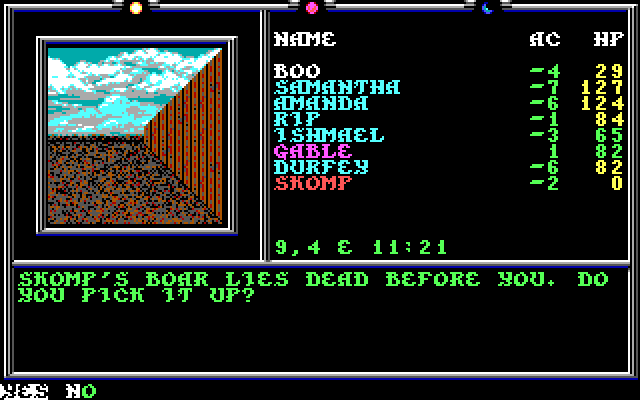 "Umm.. Skomp, we found your boa… crap, would somebody wake him up?"

"Got it."

"…."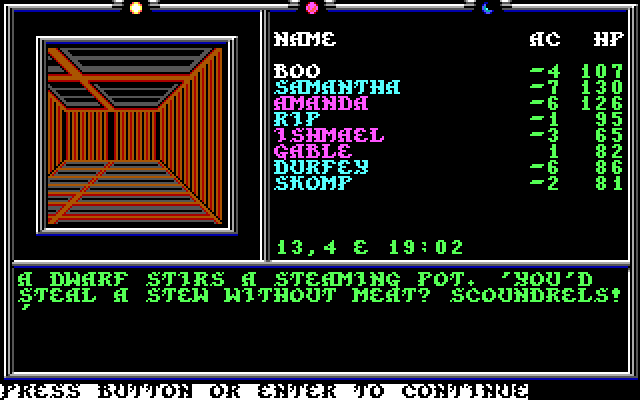 "Er… Skomp? This guy's eying up your…"

"It's already in the pot. He should have spoken up sooner."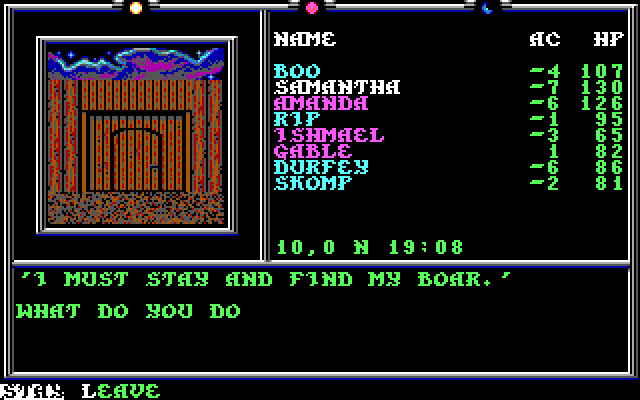 "You just keep looking. We'll go ahead and deal with Lord Soth."
Character Update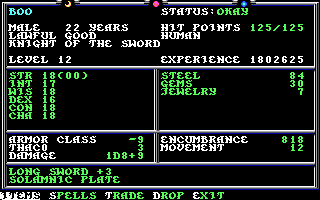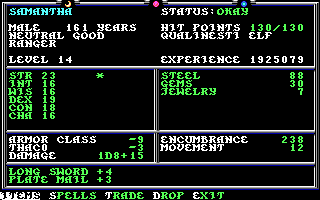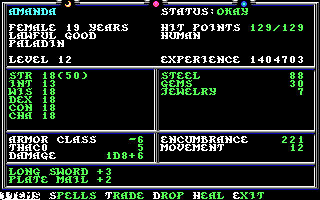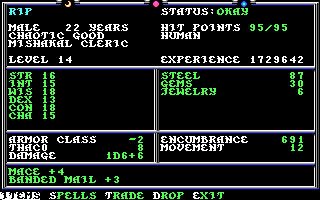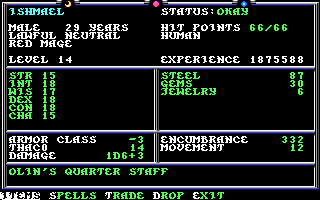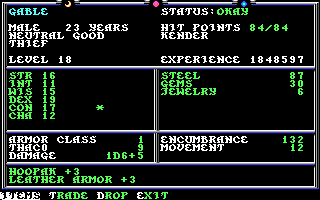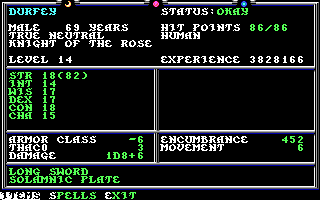 Boo and Amanda continue to march in lock-step, with the other four members of our party having reached maximum level at this point. It's kind of funny that our two fighters are the ones lagging behind. We're also reading pretty insane levels for AC, with our front line fighters being incredibly difficult to hit at this point. The only one with a positive AC at this point is Gable, and that's mainly due to him being stuck in leather armor.