Part 30: Chapter Thirty: All your herbs belongs to me
quote:
If you had arrived first and you pulled this on them, they most likely wouldn't have accepted it. So why should you accept the same? This is public ground. You want to have all the 'wild' herbs, gather the seeds/stems/etc and plant a garden.
No one at all picked option one…so I will go with that option in the second playthrough.
---------------------------------------------------------------
Part Thirty: All your herbs belongs to me
---------------------------------------------------------------
Music:
Battle Theme Two

This forest is public, thus the herbs are public resources, and you are no different than a bandit!




Bandit!? You called me a bandit!?




What if I did?




No one has ever dared to insult me, Hard Light Heroic (Gong Guangjie), since the day I was born! You must have eaten a bear or leopard gallbladder to have the guts to say that! Come, my servants! Beat him to up!
Note: Yeah, that's his name, I don't know how to translate that…maybe I will call him Hard Gong for the belly joke. Doooooong~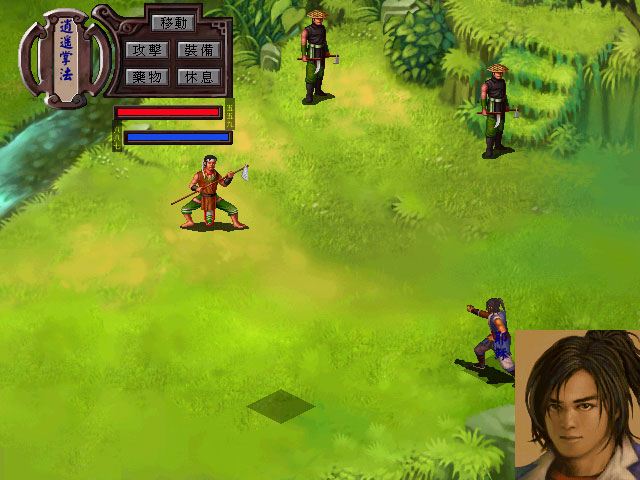 The Young master of the Hundred Herbs Sect and his goons versus Jesus in a three on one battle.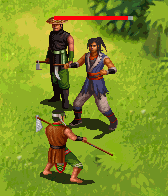 Interestingly, their kung fu is based on using herb gathering tools as weapons.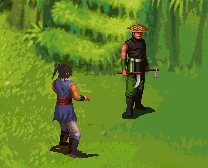 I forgot to mention that using a 100% mastery drunken fist will cost one bottle of liquor in exchange for a boost to damage.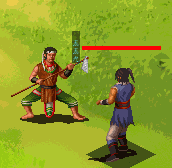 Battle experience: I hope you are plowing the earth instead of using a hoe as a weapon. Seriously.
Kung Fu Knowledge: Actually, planting your seeds and water them with enemy blood! Brilliant!

All battle stats increased
Your reputation increased




Da~~mn! To have met such a bandit! You got us, we will leave!




Who's the bandit! Don't confuse the situation!

You gain a lot of random herbs.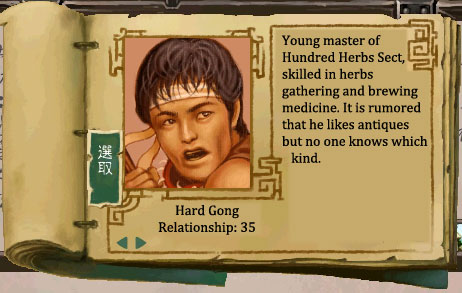 One more enemy on the list until we improve the relationship, but antiques are expensive… so I will leave it like that and let you see the effect of having an enemy.

The Forest has so much to offer~

Lady Chi!




Don't scare me like that!




You seemed to be deep in thoughts. What are you pondering?




I've been training the Janken Fist with dad for such a long time, but I completely lost to a little kid!




Don't feel bad, Mister Chi said the Janken Fist is not something that can be mastered by anyone, including himself. You shouldn't feel too bad about it.




Forget it, how about you play Janken with me?




1) Sure
2) No way

Let's see, waste a turn playing Janken with a girl or waste a turn not playing Janken with a girl…




Janken? Sure! I was just planning to do some exercise.

1) Scissor
2) Rock
3) Paper


The choice is random, so it is all down to luck again.


>>Choose Paper




I play scissor…ha...you lose…wow! I won! I won! I finally won!
Probably the only event in the game where bad luck gives good result.

Looks like you have talent.




Hm, I have regained some confidence, thank you Jesus. Now I'll go back to practice some more.

Relationship with Chi Li increased.




Now it's time to pay a visit to the smug looking painter.




Lalala! Blue sky, white clouds, green mountains, clear water, so relaxing~~~Eh! There seems to be a tiger in that house! Oh no, the people in there are in trouble! I better shoot that tiger!




This shot must succeed…otherwise I am done for…




Hold it, don't shoot! That's not a real tiger!




Not a real tiger!?




Indeed, if you don't believe me, take a closer look.




Oh it's just a painting, it sure scared me.




This is the masterpiece that took me three months to complete.
No, not three years.

Amazing work Mr.Qing, it looks so real and alive!




Hahaha, thanks for the praise. Since you have come, how about I show you some tricks and we paint something for each other as a gift?




That's a nice idea.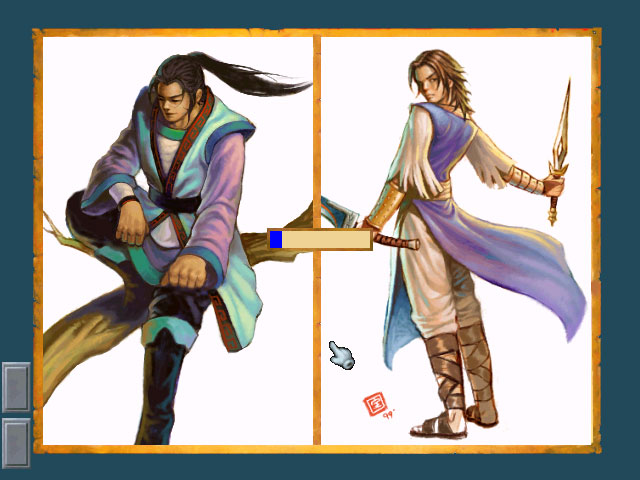 The painting mini-game begins. Memorize this picture of your schoolbrothers.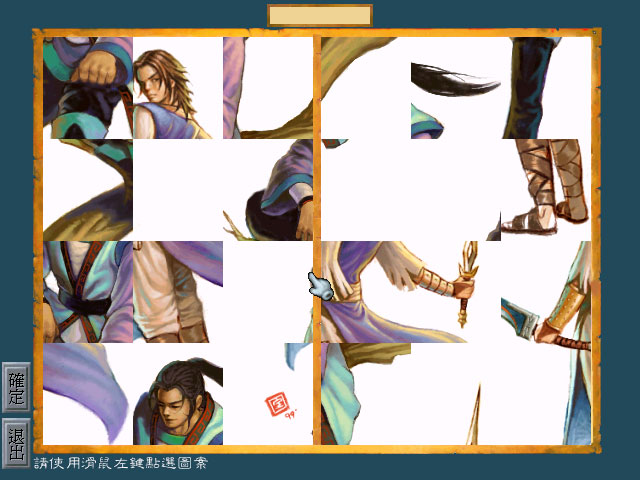 Now piece them back together within time limit…ahh, so much easier than explaining xiangqi.

Not bad pal, you have talent. If you work hard, you will become a master artist.




You lose, drink up! Thanks for the praise.




Time sure flies by, it's time for me to practice kung fu.




Eh? You know kung fu?




It's just some basic workout for strengthening my body.




Then I won't bother you any further, see you next time.

Your art skill increased
Your mood improved
Your relationship with Painter Qing increased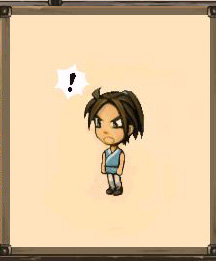 Year Two Early September at the Valley Entrance




Eh, ain't you Little Kung? What brings you here to carefree valley?




Why are you here, Jesus?




Long story, I got poisoned in Luoyang, but was saved by master Flawless and I ended up joining the carefree sect.




Looks like your had a reversal of fortune. To be able to be an apprentice of Master Flawless means you will be exceptional in the future.




Thanks for the compliment, but what are you coming here for?




Ah, I almost forgot! I am here to deliver this invitation for my father's 50th birthday next month. He wants to invite Master Flawless to the celebration.




I see, in that case, I will escort you to my master now.




Thanks.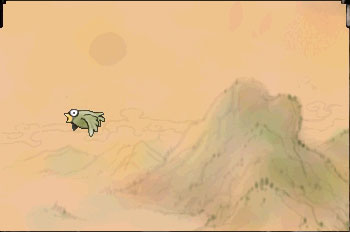 The bird follows the blue haired boy, thinking it would be an attractive nest.




Father insists that you come.




Hahaha! I am too old to move around, but we of the carefree sect will definitely come.




Yes, sir.




Time to visit Moon bro!




Schoolbrother, how is your kung fu progressing? If you have a problem, I can give you some instruction while I am in the mood.




The truth is, things haven't gone too smoothly lately, so I hope bro can solve my dilemma.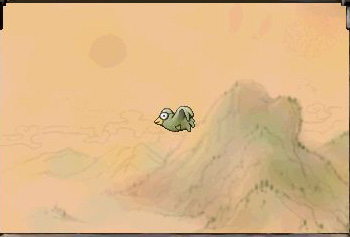 Moon instructs Jesus in the way of gentlemanly slapping.




Hm, you are awesome bro! With your guidance I suddenly understand so many things. Thanks!




Huhuhu, no problem, we will practice again when you get stronger.

Your Fist/Palm stat increased by 5, it is now 50.
I could have done the battle grind to master it, but just for the sake of showing you that this is basically what you get for visiting schoolbrothers. When Jesus practice it at a higher skill level, the stat gains closer to 3-2 instead, but Moon only teach fish/palm and Thorn teach sword and saber.

Now to visit Master Flawless again.

Ha! Ha! Ha! Today have liquor, today drunk!




Look at your savage state. It is as if you haven't had any liquor for the past ten years.




I won't be able to drink this carefree valley specialty pear cider for the next ten years!




The pear tree in this valley takes ten long years to bear fruit. Although they taste bad raw, the pears release an unrivaled fragrance when turned into cider. To chuck such a rarity down your belly like a cheap swill is a total waste.




All the alcohol in the world is proud to be in my belly. How can it be a waste? You're just afraid I'll drink it all and won't leave you any.




Ha! Ha! Ha! Have mercy on your mouth and leave some for me to savor slowly!




Very well! I have four bottles of pear ciders, and I must have at least one myself. I will ask your student three questions. If he gets one correct, I will leave one bottle for you, otherwise the game's over and anything left goes into my belly!




Master, I will answer carefully.




Here's the question!
Pear cider, Ffassbrause, plum jerkum, and perry, which one is not a cider?
Note: The answer is impossible to guess in English, so I've made an altered version.

Obviously Ffassbrause is not a cider!



Your relationship with master flawless increased.




So you saved a bottle. Next!
Wolfberry Liquor, Red Flower Liquor, Horse Milk Liquor, and Ginseng Liquor, which one is not a herbal liquor?






Horse milk liquor is made with horse milk, so it can't have any herbal effect.



Your relationship with master flawless increased.




Very good! Little kiddy knows a lot. So you want to make me lose my drink? Here's a harder question, Kaoliang. Wuliangye, Maotai, Fenjiu, which one do I like?

See what I mean? And hey that's cheating!

My guess is Maotai for it's pure and lingering fragrance. Did I guess right?

Your relationship with master flawless increased.




You even guessed this correctly! Fine, I always keep my word, so I'll just have to enjoy this one bottle slowly!

Let's see who we will meet in the forest.

Lady Chi, what are you doing here all alone?




My dad is sick, so I came to pick some herbs to relieve his symptoms.




I happen to have some medical skill. How about I go take a look at him. Maybe I can help him.




Great! Please do, Mister Jesus.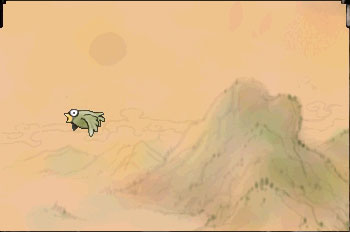 The bird follows them to Luoyang.

Dad, Jesus of Carefree Valley has come to examine you.




[Sigh], it's no use, my sickness stems from an internal wound that can't be cured by any normal medical procedure.




Did you hurt yourself during training?




No. [Sigh]…it's a long story. Ten years ago I prevented a scheme of the Eight Trigrams Sect. Since they couldn't just start a fight in the public he just gave me a pat and left. I didn't make anything of it at the time, but that guy inserted a small amount of chi with his Eight Trigram Palm. It causes me more and more pain every training session I do. Over ten years this Eight Trigram Palm has gradually moved to my heart and now I probably have half a year left to live.




This person is so wicked! Is there no way to cure you?




There is, but creating this medicine requires Cornu Saigae Tataricae, Musk, Carapax Trionycis, and a person with 70 medical skill, so I don't have much hope.
We got one of them from kicking Hard Gong's ass, but all of them can be found in shop or in the wild.

Don't worry, I will find you the cure.




Really?




That's right! Wait for my good news!
Note: October, the coming month, is the last chance we have to
visit
and save him, and yes, we can just about make it if we
hold off
training/other
Awesome
things/
Awesome
events for for a long time and start grinding for it right away. It is now or never.
You guys decide if he's worth it or not with
comment based voting
as usual, but this time you have to comment
in an devil/evil perspective.
Example: "I prefer to see him continue suffering the shame of doing those stupid stage performances."
Potential Avatar of the Day

If you are liquor, get in my belly!