Part 52: The Wish
Video- "Chapter 12 Intro"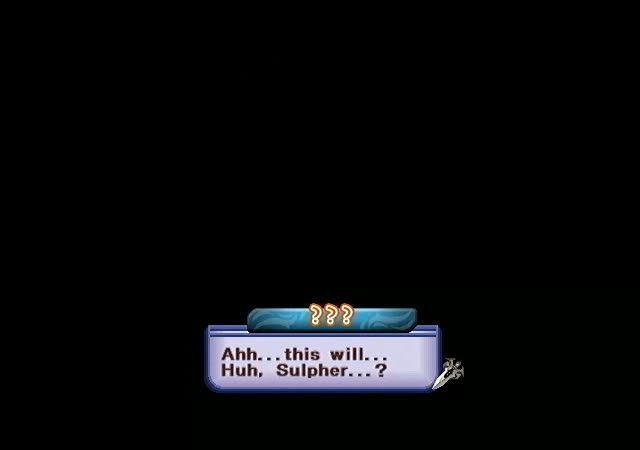 Watch the Intro
???:
That's right, I'm sorry. I forgot about you…
You'll be all alone again…
But, please forgive me… I've…finally…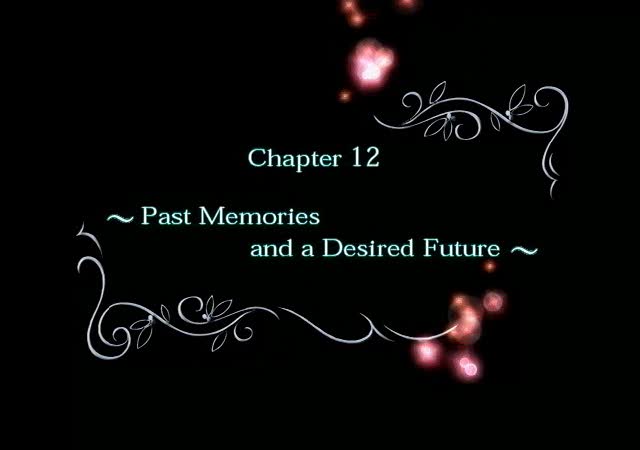 After the fight, we all ended up in the Principal's office.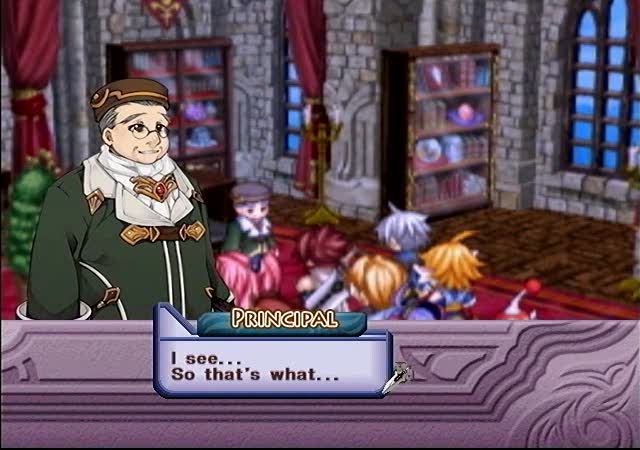 Hey, Supreme Ruler, you should know this, but…

It wasn't Vayne's fault. She was the one who insisted on fighting.

Hmm… I'm sure that's the case this time… But…

Principal!
Isolde is not in stable condition. She just needs some rest.

Ah, that's good to hear.

She's okay? I'm glad…

Mr. Zeppel! Tell him!

Please. Vayne isn't…

Mr. Zeppel…

Eep…

…!

Uh, well… I'm really busy right now. Please excuse me!
It hurts, being abandoned by people. I'm just glad the others are here.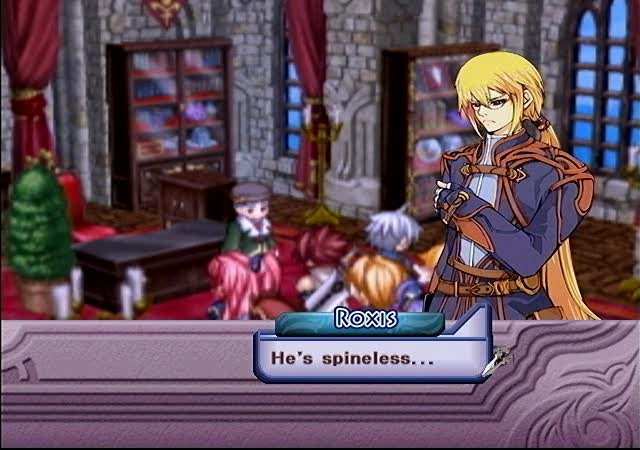 Coward!

Oh Zeppel, you never change.

Ahem… Well, you can all go home for today.
As for your disciplinary action, I will discuss it at the next staff meeting.

What do you mean, 'disciplinary action'!?

And the way you said it… Is it only against Vayne!?

Why? We're just as responsible!

Ehem, that was just a figure of speech. Either way, just go!
We all returned to the workshop.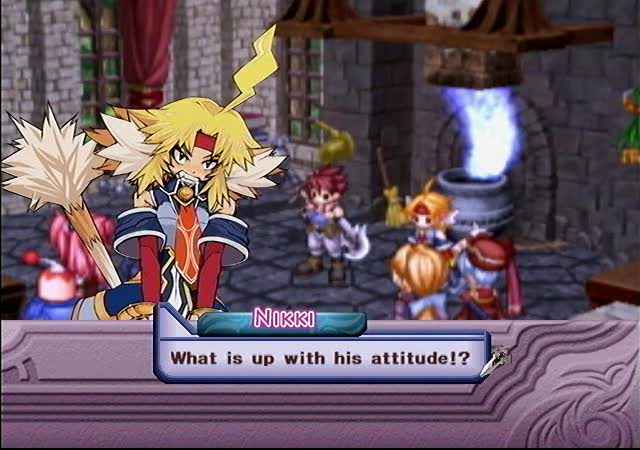 Even Mr. Zeppel turned his back on us…

I can't deny that I understand how he feels.

Why are you saying that!?

He was a normal student for 3 years, and now all of a sudden he's a Mana.
Not to mention, he has unimaginable power.

But either way, Vayne is still Vayne, right?

He said he was going to take action… I wonder what he's planning to do.

Could it be like, being expelled…?

Expulsion won't solve the underlying problem here.

Geez! Why are you saying such mean things!?

I think we al need to face the facts.


I'm just glad Ms. Isolde is gonna be alright.

I guess… But when she recovers, she might come back for Vayne, again…

Hmm, I hope not…

The only purpose this serves is to depress us.

I'm sure everyone must be tired… We should all get some rest.

Yeah…I'm sleepy.

Good night, Vayne.

Stop moping so much. You're making us all sad, too.
I almost considered just leaving for a while.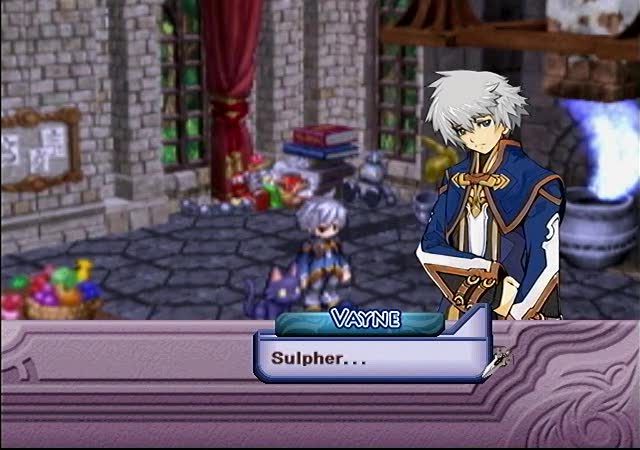 Theofratus and that lady were lovers. I've met her a few times before.

I see…

But, I didn't think she was that attached. I don't understand human women…

Yeah…but why? Are my powers really that dangerous…?
Um, Sulpher.

What?

Should I… Would it be better if I left…?

If you feel that way, then it would be.


I wouldn't mind leaving right away. One cat isn't too much luggage, is it?

…Thanks.
Having the option just felt better to me. Still, I certainly wasn't going to leave without saying goodbye. I went down to the classrooms, but the rumors had already spread by then.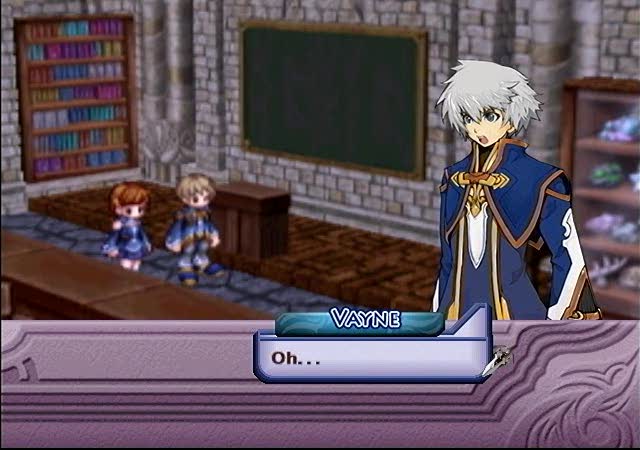 Looks like the rumors have spread.

Um…
Riggs:

…Let's go.

Are you sure?

Yeah, I don't see the others…
And then I passed by one of the faculty rooms. Now I know how Muppy felt earlier…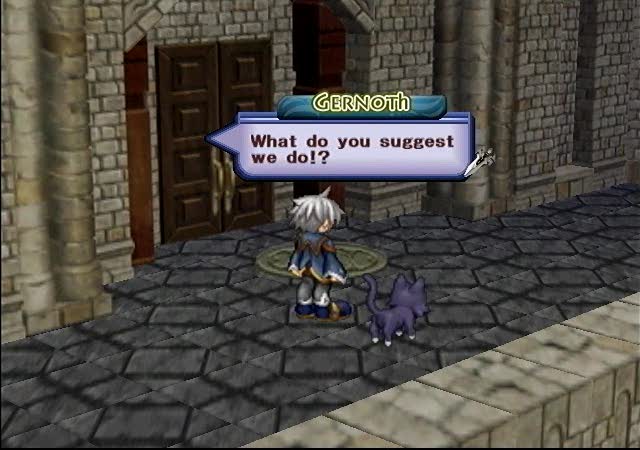 I'm not quite sure…
Agsam:
Expel him immediately. Who knows when we might end up like Ms. Isolde…

There was fault on Ms. Isolde's part as well.
Gernoth:
But if he causes any trouble, it'll be our responsibility…

And you call yourselves teachers!? Shame on you!

Just, calm down… We cannot deny the danger that he poses…

You want we should punish a student because he MIGHT be dangerous?
Agsam:
If he were a normal student, we shouldn't have to.

Gentlemen… Principal! Your irresponsibility shames our faculty…

Ahh, j-just calm down…

*sigh * (…I'll just go to the workshop.)
(…Someone might be back by now…)
Everyone was still resting, though, which made me realize how damned tired I am…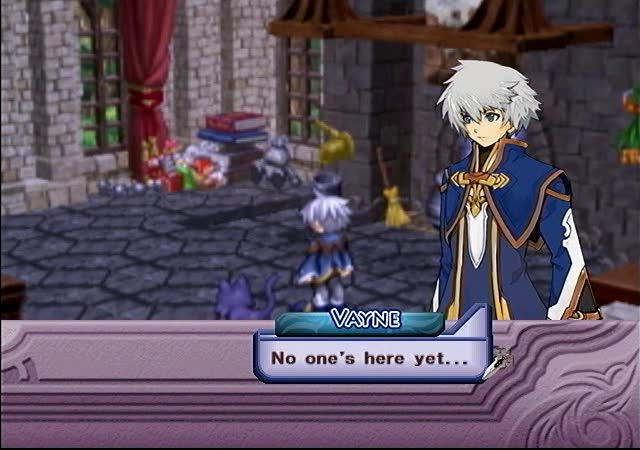 Rest up. You look pale.

Yeah… A lot happened today.

Don't think too hard. You look sad enough already.

You're so mean.
I understand now.
Video- "The Wish"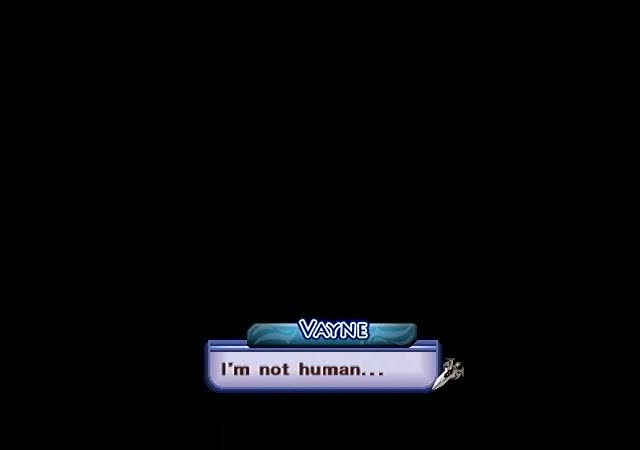 Watch Things Get Worse

I'm just a Mana, created by Dad… By Theofratus…
A Mana who has the power to grant wishes…
The power to even bring people back from death…
That's why Ms. Isolde… Tried to…
But… I still haven't… Don't anything… And…

Sounds like you still don't understand yourself.

That voice…!?
I understand what that voice has been.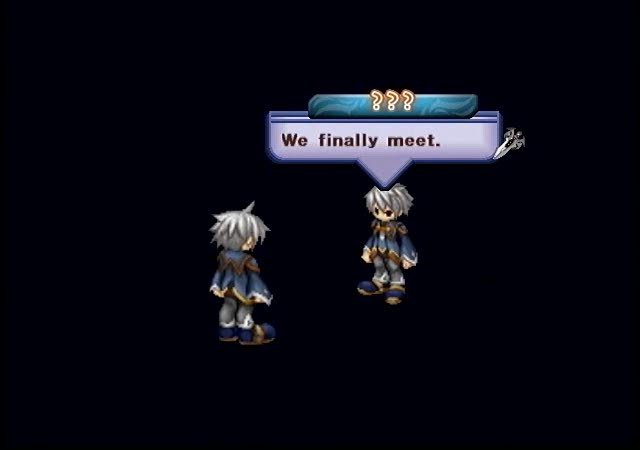 Who are you? Why do you look like…me?

I'm the power inside of you… I guess.
There's an extra persona on top of it, but maybe you wished for that, too.

You're the one who made me use those powers…?

No, that's wrong. You were the one who called for me.
When you wanted power, I was summoned. You triggered it.

I called for you? But, what about now?

You wanted to know why that teacher tried to eliminate you.
So I thought I might tell you.

…You know why?

Of course, and so do you. You just conveniently forgot. Just remember.

Remember…?

Theofratus' wish. The reason why he made you…
And I know why I was created.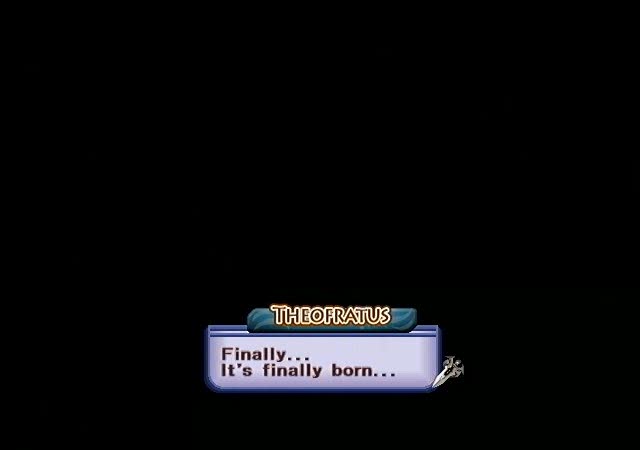 Theofratus:
My wish… This will grant me my wish…
Don't you understand what I want…? Don't you know what I desire…?
…Now!!
I mean how could I be mad at her for wanting me dead after what I've done?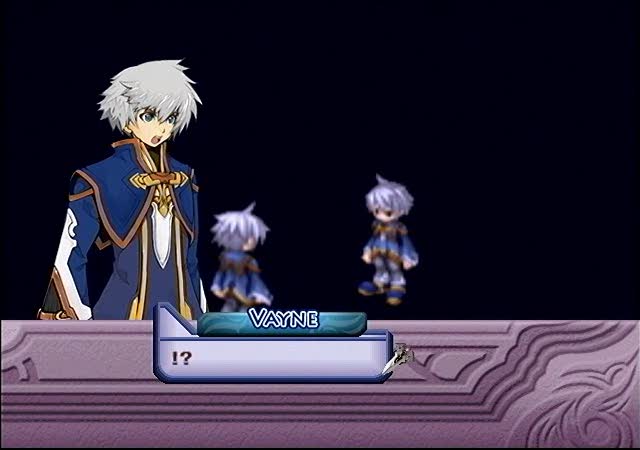 That's right… Dad wanted…

Theofratus had deeply regretted his own sin for taking the girl's life.
He cursed his own nearly immortal body for the life he stole…

Yes… That's why Dad wished to die…

Haha… Hahahaha…

I…killed…Dad…
Elsewhere...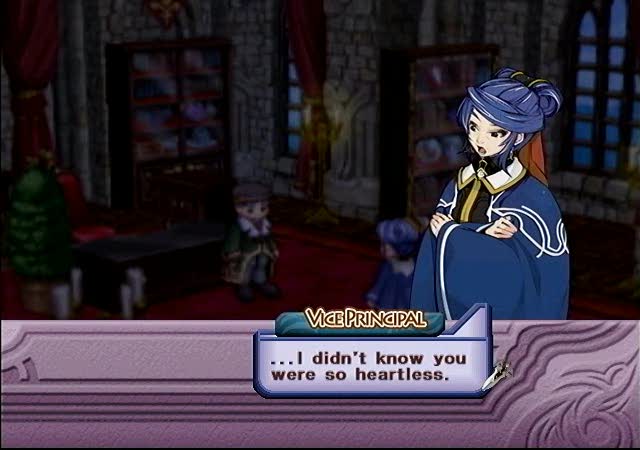 Stop saying that… I'm responsible for protecting every student here.

That's right, every student. You can't leave anyone out.

I know what you're saying, but there's a limit to what I can do…

Get a hold of yourself. You're the principal.

Hrmm…
Hm…?

What is it now?

What…is that…?
Nobody was in yet when I got in this morning. At first I thought it was just the early hour.

No one's here…
Maybe that's a good thing. At least for today…

Vayne!

Oh…
Jess…

There you are! Come on, hurry!

Wait. Huh, what…?
As it turned out, though, something had happened during the night.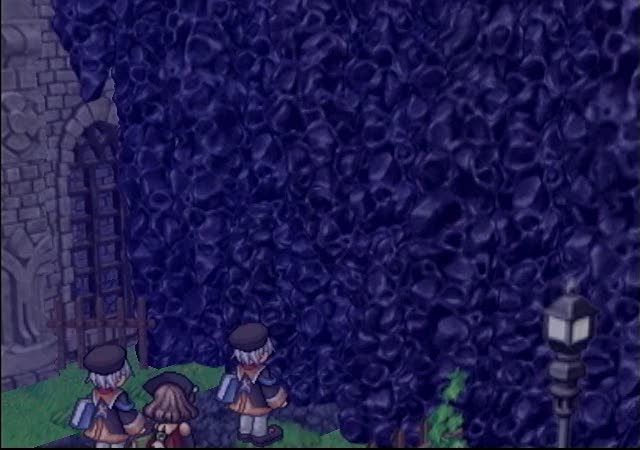 This is…

It appeared out of nowhere this morning. The entire school is panicking.

Out of nowhere…? Oh… I see…

Vayne?
Gernoth:
It's no use. I can't even scratch it.
Agsam:
We couldn't make contact with the other side, either.
Gernoth:
At this rate…

Sounds like there's some sort of problem.

Yeah.

We need to find everyone else…

Or have them find you.

There's so much panic…

Yeah. Even Flaya seems a little excited…

Heh heh heh. A mysterious space dome… Alchemists who fight for justice…
Sounds like an exciting situation to me.

Even you couldn't pass through it, Pamela?

It didn't work. It hurt pretty bad when my head hit the wall.

I wonder what's going on? I hear something.

Supposedly, they found some sort of entrance over there.

Roxis…
I don't know what I'd do without them, they weren't even bringing up the obvious. I don't know how, but this is definitely my fault.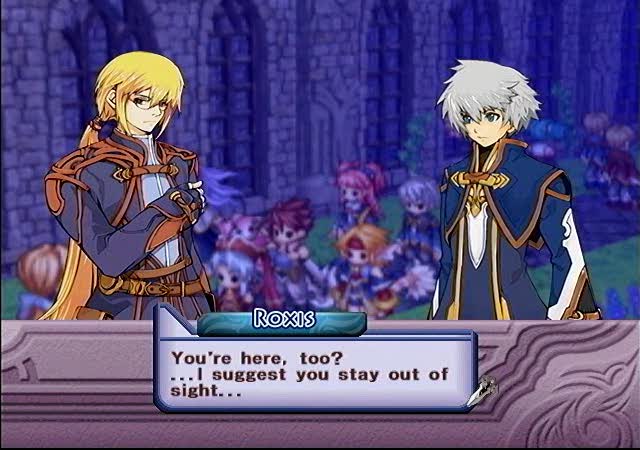 Why?
Whisper:
I bet he did this.

!

Wha…hey! Who just said that!?
Whisper:
What the hell man…? We were so close to graduating, too…
Whisper:
I swear, why'd he get us involved…?
What's he trying to get out of this anyway?
Whisper:
Oh man! What if we end up like Ms. Isolde?
Whisper:
Hey! Stop it…

…Excuse me! Don't you think it's rude to whisper such things!?

Anna…

But!

It's okay…don't worry. Roxis, can you tell me where the entrance is?

…I'll take you to it.

I didn't mean for this…
The teachers were gathered near the entrance, trying to decide who was going in.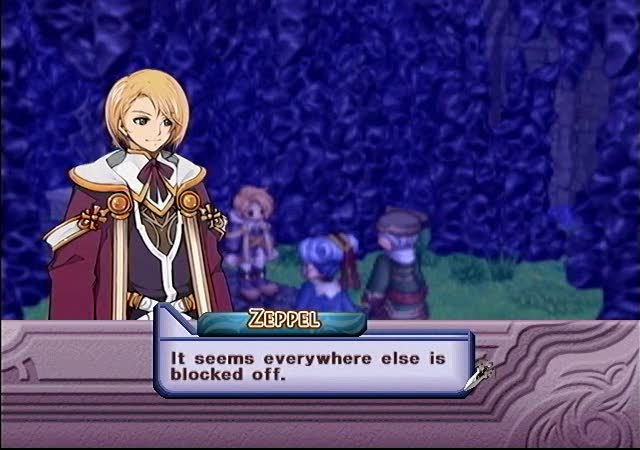 Then only choice is to investigate from inside.

Urmm… But the danger…

Danger or no, it's the only way.

Y-you're right… Mr. Zeppel, can we trust you to…?

Whaaa? M-me? I-I can't allow myself to steal your glory, Principal.

W-well, I… You know, I'm old…

Your excuses are worse than gypsy lawyer's! In front of students, no less.

Principal.

Oh, it's you guys…

I'll go in…

Ah, great! Oh, I-I-I mean… You know…

Vayne…?

What are you saying!? That was sudden
I don't know exactly what is going on, but I know only I can put an end to it.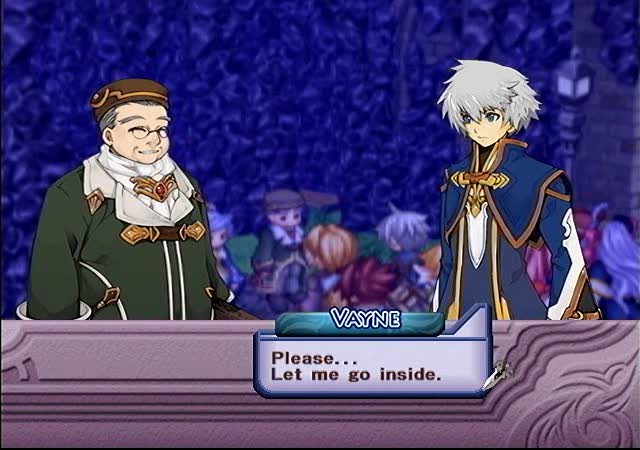 No. This is a teacher's job. Students must remain safe.

But, I have to go. This is…

But…

Never fear. I'll be there to protect him.

If Vayne's going, then I'm going.

Fine… I'll come, too.

Please, let me join you as well.

You can't just leave me behind.

Everyone…

All of you…? Fine then.

Vice Principal…

However, if you feel endangered, you must return immediately.
We will continue to investigate from out here. Now…

Are you sure about this?

Don't slack around! Were you going to make your students do all the work!?

Thank you, everyone. But it will be really dangerous, so…

There's a reason for this, isn't there?

How did…?

Your face is too easy to read.

We'll interrogate you once we're inside.

Now, let's go.

…Okay.
We scouted out the entrance, the inside was much larger than it appeared from outside.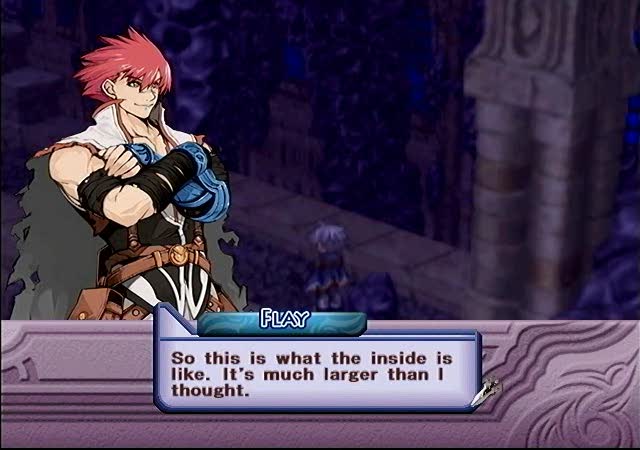 Okay. No one can hear us now.

This is probably… No, for sure, it's my own creation.

Well, that part was obvious.

Why did you make it?

…I didn't mean to make something like this.

That wasn't why she asked.


So, uh, we can take care of this thing, right?

Yes, we should be able to make it go away.
Because… It's somewhere in here…