Part 55: One Light in the Darkness
The path to the end of things was opened up, it was time to finish this.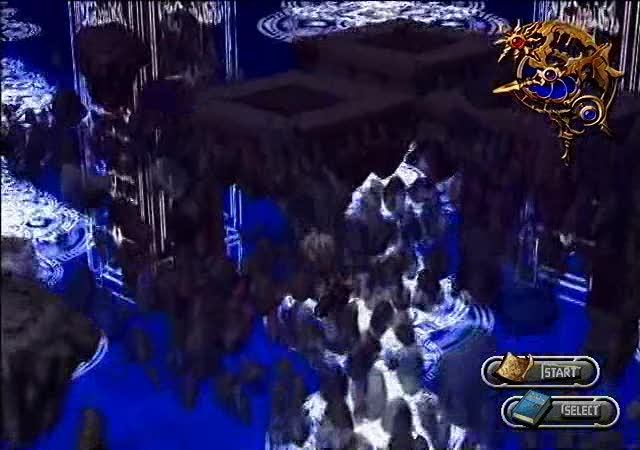 Professor Feinne's Alchemy 400: The Final Path
I included a screenshot so you can see some of what this last area looks like. It's a bit long and boring to watch a video of it, but I could provide one if asked. Anyway, this part of the game sucks. There's a lot of enemies (though you can probably sword slash about half of them) and it's long enough that you are basically guaranteed to have it turn night in the middle. I strongly suggest you just wait the night out because there are plenty of safe spots to do so. The chests are full of awesome healing items that certainly don't hurt, so grab them. There are two save points, though only the last is really necessary. If you've got Treasure Capes those could really help, since they let you just walk through the enemies.
We reached the core of the object, and as I'd feared that's where he… I was waiting.
Video- "The Other Vayne"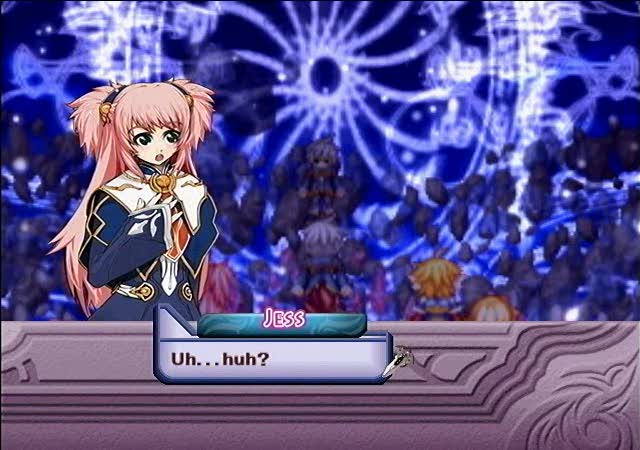 Watch Things Begin

Another…Vayne?

You're late. I was getting worried that you might not come.

As I thought… You were here.

But, why'd you bring all this company? I was about to grant your wish.

…I didn't wish for something like this.

No, I'm pretty sure that you did.

I just…just…

Wanted to be alone?


Who is this person? Why does he look so mean?

Well, he does have Vayne's face…

I'm talking about his aura… his mood.

I don't have any evidence, but I assume he's an enemy.

If we can beat him, this should all go away.

Everyone…
That's when I realized I'd put everyone in danger by letting them come here.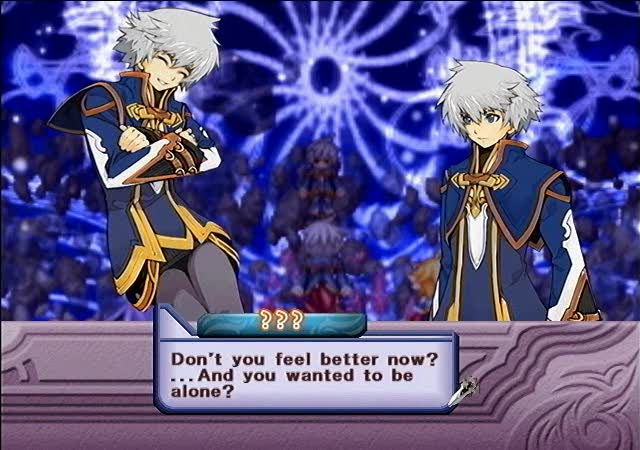 No, what I…

Your power is very honest. It will bend reality around your wish.
You thought that you wanted to disappear from this world, alone. But…
Deep down, you wished to disappear with the school. …With everybody else.

Disappear? That's rubbish.

Why would Vayne think that?

No way. It's impossible.

Good friends. Won't it be sad, leaving all your friends behind?
Good for you. Your wish will be granted. Now you will be together forever.

Everyone… Hurry, get out of here!

Vayne…?

That's impossible. Because you wished for it, it will come true.

But, I still…!

Calm down! Don't be fooled by this.

I still have control… But I'm confused… That's why, hurry…

I still don't understand.

Vayne… You wanted to disappear?
My own fears that I was dangerous were creating the very danger that I feared.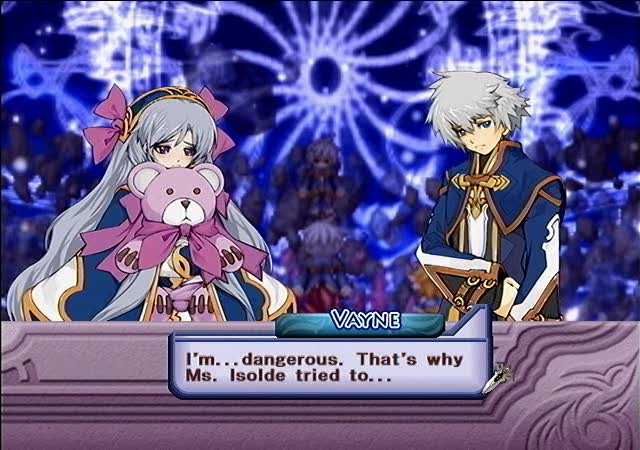 Vayne, you…

I remembered. I…killed my Dad…

What…?

Dad…? You mean Theofratus? But, why?

That's what he wished… It's not something you should feel guilty about.

If I wish…people can die. That's the kind of power I have.
That's why I…can't be here. That's why I want to…disappear.

But being alone is too lonely, so with everyone else, right?


Is that true? Vayne…

Yeah, that's why you're all in this situation…

I wasn't asking you!

But, if this is true… Vayne…
If you change your wish, won't this place just go away?

How can I change it? I want to disappear. But, I don't want to be alone…
To disappear alone? Is that what I should wish?

No! No one wants that!
I was in really bad shape around then. I don't remember much of it.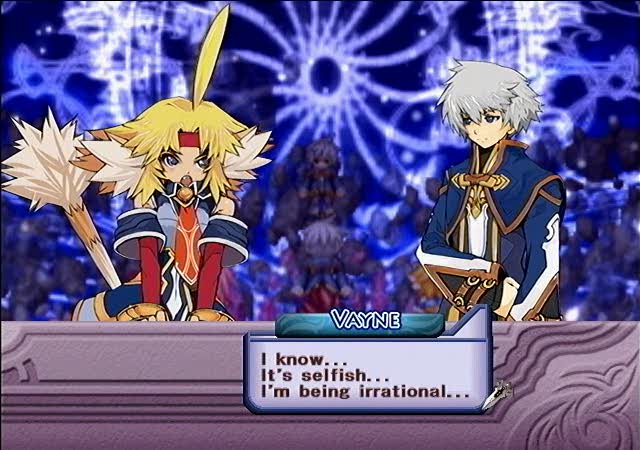 But, it's no use. It's what my heart desires…

Vayne, wait!

Get out of here. Hurry… I don't want to think anymore. Please…

Vayne!

Vayne! Look this way!

That's no longer possible. He left everything to me.

Who are you?

I, too, am Vayne. Can't you tell?


Don't believe me? I'm his power…his desire…his instinct…
Hmm… How can I sum all that up?

I don't care about you! Hurry up and turn Vayne back to normal!

Normal, you say? He wished this to happen, not me…
Hmm, this converation's going nowhere, so I guess I'll just grant his wish.
It's perfect, actually… Everyone he wants to be with is already here…

Vayne…


Can't we do anything?

Do I have to punch you to snap you out of it?

Everyone's…with me…
I even think I attacked them.
Video- "Vayne"

Watch the Battle
Boss Battle: Vayne
So here's part one of our final boss battle. We don't have Vayne, but it fortunately pops up a formation screen before the fight so we can arrange people. I sub Flay in, because Flay is actually amazing on bosses and is the only reliable way to activate the finishing burst condition to weaken enemies because he has attacks that cause debuffs. Anyway, this isn't a terribly hard fight if you keep in mind what's dangerous. Vayne will always open with a group damage attack, and will spend most of the rest of the fight hitting single people. When he gets low, he'll start using two Time Effects, the physical group attack Brieftrunks and Call Meteor. Use Roxis to Purify them and blow him up with your best attacks from everyone else.
They managed to shake me out of it, though.
Video- "The Promise"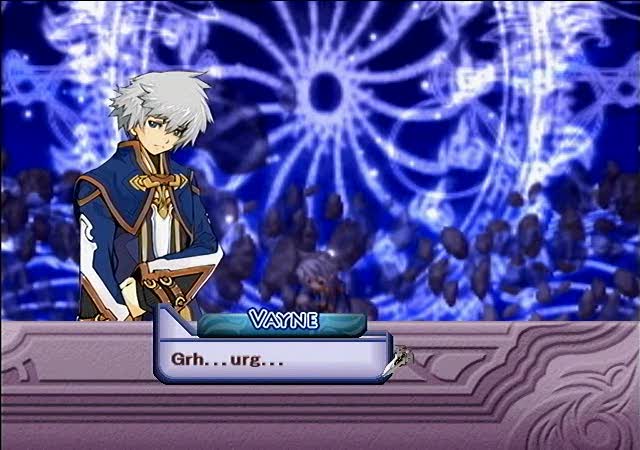 Keeping Our Promise

Vayne!

Are you okay!? Are you back to normal?

Back…? Ahh…I, hurt you…

Don't worry about it. Water under the bridge.

Are you hurt? Let me see.

No… Stay back!

Vayne…?

I'm sorry for getting you involved… I meant to disappear alone…
I didn't think… I would fight you… Try to kill you…

I said, don't worry about it. I don't normally allow people to kill my friends.

You can apologize later. Right now, we have to…

No… I can't… I have to disappear… Here, now…
I can't stay any longer…
Still, I'm sure I would have disappeared then and there if not for her.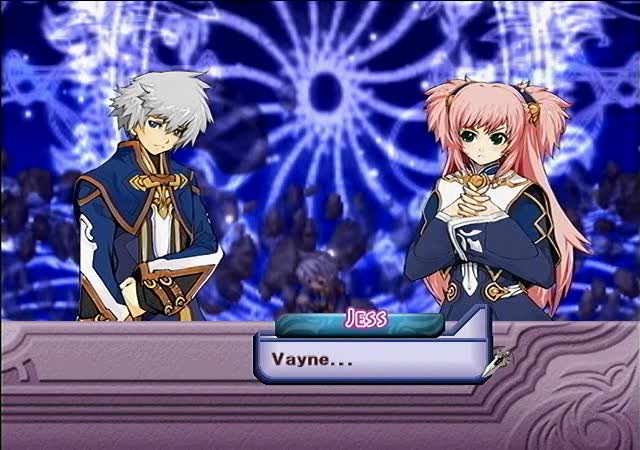 Jess…

Vayne… You're really gonna leave us?

Yeah… I'm sorry…

Why…do you have to go?

I'm dangerous… I just tried to kill you…

No! You made a promise. You said you would cure me…


Was that just a lie? Well, was it?

Ah, that's right. I remember that.

You're…!?

Why not cure her? If you wish for it, it'll come true.

If I wish…? I see. Yeah.

!?

I'll cure you right now, Jess…
It's pretty funny now that I think about it, after all I told Jess earlier that I was giving up so easily.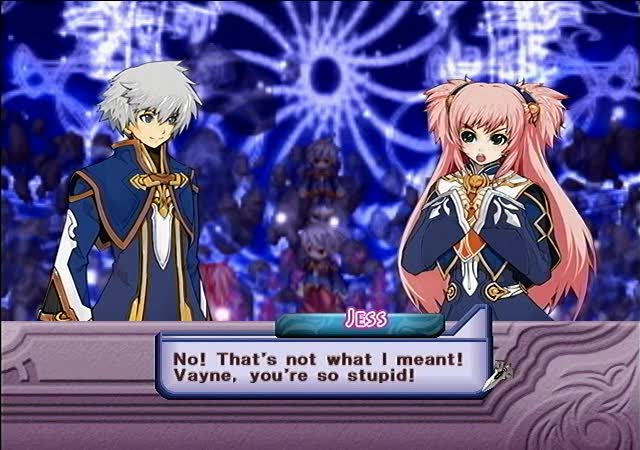 What…?

It won't mean anything if you just fix it now!
I mean, even if I'm cured, without you, it'd be meaningless…

Jess…

Ahh bah! I don't even know what I'm saying anymore. It's just not right!


You told me that if I disappeared, you wouldn't be happy, right?
Well, it's the same for me. If you disappeared, I would be sad…
That's why you can't do this!

My, my… What a selfish little girl. But I won't allow a change of heart…

!

Huh…?

Ooh, was I too late…?

Sorry… I made her a promise…
I know I want to be with Jess…with everyone…

Vayne…
I realized what my real wish was, how I could really stay with everyone.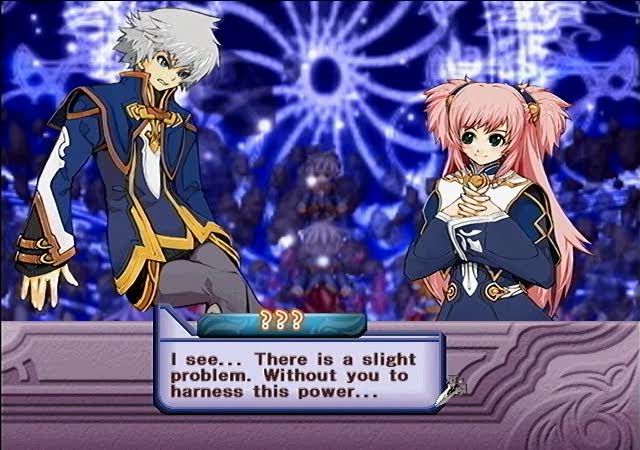 I know. But I don't want that power. I don't need it…

Okay…as long as you know the consequences.
Without a harness, the power will be out of control…

Vayne…

It'll be okay. I can at least do this…!

By yourself? Impossible.

Sulpher!

This is the last time I can help you.

…Okay!
But the power inside me wouldn't die without a fight.
Video- "The Crazed Eye"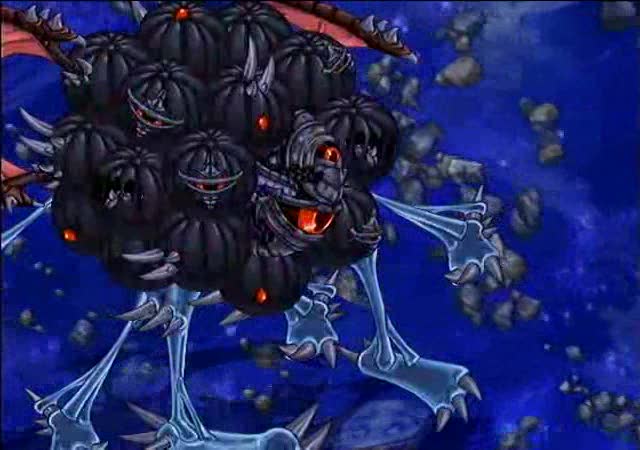 Watch the Final Battle
Final Boss: Crazed Eye
First of all we get another formation screen, you need to make sure to put Vayne back into your party if you want to use him. Actually, let's talk about your choices here:
Vayne- Vayne brings everything you need for this fight. Powerful single target from Chaos Devotion and Variable Strike, powerful group from Violent Pillar, and the ability to rush out lots of turns.
Jess- Jess is one of the weaker characters on this fight thanks to a certain mechanic but she still brings healing, strong time effects, and her awesome O-Support that hits the entire enemy group.
Nikki- Nikki is super tough and hits pretty hard, if you've got hearts to use her best moves she's always a good option.
Flay- Flay brings the defensive debuffs that allow you to activate the Hypnosis condition if you are unlucky in your Bursts, some very strong Time Effects and single target attacks, and just general awesomeness. He's weak on groups, though, and as we'll see that does matter.
Pamela- Pamela isn't as awesome as normal because of a certain mechanic that makes it dangerous for her to stay at low health the way she'd like, but she's still got awesome moves and the truly brutal low health No Bullying, as well as her incredible D-Support that can negate powerful attacks from the big guy.
Roxis- Roxis brings awesome Time Effects, the ability to clear Time Effects, and just a lot of general utility that makes him a part of any viable party in my opinion.
Anna- Anna is pretty much the best single target attacker in the game, because she's able to jump in and drop a Dancing Blade Chaos for huge Burst and then pop out and recharge and be ready to go again as soon as her time card is back up. She's also able to reduce the damage you take from elemental sources if you're hurting in the later phases of the fight.
Muppy- Muppy's defensive support would make him 100% essential in any real fight even if he didn't also have some of the best group attacks. Use him or suffer.
So, the Crazed Eye is an interesting fight because it gets progressively tougher. He himself has a lot of similar attacks to Vayne in the previous fight, but he also summons adds. The first round is a pair of Lazes, which are relatively tough. I would suggest switching to group attacks like Violent Pillar when any adds are up in this fight, because when he decides to switch phases he'll detonate any add that's still up for massive damage that you can't even use a defensive support on. He'll then summon four Despairs, which are a bit weaker individually but much more dangerous if you let them survive until they explode because of another delightful little move the boss is going to pull out around that time: Lightless World. It's a two turn ability, which mercifully lets you prepare for it. The background will change color, and until it returns to its original color nothing that makes your health go up will work. This includes revival abilities, so anyone who's down during the Lightless World will stay that way until it ends. You really don't want many Despairs up during this, because they can easily kill people. The final phase is signaled when Crazed Eye starts summoning copies of your party members. Keep your single target on the boss, because while the shadows are dangerous (they use your party members' abilities) they die with him. If a shadow survives a while it'll also be blown up by the boss, try not to still be fighting him at that point.
We gave it our all, and defeated the strongest Mana ever.
Video- "Death"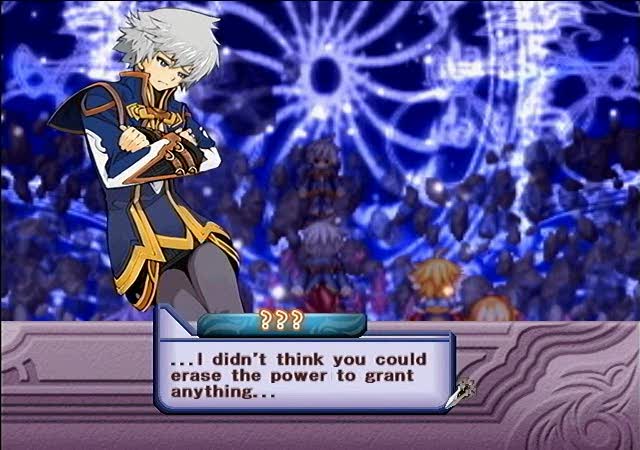 Watch the Conclusion


Don't look at me like that… This is what you wished for…

Yes… This all happened because I made a wish… Even to you…

Haha. This might just be your last wish that ever comes true…
Now hurry. You should get out of here. This place is going to…

…Let's go, Vayne.

Alright… Good bye…
We rushed from the object as it began to vanish around us.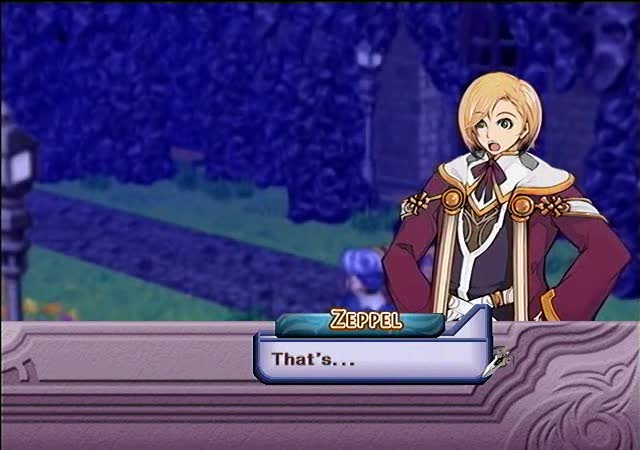 The wall… The space… It's disappearing…

Were they the ones who did this…?
*gasp * Where are they? Have they used this time to defect!?

They seem fine. See?
And soon, there was no sign it had been there at all…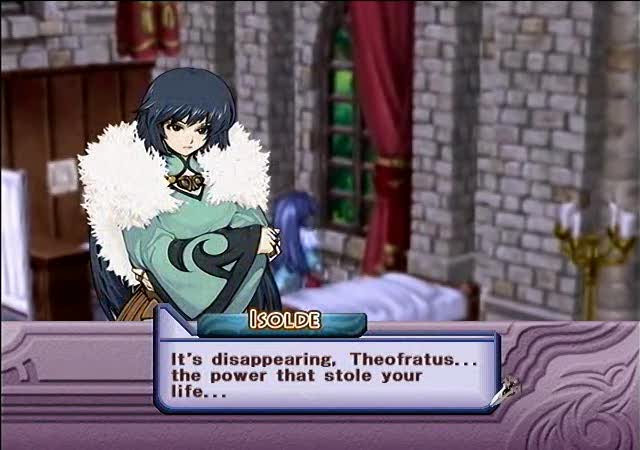 By his very own hand…