Part 4: Too close for comfort
Keeshhound posted:
Based off the LP title, does that mean that Akhmet is going to invest in some form of fortifications for his apartment? Tripmines in the stairway, sandbags along the walls, rigged shotguns etc.?

Akhmet will improve his house, eventually. But you'll have to wait and see. Though I can say that rigged shotguns aren't in his plan. Which is a shame as it's a cool idea!
Have an early update, as I'm busy over the weekend.
Too close for comfort
Intro




Akhmet seems to have Go-Go-Gadget-o eyes.

But there's no time to dwell on that, because Wifey perks up after the cutscene.

:"
What are you mumbling?
"

:"
Hey, you know, there's a bunch of bastards in Culture Hall.
"

:"
Oh! They got rifles! What shall we do?
"

:"
That's okay. I'll take care.
"

:"
You have no chance against this crowd! Don't even dare! Look at you, damn terminator! Sit here! I don't want you to be dead!
"
Geez, stop being so negative. Akhmet said he would be careful.


:"
Oh, shut up! Stove the cooker, and don't be shy, make it really hot. I need some big coals. After you finish, put it in the bucket. I will visit the Bazaar to buy some Niter.
"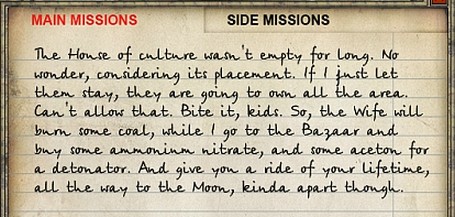 So, this is Akhmet's version of preemptive defense. Those bandits will surely try to control the area, and he doesn't want to leave his house and the loot he has gathered. So he figures the best solution would be to blow them all up....
It's actually a good idea, if you think about it. Just attacking them would be really dumb, and even if he could do it, another group would probably move in after that.
Time to visit the Bazaar and gather some ingredients.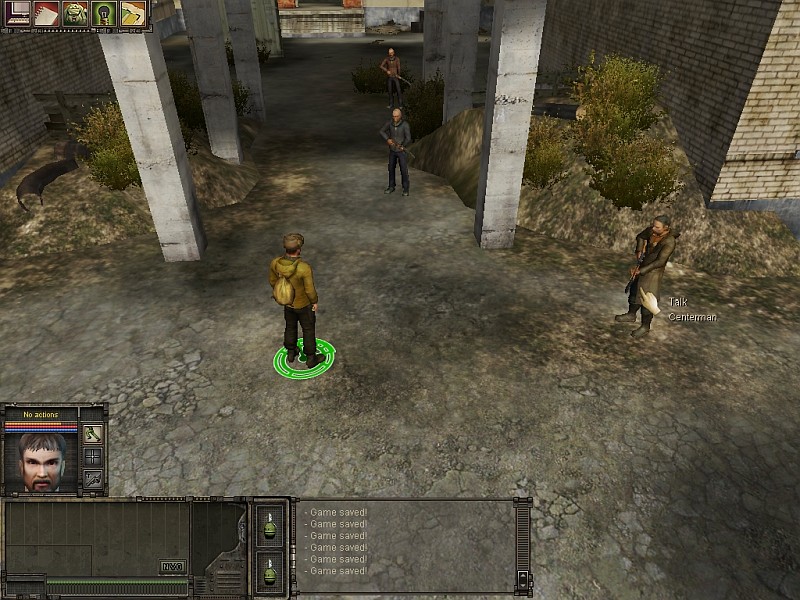 :"
What's up?
"

:"
Any news?
"

:"
Nothing good, Bearded. The shooting ceased, but that's not for the better. The most crazed bastards are down, but there are a bunch of powerful gangs on the rise. They divide the city between themselves. We don't know what to do if Fatman or the cops will fancy our market...
"
Fatman is actually the leader of the gangsters in Culture Hall. I have a feeling that he won't be a problem for much longer.
Akhmet takes a short stop at Oleg's stall.

:"
What's the news, Oleg?
"

:"
Rumors say Fatman's gang is moving into Culture Hall. Damn bastards! If they can fortify the hall, nobody but U.S army will be able to knock them out. Shit, it's close to your place, Akhmet! You better hurry and do something about it, or else...
"
Way ahead of you!
The Professor will sell Akhmet what he needs, for 50 Fives.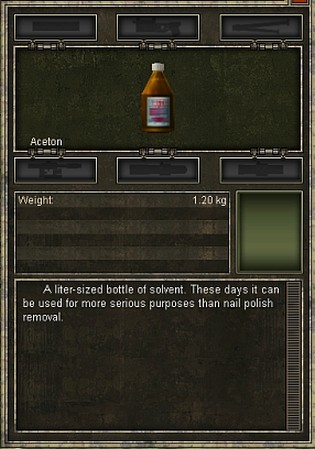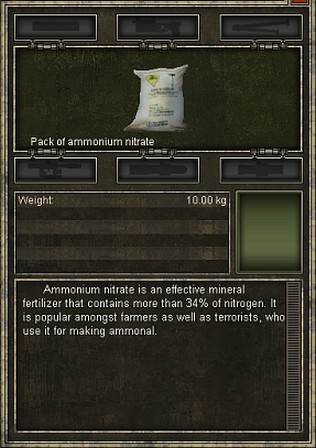 :"
That's it. To the oven now, there's still plenty of work to do.
"

Time for some cooking.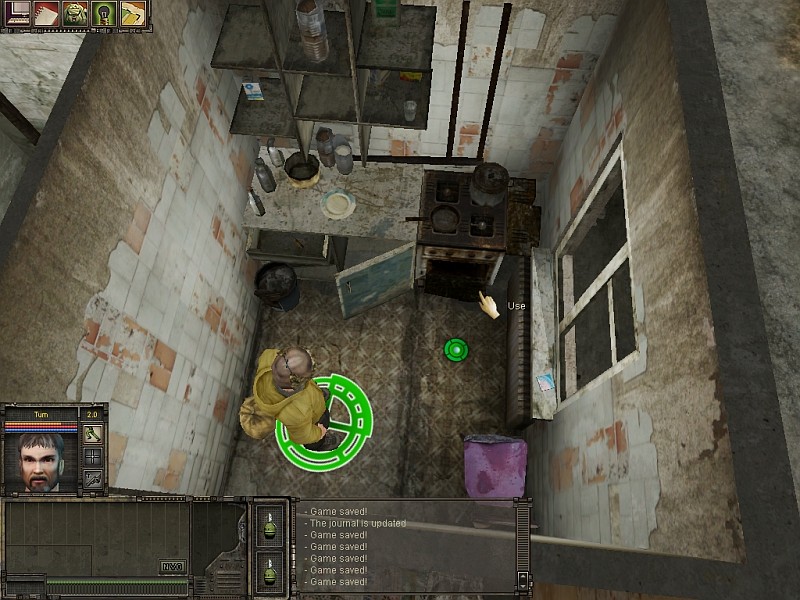 :"
Well, God help me. That's about 30 kilos, enough to wipe out everyone. Time to move. Now, how will I bring it in..?
"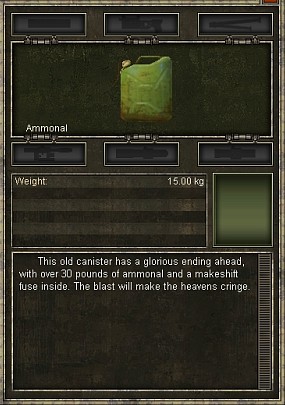 Ammonal
is pretty good stuff. Easy to make but still potent.
You can't know this in advance, but it's a good idea to bring a specialized/reduced loadout for the next map. As Akhmet said, he needs to find a way to sneak the explosives into the building. This means that you can only have guns in your backpack, otherwise they'll be discovered. I have a very special plan for the task at hand, so I'm going to stick with this loadout.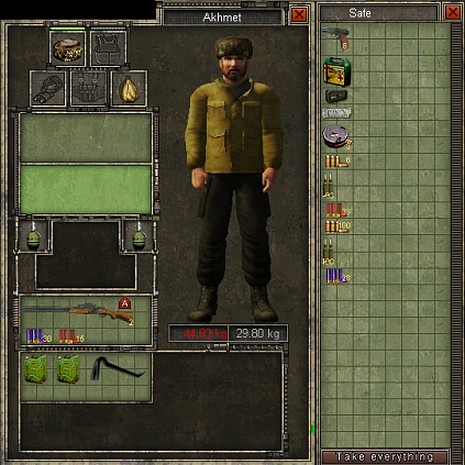 Just trust me.


:"
There's Culture Hall in front of me. If I go now there'll be no way back. - Ok, God help me.
"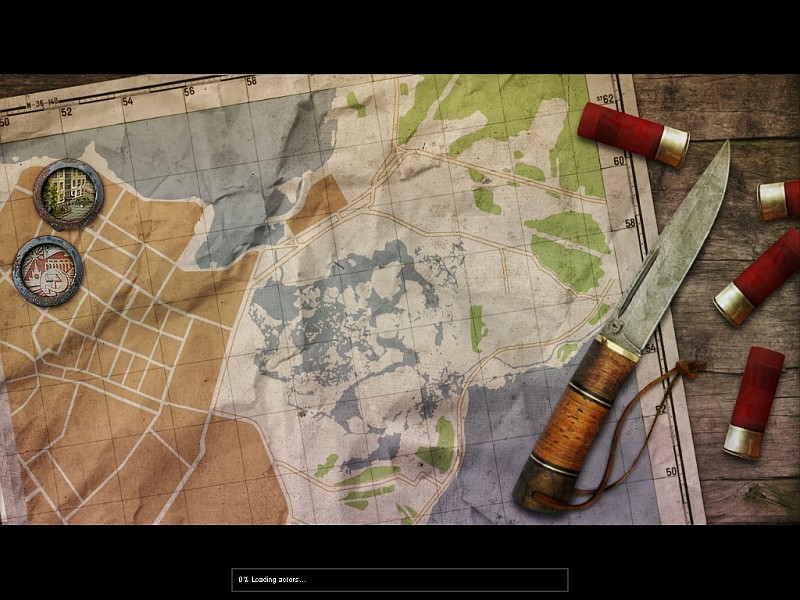 And there we are..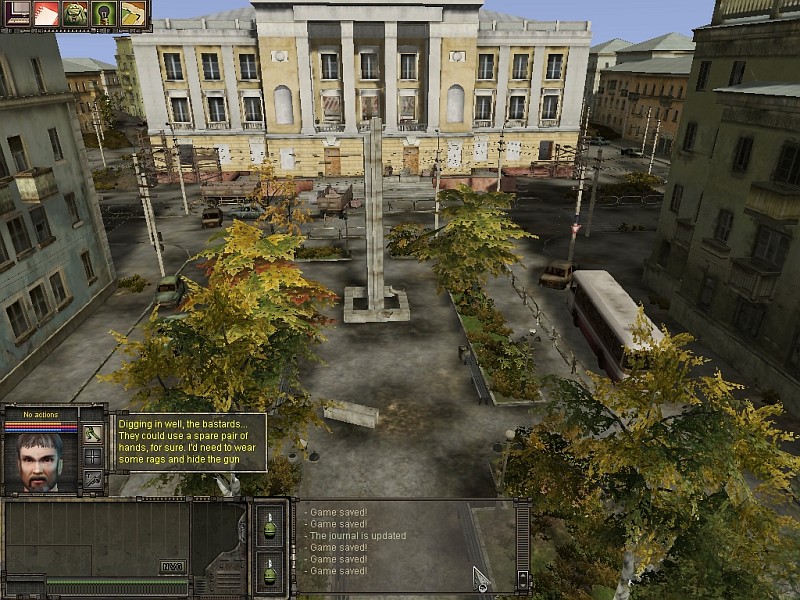 Akhmet seems to have an idea.

"Arbeiter" is German for "worker". Again, no idea why German words pop up here and there.
Now, you can solve this map in several slightly different ways. But it mostly boils down to combat or no combat. First, I quickly loot some miscellaneous items and stash them, with the Ammonal, in a nearby dumpster.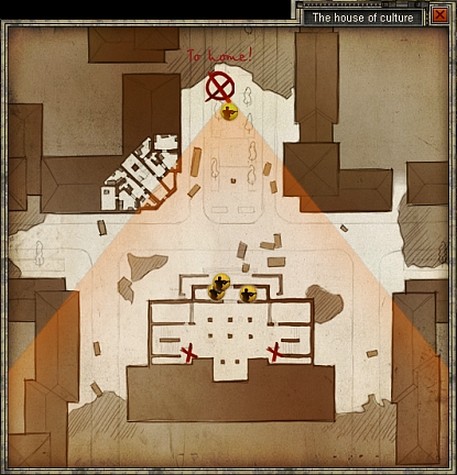 If you check out the map, you might understand why it wouldn't be a good idea to just attack head-on. Some of those guys stand on a nice and high balcony, perfect to shot you in the head.
Let's see where Akhmet's plan leads, for now.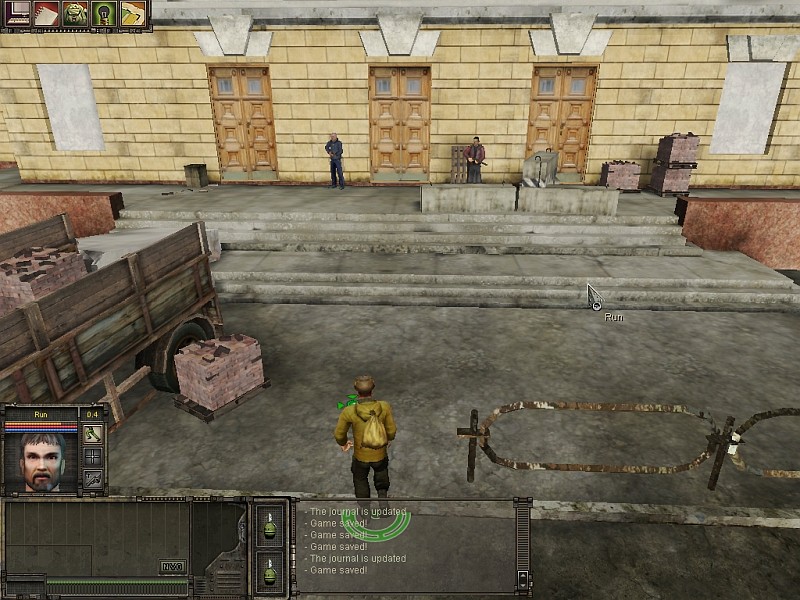 :"
Man! Yes, you, bearded one! Are you looking for problems? Walk away, buddy.
"
Don't be confused, there's only a finite amount of animated faces so they re-used a couple.

:"
I'm not disturbing anybody, am I? What's happening here?
"
Akhmet does a professional "dumb guy" impression here.


:"
No, you don't understand. You must be stupid. Get out of here or I shoot you now!
"
Dang!

Okay, seems like Akhmet needs a disguise. But where could he find one?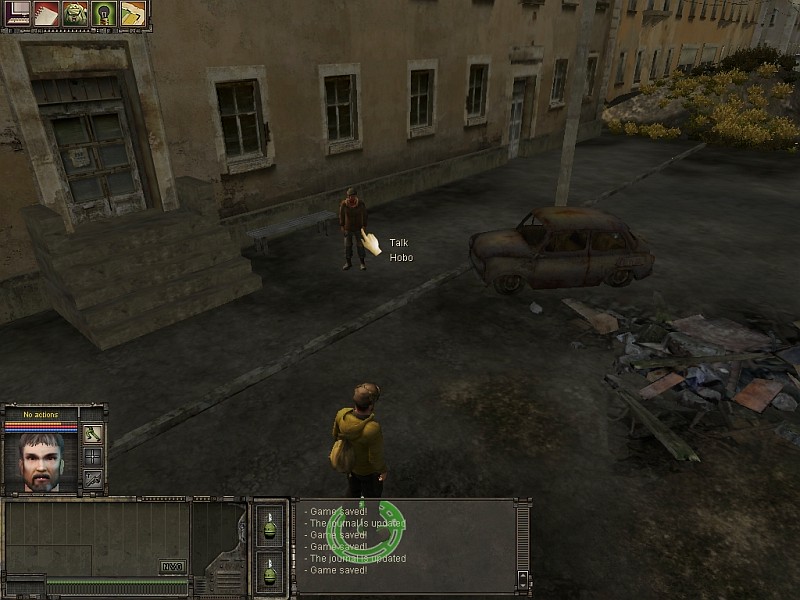 :"
Whatta you need?
"

:"
Look, get out of your rags. So far I offer you a cigarette for it rather than a beating. Quickly now!
"
Akhmet doesn't give a shit about Hobos. That's not a joke, it will come up again.

:"
Hah. A cigarette for a jacket, aha. And I'll die without clothes. If only you had something to eat or to drink. Or a whole pack of cigarettes..or maybe six Fives.
"
The game will randomly spawn one, or all of the items on this map. You can kill him but nine out of ten times this also ruins the jacket, forcing you to attack the gangsters.
I gave him some Moonshine. So he can get shitfaced while freezing to death.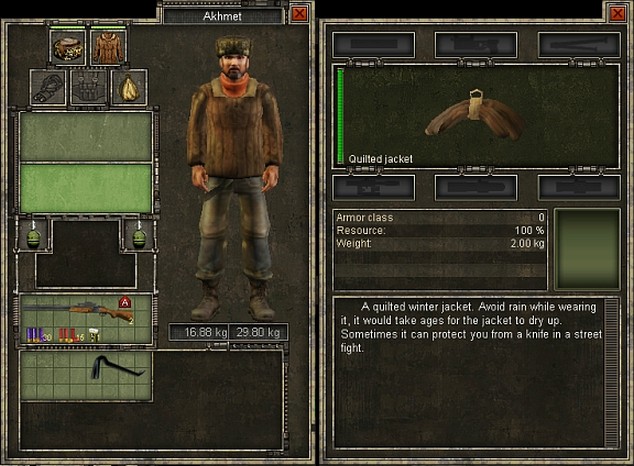 :"
Excellent. Vasya the Hobo is ready to slave off for the respectable persons.
"

A last reminder to put your weapons in the backpack. You can buy a jacket at the Bazaar, but you have to use this specific one for the quest to work.

Well, let's give the disguise a try.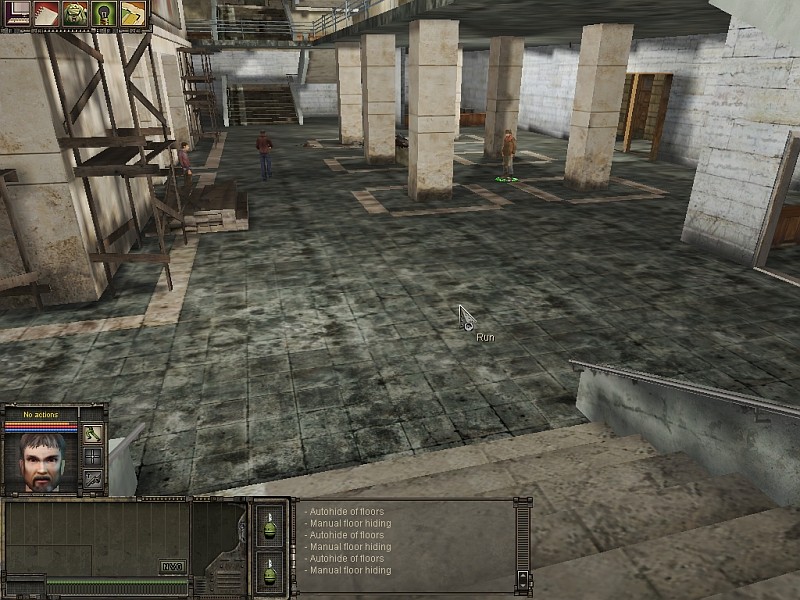 Akhmet's inside.
And admires the awesome mural in the entrance hall.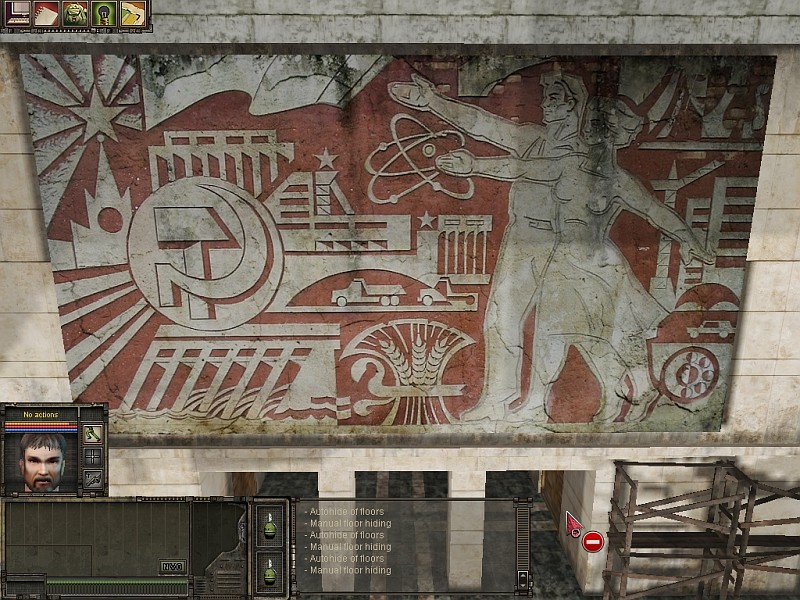 Now, to finish this chapter you just have to look at your map, and place the explosives at the marked spots.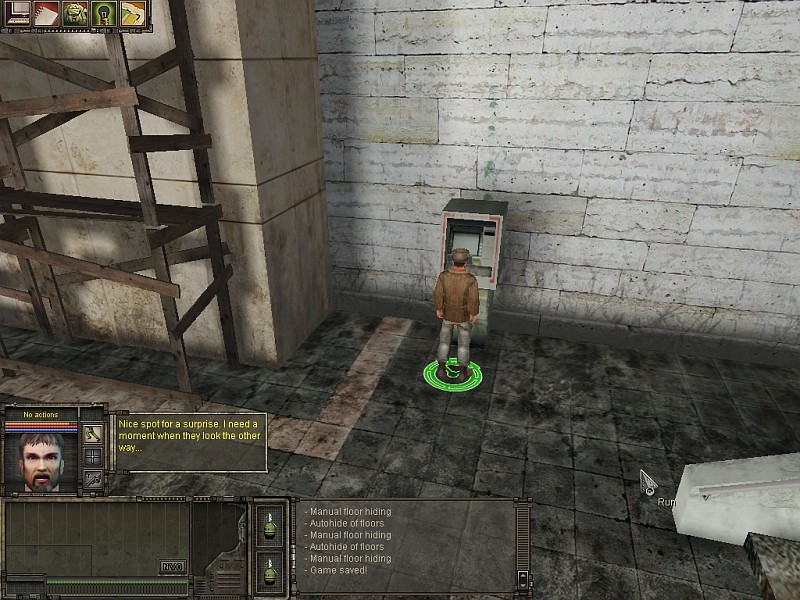 Like this one. Just make sure that no guard is around and you're done.
But that's pretty boring, don't you think?
Let's do it my way, which starts by having a chat with the workers around.


Yeah, the workers are actually forced to be here, and they'll also die when you explode the place. Akhmet could care less, but I do. Also you can't get the loot from the gangsters when you do it the easy way. After hearing that, Akhmet changes his mind and listens to my plan.

Once you're inside, you can move around freely. Just remember to not pull any kind of weapon and nobody cares what you do. I start by looting some minor stuff from the first floor and then move up.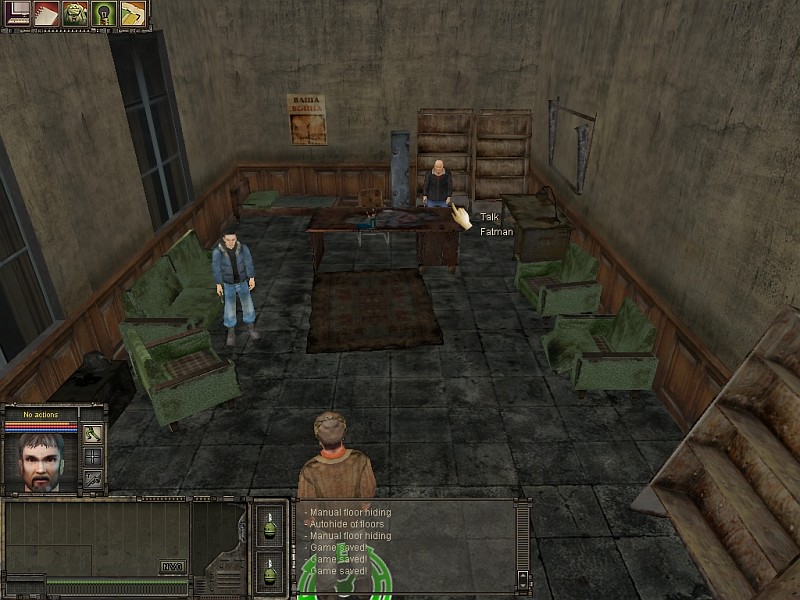 Hey, Fatman!

:"
Why do you stand around, you brownie?!
"
Chillax, man. I'll be moving again in a second. Just have to loot your desk and crack your locker.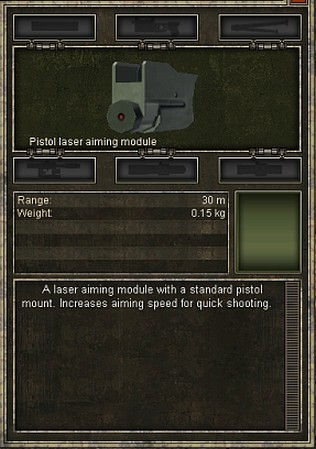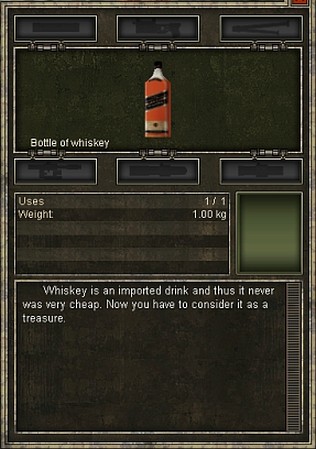 Across from Fatman's room, Akhmet finds the quarters for the other gangsters.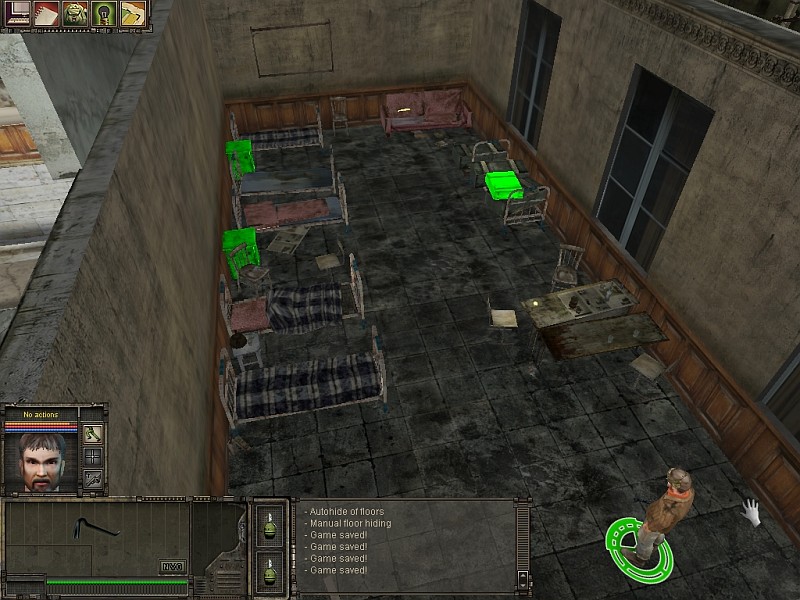 You've already seen most of the loot in here, except for..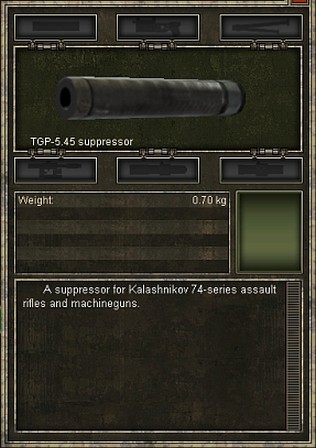 Silencers do work, but I've never found them to be useful or really necessary.
A quick walk brings Akhmet out to the balcony.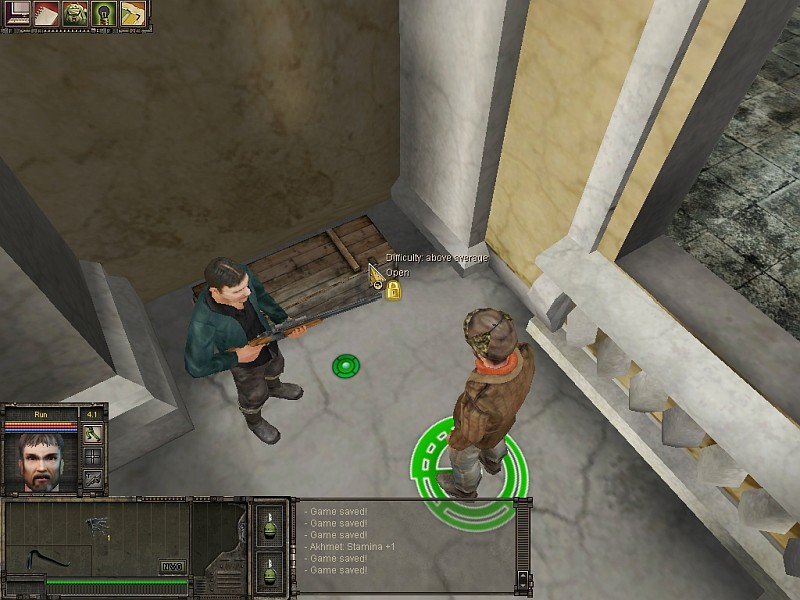 Which has a chest at each end.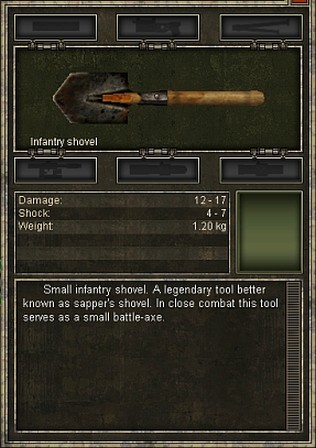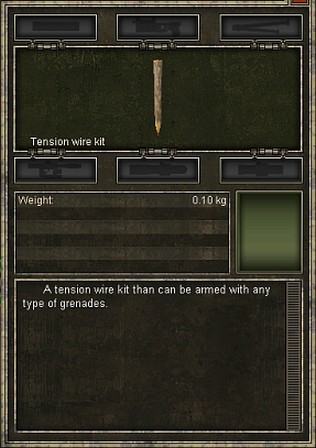 Tripwires need a grenade and do work wonderfully.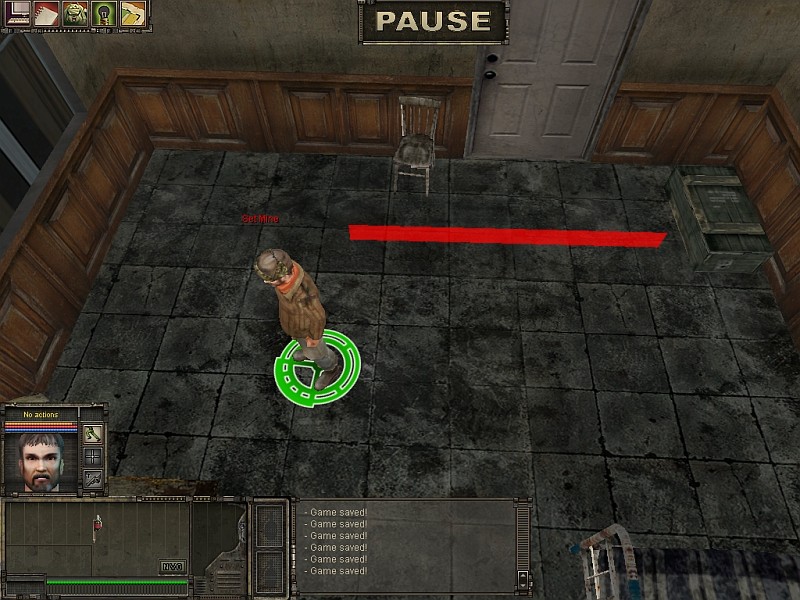 You just set them down, define the length of the wire and that's it. But they're very situational and mines do a better job, so you won't see me using them.
The other chest has..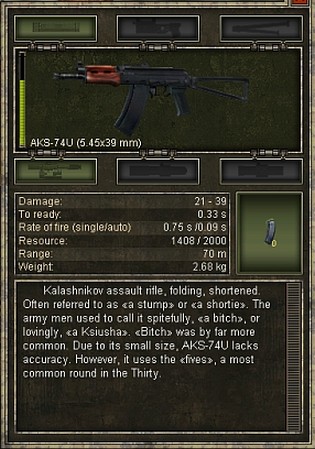 This will come in handy! Like right now, when I execute my clever plan.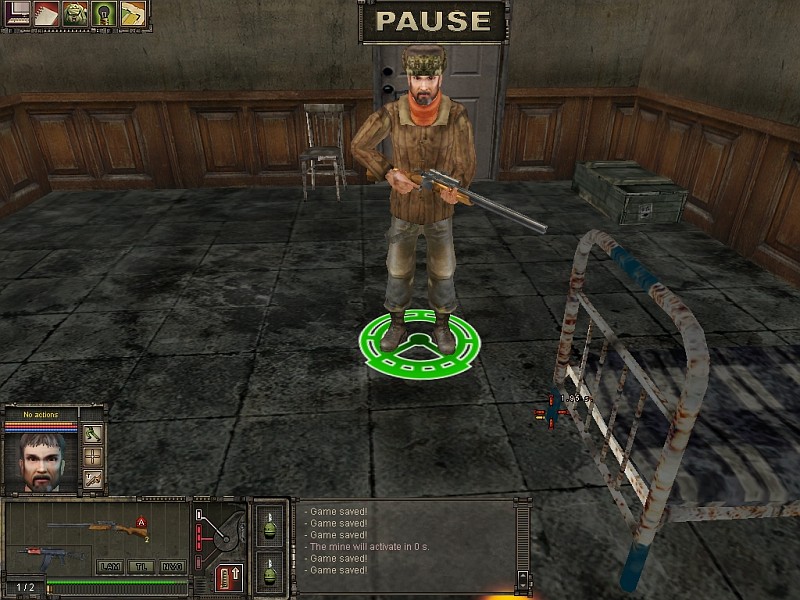 Akhmet will use the guard quarters, the doorway, corner jumping and his big iron balls to kill all the gangsters.
He brazenly opens the door and aims at Fatman.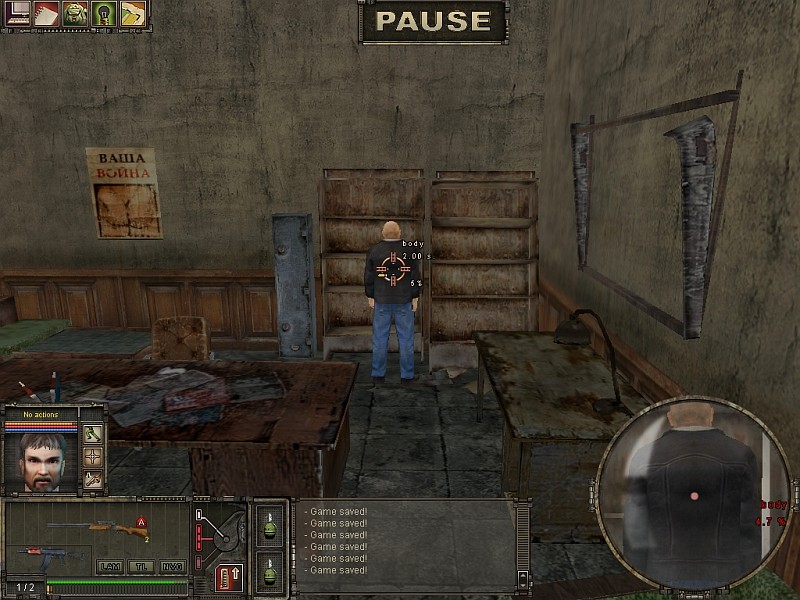 5% hit with buck? Good enough!

:"
Hey! Our Hobo is dangerous!
"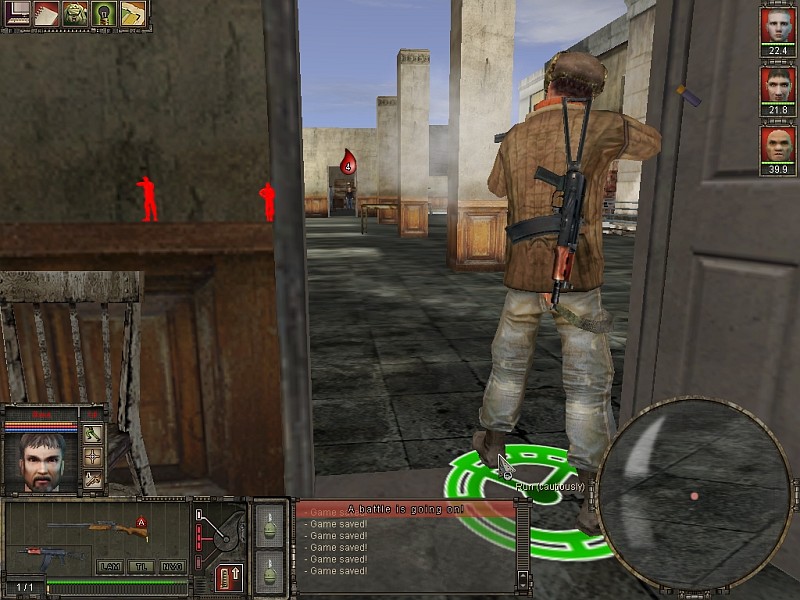 Four points of damage is better than nothing. It's the gesture that counts, okay?
Also you can see another neat detail in this screen. Spent bullet casings will be ejected and will persist on the floor. It shouldn't happen with a break-open shotgun though.

With battle going on, the gangsters start to run towards Akhmet's hidey-hole.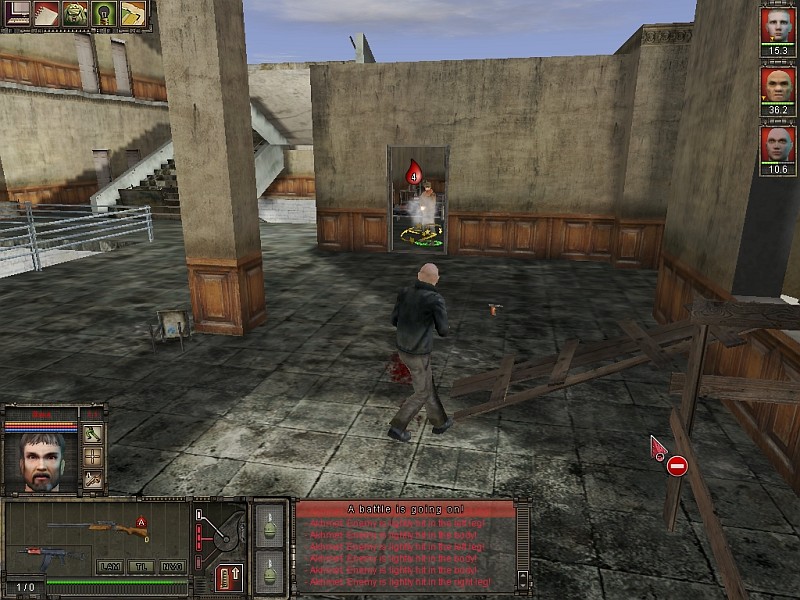 Almost got him in the dick, but he had to turn.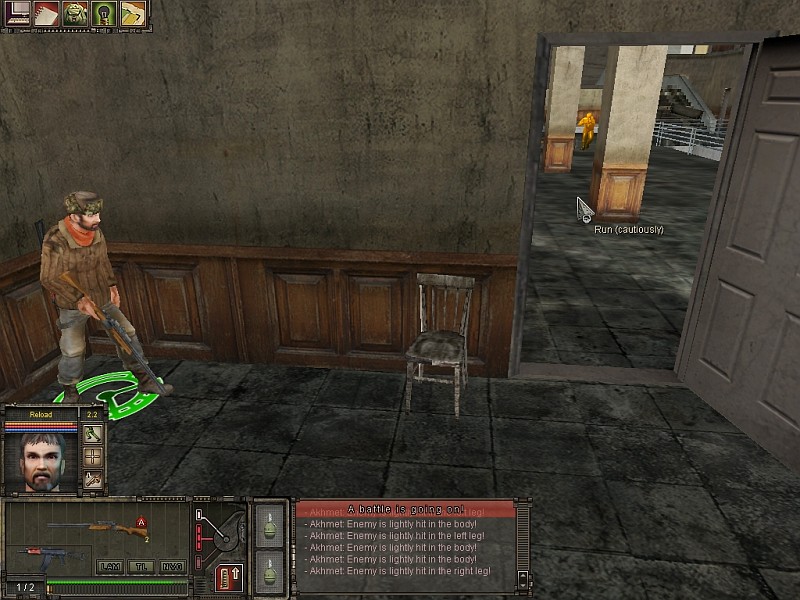 Akhmet always moves far into the room when he has to reload. This way he might get the extra second needed if a gangster actually steps inside.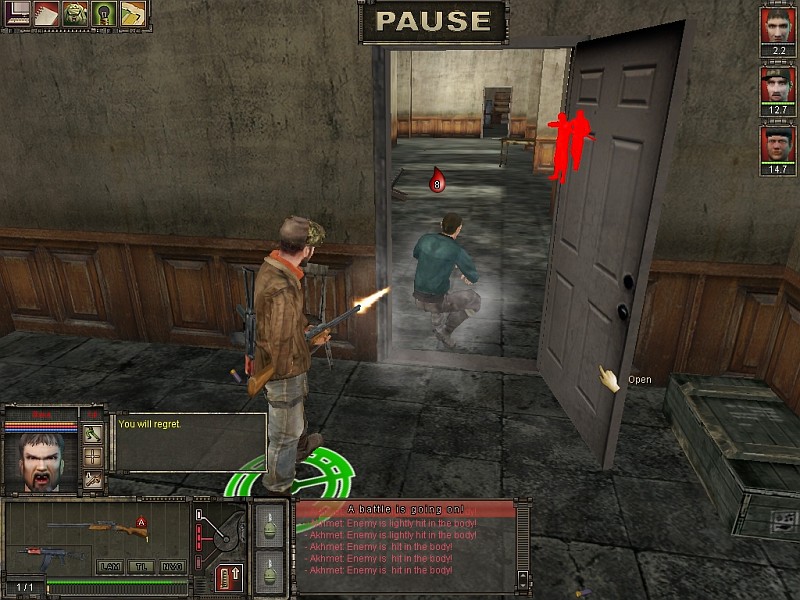 But he still has the initiative and catches this sneaker.
By this point, a lot of them have gathered in the hallway and popping out and shooting will not keep them back.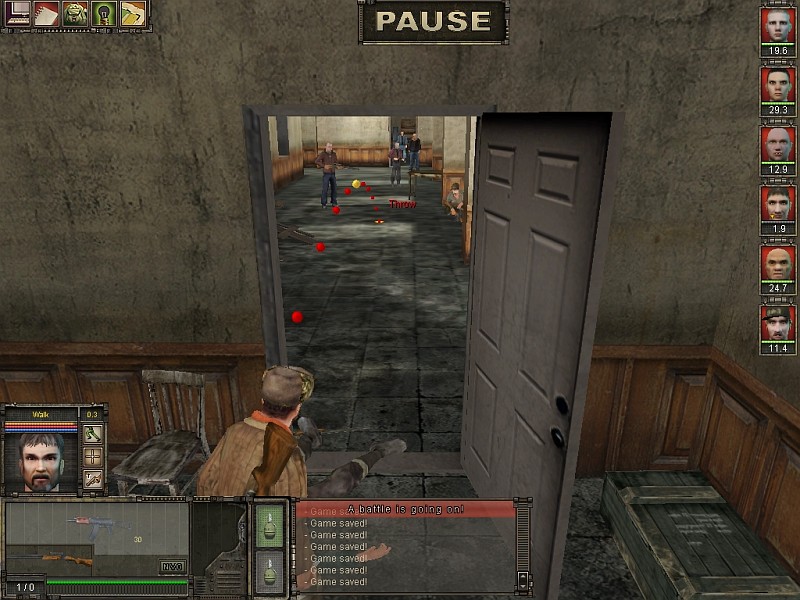 So Akhmet comes up with another way to break the pressure.
Throwing works pretty straight forward. You define the length and arc of the throw and then hope that it will land right. Your skill has a big influence, but you can mostly rely on grenades to land near your mark.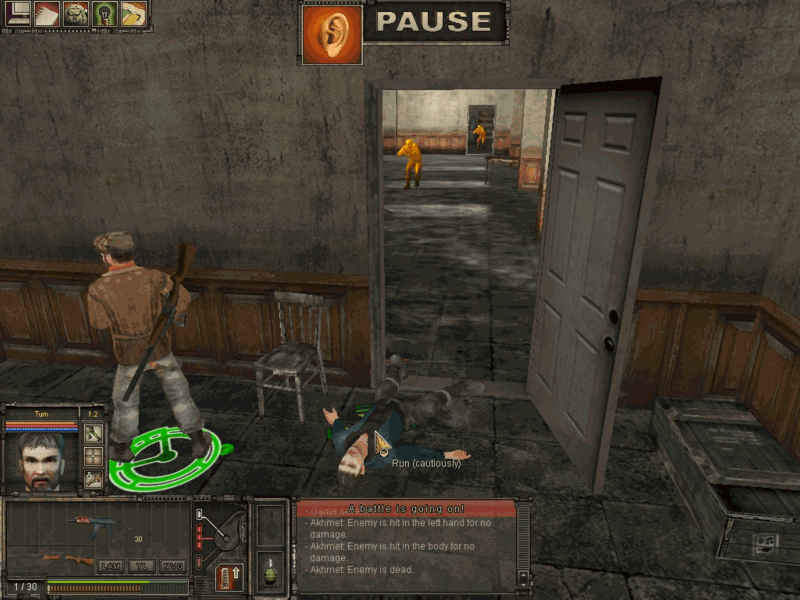 Dang, it flies towards the end of the hall. But it still hits some gangsters in the back row, and even kills one! Don't get used to gifs. The thing is that they quickly become really large and I can't get the colors right.

:"
You bitch! You are the next one!
"
Doubt it.
Okay, shit get's real now. If Akhmet can't do something quickly, they'll just rush the room. With no time to reload the shotty, he whips out the Stump and bursts down the hallway.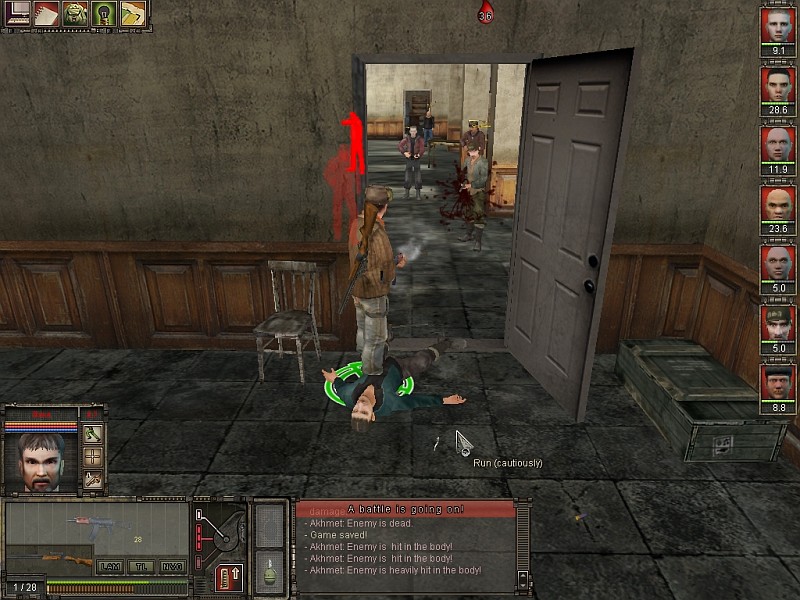 That has to be a dick shot!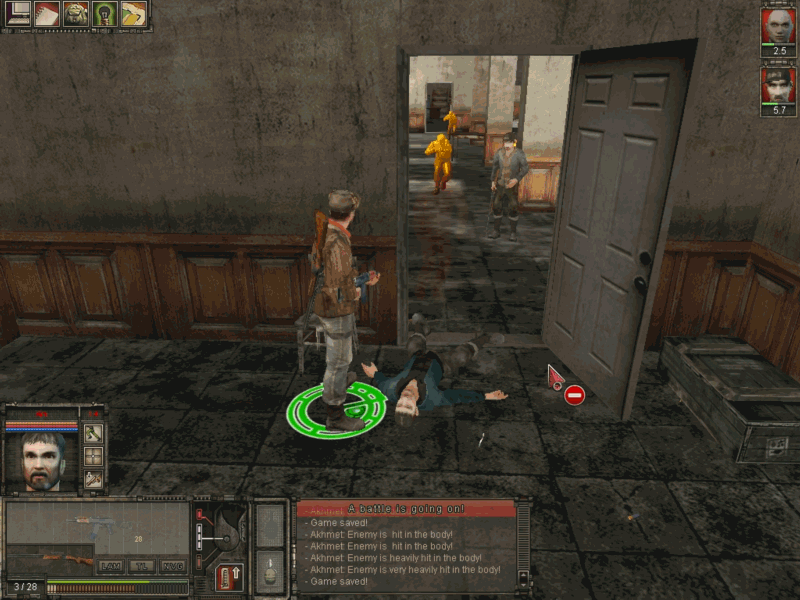 Yeah, that just happened.

Sound to the right!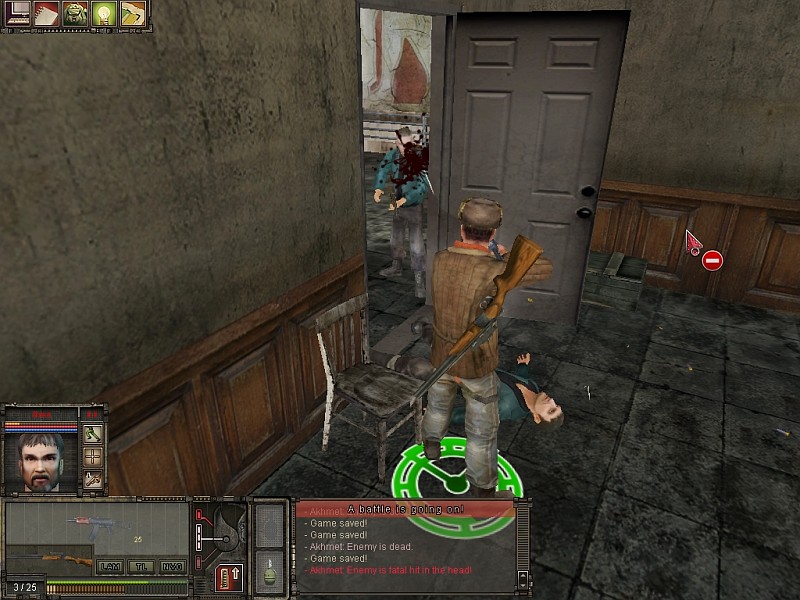 Of course, he can't keep this up forever.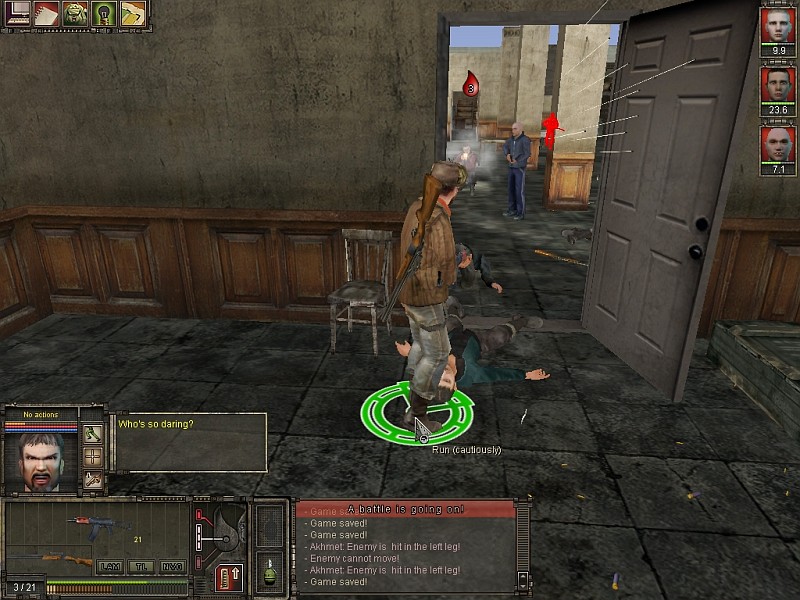 Yikes!
What I can't really show you is why this might look easy. The AI will take aim at me when I'm in the doorway, but when I move back quick enough, they'll break aim before they can shoot. To keep them from advancing I quickly get back in the doorway so that they start to aim again. This takes some experience/feeling with the game and is not foolproof. It just happens to work pretty well in this battle.
Back to the regularly scheduled program.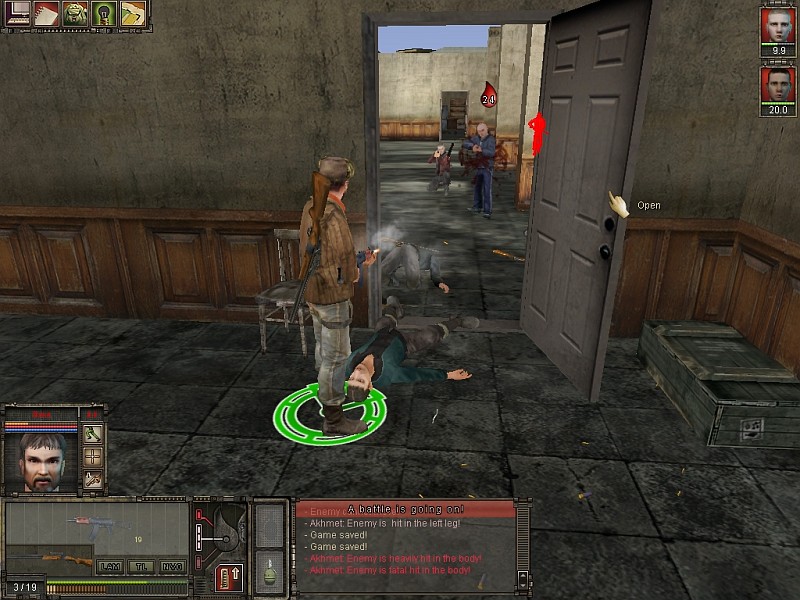 The AI tries to beat me with my own tricks, by corner jumping from pillars.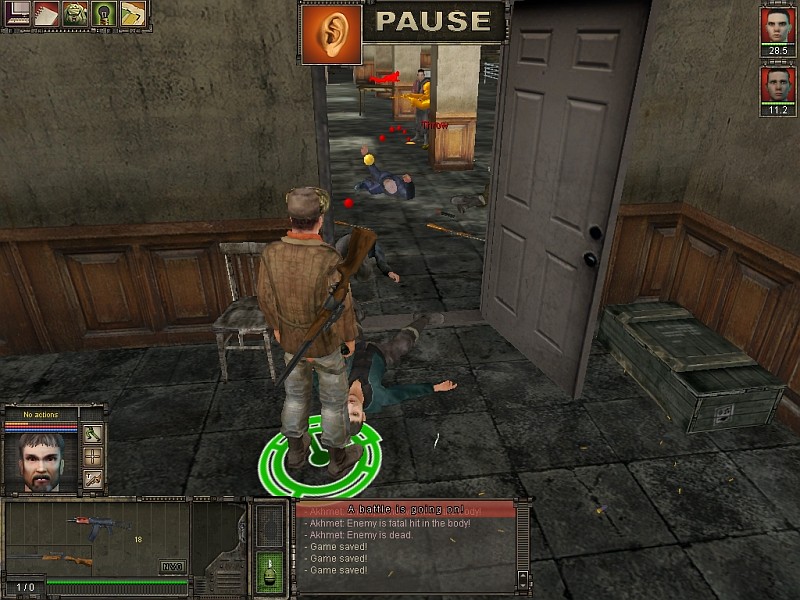 Akhmet throws much too far though. The nade lands at the other end of the hall, accomplishing nothing.

Fine! Just magdump then..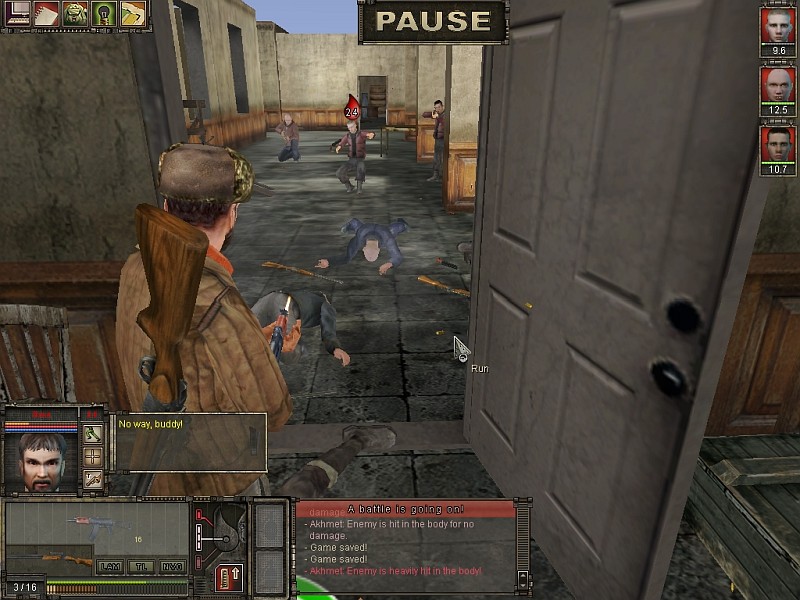 BRAT-BRAT-BRAT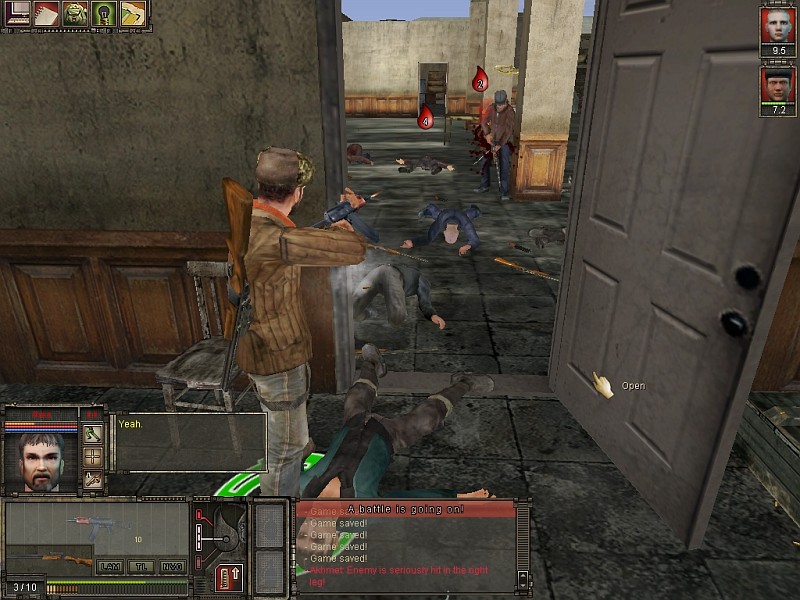 I used the spreadfire function here to just spray an area, killing two guys in the first shot. I'll show the function in detail with a better example in another update. The last guy caught another nutcracker.

With the majority of gangsters down, Akhmet catches his breath and reloads. The last guys are at the end of the hall so the Stump is not ideal.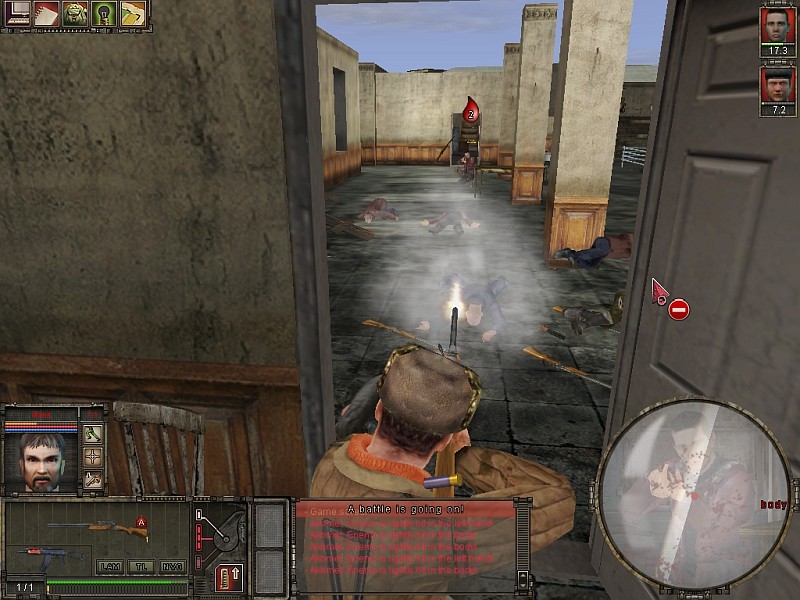 That'll do.
By now the floor is silent, but battle is still going on...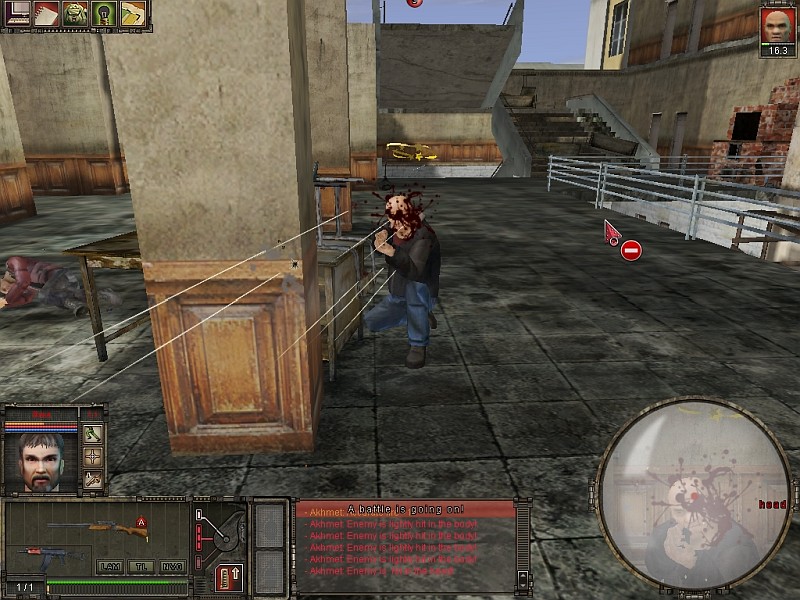 Bye, Fatman!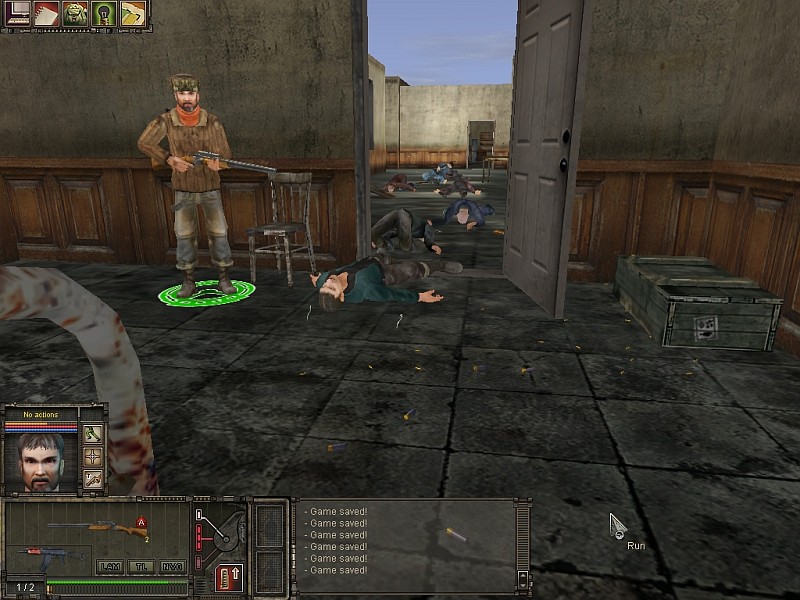 I'd say that was some nice work. Aside from the spent casings you can also see the grenade pins on the floor.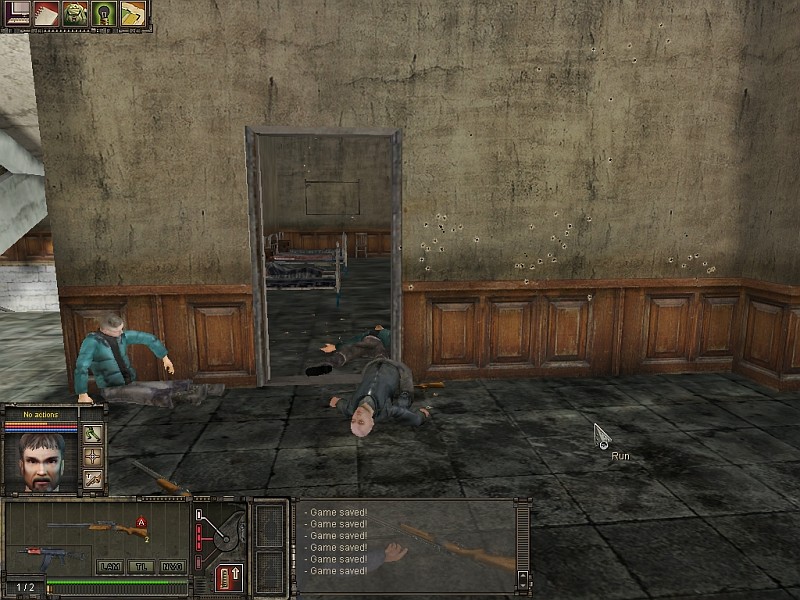 Okay, it might have helped that the enemies at this point aren't the best shots.

The bodies yield a lot of ammo and small crap. You already know all the weapons, and it doesn't pay to take them with you. The workers fled during the battle, with no effect on anything. I just feel morally superior now.
But Fatman has a couple of things that are really nice this early on.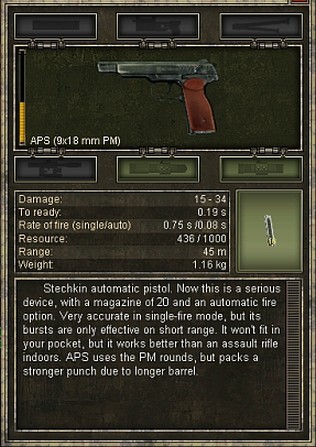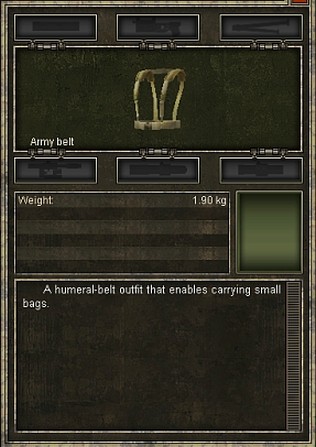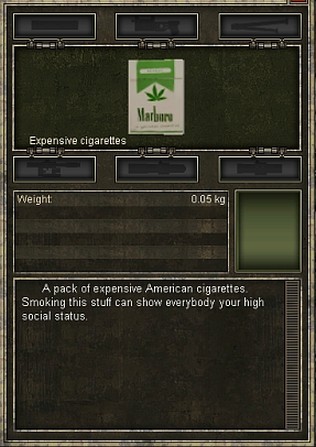 The APS is a pretty great sidearm and it takes a while before you can buy it. It's small, has auto fire and can have an upgrade.
The Army belt will give Akhmet a bit more storage space. It'll give him four horizontal slots, two cells each. That limits what you can fit in there but it's still good and expensive to buy later.
And I think we all get the joke on the Marlboro pack.
With all the stuff bagged, let's blow this joint.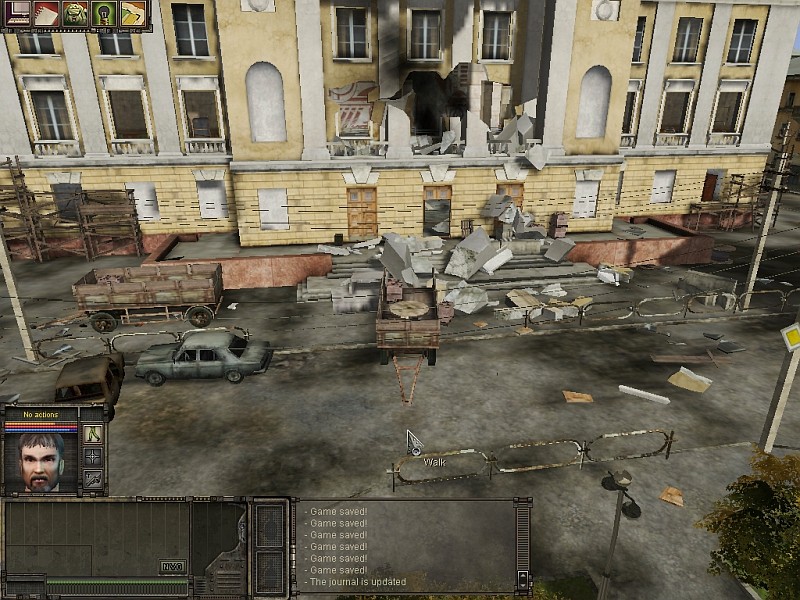 Yep, that's the end of that.
Akhmet heads home and checks in with Wifey.

:"
You're alive? Thank god, I was so afraid...the explosion was so strong!
"

:"
There are no bandits anymore. Unfortunately there's also no more Culture Hall.
"

:"
And what now?
"

:"
Nothing. I need some rest.
"

Akhmet leveled from the battle and I spend his point on a health skill.

Beefeater
:
Your health has increased. You can take much more damage than an average man.
A straight increase of 25 health points will give a Akhmet a better chance to survive a heavy hit.
Before Akhmet goes to bed, he makes a short visit to the Bazaar.

:"
Fatman met his death at last! I heard Culture Hall was blown up completely, with everybody inside cut to pieces. Somebody must be responsible..is that you, Akhmet? Well, anyway I don't want to know about it.
"
But it's a really cool story!
Selling loot brings Akhmet a bit more than 200 Fives, and turning in quest items fills the next level. Told ya that would pay off.

Strong back
:
You can carry way more than the average person. Quite appropriate for a Marauder, eh?
This increases Akhmet's weight limit by 10kg. This will be useful when gear get's heavier.

:"
The Democrats are to blame!
"

:"
It's hard without drugs..
"
Yes, to both of them.
The last stop is the Professor. Akhmet buys a repair kit(100 Fives) to fix the APS and then buys the only upgrade that it can get.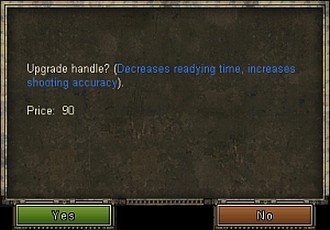 :"
I can supply your pistol with a special orthopedic handle. It will be handier to hold, making you shoot faster and more accurate.
"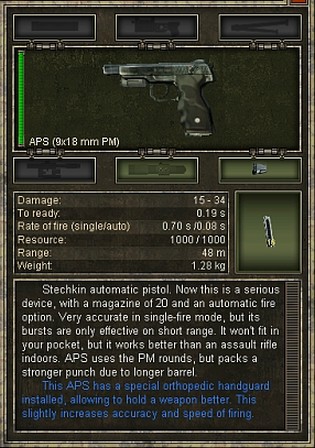 Looks pretty boss, doesn't it? I also attached the laser pointer for even faster aiming in quick mode.
Now the day comes to an end. Akhmet had his first big shoot-out and fared better than he probably expected himself. He also got to set off a pretty big explosion.
His house is safe again and he's sitting on a bigger pile of Fives than he was before. All in a days work. He has earned his rest, don't you think?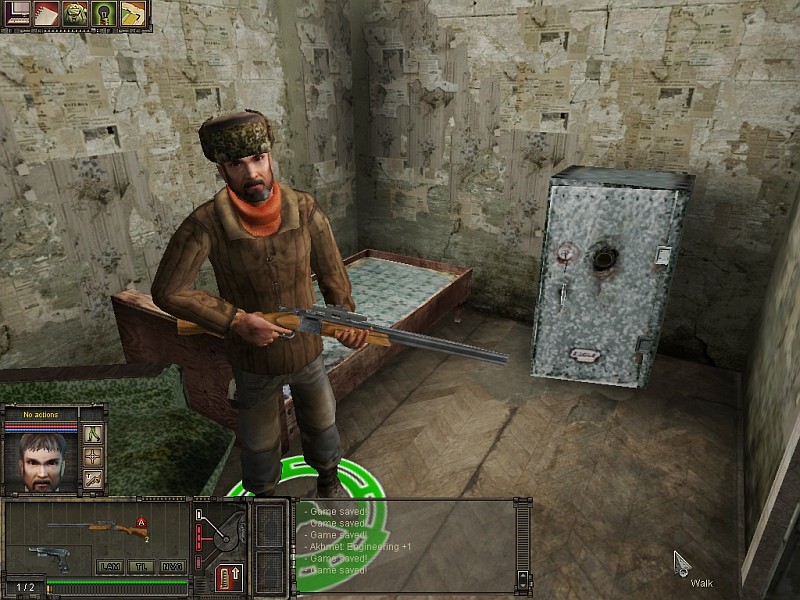 Don't ever fuck with him...

Autor's note
: Was a bit longer than I liked, but splitting made one good update and a short&boring one. So fuck it!