Part 58: Extra bosses?! Well I never! Fighting PlanetMan, and the Real Bass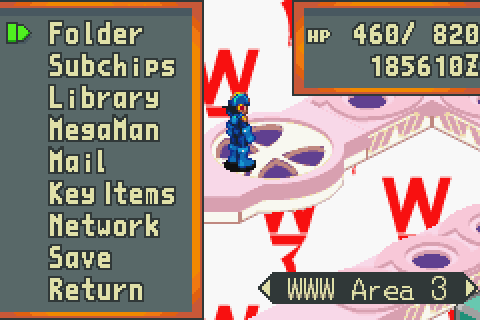 Right!! Here we are, the last of the WWW areas!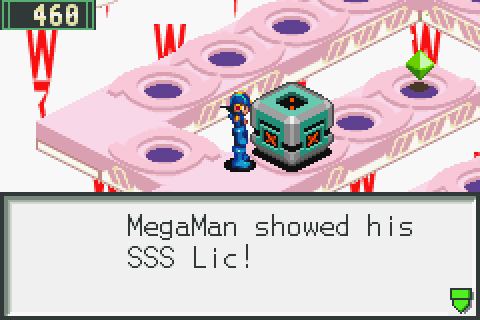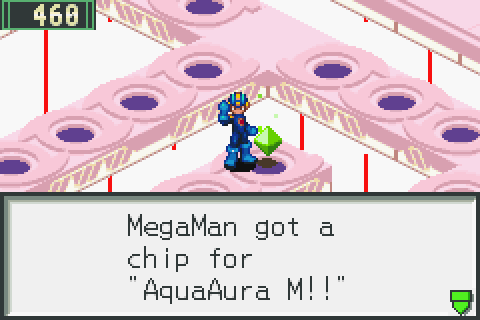 I have no idea why you'd come here without an SSSLicense, so hey, free treasure!
Well, reasonably free. I mean you still have to get through all the tough viruses in these WWW areas. But there's no Protecto, so that's a bonus.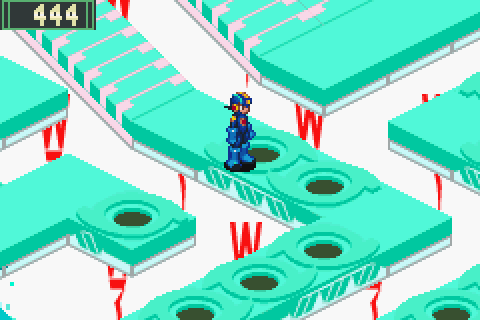 This area is split up into a pink upper section and an aqua lower section.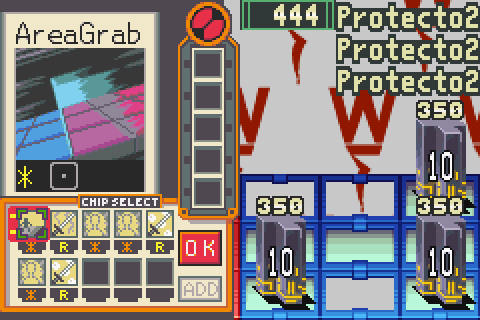 Also, Protectos. Seems like it would be hard to hit all these ones at once?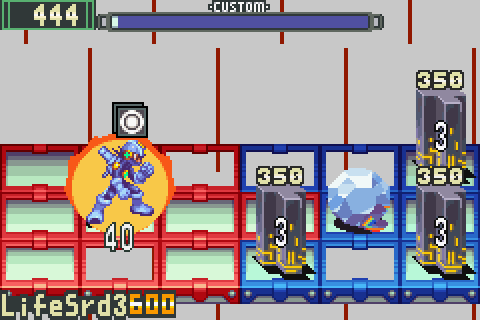 That's why we have Prism chips. Whatever you hit the prism with gets inflicted on the tiles surrounding the prism. Pretty handy!
Protecto2's give you 4000z as an end-of-battle bonus. Which isn't too bad, I guess.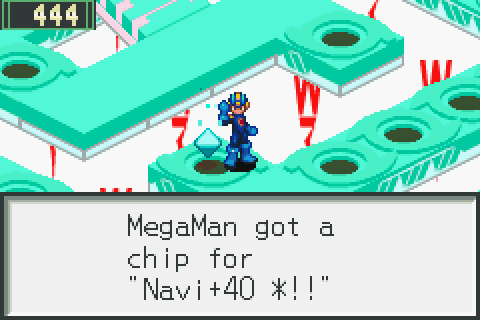 ....having this be my only other reward for getting past them really sucks, though!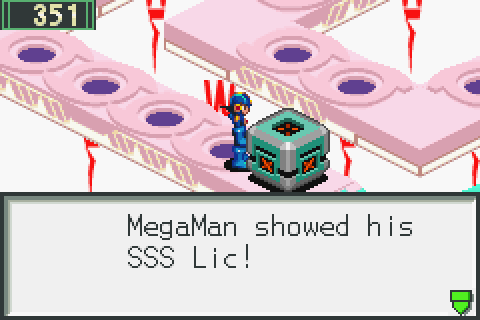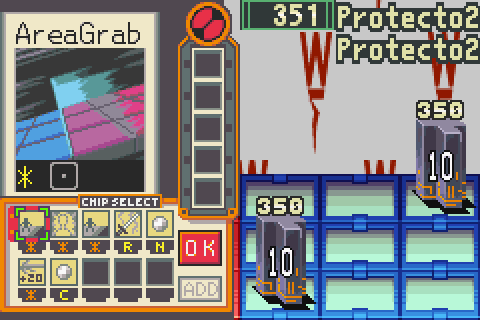 Doop, doop, going through the WWW Area 3...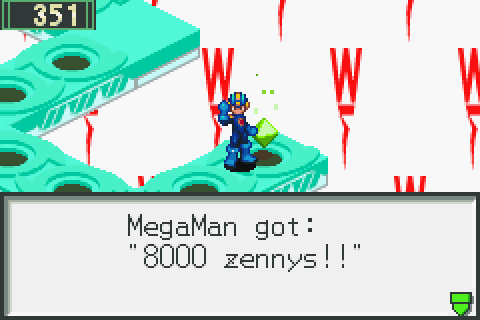 Just keep in mind that you can get viruses from GMDs here. Mean viruses. Any viruses you can fight in the area.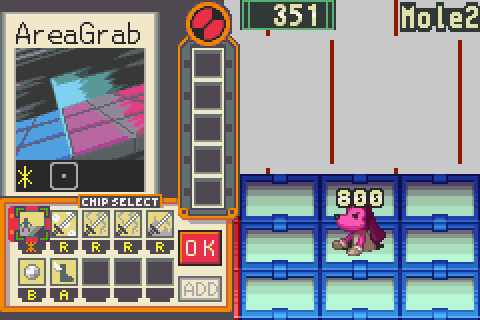 There's some Mole2s in this area. Unlike the earlier moles, these ones don't take 1 damage from everything (thank god).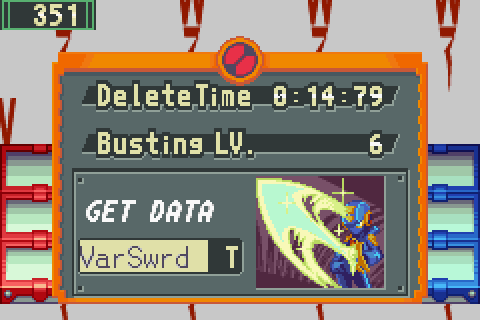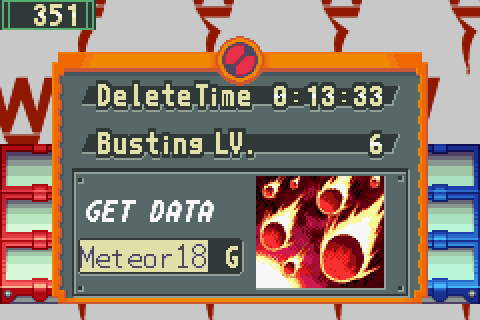 Mole2s drop some hell of strange chips.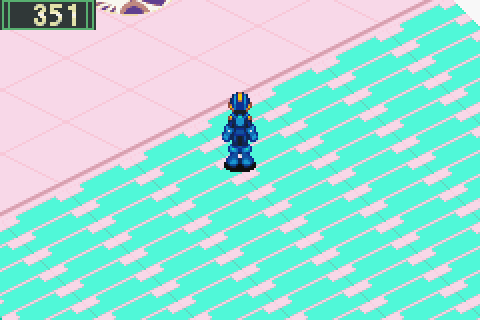 Stairs are exciting! There's a BugFrag around here somewhere. You know what would really make the WWW areas cooler? Mr Progs. I'm just sayin'.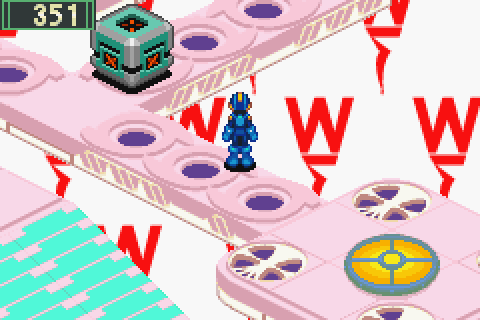 I bet Mr Progs would dig the pastel-skulls theme. (That's an SSS-cube with a SubMem behind it. How delightfully underwhelming)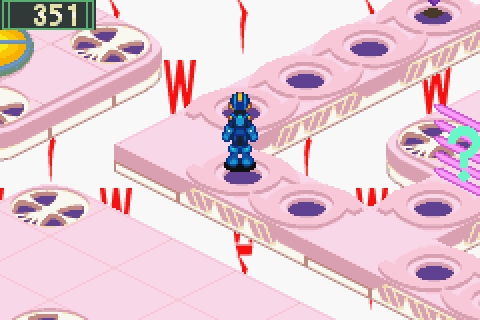 Things that scream "end area"... I bet there's treasure here!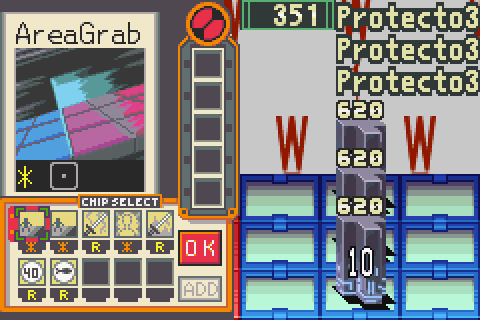 Hmm... Of course, LifeSword3 only does 600 damage. Luckily, I'm packing Atk+20s.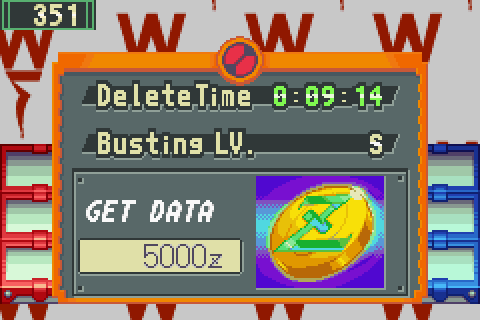 I'd say "oh boy it's the end of the game I have nothing to spend this on" but I'm pretty sure I'm missing a few HPMemory and PowerUPs from various dealers, so yay!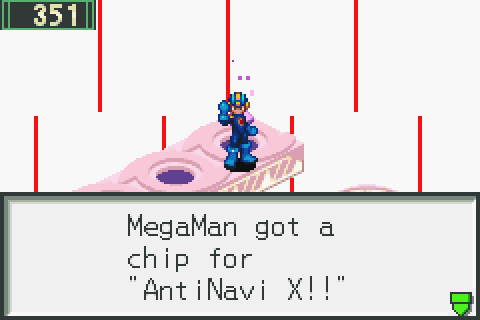 There's this chip in a purple mystery data back here. I think you can get this chip from the chip trader in Netopia.
Oh well! Let's see what wonders await us behind the door! After coming this far, it's bound to be something cool.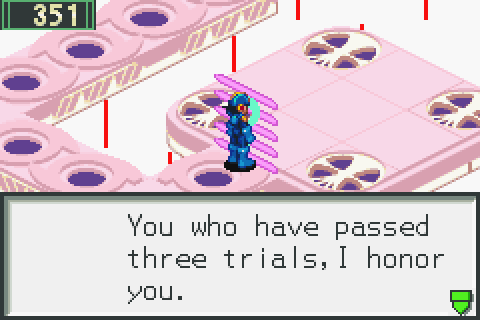 Honour is a nice prize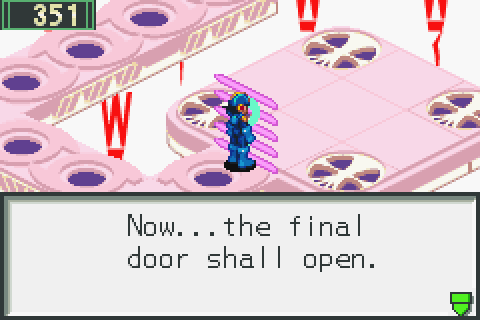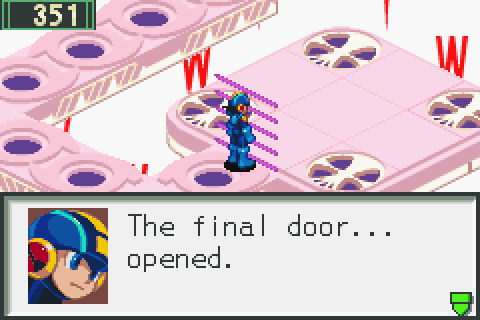 durrhurrr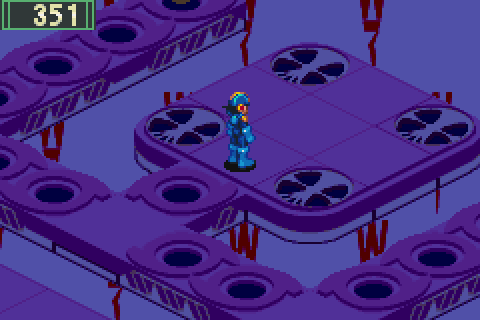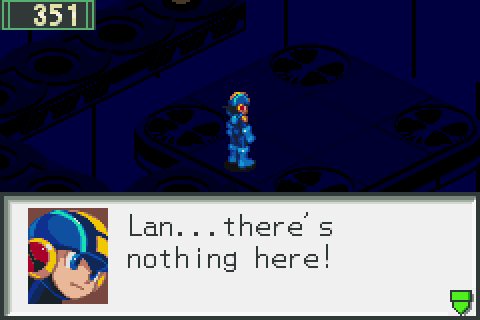 Ummm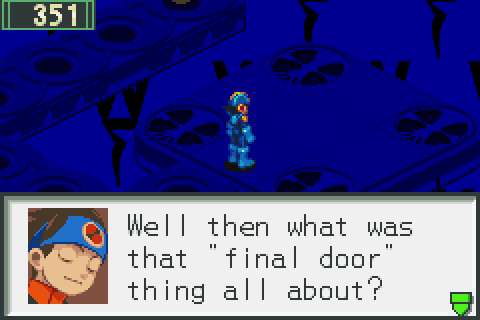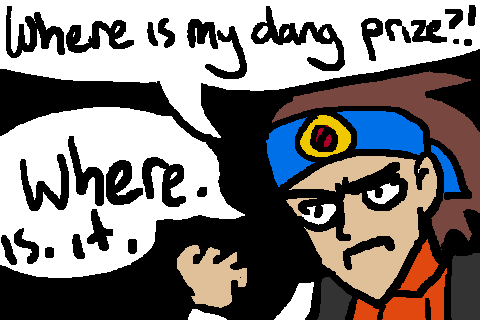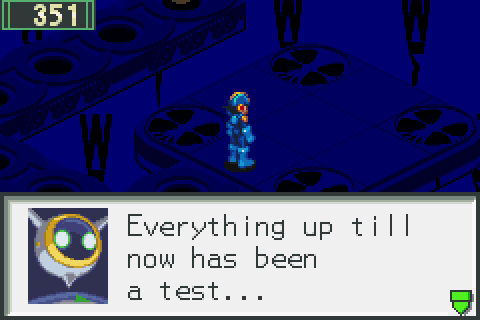 Bwuh?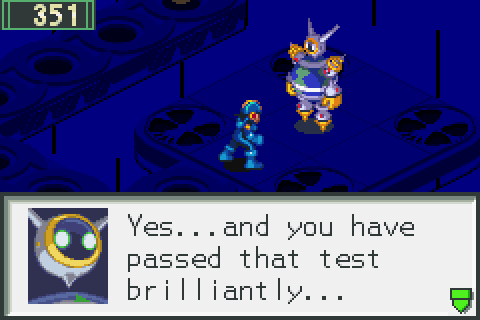 Man, you know I pass
every
test brilliantly.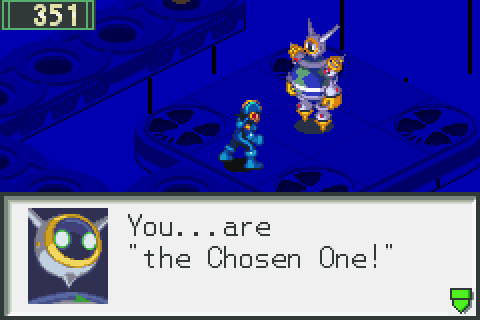 Awesome! Is this like some magic fantasy adventure now?? Are we gonna go fight some dragons??
do I get to beat up knightman again??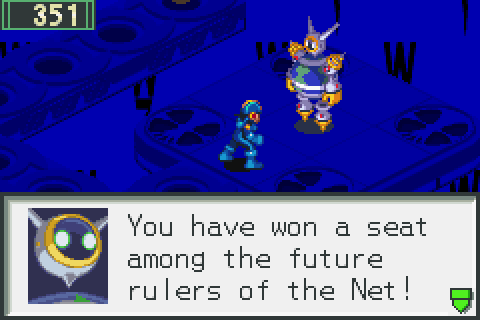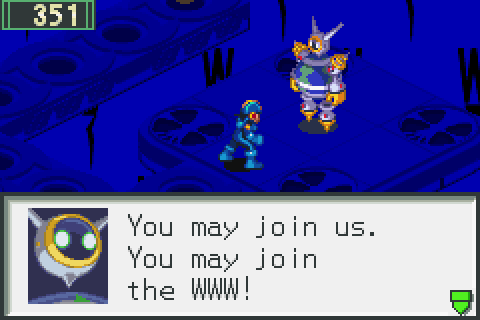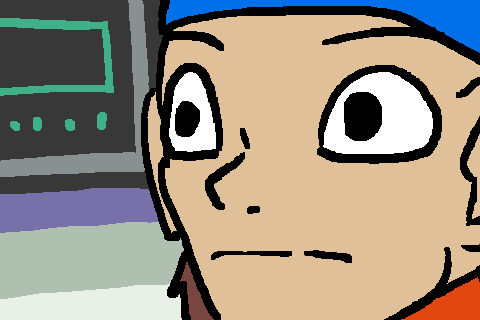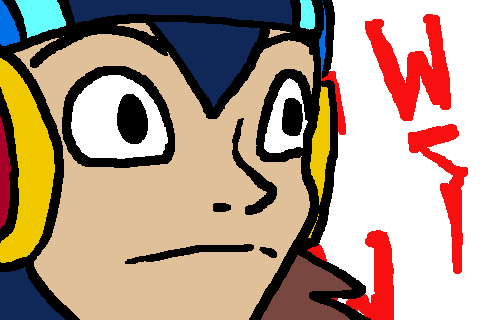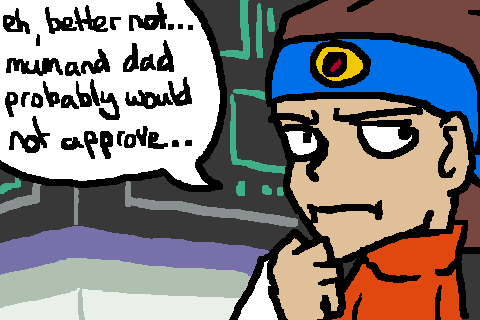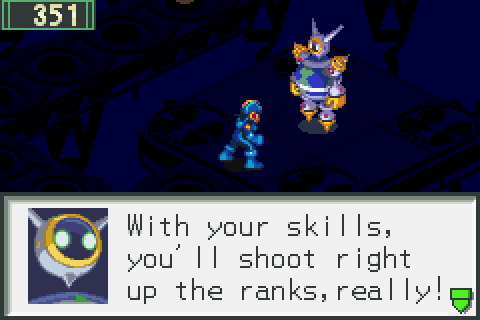 Yyyeah... or with our skills we'll just flatten the entire organisation. Again. And I've seen how incompetent the WWW are, seems like we'd be better off without them, honestly.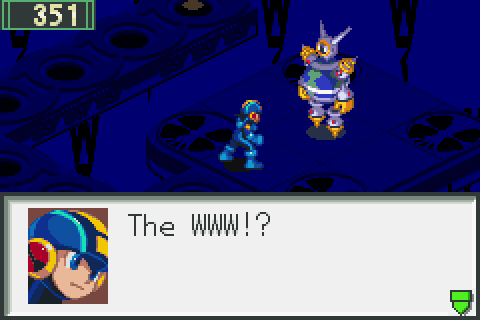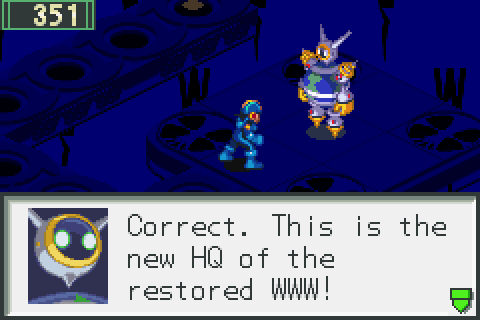 WHO WOULD HAVE GUESSED. THAT THIS AREA. THE WWW AREA. WITH ALL THE W'S FLOATING IN THE BACKGROUND. HAD SOMETHING TO DO WITH. THE WWWWWWWWWWW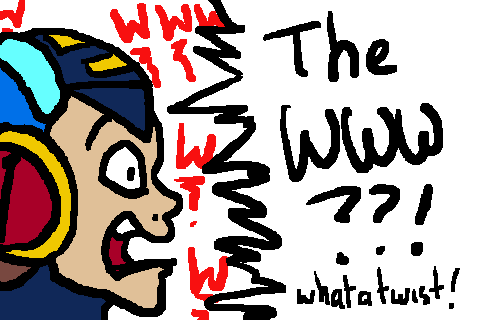 And then he tells us his name's PlanetMan, he's apparently head of the WWW for some reason, and he's going to...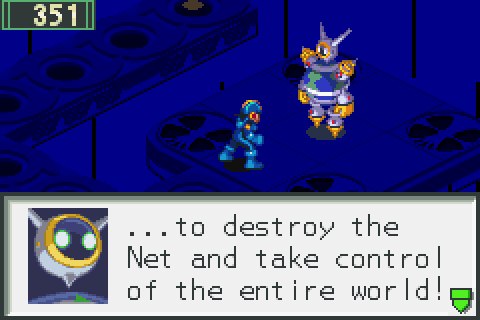 ...how precious.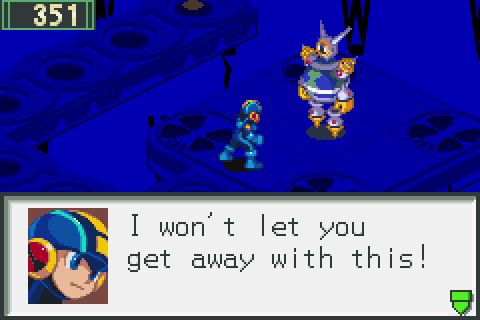 Either we stop them here, or ... we stop them later. Because I think Lan is the only guy around here capable of stopping these guys, huh. Better get on with it, then!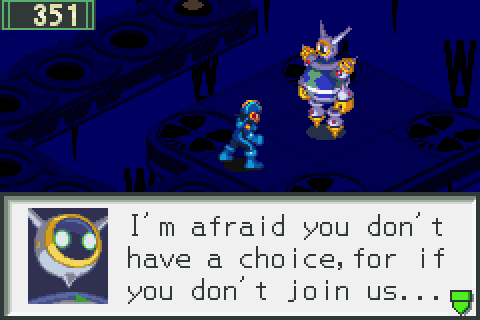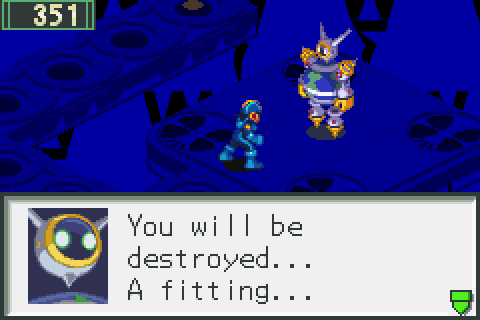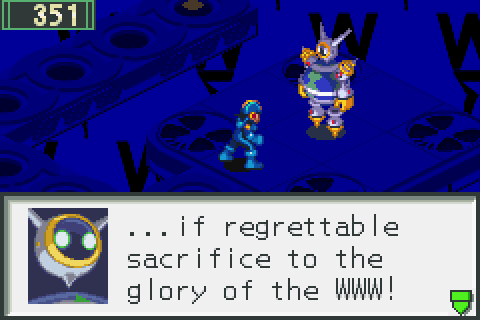 ...
text-spacing
....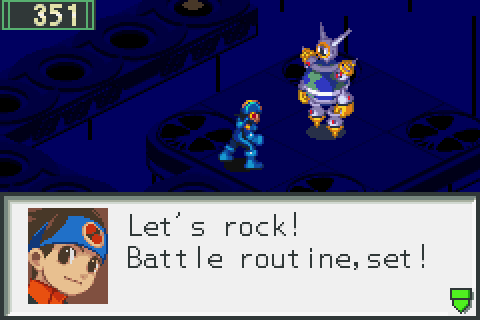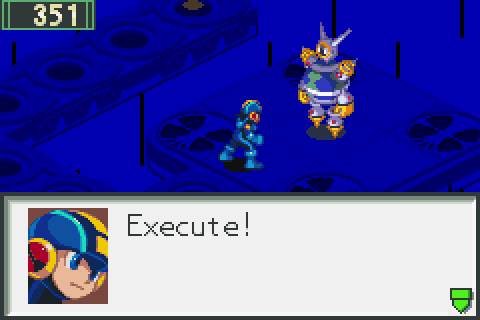 LET'S FIGHT A PLANET?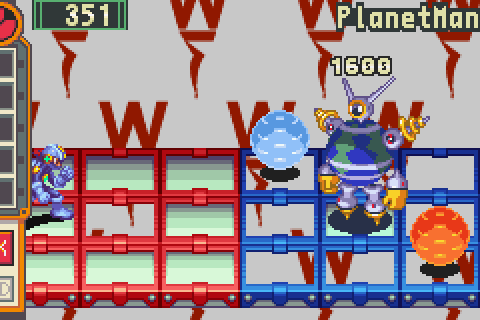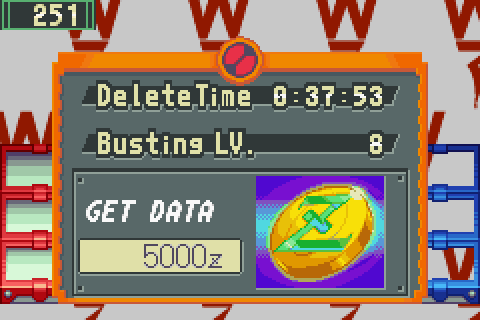 Oop- nevermind.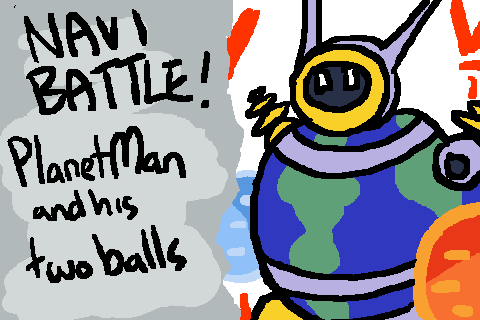 Uh, PlanetMan is actually quite a fun boss! Design-wise and difficulty-wise
unless you're running an insane amount of Invis3's in which case, well, you know
. He has his two little planets that orbit him, and they'll attack you with water and fire, or you can blow them up. Also, he'll occassionally launch a tiny space shuttle at you and it is freakin' adorable, man.
But uh, he is a stationary boss, and it is the endgame, so it's really quite easy.
Here's
me stabbing a planet to death
And
Epee Em's video
, which also includes pre-battle banter. And post-battle banter.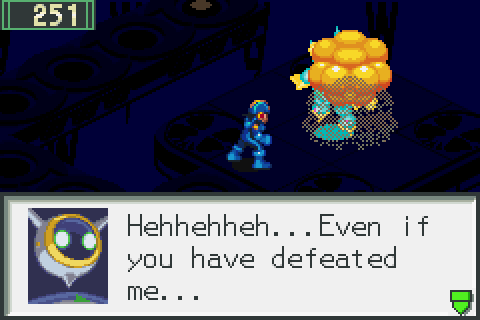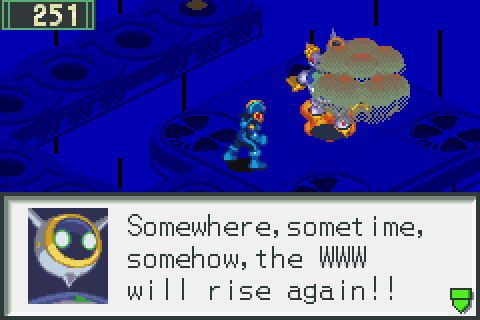 It's true, there is a sequel (Battle Network 3 is probably my favourite BN game)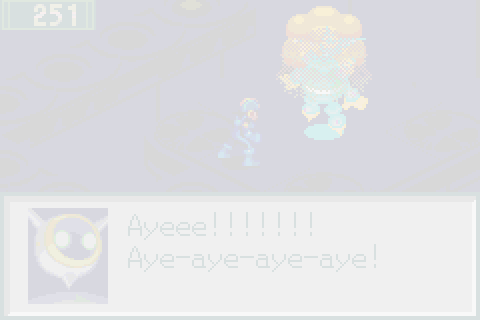 And that's how we saved the world (again).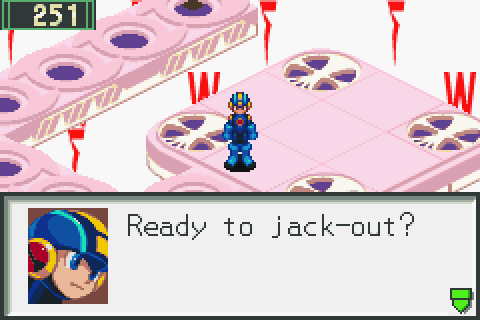 Yeah I guess so.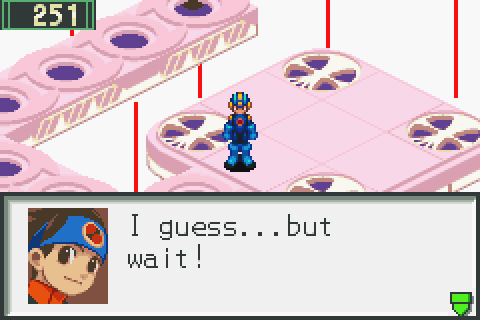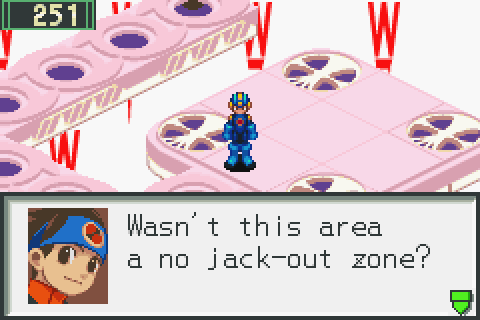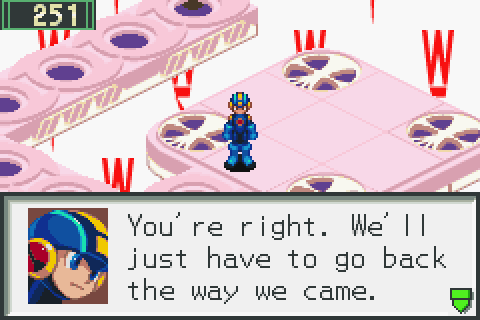 Oh yeah. At least the walk back to the UnderNet is much quicker, thanks to ridiculous conveyer belts in area 2.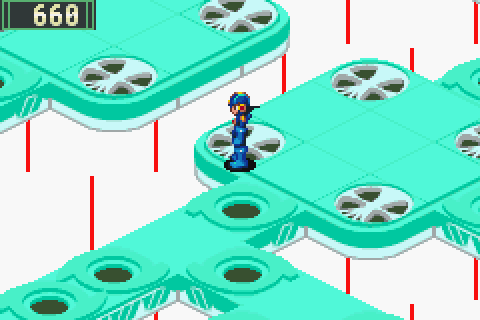 WALKING IS VERY INTERESTIN-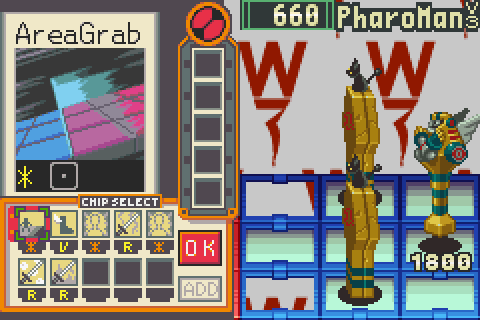 Oh hey, a n-n-n-navi ghost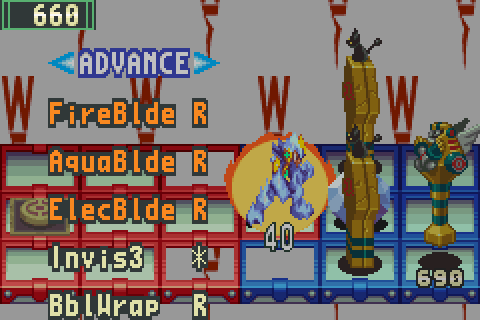 Can you guess how this fight went??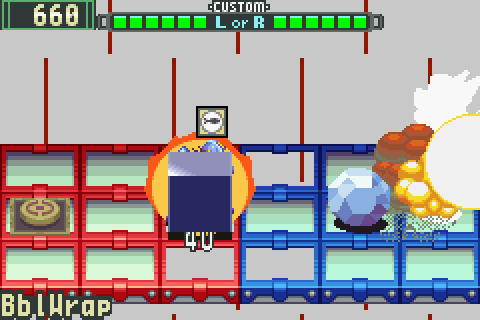 I have no idea what happened here though.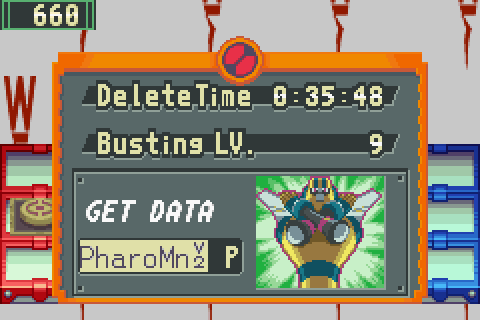 At some point I might have to S-rank that guy. But having his V2 chip is a good start. And... hmm, fighting Egyptian-themed guys is giving me an idea for a folder change.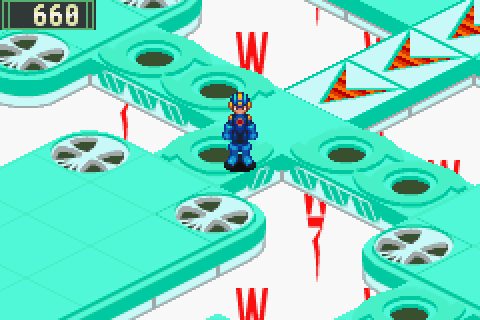 I'M GETTING THE WEIRDEST FEELING I MIGHT WANT TO SAVE MY GAME RIGHT HERE.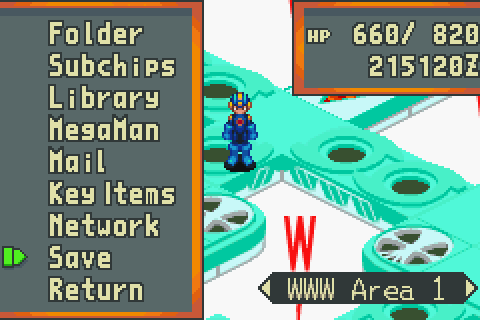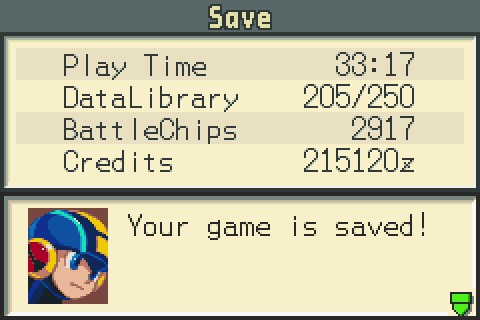 My library is looking pretty good! ...I'm still missing a lot of annoying things though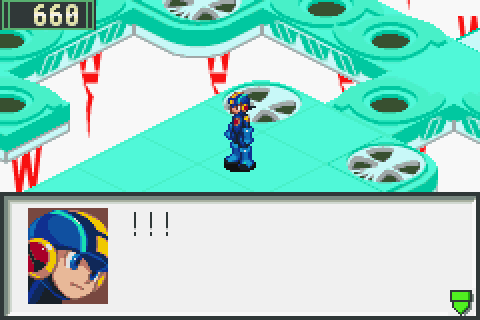 It's probably important you save before you run into this cutscene. C'mon, after seeing the little cutscene at the end of the credits you had to guess something might go down around here.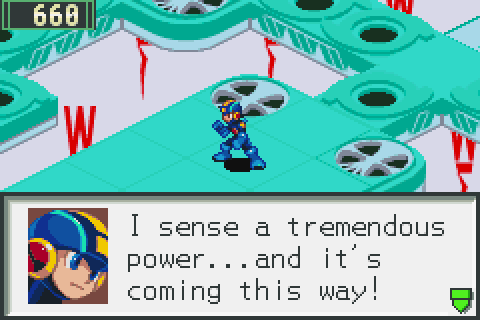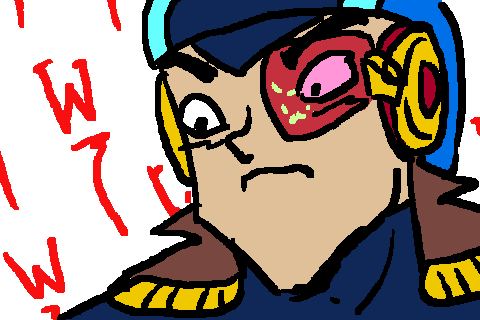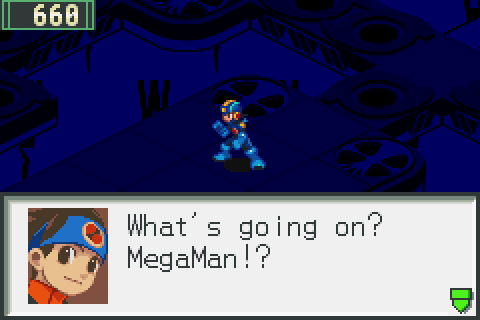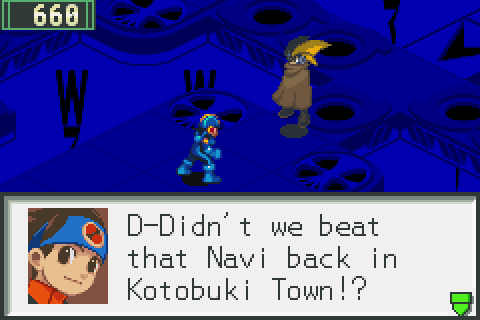 NAVI GHOST?!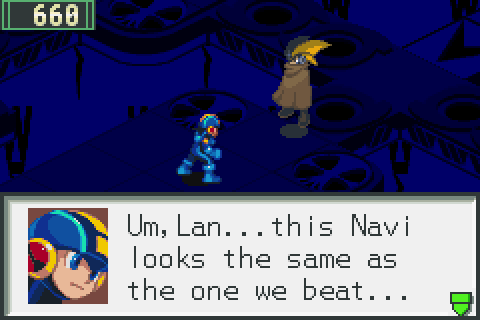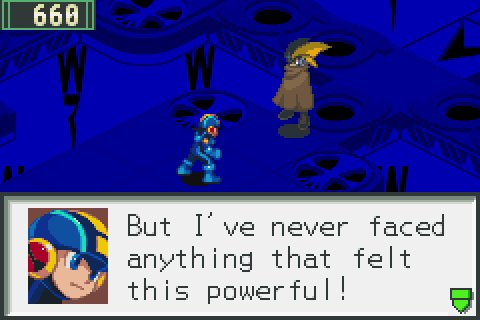 Oh yeah. I guess it was already established that copy Basses are running about the place. Wait, I guess that would make this...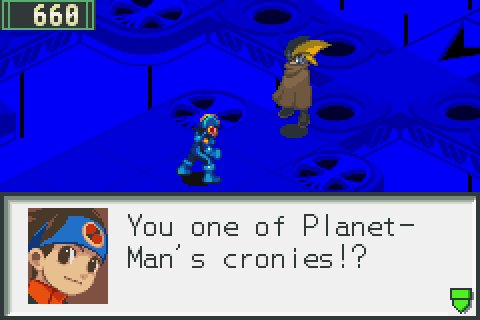 Dammit Lan, no.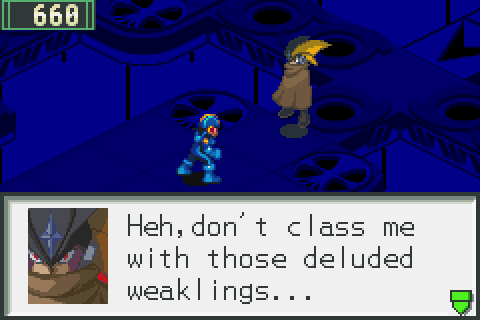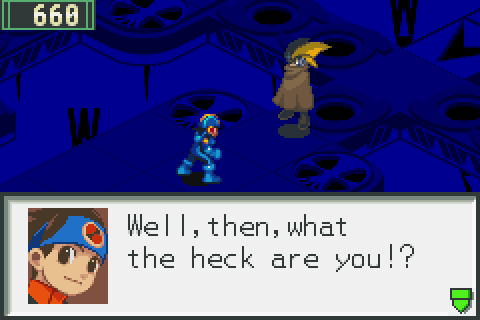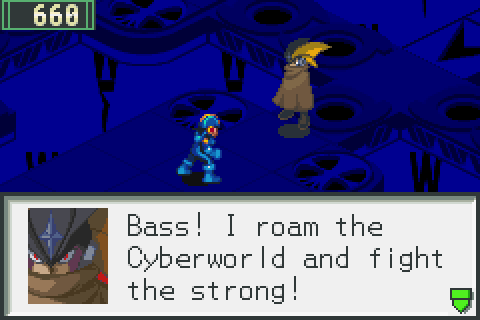 JUST LIKE GOKU.
wait shit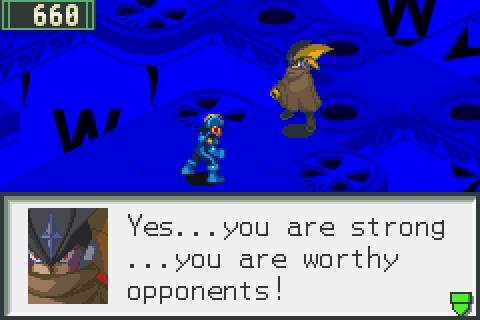 I'm always up for a netbattle (as long as it is not like 30 netbattles in a row), so-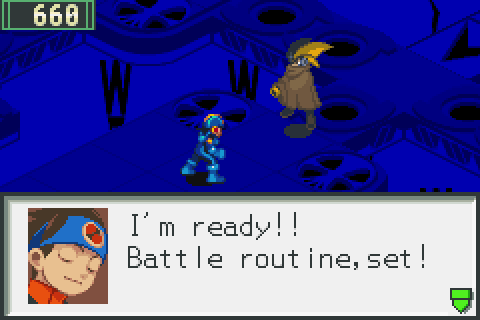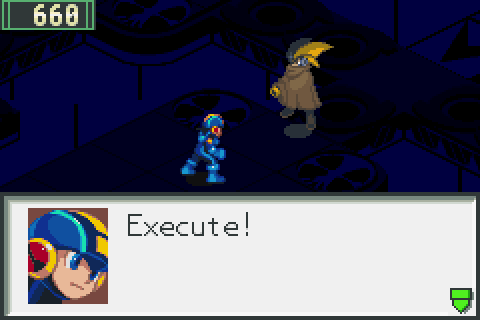 LET'S ROCK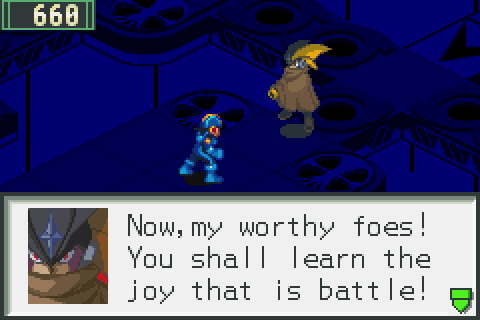 WAY AHEAD OF YOU, DUDE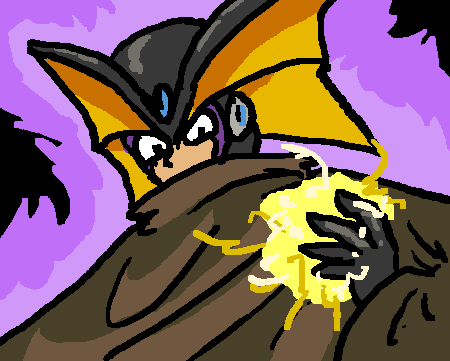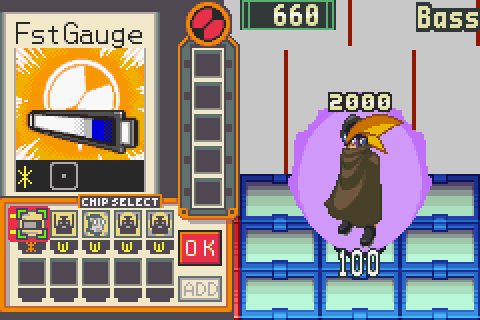 So... Bass! Real Bass! I have no idea why I switched to WoodShield for this fight, but anyway-
First thing you'll notice about Bass is his aura. Manage to get it off him with a 100+ damage attack? Hey guess what, it regenerates HELLAS FAST. So... you'll want a really good folder for this.
For the first stage of the fight, Bass slowly warps around and occassionally attacks you with a shockwave of electricity. Then he'll charge up an attack, which can either shoot tons of electricity down all rows (very hard to dodge), or shoot electricity around your area up and down through each column (slightly less hard to dodge, but still a butt), or he'll just bomb your area (crazy hard to dodge, thanks Bass).
Once his health is real low, he'll warp around crazy fast and then break the panels in your area. He leaves his aura to do this, so if you dodge well it can be a godsend that late in the fight (like... if you're running out of chips).
Of course... this would be an excellent time to learn one important thing. Poison damage ignores auras and barriers.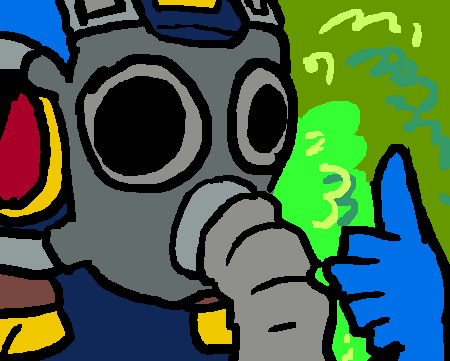 Cheap? Very. But
cheapness is my forte
!
And
Epee Em's video
captures the cutscenes before and after.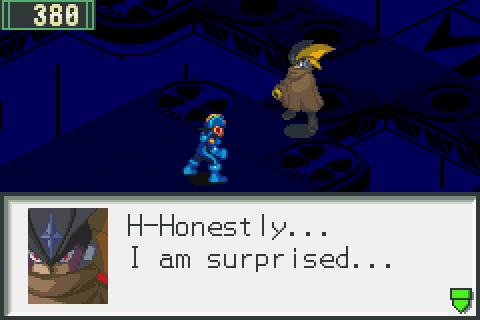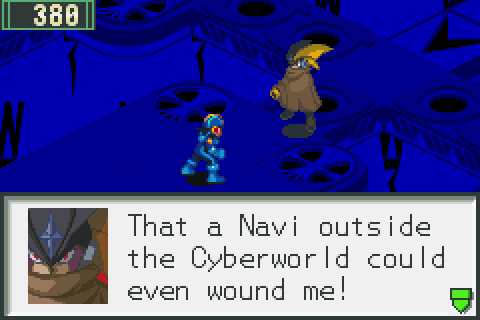 Bass's battle really is a worthy end-battle. It requires a ton of effort to put together a good enough folder for it, the attacks he uses are varied and interesting, and even if you run out of chips near the end he does come out of his barrier once his health is low enough, which is quite kind of the devs!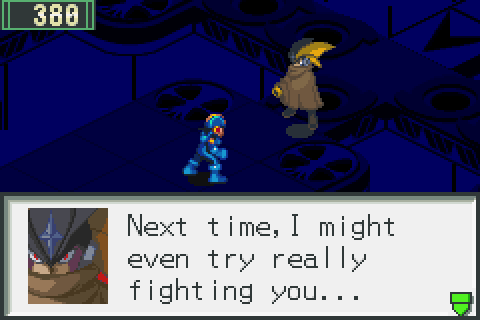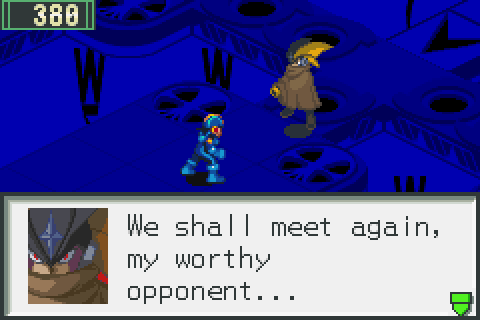 ...That's right, there
is
another Bass rematch. It's like this one, only with a barrier of
150
and even more health than he had this time.
And the requirements for fighting him are even crazier than for fighting this one.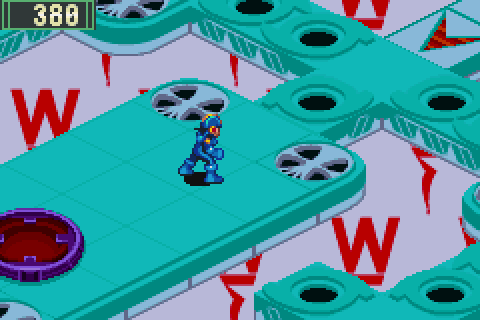 Bass is rad as hell.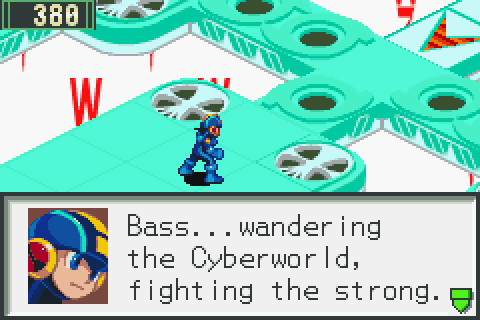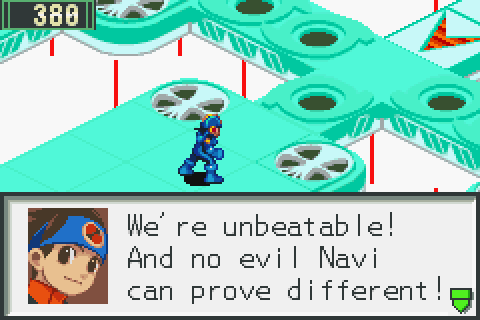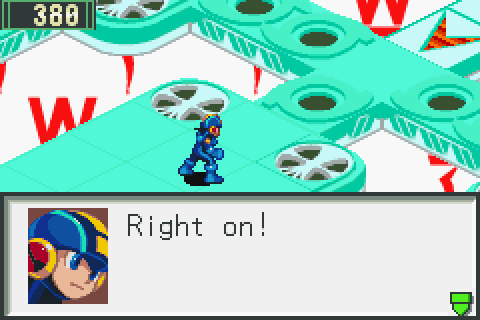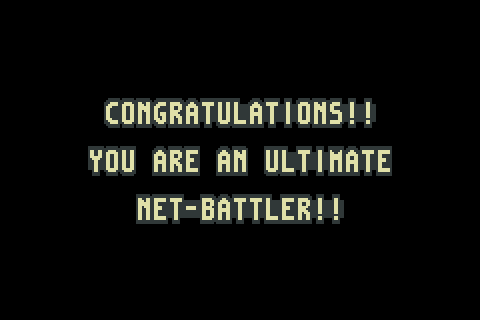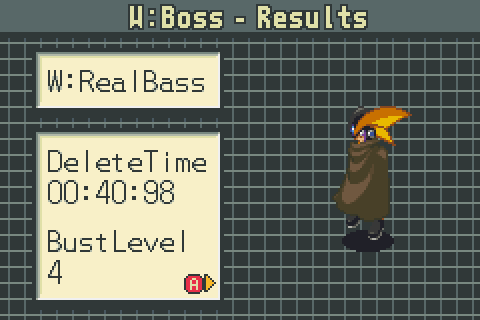 After you beat "real" Bass, it shows you a screen like this with all the initial busting levels of each boss you've fought.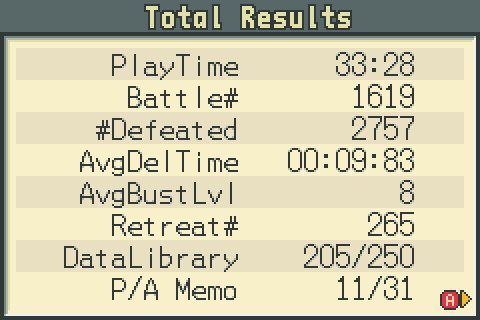 And another screen showing how great you are. ...And how far you have to go if you want to fight Bass's next form. Because to fight him? You need a full chip Library. Eugh.