Part 24: Something Something Plane
Should have referenced Anaconda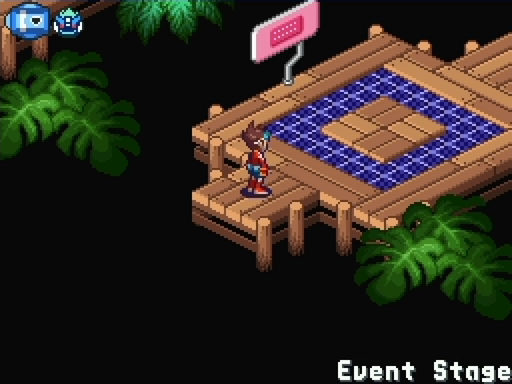 Welcome to the Event Stage! There's nothing interesting here.
Wow. What a letdown.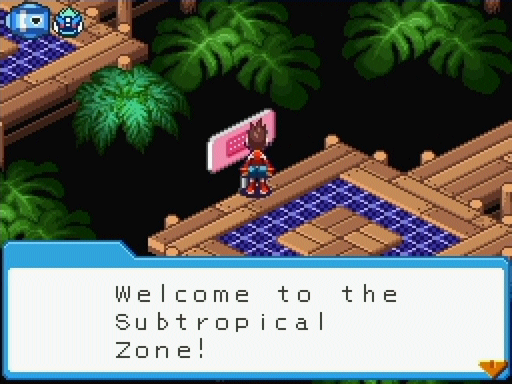 A collection of snakes from all over the world! As it is very dangerous, please do not touch or feed the snakes.
Hey, it's more BN competency! Nothing like leaving venomous wild animals out for kids to play with.
Maybe world construction like this is why BN and Starforce got a lot of hate.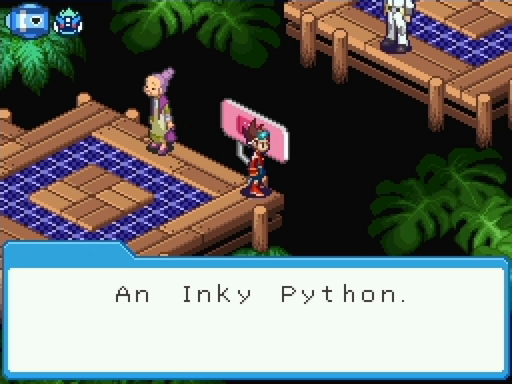 With its all black body, it waits for its prey in the darkness. Its poison is a powerful nerve agent. Were you able to spot it?
Like usual with these sorts of setpieces, we have to examine all the exhibits. Can YOU find the Inky whatever?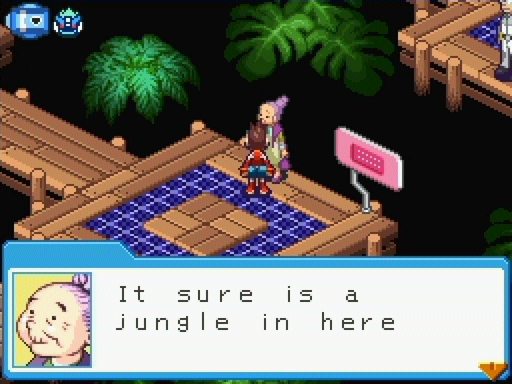 : ...with this heat and humidity.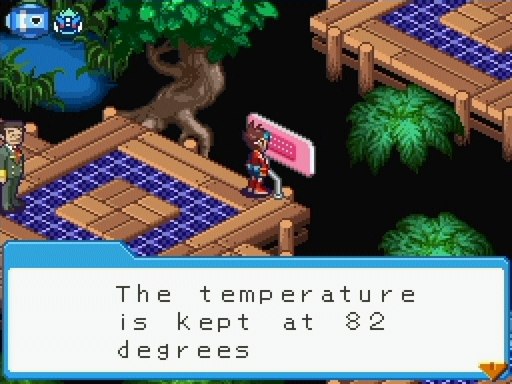 ...Fahrenheit, and the humidity at 80%. Caution: The floor is slippery.
Ugh. That would be like walking directly into a wall of water, almost. Gross.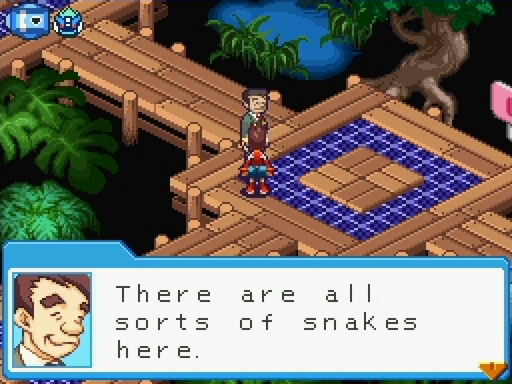 : I really hope no poisonous ones escape, though...
Surely that would never happen.
Nonsense. Everything is perfectly safe and contained.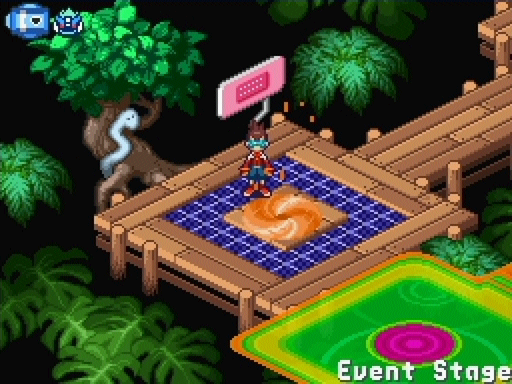 Down below the suit is another wave hole, but we can't go into this one either.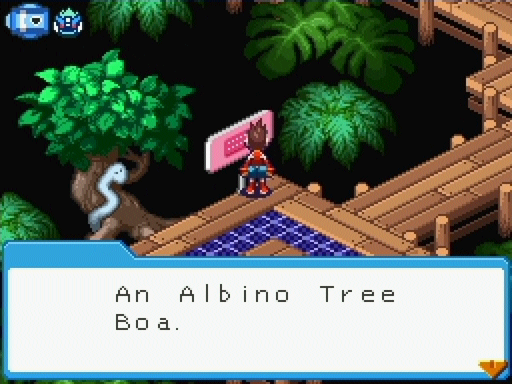 These fierce and aggressive Boas can swallow a person whole.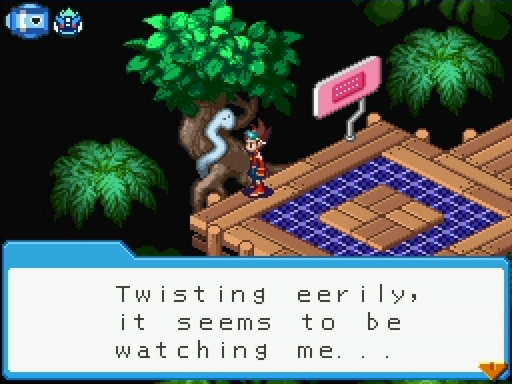 Good snake. Seriously, these things are within hand distance of Geo.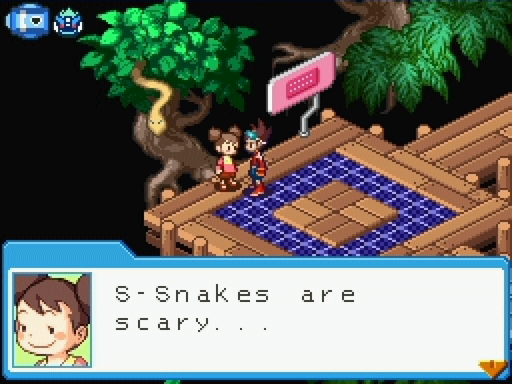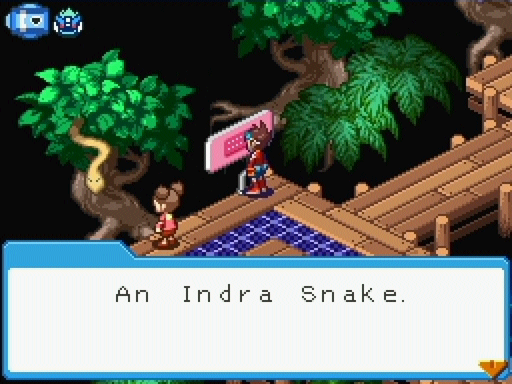 Due to its specialized neurotoxin, a person bitten by the Indra Snake will feel like they have been struck by lightning.
How shocking.
What an electrifying piece of information.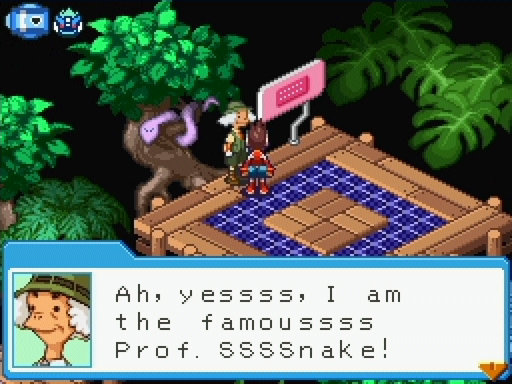 : I can understand the language of ssssnakes. I've brought many different kinds of snakes from variousss junglesss around the world. All for thisss very event!
Fucking scalies.
Buddy those snakes had better be telling you how they're gonna murder you if you don't stop that hissing, it's very annoying to transsscribe.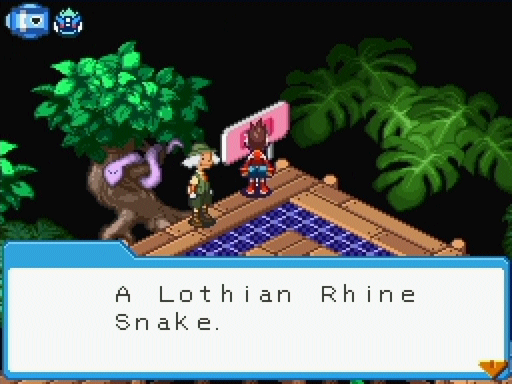 It prefers dense wooded areas and can grow up to 15ft. long. It's[sic] venom is so powerful that it can take down even an elephant.
Fun fact, this is the only snake to be described as venomous instead of poisonous.
Waiting for one to be described as toxic.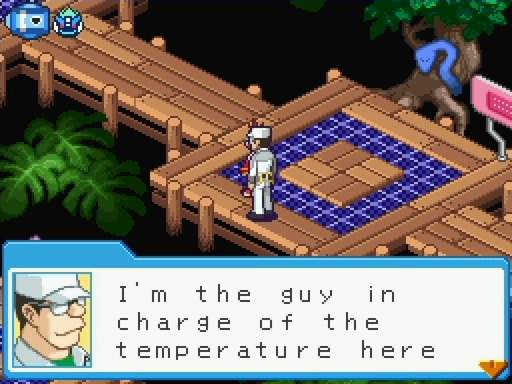 : ...at Nacys, and let me say getting the Event Stage temperature just right is no easy task!
Keep at it and maybe I'll learn your name, random scientist NPC.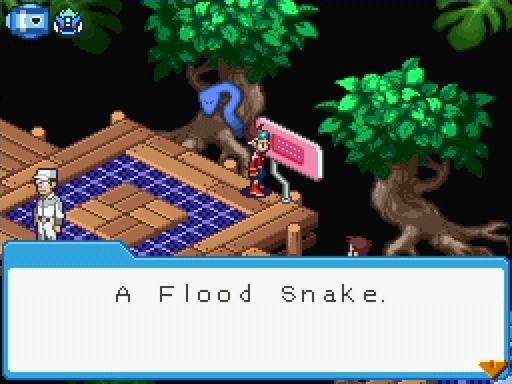 It's believed by natives to cause great floods. It lives by the river's edge and uses its great strength to drag prey into the water.
You ever seen a video of a python or whatever drowning animals in a lake? It's impressive.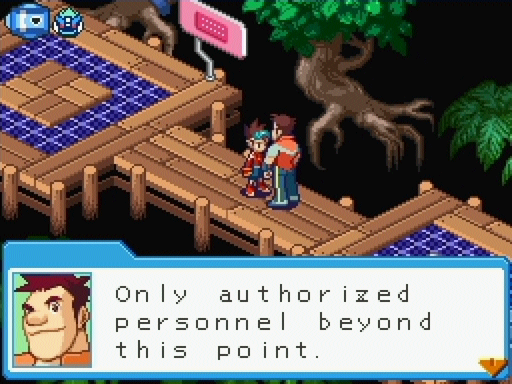 Hey! Let me through!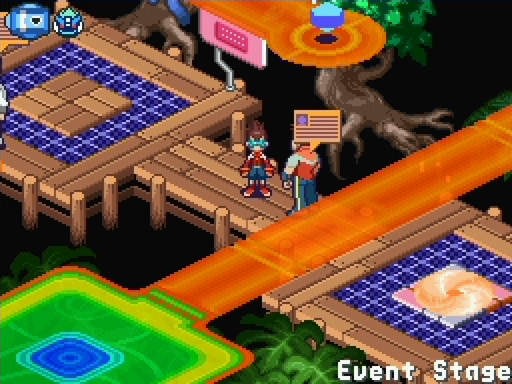 Bastard there's a wave hole behind you!

Waveholes are the new snake's prey.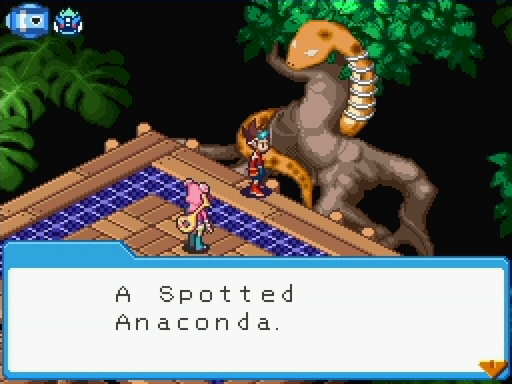 So what's Sonia looking at, then?
Known for its world class size and fiery temperament, this snake will make an easy meal out of a person. The longest one on record was 65 feet. This is a scale replica.
Neat.
Neat? We were this close to comedy gold!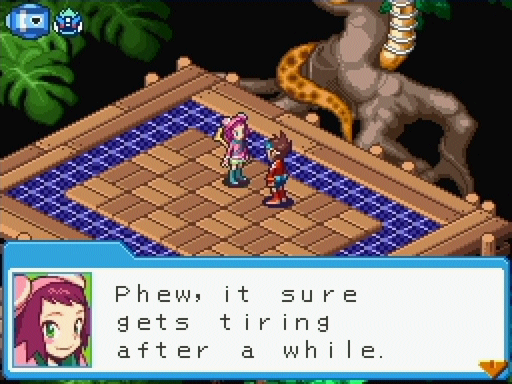 : Do you want to take a break?

: Yes, let's!

: Let's go outside then! I know a cute cafe nearby.
(Transcription note: they do have accent above the E in 'cafe' in the text.)

: A cafe? I-I've never been to one... Will they let two kids in there?

: Hee hee, if you go with me, it'll be fine! Well, let's go!

: If you say so...
At least she's enjoying the good parts of fame, like "Spending money" and "Going to a cafe"...?
Yeah, I don't...know. Was translating it as cafe a fuckup? Did the writers mean something different?
Nah, Geo's just shy about enjoying cake with a girl.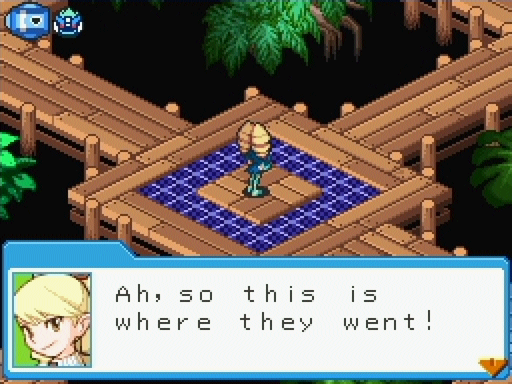 Oh hey, Luna has been following Geo and Sonia.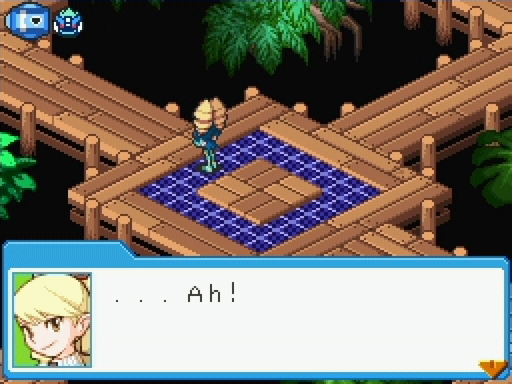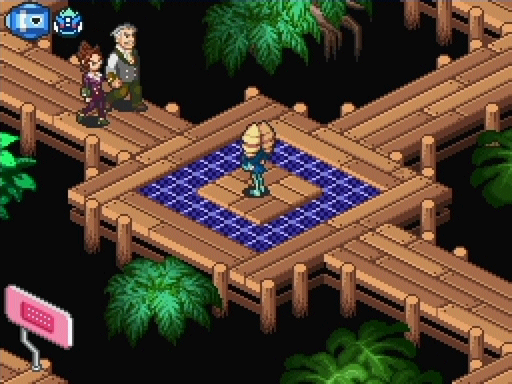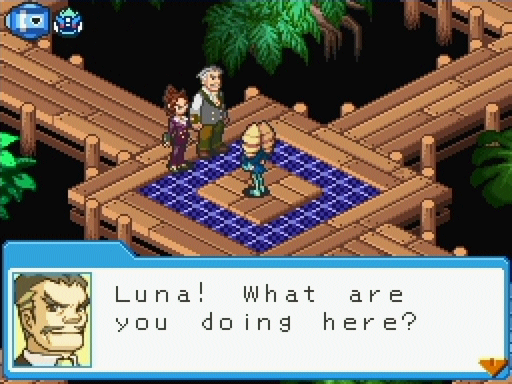 : Um... I, uh...

: What? Speak clearly!

: I... was...
Poor Luna. She just wanted to have a single day where she could relax. Instead, this.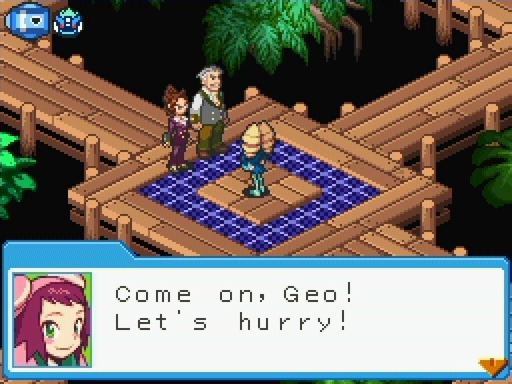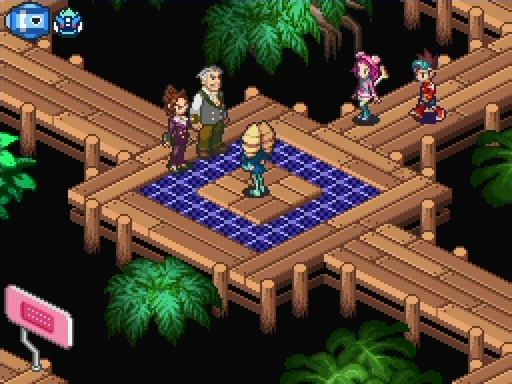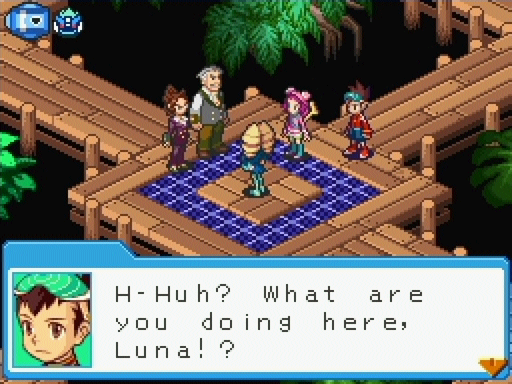 And now she's caught between Scylla and Charybdis. Nothing will satisfy her parents, and it's not like she can tell Geo she was spying on his date without coming off as incredibly, incredibly weird.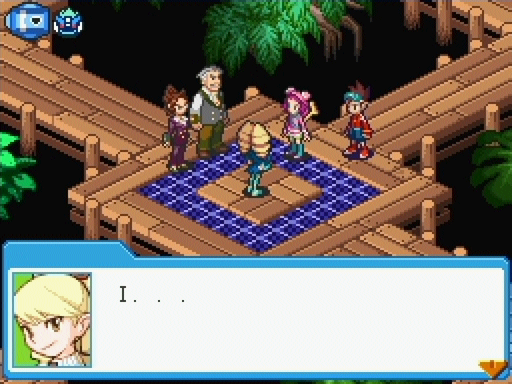 : Luna, who are these children?

: He's one of my classmates, Geo, and...

: I'm his friend, Sonia Strumm.

: Hmph, elementary school children out on a date? I can't say that I approve of such behavior. Children have no business acting like adults, and going on "dates". If you have the time to play pretend, you should spend it studying to get better grades.
Luna's parents are obviously very goal-oriented. The only thing that matters to them is results, so naturally they're going to look down on anyone doing anything not 'necessary'. Luna tried her best to impress them by being perfect - her obsession with Geo going to school is just Luna trying to make sure she's the perfect class president.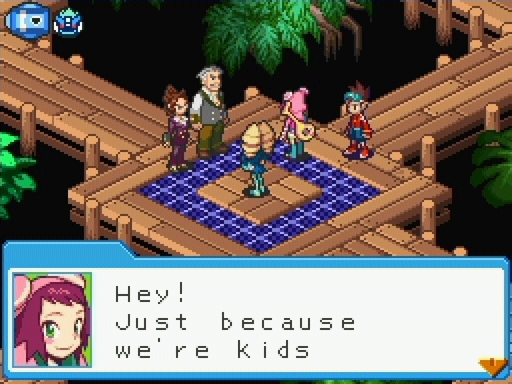 : ...doesn't mean you can be downright rude to us!

: I'm afraid being around children like these is truly negatively affecting our dear Luna. We should speed up our search for a better school and transfer her there at once!

: Transfer!? What are you talking about!?
Clearly they don't care. Luna is so pushy and micromanaging because she needs her parents to
care
about her, but they only notice when they want to control her life and make decisions for her. Remember those pictures in Luna's home, where she's not smiling?
Man, they just...rushed to this payoff, didn't they? I get it. Her parents run this exhibit. But geez, not like the being transferred bit had to be dropped right this second.
It's about the same pacing as the rest of the plots so far, so it's fine.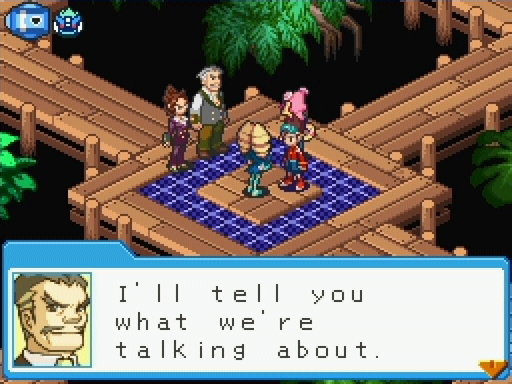 : So that Luna will have a bright future ahead of her, we are transferring Luna to a school with an environment better suited to studying and discipline. Once she moves there, she won't see rabble like you anymore either. I hope you will refrain from associating with Luna and corrupting her.
I'll repeat it. There's only one thing these people care about, and one measure of 'success'. (Oh good, and he's an elitist shit too. Great.)
Seems like Chaud's dad to me.

: You and your filthy...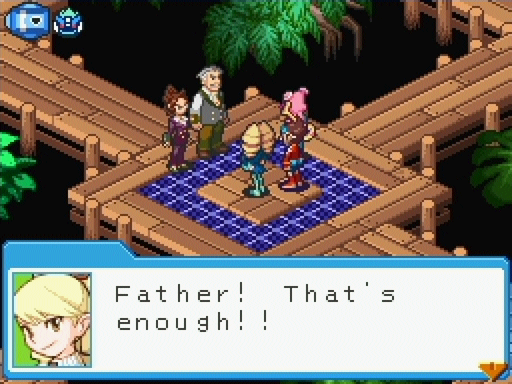 Also, Sonia is a very popular idol. Hardly 'filth'...

: Be quiet, Luna. You will be a good girl and do what we say!

: No!! I'm not yours or mother's doll!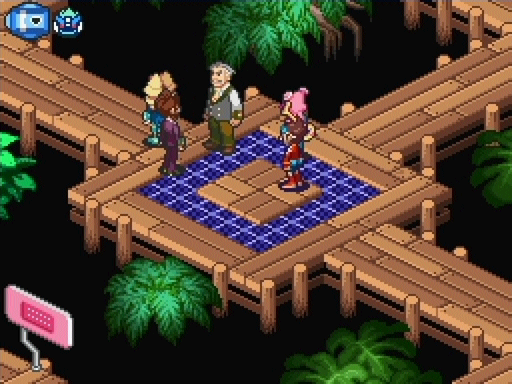 Luna storms off after shouting that. Something small, but Geo's only part of this conversation (because it's definitely Luna and her father yelling at each other) is concern for his classmate leaving. He may be shy and withdrawn, but he's gotten a little attached to having her around.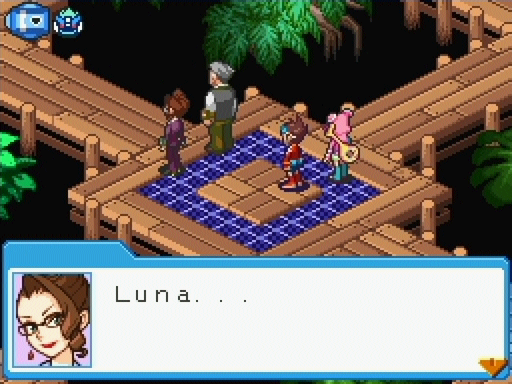 : Let her go. I'll give her a stern talking-to after we return home.
Oh! That's who he reminds me of. The father from the original Mary Poppins movie, the bank guy.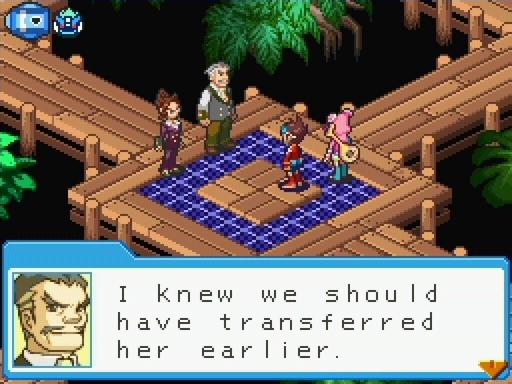 : You two! Get out of here and go home!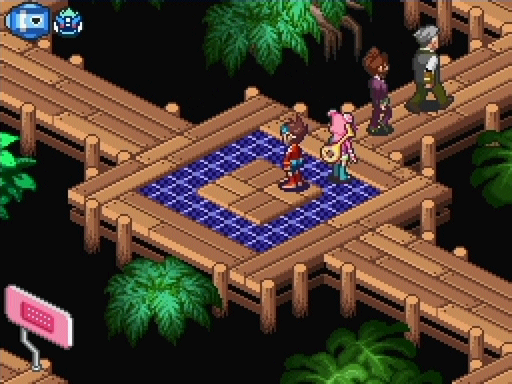 They totally ignored everything that Luna complained about. If this is the first time she's ever complained about how they treat her, then it's just another sign that being in the public school has corrupted her. And I sincerely doubt they'd even remember if she's protested before.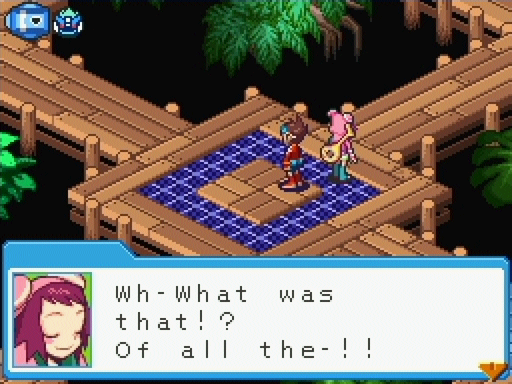 : I know!! What a pair of horrible people! You should've fought back too, Geo!!

: .........

: What's wrong? Did the old guy scare you?

: No... It's just... I've never seen Luna look that stressed before. I was wondering if she's OK...
Geo's more perceptive than he lets on.
Introverts do tend to be very perceptive of other people's feelings. That's generally because they sit back and think.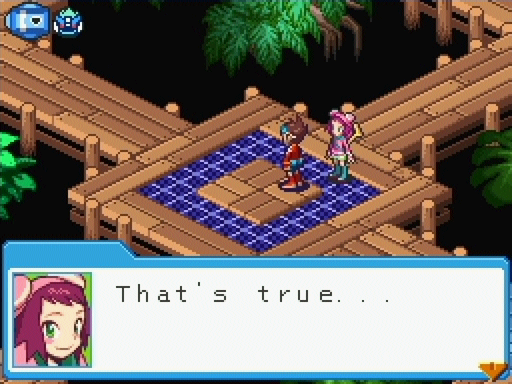 : Do you want to go check up on her?

: If you are, then you'd better hurry. I've got a bad feeling about all of this...

: A bad feeling?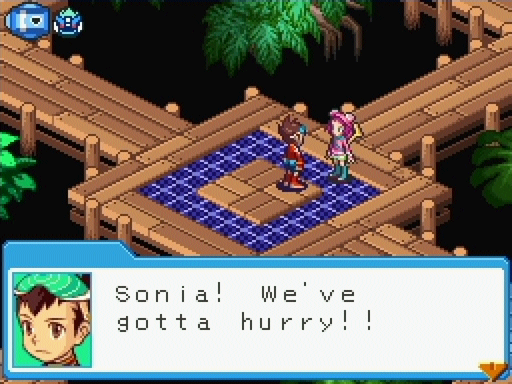 I'm sure it's fine, but we'll go ahead and run out of the event stage anyway.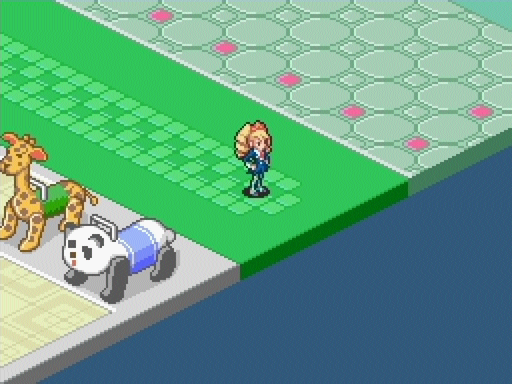 See? Nothing wrong at all.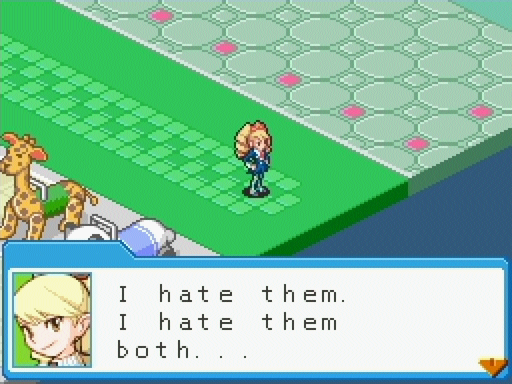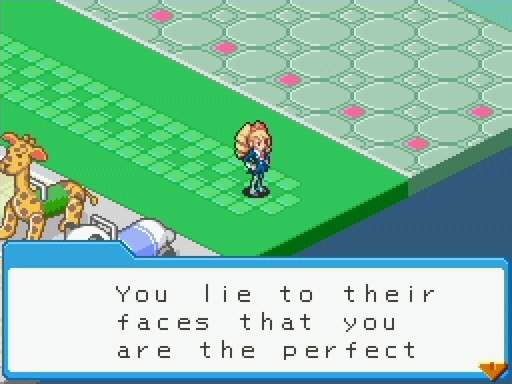 : ...daughter who can do anything, but where is the real you?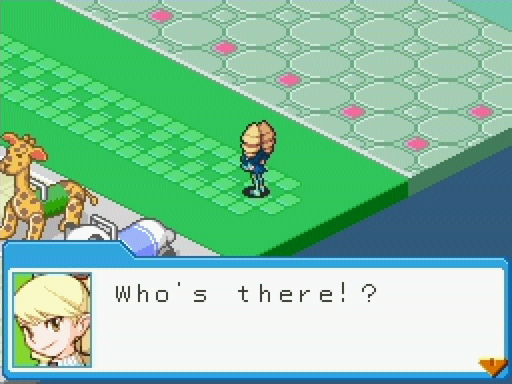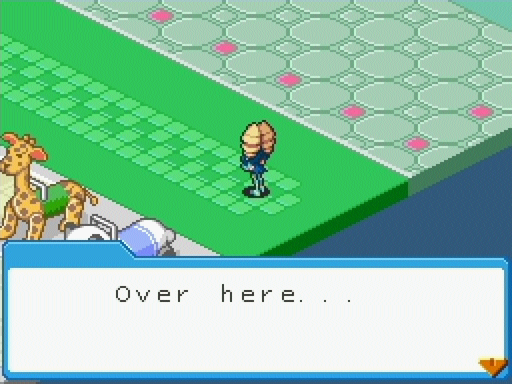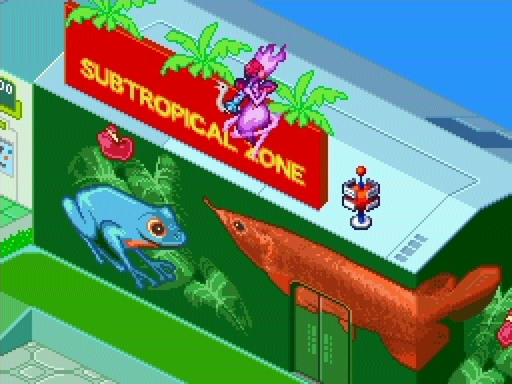 Ah. Shit.
You lied, Yeti. Everything is so not fine.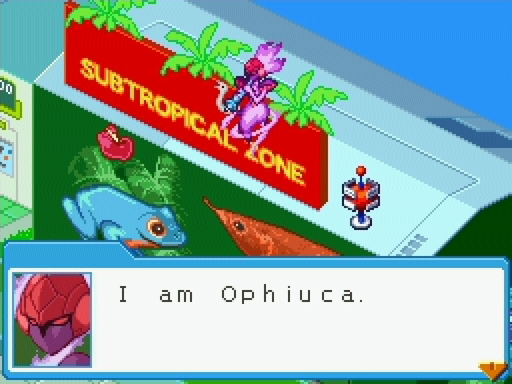 : I am here to give to you the power to break the bonds that tied you down.

: A monster!!

: Don't be scared. I came to give you power.

: You think I'm going to fall for that!? I've already had a few run-ins with monsters just like you!!

: I see. So you've met other FM-ians before.
Luna, not actually surprised by this turn of events. Though really, the only one of these she's 'seen' personally is Taurus. Or possibly Cygnus, if he showed up on the screen.
I...almost find it really odd we don't have a scene where Luna was talking to Bob Copper about her experiences. Would Luna and Zack have these so-called Z-waves? Or at least some amount of it? Bud should definitely have some and we only ever see Geo questioned.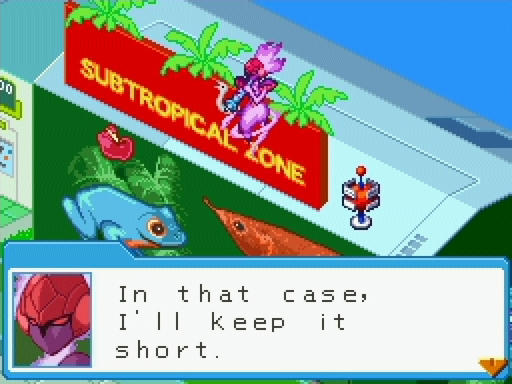 : Let me borrow your body. If you do, you can stop them from transferring you.

: What??

: You can stop both of your parents from sending you off. It's not impossible. However, if you don't let me in, I'm afraid it might be too late...

: But how...?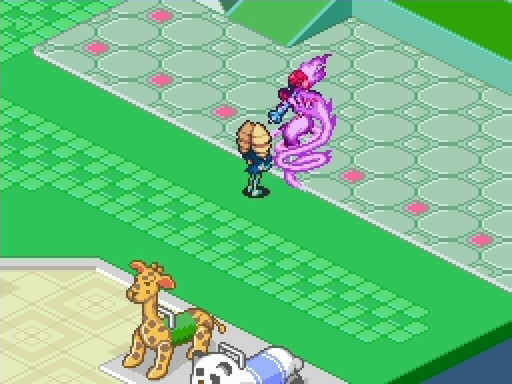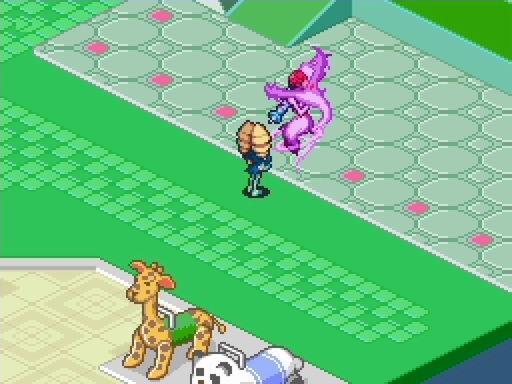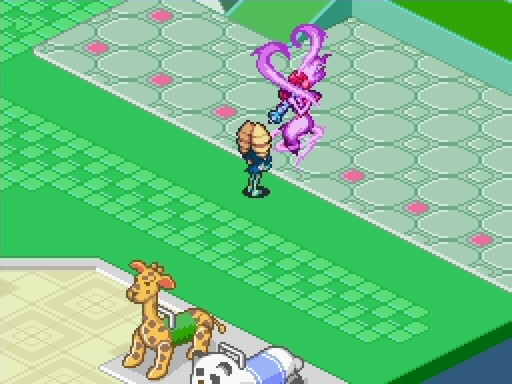 Ophiuca's teleportation. I took a few screenshots of this one because it's a snake! Each FM-ian has an animation unique to them, like Taurus's flames and Lyra's heart.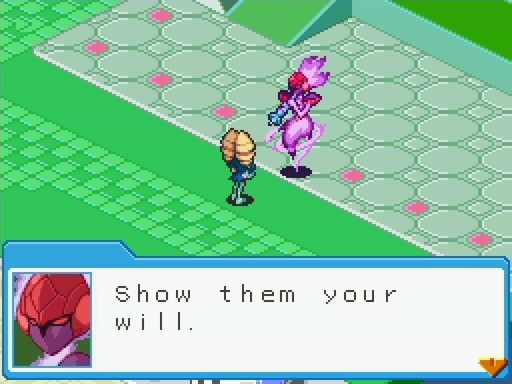 : Make it crystal clear to your parents how you feel; that you are not their little doll!
(Side note, that should be a colon. Not a semicolon.)

: How I feel...

: That's right. Let me in. I can help you show them your true feelings.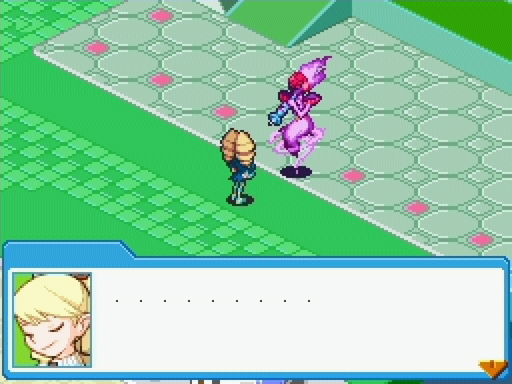 : Stop! Don't let her in, Luna!!
Apparently, every single FM-ian is incredibly good at manipulating the humans they're trying to bond with. It's almost impressive.
I guess that's like their whole schtick. They pick their prey, wait and observe and move in right when they are most vulnerable. "Loneliness waves" are just a metaphor for animals to smell fear or other emotions. Fuck off you parasites.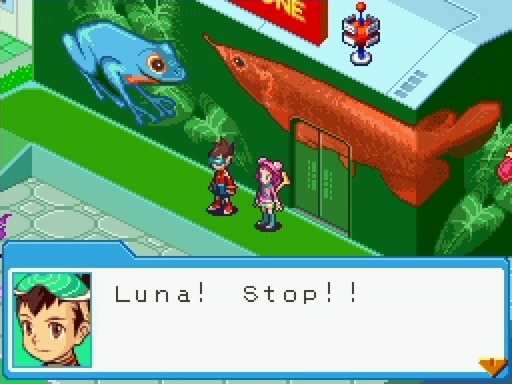 : She just wants to use you!!
Geo why are you smiling.
Smiling because this means another boss fight and being a murder hobo is fun. Don't you deny it.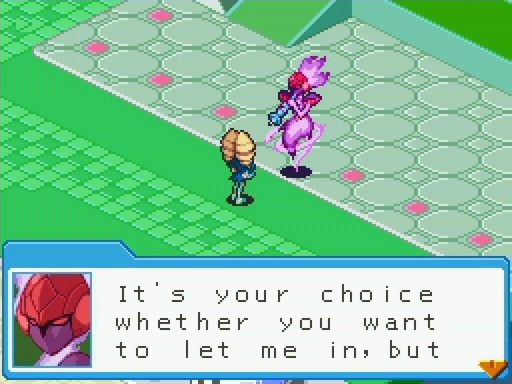 : ...if you don't, you won't be able to change a thing.

: .........

: Luna!!

: ......... ...I don't want to transfer to another school!

: I will make your wish come true!

: Nooo!!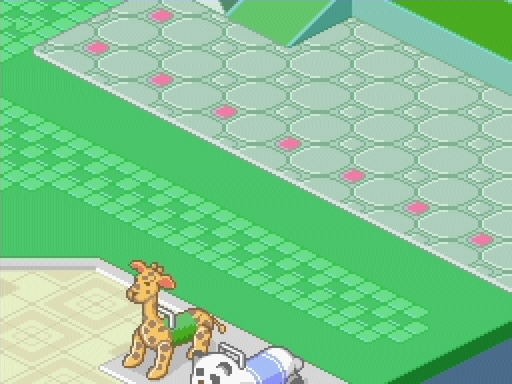 And with a flash of light they're gone. Good job, Luna's parents. You fucked it real good.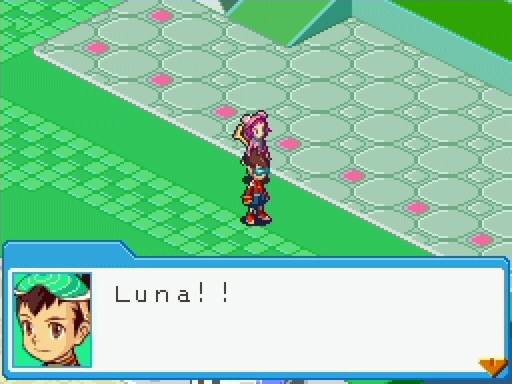 : Where'd she go!?

: Look up by the sign!!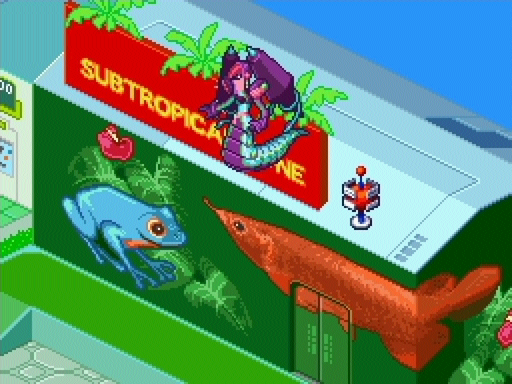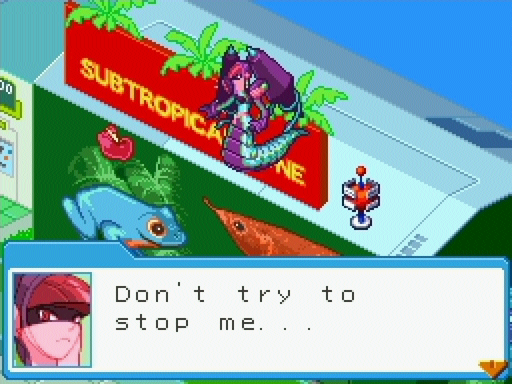 Then, she disappears again.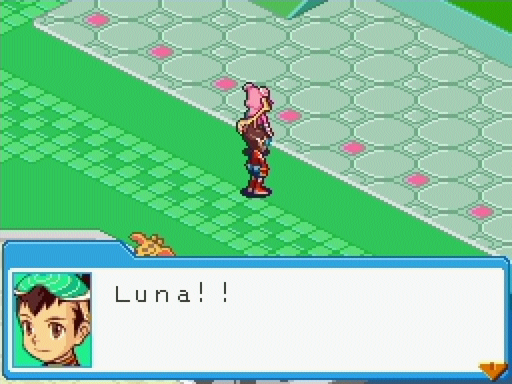 : She's in the Wave World, inside the exhibit! We've gotta hurry!!

: Ophiuca, huh? She sure picked a bad spot to show up.

: A bad spot? What do you mean?

: Well, bad for us, good for her. Ophiuca is an FM-ian who can control snakes. And you know what's inside that exhibit... I bet she's having a blast in there.

: Gotcha. I'll be careful.
Ophiuca is the snake charmer, after all.
If her entire thing is snake-charming then that means they...have snakes on Planet FM? We see FM aliens, but we never got a glimpse of what their world was actually like. What their world composes of. Are the 'reptiles' there Earth reptiles? Are they EM Wave snakes? I don't know. The BN writing team was always weak at world-building. They were better at it during Battle Network. With Starforce, they just used the fact it's in the same timeline to set the stage and didn't do much else, in my opinion. We'll see more of what I'm talking about next scenario

dumpster area having BN6-era PETs

. There's so much to explore with a new species and we only touch the surface of this in the entire series. It's a shame.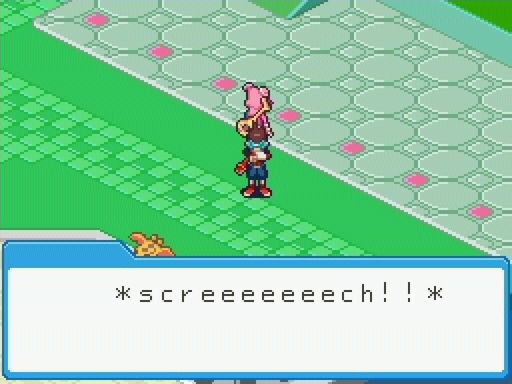 : Sounds like something's happening! We'll be too late if we don't get in there!!
Hurry hurry!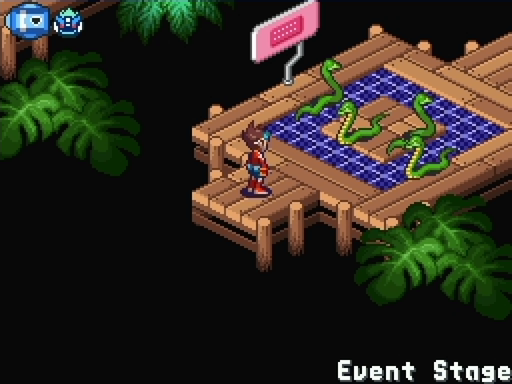 Hm. This may be a problem.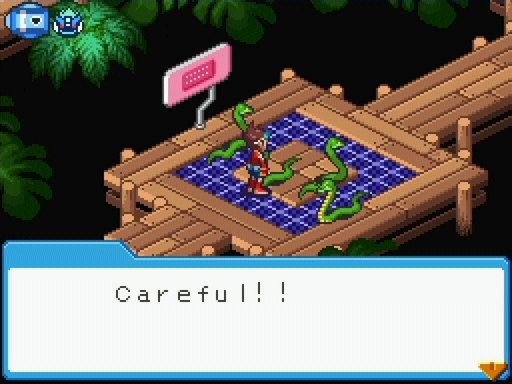 Those snakes are extremely poisonous!
Ooh, that's not great.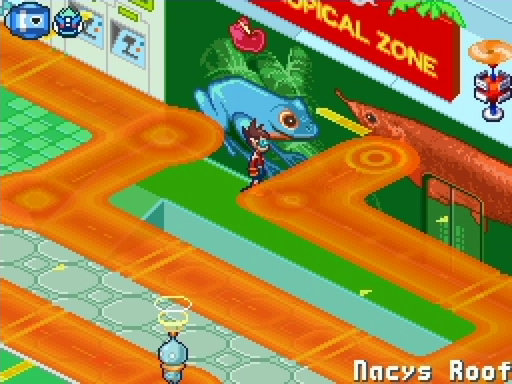 Well, this wave hole will lead us inside. We can finally pulse in!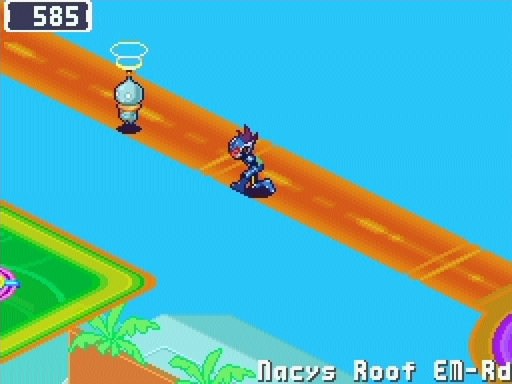 Time to immediately not pay any attention to the current crisis and explore the EM road.
Game. You missed an opportunity to have Harp Note here as an NPC. Why!?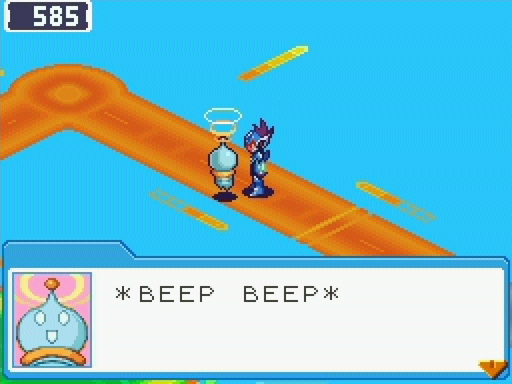 : IF YOU TOUCH THAT ROUND, SHINY RED SPOT WITH YOUR STYLUS, YOU WILL INSTANTLY BE WARPED TO THAT WARP SPOT! *BEEP BEEP*
Ah, yes, this weird gimmick. This only happens maybe two more times in the entire game. Starforce 1 was weird man.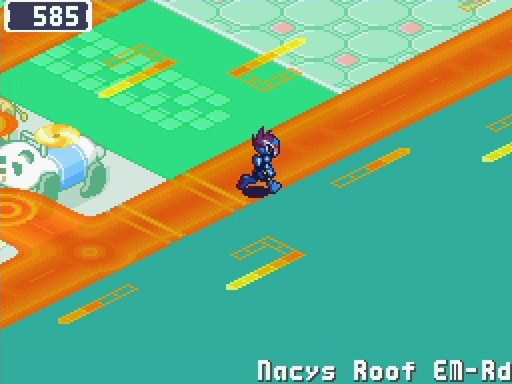 The roof's EM road is a square outside, with two internal parts you can access with the neat red targets that Mr. Hertz told us about.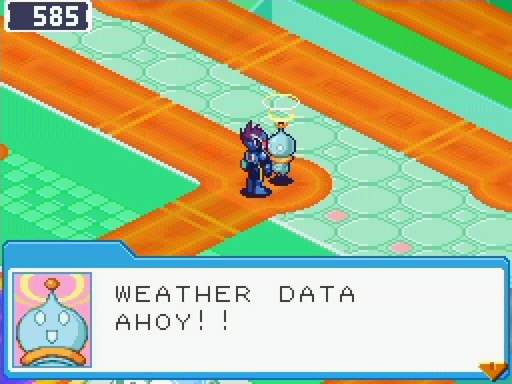 : TODAY WILL BE SUNNY WITH A FEW CLOUDS MIXED IN.
Any idea about snake forecasts?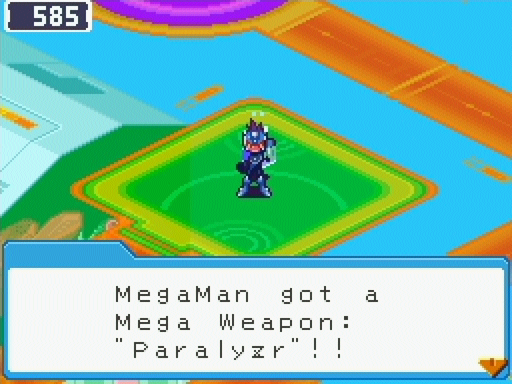 This weapon is in the top half of the inner parts. Its charge shot has a chance to paralyze which makes it surprisingly useful. I will not use it.
Makes sense.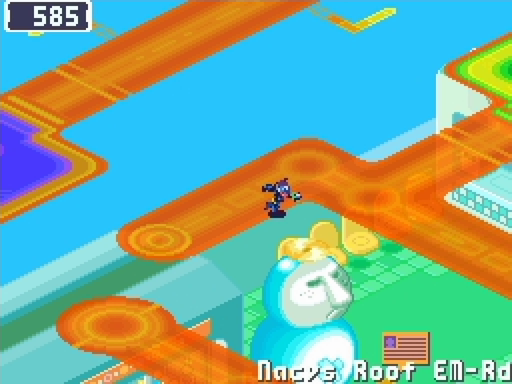 Let's check out those comps.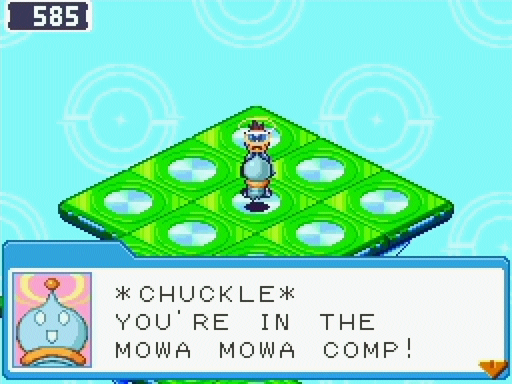 : DID ALL YOU KIDS REMEMBER TO DO YOUR HOMEWORK? REMEMBER, STUDY HARD AND YOU'LL BE FINE MEN AND WOMEN WHEN YOU GROW UP! *CHUCKLE* *BEEP*
Weird.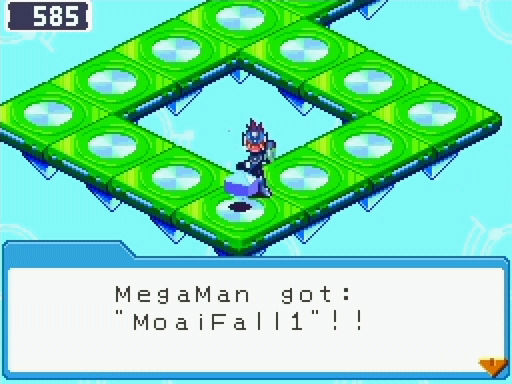 Useless! Zenny is more important than one-time cards!
I don't hate it, necessarily. This kind of drop is here for the unlucky/unskilled players who just couldn't score MoaiFall1. They get a one-time help-out and the rest are on their own. Fundamentally, it's a bit of encouragement to try out cards because you got it with low effort.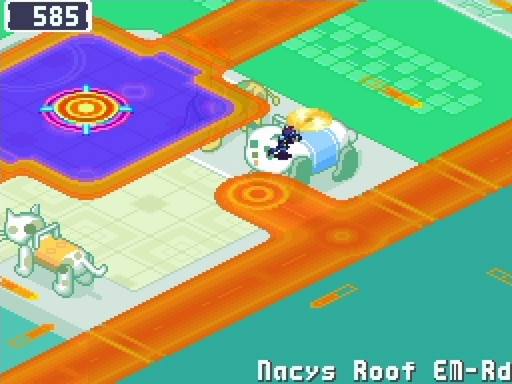 What about the panda?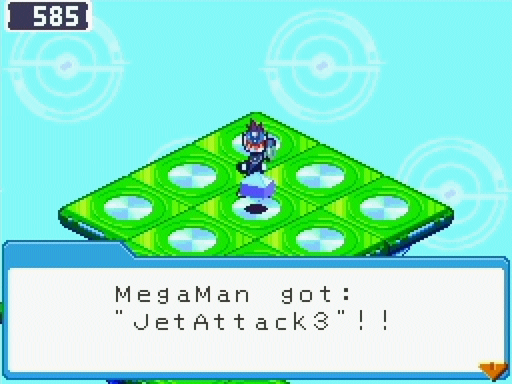 Now, that's what I'm talking about! JetAttack3 does 200 damage compared to JetAttack2's 150, so I swap it out. I'll probably remove JetAttack once better cards show up for use, but for now it's a good 200 damage straight line.
Geez. Well, viruses will forever remain a joke I guess.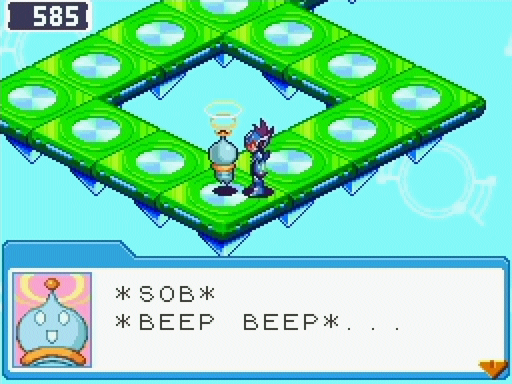 : I'M SO BLUE... PEOPLE USED TO MAKE A BIG FUSS OVER ME, BUT NOW, IN THIS DAY AND AGE, WHEN WAVES ARE EVERYWHERE, NOBODY NEEDS ME ANYMORE... *SOB* *BEEP BEEP*...
It's okay, Mr. Hertz. You'll be popular again some day!
Definitely not. Starforce 1 was the peak of the series' popularity.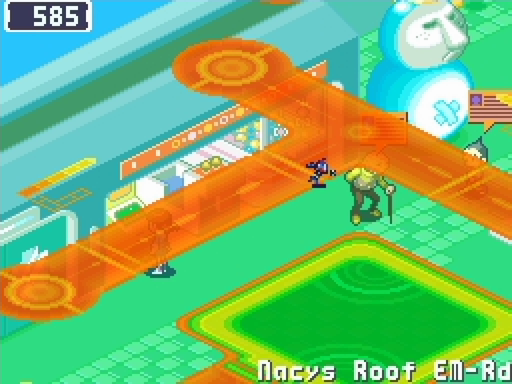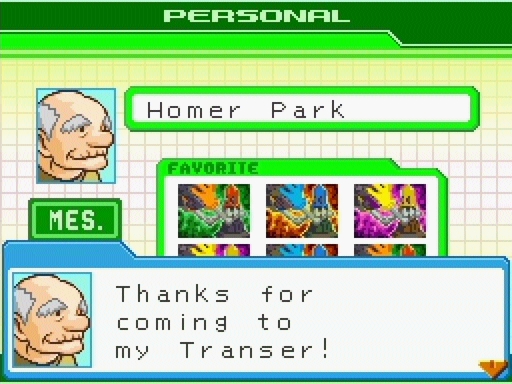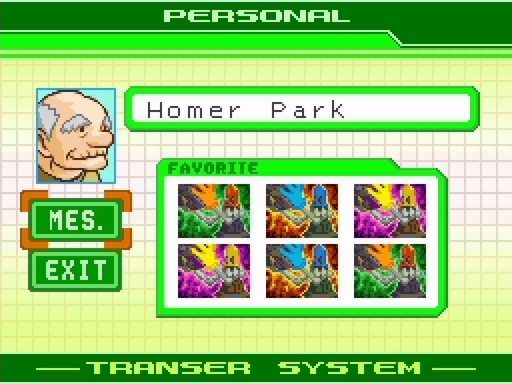 This dude likes trash, apparently.
He just called all of you shit at this game.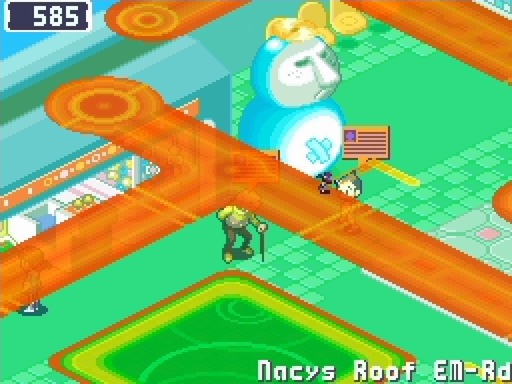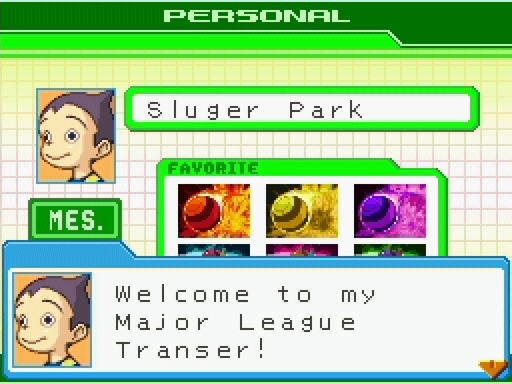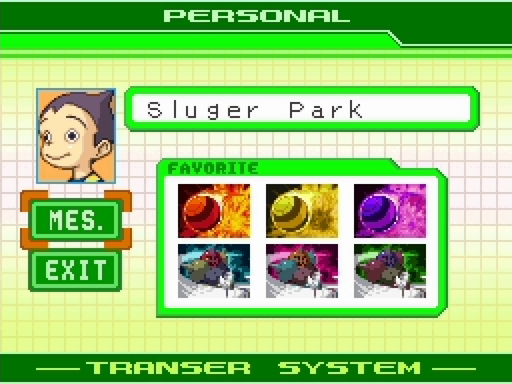 I can't wait for those lower line of cards. Oh, I'm going to have fun with them.
Hell yeah, man.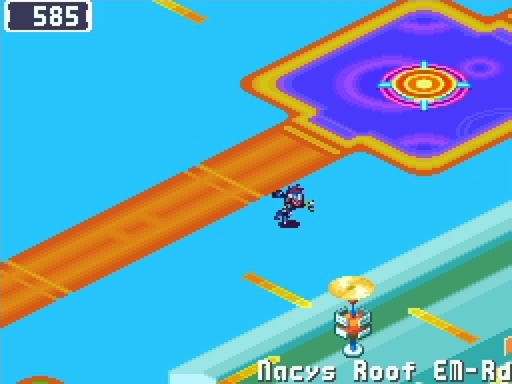 There are only those two people with Transers up here, so we're done with this part. Remember the 1st Floor, how we found a wave hole but couldn't get there? Gotta go in through the roof.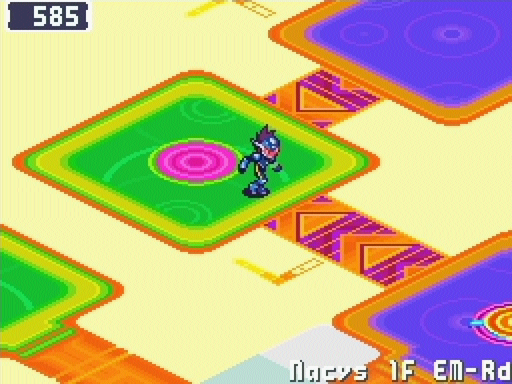 To actually get to the area, we have to tap the teleporter. Just... why?
This gimmick never shows up in the series again after this game, either.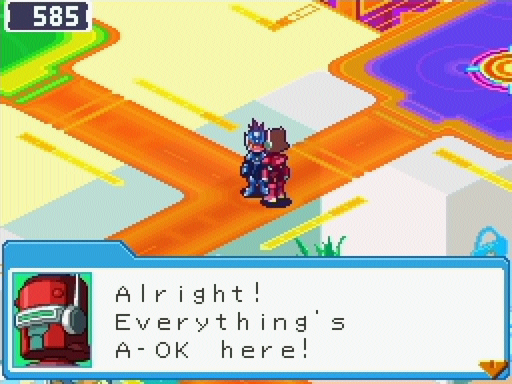 : Now I'm off to take a quick look outside!
Probably shouldn't do that. There might be snakes.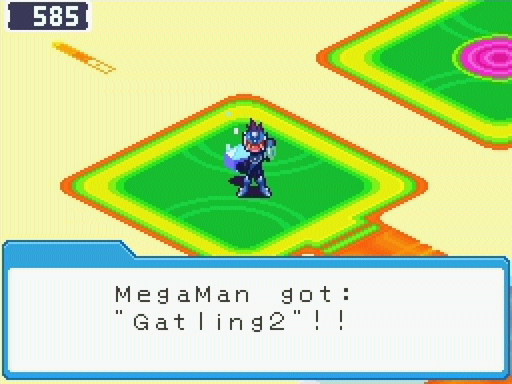 By this point if you need more Gatling2s, find better things to put in your card folder. StickyRain is that better thing.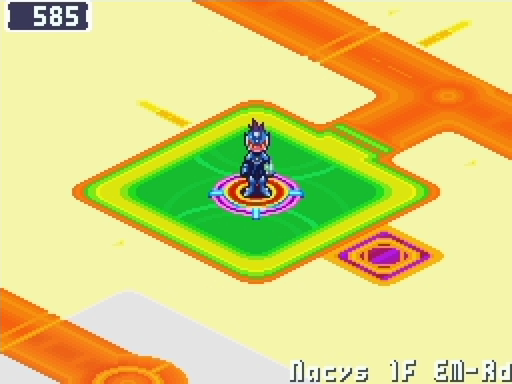 This area is split into three different segments. Once you get to the right chunk by using the teleporter target, it leads up to that one tile-wide conveyor back to the roof.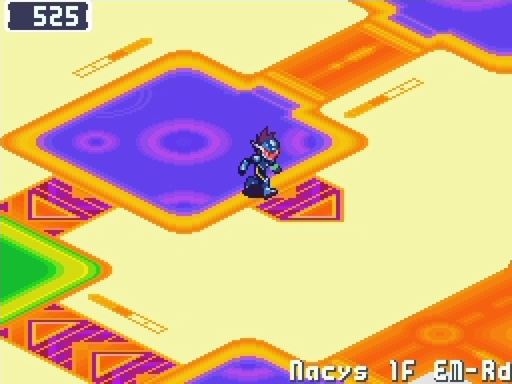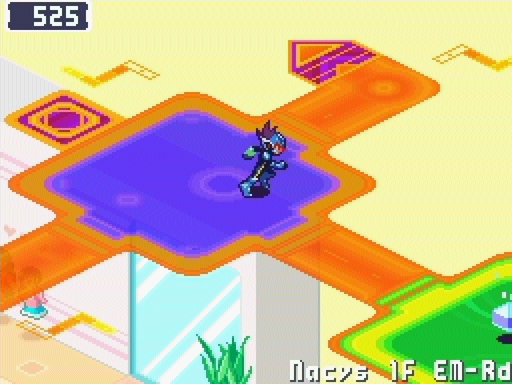 Taking this dash pad leads to the third chunk.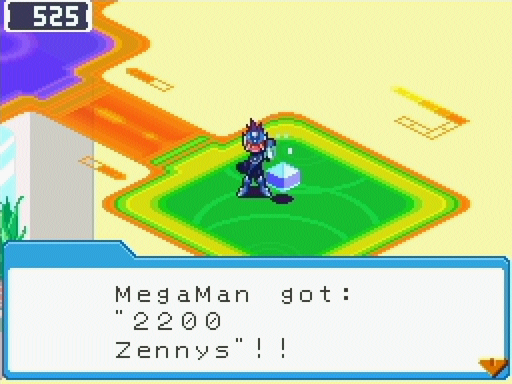 Money is always helpful.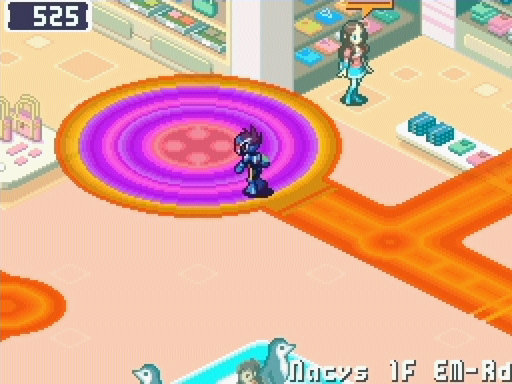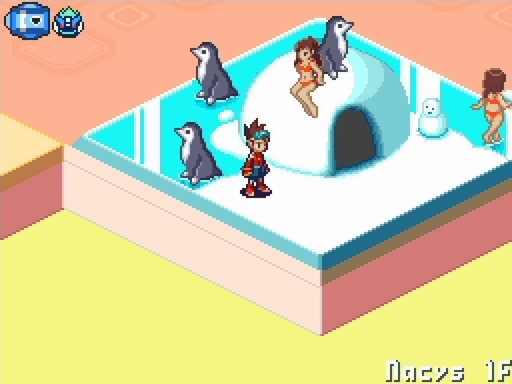 The wave hole that we saw there is this exit.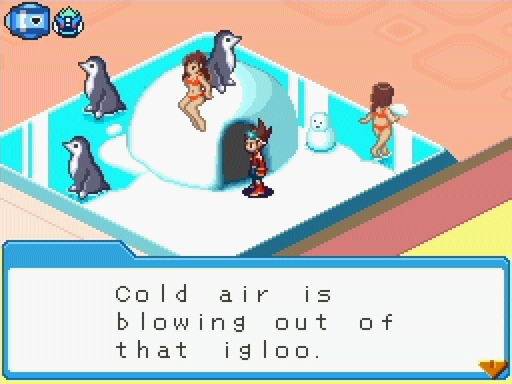 I'll catch a cold if I stay here too long.
Neat.
If memory serves, there's something else you need to be at this spot for.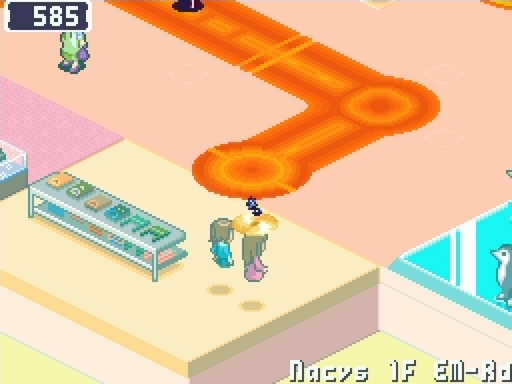 That's... really it, all things considered, aside from this comp space.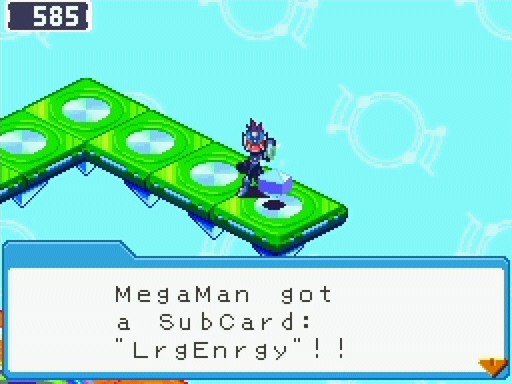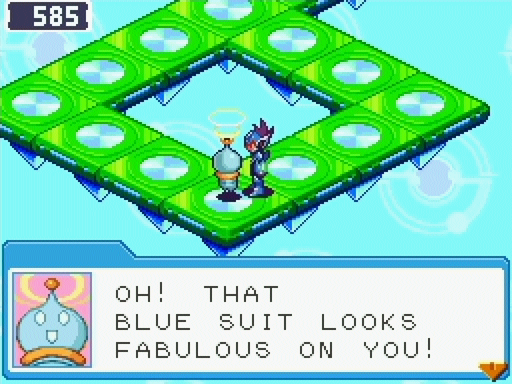 : DARLING, *BEEP* BEHAVE! BUT THERE'S JUST ONE THING THAT'S MISSING... BOLDNESS! YOU SHOULD DRESS YOUR "SELF" UP IN RED, YOU KNOW. WOULD YOU LIKE ME TO GIVE YOU A LESSON? WHAT? NOT NOW? AWW, TOO BAD. *BEEP BEEP*
Thanks for the advice, Mr Hertz. I'm sure Geo will keep it in mind!
Fashion Hertz is the worst.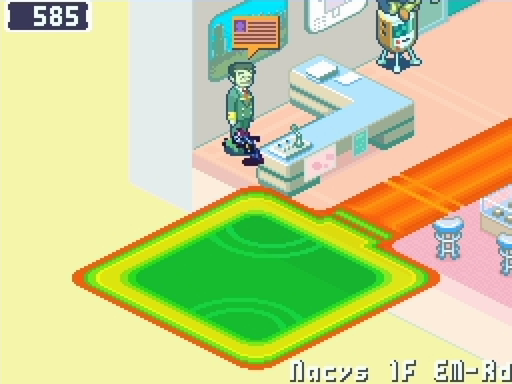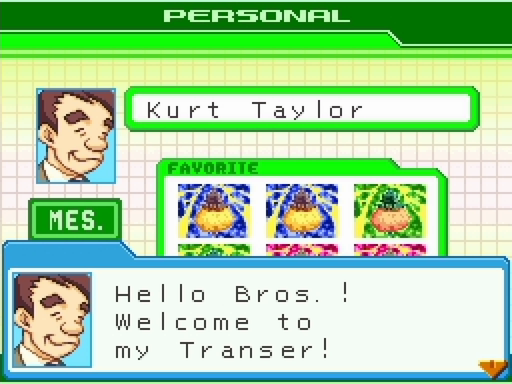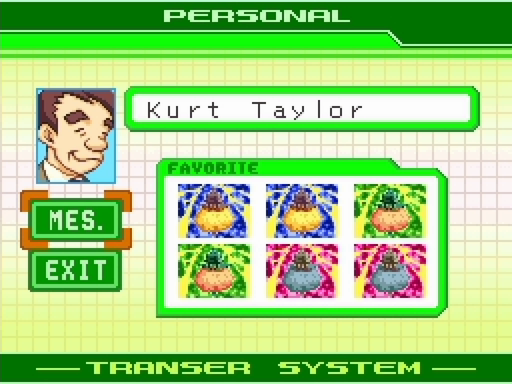 Straight to the point. Very curt.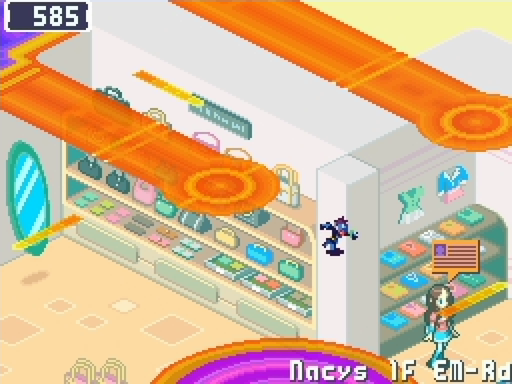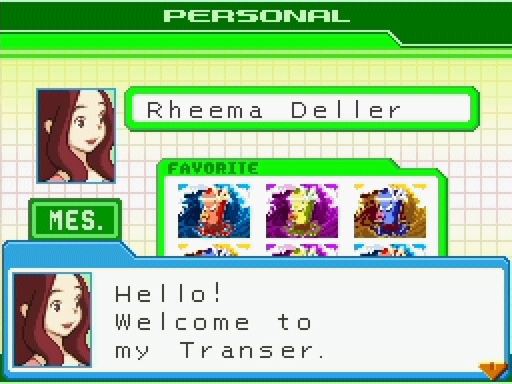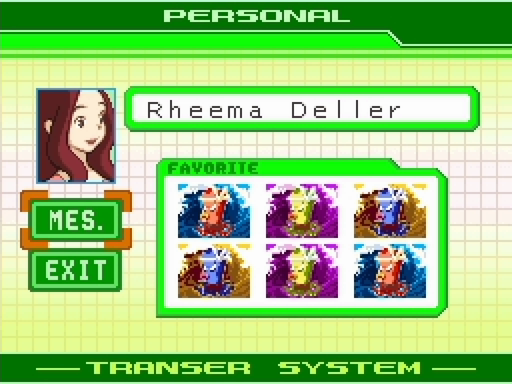 I wonder how often she gets her kitchen redone?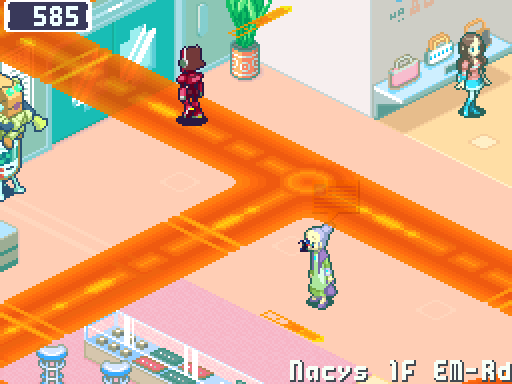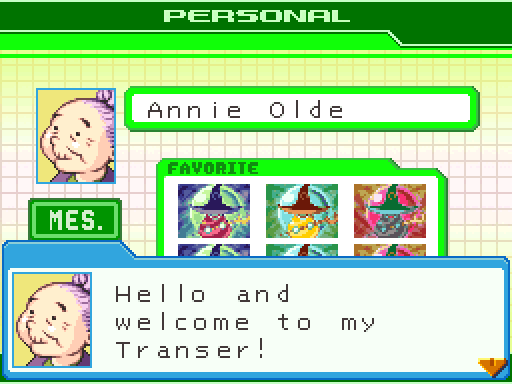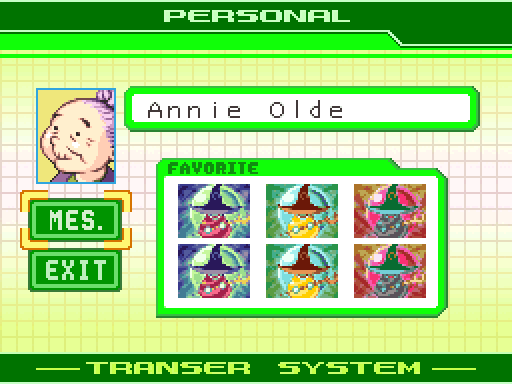 Another entire family of viruses we haven't seen.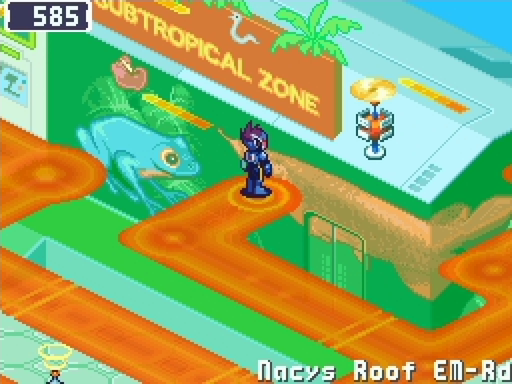 That's enough screwing around. Time to help out with the snakes.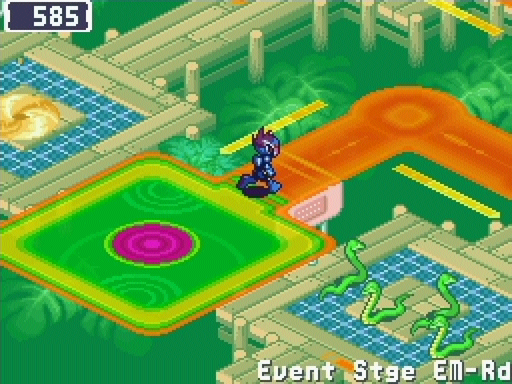 Like this, we don't have to worry about the snakes on the ground. Genius thinking, Geo.
I guess SF1 has the excuse of waves not being strong enough on the ground, yet.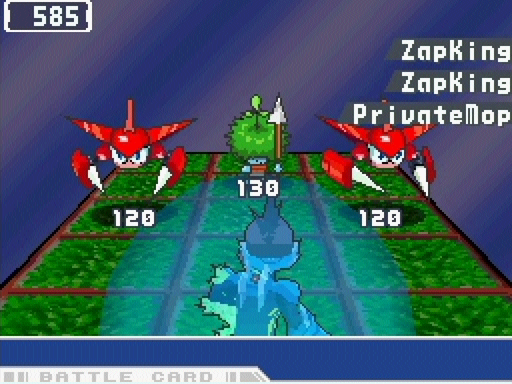 The only new virus here is the PrivateMop. They'll wait until you enter their column and then rush forward to jab you with their spear; the counter timing is right before they jab, as they're leveling the spear at MegaMan.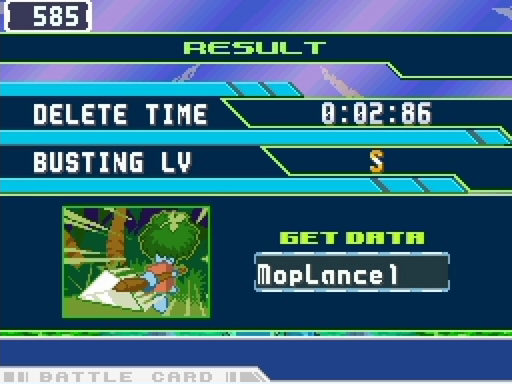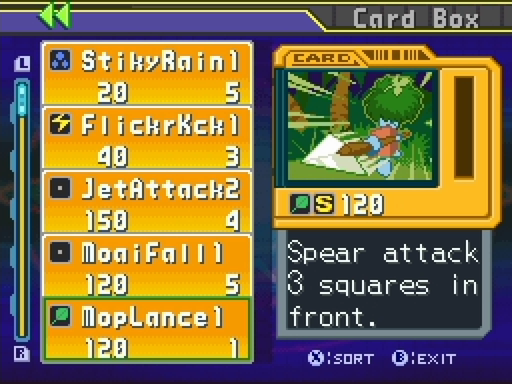 Honestly a good card. It's got the reach of TailBurner, and almost comparable power. It's pretty fast, too.
More importantly, it doesn't cause iframes. Combo city, people.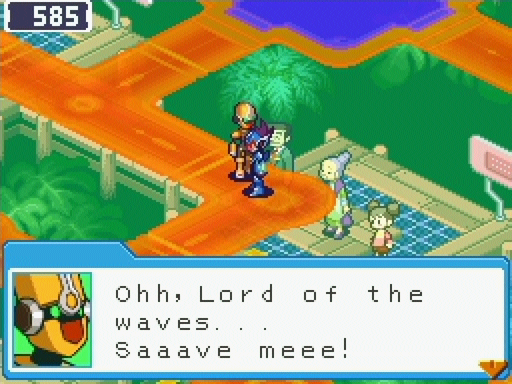 : Ah! I was just checking on the snakes, but... They won't listen to me... All I can do it[sic] pray...
A somewhat rare non-help text error.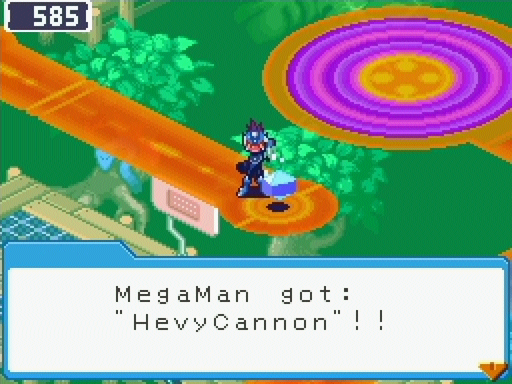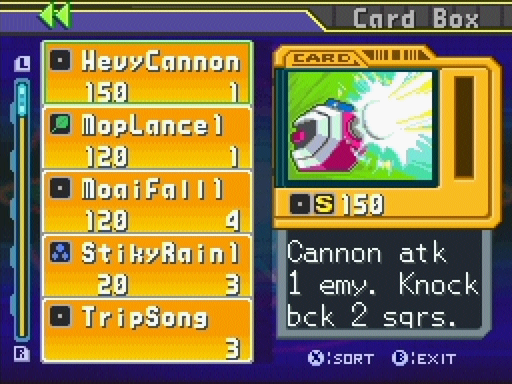 This is also just sitting along the path. I swap it out with the PlusCannon I've been using.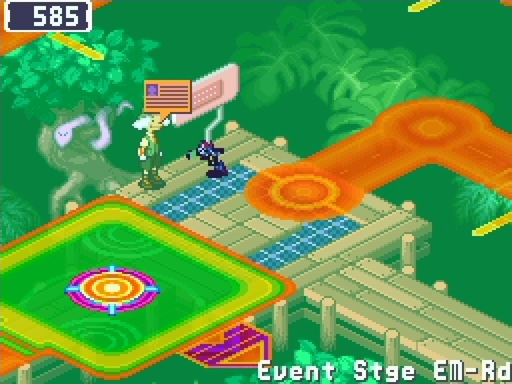 Before we take the target to the warp hole, might as well deal with this guy.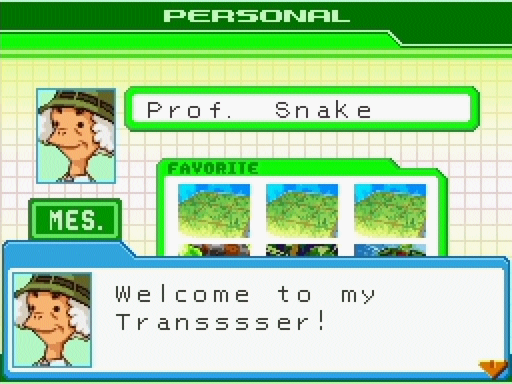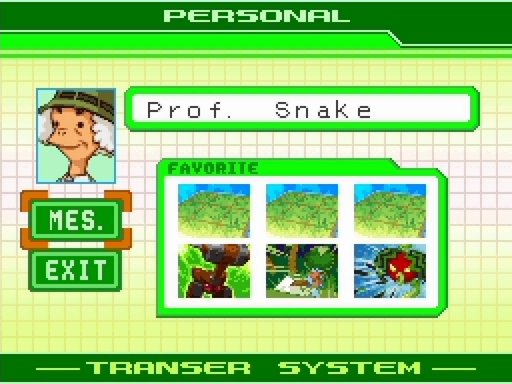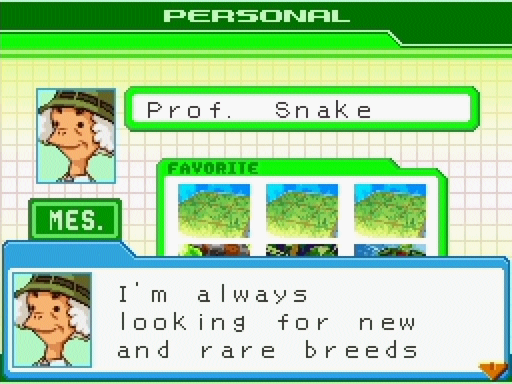 : ...of sssnakesss! It'sss ssso sssatisssfying to sssurround myssself with sssnakesss!
I hate this man's speech impediment. It's mean to say, but I hate it.
Why are you making fun of his sssspeech impedient? It could be a dissssability.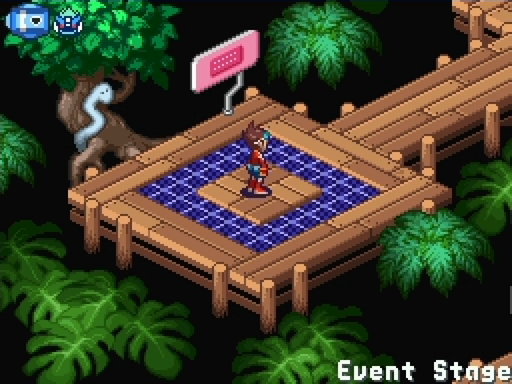 Finally, we're out. The NPCs with no Transers have nothing interesting to say (they're all just whining about the snakes).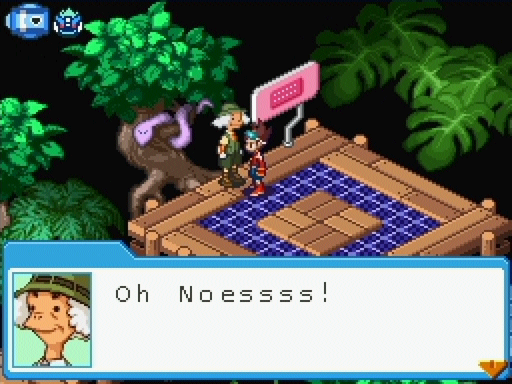 Fuck you, Snake.
Don't ssssay rude thingssss, Yeti.

: The sssnakes went crazy all of a sssudden! Don't get near them. They're dangeroussss!
Very helpful, Mr. Ssssnake.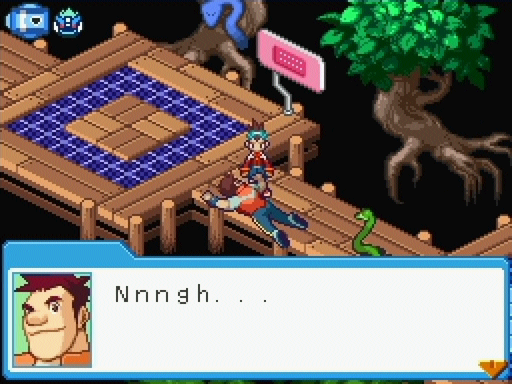 This guy's out of the way, but now a snake is blocking my path! Rude.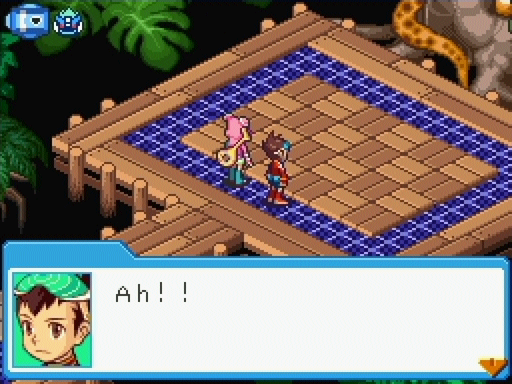 You suck, game. Having Harp Note be an NPC on the wave world while you navigate around would do quite a bit to keep me invested in what's going on.Make it seem like they're tackling this problem together, y'know?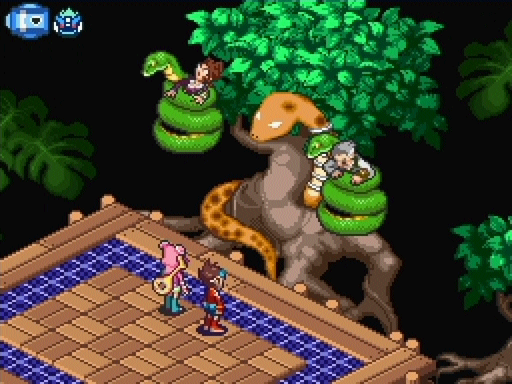 That's not great. The snakes are actually animated to constrict and loosen on Luna's parents.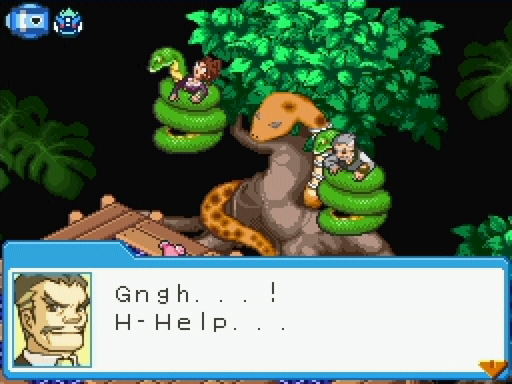 : Aah... I-It hurts...

: We've got to do something!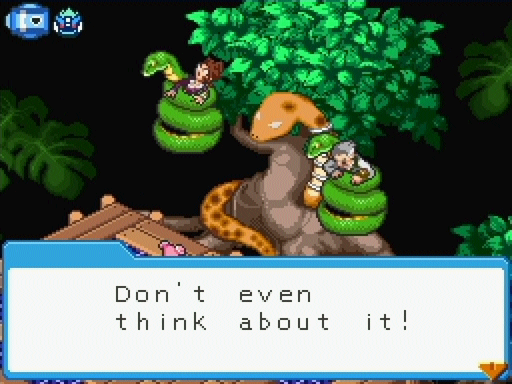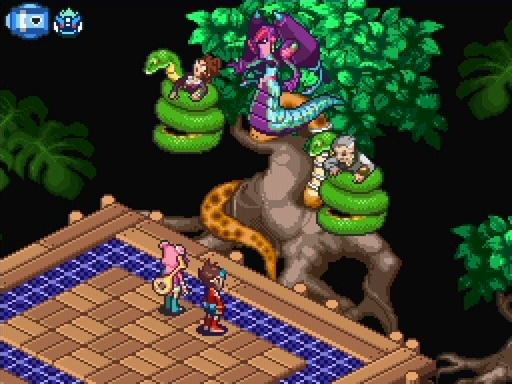 Oh, Luna's back.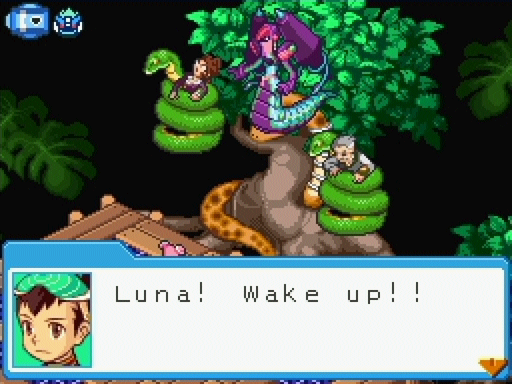 : Don't call me that! I have been reborn! You shall address me as Queen Ophiuca! I have a mind of my own, and I will prove it to these people once and for all!
The people taken over by FM-ians usually take the form of whatever their heart's weakness is. In this case, Luna had no agency, and so now she's a queen - a tyrannical ruler.
Interesting way to look at it. I just saw it as the realized version of what the FM-ian wanted to be. That's why they need to find a compatible person.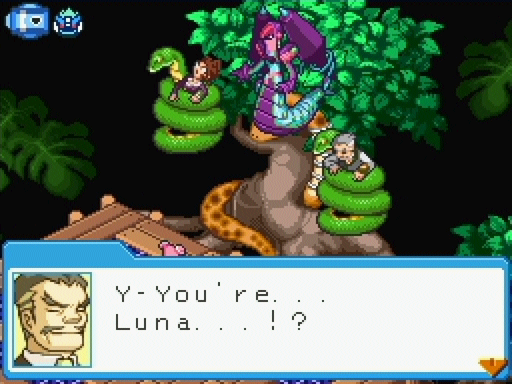 : Ergnk...

: L-Luna... E-Explain... Why... Why do this to us...?

: I am not a doll. I am not for you to play with as you like! You two always say, "It's for your own good," and decide everything by yourselves! Add on top of that your work, and I don't believe you see me at all! You value your work more than me, don't you!?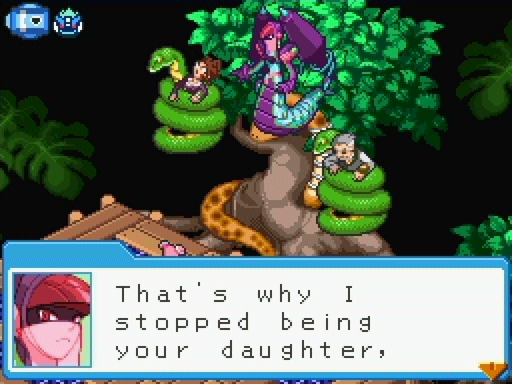 : ...and started to live as a stranger to you!

: Stop saying such nonsense!!

: If you were to actually look at me, you'd see that my suffering is far worse than what you're suffering right now!! My darling snakes! Squeeze them even harder, and show them my pain!!
Luna's clearly wrong. Her parents DO love her, probably, and they're just distant and cold. But, to a kid? That's the same thing as not loving her, especially when they talk about taking her away from her friends, and then go right back to talking about work.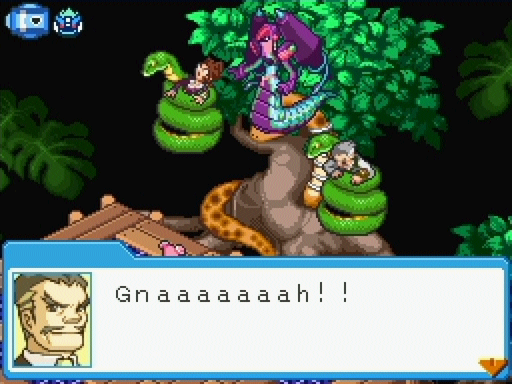 : Aaaaaaaah!!

: Luna!! STOP!!

: Don't waste your breath. She's given herself over to Ophiuca. She's not gonna listen to anyone else.

: Luna!! If you don't stop, your mom and dad are-

: Silence!! That is enough out of you! I warned you! Come forth, oh poisonous ones! And stop those who would oppose me!!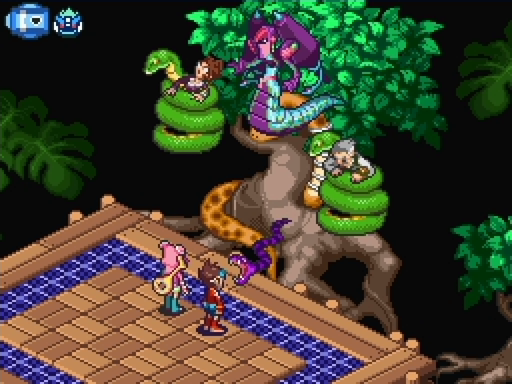 Nom. (I wonder if this is the Inky Black Python or whatever it was called?)
RIP Geo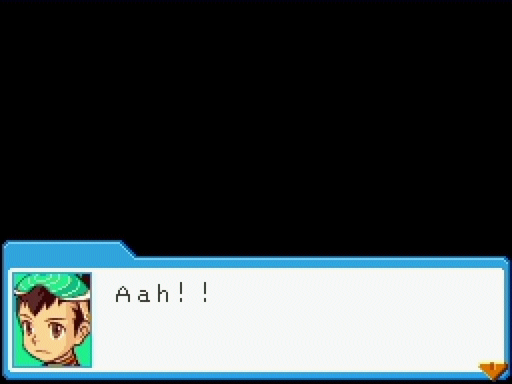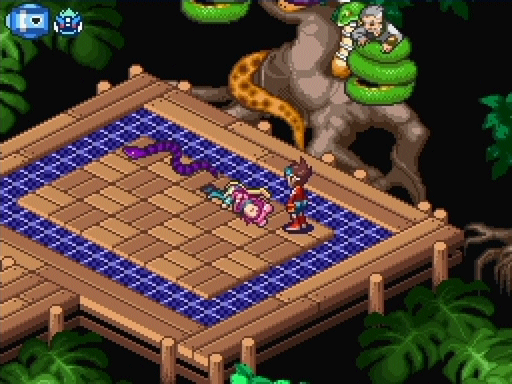 Ah, heck.

: Ungh...

: What a fool to sacrifice yourself... Come forth, my darlings!!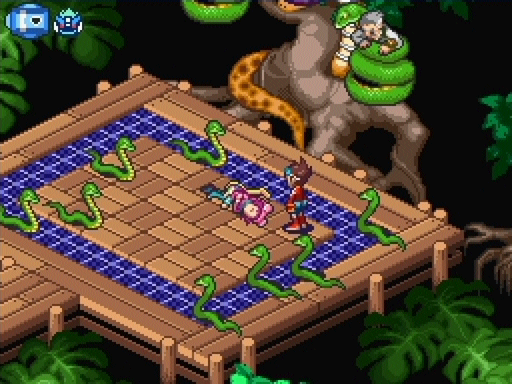 This is looking, not great.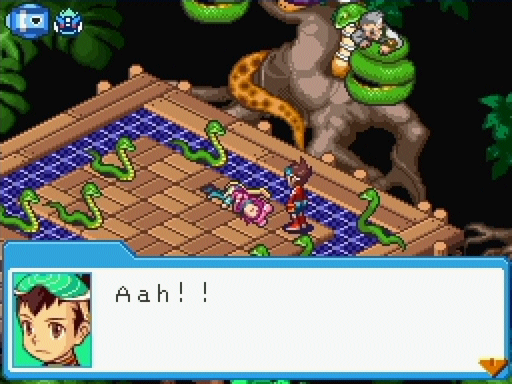 : Nnngh...

: Argh! She's loaded the dice on this one! We've gotta retreat for now!

: Urk...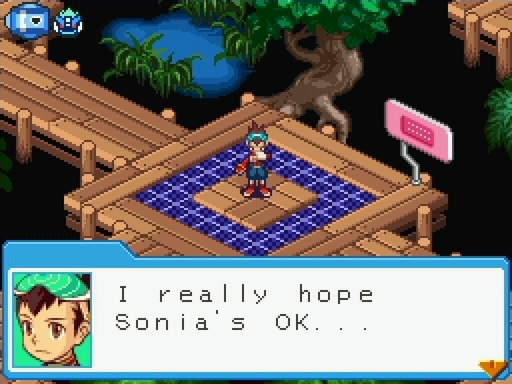 : We've gotta find some way to help her, and fast!

: But you don't want to fight Ophiuca as long as she has a hostage, right?

: Of course not!

: Then we've gotta take care of the snakes first.
Hey, Mega! He's actually willing to not immediately jump into fighting people. Early Mega wouldn't have cared that a human or five would die to stop Ophiuca (or at the very least, used Geo's concern to guilt him into fighting like he did Cygnus). Now, though, he doesn't even try to convince Geo otherwise.
Probably because Omega-Xis might even like Lyra a tiny, tiny bit. And appreciates how Sonia and Lyra are helping to bring Geo out of his shell. That's valuable for Omega-Xis as even he can see the positive effects on the kid and it aligns with ArmNavi's desire to see more of the world.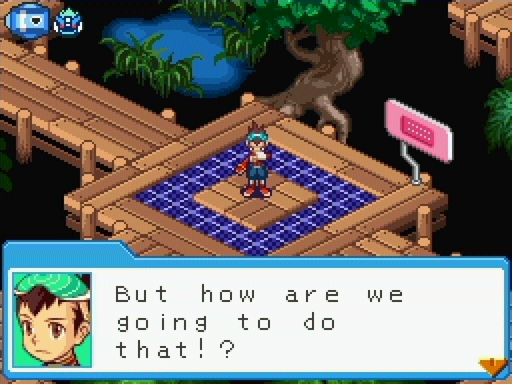 : How am I supposed to know!? Snakes are Earth creatures. You should know about them! And if you don't, then someone out there does, so go ask them!
What...? So snakes are NOT on Planet FM? So...how do you know that Ophiuca can charm snakes. No, really, guys, think about this. If you don't have the concept of snakes on your planet, how could you say earlier that she controls snakes? I find this to be in contradiction. Even if they did have a snake, we don't know if it's a EM wave snake, or what. Why would real-Earth snakes fall victim to a hypothetical EM-wave sn-ah, fuck it.

: Someone who knows about snakes...? ...Oh! I have an idea who! Let's go!
Ugh.
Yessss.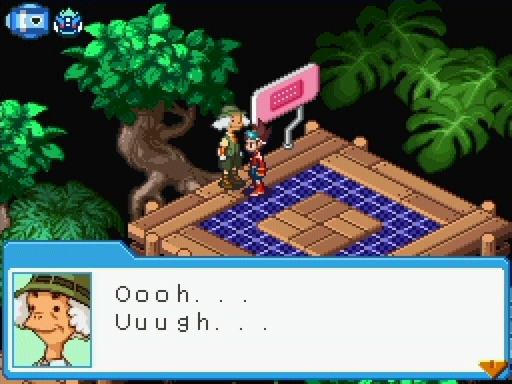 : Are you OK!?

: I-I'm alright... But I was bit by a Netopian Black Rattlesssnake... I... I can't go like thisss...

: Prof. Snake! Is there a way to calm the snakes?

: Th-That's easy. SSSnakes are cold-blooded and can't keep their body temperature steady, so if you lower the temperature, they won't be able to move and will calm down on their own.

: Lower the temperature, huh?
In this conversation we've learned: Netopia still exists, Snake is gonna die, and Geo is Solid Snake.
Excuse me, it's SSSSolid SSSSnake.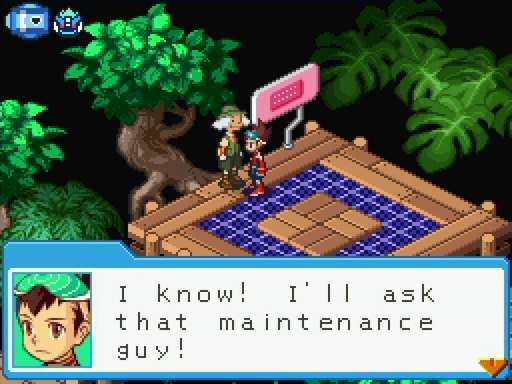 : He'll know what to do!

: Yessss!! That maintenance man wasss taking his lunch break, so he should be on the 1st floor sssomewhere... But if you want to find him, he'sss probably sssomewhere snakes won't go.
I wouldn't hate him as much if he were consistent about his awful hiss!
It'ssss hissss, Yeti. Get it sssstraight.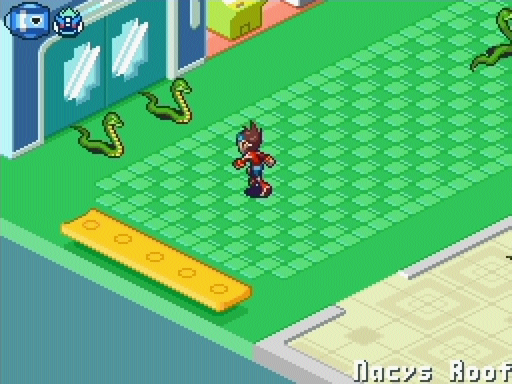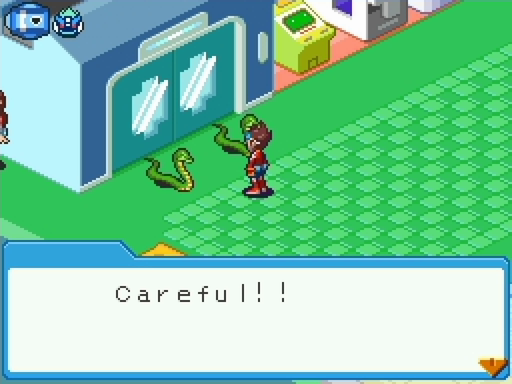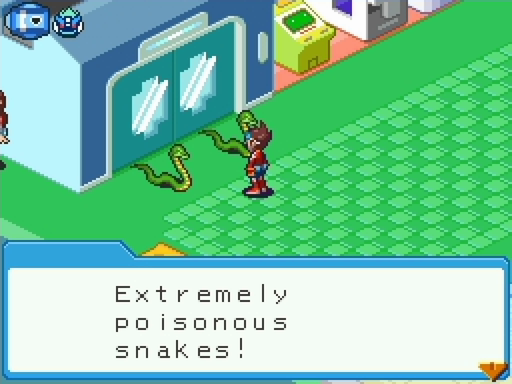 : I don't think I can get to 1F on this elevator...
Whoever is shouting these warnings is getting tired of Geo. Like,
"Why is this dumb kid still running towards the snakes that I've told him a million times are poisonous!?"
tired.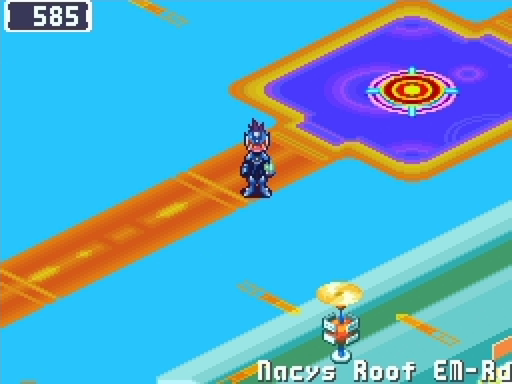 The fact that we NEED to enter floor 1F through the wave road should give you a big hint as to where we have to go.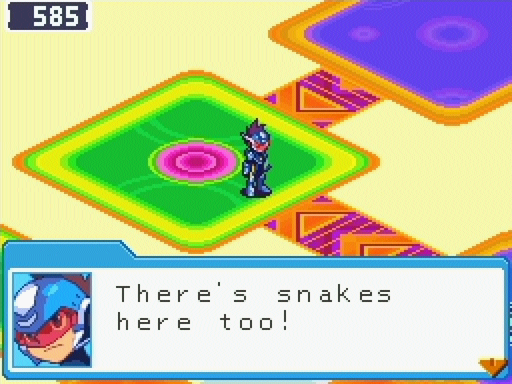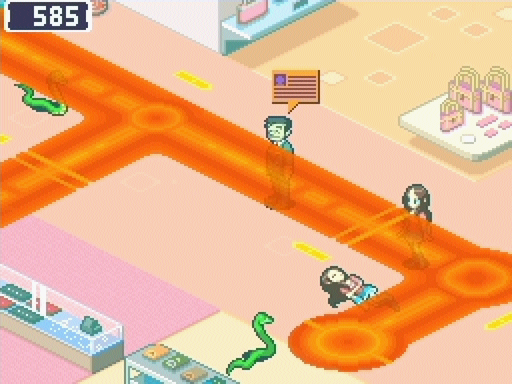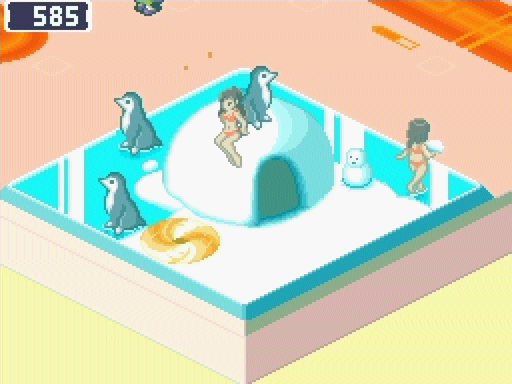 The sweeping pan should also be a big hint. They're not trying to hide this, let's be fair.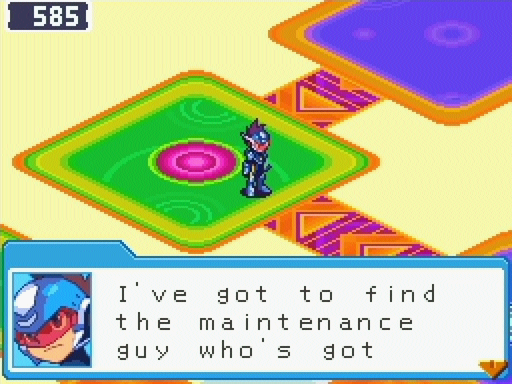 : ...the card that controls the thermostat. He's gotta be somewhere on this floor... He's probably in a place where snakes won't go. OK, time to get cracking!
I'd normally be a little lenient with repetitive text like this - it's a portable game designed to be played a few chunks at a time, after all - but when the hint button exists and you can just press L to ask for advice, I'm not thrilled about this.
That'ssss what happensss when you desssign a weird world like thissss. Dialogue boxessss have to do the legwork in conveyance.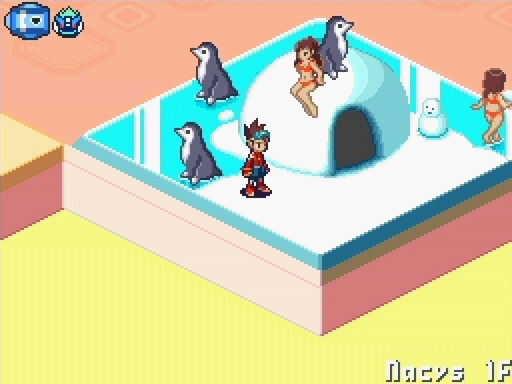 If they didn't hammer it in enough, he's hiding here.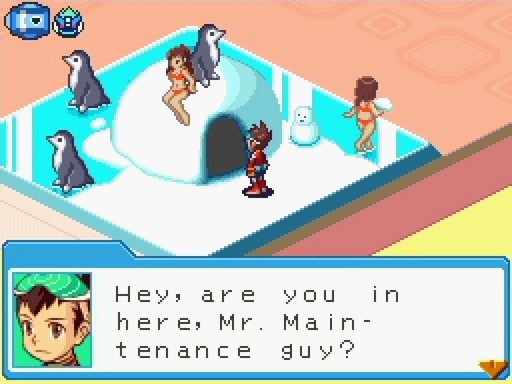 : .........

: I guess not. He's probably hiding somewhere else.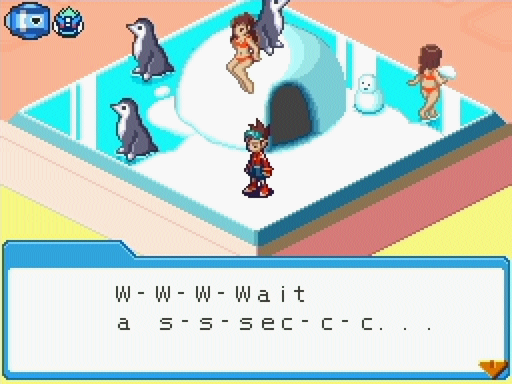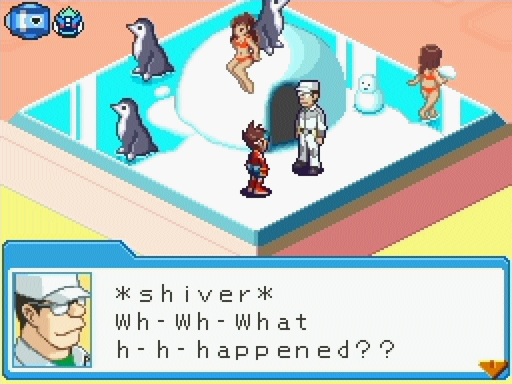 : A-All of a s-s-sudden, there's snakes all over. I-I-I hid inside th-this igloo right away...

: Sorry, but you have the thermostat's card, right? I need it right now! Please let me borrow it!!

: The thermostat's card...? I-I have it, but what are y-you using it for...?

: I'll explain later! Right now, people's lives are at stake!!

: I-I-I see. Here, please take it.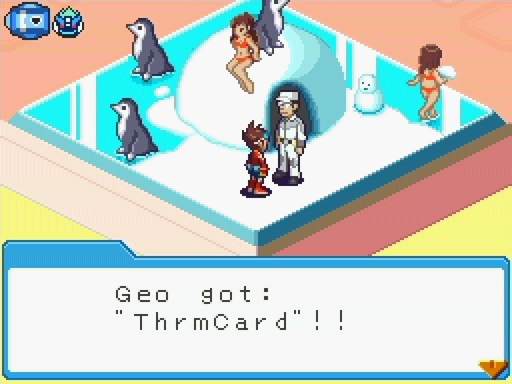 : Thank you!

: I-I don't know what's going on, but take c-care.
Weird that they made a single display cold like this, but whatever. You do you, Nacys. It's your electricity budget.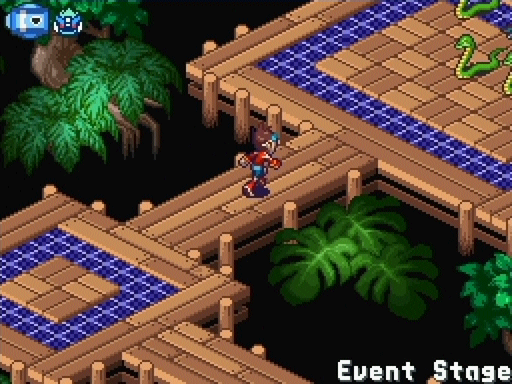 With the card in hand, we can go save Sonia (who is still poisoned and hopefully didn't die).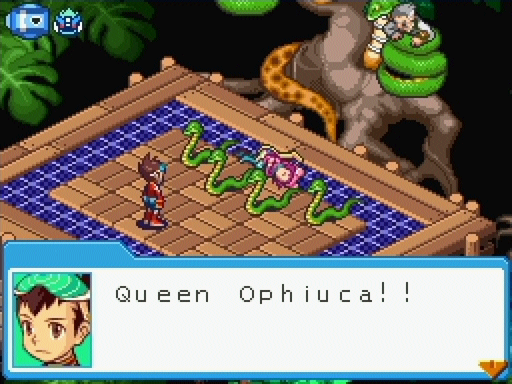 Since he used her 'correct' name, she appeared in a flash of light.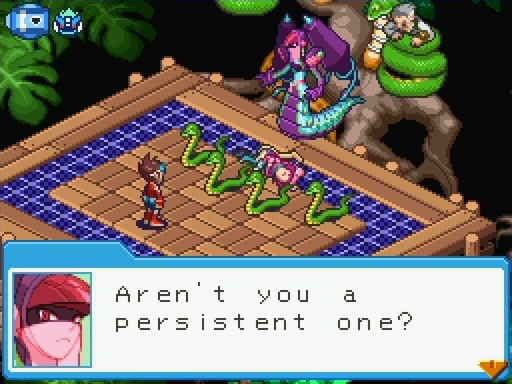 : No matter. Try as you like, you won't stop me. If you make one move, those snakes will be helping themselves to some tasty Sonia Strumm!

: I'm not going to let you get away with anything! "ThrmCard" Card In!!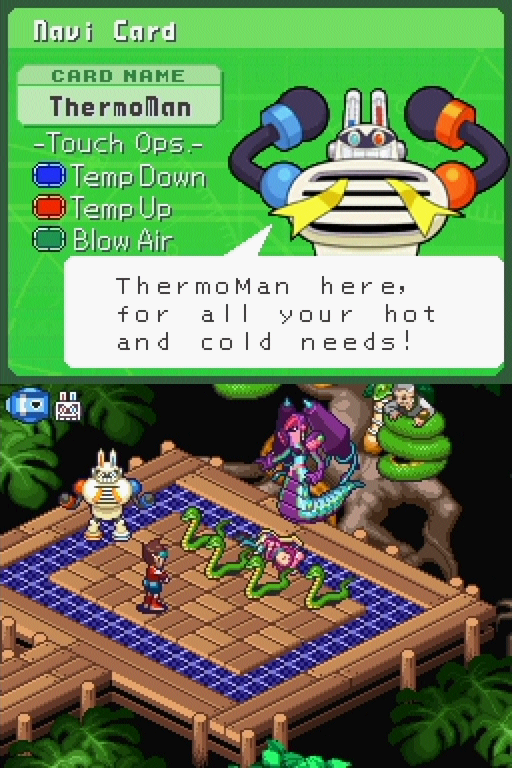 Good thing this doesn't count as 'one move'.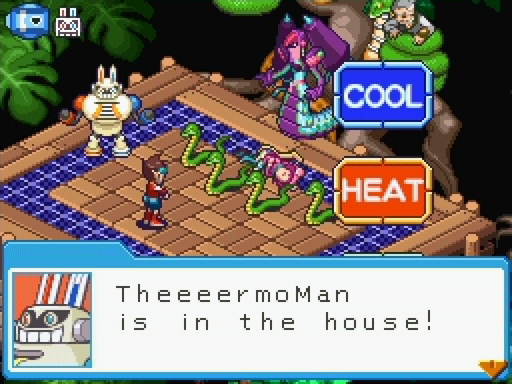 : So what'll it be? Hotter or colder?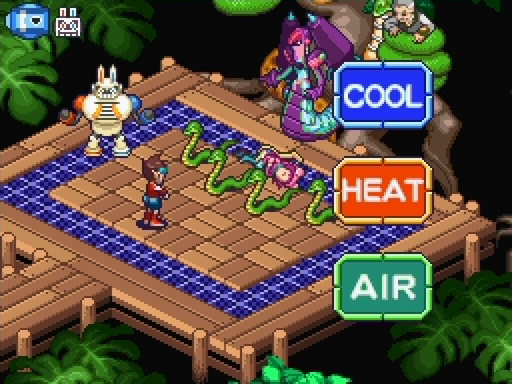 Now, obviously we need to cool things down. But what if we try out the other options?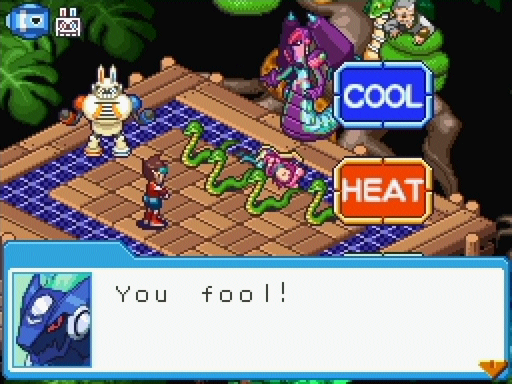 : If you turn up the heat, the snakes'll get even more worked up!!
ArmNavi, you coward.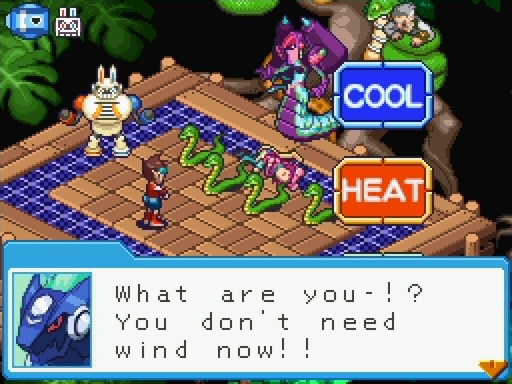 Oh, fine. Cold air it is.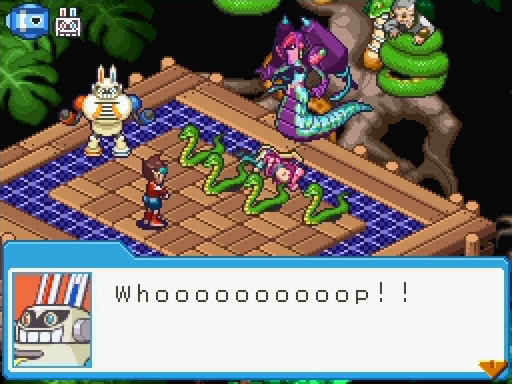 : Let's crank up the chill! Brrr!

: No! The temperature is dropping! My babies!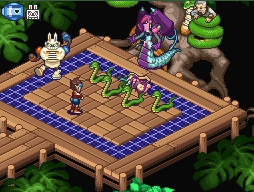 Well that was easy.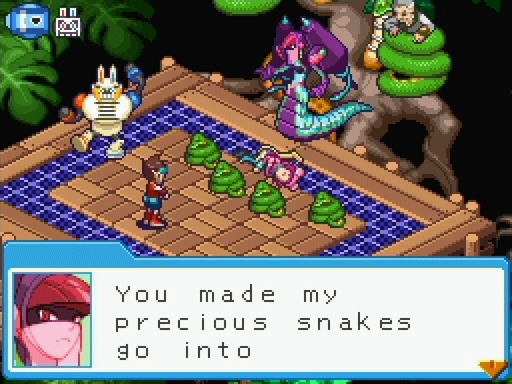 : ...hibernation by lowering the temperature!? You have a lot of nerve!!

: Temperature regulation complete!
Not sure that's how that works, but alright, sure.
That...was fast.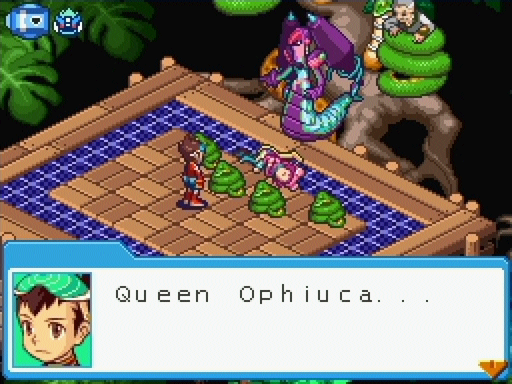 : No, I mean Luna. Please, stop!! All of your snakes are asleep now. You can't use them to hurt anyone anymore! So please...

: Shut up! Shut up! Shut up! I won't let you or anyone stop me!!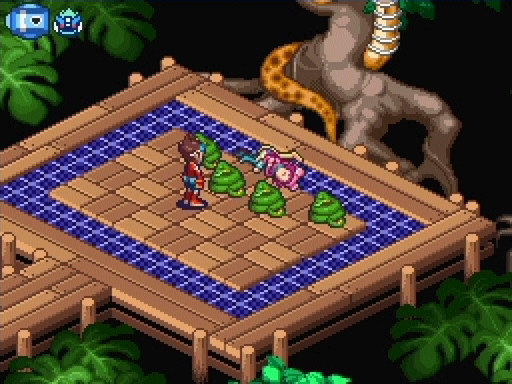 She disappears again. This time, she pulls her parents with her. Is that good?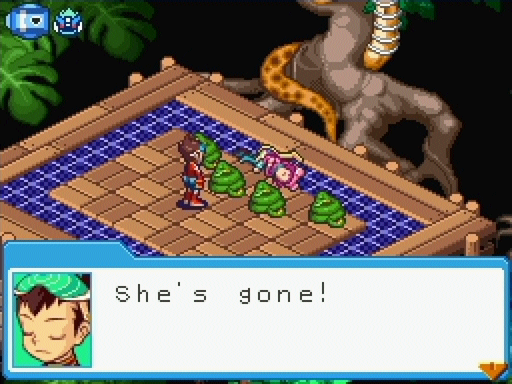 : She ran off into that giant robo-snake's Comp. After her!

: What about Sonia...?

: The snakes here aren't a threat anymore. Sleeping beauty can stay where she is for now! Her Royal Snakeness comes first!!

: Roger!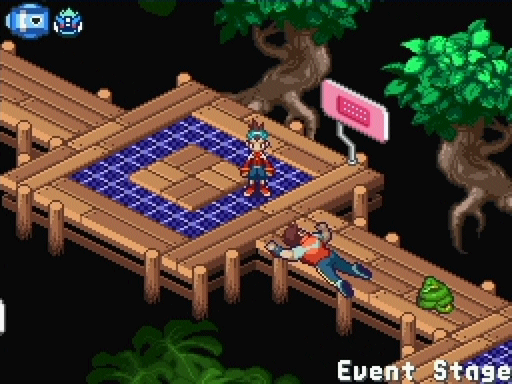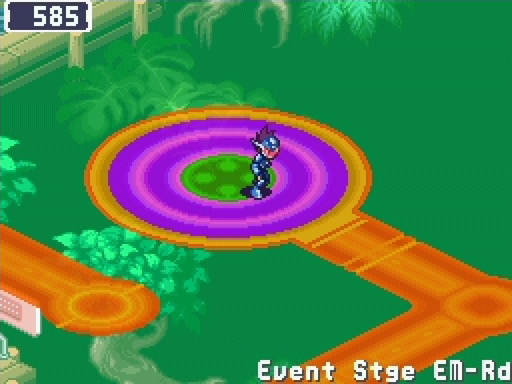 Ah hah! We're finally past the guards, and can access the second half of the Event Stage wave road.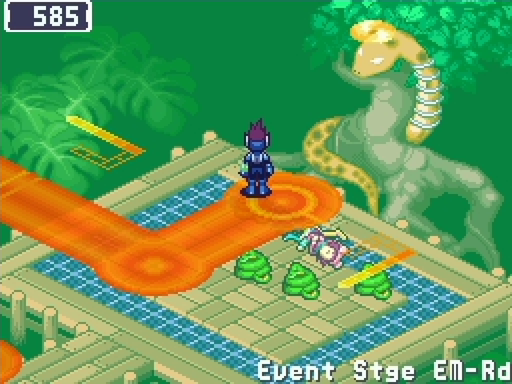 Just a few seconds of walking later, and we're at the comp. That'll be for next time, though.
---
Yeti's Astronomy Corner
Ophiuca the snake is the FM-ian of the day. She's based on the
Ophiuchus
constellation; though really, she's the serpent half of the constellation, as Ophiuchus is considered to be a man grasping a snake. Ophiuchus is visible mostly during the sumer (in the northern hemisphere) and is opposite Orion. The brightest star in Ophiuchus is called "Rasalhauge" (which supposedly translates to 'Head of the serpent charmer' though I'm not sure in what language).
There's a little bit of mythology to the sign, though there's no consistent story. The Greeks considered it to be Apollo wrestling with a huge snake that guarded the Oracle of Delphi, while the Romans may have thought it to be Asclepius the healer.
You might have, if you pay attention to the zodiac stuff, heard some chatter about adding this constellation to the zodiac signs? That's because Ophiuchus crosses the ecliptic like the other zodiac symbols. However, Ophiuchus is not considered one of the signs in most zodiac readings.