Part 28: Update 27-1: Pat-rayal
And you say my puns are bad.
Doesn't mean they aren't, just that mine are equally bad.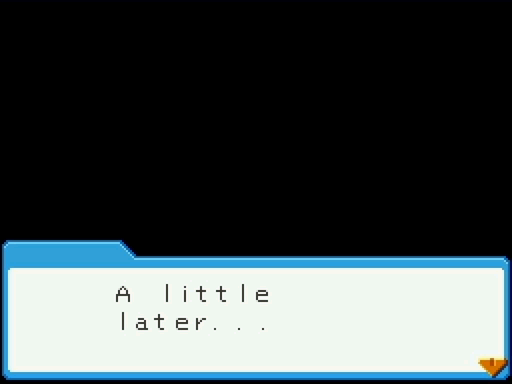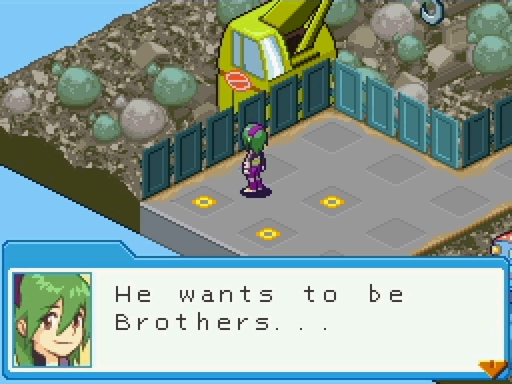 : It's like a dream. But... Can I really become Brothers with him? ...Geo, Can[sic] you handle being Brothers with 2 of me...?
Weird, cryptic nonsense aside, more of Pat moping in a scrapyard. Not sure why he's here instead of his stated 'happy thinking place', but sure, you do you game.
Perhaps to show his mind is cluttered and unclean like the junk around him, is the charitable answer. The meaner answer is that cutting to a new location for a few lines is weird, directorially.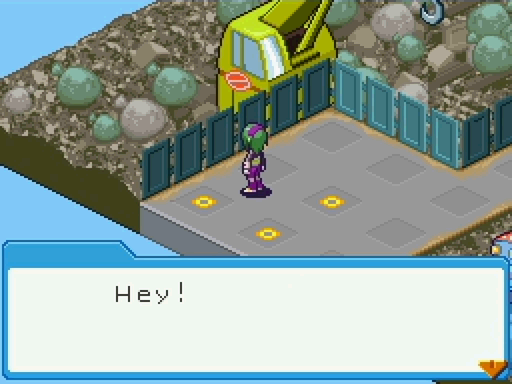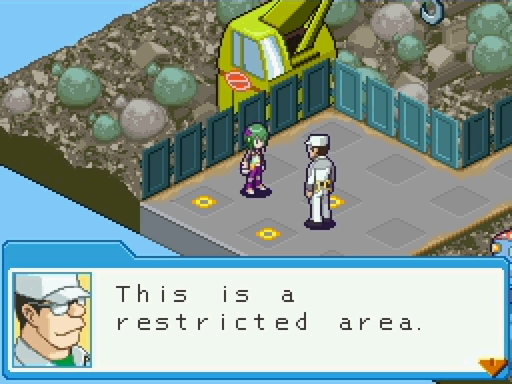 : You can't just come wandering in here!
Or probably for this asshole. We gotta cram in something to make Pat decide to be bad.

: S-Sorry.

: Kids nowadays have no respect for rules. I would love to meet your parents, and teach them how to raise kids right!

: Parents...? Did you say "parents"?

: You learned your manners from your folks, ri-?
Joy, a Shitty Adult(tm) here to scold a child about how back in HIS day, children played outside in the woods instead of being glued to their phones all the time, and they knew how to respect adults. Ugh.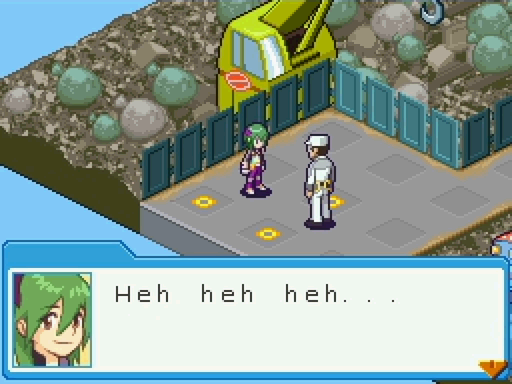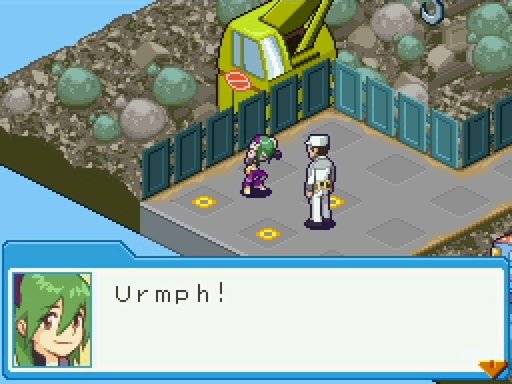 : Nnnngh!!

: You want to start something kid?

: ...Shuddap.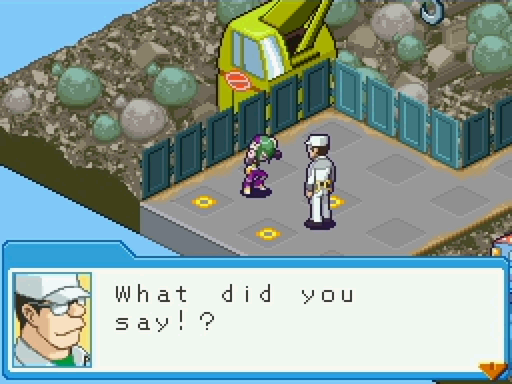 : And can't you even speak properly!?
Pat seems to have done an about-face.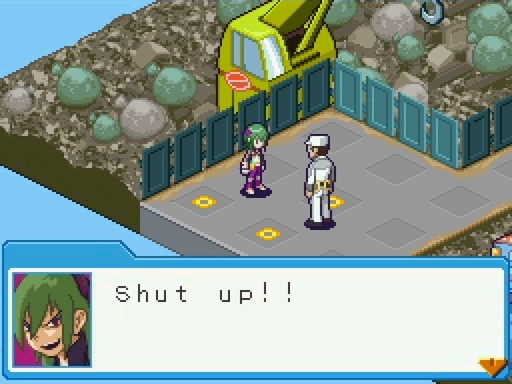 : I never had parents to teach me nothing!

: Wh-What's going on? What's with the sudden change in attitude?

: I've had enough of your useless blathering. Now it's time to take your medicine.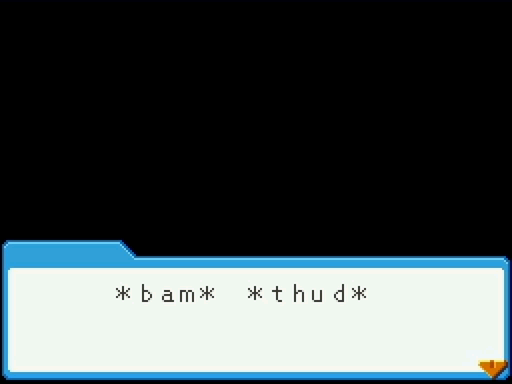 : Oof!!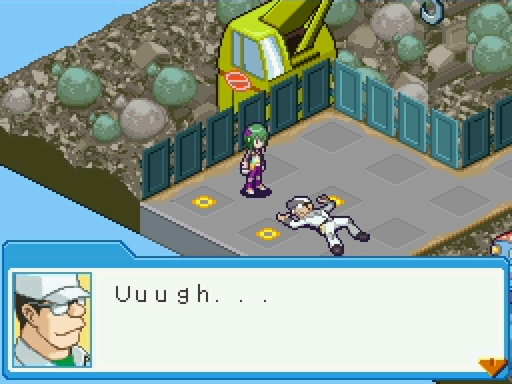 This dude is a wimp, what the hell. How do you get taken out by an elementary school kid. He probably barely comes up to your waist.
I don't even. The kid physically shouldn't be able to hurt you that much, that fast. Did he go below the belt?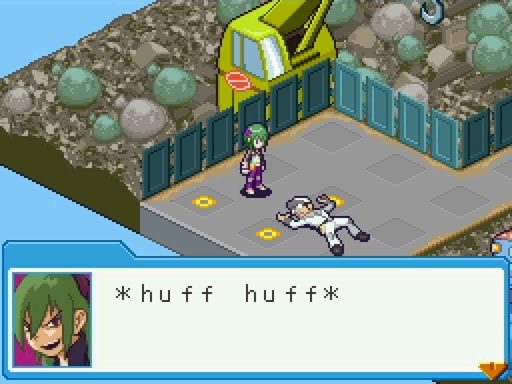 : Weakling! Heh heh heh... ......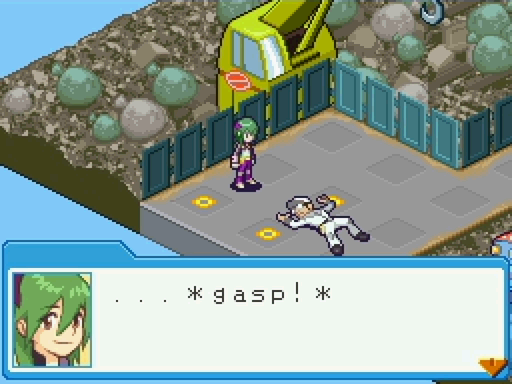 : I...! I can't believe you did it again... ...Rey.

: You were being way too nice ...Pat.
Gasp of shock! How could this have happened?! Nobody saw this coming!
What a twist!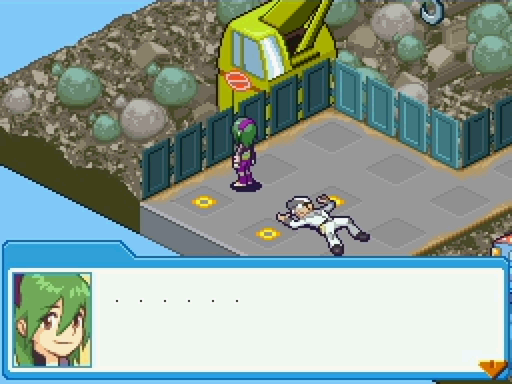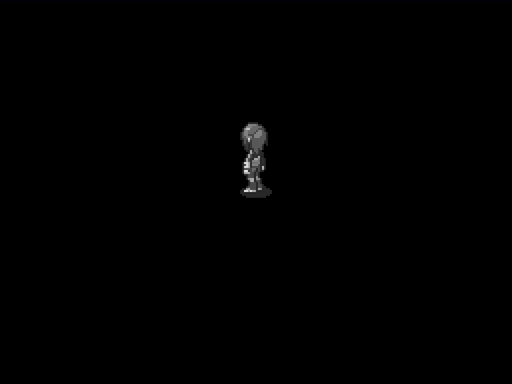 Back into the Brain Zone, which is black and white for some reason.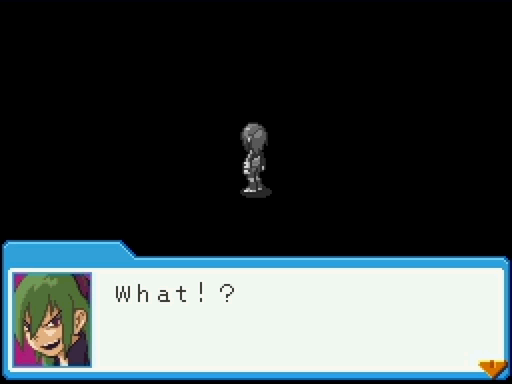 : You can't be serious, Pat.

: Of course I am. I want to be Brothers with Geo.

: Did you forget? We were thrown away by our parents. Basically, we're no better than garbage! Things like relationships mean nothing to people like us! Am I right!?

: I didn't forget that we were abandoned... It'll always be in my mind. It's the source of my hatred for my parents... and it gave birth to you, the other "me"...
Hey, quick question? Why isn't this kid in therapy? Clearly he should be!
"no better than garbage!" Ah, the subtlety I've come to expect from BN-style storytelling. Re: therapy; too expensive? Don't they have meds for this in the future anyway?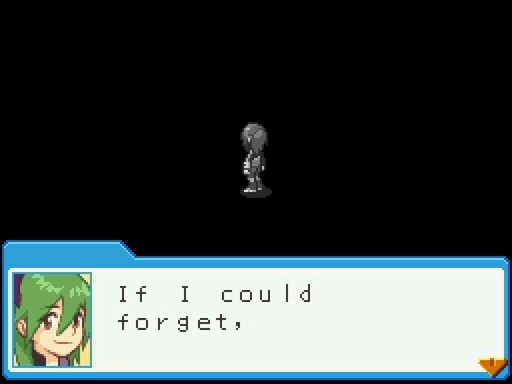 : ...I would choose to forget it all right away!

: Then give up on this foolish Brother idea.

: But I... I really like Geo!

: You idiot!! Have you gone mad, Pat!? I don't approve of this! Absolutely not!
No but really. This kid is super unhealthy. I may like how this game handles (for its time) a lot of mental problems, but this is just bad.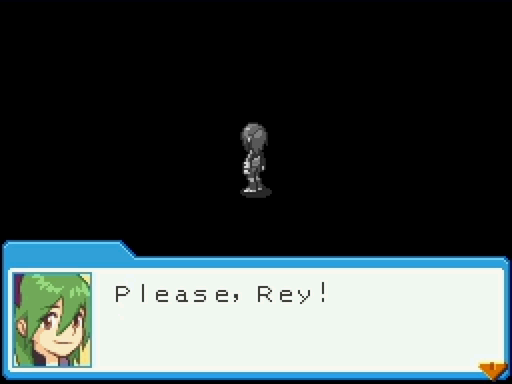 : This is the first time I've liked someone!

: This isn't funny!! ... Hold on. ...Hmm. Alright, if you really want to that badly...

: Really?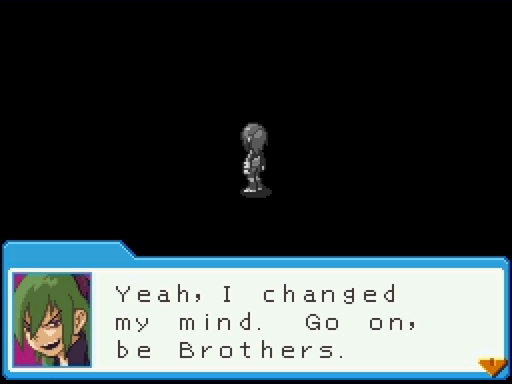 : ...*grin*
Surely this strange about-face and grin isn't bad or evil at all.
Rey is a trustworthy individual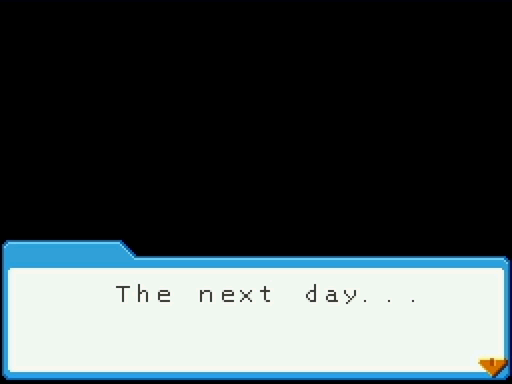 *riiiiiiiing!*

: Hello?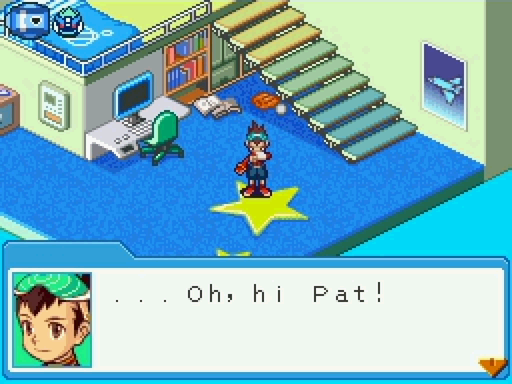 : Hi Geo. Um... About what we were talking about yesterday, I want to ask you if... um... Will you be Brothers with me?

: W-Wow! Really?
Geo, don't sound so surprised. You asked him to be Brothers yesterday!
Ehhh, he's just happy his proposal worked.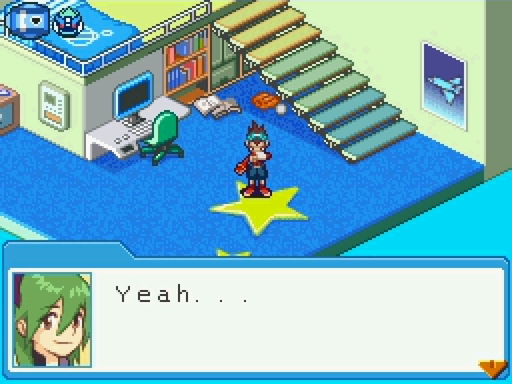 : I'd love too, Pat!

: Thank you, Geo.

: We should meet up and form our BrotherBand! Where do you want to meet?

: Um, how about Time Square?

: OK. I'll see you there!

: Thank you, Geo. Truly.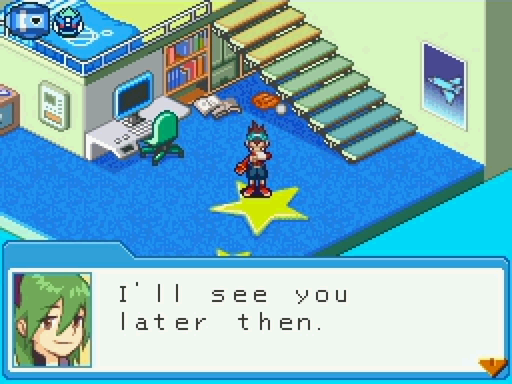 *beep beep beep*
Pat no it's not like that... It's rare to get a good mid-blink image like that, but sometimes it just works out.
This is just fangirl fuel. Blinky, stop!


: Sweet! I'm going to be Brothers with Pat.

: Hey, Geo. I noticed you're much more positive about being Brothers with someone now than before.

: Yeah, I guess I feel like I can move forward now more than I used to...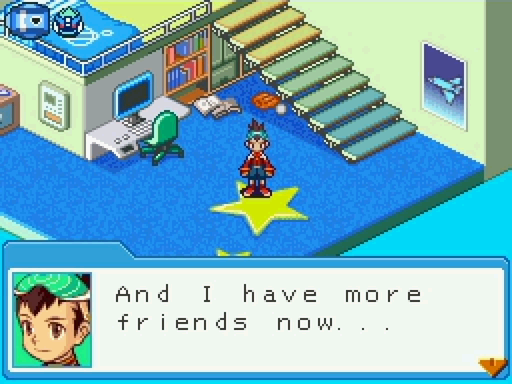 : I wonder if my dad's watching me. I hope he's proud.

: (Somehow, I still can't shake the feeling though. That Pat guy's got some strange waves coming off of him... I hope it's just my imagination...)
It's nice that Geo's making an effort to reach out and move forward, and it really is the situation where now that he's got a small bit of a support network he can put himself at a little bit more of a risk.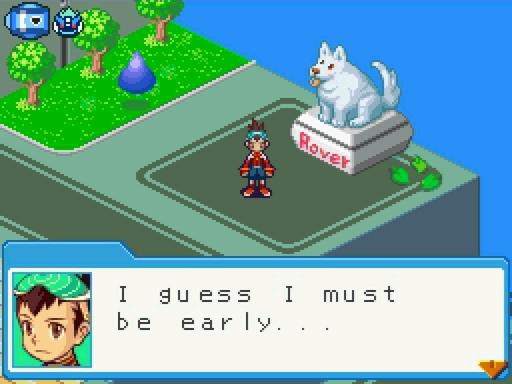 : Geo!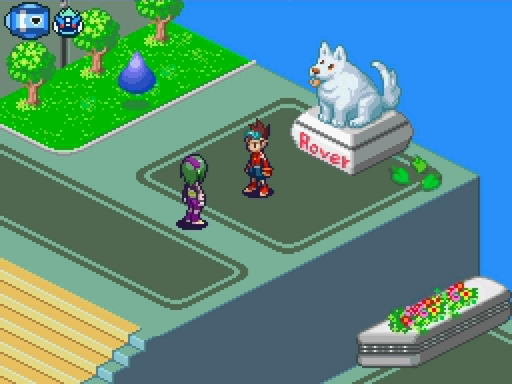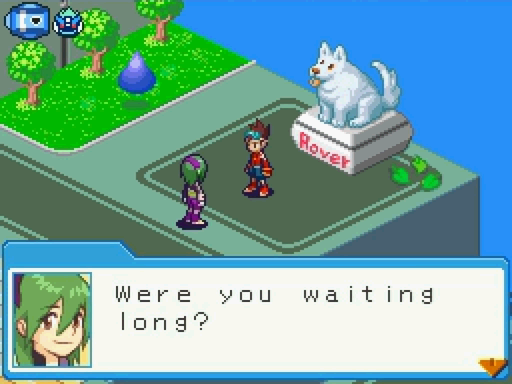 : I just got here, actually.
Anyway, I'm not sure what's up with the writers here, but this cutscene is way more date-like than Sonia???

Make it stop, Yeti.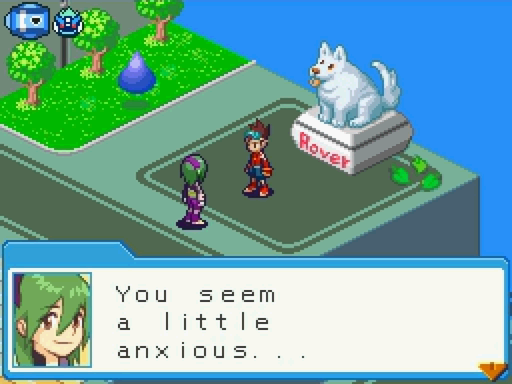 : Ah, yeah, a little...

: I'm really nervous. You're my first Brother ever.

: I'm nervous too. W-Well, let's do this, shall we?

: OK.
Seriously. This just, strictly reads like two kids going on a date.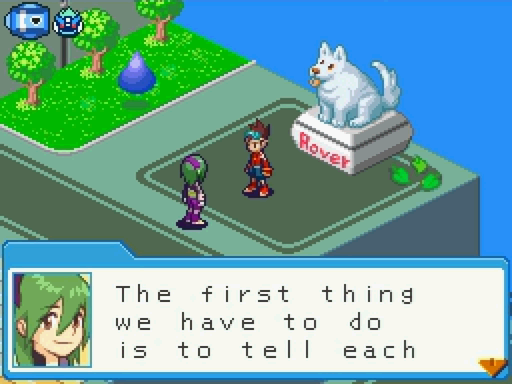 : ...other our biggest secret... right?

: Yeah. Um, Pat... Are you really OK with telling me your secret?

: It's OK. I've decided I want to tell you everything...

: Pat...

: My secret is...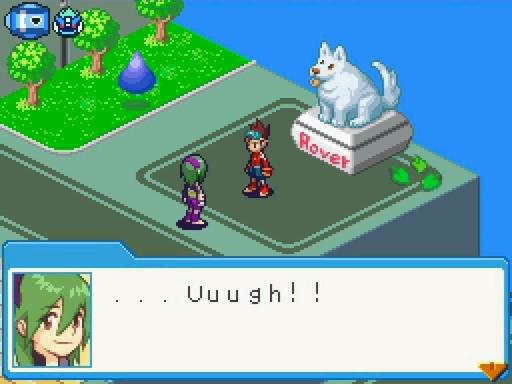 : My secret is... I have a hangover...
Wow. Already into alcohol? He'd be right at home in Australia.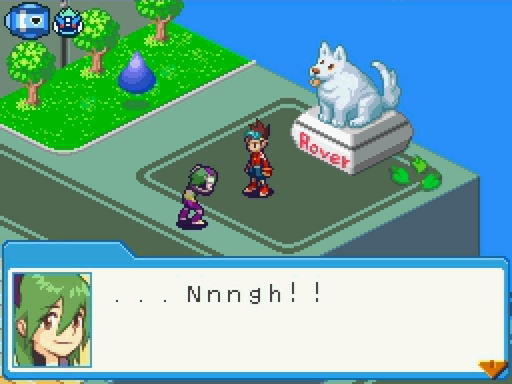 : ...?

: Gnaaah!! Why... Why now!?

: (Heh heh heh. Good job. Now leave the rest to me.)

: (R-Rey! What are you going to do!?)

: (If I show myself to him right now, how do you think he's gonna react?)

: (N-No!!)

: (Now step aside!)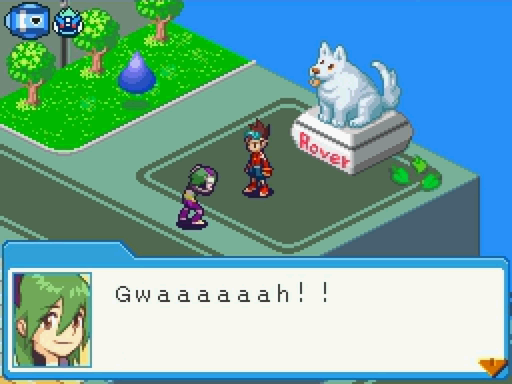 : What's wrong, Pat...?

: Heh heh heh. Nothing...
Please pay no attention to the different tone or talking sprite. Just normal Pat, here to do normal Pat things like becoming Brothers with my good friend Geo.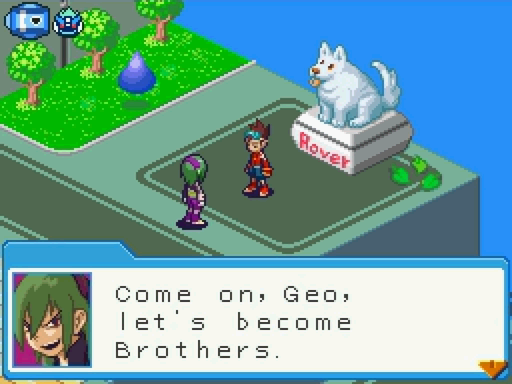 : ...O-OK.

: (Geo! Get away from him! Now!!)

: Huh?

: (I said now!!)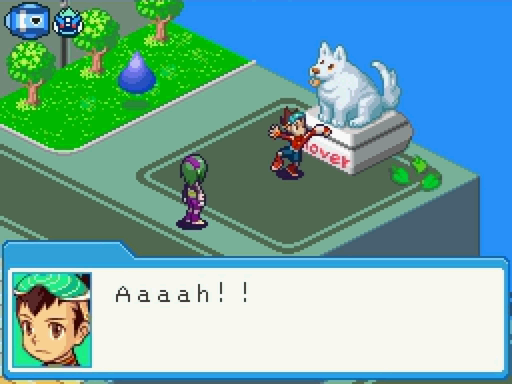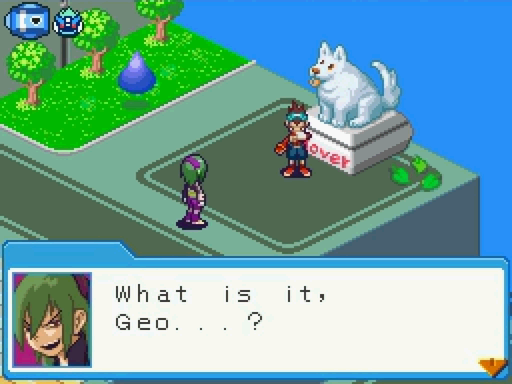 : (What the heck, Mega!?)

: (He changed all of a sudden, almost as if he became a totally different person.)
See? Mega can see the talking sprites too.
Omega-Xis: still best character.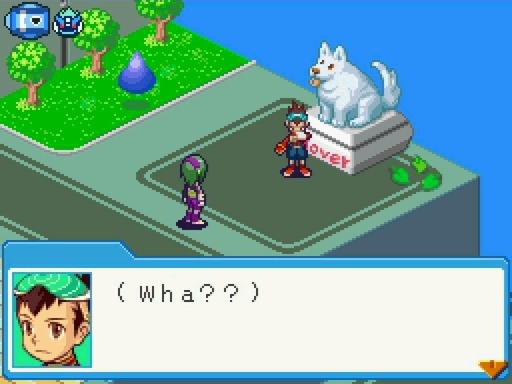 : (I caught a whiff... It's the smell of a human who's been taken over by an FM-ian.)

: An FM-ian!?
Geo you are so bad at keeping this whole alien thing a secret.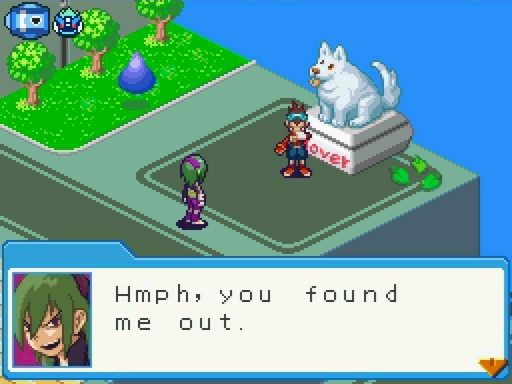 : ...Huh?

: Well, you might as well come out now... Gemini.
A flash of light later, and...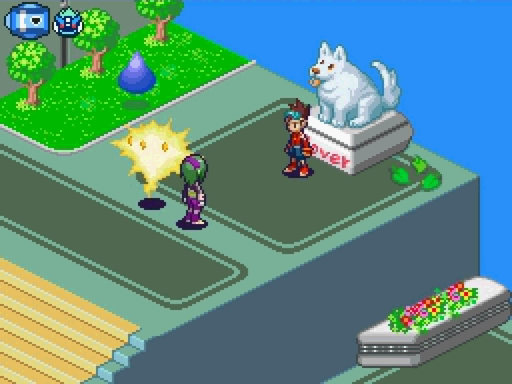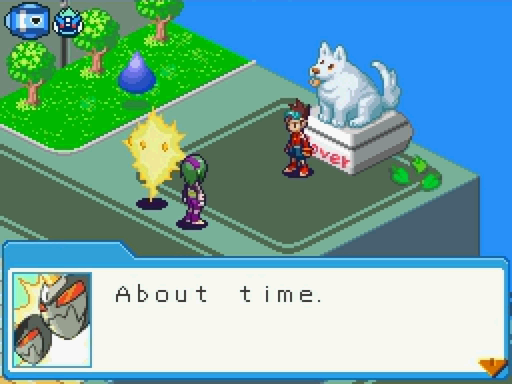 : I was beginning to get bored.

: Gemini!

: Wh-Wh-!? Why is Pat with Gemini!?

: You still don't get it? This kid... has two personalities. Or in other words, he suffers from multiple personality disorder.
Disassociative Identity Disorder, or DID, is a pretty common trope to pull off. Naturally, it dovetails well with Gemini (the Twins) but honestly this game doesn't handle DID the worst I've ever seen.
It's OK. And also gives kids some exposure to the concept. It's typical Battle Network stupidity, though.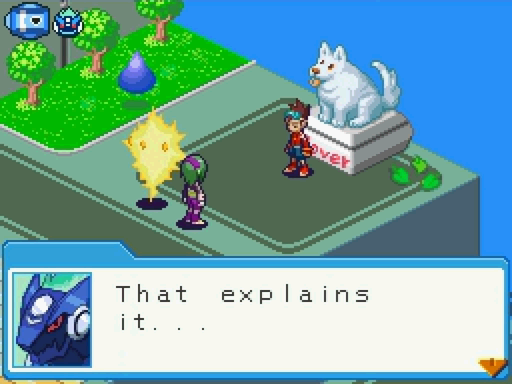 : I don't get it...

: It means that a person has more than one "person" inside of them. This human has both the personalities of "Pat" and "Rey" inside of him.

: Two people in one!?
Two!?

: Ha ha ha ha. I bet you never thought it was possible that the person you wanted to be Brothers with could be like this.
Seriously he should be in therapy. Though I get the feeling Gemini here hasn't helped matters at all.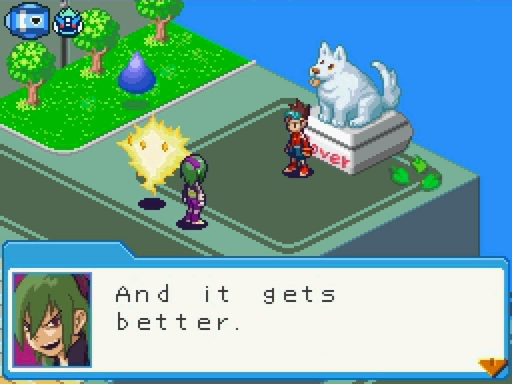 : The only reason I got close to you... was so I could get to the Andromeda Key!

: What!?

: Being Brothers with you would have made it like taking candy from a baby.

: Pat! What's happened to you!?
Geo, please keep up. You're still stuck on Pat changing, which was about 20 dialogue boxes ago. We've been over this.
I honestly can't tell if Geo is in denial or what.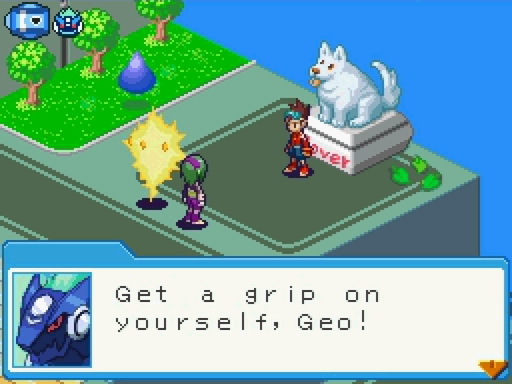 : That isn't the Pat you know!!

: Then what happened to Pat!? Where is he!?

: Ha ha ha ha. ......Gnnngh!!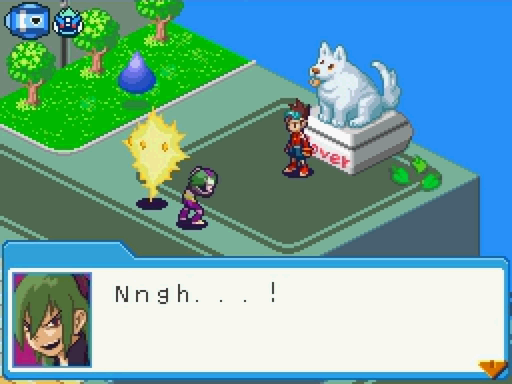 : S-Stay down, you!!

: Aaah... Geo...

: Pat? Pat! Is that you!?

: I'm sorry... it turned out this way...

: What are you apologizing for? You did the right thing!! Fight it! Don't forget our goal, Pat!
Hey who's ready for more backstory narration!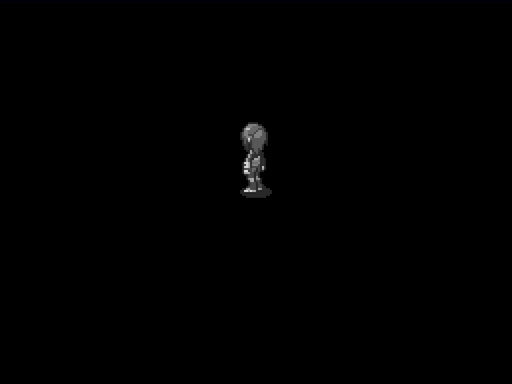 In the Brain Zone!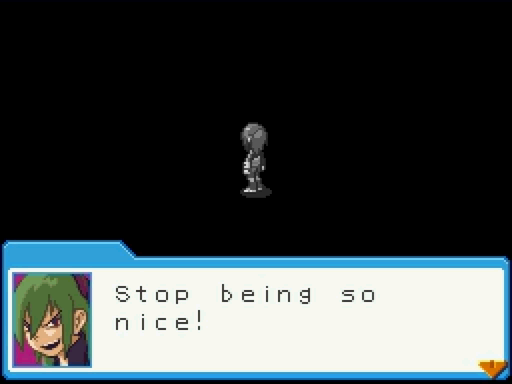 : And keep your eyes on the prize!!

: I know... I know... but...

: We've wanted this since we were babies! That one day, we were going to get our revenge on the parents who threw us away!

: But... But Geo has nothing to do with that!
You might be able to tell, but they're going with the cliche 'One good personality one evil personality' version of DID for Pat/Rey here.
...Is this BN4?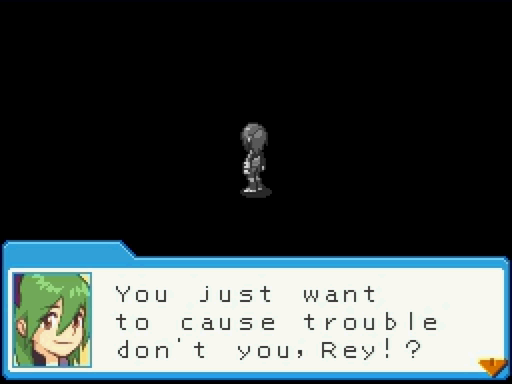 : You're wrong! I heard it from Gemini! If we had the Andromeda Key that his partner is holding, then we can destroy this planet! If we had that kind of power, then taking our revenge would be a piece of cake!

: B-But...
Yup. I'd definitely believe the alien that actively wants to destroy Earth. He'll tell us the truth about getting the thing he needs to destroy Earth.
Well, he ain't wrong. That would let them destroy the planet. Maybe we'll have an epic fight where it takes a few minutes to blow up and Geo has to escape the explosion??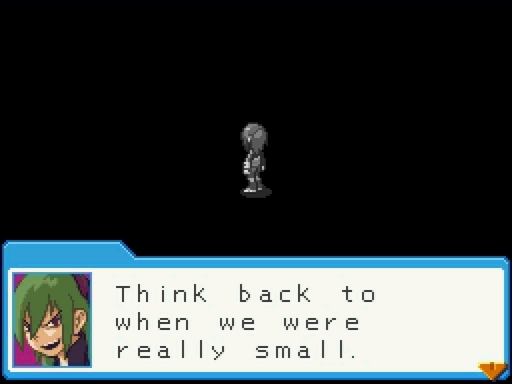 : Remember all those terrible days!! Remember the pain of living on our own!!

: Unngh...

: It's because of those traumas that you split into the two of us; that we became an incomplete human! There is only one way to save us now! Revenge.
In case you haven't put it together yet, Rey spells it out for everyone: Pat was the original personality and he created Rey as a way to deal with being abandoned in the scrapyard.
And also Rey's evil.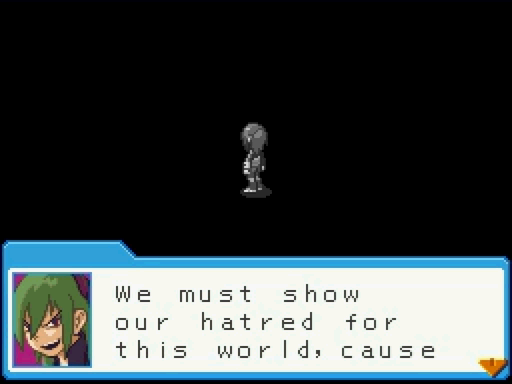 : ...it's not something that'll go away so easily!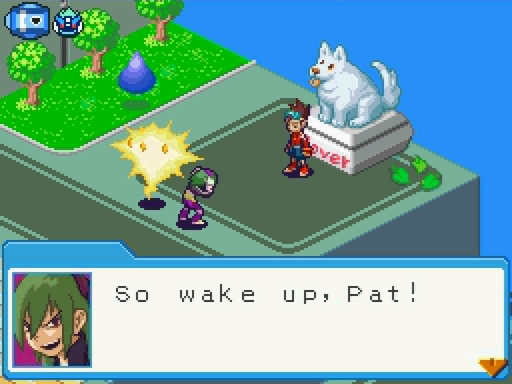 Thank god we're out of the Brain Zone.

: We have to take the Andromeda Key from them!!

: Pat!!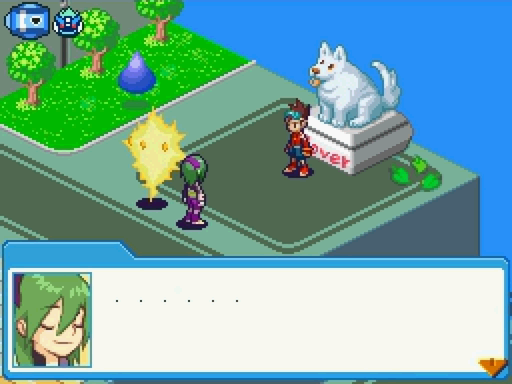 : ...Geo. I'm sorry...

: P-Pat?

: It's true. Revenge is all we have. Gemini, it's your turn.

: Good.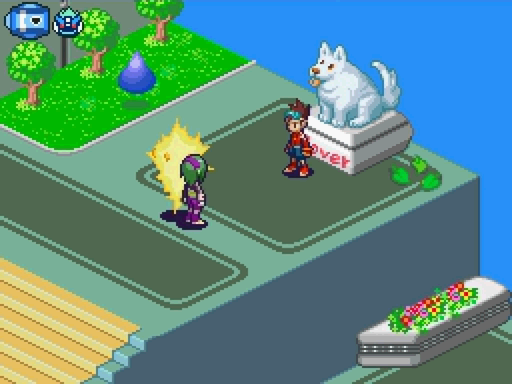 Ah. I see it's time to do the fusion dance.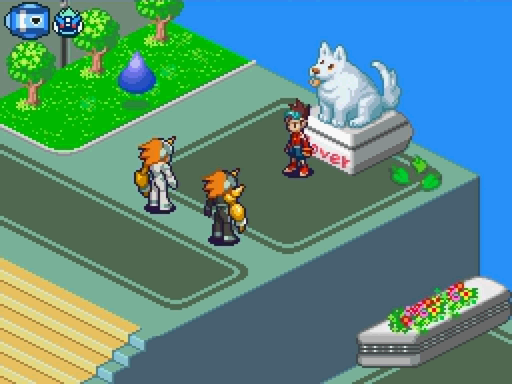 Their design is pretty neat.
Androids 17 and 18 are going to ravage another world.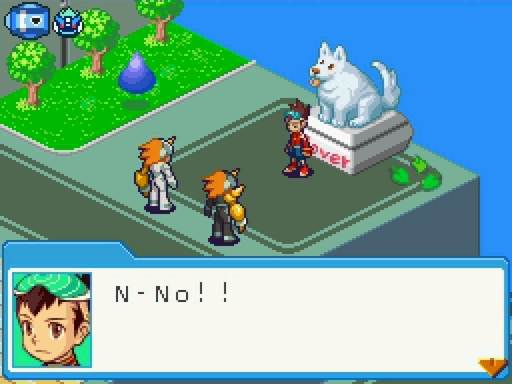 : Let's go, Pat!!

: ......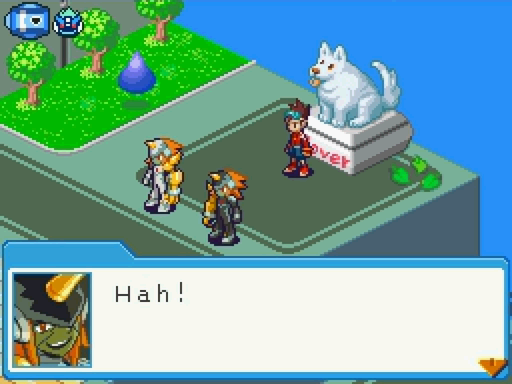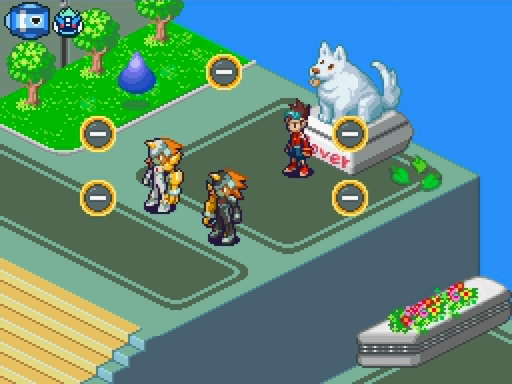 Like pretty much everyone should have figured out by now, the + and - are electrical charges that Gemini released. Gemini fused with PatRey can do it too.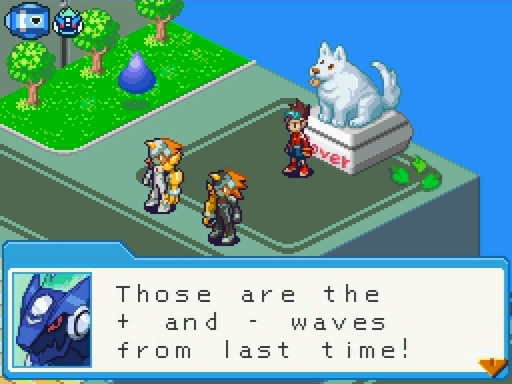 : Aaaaaah!!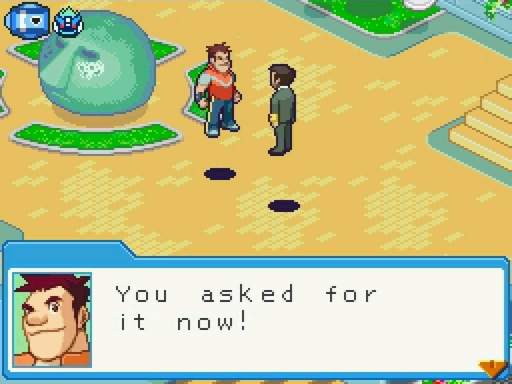 : What in the-!?
No, they can't fly. They're just hopping a bunch.

: Eek!!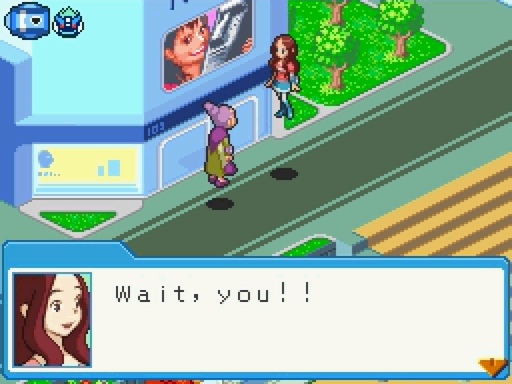 : You talking to me!?

: Heh heh heh.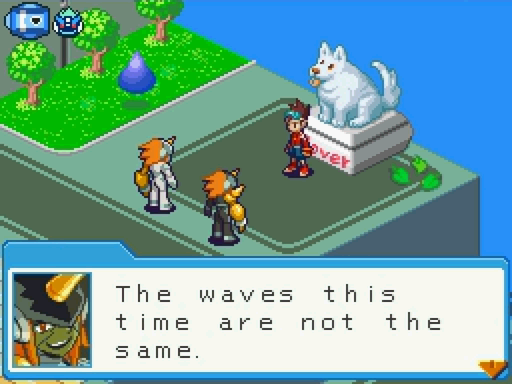 : They won't go away unless you defeat me. If you can bring yourself to try, come to the scrapyard in the city dump.

: ...Geo. Please, do what he says...

: Pat...

: Make sure you bring the Andromeda Key! You got that!?
Hey guess what it's time for the dungeon already.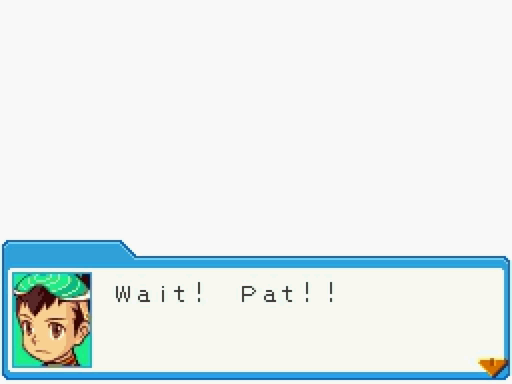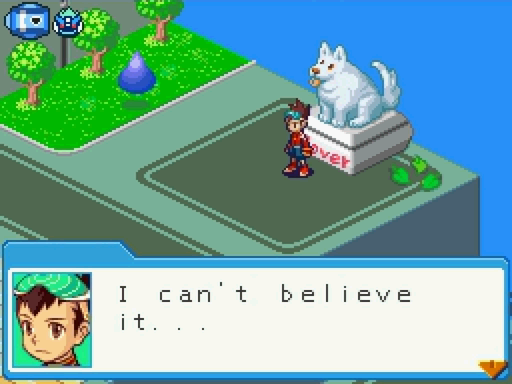 : Pat... I can't believe he's doing this...

: What are you gonna do? We don't have any time to waste!!

: ......

: Geo!!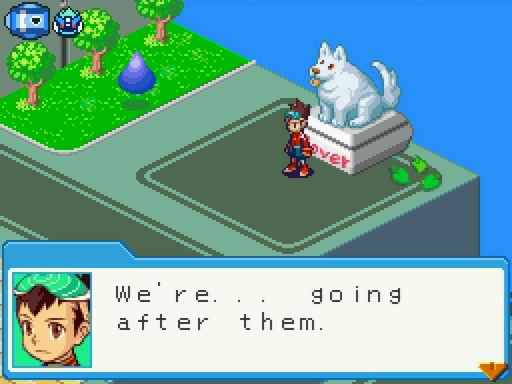 : And we're going to have a talk with him. There's something very wrong going on.
Geo. Geo are you still hung up on what's going on? They've been very explicit about what's happening. Rey and Pat want to get revenge on their parents by blowing up the Earth.
In fairness, that was inner monologuing. Geo's not allowed to know.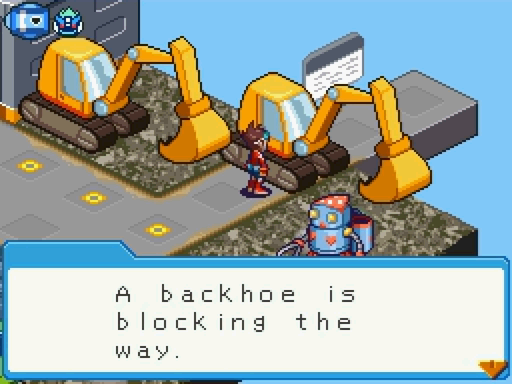 : I'm pretty sure the scrapyard Pat mentioned is just beyond here... I have to find some way to move this backhoe...
Back in Dream Island, the only place we haven't been yet is back here. Unfortunately, to reach Gemini Spark (by the way Pat and Gemini fused is called Gemini Spark, no we won't get to know this until the boss fight) we need to get past the backhoe.
The smart thing to do would be, go around it? Or just climb over. But, we need a key item since this is Starforce.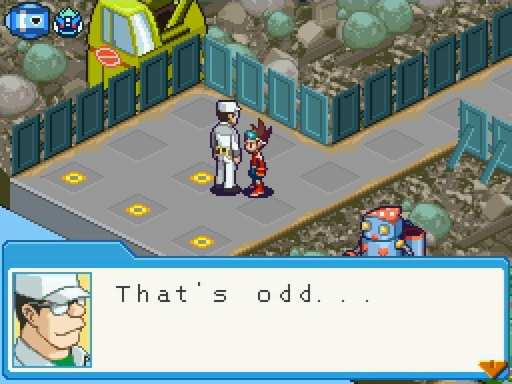 : I was sure I must've dropped it around here.

: Um...

: Hmm? Yes? ...Come again? You want to borrow the ShovelMan card? Well, actually... I kinda lost the ShovelMan Card, you see... I was knocked out by a trespasser last night and I think that's when I lost it. Can you help me look for it?
Hey, it's that jerk that Rey knocked out two cutscenes ago.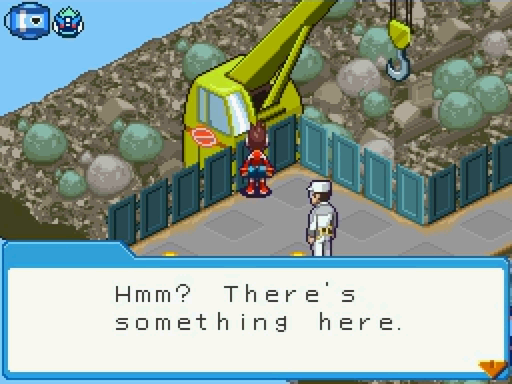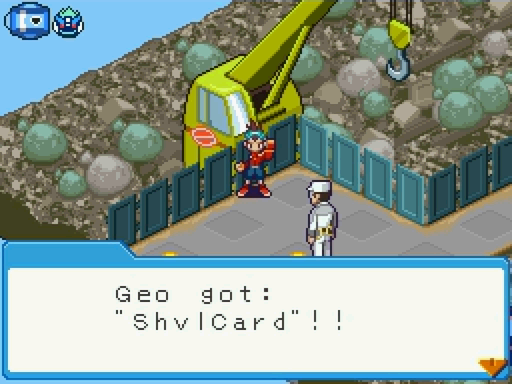 Wonderful. Let's go... sigh. Move the backhoe. And would you believe me if I said this wasn't the most ridiculous obstacle blocking our way this dungeon?
Some things never change. The devs never knew how to properly blockade the player in a way that wasn't patently ridiculous.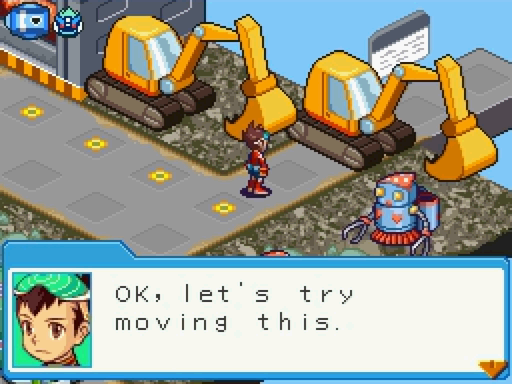 : "ShovelCard" Card In!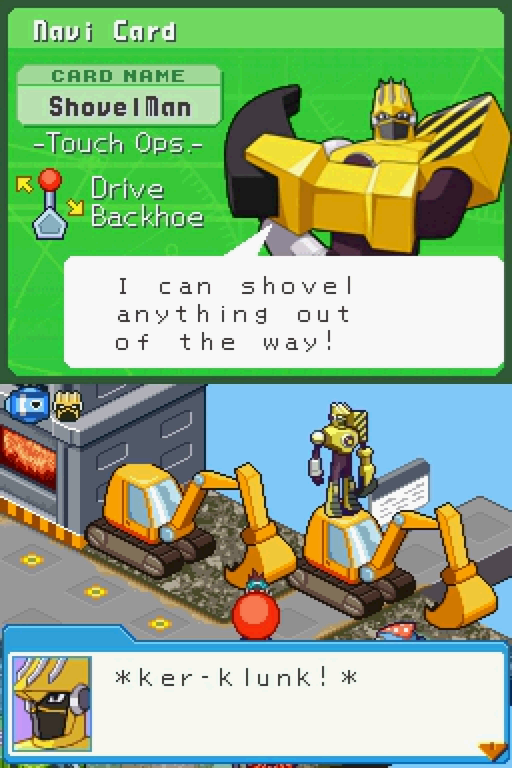 : So you wanna move this out of the way? Then control this excavator with the lever!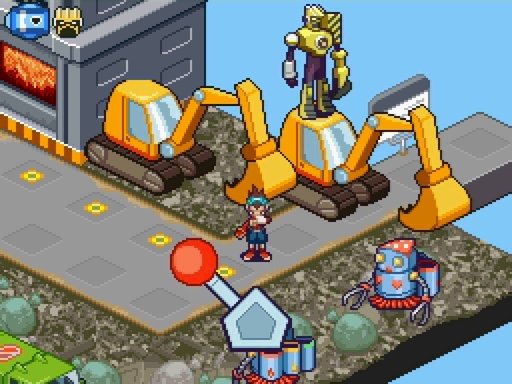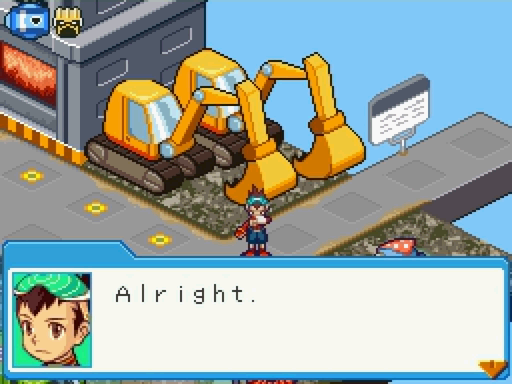 : Onward!
Whew, tough minigame this time.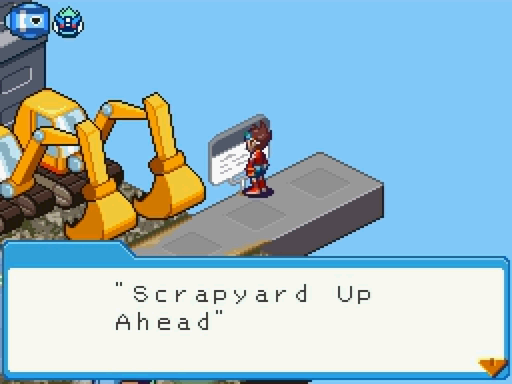 Going the right way, got it.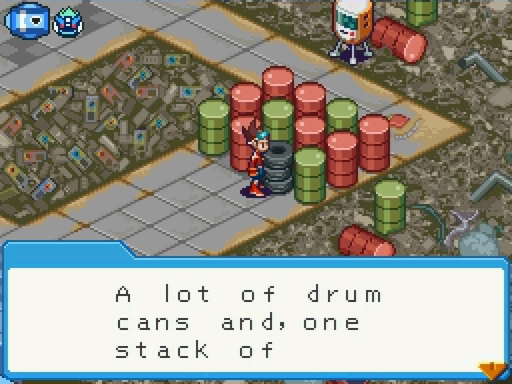 ...of[sic] tires... What gives?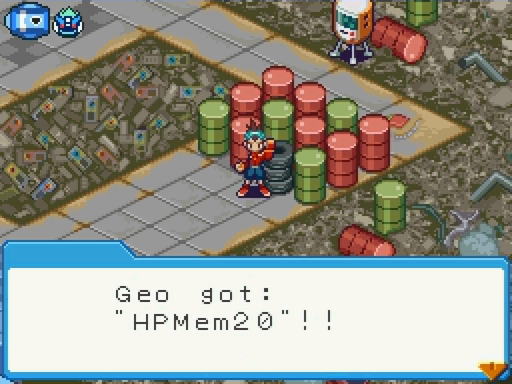 This scenario feels pretty rushed in all aspects. But at least we get more HP.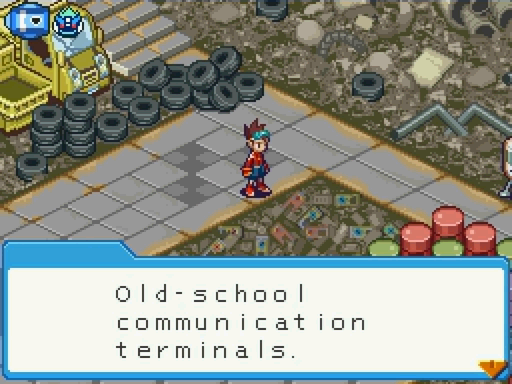 Before Transers, almost everyone had one.
Seriously, how old is all this garbage? You'd think that the world would have figured out how to break down some of this stuff by now.
...Yeah. Starforce is rushed in terms of worldbuilding, I think. It's been 200 years and it just looks like we only advanced by 20-30 years.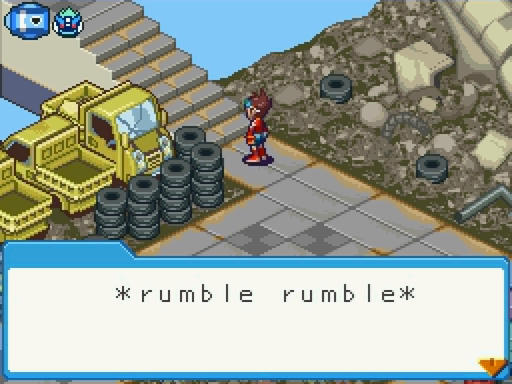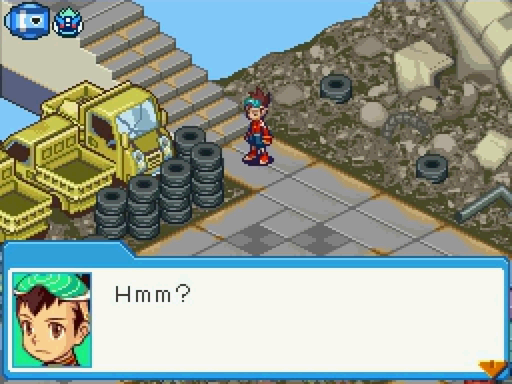 : Did you hear something?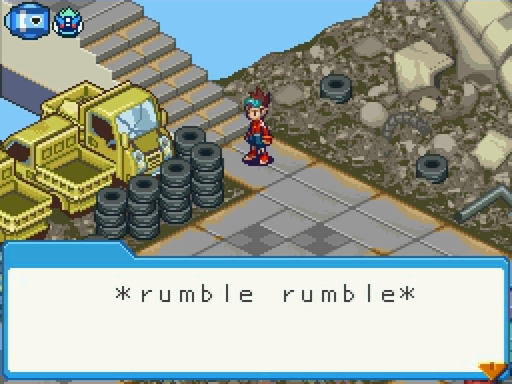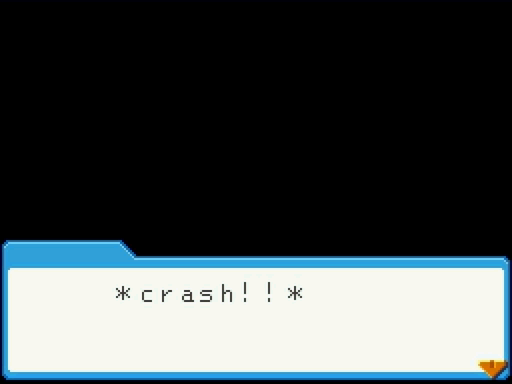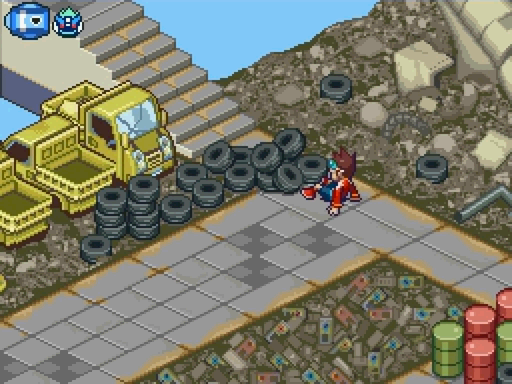 So here's our next obstacle to get around. An insurmountable... stack of tires. Seriously, Geo, just climb over them. They're tires, not murder hornets.
Nah, they're evil tires. Can't climb.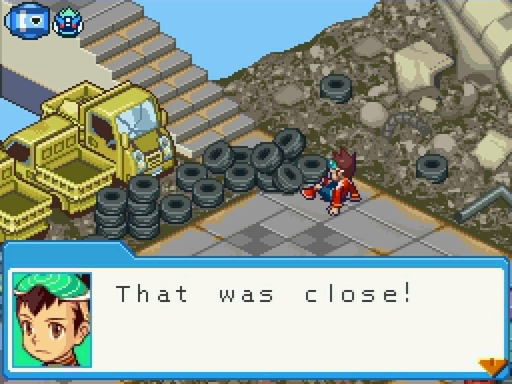 : Talk about a close shave.

: Now the road's blocked off, though. And I get the feeling Pat's just up ahead.

: Well, Geo, time to put on your Visualizer.

: Yeah.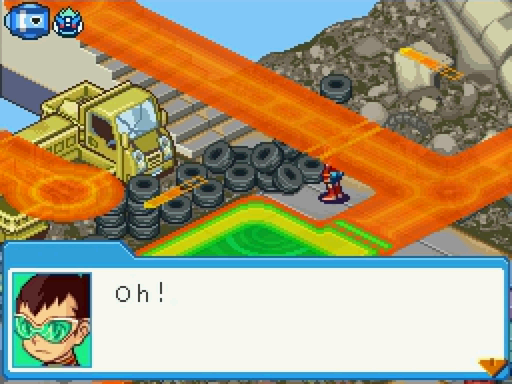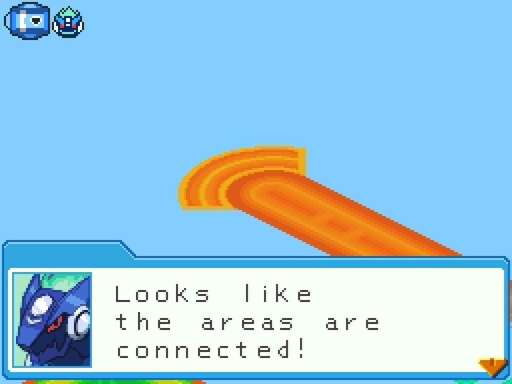 : Good. Then let's go through the Wave World.
Don't be fooled. We're already in the dungeon, you just don't realize it yet. Starforce tried a couple new things with the traditional dungeon layout, and while they weren't ALL bad I really think that there's a reason it's the traditional layout.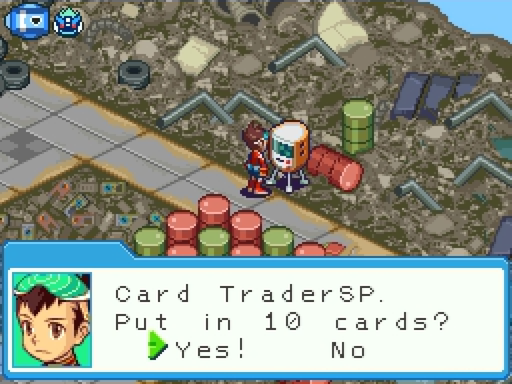 Anyway, before we get going with the rest of the dungeon just wanted to point out the Card TraderSP. 10 cards for (usually) better rewards.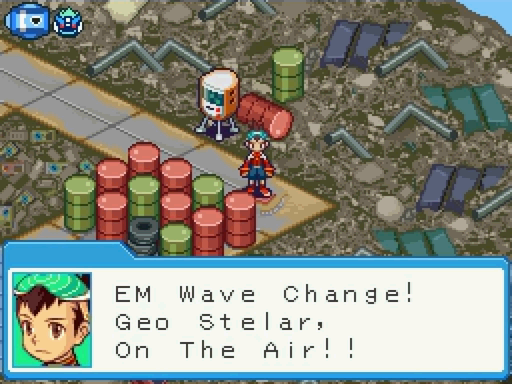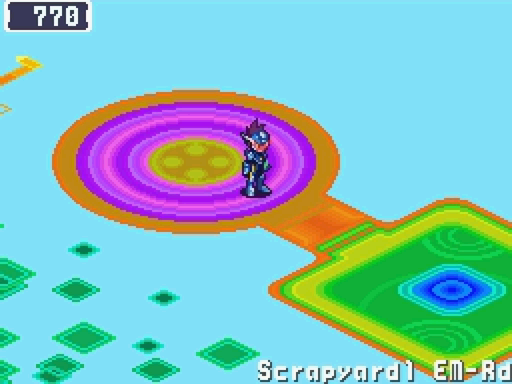 Welcome to the start of the dungeon itself.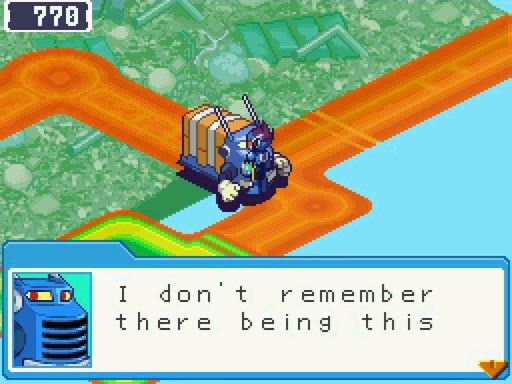 : ...much garbage before.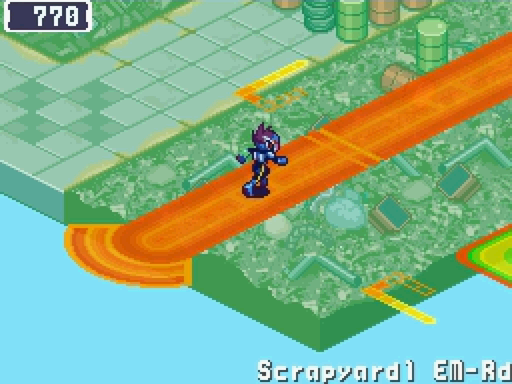 The left side of the path leads back to the previous area, so there's only one direction to go.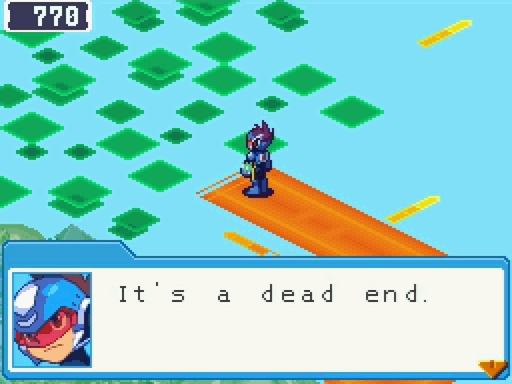 : Looks like the waves are being distorted.

: Now what?

: Well, the cause has gotta be around here... Hmm?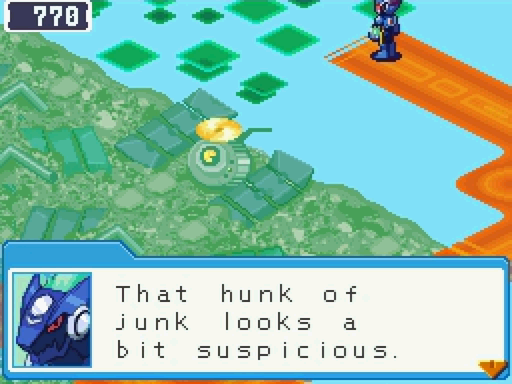 : Geo, pulse into that for a sec.
Will do!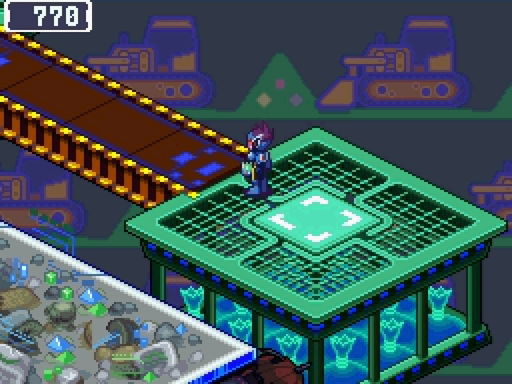 Dungeon comp 1.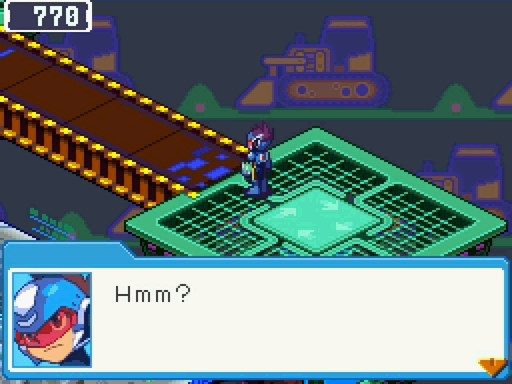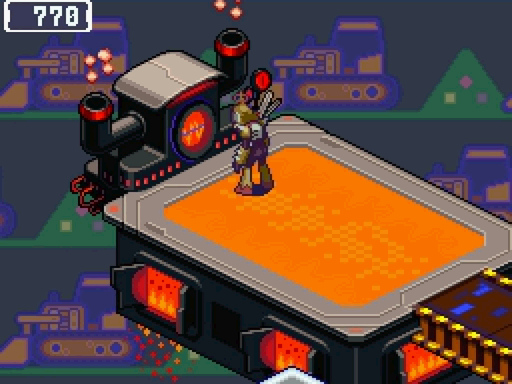 : What's that?

: I bet he's the one causing the wave disruption.

: OK, then let's put an end to his fun.
I'd love to run over and do that, but there's something stopping us.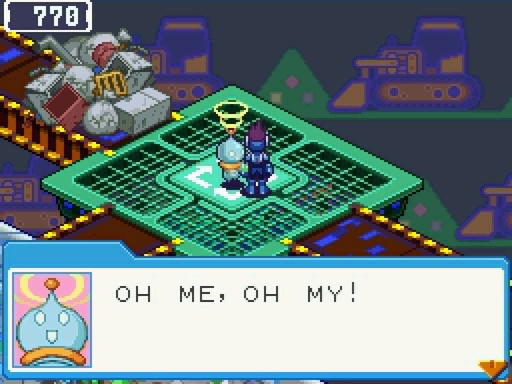 : THE COMP SPACE IS FALLING APART BECAUSE OF THE STRANGE INVADER!

: Falling apart?

: THAT'S RIGHT!! THE BULLDOZER PROGRAMS HAVE ALL SUDDENLY GONE HAYWIRE! THEY WON'T RESPOND TO A SINGLE COMMAND I GIVE THEM!! *BEEEEEEEP*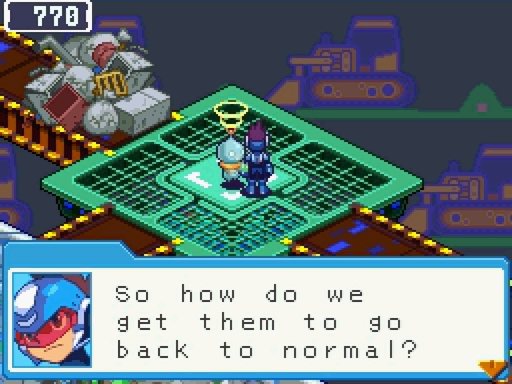 : THE COMBINED POWER OF ME AND MY FRIENDS MIGHT BE ENOUGH TO RETURN THEM TO NORMAL, BUT...

: But...?

: WELL, WHEN THE BULLDOZERS WENT CRAZY... MY FRIENDS KINDA GOT BURIED UNDER THE TRASH...

: B-Buried!?

: YOU CAN'T FIND THEM BY JUST LOOKING, BUT YOU MIGHT BE ABLE TO FIND THEM WITH THIS.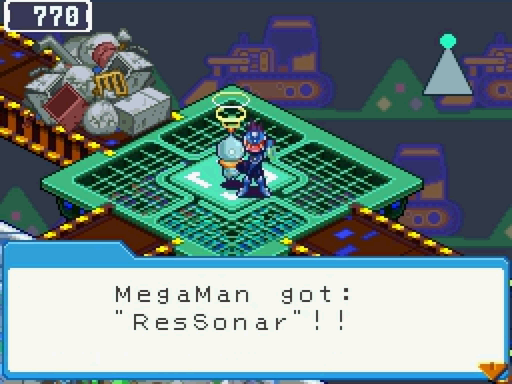 Sigh. I do wish we didn't have to go through twenty textboxes to get to the gameplay.
This is par for the course, really. It's just the rushed scenario eroded your patience for it.

: TOUCH THE SCREEN WITH THE STYLUS TO ACTIVATE THE SONAR PROGRAM. IF IT FLASHES BLUE, THERE'S SOMETHING NEARBY. YELLOW MEANS GETTING WARMER, AND RED MEANS THAT SOMETHING IS BURIED UNDER THAT SPOT. ONCE YOU FIGURE OUT WHERE SOMETHING IS BURIED, GO STAND NEAR THERE AND PRESS THE A BUTTON TO UNEARTH IT.

: Gotcha! Now to give it a try!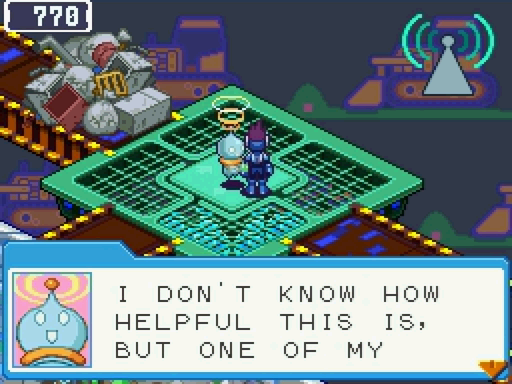 : I DON'T KNOW HOW HELPFUL THIS IS, BUT ONE OF MY FRIENDS WAS WORKING ON DISMANTLING A CAR, ANOTHER WAS GETTING RID OF AN OLD TV... PLEASE HELP ME AND FIND THEM!
Finally.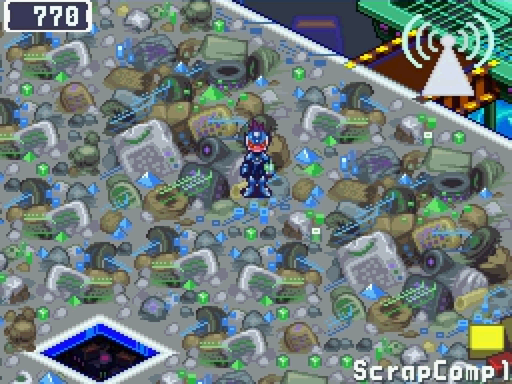 This gameplay sucks and I hate it. Just putting it out there. Anyway, we're dowsing for Hertzes, and it's awkward. There's no indication of what direction to look, so you have to tap around.
The whole dungeon is a pixel hunt. Several areas of this...garbage. Harr harr.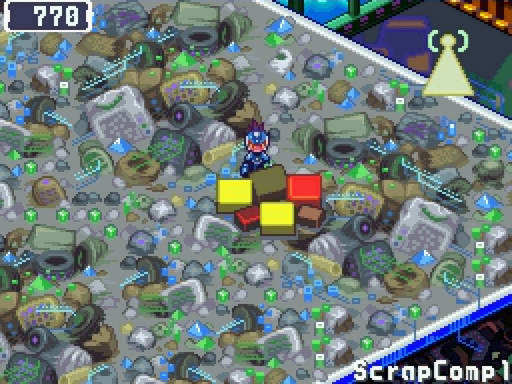 And then, even when you get yellow, you have to stand still and tap repeatedly to figure it out.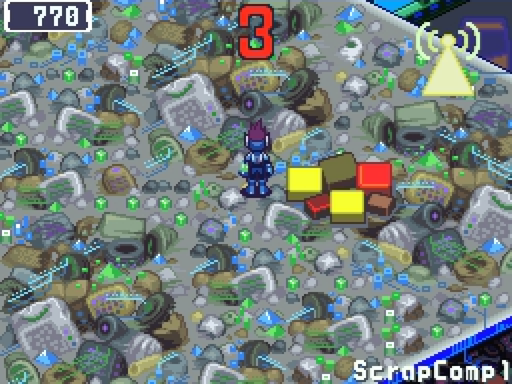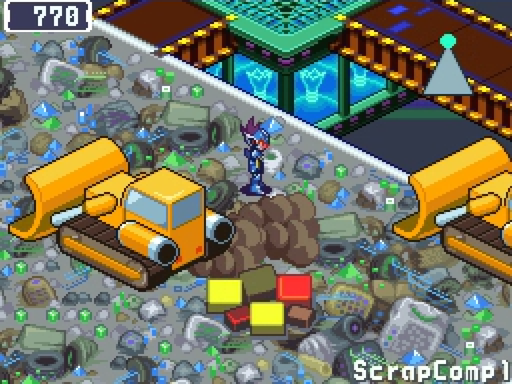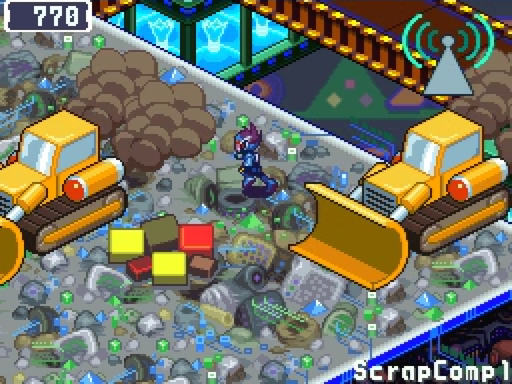 Every couple of seconds (I think 15-20, maybe?) a countdown starts up from 3. When it hits zero, bulldozers pass by. If MegaMan gets hit, he takes 30 damage and gets sent back to the middle of the area.
Yes, you CAN get in a random battle while this happens, and yes you'll probably get hit by the bulldozers when you get back.
Alright, that reminded me how bad this was. Good lord. Were they running out of time?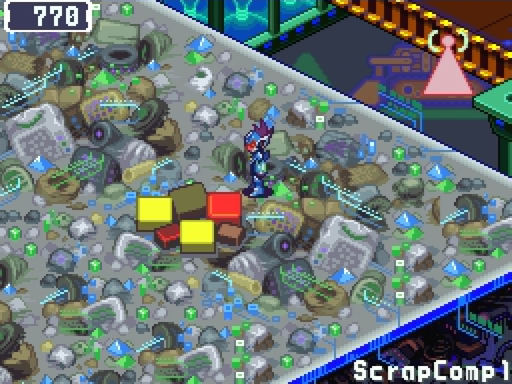 Once you finally get a red zone, make sure you know where it is, then start mashing the A button around it.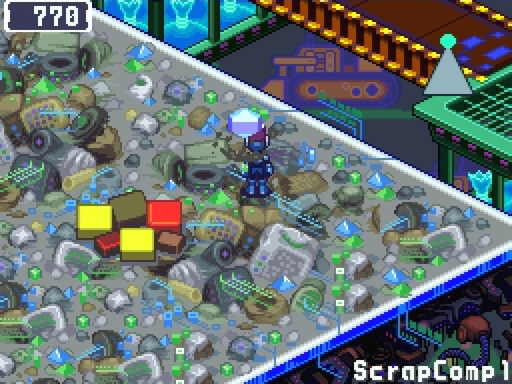 Something FINALLY will pop up.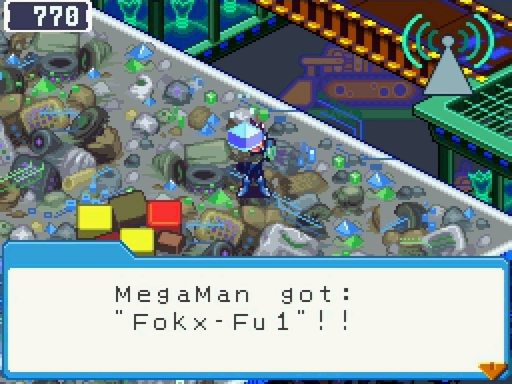 With exactly one exception, all of the stuff buried under the trash is garbage, appropriately enough.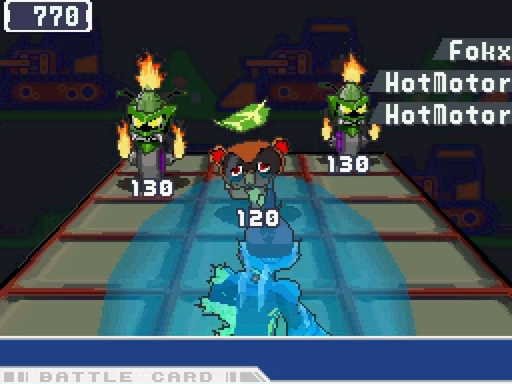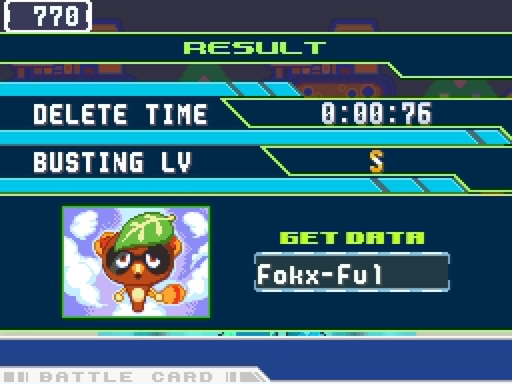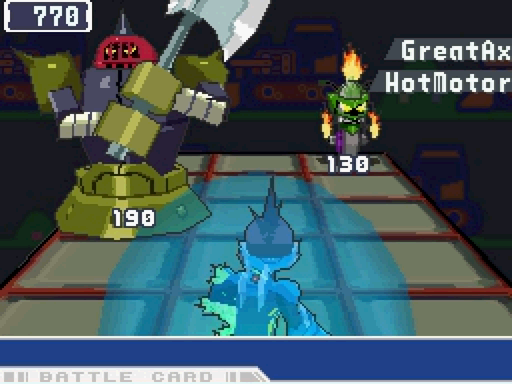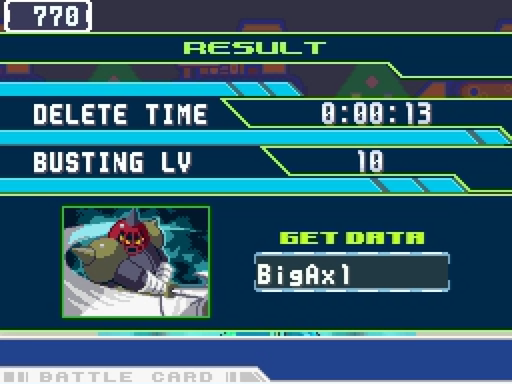 The two new viruses. Fokx will stay in its row, then hop to a different column when you step into their column. If they stay still, they're preparing to jump to right in front of you and use a wide sword, so hit them then. The counter timing is right before they swing.
GreatAx will hop around for a bit then jump into the middle column, two rows back (so, one to the right of where the GreatAx is in the image) and then swing with a LifeSword range. Their counter timing is as they begin the swing.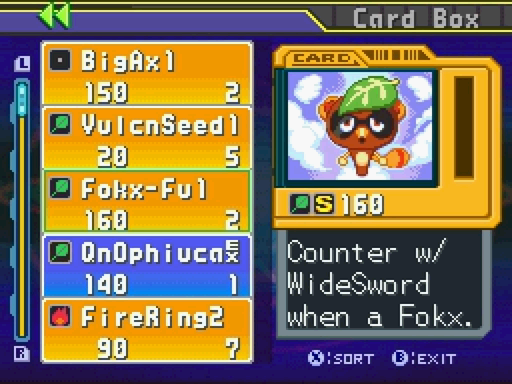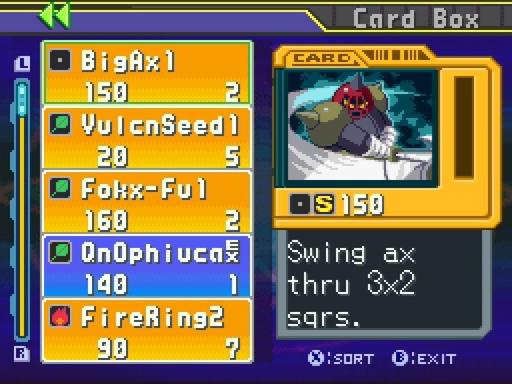 Both excellent cards. BigAx is one of my favorites, because it's just a fuck you-sized swing.
Fox-Fu is a real good card. You counter anything thrown at you and deal the listed damage. Really good.
Now, back to the garbage collection.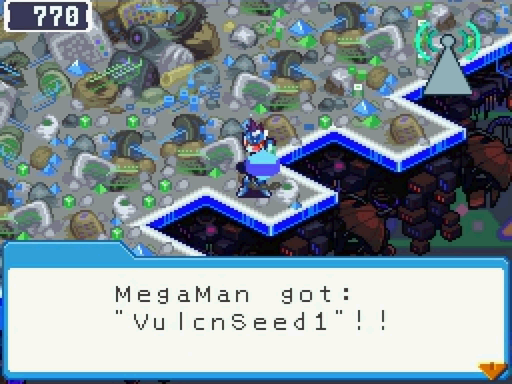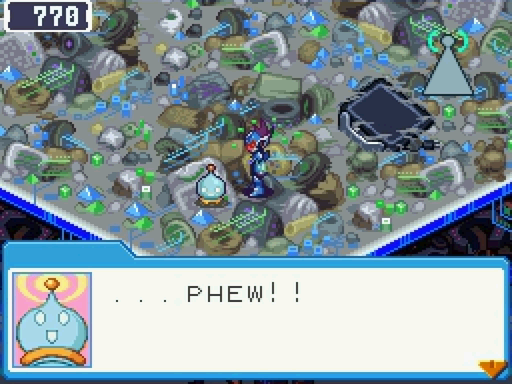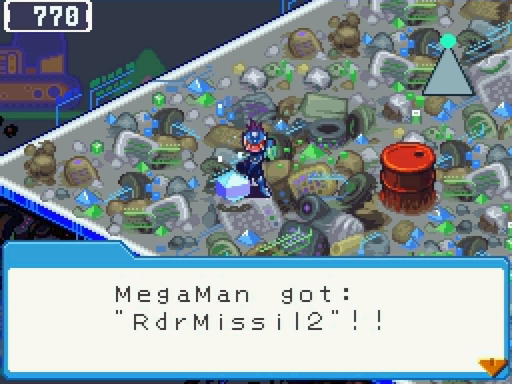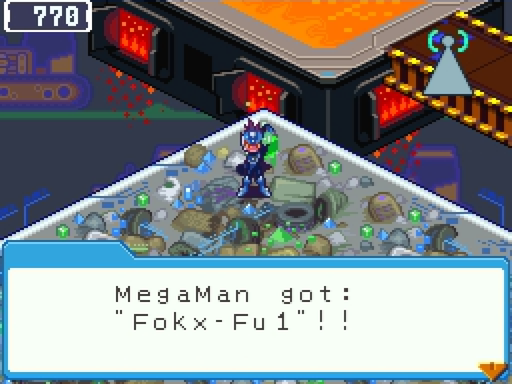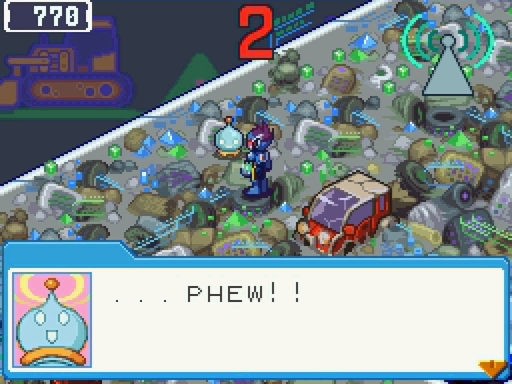 There we go. The Hertzes have a quick line to say, but as much as I hate to do it I need them to shut up because this update is going to be massive.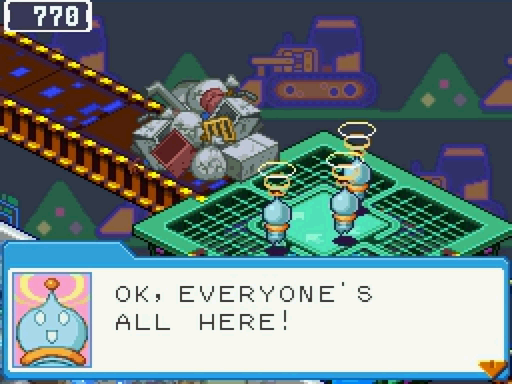 : ON THE COUNT OF 3! 1... 2... 3!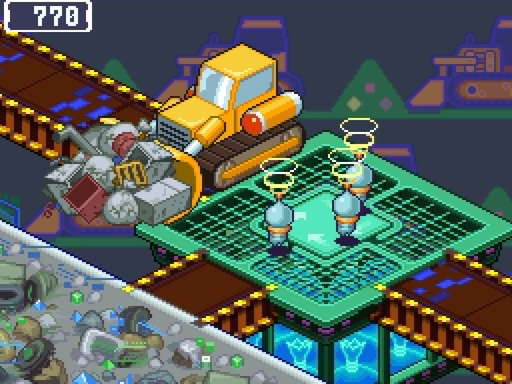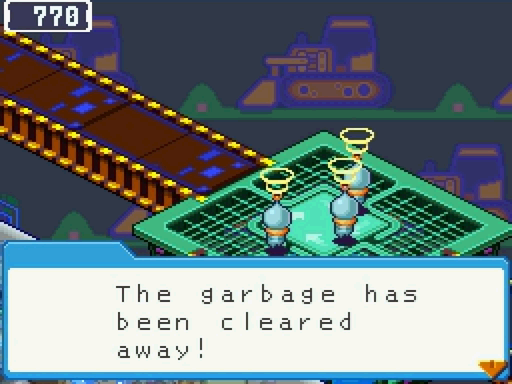 Go team.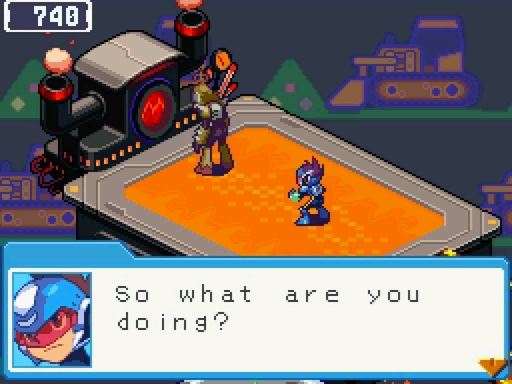 : Hmm?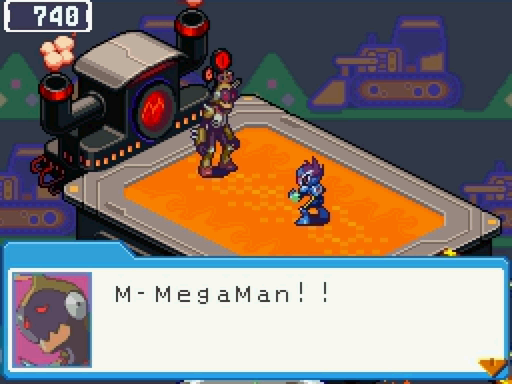 : The enemy of Lord Gemini!

: I knew he had to be one of Gemini's.

: Sorry, but your train stops here!!

: Here he comes, Geo!

: Roger!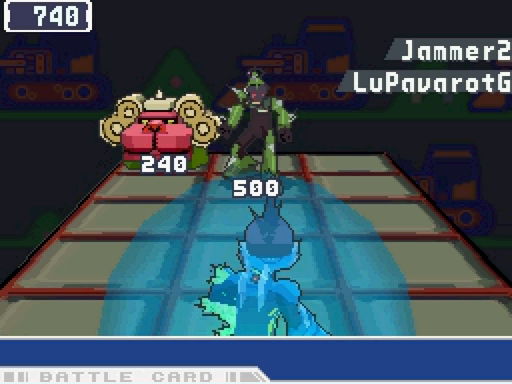 A pretty simple fight, though LuPavarot loves healing the Jammer.
Put 2 viruses! Come on, now.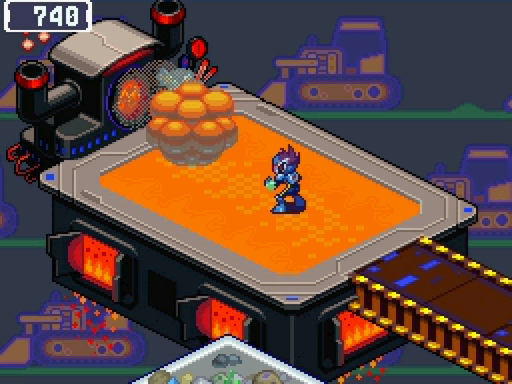 : L-Lord Gemini! Aaaaaah!!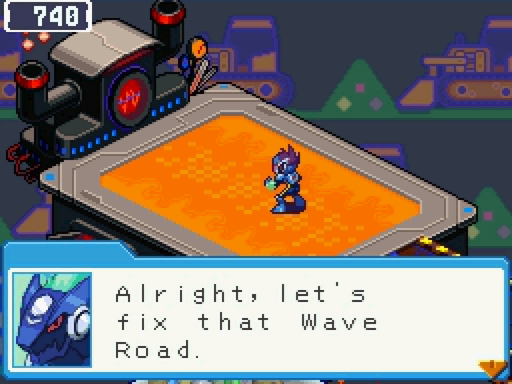 : Yeah!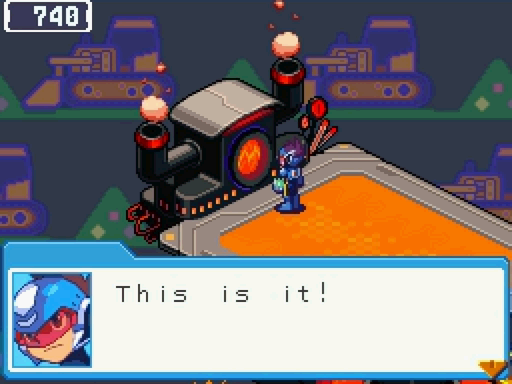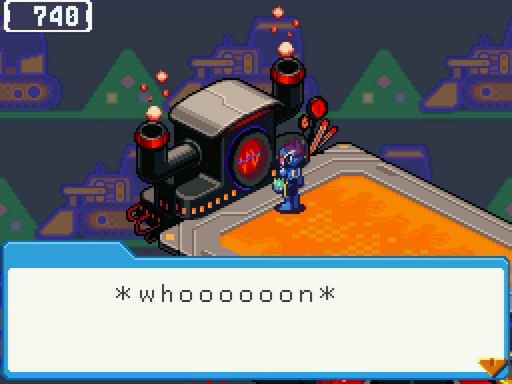 And, when we pulse out...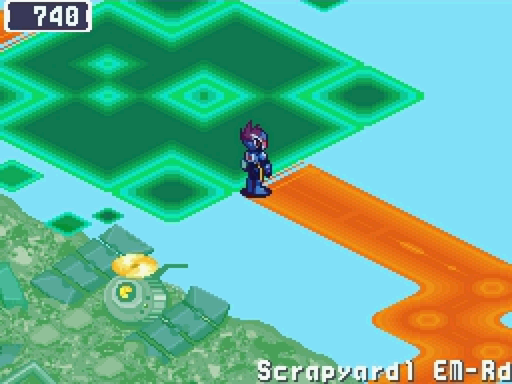 We have the path forward.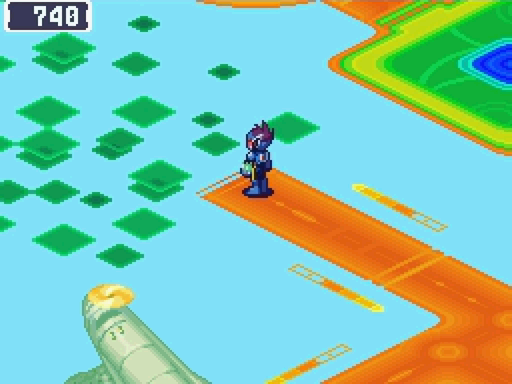 ...Very briefly, until it's blocked again.

: The road dead ends here too.

: It's probably another disturbance.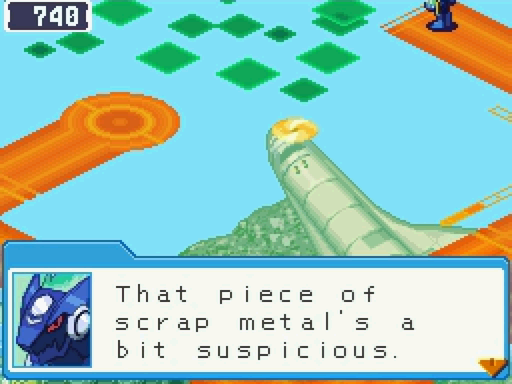 : Geo, pulse into that.
One thing I wish would have changed is that the game is STILL hand-holding a little bit, and telling the player exactly what to do. We're on the second-to-last main scenario of the game and I'm still getting instructions.
As opposed to BN where you got "One of many birds". Haha.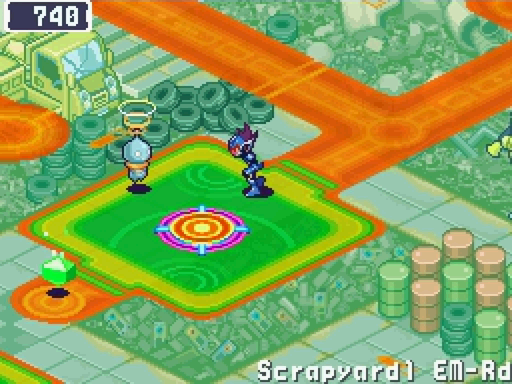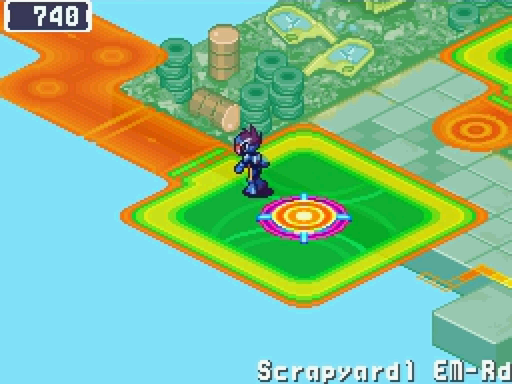 This entire scenario just feels weak. The story focuses around Geo's relationship with a character we don't know, and the dungeon is... not a dungeon. It's just a touchscreen gimmick.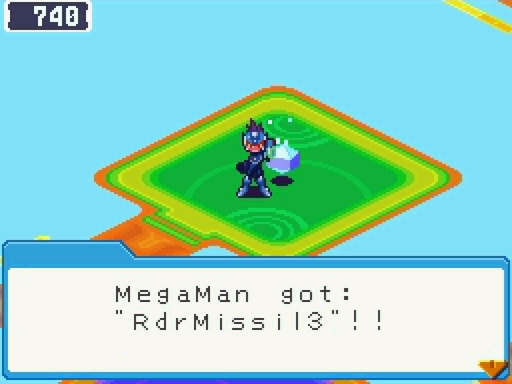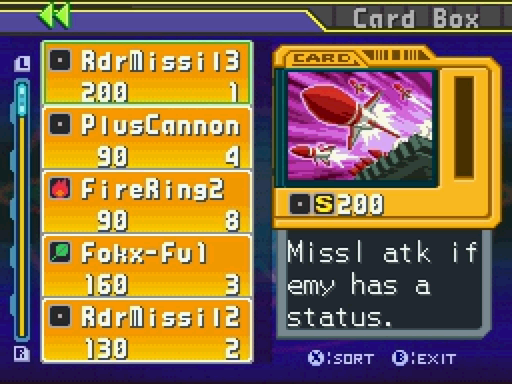 At least this is good. Paralyze, Bubble, and Frozen all count as statuses - which makes this especially good for Pegasus players.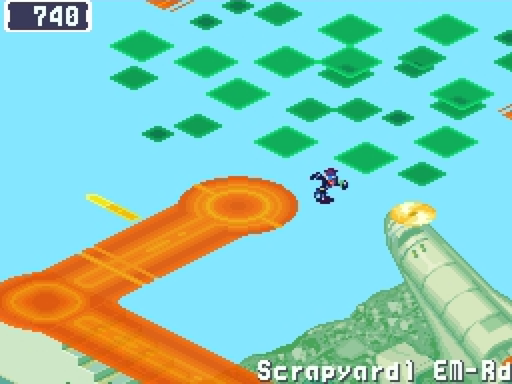 Anyway, let's get going for comp 2.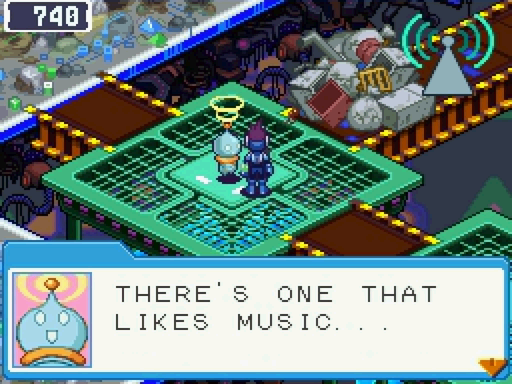 : ...AND ANOTHER WAS AT A PLACE THAT STICKS OUT... AND ONE WAS COMPLAINING ABOUT THE COLD.
Like I said, I'm gonna be abridging this dungeon a little because the conversations we had at the beginning in the first comp repeat themselves here.
This trash area is shaped like a capital L, and I'll be going from bottom to top.
L is for Loser.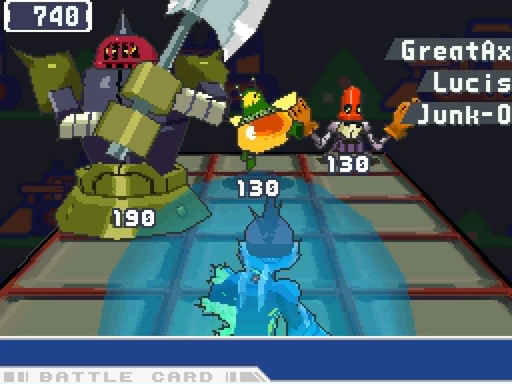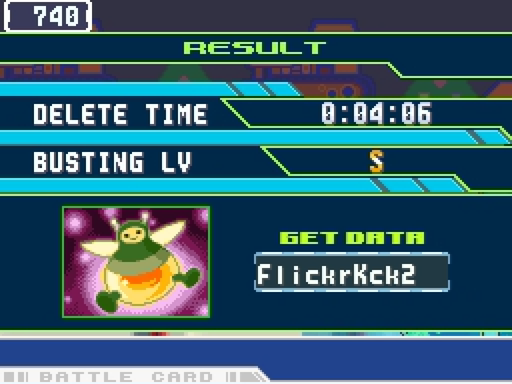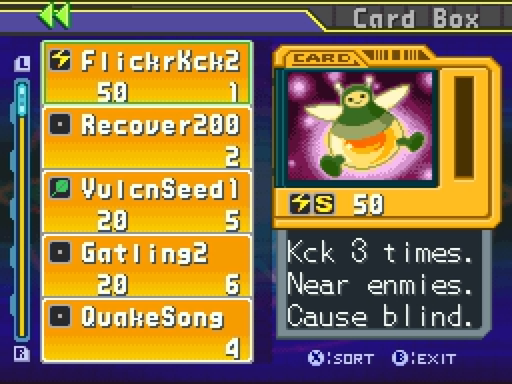 We already have FlickerKick3, which is better.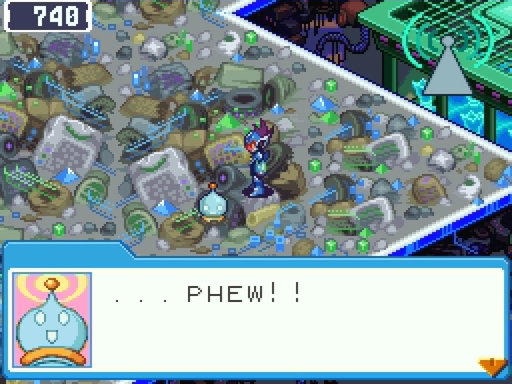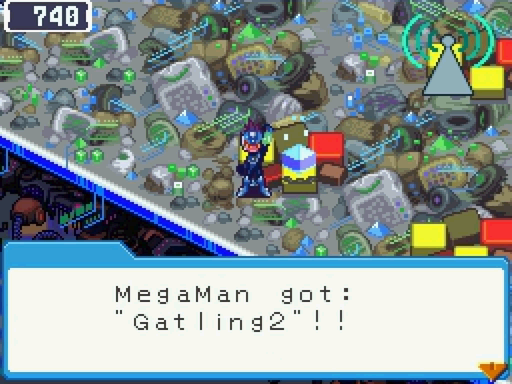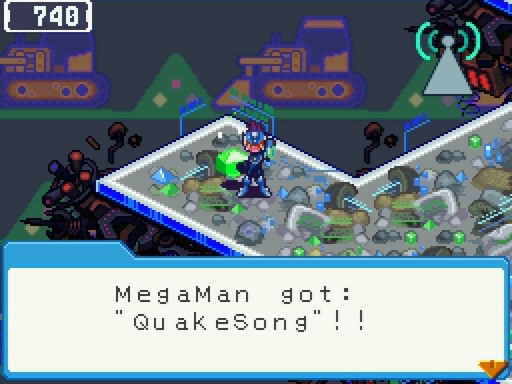 That's all along the bottom of the L.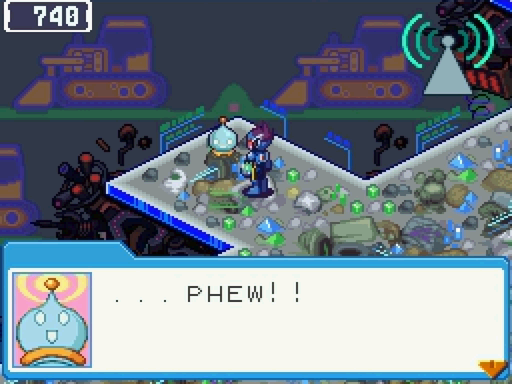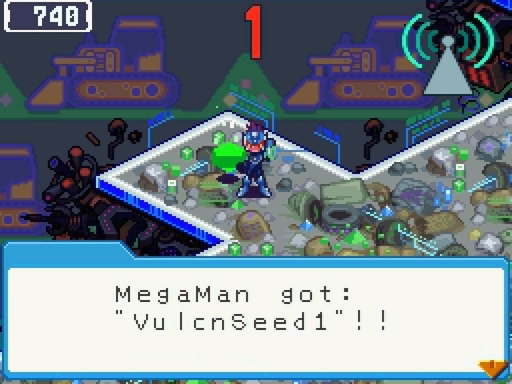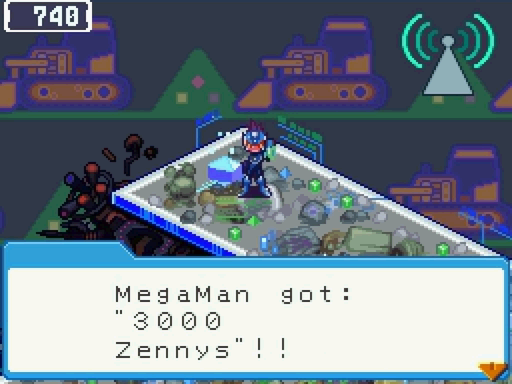 These are along the spine, with the jutting out bits.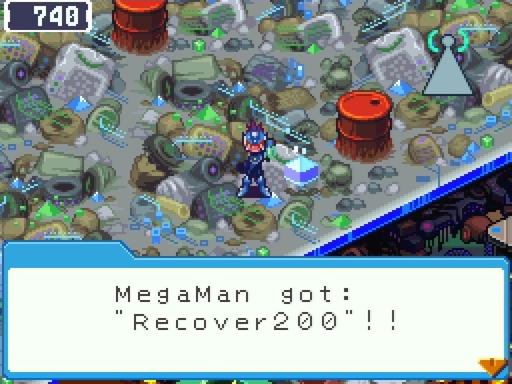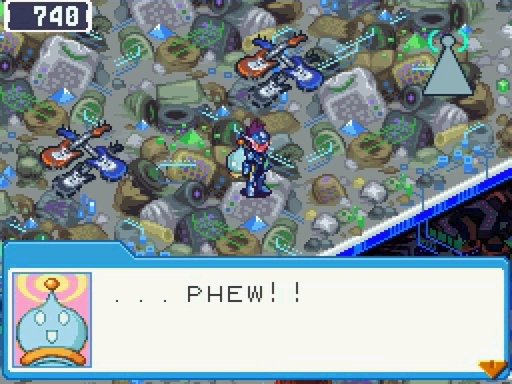 And these two are near the top.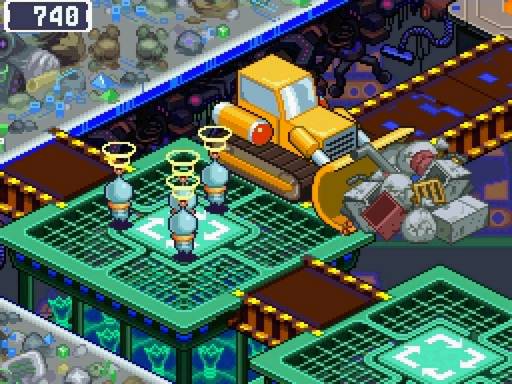 The Hertzes clear the way for me, very polite of them.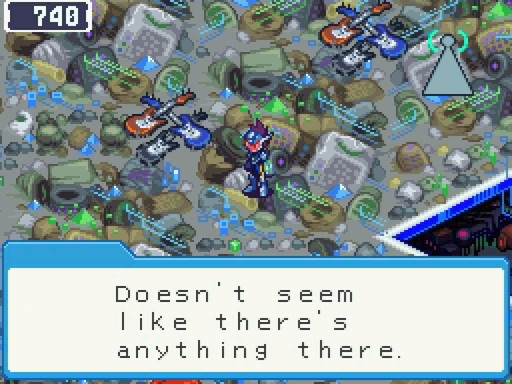 Something I forgot to mention earlier - once you collect everything in the area, this is the message you get when you tap the screen.
Well, at least there's that. Imagine if they didn't.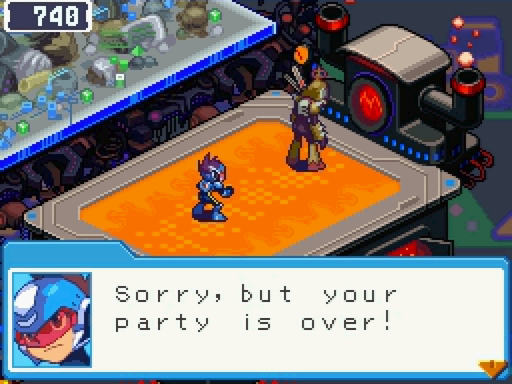 : Hmm? M-MegaMan!!

: Restore the Wave Road now!

: Take one step closer, and you'll regret it!!

: Let's go, Geo!

: Yeah!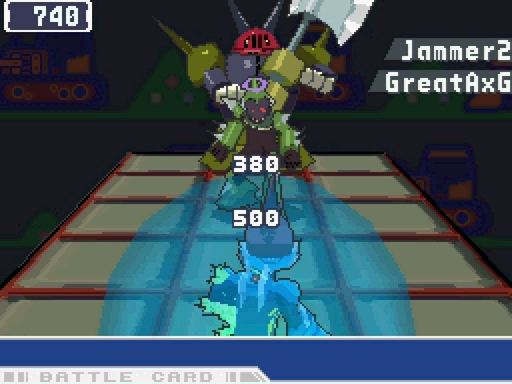 You can't see it, but I have BreakTimeBomb in my opening hand. A few things about the GreatAx AI - if there's something in the one spot they need to jump to for an attack, it won't. BreakTimeBomb gets placed in that exact spot.
That card gains more value every update.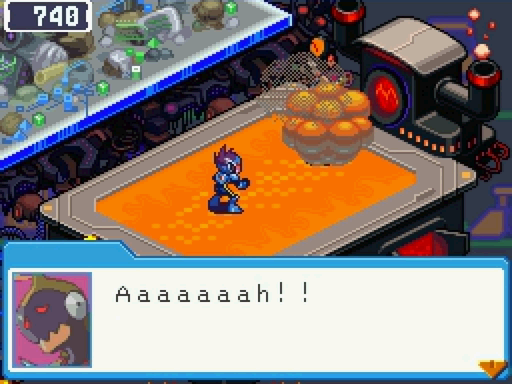 : L-Lord Gemini!!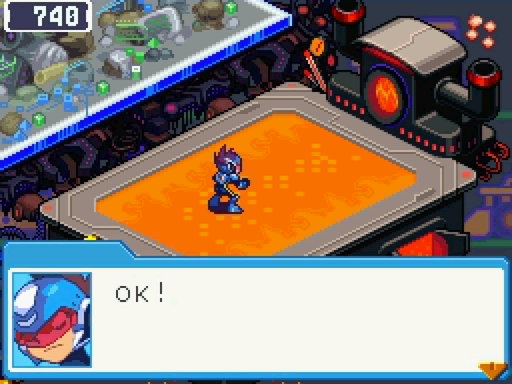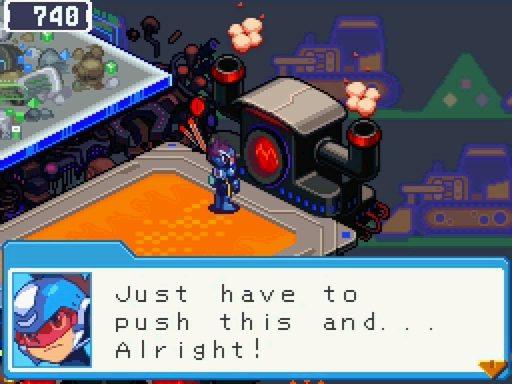 : That should fix it. Pulse out, Geo!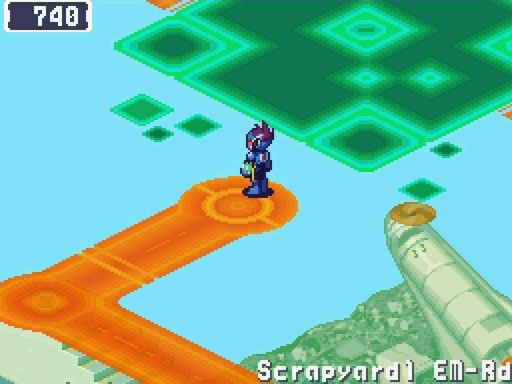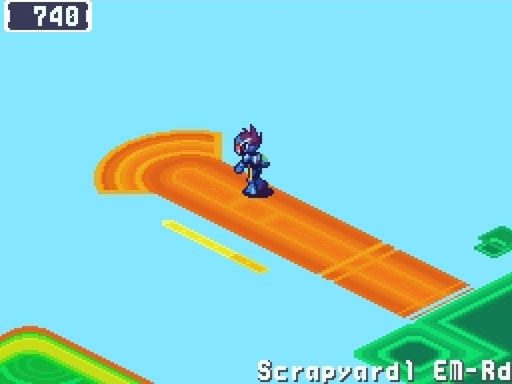 Two down, and we're finally able to get to the next screen.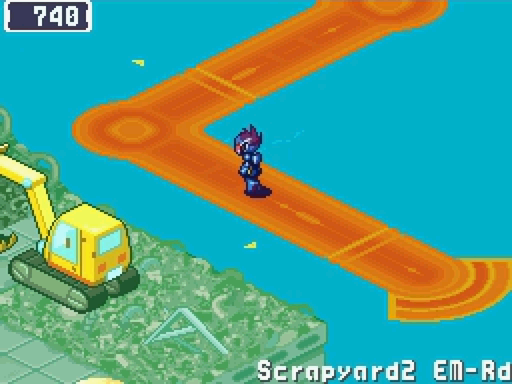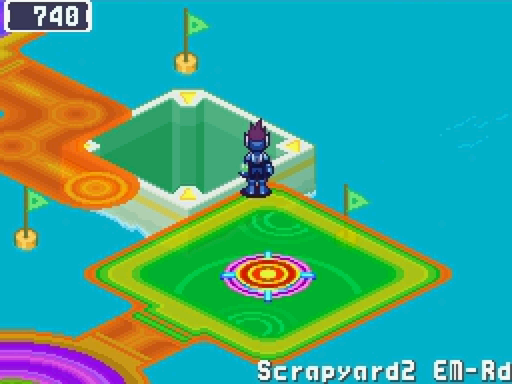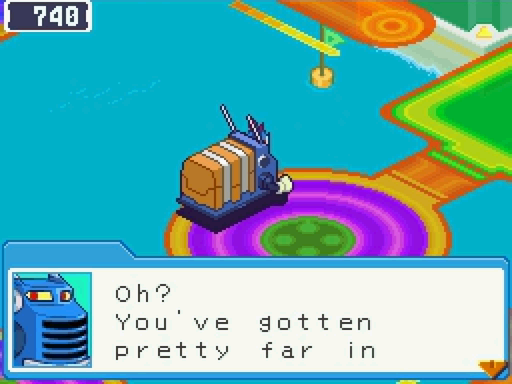 : ...here. All of this junk was dumped here long ago!
Let's pay no attention to anything and just, take care of Gemini already.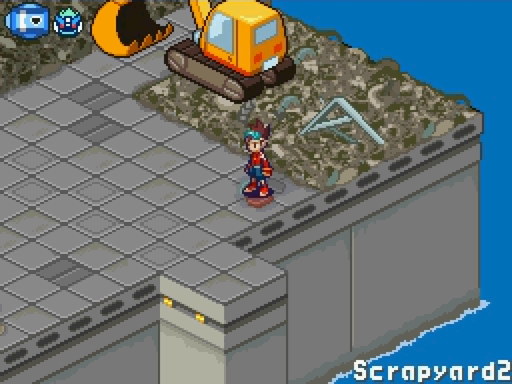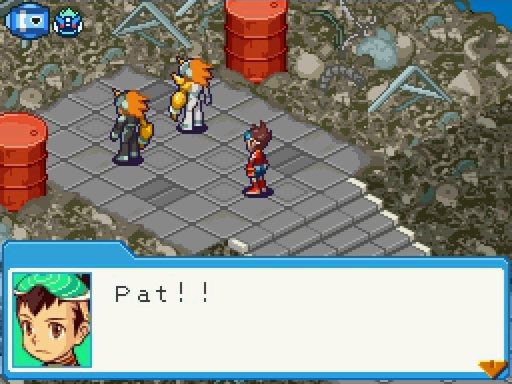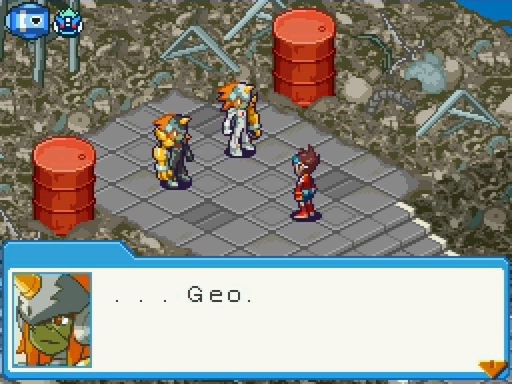 : You're here!

: Pat, why...? This isn't right... We were getting along so well, and we were even about to become Brothers!

: I really did want us to be Brothers... But... I guess that's not possible now.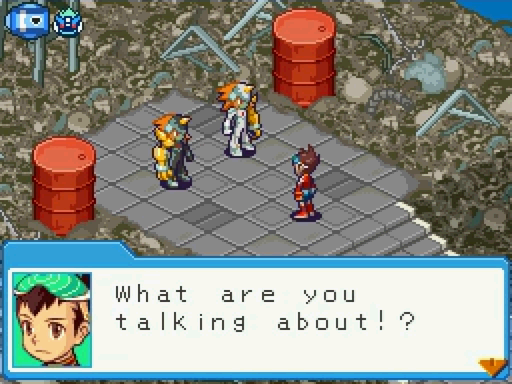 : I don't understand what you mean!

: I don't expect you to understand. This is something I've decided to do.

: No...
It's worth noting that for all appearances, this really isn't anything that Pat has been influenced by Gemini to do. Sure, Gemini probably pushed him further down this direction, but in all other cases the FM-ians just preyed on people who were in a weak spot, and they went on a rampage.
Judging by some of Gemini's comments, he's been here for a while.
One could argue their compatibility is higher than the others, and the fact that Rey's goals align with Gemini's means no coaxing is needed.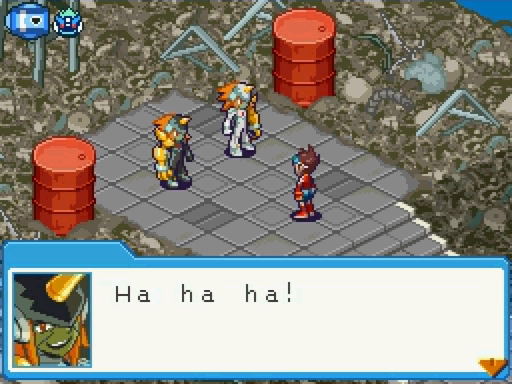 : See, he said it. Now why don't you give up?

: Hey, Mega. You brought the Andromeda Key with you, right?

: You think I'm going to just hand it to you?

: Of course not. I knew I'd have to take it from you.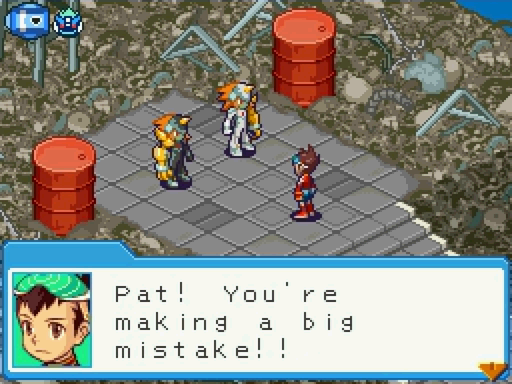 : There is no other way...

: If you don't want to fight, then hand over the Andromeda Key!! ...Hah!!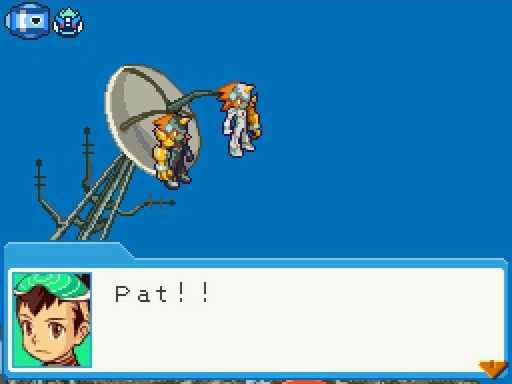 : ......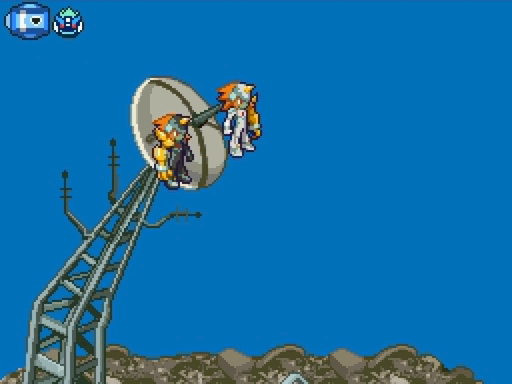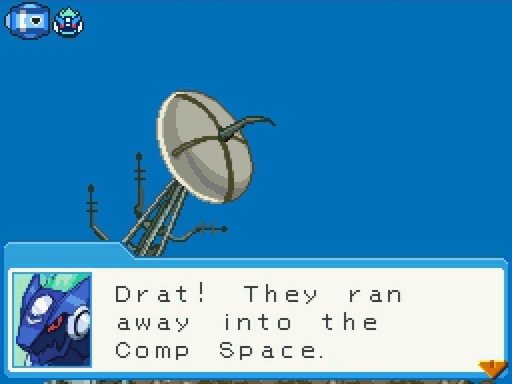 : Ran away? Boy have you got it wrong! We're in here to do this!!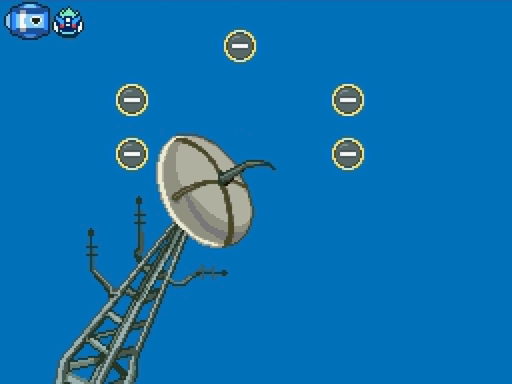 I promise they send out the + waves too. I'm just bad at capturing them, it seems.
Truly not a positive to be found this update.

: So that's what their plan was!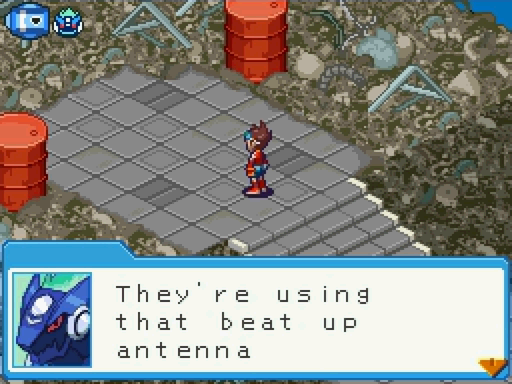 : ...to broadcast those waves! If we don't do something, the damage is going to spread out further than before!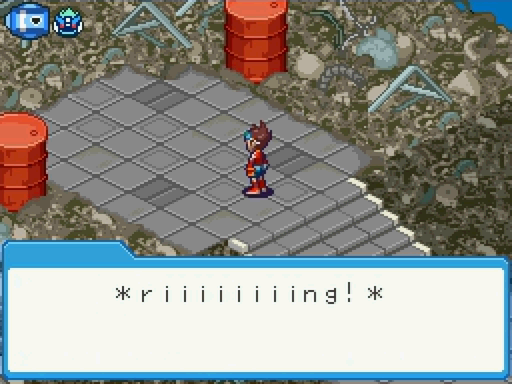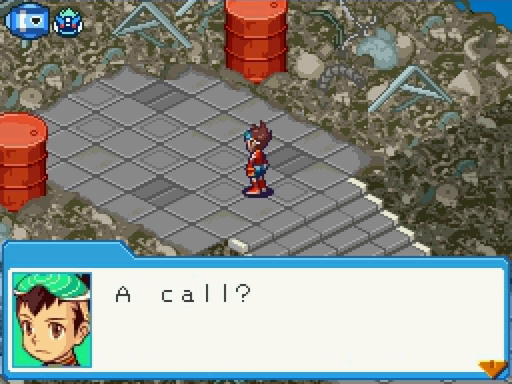 : At a time like this?
Geo, there's probably a connection between the friendship-destroying waves going out and this phone call. Why are you surprised?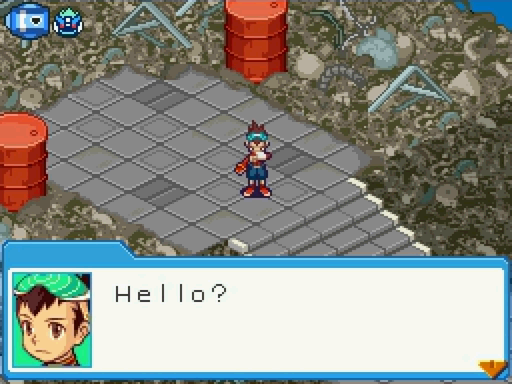 : Geo!? It's terrible!

: Sonia!? What's wrong!?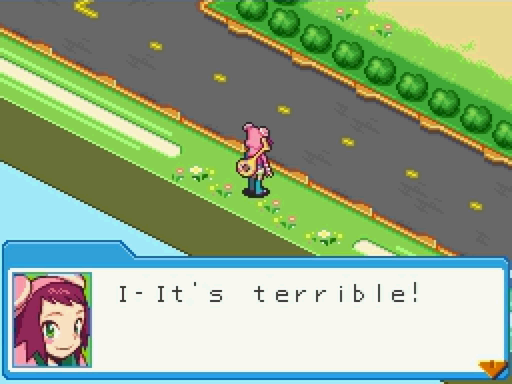 : Everyone's...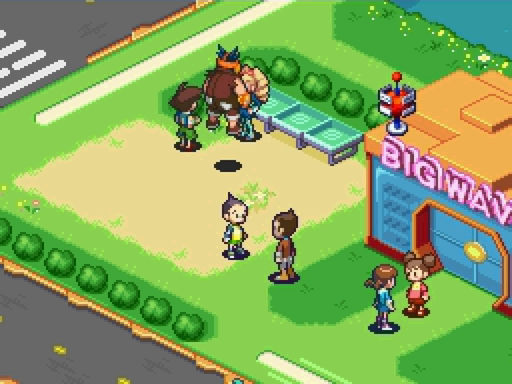 Everyone's hopping mad!
Oh no, the Internet merged with the Real World. Fuck.

: I never liked you guys!!

: Me neither!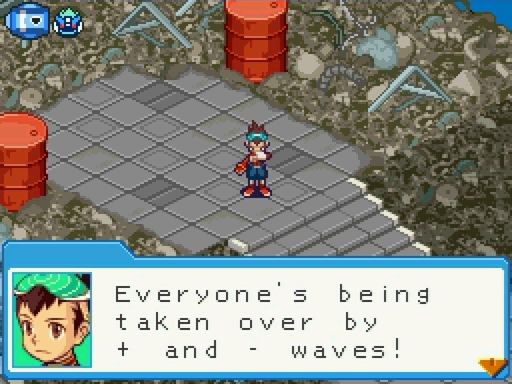 : So what are you gonna do?

: I can't sit by and let people suffer! And that includes Pat!

: Then pulse in! And head for that antenna's Comp Space!
Most of the time during these dungeons, I tend to talk about the scenario's 'villain' and how their motivation affects Geo.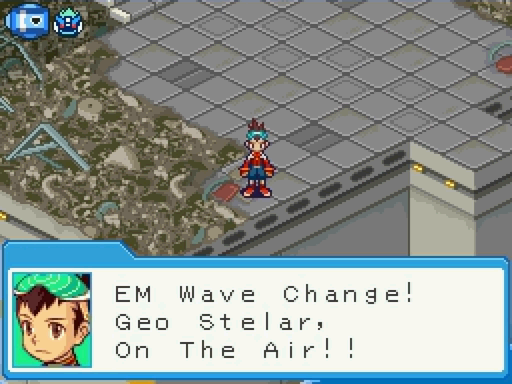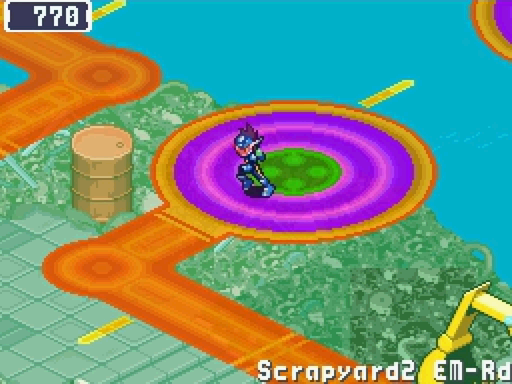 You might have noticed I'm not doing that. Partially because the 'dungeon' is very boring and pointless, and partially because Pat's motivations are... Well, they've already been stated out loud.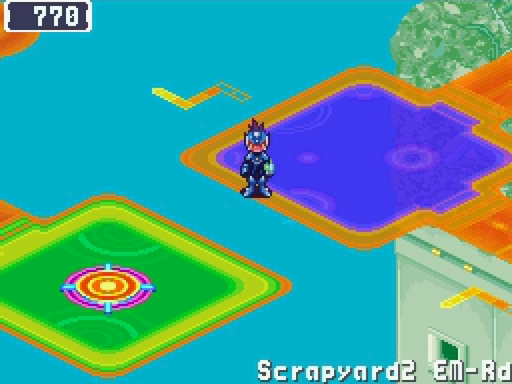 And as a scenario focus point, he's the weakest-written of the ones that are relevant; I don't count Cygnus among them because honestly you can remove that scenario entirely and not lose anything in terms of plot. The closest parallel is Sonia - she also lost her mom (and never talks about her dad so I assume he's gone or otherwise out of the picture) but Geo actively empathizes with her. Plus, she asks for Geo's help, and only after that fails and she's finally out of options does she snap. Here, Pat... immediately jumps straight to genocide because of being abandoned as a child.
(The antenna is actually to the right, but they let me go here so I'm going to take a quick detour.)
I think Pat could be interesting as a sort of foil -- he is the one person who you could say had it worse than Geo. Other NPCs we met had comparable issues and Geo related. This? Nah, Pat's had it way worse. Geo's failure to connect could say a lot about how he's unable to reach people who have it worse than him. There could be a parallel here: that Geo's desire to reach out to people who weren't ready is exactly what Luna did. And Luna got yelled at and thrown into danger for her mistake.

Pat and Geo's relationship could be an unresolved end in this game that you could follow up on later. A failure that happens here is just begging for another chapter in another game.

We don't follow up, to my recollection. Ever. Shame.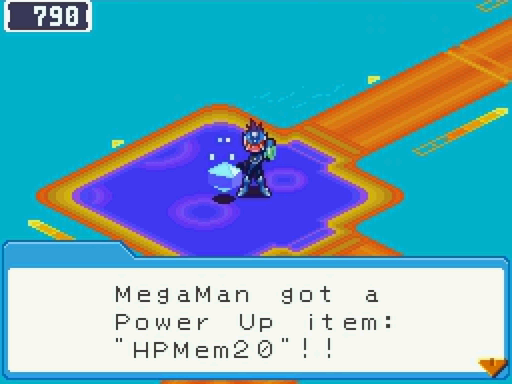 Mainly for this.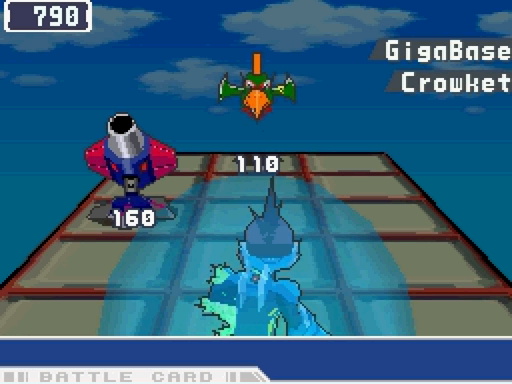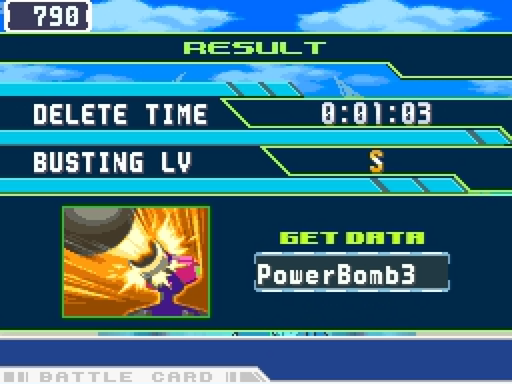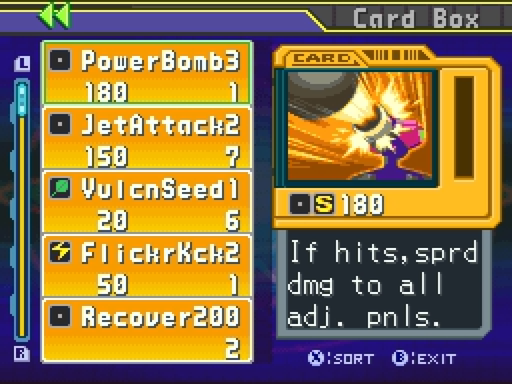 This is also pretty nice. 3x3 explosion for 180 damage.
EXCELLENT for S-ranks.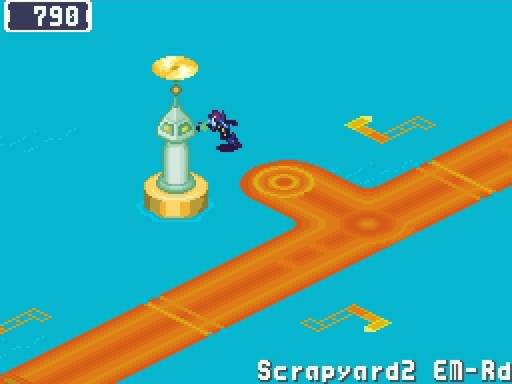 Also a comp space, because why not?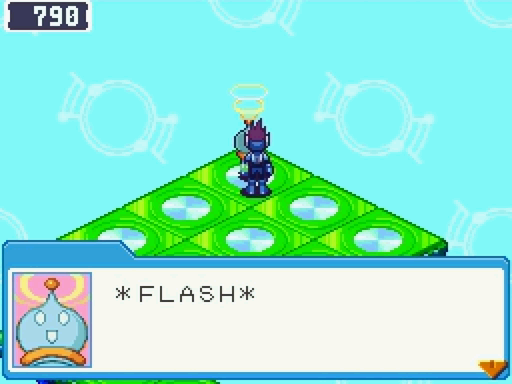 : AND OVER THERE! *FLASH* I SHINE THIS LIGHT AROUND THE CLOCK SO THAT NO ONE IN THE WAVE WORLD WILL EVER GET LOST AT SEA. *FLASH* AND THERE! *FLASH*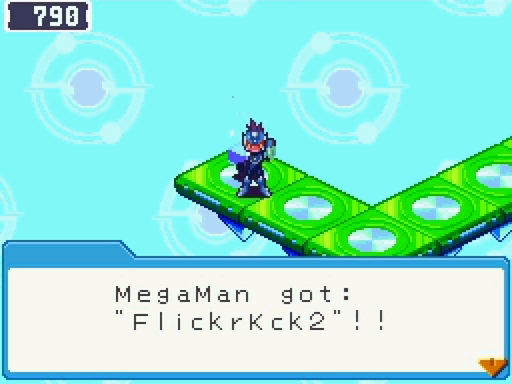 And another of these.