Part 36: IdeaSpy 2.5: Episode 10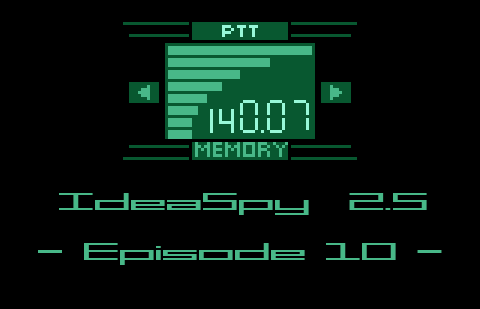 Communicator Entertainment Program "IdeaSpy 2.5 (Two-point-five)" Episode 10! <In the previous episode....> 2.5 has entered the factory basement of that catalogue of conspiracy, J.E. Corporation. Is this the location of 'D-People-E-O, Fine Humanoid Robot for the Home'!? And what is its deep dark purpose!? Keep going, 2.5 (Two-point-five)!
*****

Do you see it, Call?

Not over here, Two-point-five.

Two, you can't find 'D-People-E-O' yet?

Hm? What're you talking about?

You can't find D-People-E-O yet?

No, it's my contact lens. I lost it during battle just now.

Contact lens?? What about D-People-E-O?!

What do you think you're saying? My contact lens comes first! Do you know how much I paid for that thing!?

But I thought your eyes were 20-20....

Of course they are. Like many fashion-conscious urban professionals, I wear tinted lenses.

Don't you go wearing that stuff on the job!

What? Are you saying that spies have no right to be chic!?

I'm just saying that there's no need to be pretty up for a mission!
Roll, roll, roll....

Oh? What's that sound?

Hm? Sounds like a caterpillar [tank tracks].... Over there!

What is it? The enemy?

It's a tank! And the body is shining brightly!

It's dazzling!

Ha-ha-ha. Good for you, Two-point-five, to notice the gleam of my tank. See the power of 'Flash Wash,' <the car wax that takes off the stains and brings on the shine with a single coat>!

Why would you polish a tank!?

The product sounds decent but you're using it completely wrong!

That's not true! Don't you understand the desire to make your personal transport look nice!? Even tanks want to be pretty once in a while!

Wuss! A true man on the edge never gives a thought to being pretty!!

You hypocrite! What about yourself!? For that, I'm going to crush your color contact lens to dust with this caterpillar!
Roll, roll, roll....

Wait, don't come this way! I've still got 16 installments left to pay!

Know the bitterness of continuing to make payments after the product is gone, Two-point-five! That was, yes, more than five years ago....

What's with this sudden tangent...?

I dreamt of rocking to Burton Cummings and the Guess Who as I drove this tank and finally bought a $2975 car audio system.... A real sweet baby with 10 speakers. But....

But what!?

Once I had it installed, the driving noise was too loud and I couldn't hear any music. So I cranked the amp volume to max. And at that moment --!

At that moment!?

With a deafening 'bang!', all 10 speakers exploded in flames! This burn on the forehead is a war wound from that day!

That is NOT a war wound!

Since that day, my car audio system never again rocked to Guess Who. All it left me was a profound silence and 78 more payments to go!! And I will teach you how that feels, Two-point-five!!

NOOOOO!!
Roll, roll, roll....
*****

To be continued.