Part 10: iScream Is Weird, Rio Is Eerie
1Yr. 9Mo. 1Wk.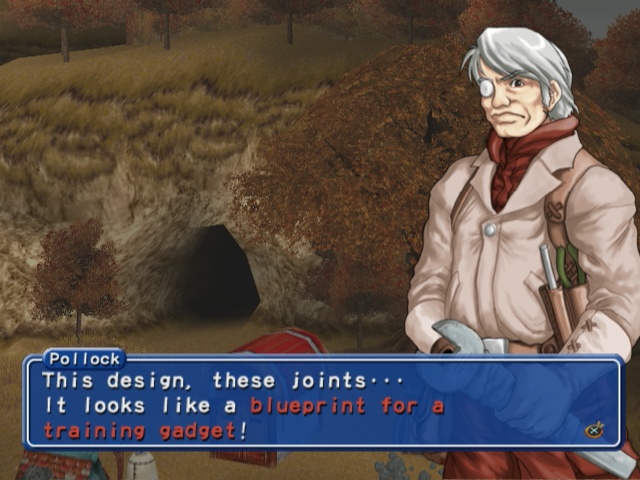 So we got back from exploring the caves, and Mister Manly was there. I was hoping I could buy some more training gadgets, but instead he got all excited about the tablet we found, wanted to build the thing on the back. I lent it to him; I'm crossing my fingers I'll get a free gadget out of the deal.

Chucky was looking worn out, so I gave him the week off. Natsu and iScream kept at it, though.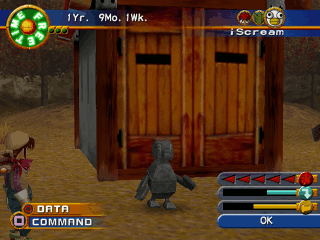 I don't think I'm ever going to get used to iScream.
He's got this weird traffic accident quality.
1Yr. 9Mo. 2Wk.

Natsu and iScream got the week off this time, while Chucky got back into it.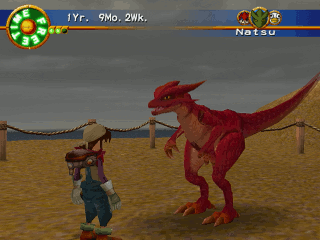 I don't think Natsu likes mangoes.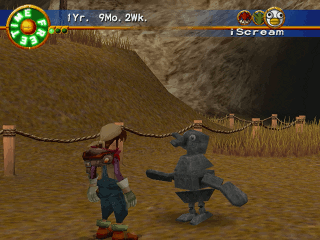 iScream, on the other hand, acted like I'd given him the nectar of the gods. At least he's easy to please.
You guys seem to favor me going into the caves every other week, and I'm game to try that, at least until it gets really boring. Lemme give you the highlights:
The caves appear to change around when we're not in them. The passages were different, and chests had reappeared.

Chucky advanced to level 4. He got the traits Hyper Beam (makes beam attacks more effective), Golden Foot (makes foot attacks more effective), and Cave Search (lets him check small holes for treasure). He also learned Wild Bite, a close-in move that apparently does a lot of critical hits.

Natsu advanced to level 3. He got the traits Big Lung (makes breath attacks more effective) and Hard Head (makes head attacks more effective). He also learned Tail Whip, a close-in attack.

iScream advanced to level 4. He got the traits Rock Body (boosts effects of Defense but reduces effects of Speed), Great Wing (makes wing attacks more effective), and Hyper Beam. He also learned Head Throw, a long-range attack.

We looted a Beast Stone from a monster. I don't know what's on it exactly; I'll have to take it to the temple to check, and there's no rush on that. We also looted some Battle Cards, a Rose, and a Silver Coin.

We got some paper with ancient writing on it from a fancy chest. Come to think of it, I've got some papers like that in the house; I'd been using them as decorations in my hovel days. I should probably save them from the recycling bin.

We found a Yarn Ball, a Nunchaku, a Silver Coin, and a Goldoll Sword in chests.

Oh, and iScream continues to be unsettling.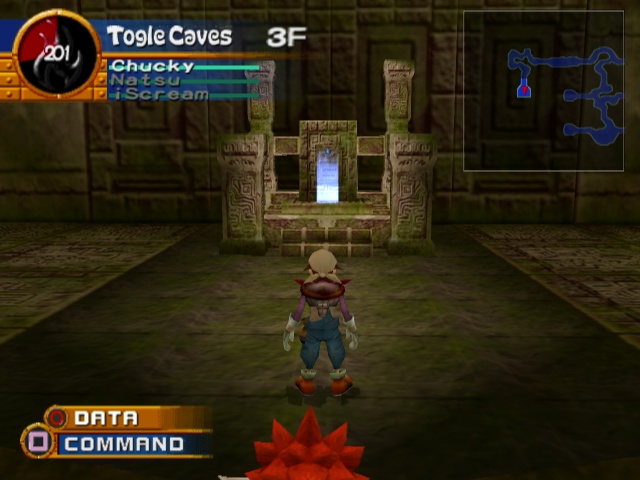 I was starting to think about heading back when we found this funky shrine thing. Rio started acting like she was acting voices, and then she picked up this stone chip that was on the altar.

Then she screamed... but she wouldn't tell me why. That stone's got some bad juju, I tell you that right now...