Part 27: The Highway (2)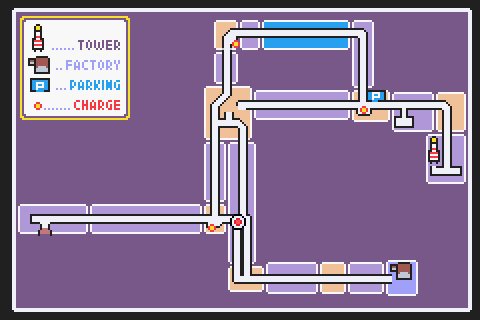 Last time, we hijacked a Pork Bean and explored a large area. Today we'll explore the rest of it, which is everything to the right of the middle column. It doesn't seem like a lot, but there's quite a bit to show off there. One thing before we start, though.

I showed off all the enemies but this one, the Bright Smile. It's a rare enemy that appears in the last approachable area, past the dump. It's easy to kill but has powerful attacks like Fire Beta and can shield itself and make you cry. Drops a very nice 2000 DP though, enough to buy a good bomb or two.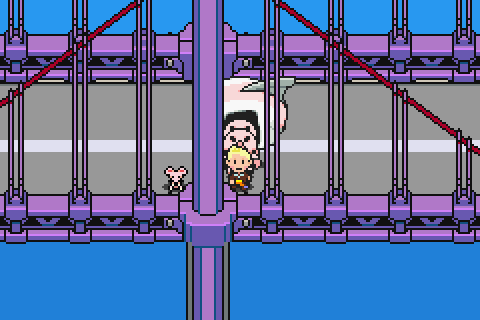 That blue rectangle on the map is a bridge. If we tried to cross without refueling our Pork Bean, it would've exploded and we would've had to do the rest of this area on foot.
Other than that, the only thing of note is another mouse kid.

Squeak squeak squeak squeak. (Guess what! Guess what! Whenever I eat a cookie and munch on it, my cheeks get all big and chubby! It's so funny when they get like that. Huh? My mom? Oh, she's smiley again today. She's smiley whenever me and her are together. So I'm gonna go home now.)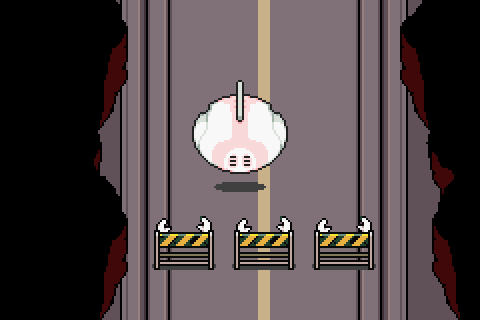 Roadblocks are no match for the Pork Bean!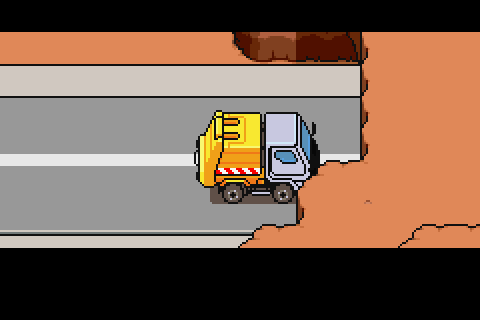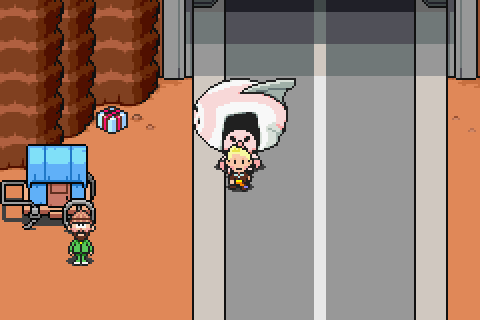 Once we reach this square, we're pretty close to the dump. However, there's a lot of stuff here.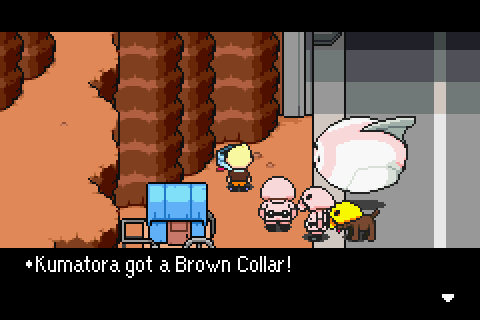 First off, an offense/defensive upgrade for Boney. He gains +10 in both. The offense bonus is nice since Boney doesn't actually use weapons. I mean, how would he hold them, with his mouth? That's just silly.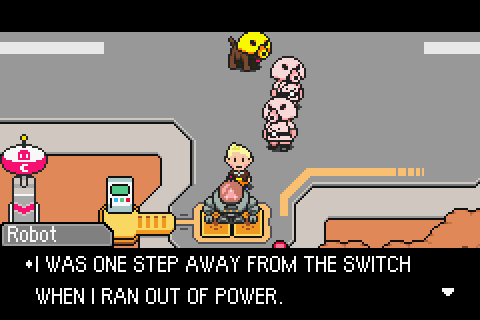 COULD YOU PRESS THE SWITCH FOR ME AND HELP ME RECHARGE? I'M SORRY TO ASK. BUT COULD YOU DO THAT FOR ME?
Sure.

OH, THANK YOU, THANK YOU. AS THANKS, I WILL GIVE... I WILL GIVE YOU MONEY. BUT PLEASE KEEP THE RECHARGE UNDER 15 SECONDS. OR ELSE I MIGHT EXPLODE... AS CLOSE TO 15 SECONDS AS POSSIBLE IS THE BEST. IF THE RECHARGE IS TOO SHORT, THE MONEY I GIVE WILL BE LESS. TURN THE POWER ON AND OFF USING THE A BUTTON.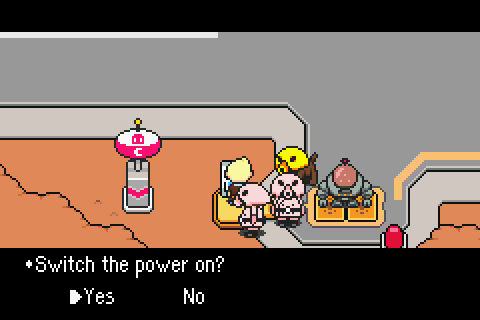 There's no timer, of course, so hopefully you have your own or know how to count seconds really well. It's not a big reward even if you're exact, with 15 seconds netting 100 DP, but at least you can feel good about yourself. You know, unless you overcharge and explode it.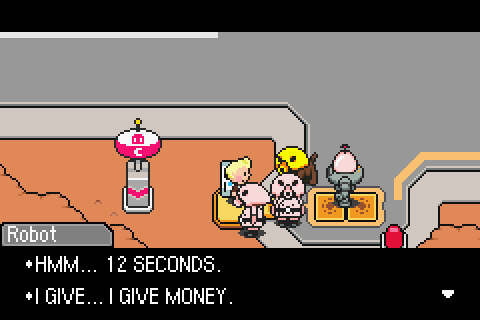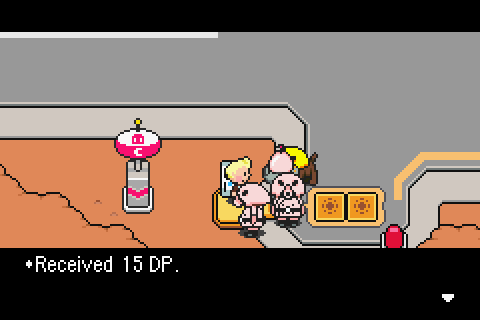 The lower tiers aren't that great, either. 14s is 50DP, 13s is 15, 11s is 10, and less than that is 1.

I FEEL BETTER NOW. WELL, SEE YA.
But hey, we did some good, and that's what matters, right?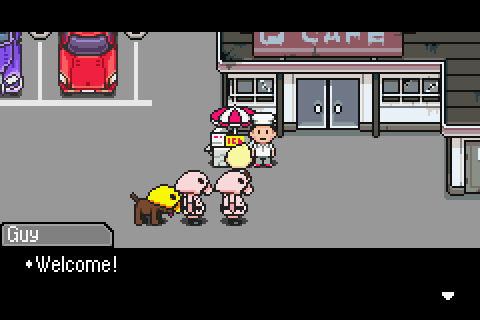 I got souvenirs! I got food! I got stuff! You want somethin'?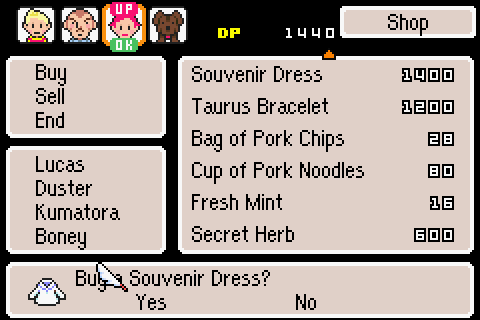 Nice defense upgrade for Kumatora and accessory upgrade for her and Duster. Other than that, more restoratives.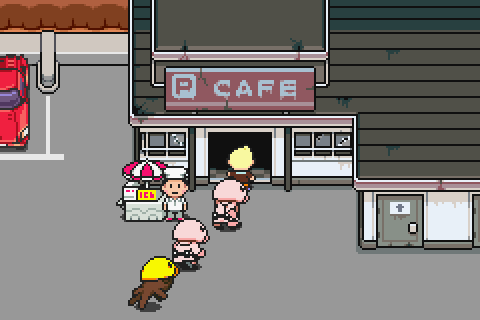 Let's check out the cafe next.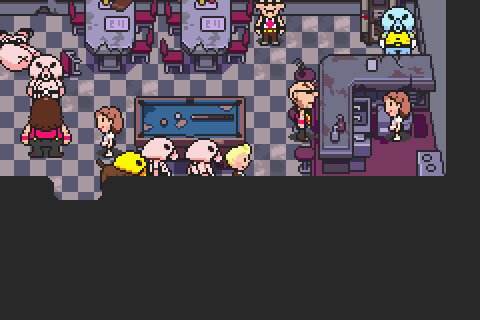 ...Well, then.
Looks like our old friends Neckbeard and Skinhead and hanging around, as well as some Pigmasks. Let's check things out.

Oh, welcome! *cough* *cough* *cough* Make yourselves at home...

As of today, WE'RE the bouncers for this joint. Gahaha!

We don't really need bouncers, though...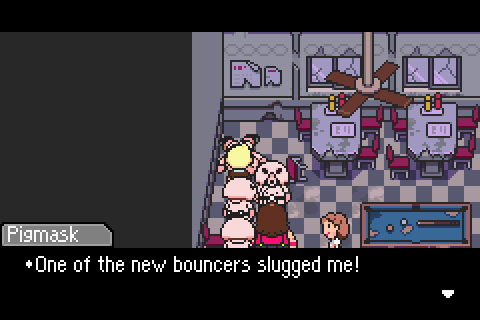 There must've been some sort of misunderstanding here!

I could really get used to this place's uniquely disgusting feeling. In fact, I love it even more than Club Titiboo!

Hey, man. I know the truth. I know you're not really the commander. You're an imposter. Don't worry, though. I won't tell no one. It'd be too much of a hassle anyways.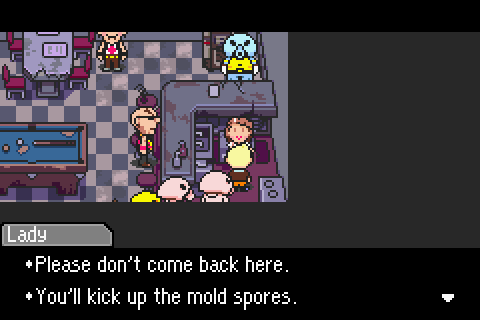 What's wrong with her eyes?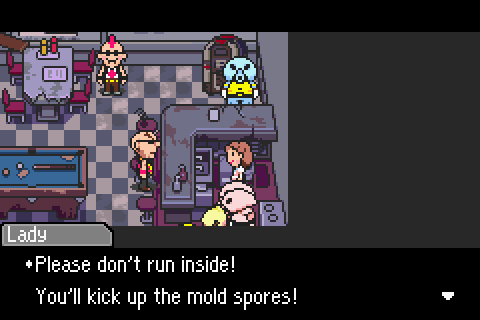 No running, either.

Gum's so great, dontcha think?! You can chew it all day long and never run out! It's such an incredible deal! In a way, it's infinite!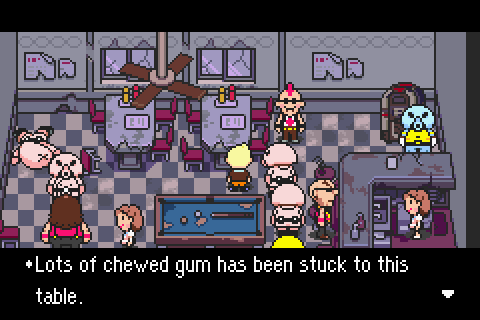 The guy really loves his gum.
In fact, this entire place is grimy.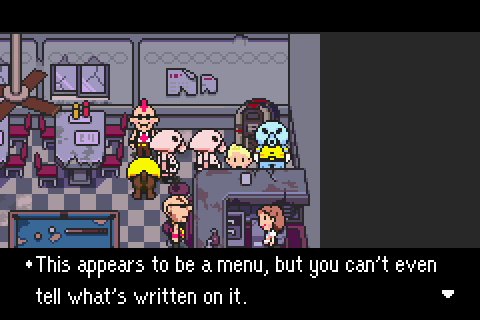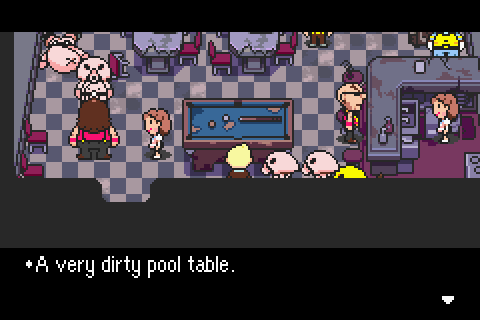 There's one more notable thing about this place.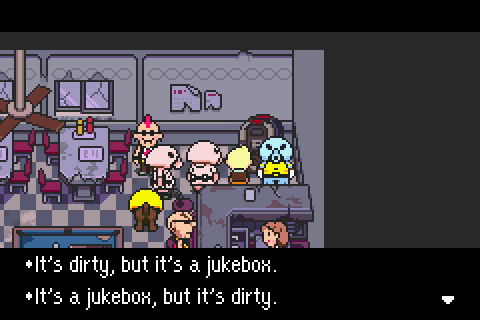 It's covered with cigarette stains and old ketchup. Try inserting 1 DP?
If we don't have the money...
"Get yer butt outta my sight, you broke bum!" The jukebox spat bitter words at you inside your mind.
So let's have some money.
Withered, old anchovies and the like are stuck to the record, but even so, it actually started to spin.
And it'll play one of five songs that I'm pretty sure won't appear outside this bar, which is pretty crazy. I'll post them here and again at the end of the update so you can listen to them at your convenience.





Wait, Toilet Cow?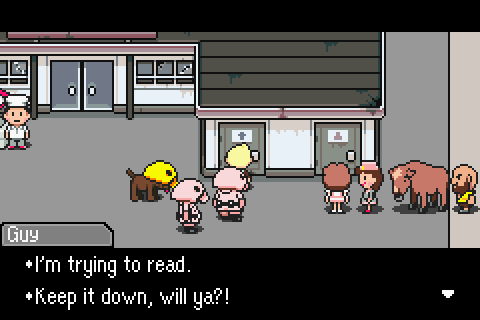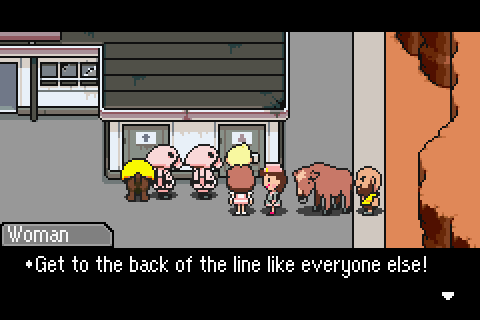 Outside, you'll see quite a line for the bathroom.

This line is so long! The wait is killing me!

I've been waiting so long that I'm excited for my turn now.

Moo. (I wish this line would moooove already.)

I heard there's a ramen shop in this area that's so good it always has a huge line in front of it. Or at least that's the rumor, anyway. This line HAS to be the one!
Keep on hoping, buddy.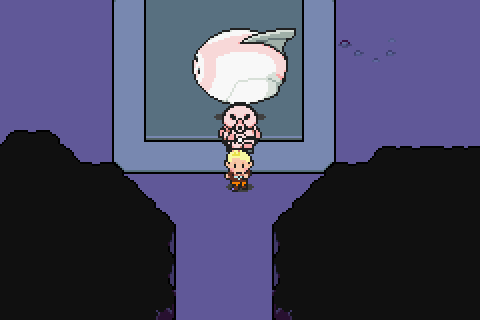 The tunnel to the right has a couple more points of interest, in particular a passage to the south.

(Ahh! You found me! And I was so proud of the fact I'd never lost a game of one-player hide-and-go-sheek before... Huh? My mom's calling for me? Well, I better go home, then! Bye-bye!)
First, the sixth mouse kid.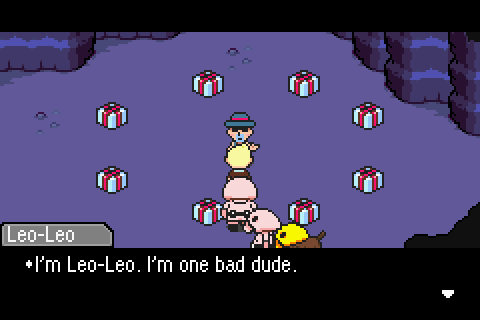 I brought all these presents here 'cause girls everywhere are tryin' to make me fall for 'em. Each one's from a different girl, of course! So anyways, all these presents here belong to me. You can't have any.
Talk to him again...

You naturally try to open a gift box the instant you see one, don't ya? But too bad! These ones belong to me!
And again...

You look like you're thinking to yourself, "Come on, just one box." Well, too bad!
And again...

I really doubt you're popular with the girls. You don't seem like a very bad dude, either. I dunno, should I let you open one...?
And one more time...

Okay, okay! You can have one, and only one. Even a bad dude like Leo-Leo has a nice side. Well, go ahead and open one. I'll let you have whatever's inside.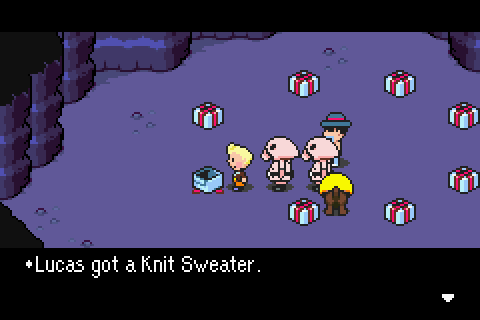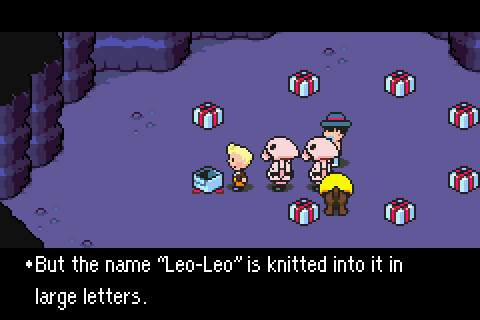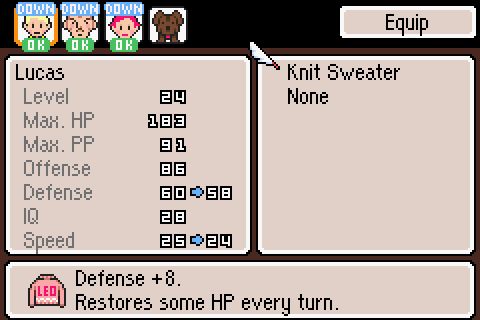 All eight have the same item, and it's a Knit Sweater. It has a lower defense than our current gear, but it restore a couple HP per turn. It still sucks.

I already have you one of the gift boxes. I can't let you have any more than that. They're symbols of my hotness, after all.
You can keep 'em, you chump.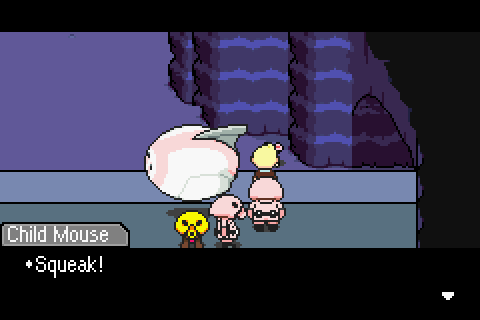 (Huh?! Oh, okay! I'll go home right now! By the way, I'm pretty sure none of my brothers went past this tunnel.)
And with that, we have the last mouse kid.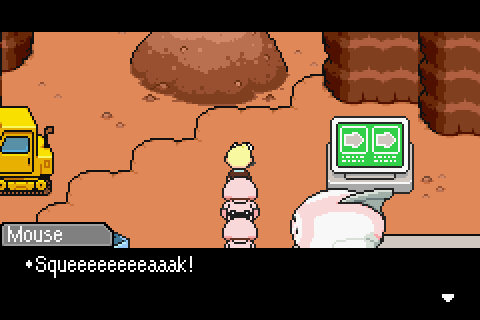 (Thank you so much! Thanks to you, all my children have returned home, with cheerful smiles on their faces. For being so kind to me, I insist on giving you two things as a token of appreciation. The first is a kiss from me. And the other thing is th-th-this!)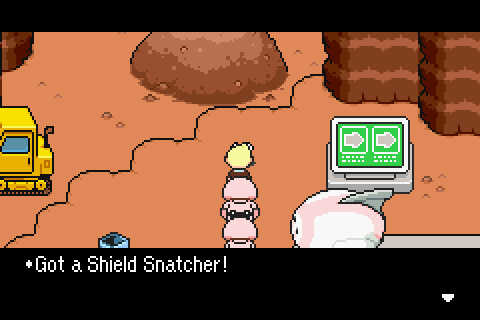 The Shield Snatcher snatches shields. It will remove an enemy's shield completely, which is great since it'd take three halved physical attacks to get rid of a shield otherwise. It doesn't give you the shield, though, as your party's so wasteful they're content to just throw away a perfectly good psychic shield.
I give this to Boney since he's our item specialist.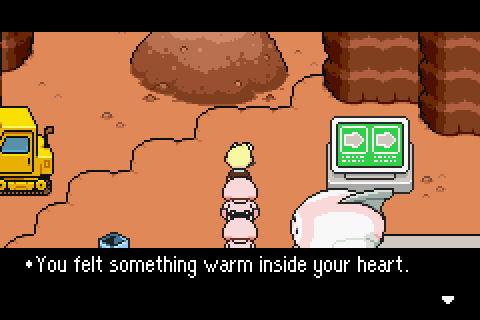 More importantly, we become a little bit happier.

Squeak squeeeeak. (Oh, you're that kind person from before. Parenting is indeed difficult. Mice grow exponentially in number, after all. But, but! Having children makes our happiness grow exponentially, too!)
Has anyone discovered a formula measuring the correlation between mouse reproduction and mouse happiness? If not, the field of statistics is really dropping the ball right now.
So that's everything optional to do. Let's finally go to the dump and get the world-saving egg or whatever.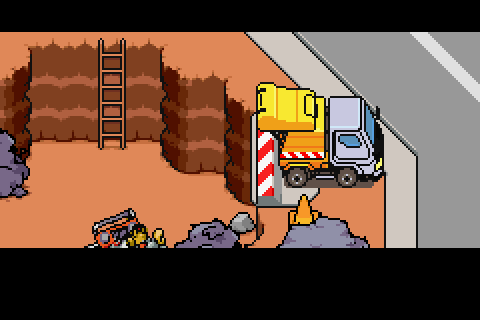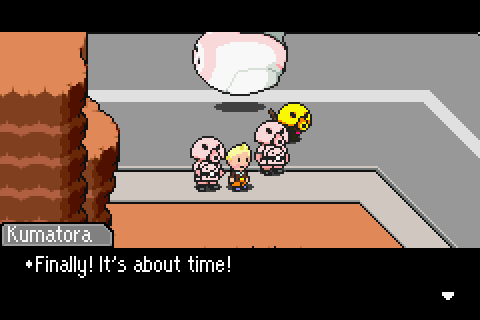 I just hope the egg's alright.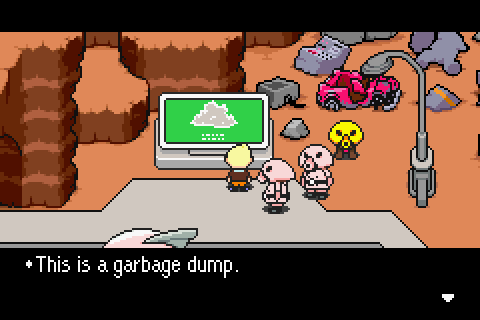 So let's throw our busted dreams out with the rest of our trash!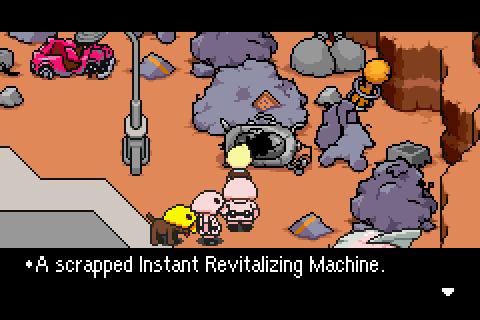 What a waste.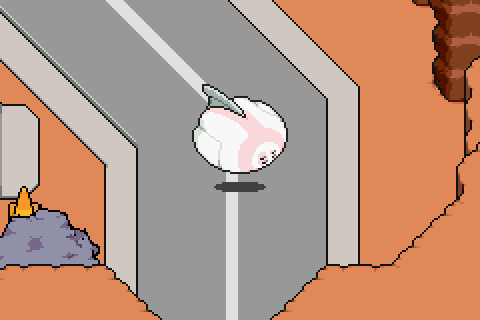 There's actually a tunnel past there. I think this is where the Bright Smile will show up.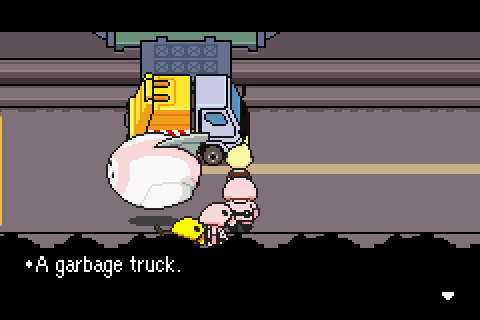 On one end is a garbage truck. On the other...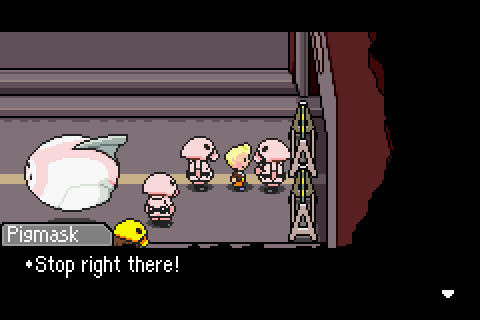 I'm afraid I can't even let you go through here, Commander. But, I'm sure you'll be able to go through here eventually.
Alright, let's get the damn egg already.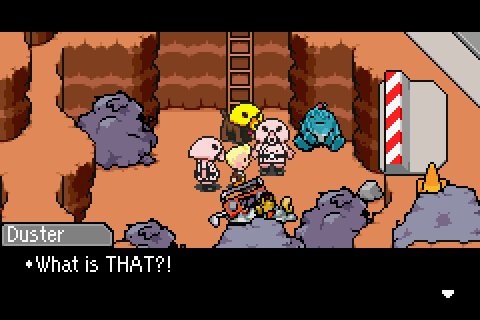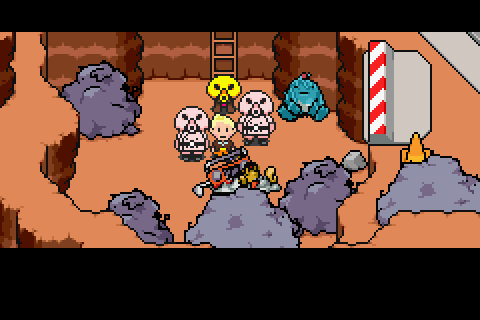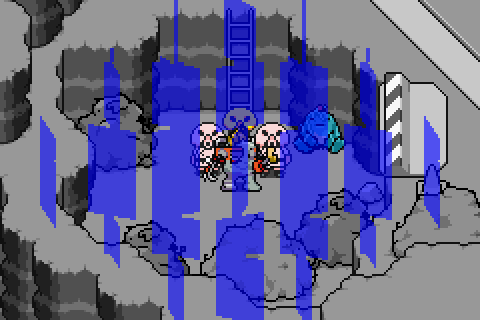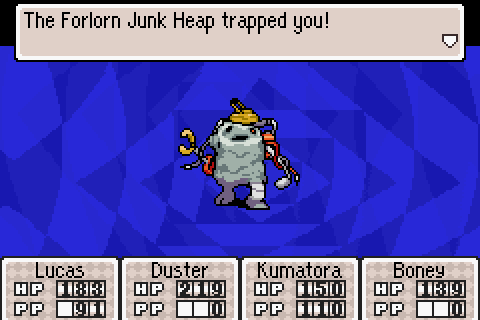 This guy's pretty strong, and while his defense and HP aren't that high...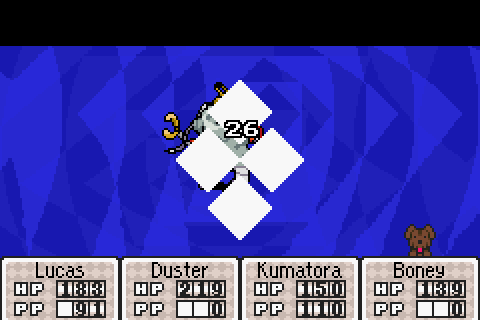 He does have shields.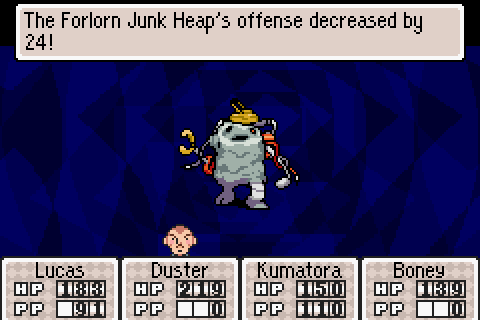 At this point, every battle starts with Lucas buffing offense while Duster and/or Kumatora debuff the monster.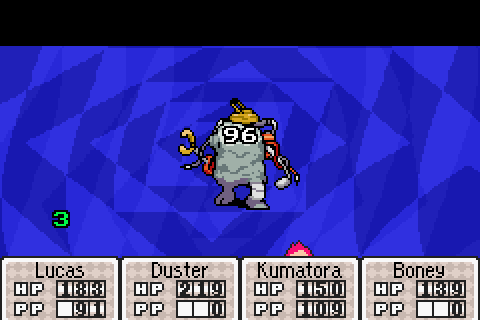 The guy is a bit weak to fire but pretty resistant to everything else. Also, I gave Lucas the knit sweater and it restored a paltry 3HP. Knitted full of love my ass.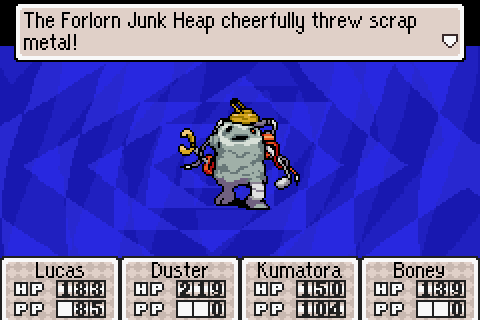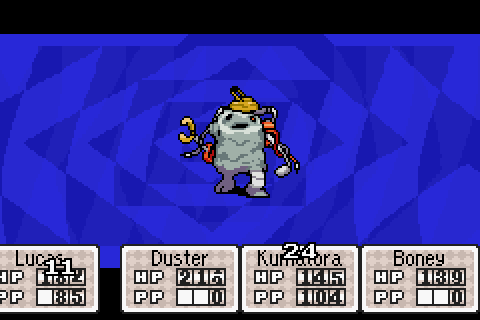 He'll also throw garbage because why not.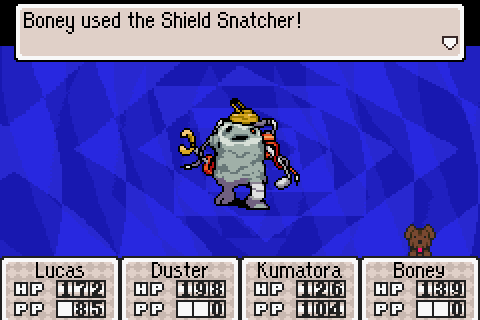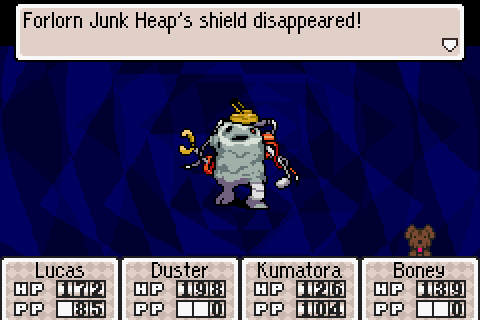 So that Shield Snatcher we just got? Very useful against this boss.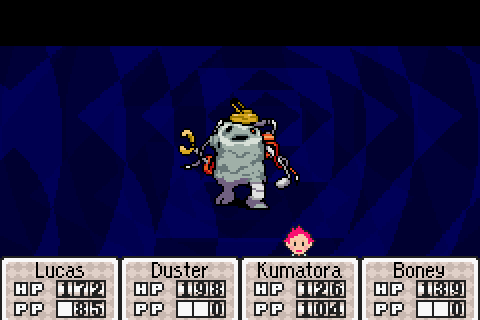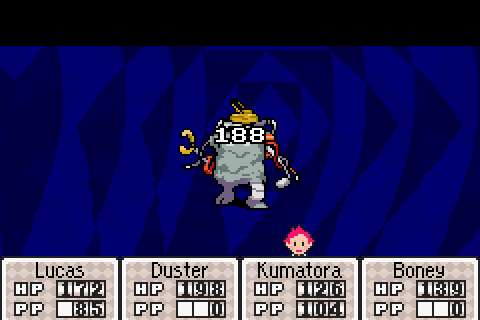 Also, we got PK Fire Beta last update, so here it is in action.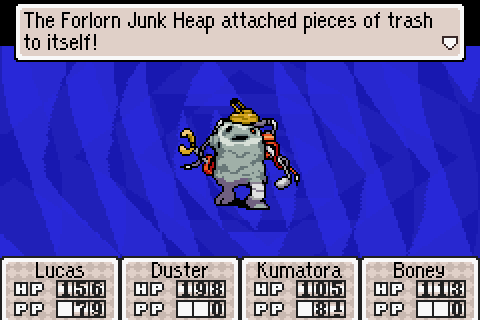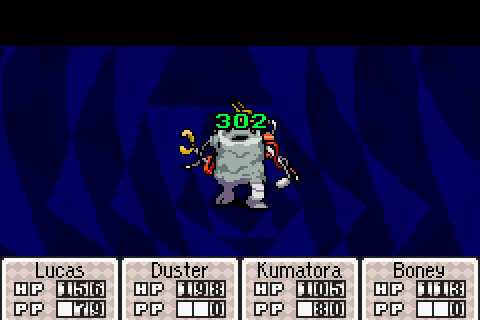 It can also restore its HP by a good chunk, prolonging the battle and potentially undoing damage in the long term if you're not keeping up your offense.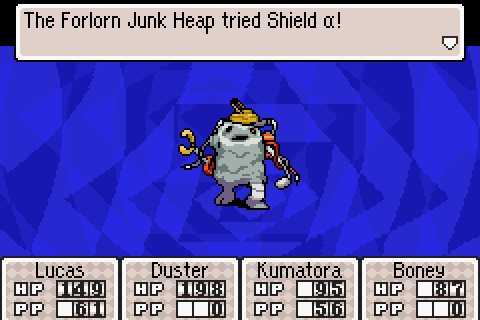 It will also reapply its shield. You'll definitely have a harder time without the Shield Snatcher, as it'll reduce your physical offense by a significant amount.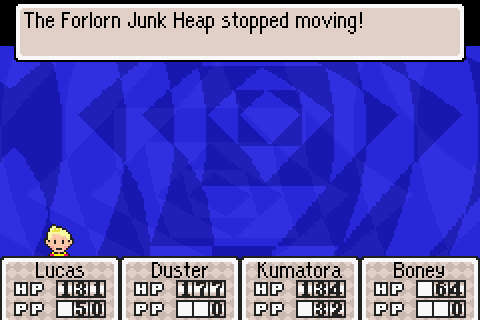 With the Shield Snatcher, though, it's all a matter of keeping healed and throwing out the offense.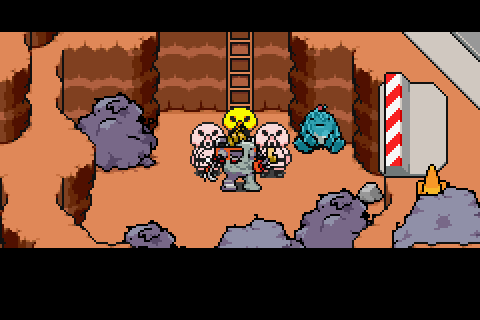 With that out of the way, let's get that egg.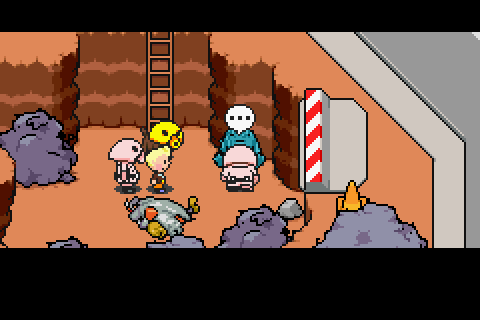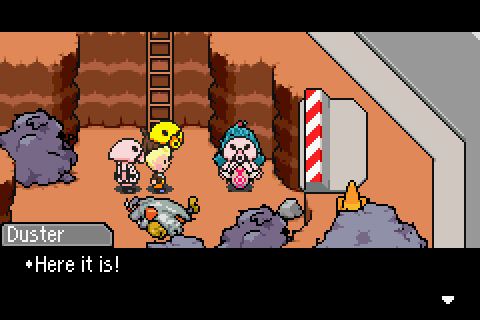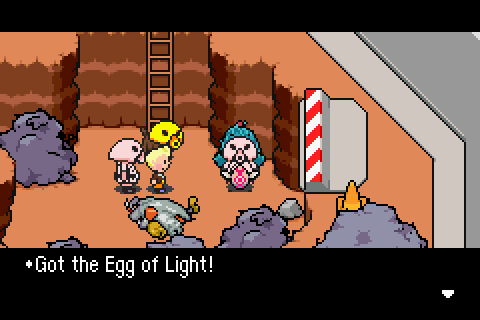 And finally, we recover the Egg of Light.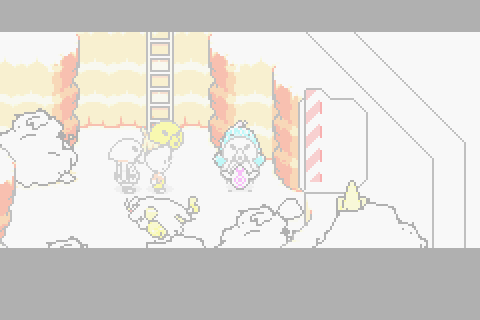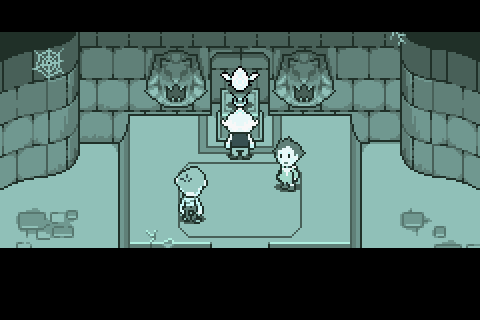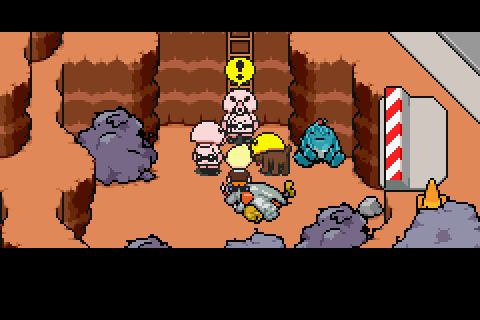 Now I see. I really am Duster. I'm Duster.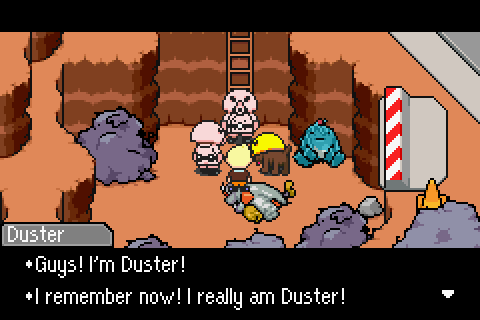 Yahoooo! I finally have my memory back!
And as a bonus, Duster recovered his memory!

Awesome! We did it! Yep! You're Duster! Duster! Duster! I'll keep calling you that, as many times as you want! Now don't you dare lose the egg again!

Woof woof woof! (You've always been Duster! You just forgot!)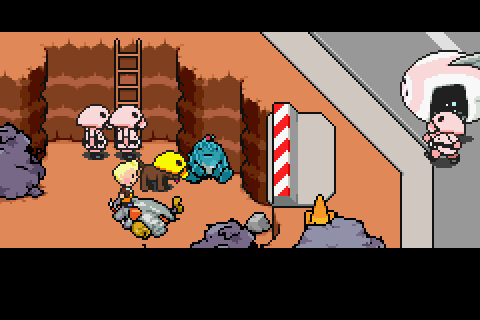 Suddenly, a wild Pigmask appears!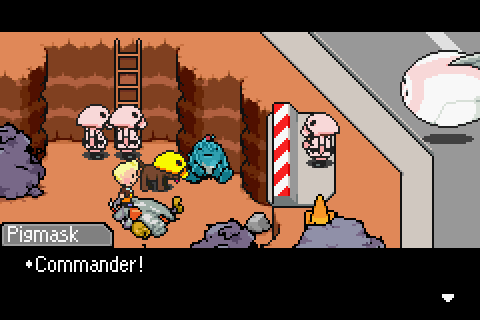 What are you doing, goofing around in a place like this?!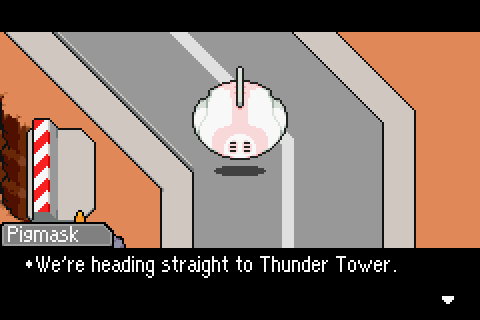 If anyone needs to use the restroom on the way there, please hold it in!
Boney whimpers at this line. It's a nice touch.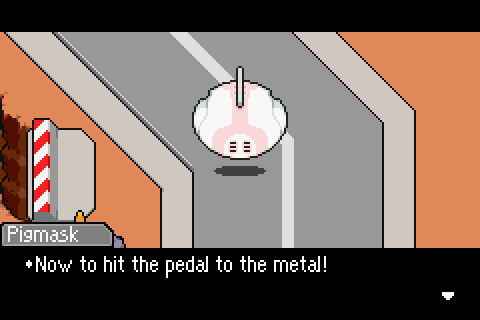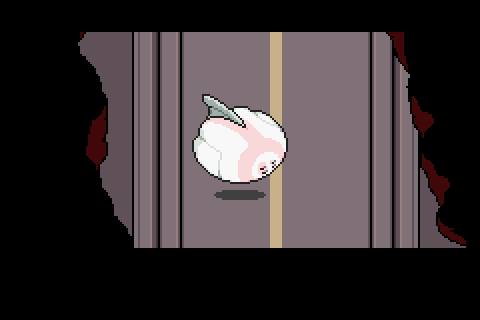 The Pigmask uses some sick driving to go an entire screen down.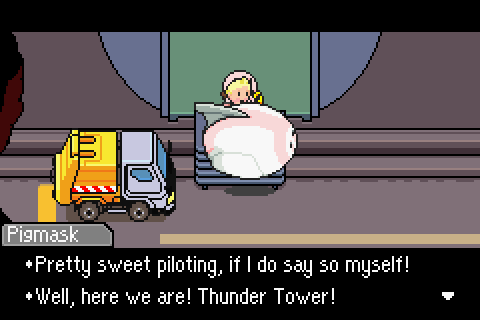 Please hurry to the generator room post-haste!
Next time, we finally tackle Thunder Tower.
Until then, please enjoy these delightful songs.