Part 10: Day 6, Part 1
[Nanto University, Professor Ohyama's Office]

Ohyama:
Sorry to keep you waiting. I had to go give Odaka's TS back to the police for archiving.
Erika: Did you find out anything about the Ikutas?
Ohyama:
There was definitely a murder at that house four years ago.
Erika: Then it really wasn't a dream... what happened?

Ohyama:
At the time, the Ikutas were a family of three. Mr. Ikuta was not at home when the incident took place. His wife, Ikuta Tomoka, was the victim -- it seems to have been a very grisly scene...
Erika: That's okay, you don't have to describe it. Really.
Ohyama:
But the third person, for better or worse, seems to have run away and escaped that fate.
Erika: Isn't not being murdered generally considered better than being murdered? ... Sorry, go ahead.

Ohyama:
That was the girl in the photo that you found, Ikuta Asahi.
Erika: So, who was the murderer?
Ohyama:
The criminal has never been caught, but surely Mr. Yutani had a personal grudge... well, that's what I thought, but I'm afraid there's nothing about that in the report.
Erika: But that doesn't mean he couldn't have had one, right?

Ohyama:
Normally something like that would come up during police questioning. It couldn't be that you're just imagining that Mr. Yutani was the killer based on the game and that dream you had, could it?
Erika: Well, I didn't think so, but...

Ohyama:
Damn... nothing in life ever goes the way you want it to, does it?
...
...
...
Well, let's get down to business.
In my discipline, there's an unwritten rule that when it comes to the transmission of information, digital is always preferable to analog, but...
That book you got from Mr. Ikuta -- Ikuta Asahi's diary -- might overturn that theory.

You'd better take a look at it with your own eyes.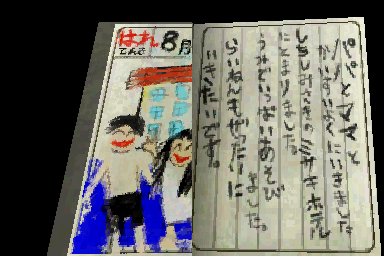 Month: August
Weather: Sunny
I went to the beach with Mommy and Daddy. We stayd at the Misaki Hotel on Cape Shichishi. We playd in the water a lot. I want to go agen next year.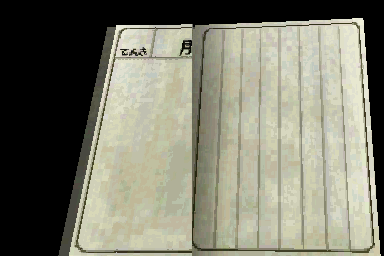 Then there are a bunch of identical blank pages, and one that's evidently been torn out, before...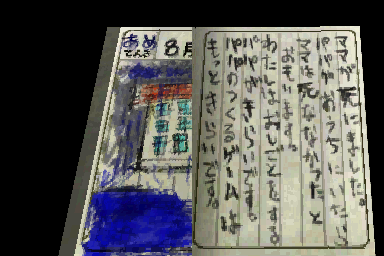 Month: August
Weather: Rainy
Mommy is dead. If Daddy had ben at home, Mommy woud be alive. I hate Daddy. He's always at work. I hate the game Daddy is making even mor.

Ohyama:
It's really amazing -- this seven-year-old girl's diary has become a piece of information of utmost importance to you and me. It seems even these dried-up old forms of media have their uses.

Anyway, about the disappearance of this diary's young author...
It seems that with her mother dead, she couldn't bear to see her father still working day in and day out on the now-cancelled game.

And then... one day she just up and vanished.
So based on that record and the entry in her diary, it looks like Asahi hated living with her father and ran away from home...
Thing is, the police were never asked to search for her. It seems like when his only daughter went missing, something inside Mr. Ikuta snapped completely.
And the regret of Ikuta Tomoka, who left her daughter behind, took root in the forgotten game -- and the cursed game was born.
Erika.
You've got one day left. In that time, do you think you can find and take care of Ikuta Asahi to clear up her mother's regret?
Erika: I haven't got much choice, have I? Where to this time?

Ohyama:
"Cape Shichishi" is a famous area that's actually seven branching capes -- that's what its name means. That must be where this Misaki Hotel is.
Erika: I take it I'm going alone as usual?
Ohyama:
You'll go there first, and I'll come to meet you later on. There was something in Odaka's room that caught my attention, so I want to check it out.
The other thing weighing on my mind is that torn-out page from the diary...
[Misaki Hotel: Tunnel]
Video #24: Tunnels and Regrets
Next time on Let's Play Nanashi no Game, I wanted to put a hotel-related joke here but I couldn't think of one so please insert your own.
-------
Ohyama's first e-mail, "Some Thoughts on Mr. Ikuta" posted:
The cancellation of his project. The dissolution of his company. The death of his wife. The loss of his only daughter. With all these misfortunes in so short a time, it's no wonder he became psychologically disturbed. Even if he had been able to report her missing and the police had found her, I wonder if he ever would have recovered...

By the way, I was thinking about why Mr. Ikuta was still in that house, and I suspect it's because he believed his daughter would someday come back and was waiting for her.

Ohyama's second e-mail, "In Transit" posted:
I'm a little late, but I'm headed there now. It took me longer to check that thing out than I expected. Try to hang in there by yourself a little longer.

By the way, Mr. Yutani got his just deserts when he was cursed by the game, but Mr. Ikuta has no way of knowing that now, does he? If he could, maybe he'd be happy...